We took our brand new Travel Lite 1000 SLRX Ultra to the Fall North-East / Michigan-Ohio Valley Truck Camper Jamboree and partied down, truck camper style.

Mike (aka Mikeee), and Cathie Tassinari, Bruce and Kim Scott, and Jim and Cathy Crisafulli pulled off one heck of an amazing truck camper rally this year.  They dreamed up a joint North-East and Michigan-Ohio Valley Jamboree; a rally that would bring together two of the most active truck camping communities for one mega event, and made it happen.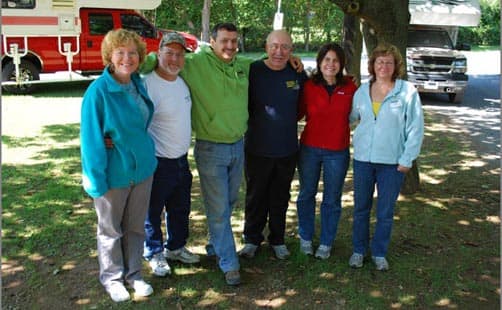 Left to Right: Cathy Crisafulli, Jim Crisafulli, Bruce Scott, Mikeee Tassinari, Angela White, Kim Scott
In the weeks leading up to the rally, we talked to Jim, Mikeee, and Bruce as they described the planning and efforts going on behind the scenes.  At the sweltering hot air balloon rally in Rhode Island last July, Mikeee pulled us aside and lowered his voice like he was a secret double agent about to give up the goods.  "This is a secret so you can't publish this," he said.  After looking around to make sure no one was listening, he then whispered, "I'm bringing enough steamed clams for everyone".
Then Mikeee described an intricate network of fishermen, freezers, transport schemes, and portable clam steaming paraphernalia.  You would have thought he was running a batch of moonshine for all the effort he was putting into his steamed clam plan.  More on the clams and moonshine later.
We arrived at the rally on Friday morning.  About ten feet into the park we saw a very familiar Lance 1121 rig.  It was Skip and Linda Bosley and their wonderful dog, Marley.  In an instant, the real rally was on.  We were catching up with good friends, and enjoying every moment of it.  This is what it's all about.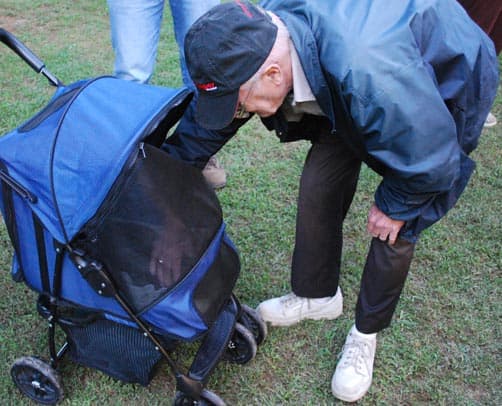 Above: Carl Goode says, "Hi" to Harley the truck camping cat.
The rally had actually started the day prior so we were greeted by a very full campground.  When we drove to our campsite, there was quite an audience watching Angela back the rig into our spot between two trees.  Unfazed, Angela backed right in and received a round of applause.  Andy Spedden was one of the first to come over and say hello and even let us borrow a water hose when ours would not reach the spigot.
After walking around the campground, catching up with old friends, and meeting some new friends, we found Bruce and Kim Scott in the pavilion.  Bruce had created a truck camper crossword puzzle just for the rally and was insistent that we try it.  With a devilish smile, he said, "This will be easy for you guys".
Then we looked at the clues, and looked at the boxes, and looked at the clues, and looked at the boxes.  Angela got a few right away, but I was almost completely stumped.  Eventually I got about half of the answers, but I may have cheated by looking at Angela's paper.
That evening we enjoyed a potluck dinner followed by an Ohio, Michigan, and Pennsylvania state trivia challenge.  Mikeee and Bruce asked some fairly difficult questions about the three states and awarded goodie bag prizes to anyone who knew the answers.  Did a few folks use Google on their smart phones?  Yes they did.  And thank goodness they did or we may still be there trying to figure out what the state bird of Michigan is (the American Robin Turdus migratorius).  Thank you internet.
After Mikeee, Jim, and Bruce had asked their list of questions, I asked a few of our own for the last two goodie bag prizes.  Angela and I had put one Truck Camper Magazine hat into one of the goodie bags for a special surprise prize.  The person who had the hat in their bag won a one-of-a-kind embroidered Truck Camper Magazine sweatshirt.  We congratulated Gary and Cinda Whistler and then invited the whole rally to review our camper the next day.
Don't tell Mikeee, but I slept in the next morning and then cleaned the camper while his Camper Seminar (or, as Mikeee would say it, "Campah Seminah") was on.  I've been spoiled to attend a few of Mikeee's seminars and they're always fantastic.  Just remember that a, "sewah system" is a sewer system, not that Mikeee has an accent.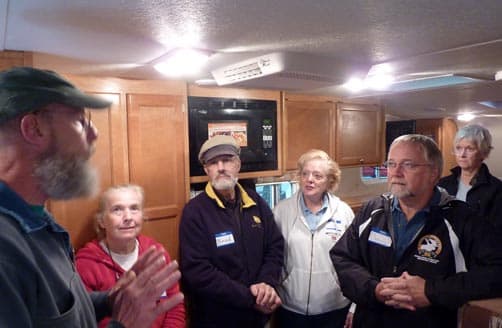 By 9:45am, a crowd began to gather around our 2012 Travel Lite 1000 SLRX Ultra.  By 10:00am we were letting people in as the line grew longer and longer.  You would have thought we were giving away free subscriptions to Truck Camper Magazine!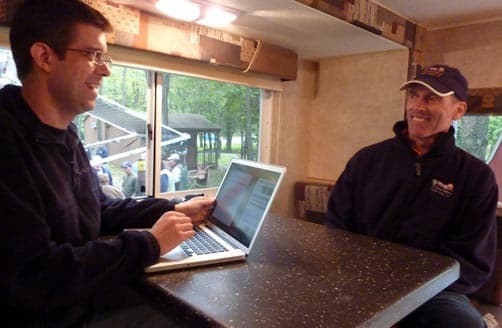 As rally attendees inspected the camper from head to toe, Angela or I sat in the dinette and took notes on their comments.  Outside the guys were opening and inspecting every compartment with their 751 keys.  The feedback was excellent and the whole experience was truly amazing.