We took our brand new Travel Lite 1000 SLRX Ultra to the Fall North-East / Michigan-Ohio Valley Truck Camper Jamboree and partied down, truck camper style.

Mike (aka Mikeee), and Cathie Tassinari, Bruce and Kim Scott, and Jim and Cathy Crisafulli pulled off one heck of an amazing truck camper rally this year.  They dreamed up a joint North-East and Michigan-Ohio Valley Jamboree; a rally that would bring together two of the most active truck camping communities for one mega event, and made it happen.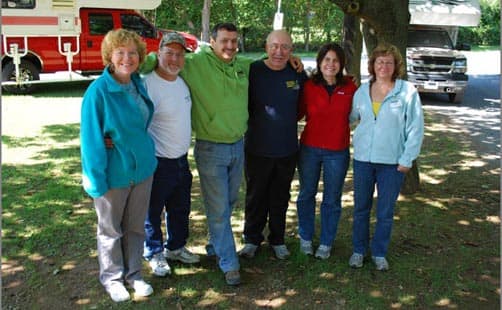 Left to Right: Cathy Crisafulli, Jim Crisafulli, Bruce Scott, Mikeee Tassinari, Angela White, Kim Scott
In the weeks leading up to the rally, we talked to Jim, Mikeee, and Bruce as they described the planning and efforts going on behind the scenes.  At the sweltering hot air balloon rally in Rhode Island last July, Mikeee pulled us aside and lowered his voice like he was a secret double agent about to give up the goods.  "This is a secret so you can't publish this," he said.  After looking around to make sure no one was listening, he then whispered, "I'm bringing enough steamed clams for everyone".
Then Mikeee described an intricate network of fishermen, freezers, transport schemes, and portable clam steaming paraphernalia.  You would have thought he was running a batch of moonshine for all the effort he was putting into his steamed clam plan.  More on the clams and moonshine later.
We arrived at the rally on Friday morning.  About ten feet into the park we saw a very familiar Lance 1121 rig.  It was Skip and Linda Bosley and their wonderful dog, Marley.  In an instant, the real rally was on.  We were catching up with good friends, and enjoying every moment of it.  This is what it's all about.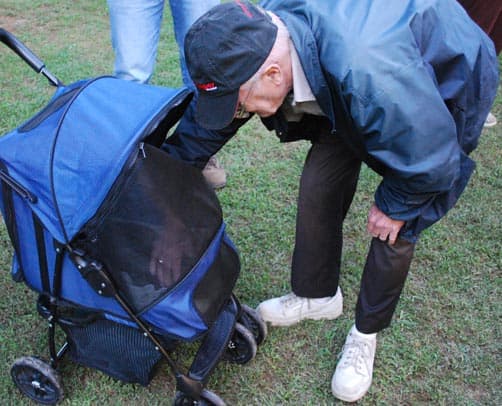 Above: Carl Goode says, "Hi" to Harley the truck camping cat.
The rally had actually started the day prior so we were greeted by a very full campground.  When we drove to our campsite, there was quite an audience watching Angela back the rig into our spot between two trees.  Unfazed, Angela backed right in and received a round of applause.  Andy Spedden was one of the first to come over and say hello and even let us borrow a water hose when ours would not reach the spigot.
After walking around the campground, catching up with old friends, and meeting some new friends, we found Bruce and Kim Scott in the pavilion.  Bruce had created a truck camper crossword puzzle just for the rally and was insistent that we try it.  With a devilish smile, he said, "This will be easy for you guys".
Then we looked at the clues, and looked at the boxes, and looked at the clues, and looked at the boxes.  Angela got a few right away, but I was almost completely stumped.  Eventually I got about half of the answers, but I may have cheated by looking at Angela's paper.
That evening we enjoyed a potluck dinner followed by an Ohio, Michigan, and Pennsylvania state trivia challenge.  Mikeee and Bruce asked some fairly difficult questions about the three states and awarded goodie bag prizes to anyone who knew the answers.  Did a few folks use Google on their smart phones?  Yes they did.  And thank goodness they did or we may still be there trying to figure out what the state bird of Michigan is (the American Robin Turdus migratorius).  Thank you internet.
After Mikeee, Jim, and Bruce had asked their list of questions, I asked a few of our own for the last two goodie bag prizes.  Angela and I had put one Truck Camper Magazine hat into one of the goodie bags for a special surprise prize.  The person who had the hat in their bag won a one-of-a-kind embroidered Truck Camper Magazine sweatshirt.  We congratulated Gary and Cinda Whistler and then invited the whole rally to review our camper the next day.
Don't tell Mikeee, but I slept in the next morning and then cleaned the camper while his Camper Seminar (or, as Mikeee would say it, "Campah Seminah") was on.  I've been spoiled to attend a few of Mikeee's seminars and they're always fantastic.  Just remember that a, "sewah system" is a sewer system, not that Mikeee has an accent.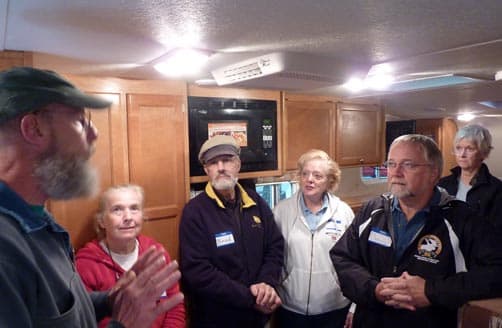 By 9:45am, a crowd began to gather around our 2012 Travel Lite 1000 SLRX Ultra.  By 10:00am we were letting people in as the line grew longer and longer.  You would have thought we were giving away free subscriptions to Truck Camper Magazine!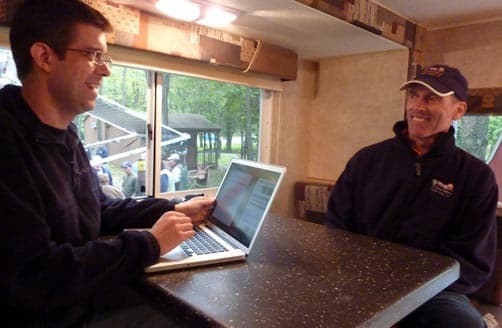 As rally attendees inspected the camper from head to toe, Angela or I sat in the dinette and took notes on their comments.  Outside the guys were opening and inspecting every compartment with their 751 keys.  The feedback was excellent and the whole experience was truly amazing.
That afternoon, Angela helped Mikeee and Bruce clean the previously "clam-destine" New England Steamers.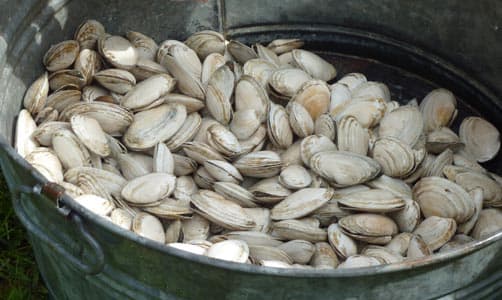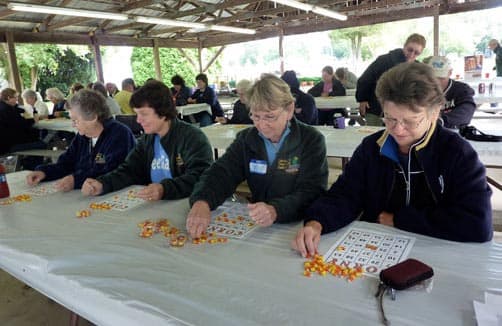 During the clam cleaning, a fiercely competitive Fall themed BINGO was going on in the pavillion.
Around 3:00pm, the rest of the rally was gathering an impressive assortment (and quantity) of booze under the pavilion for what they call, "Wine and Beer Tasting".  Among the bottles was a Ball jar of White Lightening from Ashville, North Carolina.  The Sharpie description read, "3rd generation moonshine".  Let the party begin!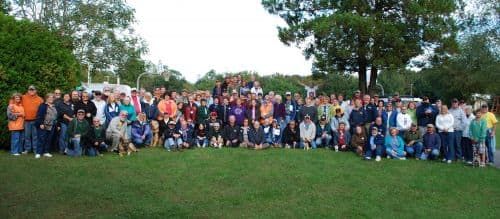 Click the photo above to enlarge!  It's huge!
We managed to herd everyone together a couple of hours later for the pre-dinner group shot.  Although you can't tell in the photograph, but take my word for it, that just about everyone has a big smile on their face.  Then, with the click of the shutter, it was time to eat.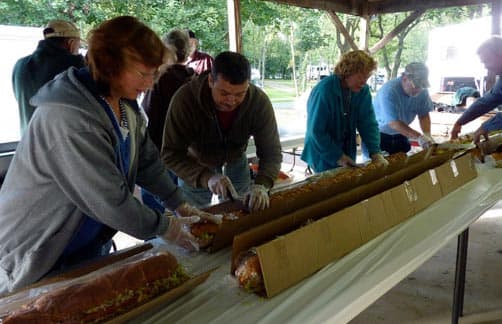 There was a little disagreement on what was for dinner.  It was one of those, "You say subs, I say hoagies" moments.  Still others claimed we were eating heros, bombers, rockets, spuckies, and torpedos.  As the Philadelphia born and raised Publisher of this fine publication, I can tell you that we enjoyed hoagies for dinner.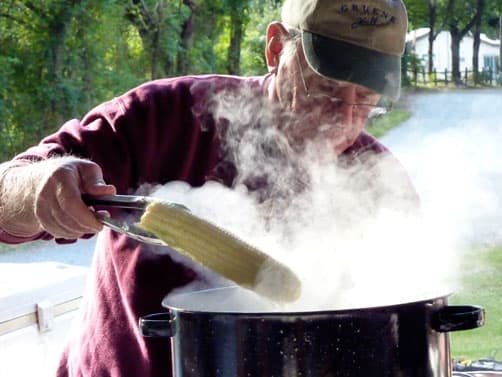 At least we could agree on what to call the rest of the meal; delicious corn on the cob, potato salad, bread, and lots of Mikeee's no-longer-secret steamer clams.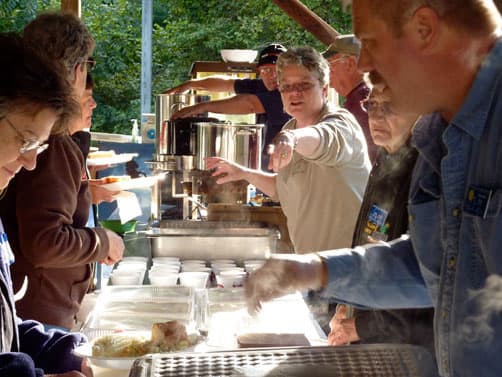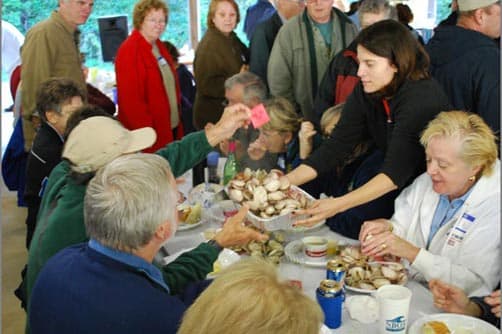 Everyone ate, and ate, and ate.
Once the feeding frenzy was over, Mikeee, Bruce, Kim, and Jim started up the raffle.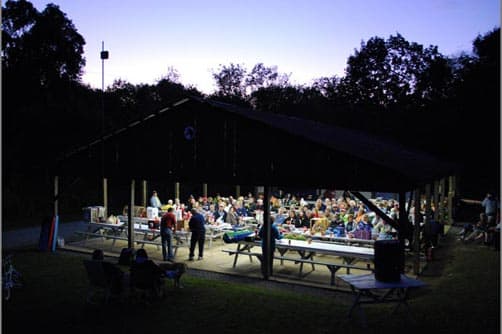 The party went long into the night.
As I walked through the campground on Sunday morning, the sun was shining though the trees burning off a cool September mist.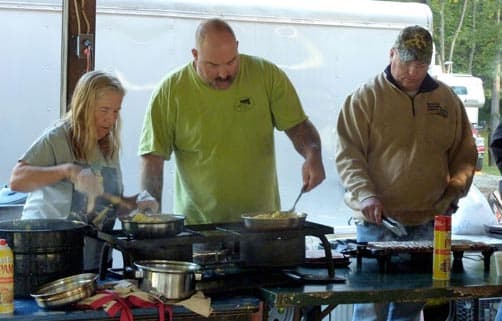 The conversations at breakfast were especially poignant as everyone savored the fading rally and our wonderful community for as long as possible.  With breakfast over, the goodbye hugs were here, there, and everywhere.
Thank you to Mike (aka Mikeee), and Cathie Tassinari, Bruce and Kim Scott, and Jim and Cathy Crisafulli for pulling off a fantastic rally.  Your efforts are very appreciated by one and all.  As we always do, we already miss you guys!

Our Impressions: Travel Lite 1000 SLRX Ultra
We spent the weekend at the Fall North-East / Ohio Valley Truck Camper Jamboree in our brand new Travel Lite 1000 SLRX Ultra.  We borrow a new camper each year from a different manufacturer and were very excited to accept our first ever slide-out truck camper from Travel Lite.
When Angela and I walk into a new truck camper, we usually find what we like and dislike about the camper very quickly.  It's amazing how these first impressions often remain true even after an extended experience with the camper.
Our first impressions of the Travel Lite 1000 SLRX were overwhelmingly positive.  The floor plan, fit and finish, and overall exterior and interior aesthetics are all very favorable.  In fact, the only possibly negative things we could think of were features we thought Travel Lite needed to add.  In light of everything that Travel Lite had done right with the camper, our "need-to-add" list was relatively insignificant.  Make no mistake about it, this is a very nice camper.
Exterior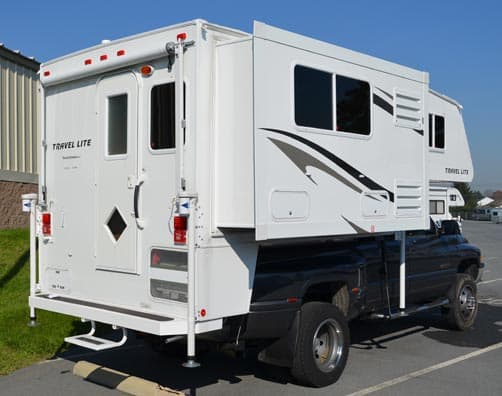 The exterior filon of the 2012 Travel Lite 1000SLRX Ultra is very bright and aesthetically sharp.  The graphics are very tasteful and the fiberglass front nose cap is a stunner.  The graphics and fiberglass nose cap give the camper a wind-cheating look.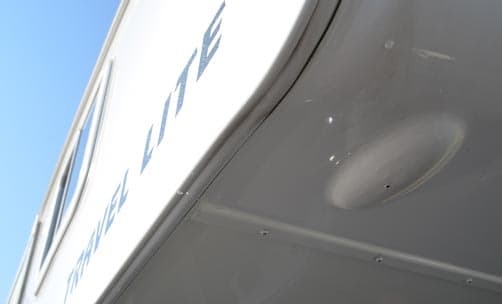 What's even more interesting are the two weep holes under the fiberglass nose cap that Larry Johns, President of Travel Lite, designed to allow any potentially trapped moisture to escape.  That's thinking ahead.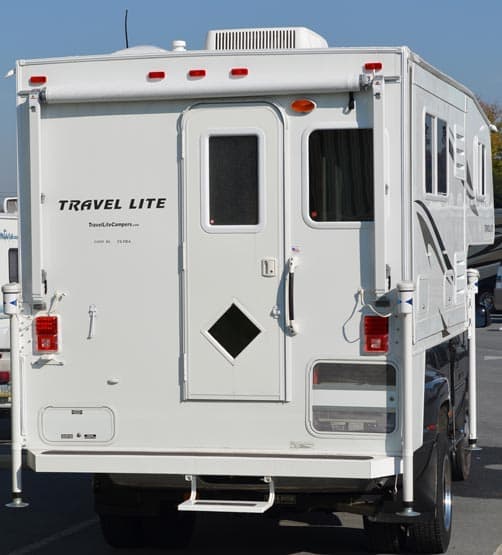 While we're not awning users, the large rear awning is a nice touch and would come in handy for extended stays in inclement or overly sunny weather.  The new style of digital antenna on the roof only helps the camper's sharp and modern image.  Honestly, the antenna looks like a spaceship that's hovering above the camper.  Very cool.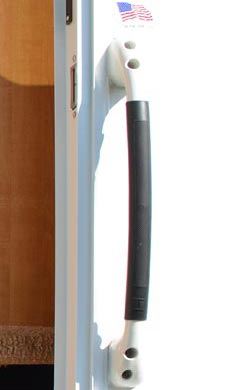 The entry handle at the rear door is reassuringly grippy, solid, and really helps with entering the camper.  All of the exterior amenities such as the hot water heater, shore electrical connection, and exterior shower are well organized and easy to access.
The unique lower diamond window is more than a stylish touch as it allows the driver to see headlights through the rear view mirror in the truck.  Angela says it's just enough to tell if there's a vehicle directly behind us, day or night.  This is a nice feature that can be hard to find in a slide-out camper.
The rear step is a simple fold down step that works beautifully.  The only catch is, when you have a tall truck like ours, the first step up can be a doosey.  At the rally, many folks commented that the steps into the camper were too tall.  Having used this camper demounted from our truck, I can tell you that this is definitely not the case.  Our truck is at least six inches too tall due to it being (a) a 1998 Dodge, (b) four-wheel drive, and (c) equipped with 19.5 wheels and tires.  If the Travel Lite were mounted on a late model four-wheel drive truck without 19.5's, I doubt the first step height would be an issue.
I'm not the biggest fan of built-in generators, but it has been nice to have the built-in Onan 2500 propane generator on hand when we need it.  This is especially true since the camper only has facilities for one battery.  That said, I would prefer a portable generator, such as the Honda eu2000i, and facilities for two batteries.  Our camper has the optional Coleman Mach air conditioner that runs like a Swiss watch with a Honda eu2000i.  The combination of a Honda eu2000i and the Coleman Mach are a match made in camper heaven.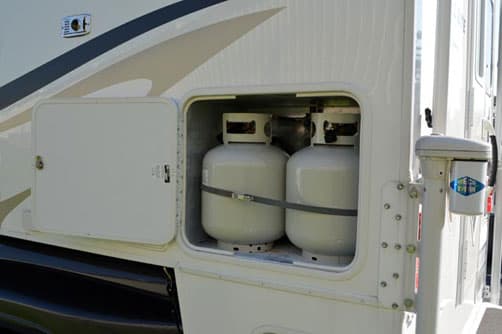 Access to the propane compartment is very good and I like that the two twenty-pound tanks are easy to access and work with.  Too many campers have tanks that are too high making what can be a heavy and awkward propane tank installation even more difficult.  Travel Lite gets this right, but I would prefer to see more ventilation in the propane compartment and, if possible, a more user friendly tank strap.
Rally attendees often commented that the dump tank valves were difficult to access but I think they were using the wrong access door.  The lower left access door gives easy access to the dump valves which are clearly marked.  With a snow front approaching, we quickly dumped the tanks last week and I found the process straight forward and easy.
What I didn't care for was the small dump hose compartment that didn't fit the hose without being cut down.  Not to sound crude, but I like my sewer hoses full-size to give the maximum available flexibility when dumping.  A mounted sewer hose tube on the side or a flip-open sewer hose compartment on the rear bumper would be better, preferably the latter.
Speaking of ladders, this camper needs one.  For the longevity of any camper, it's critical to have access to the roof.  Say you're in the middle of nowhere and you think a tree branch may have dropped onto the top of the slide-out roof.  You need to move that branch before retracting the slide-out and potentially causing damage to the camper.  It's also important to get up on a camper roof and check the roof seals now and then.  Or to clear snow in the winter (something I'm concerned about).
While I'm nit-picking, the slide-out needs a slide-out cover to protect the slide from the elements and other falling debris (water, snow, ice, leafs, acorns, squirrels, etc.).  As a non-slide camper kind of guy, this was off my radar screen until the rally attendees with slide experience pointed it out.  From their perspective, slide-covers are essential.
So add this all up and you have a very impressive exterior with a few easy-to-add or change nit-picks.  Add more ventilation to the propane compartment, a larger dump hose compartment, a more user friendly propane tank strap, a ladder, and a slide-out cover and you'd have a nearly perfect score.  I would personally prefer the Honda eu2000i to the built in Onan, and an additional battery.  While we're at it, how about a small solar panel to help keep the battery healthy and charged when the camper is not being used.
What's most interesting about this short list is that all of them could be added to the camper we have.  At least in theory, no design changes would be necessary.  That may all sound critical, but really it's high praise to see a camper this close to its ideal configuration without needing major surgery.
Interior
Before we put the slide-out out, we have to mention that you can use this camper with the slide-out in.  It's a narrow entry to get in around the slide, but you can open the bathroom door and get in as well as use the rest of the camper.  This is a big deal for Angela and I as we like to camp in places where attracting attention with a slide-out may not be a good idea.
Above: The bathroom door is slightly open with the slide-out in
It's also great to be able to quickly use the bathroom or retrieve something from the camper without extending the slide.  This is all big stuff in our book.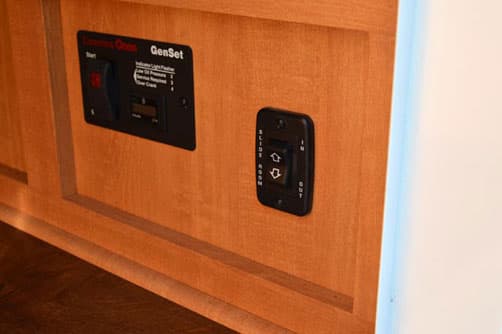 Having the slide-out switch and generator start within reach just inside the rear door is a real plus.  In the nearly three months we've had this camper, I've enjoyed having these switches so easy to access and use.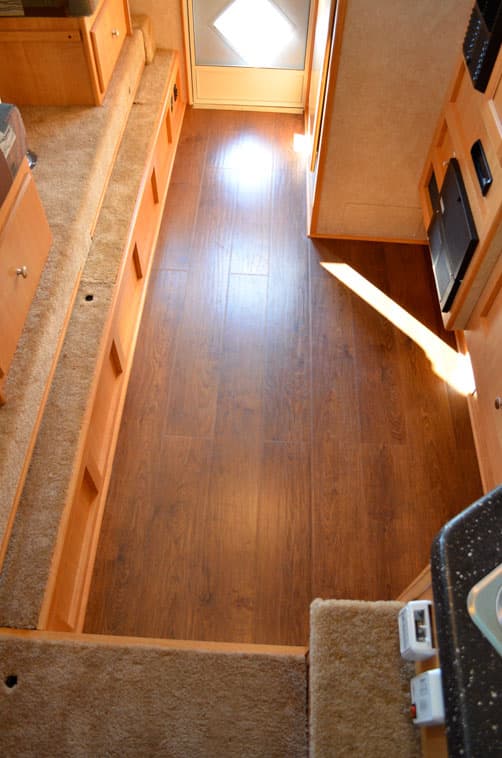 Once the slide is out, the first things you notice are the laminate wood flooring and the wide open floor plan.  For non-slide camper users like us, the floorspace is a revelation.  As slide-outs often do, they make this camper feel more like a domestic living space.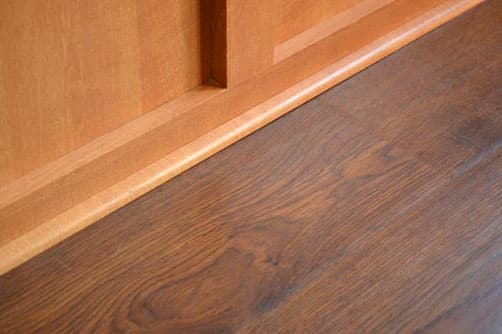 Adding to this domestic feel is the dark laminate wood flooring.  It's not only beautiful, but it's also soft to walk on.  I agree with many of the rally goers that a carpet runner would make this even better, but it seems a shame to cover up such a nice floor.  Some rally folks also said the floor was too dark, but no one found it to be anything less than a very impressive and high quality floor.  I really like it.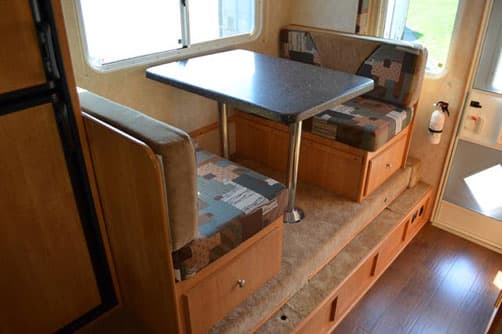 The dinette in the 2012 Travel Lite 1000SLRX Ultra is large and roomy.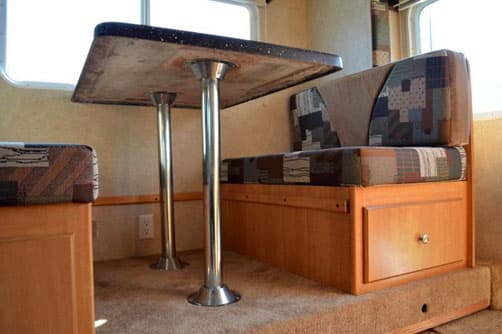 The table is also reassuringly sturdy with two posts holding it in place.  Angela and I sat down at this dinette and were immediately thinking about how nice it would be to eat and work on this large and sturdy table.  Two big laptops?  No problem.  Two big laptops and a rather large cat?  No problem. Not that anyone has that experience.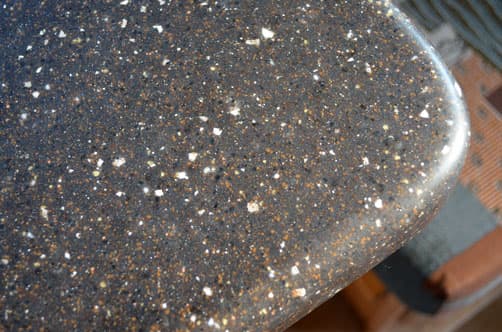 The matching fiberglass granite gel coat dinette table, kitchen counter, and bathroom counter are simply stunning.  When the rally attendees were walking through the camper, their first impressions were split between admiring the floor and the granite coat table and counters.  Again, the jury was out about the dark color, but everyone loved the look, feel, and richness of the granite coat.  I like the black counters, but agree that a lighter more neutral color would probably appeal to a broader group of people.  Still, the table and counters were a show stopper and everyone raved about the granite-look.
The cabinetry in the Travel Lite 1000 SLRX Ultra is some of the finest we've ever seen in a truck camper.  Travel Lite has long employed Amish craftsman for their cabinetry and the quality, fit, and finish of the cabinets in our camper is first rate.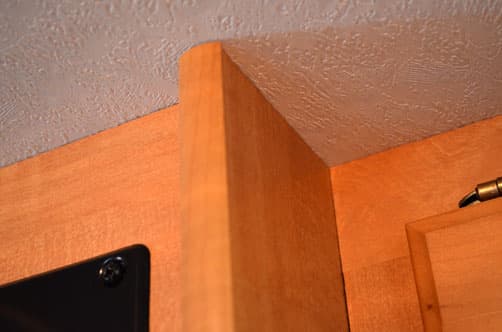 There is almost no gimp anywhere in camper because the cabinetry tolerances are so tight they don't need it.  The style of the cabinetry is also clean and contemporary and the natural Maple is warm and neutral.
Storage throughout the camper is also a strong suit with ample storage in the kitchen and overcab.  Under the dinette seats are two extremely welcome large drawers.  We never seem to have enough storage (especially in the kitchen) but we may have met our storage match in this camper.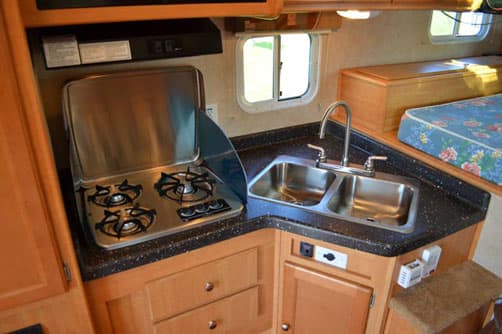 Speaking of the kitchen, the double stainless steel sink, faucet, and three-burner gas range top are visually striking against the dark granite coat countertops and give the kitchen a high-end domestic feel.  Above the counters, the optional convection microwave is a nice touch and helps to make up for the missing oven.  Again, the kitchen storage is excellent.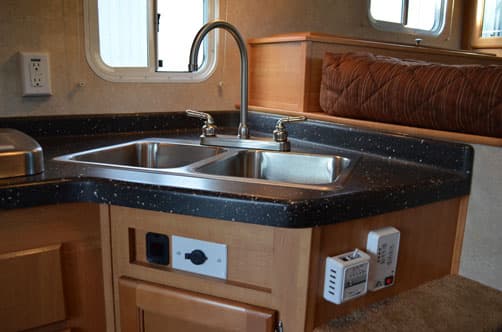 As the rally visitors noted, the under-the-sink location of the 12-volt outlet, thermostat, and tank monitor could be prone to water spills, but we have not experienced a problem and like having these appointments conveniently located mid-camper.
The wet bath floor width is a little narrow and the counter is a bit high.  This makes the bathroom feel a bit tight although it works well in daily use.  What's best about the bath is how the granite coat counter tops give the bathroom a more domestic bathroom feel and visually tie it into the rest of the camper.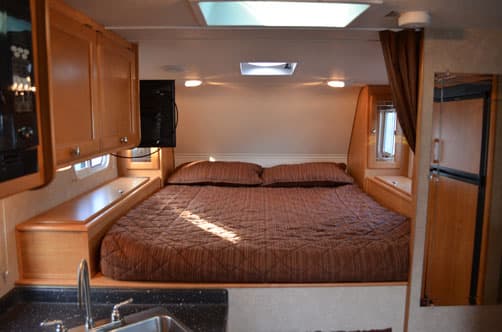 I'm a big fan of the overcab in the 2012 Travel Lite 1000 SLRX Ultra.  It's tall enough for me to sit up comfortably.  At 6'3", that's important.  The overcab also feels open and spacious and offers the usual common sense storage opportunities and lighting.  It's quick and easy to put clothing away in this camper and the Amish made cabinetry reminds you of it's quality every time you use it.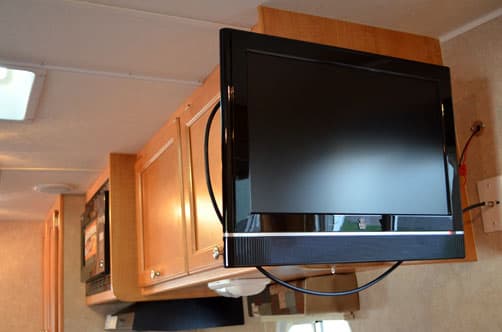 The flat panel HDTV works well and features a swing out arm for viewing in the overcab, kitchen, or dinette.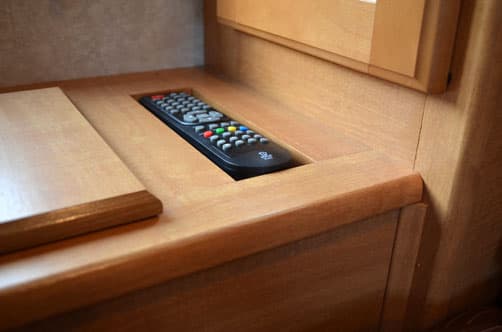 The inset remote nook is a nice touch.  A Heki skylight would be a welcome addition, but then you give up the overhead Fantastic Vent fan.  Always choices and compromises.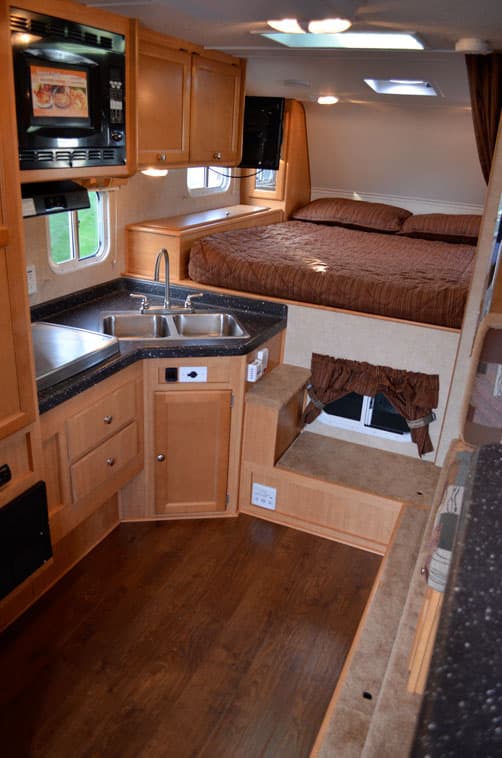 In short, the interior of this camper is a knock out.  If our camper had more neutral counter top and floor colors, most of the rally attendees would have been scratching their heads looking for something they didn't like.  Of course some folks walked in and loved the colors and literally had nothing but positive things to say.  I'm in both camps as I like the colors, but I'd like to see a more neutral approach.  I'm difficult like that.  Ask Angela, and Harley.
Wrap It Up
There is a common perception in the marketplace that Travel Lite is purely a value oriented brand.  If you asked the leadership team at Travel Lite, I believe they would proudly accept that perception, but then ask you to take a step into a Travel Lite 1000 SLRX.
Put bluntly, this camper throws a very impressive wrinkle into that value oriented assumption.  Here we have a full-wall slide-out camper with a long list of luxury features and an overall level of fit and finish that suggests Travel Lite is ready to compete in the high-end camper arena.  We've already pointed out what's missing, but this list is relatively short and, I believe, easy for Travel Lite to address.  If my experiences with Travel Lite are any indication, they are hungry for this type of feedback and will make improvements, where feasible, as fast as possible.
Again, the floor plan, fit and finish, and overall function and aesthetic of this camper are very strong.  If you're reading this the way I hope you are, you are witnessing a company coming into its own and taking on the high-end truck camper market.  With their 1000 SLRX Ultra, Travel Lite has given us one more reminder that they are a truck camper manufacturer to watch.