Retired from medicine, Stephen Paushter and Dorothy Tourtual plunged into full-time truck camping in a Northstar 8.5 Arrow U.  Now they swim competitively from state to state seeking good health, good friends, and lasting memories.

When Stephen Paushter and Dorothy Tourtual sold their house and moved full-time into a truck camper, their friends thought they'd gone off the deep end.  At age 66, they were ready for an exciting new lifestyle of freedom and adventure.
As passionate members of United States Masters Swimming, Stephen and Dorothy wanted to make waves far from the reaches of Binghamton, New York.  With their 2016 Ram 3500 and 2016 Northstar 8.5 Arrow U, they were ready to camp near Masters Swimming events from Maine to Florida, competing in pools and open water.
As a retired primary care physician (Stephen) and nurse practitioner (Dorothy), they are also on a quest to stay healthy and fit.  At work they witnessed the ravages of obesity, smoking, and a sedentary lifestyle.  Their primary secret to longevity?  Eat right, and just keep swimming.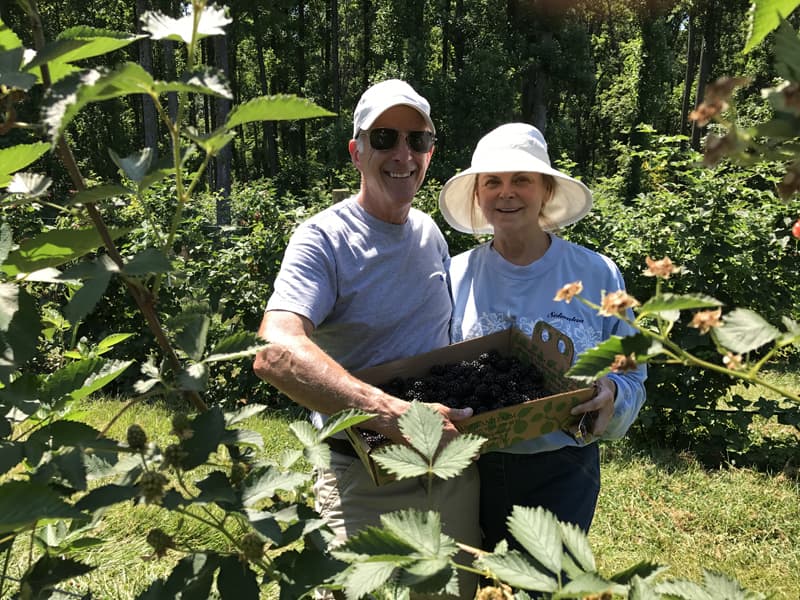 Above: Stephen and Dorothy at a pick your own farm
TCM: How did you guys get into truck camping?
Stephen: I was first introduced to camping through Boy Scouts.  From that experience I became an avid tent camper, backpacker and canoe camper.
Dorothy: I vacationed with my family in cabins.  In college I was introduced to tent camping, often on the Texas beaches.  I had a small motorhome for a brief period of time and continued to tent camp after that.
Stephen: When I was in college I read John Steinbeck's "Travels With Charley".  In his book, Steinbeck describes exploring the back roads of America in his truck camper accompanied by his standard poodle, Charley.
Ever since then it had been my dream to travel America in a truck camper.  Dorothy enthusiastically supported my dream.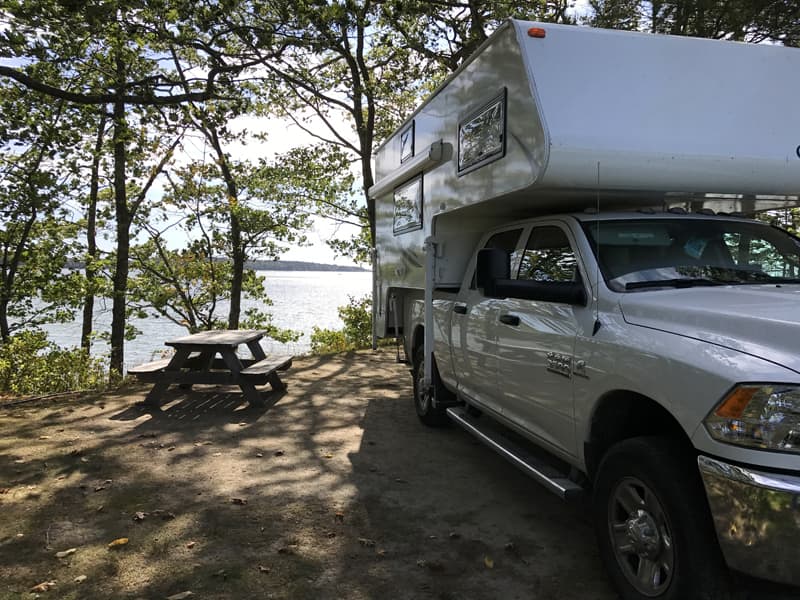 TCM: That's a great dream.  How did you go about making it happen?
Stephen: I retired from my busy medical practice in November of 2016.  We wanted to keep it simple with one vehicle that fit into a normal parking spot, and nothing in tow.  I looked at Class B and Class C motorhomes, but neither completely fulfilled our needs.
I had been reading Truck Camper Magazine for several years and was intrigued by the flexibility that truck campers allowed.  I learned about payload matching, CAT scales, diesel versus gas, maintenance tips, and much, much more.
I read lifestyle stories and destination recommendations.  I studied all of the truck camper manufacturers and even visited a factory.  Truck Camper Magazine was instrumental to us.
After visiting Truck Camper Warehouse in New Hampshire three times, we took the plunge and bought a Northstar 8.5 Arrow U.  We have been on the road since I retired and we couldn't be happier with our decision to become truck campers and our choice of campers.
We used tips learned from the magazine every step of the way from how to make a cabover bed to efficiently organizing our camper and packing a freezer.  We have even planned portions of our first trip based on other readers' recommendations.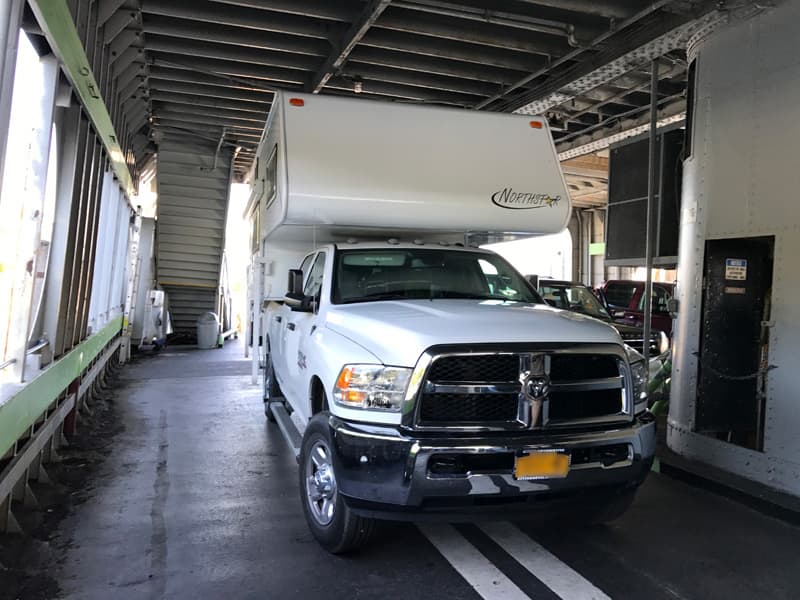 Above: Taking a ferry to an Open Water Competition
TCM: We often use our magazine in much the same way.  What was it about the Northstar 8.5 Arrow U that appealed to you?
Stephen: We wanted a hard side for safety, extra storage, and for warmth in the winter.  We chose the Northstar for its relatively light weight and profile, top quality construction, cassette toilet, and warmth in the winter.
The Northstar 8.5 Arrow U has no basement, which lowers its height significantly.  It has a large fresh water tank, solar panels, and two AGM batteries.  We often dry camp, so the Northstar is a perfect camper for us.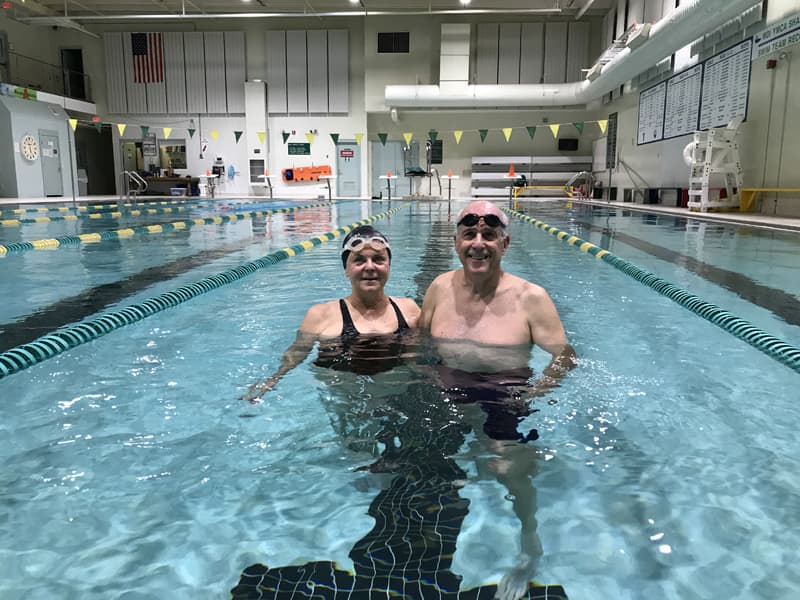 TCM: Tell us about how you got into swimming, and why it's important to you.
Dorothy: I got into swimming as a child.  My father was a competitive swimmer and swam in a relay that went to the Olympic trials when he was in college.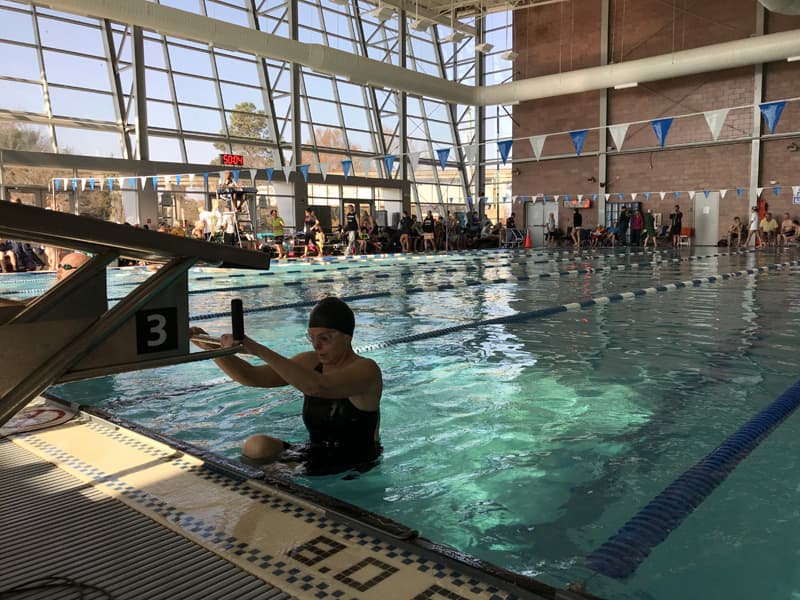 Above: Dorothy's backstroke start
I have done age group swimming most of my life.  I swam at Texas A&M University in College Station.  I got into Masters pretty much after college.
Stephen: I swam in high school competitively, but not much in college.  It was too much with my studies.  I got into Masters Swimming 20 years ago.  It is a very active club in Binghamton, New York, where we lived.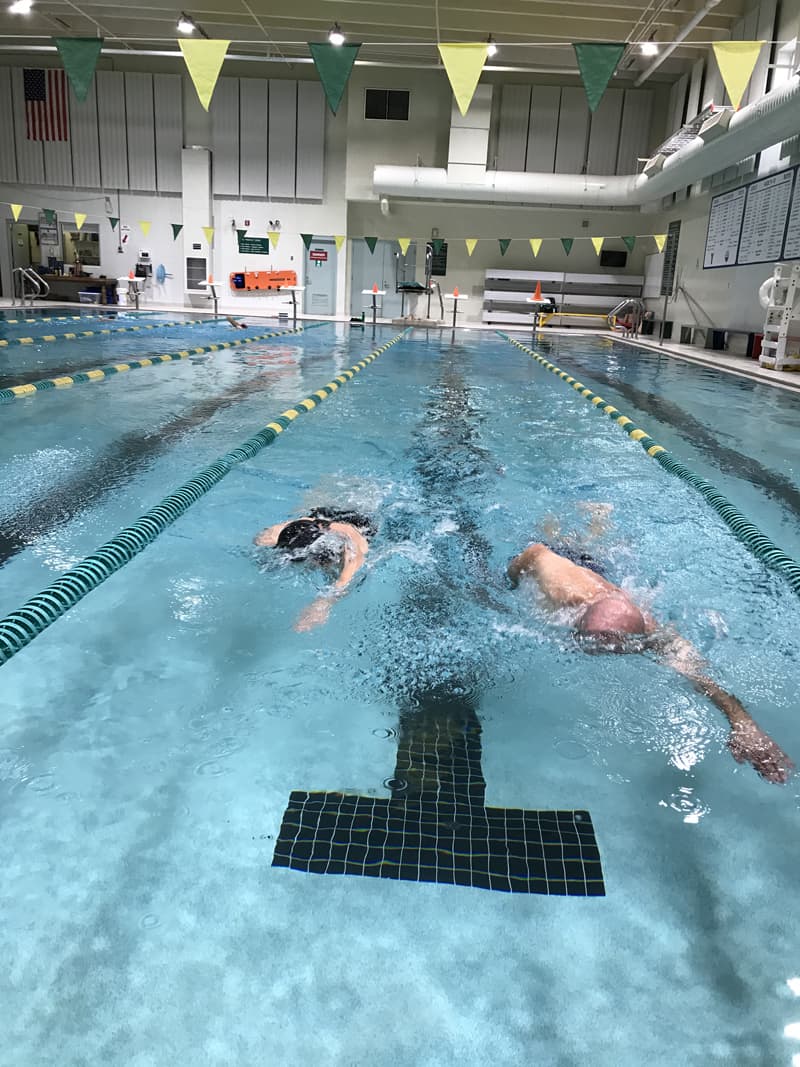 TCM: Masters Swimming?
Stephen: We belong to an organization called United States Masters Swimming.  It has over 65,000 members world-wide and promotes swimming for health and recreation.
Some people swim on their own, and some with clubs and teams.  Most medium size towns have teams that train together.  Master Swimmers have coaches and there's pool time available in the mornings.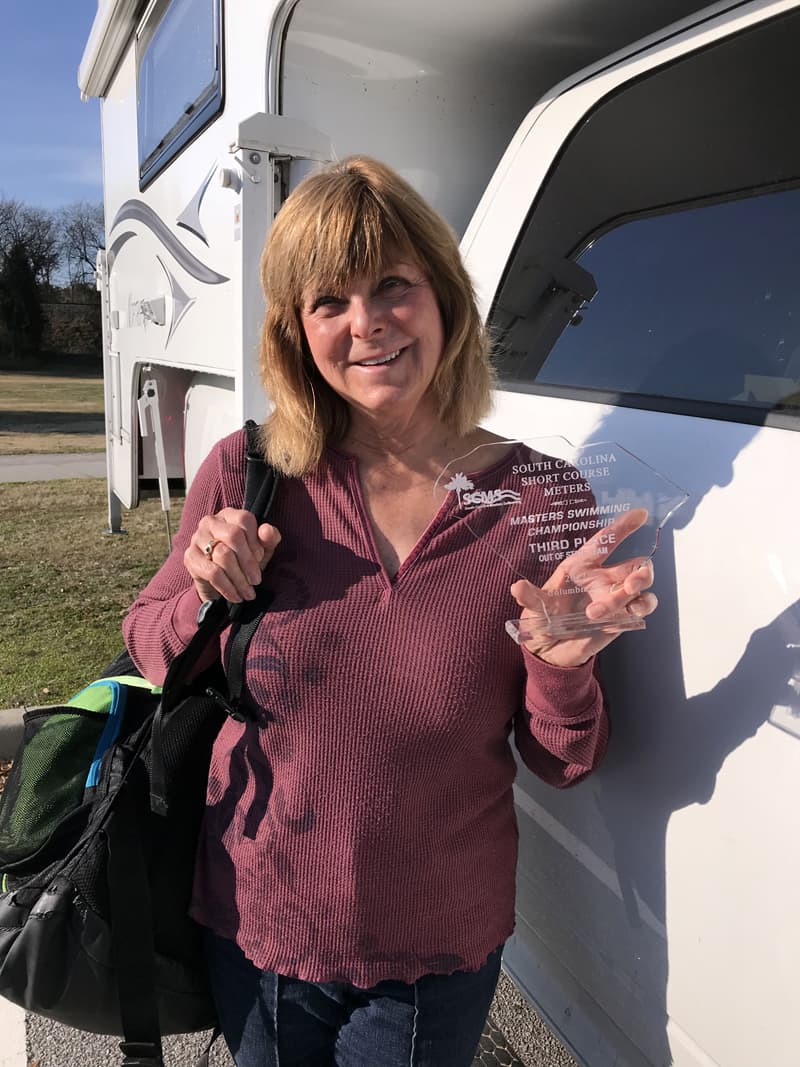 TCM: How much is swimming a part of your truck camping lifestyle?
Stephen: We plan our truck camping travels around swimming competitions.  We have been to swim meets in Texas, Alabama, New York, Florida, and South Carolina.  In the spring we will compete in the short course nationals in Indianapolis.
Dorothy: When we were in Camden, Maine we met a gentlemen who talked about a Master Swimmer who moved to South Carolina and then when we were in South Carolina swimming, we met her.  It's a great community and you get to meet people all over the country.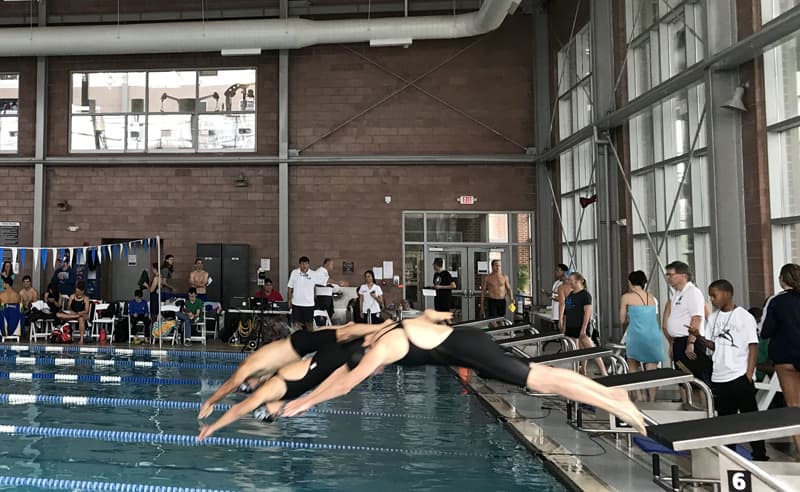 TCM: What draws you to competitive swimming?
Dorothy: It's something engrained in me.  I love competition.  It's a sense of success and reward for hard work.  To me, competition is fun.  I like the challenge.  Can I get faster?  There have been articles about getting older and losing muscle strength.  I'm challenging that.
Stephen: It's very motivating.  I'm not as competitive as Dorothy.  She competes more than I do.  I don't compete at the level she does.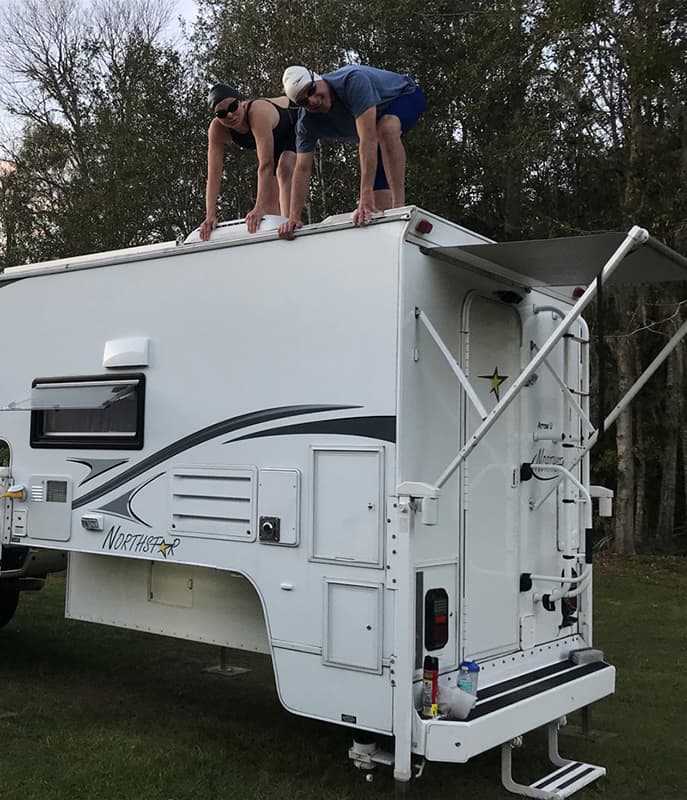 TCM: Are you able to keep your truck camper at the swimming events?
Stephen: Yes.  For all our training at pools and parks, we can park in the parking lot.  Our truck camper is amazing.  I don't know why everyone doesn't have one.
We can always find a campground within 20 minutes of any competition, even in the cities.  We even left the camper on as we drove through Boston.  The truck camper has given us so much versatility and we have never had trouble getting a campsite.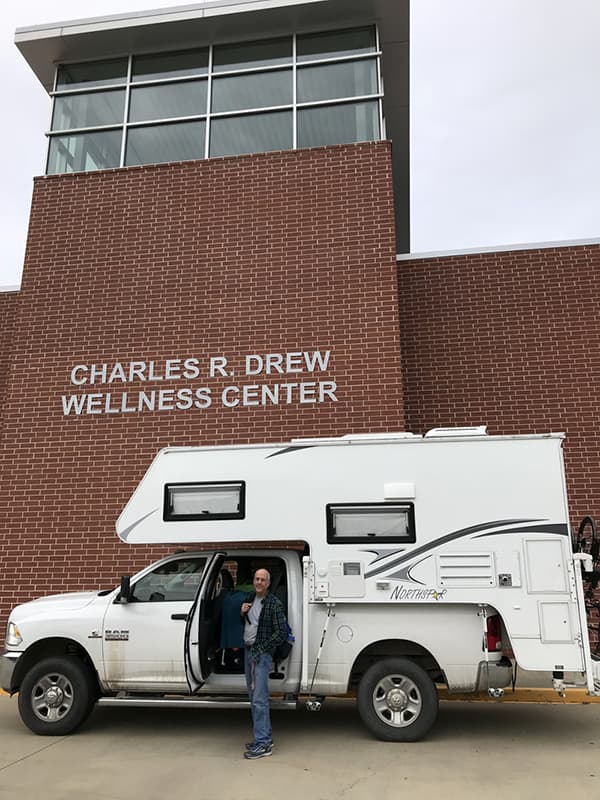 Dorothy: Lake Placid had limited parking, so we parked on the side of the road.  After our swim, we went right to the camper, got warm clothes on, and cooked breakfast.
Stephen: There wouldn't be any other camper that would be better for what we do.  Other RV types aren't as winter friendly.  We have a great cold weather camper.
TCM: How do you keep the cassette toilet and plumbing systems in the Northstar going during winter weather?
Stephen: I use RV antifreeze with the cassette toilet system.  The outside shower stays winterized.  We leave the doors open under the sink and we have not had anything freeze.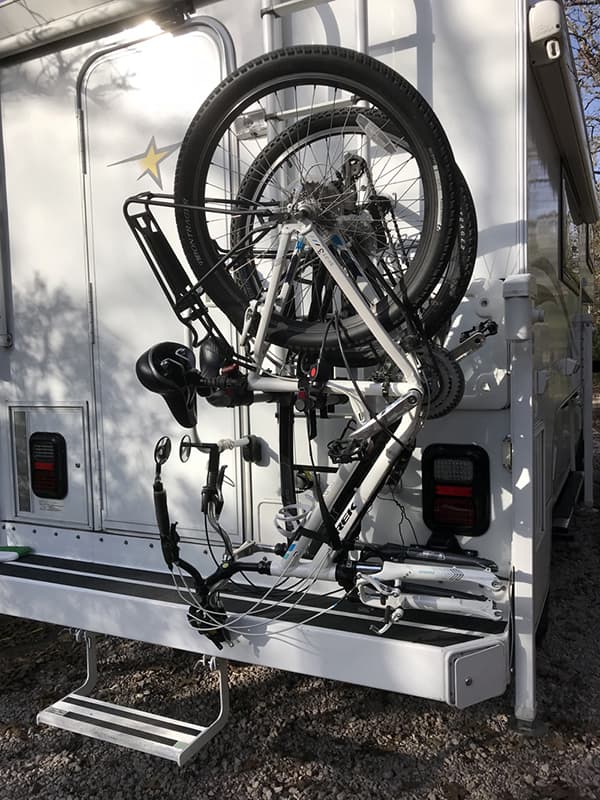 Above: The Swagman bike rack on their Northstar Camper
TCM: Having camped in Northstar hard side truck campers, we know how well insulated they are.  How do you carry your bikes?
Stephen: The bicycles are carried either on our ladder rack or inside the camper.  We have a short bed truck, so I was concerned about too much weight in the back.  On several occasions I have emailed Rex Willett, President of Northstar Campers, with a question and I have always gotten a helpful response.
When I was looking for a bike rack I called Rex and he confirmed that a ladder rack would work well on our camper.  I chose a Swagman because it is a very simple, lightweight aluminum rack.  I bought it on Amazon.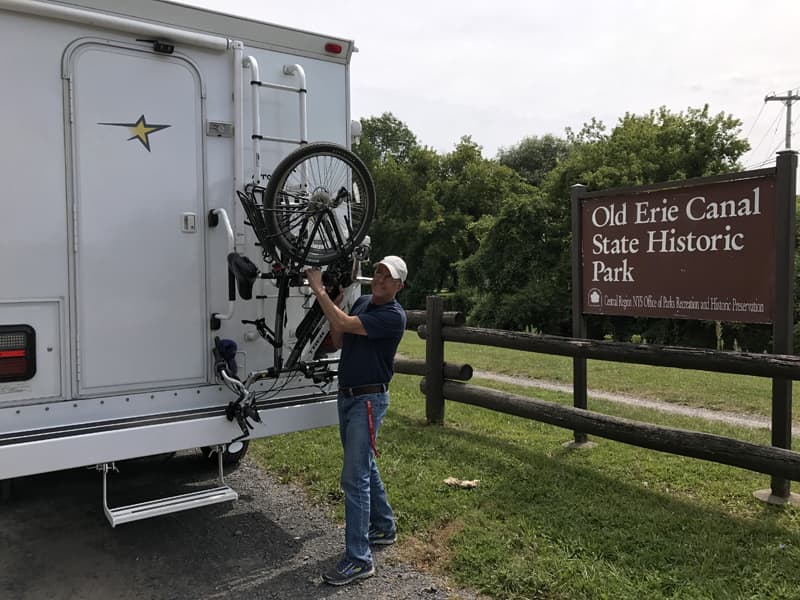 You pull it over the ladder's rungs and pull the strap.  It's easy to take on and off.  We also use it to hang towels and swim suits when the bikes are off.  I take the front wheels off so they fit better and it doesn't interfere with our turn signal.
If the weather is horrible, we put the bikes inside the rig.  Dorothy has a magical way to put the bikes in so that we can still move around and make lunch.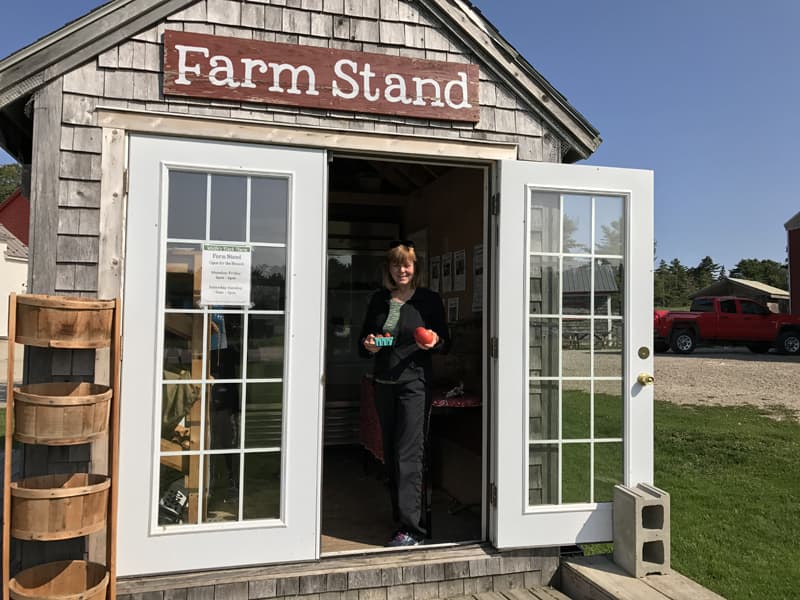 TCM: That is impressive.  We noticed that your photos feature very healthy looking meals.  How do you keep that going on the road?
Dorothy: We look for grocery stores and local farmer's markets that carry organic produce.  It's a commitment.  We talk about it and decide what to eat.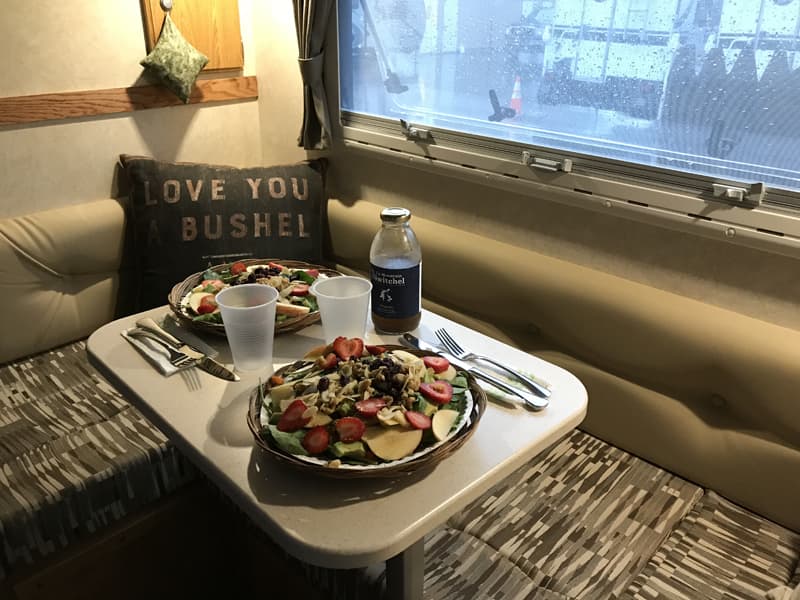 I have an ability to turn anything in the refrigerator into a meal.  I'll see some spinach, quinoa and beans and put them together.  It's about knowing what you can combine together for good nutrition.  I had a little trouble with cholesterol and read about good foods for lowering it.  I have been able to do better with diet and nutrition.
In Truck Camper Magazine there was an article about freezing meals and how to prepare them by laying them flat in the freezer.  I have made soups while we're at someone's house and then freeze the soup in bags.  I'll also do that with chili.  That was a fantastic tip.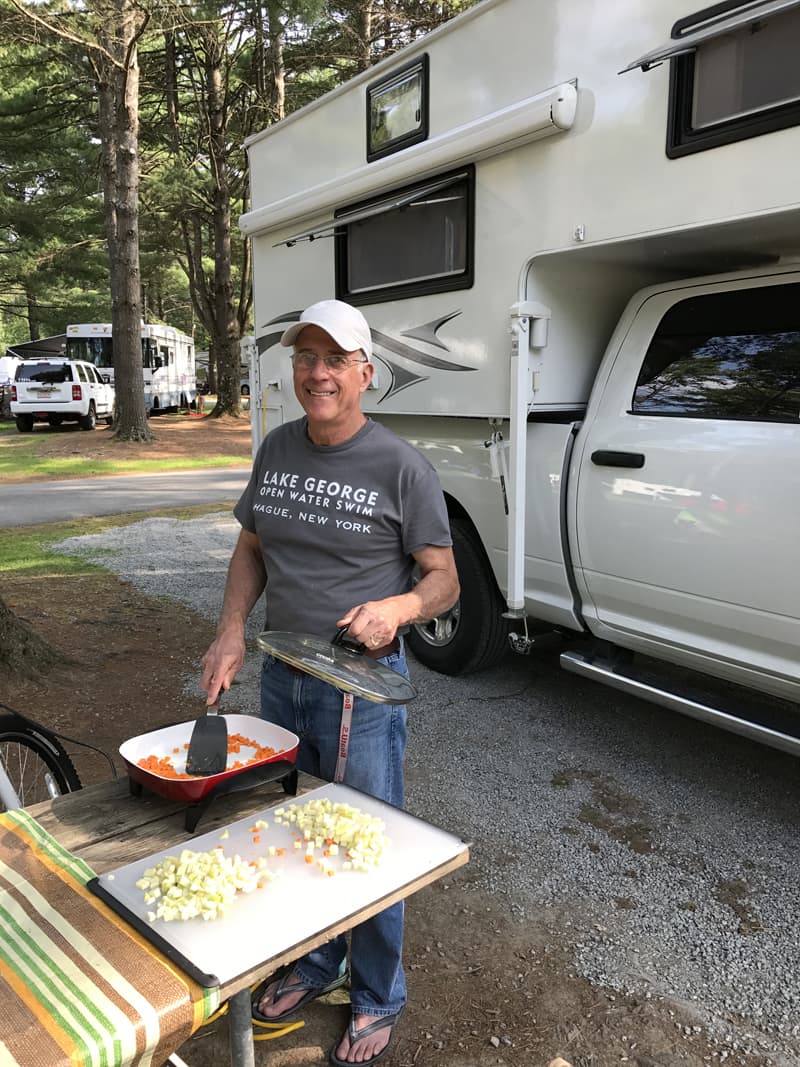 TCM: You're talking about Sylvie Mathis' article, "Doing More and Spending Less In a Truck Camper".  That's a must read for many reasons.
Stephen: We also cook outside.  I have an electric frying pan, and we'll make egg white omelets with vegetables.  Our camper has an exterior electric plug.
Dorothy: You have to have an open mind of things you can combine together.  You may have an avocado.  What goes with it?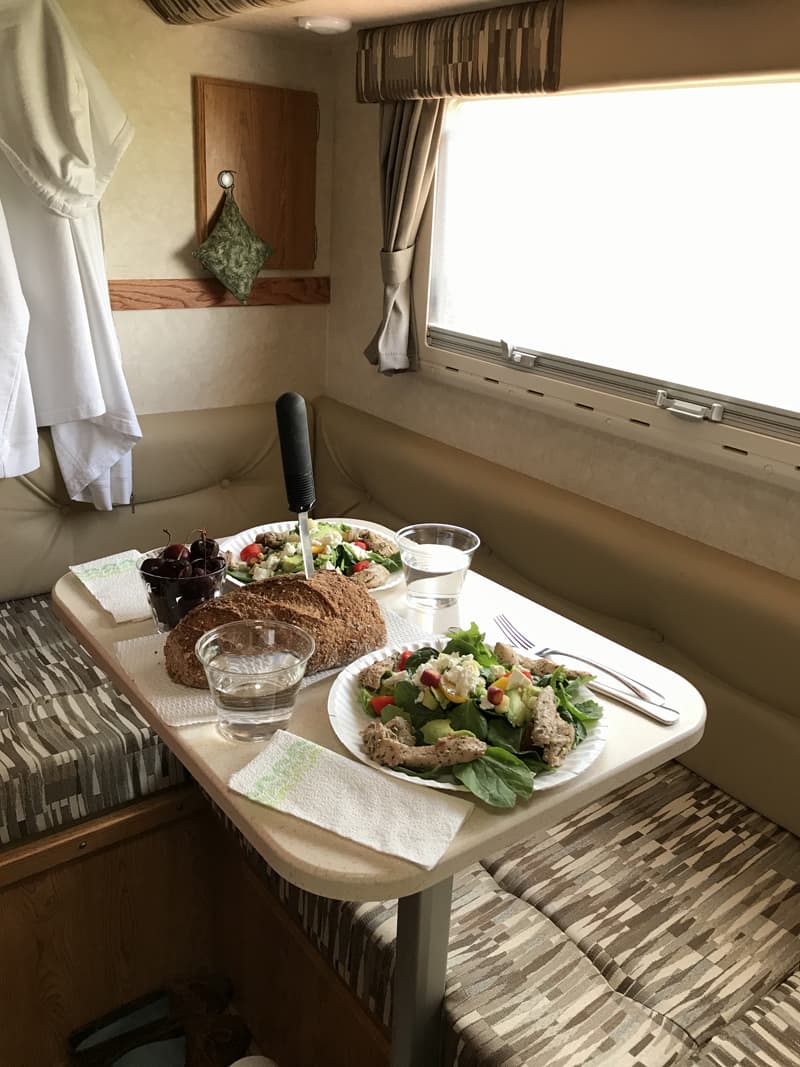 You may have blueberries and strawberries, or walnuts and apples.  We don't spend a lot of time cooking.
TCM: People are going to be surprised to learn that you are living full-time in your Northstar truck camper.  What led to that decision?
Dorothy: We get along so well and it's so comfortable in our camper.  A lot of friends think we're crazy and think it's amazing that we live in this small space.
Our camper is our house now.  Wherever our camper is, we are home.  When we were in Maine, we stayed at a farm that had a couple campsites overlooking the water.  We were going to be there for a couple days and wound up staying for two weeks.  Having this lifestyle allows for that.  It was a fantastic experience.
I know we will get a house eventually.  For now, this feels good.  It felt nice to be free of the house.  We like to travel so much that the house was always a burden.  We would worry about pipes freezing and watering the plants.  Now we don't have to worry about anything.  This is home.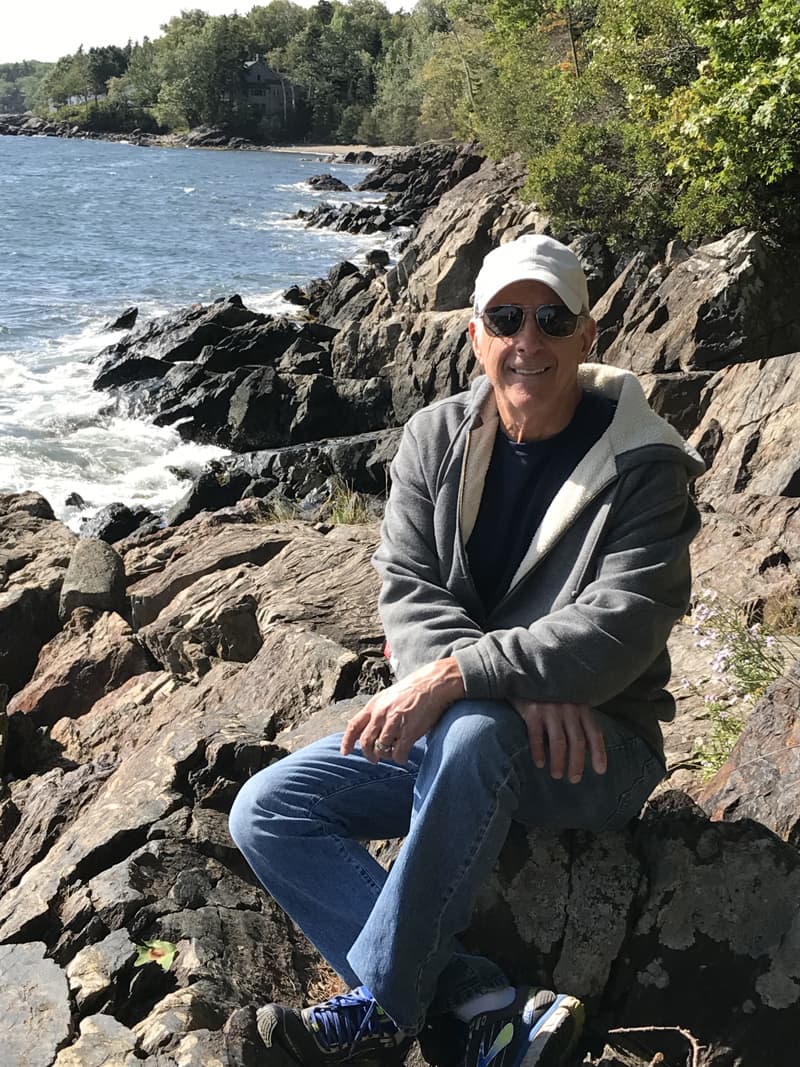 Stephen: We bought the camper in December 2016 and have spent most of our time in it.  The first person who looked at our house bought it.  We have been living full-time in our Northstar Camper ever since.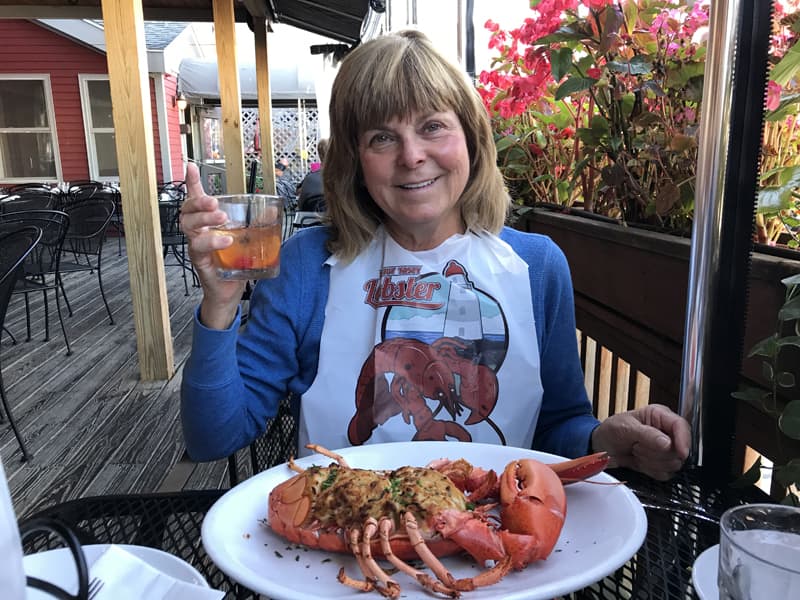 TCM: That's amazing.  You guys really dove into your dream, pun intended!  Are your travel plans 100-percent determined by swimming opportunities, or are there other factors that influence your itinerary?
Stephen: Outside of swimming, we're not really destination travelers.  Much of the time we bounce along with a loose itinerary.  If we like somewhere, we'll stay two to three weeks when we might have only planned for an overnight stop.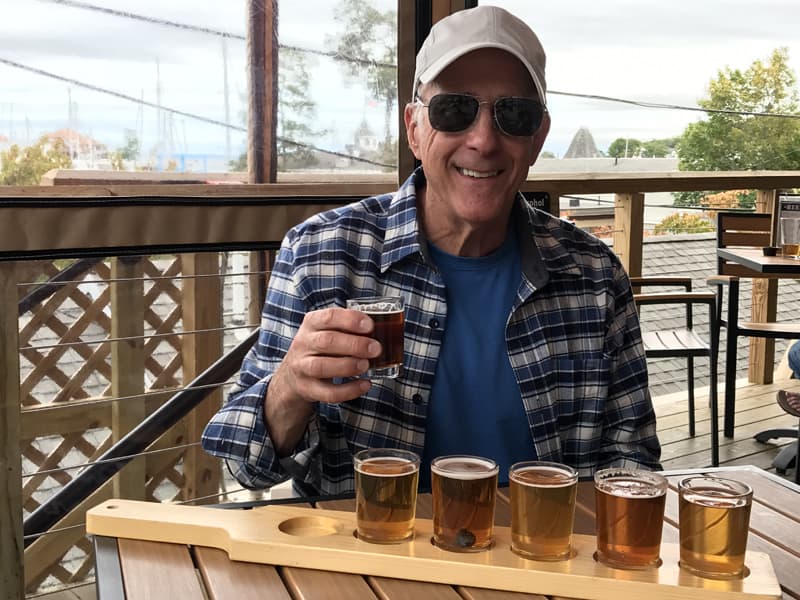 Dorothy: We embrace a town or an area that we like.  We might meet someone at the pool, or at a restaurant, or drive by something and stop.
I love baskets and moccasins.  In Camden, Maine, there was a sign at a shop with baskets and moccasins.  There was a gentleman in the store who was starting a museum of antique baskets.  We spent hours there.  We became interested in the Native American culture of Maine and stayed in Camden for weeks.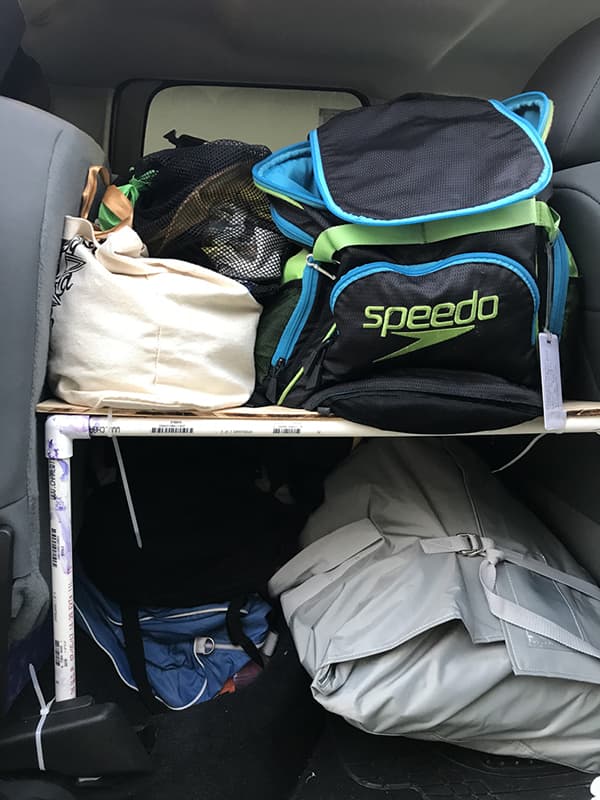 TCM: You sent us a picture of a storage modification to the back seat of your crew cab.  What's that about?
Stephen: Our swim gear was often all piled up in the truck and we couldn't find our stuff.  To solve this, we made simple shelves out of PVC pipe and quarter-inch plywood.  It's worked out great.
Dorothy: Our Sea Eagle 385 inflatable double kayak is underneath the shelves because we don't use it every day.  On the top shelf we put our swimming backpacks so that we can grab them and go.
We have box for bike stuff and boots in another box.  We keep our laundry basket there.  We actually throw our laundry from the camper to the back of truck.  The passthrough window from our camper to truck is our laundry shoot.
TCM: That's clever.
Dorothy: Another modification idea came from Question of the Week about how readers make their beds.   I ended up buying a full size bed quilt instead of queen size quilt.  That was a pointer that I picked out from that article.
The quilt lies flat and it's not as big so I don't have to worry about bulkiness.  We've gotten so many different hints from your magazine.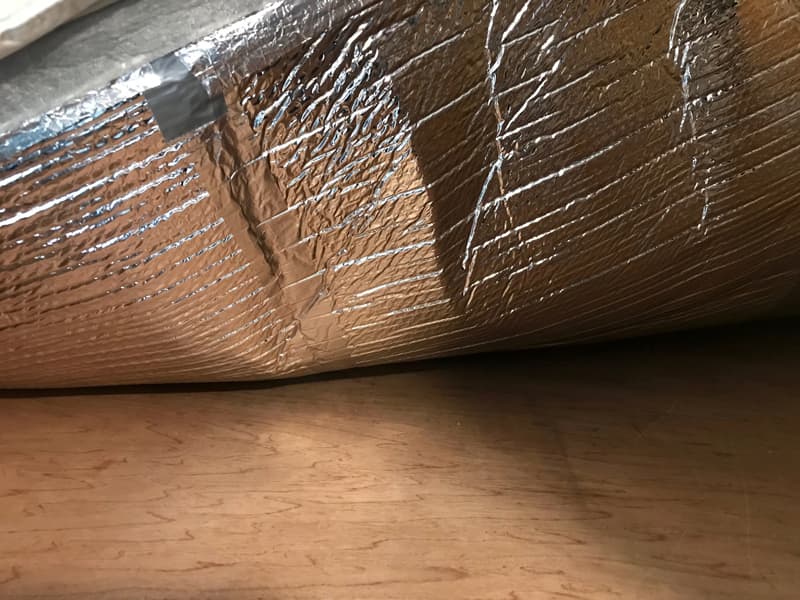 Above: Bubble foil insulation under the mattress
Stephen:  Dorothy was making the bed one day and noticed there was a little mold underneath the mattress.  I called Rex and he suggested to put bubble foil insulation under the mattress.  We also bought and installed Hypervent.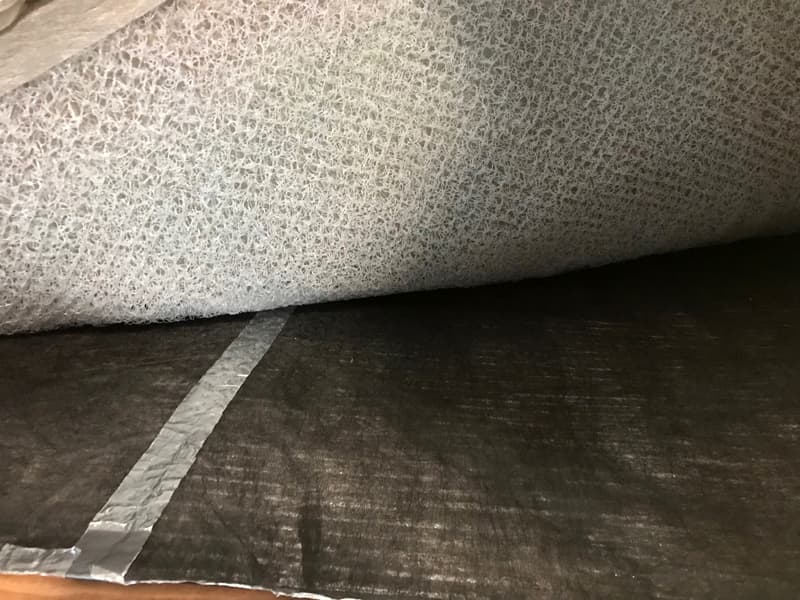 Above: Hypervent is the middle layer, under the mattress and on top of the bubble foil
The insulation material on the floor and the Hypervent on the top of that got rid of 90-percent of the problem.  Then, I bought foil tape which formed a vapor barrier with the insulation.  If you let condensation go, you could have damage to your camper.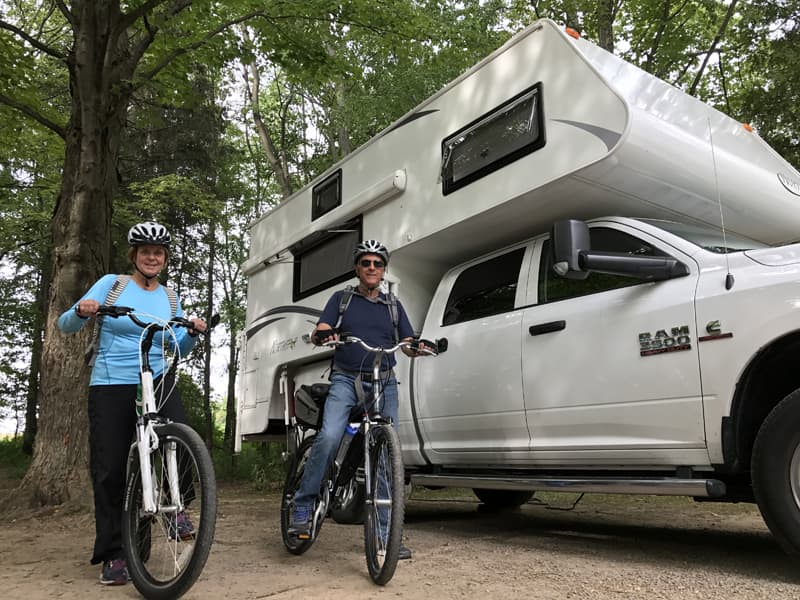 TCM: We had a similar experience and also installed Hypervent.  That seems to have helped with our situation as well.  Is there anything else that you'd like to share?
Stephen: I was a primary care physician and Dorothy was a nurse practitioner.  That plays into our healthy lifestyle.  We saw the effects of obesity, smoking, and a sedentary lifestyle.
Dorothy: Being healthy doesn't have to be complicated.  Go on a hike around the campground.  Sometimes people think they have to join a gym.  Just make choices to do things different.  Instead of sitting and talking at the picnic table, take a walk together.  It's a matter of thinking it through, but making it simple.  Then, it's easier to do.
Stephen and Dorothy's Truck Camper Rig
Truck: 2016 Ram 3500, Crew Cab, 4×4, Diesel, Single Rear Wheel, Short Bed
Camper: 2016 Northstar Arrow 8.5 U
Tie-Downs and Turnbuckles: Torklift Fastguns
Suspension: Supersprings
Gear: Ladder bicycle rack, Two person inflatable Sea Eagle Kayak, bicycles