Retired from medicine, Stephen Paushter and Dorothy Tourtual plunged into full-time truck camping in a Northstar 8.5 Arrow U.  Now they swim competitively from state to state seeking good health, good friends, and lasting memories.

When Stephen Paushter and Dorothy Tourtual sold their house and moved full-time into a truck camper, their friends thought they'd gone off the deep end.  At age 66, they were ready for an exciting new lifestyle of freedom and adventure.
As passionate members of United States Masters Swimming, Stephen and Dorothy wanted to make waves far from the reaches of Binghamton, New York.  With their 2016 Ram 3500 and 2016 Northstar 8.5 Arrow U, they were ready to camp near Masters Swimming events from Maine to Florida, competing in pools and open water.
As a retired primary care physician (Stephen) and nurse practitioner (Dorothy), they are also on a quest to stay healthy and fit.  At work they witnessed the ravages of obesity, smoking, and a sedentary lifestyle.  Their primary secret to longevity?  Eat right, and just keep swimming.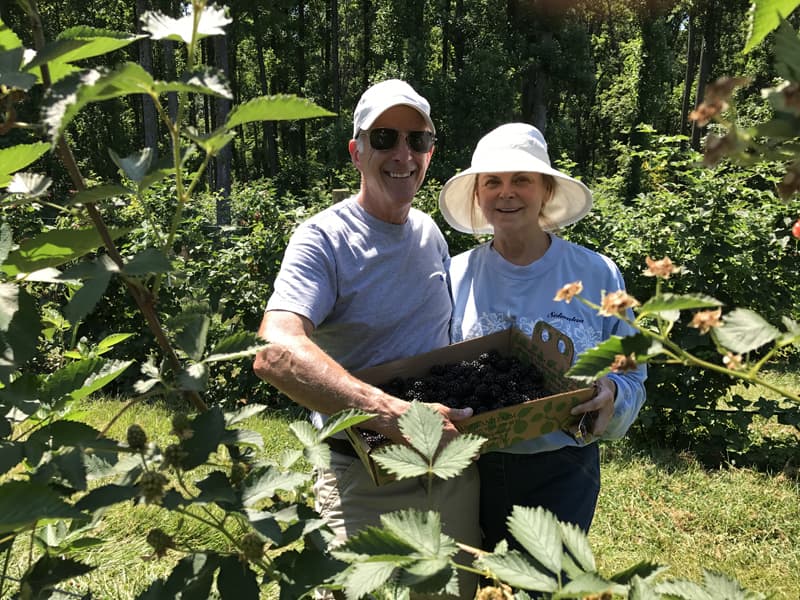 Above: Stephen and Dorothy at a pick your own farm
TCM: How did you guys get into truck camping?
Stephen: I was first introduced to camping through Boy Scouts.  From that experience I became an avid tent camper, backpacker and canoe camper.
Dorothy: I vacationed with my family in cabins.  In college I was introduced to tent camping, often on the Texas beaches.  I had a small motorhome for a brief period of time and continued to tent camp after that.
Stephen: When I was in college I read John Steinbeck's "Travels With Charley".  In his book, Steinbeck describes exploring the back roads of America in his truck camper accompanied by his standard poodle, Charley.
Ever since then it had been my dream to travel America in a truck camper.  Dorothy enthusiastically supported my dream.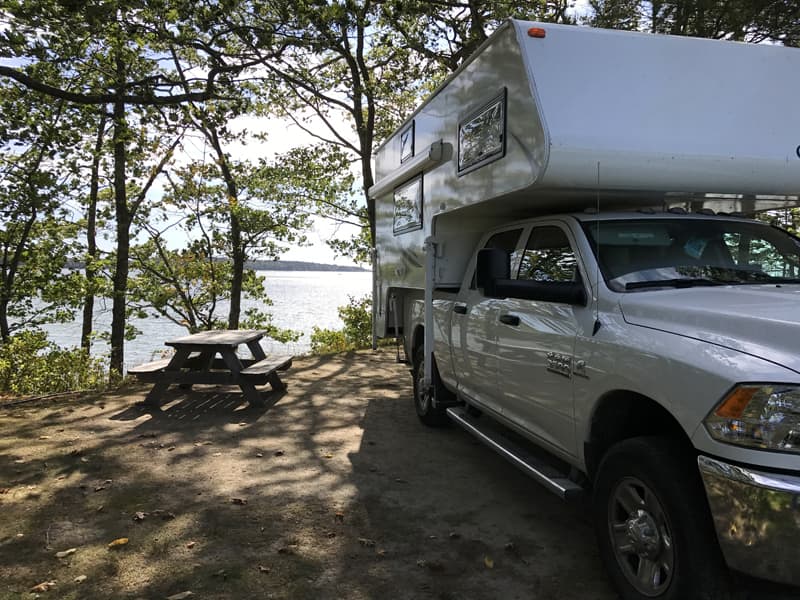 TCM: That's a great dream.  How did you go about making it happen?
Stephen: I retired from my busy medical practice in November of 2016.  We wanted to keep it simple with one vehicle that fit into a normal parking spot, and nothing in tow.  I looked at Class B and Class C motorhomes, but neither completely fulfilled our needs.
I had been reading Truck Camper Magazine for several years and was intrigued by the flexibility that truck campers allowed.  I learned about payload matching, CAT scales, diesel versus gas, maintenance tips, and much, much more.
I read lifestyle stories and destination recommendations.  I studied all of the truck camper manufacturers and even visited a factory.  Truck Camper Magazine was instrumental to us.
After visiting Truck Camper Warehouse in New Hampshire three times, we took the plunge and bought a Northstar 8.5 Arrow U.  We have been on the road since I retired and we couldn't be happier with our decision to become truck campers and our choice of campers.
We used tips learned from the magazine every step of the way from how to make a cabover bed to efficiently organizing our camper and packing a freezer.  We have even planned portions of our first trip based on other readers' recommendations.