Most folks don't think about the day-to-day routines of truck camper ownership when selecting a new camper.  For example, did you look at the cabover of your truck camper and think, "I wonder how it will be to make the bed?"  Maybe you're an experienced truck camper who actually thought about this chore, but probably not.
The funny thing is, the challenge of making a truck camper bed is a common topic among truck camper owners.  After admitting to my ridiculous bed making routine, we asked the readers to share their best bed making advice.  Thankfully, some excellent ideas have been submitted.
First, several readers use sleeping bags in the cabover.  Second, readers use sleeping systems like Lance Campers Bed Maid.  And third, quite a few hop, flop, pull, tuck, and otherwise wrestle their bedding, much as I do.  I'm not the only one!
There are some other ideas, but you'll have to read on.  Be careful to not be mid-coffee as you read these replies.  One good snarf and that laptop, smartphone phone, or computer will be toast!  I darn near killed my Mac on Chip's snow angel.
This week's Question of the Week was, "How do you make the bed in your truck camper?"
"When I make the camper bed, there are three things I must do.  First, I do the dishes.  Second, I give my wife coffee in bed.  And third, I make the bed.  This is part of our camper deal.  I have to wait until coffee in bed is done, otherwise it is a struggle to make the bed.
I do not have any tricks to making the bed.  The simple snap of the fingers has not worked for me yet.  We have a north-south orientation for the bed so I simply start with the bedding at the head of the bed and work my way to the foot of the bed.  It really is not that hard to do, or a big deal.  If anyone knows how to get the simple snap of the fingers to work, let me know." – Rich Bain, 2004 Dodge 3500 2010 Adventurer 810
"I asked my husband to remove the hideous quilted headboard!  With the headboard removed, we have about four inches to move our mattress around.
I start by putting the fitted sheet over the mattress corners at the head of the bed.  Then I step down onto the step and shove the mattress as far forward as I can get it to go.
Next, I hook the rest of the fitted sheet over the foot of the bed.  This extra space reduces the bruised and scratched hands from trying to fit sheets, quilts, and blankets behind that annoying piece of countertop wall that separates the kitchen and bedroom.
I use a seasonal layering system of quilt and duvet covers – kind of like Gordon does.  When I get everything on the bed, I pull the mattress back down and tuck stuff under to try to hold it in place, which kind of works.
The extra space at the head of the bed becomes storage for water proof kayaking bags with extra clothing, towels, sheets, etc.  It would also be a good spot to store a larger weapon.
I am paranoid of the hatch over the bed leaking or being left open, so have a water resistant cover on the mattress, too.  Plus I keep a twin size water resistant mattress pad handy for when the husband needs to access the roof to mess with the antenna or solar panel.
I am considering sewing the corners of the quilt/duvet covers to create a more fitted situation, kind of like the sleep sack systems.  Has anyone tried to make their own?
Lastly, I'm just gonna say this – you still probably look like a flopping fish no matter what kind of system you have.  Just embrace it and try to make it more of a synchronized swimming look!  Make Esther Williams proud. – Laurie Brokaw, 2006 Ford F250, 2010 Lance 850
"This is the second truck camper we have had and in both I have the honor of making the bed.  We have a queen mattress covered with a foam pad.  On top of that is a mattress pad and fitted bottom sheet.
A top sheet and comforter rounds out the standard configuration.  In cold weather, we add another comforter or electric blanket.
I have two keys to making our bed.  I make it up while in it and use a snow angel technique.  Don't laugh.  To get rid of most of the lumps I pull the top sheet and comforter to my chin and make snow angel motions with my arms and legs!  Then I get out from underneath the covers and stretch and tug as needed.  It works for Daisy and me." – Chip Cartwright, 2015 Ram 3500, 2016 Host Everest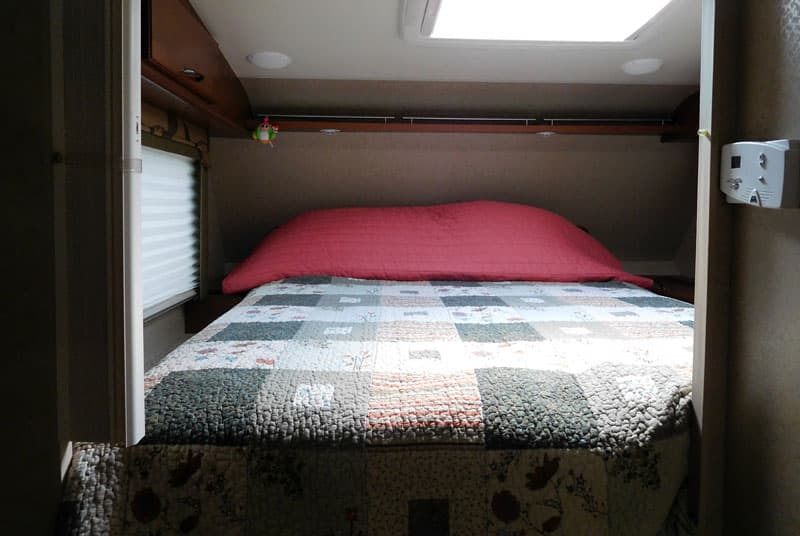 "We have a heated mattress pad, a set of sheets, and two twin quilts.  We each have our own blanket/quilt.  It's the perfect size for one to cover the bed like a bedspread without a lot of extra fabric to fight and stuff along the edge.  I use shams to cover the pillows.  It looks nice, and they fit easily in a washer." – Jody Smith, 2013 Chevy 3500, 2013 Lance 1172
"Fight with the bottom sheet.  Use a duvet on top.  You can buy duvet covers in flannel for winter, and cotton for summer.  IKEA has many different design and colors.
Unbutton the duvet covers to remove them from the quilt and throw them in the wash.  Duvet covers are usually roomy so it is easy to stuff the quilt back in and then button it back up." – Barbara Murphy-Bridge, 1999 Dodge Ram 2500, 2002 Fleetwood Angler
"Make the bed?  Are you nuts!  There are a lot better things to spend time on out there on the road than wrestle with that.  Last one up just pulls up the blankets high enough to cover the pillows in order to keep the dog hair off the sheets and pillowcases.
Putting the whole thing back together after laundry day is the real challenge.  My husband inherited that job since I'm too much of a klutz to be able to do it.  He does a great job, but I still don't know how he does it.  It probably helps to have longer arms than I do.  I am anxious to see if others come up with a better way of putting it all together." – Joanne Hall, 2014 Chevy Silverado 3500HD, 2014 Lance 1172
"I sewed the fitted and top sheet together along the bottom and up the sides about a foot.  The top sheet then easily straightens right out.  Tuck in the sides a little bit, throw the comforter over and – ta-da!" – Scotty F, 2005 F250, 2005 Sunlite
"I make my bed by rolling up my sleeping bag!" – Ralph Goff (aka Ramblin' Ralph), 2006 GMC 2500HD, 2001 Lance 845
"Making our bed is a work in progress.  Today I removed the mattress cover that came with our new full-size 6-inch aerated memory foam mattress.  The memory foam mattress is much more comfortable and easier to make than the coil spring Queen mattress our camper came with.
The memory foam does make it a bit of a challenge to get up out of the bed though.  There was a small stain on the cover.  I decided to just wash the small area in the kitchen sink rather than worrying about shrinkage in the dryer.  Let's hope that's a good idea.
We still have a top sheet and I usually start making the bed while still in it.  I pull and smooth one side and then carefully move to the other side and do the same.  Next, with careful maneuvering, I gently extricate myself, grab my glasses and any other essential items from my night stand and slowly slither out – smoothing as I go.
Our comforter has some sentimental value since it was repurposed from the family boat we used 25 years ago when we were young and vigorous.  Soon it will need replacement so I am happy to see this topic covered.  I like Gordon's suggestion about the comforters.  He will get a knock on the door next time we meet for a demonstration." – Lily Cutter, 2007 Chevy 2500HD, 2012 Lance 830
"We use cotton sleeping bag liners in summer.  I made two sleeping bag liners from King-sized plush blankets for winter by simply folding the blanket and stitching the bottom and one-quarter up the side.  In this way, the fitted sheet stays clean for a long time.  We change pillow cases every few days." – Nancy Meiners, 1996 Ford 350, 2014 Lance 1050S
"We started with a normal Sleep Number double bed in a queen size location, thus we have space to work around the sides.  Then we put a 2-inch thick pillow top mattress pad under the Sleep Number bed for a great insulation layer under the mattress.  We use fitted sheets and one blanket.
For winter camping, we use a 45 minute timer on a 12-volt DC heated blanket between the sheet and one blanket.  The added weight of the heated blanket is nice in winter.  The timer warms the sheets nicely before getting into bed and for about 30 minutes thereafter.
In summer we have one of my wife's beautiful handmade quilts on the bed.  In winter we switch to one of her handmade quilted insulated comforter quilts as we drift off into a great nights slumber in our Eagle Cap camper any season of the year.
We like our silent catalytic heater for keeping the chill off the camper and always keep a vent open for fresh air.  We are happy campers." – Gary and Laurii Gadwa, 2012 Ford F350, 2011 Eagle Cap 950
"That's easy.  We use two different weight sleeping bags which zip together.  Which bag is on top is decided by how warm or cold the temp is.  Sleeping bags are a carry over from years of tent camping.  We have made a bed/bag liner out of two sheets partially sewn together." – David Pracht, 2015 GMC Sierra K3500, 1987 Lance LC900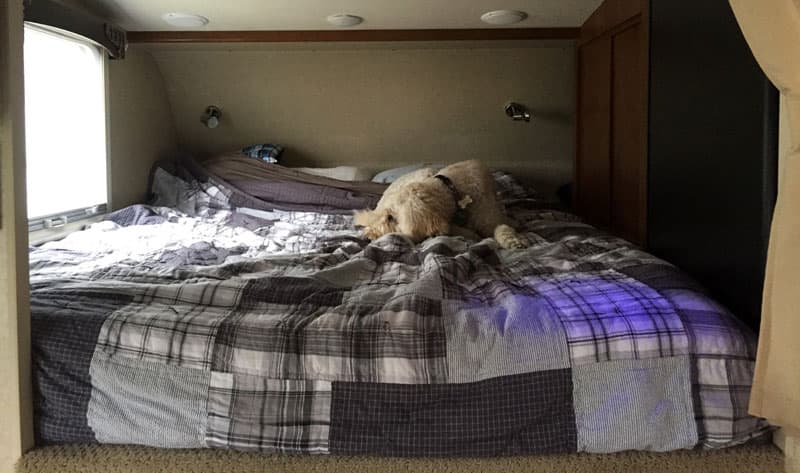 "We use a fitted sheet on the bottom.  My wife added velcro to a flat sheet and a comforter so that they stay connected at the foot of the bed, but can be separated for washing.  She also added a sleeve to the comforter which allows it to hook around the mattress.
When making the bed, I hook the fitted sheet at the top, pull the sheet towards the foot of the mattress, then hook the bottom while standing in the main area of the truck camper.  The sheet and comforter then get hooked at the bottom, and then pulled to the top.  I tuck in the sides to make things look neater.
In the morning, I pull up the sheet and comforter (while laying down), climb out of the covers, and then smooth out the top half of the bed.
We also replaced our stock 5-inch mattress with a 6-inch two-layer foam mattress purchased from an online vendor.  Our refrigerator is in the bed area, so a thicker mattress would block the refrigerator door from opening.  Plus we need the bedding to stay snug to the bed.
Our old Aliner had a gaucho sofa/bed.  For our Aliner sofa/bed, my wife made a sleeve that fit around a mattress topper, and a flat sheet that was attached using velcro.  She also made a custom quilt for the top.  The topper and sheets were rolled up each morning and stuffed behind the gaucho's upright cushions and the quilt was draped over the cushions." – Steve Williams, 2010 Ram 2500, 2016 Lance 650
"We don't actually make the bed.  The last one out of the bed (we have an east-west bunk), smooths out the sheets and covers and we call it good.  We close the privacy curtains and out-of-sight is out-of-mind.
My wife is an accomplished seamstress, so she custom sewed the sheets to fit the mattress tightly.   It keeps it somewhat neat and we are not tossers and turners, so we don't usually ruck up the bed when sleeping.
Our top cover is a fitted quilt that she sewed in a lower pocket arrangement that pockets the mattress end.  It basically stays in place without ever coming loose.  It works really well.
Making a cab over bed could be an exercise in futility…." – Daryl Davis, 1997 Ford F350, 2014 Palomino SS1500
"I use a double sleeping bag for camping.  It comes with both bottom and top sheets that have velcro strips to match the ones on the sleeping bag.  Straighten the bag and the bed is made up!  Throw the pillows and additional comforters on top." – Glenn Yauney, 2013 F-350 dually crew cab, 2000 Arctic Fox 1140
"I customized a bottom fitted sheet by cutting down the corners and putting elastic all the way around the sheet to help hold it in place.  I sewed the top sheet onto the bottom of the fitted sheet so that it stays tucked in and can't be pulled out.  We have a light blanket on top of it.
Before I get out of bed in the morning, I pull up the sheets and blankets to straighten them.  I then crawl out and straighten the top and tuck in the sides.
The comforter from Adventurer came with elastic straps on the top of each corner of the comforter.  I think this is a brilliant modification.  I hook the elastic straps at the top of the mattress and then stretch out the comforter and tuck in the bottom and sides.  It's not easy, but the comforter is straight and wrinkle free." – Alice Tyser, 2008 Dodge Ram, 2013 Adventure 910FBS
"I start at the top, and tuck the sheets on the driver's side first.  Then I roll over and tuck the passenger's side in.  Next I go to the foot of the bed, pull it all snug, and tuck everything in at the mattress.  It's pretty effective, but still there's no easy way to make it!" – Kenneth Dunn, 1998 Dodge 3500, 2010 Arctic Fox 811S
"We have two L.L.Bean sleeping bags on our pop-up truck camper bed (good for other venues as well).  One is a 40-degree bag and the other is rated at 20 degrees.  We zip them together and put whichever one is right for the weather on top.
Making the bed is just flipping the top one back closed after we rise.  We don't need to mess with the zippers to make the bed.  Usually the last one out just smooths the top bag back in place when exciting.
Flannel pillow cases complete this cozy bed arrangement.  We have an old fitted flannel sheet from home on the mattress to provide a non-slip, attractive cover." – Dave Thalman, 2013 Ram 2500, 2013 Northstar 850SC
"We use a sleep sack with liner and pillows – truly the lazy person's option.  It's easy to make, easy to launder, and easy to adjust for colder nights.  Combine that with an electric mattress cover for truly cold weather operations." – Jim Clark, Chevy Silverado 3500 HD, 2005 Arctic Fox 1140
"When we lived on our sailboat we made do with a feather bed, a cover for the bottom sheet, and a comforter with a duvet cover for the top.  That was easy to make since we entered the bed from the side and just fluffed up the bedding when we got up.
It was also easy to wash.  Just remove the covers, wash, and put back on.  This worked well since our bed was wider at the top than at the bottom.
The camper has a standard queen mattress and we enter from the foot.  We needed warmer bedding so a few blankets were in order.  We started with a feathered bed on top of the mattress, and then put on a fitted bottom sheet over that.  That helps to keep the cold from seeping in from the bottom.
We were lucky to find a fitted top sheet at Camping World several years ago.  That way the bottom never untucks.
We have two blankets.  We keep one under the mattress when it's not needed.  Then it is all topped off with a comforter.  We each have three pillows which provide a backrest when sitting up in bed.
The last person who gets up makes the bed.  We usually start to make it while we're still under the covers, and then fold back one side, and get out." – Cindi Goodrich, 2006 Chevy 3500, 2008 Lance 1191
"We ordered our Lance without the driver's side cabinets.  Without the driver's side cabinets, the cabover holds a king size memory foam mattress.
The Lance headboard it makes hard to make the bed.  And I got the short straw, too.
I start with the mattress pad and fitted sheet.  Rolling, lifting, and tucking.  But then we depart from the ordinary by using two twin sheets, blankets, etc. on top.  That means some more tucking, particularly on the driver's side where I sleep.
With lots of overlap, that works fine.  When one of us exits during the night, the covers of the other are not disturbed." – Rick Johnson, 2004 Ford F350, 2007 Lance 1181
"We use Travasak bedding.  Unfortunately, Traversal went out of business but Camping World carries a similar brand.  I used to have two flat sheets at the bottom and Velcro them to the bottom of my sleeping bag.  The Travasak system velcros the flat sheets to the sides of the bag.  It works great, and Travasak has a heavy comforter on one side and a light one on the other.  You get both a summer and a winter side.
I add a light down comforter on top for cold nights.  It's easy to make and the sheets stay in place." – Brian Clark, 2015 Ford 350, 2014 Arctic Fox
"Camper van, motorhome, or a relative's sofa, just use a custom design bedroll!  I use a combo of sheets, blankets, and comforters that apply to the expected temperatures where we will be.  It's like dressing in layers applied to sleeping.  Just roll them up and put the roll in an L.L. Bean extra-large duffle.  And they wash easy, just separate and wash in any size washer." – Mary Middendorf
"We have a Lance Bed-Maid sleeping system.  I can drag the sleeping bags down to the foot of the bed to easily change the sheets.  It's a very good way to go, just a little expensive." – Robert Mayton, 2014 Ford F450, 2015 Lance 1172
"What is this 'make the bed' stuff?  We are camping!  Just throw the sheets and comforter smooth enough to be able to drop the top.
Seriously, we use a fitted bottom sheet over the camper mattress and foam topper.  In cold weather it will be flannel.  Those of you who have older Four Wheel Campers, you know how firm that mattress is, so we added a foam topper.
We only make the double bed portion, not the pull-out portion of the mattress.  We use a flannel top sheet when it is cool, plus a down comforter for when it is cold.  The down comforter fluffiness covers up any "wrinkles" but crushes easily when dropping the top.
A few polyester fleece dog blankets are floating around to keep the four legged children comfy in cold weather.
You can't bounce a quarter off our bed, but our bed is quick to make, comfortable, warm, and it doesn't look bad." – Bill Peters, 2013 Chevy Silverado, 2013 Four Wheel Camper Hawk
"I finally gave up on making the bed.  It's not like we are going to entertain in the camper, right?
We have a queen size mattress topper and heated pad.  We then have a fitted sheet that stays on (my last wrestle with that!) and two sleeping bags that can be zipped together if we want.  In the summer, I throw a sheet on top.  To make the bed, I just straighten up the sleeping bags.  Done." – Kate Meehan, 2009 Ford F350, 2010 Arctic Fox 811
"As you said, it is no fun to hop, flop, and wrestle to put clean sheets on.  But it never occurred to me one would add to that pain by making the bed on a daily basis.  It's a truck camper." – Fred Patterson, 2013 Ford F350 SD, 2002 Lance 1161
"I camp solo, so I'm the bed maker.  I only had the camper one month, but I pulled the extra extension off of the queen bed.  It's now a full.
I use a zero degree sleeping bag for the bottom and my daughter made me a New Orleans Saints comforter and two warm pillows.  In the morning, I no longer have to slide-in the extension and find a spot for the two cushions.  I'm at the dinette pretty quick with coffee in hand, using a Keurig plugged into my inverter." – Winston Gotte, 2003 GMC Sierra 1500HD, 2016 Four Wheel Camper Hawk
"We have never used anything other than two sleeping bags zipped together.  We don't plan to ever change." – Robert Hicks, 2011 Chevrolet 2500HD, 2011 Lance 992
"We put in a futon type mattress from IKEA that we already had.  It was a full size.  I was wishing it was a queen but find it easier to deal with as a full.  Not only is it easier to wrestle with, but our heads don't hit the ceiling when sitting on it.
I use a "boyfriend" type pillow for reading/laptop work.  It gives me a back to lean against.  We also use a heated mattress pad and Walmart comforters." – Connie Westbrook, 2003 Chevy 3500, 1997 Lance Squire 5000
"While expensive, the Select Comfort air mattress is the answer if you want to properly make the bed every day.  The air mattress weighs next to nothing and is therefore easy to lift on the corners for tucking the sheets.  Plus, as a bonus, the mattress reflects your body heat back onto you so you don't need several quilts to keep warm.
I've had a Select Comfort for 21 years now, and it still looks and works like new.  It's expensive to buy, but well worth it in the long run." – Robert Gardner, 2002 Dodge Ram, 2016 Lance 1172
"I use a Sleep Number queen mattress with a heating pad for when plugged in.  A queen size sleeping bag makes making the bed relatively simple." – Robert Lick, 2003 Dodge 3500, 1993 Alpenlite 11-foot SKEC
"It's very easy.  I throw a sleeping bag on the mattress and use another one for a cover.  When it's cold, I'll just pull on another blanket.  It's very easy to make in the morning as I am not trying to tuck in any sheets.  It works for me." – Rick Bridarolli, 2006 Ford F350, 2001 Adventurer 90RDS
"We switched to using the air bladders from our old Select Comfort mattress that we pump with an air mattress blower.  The bladders are inside the mattress cover for the foam mattress (removed and recycled into cushions).
It is easier to make the bed with the mattress deflated.  I use a mattress pad and bottom sheet (double size) and a top sheet with elastic in the bottom so it stays tucked in.  Over that is a quilt just long enough to cover the bed but not tucked in at the bottom, and a feather comforter that is tucked in at the bottom and back.
Because the air mattresses doesn't do a good job of insulation, we use 1-inch blue insulation panels under the mattress.  We also tuck a Thinsulite mat up the back wall because the pop-up wall is often too cool for comfort." – Laurel Wilson, 2013 Ford F350, 2016 Four Wheel Grandby Shell
"Gordon's described 'flopping fish' technique is how I make the top sheets/covers.  The contour sheet is the killer for us, so we put on two contours before leaving home.  When it's time to wash the contour, we strip off the top-most one and use the other until time to wash it.
To install the contour(s), I place both front corners as close as possible on top of the mattress, using the 'flop and roll' technique.  Then I get off the mattress at the foot and my husband lifts the foot of the mattress. I scoot on my back, underneath the mattress to the head of the bed.  Then I reach up from under the side and front to fit one corner.
Remember, I do two sheets this way.  Then I scoot on my back to the other side while he twists the mattress to give me room.  Repeat at the other front corner.  I scoot back out at the bottom and, with a joint effort, we tuck the bottom corners.
I can't wait to hear how others do this chore.  I am 72 and the scooting is getting harder.  Pictures?  No way!  Thanks for putting this question out there." – Judy Embry, 2014 Ford F350, 2004 Lance 1071
"There's not much to making our bed.  We have used a queen size Travasak for years.  They're no longer made, but they were a glorified sleeping bag with sheets that you can change.  They had a summer side and a winter side.  Just turn it over for the season you want.
The sheets are attached with to the inside of the bag on the edges next to the zipper so you can remove them for washing.  When it comes to being made, just zip up the sides and you're done.  It works very well and saves a lot of grunting and groaning trying to make they bed." – David Donovan, 2007 Chevy K3500, 2012 Chalet TS116
"Why not use a sleeping bag on top of the mattress?  That way you never have to make the bed." – Dennis Lesh
"Our bed is made up with a mattress topper, mattress pad, sheets, and the stock bedspread that came with the truck camper.  I use my good quality sleeping bag on top of all that.  Sleeping bags are always warmer than comforters, unless you're using a down comforter.  Once a year I pull all that stuff off and wash it, even though nobody slept in it.
Rolling up the sleeping bag of putting it off to the side keeps the cabover nice and neat.  I hate making the bed in the house let alone in the cabover." – Denise Barber, 2011Chevy 2500, 2006 Lance 815
"To make washing your truck camper bedding easier, you might want to think about buying a duvet cover for your comforters.  Then, when you wash the bottom fitted sheet, you just remove the duvet cover and wash only that.  That's how beds are made up all over Europe.  Big energy savings!
IKEA sells duvet covers for great prices, or you can sew your own from two flat sheets. Just a thought." – Cheryl Lane
"1. My wife makes the bed, same as she always has.  2. When I camp alone, I wait until I get home.  Then see item 1.  3. For long trips alone, I sleep on top of the bedspread in a sleeping bag.  That keeps the sheets clean.
I am going to pay for this.  If you ask me in another month, I think I will actually know how to do it.  Or, I'll be camping alone ." – Garry Davis, 2012 Nissan Navara, 2012 Northern Lite 8-11 SE Australian Ultimate
"I wish I had some bed making tips and tricks, but I don't.  Making the bed (fitted lower sheet, tucked in upper sheet, and various blankets depending on temp) while I more-or-less lie in it is a PIA.  And as I get older, it becomes more so.
My guess is that the bed issue will eventually drive us into a tag-along of some sort.  But as long as I can get the bed made, I'll stick with the slide-in." – Bruce Colby, 2004 Dodge 2500, 2004 Lance 835
"After my husband has gotten up to make coffee, while I am still under the covers, I scooch to the center of the bed, point toes to each corner, then pull the covers over me. This does a pretty good job of straightening them.  I then carefully crawl out and, while on my knees, I re-straighten the top and place pillows.  Then I call it 'Good enough!'
However, to place clean sheets and blankets was a real pain, sometimes resulting with me being under the mattress face-up trying to tightly fit a fitted sheet!  After several years of wrestling, I gave up.  Now I do a quick and dirty from the top, tuck it all in, and pronounce it, 'done'.  In other words, I quit obsessing over a perfectly made bed!" – Pat Jones, 2006 GMC Sierra, 2008 Bigfoot 11.5
"Wanda is the designated bed maker and she's got it down to a science!  She starts at the head of the bed putting on the fitted sheet, laying out the flat sheet on top of that then the blanket.
Once the three layers are laid out and even, she starts inching her way backwards straightening the layers from side to side.  When she's standing on the step, she just folds the blanket and top sheet back over, puts the fitted sheet on the mattress, and tucks in the top sheet and blanket.   Everything stays tucked in and neat.
When we get out of bed, she straightens my side then rolls over and straightens her side.  We have tossed the elastic bound bedspread that came with the camper but saved it if we ever sell the camper." – Keith and Wanda Webb, 2007 Chevy 3500, 2009 Lance 981
"I tell my wife, "Honey, the camper bed linen needs changed so we can go camping," and she miracles it into place." – David Litteral, 2011 Ford F350 Lariat Diesel, 2016 Wolf Creek 850
"Liberal application of single syllable four letter words seems to help!  It's like changing your socks without taking off your shoes!
Honestly, the 'no top sheet' idea is a winner and it's pretty much what we do as well.  If you want a top sheet, then put it on folded, tucking in the fitted bottom and the end of the top sheet.  Then roll the sheet toward the head of the bed.
Cover with a comforter, pillows, and miscellaneous gear to hide the imperfections of the made-up bed.  In the shiny brochures that the manufactures put out, I'm pretty sure the beds were made and installed before putting the roof on the camper!" – Charlie Nichols, 2005 Dodge 2500 HD, 2004 Lance 920
"What.  No top sheet?  I know it's supposed to be camping, but I like to sleep in comfort.
Many Lance owners already know about the Lance Bed Maid.  It's almost like a large queen size sleeping bag with sheets that have velcro fasteners to keep them in place. It's makes the chore an easy one.
If you don't care about sleeping with sheets, a similar way is simply to purchase two alike full size sleeping bags and zip them together as one bag.
I can't get my wife on board with either solution and, since she is smaller than me, Linda has the duty of making the conventional bed with sheets, blankets, and comforter.  She has to literally crawl over and around from side-to-side and end-to-end stretching and pulling until it appears somewhat presentable. I recommend the Lance Bed Maid for a happier wife." – Jerry LaCouture, 2013 GMC Sierra 3500, 2013 Lance 1191
"Check out the video on the Lance Bed Maid system." – Kevin Sato, 2015 Chevy 3500HD, Host Mammoth
"The way I make up the cabover bed is…  Well, to be truthful, I let my wife do it.  My job is the outside hookups, campsite layout, truck maintenance, dumping the tanks, and driving the truck!
Other than that, my wife and I fight the non-fitting fitted sheet!  Put a top sheet and comforter on one side at a time, tuck it in, roll to the other side and do the same.  Or we just throw the comforter on top and say the heck with it." – RJ Bickford, 2007 Dodge 2500, Palomino Maverick 1000
"Some people call them sleeping bags.  When you wake-up and roll out, you fold the top over and roll (again) if necessary.  The best have a flannel lining.  The zippers rarely last." – Will Barnes, 2005 Dodge 2500, 2001 Lance 815
"We have a Costco 2-inch mattress pad, a fitted sheet, and two sleeping bags zipped together.  This arrangement makes it easy for either of us to get out of bed at night and also make the bed in the morning.
I like your idea of multiple comforters, but I'm 6'3″ tall and wonder if my feet would be hanging out.  I'm thinking of giving it a try on nights that are too warm for the sleeping bag to be zipped up.  I would never try to attempt an ordinary fitted sheet, flat sheet, blanket, and comforter arrangement.  Making the bed would be horrible." – Allen Jedlicki, 2012 GMC 2500HD, 2014 Wolf Creek 850SB
"I make my husband put the sheets on since he's the one who insisted we had to have a truck camper.  Between total sheet changes, he gets up first to take the dogs out and, while I'm still in bed, I pull up his side and then mine until all is tucked in and nice.  Then I fold back my side, get out carefully, switch to his side, and then fold back my side.  Bed made!  Time to start the day." – Paige Brower, 2013 Silverado 3500, 2014 Chalet TS116
"What a great question.  I hope to learn something from this because it is one of the biggest problems we have inside our camper.  We have talked about having a custom bed made a little smaller than the one in the camper to give us room to tuck the pad and sheet edges down under the mattress.  Not sure if that would be the answer or not.
There has to be some better way of doing it.  My wife doesn't like the idea of crawling into a bag to sleep, so that is out.  I am eagerly awaiting a fantastic solution." – John Bull, 2004 Dodge 3500, 2015 Arctic Fox 990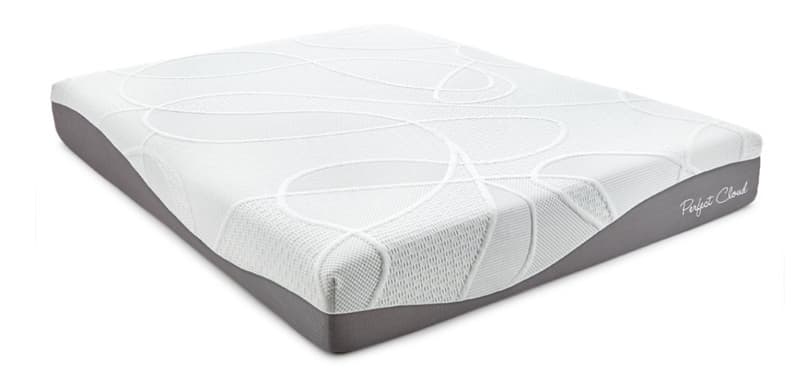 "About two months ago I bought a new mattress from Amazon.  It's a short Queen memory foam.  I have the fitted sheets, a top sheet, and a quilt.  That makes up the bed after bending, twisting, pulling, and tugging.
I'm 6'6″ tall, so it's not an easy task.  After making the bed up, I put another quilt on and top it off with a Coleman sleeping bag.  In the summer time, the bag acts like a top cover.  In winter, I zip it up and sleep in it." – Jeff Hagberg, 2002 Ford F250, 2006 Travel Lite 800 SBX
"I really do not make my bed.  I have a mattress cover, blankets, and sometimes a sleeping bag.  I also have a golden retriever that likes to jump up and make it her bed.  So, there's no need to be really fussy about making the bed." – Charlie Young, 2013 Chevy 2500, 2004 Sun valley 8.5se
"First, the bed is made in a normal manner with fitted sheets and a regular comforter.  However, we sleep on top of the made bed in down sleeping bags.  In the morning we make the bed by stuffing the down bags into a nearby cabinet, so takes about 30 seconds to make the bed!" – Mick McDevitt, 2016 Ford F350, 2016 Northern Lite