The Kaley's astonishing story inspired our sci-fi film, Back to the Truck Camper – but you haven't heard the straight facts.  What follows is their real story including twists and details that you have to read to believe.  The Kaley's truth is even better than fiction.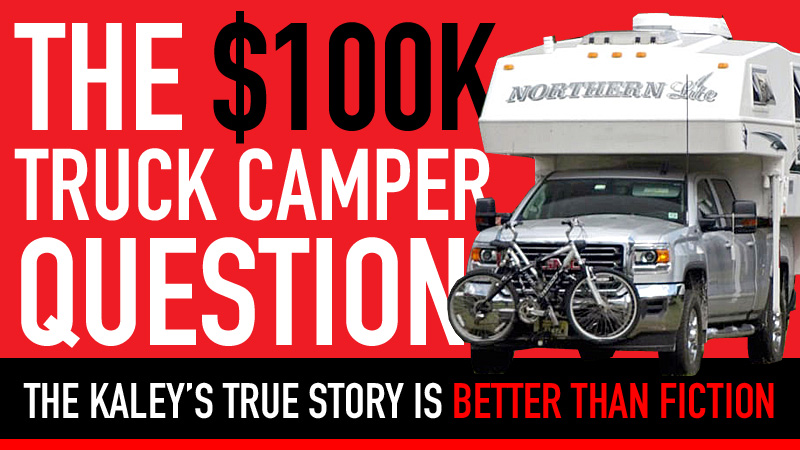 About two months ago we published, Back to the Truck Camper, a science fiction film that brought Jim Kaley face-to-face with his future self – and a very big question.
Should Jim sell his beloved Northern Lite truck camper and buy a motorhome?  If you haven't already, watch Back to the Truck Camper and find out.
Above: Click the video above to watch Back to the Truck Camper.  If it does not play, click here to watch it and comment on YouTube.
The Real Story: $100,000 Truck Camper Question
What follows is the very real, non-fiction account of how Jim and his wife, Janet, bought a Northern Lite 8-11 truck camper, sold it, bought a Class C motorhome, sold it, and bought another Northern Lite truck camper.
Think that's outer limits?  The Kaleys actually bought a long bed dually truck and Arctic Fox 992 truck camper after the first Northern Lite, and sold that as well before buying the motorhome – a mind-blowing detail that didn't make the film script.  Nor did Jim and Janet's three travel trailers and impossible truck camper origin story.
Once again, we want to thank Jim and Janet for sharing their story with us.  It's a vivid reminder of what makes truck campers – the product type and our wonderful community – so unique and special.  You can't replicate what you have with truck campers with towables or motorhomes.  Want proof truck campers are special?  Read on.
What first got you into truck camping?
I've always gone camping.  I started before I was ten-years old.  My family had a Nimrod trailer and then bought a tent.  We went out as a family.  My dad worked in a factory and had three-weeks of vacation a year.
In 1960, when Eisenhower was President, we went from our home in New Jersey to Key West, Florida.  That's back when there was only Route 1.  Even my younger brother has vivid memories of that trip.
My brother and I were in the Boy Scouts and went out at least one weekend a month.  In college I was an adult leader in the Boy Scouts.  Then the Army Reserves wanted me, so I did that for awhile.  All that time I was sleeping under canvas or nylon.
When Janet and I were first married we bought a tent and had it for two decades.  My son got into scouts and we went camping and backpacking.  We went on a two week backpacking trip to New Mexico and we had a ball.  No one got seriously hurt.
As we got closer to retirement, 40-pound backpacks and 62 year old knees were a bad combination.  So we got a tiny hard-side A-frame pop-up trailer, like an Aliner.
It only weighed 900-pounds and we towed it with a Subaru.  It had no amenities, not even a toilet.  I was the only one who thought of it as a recreational vehicle.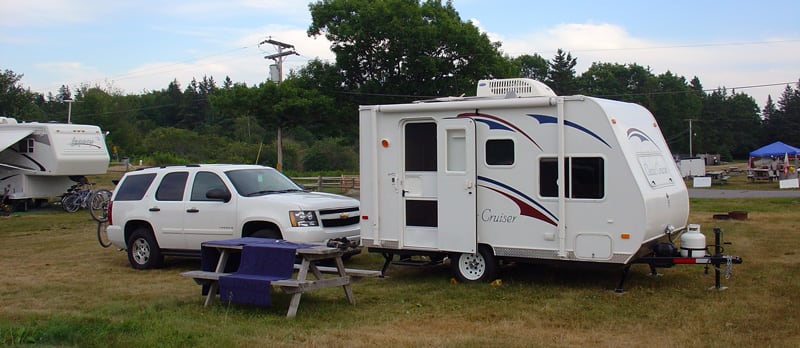 About a year later we decided we needed to be able to cook inside, and have a toilet.  We sold the A-frame and bought an 18-foot box travel trailer.  Then we upgraded again and bought a 30-foot trailer with a Tahoe.
I couldn't get the 30-foot trailer into some of the places we wanted to camp.  And worse, we would get boxed into gas stations and had to wait for the entire gas station to leave.  It was during our time with the 30-foot trailer that our interest in truck campers literally drove in and camped next door.
We were camping in a KOA campground just outside of Washington DC.  A single guy in a red Ford F-250 and a small truck camper parked next to us.  He dropped it in ten minutes and toured the city with his pickup truck.  The next morning he put his camper on and was gone in fifteen minutes.  That got Janet and I talking about truck campers.
"The single greatest thing about truck campers for us is the mobility. We can get to where we want to go, and camp."
The very next day another guy pulled up next to us in an older truck camper and we started talking to him.  His truck camper was 38 years old!  The owner had put a new roof on and installed new siding and replaced the refrigerator twice.  The back was covered with stickers from everywhere he had traveled.
That's when we hit the internet and Janet discovered Northern Lite.  Both of us spent 100-hours each reading about truck campers.  Soon after we went out to Long Island to East End Campers, looked at a Northern Lite 8-11, and picked one up in New Hampshire.
That truck and camper rig was the solution to our RV problems.  No more towing.  No more issues with getting into the places we wanted to go.  No length restrictions at the National Parks to worry about.  The single greatest thing about truck campers for us is the mobility.  We can get to where we want to go, and camp.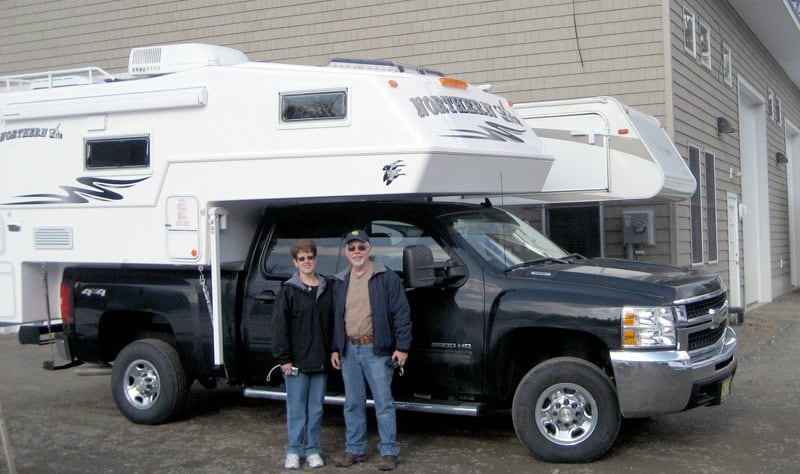 Above: Jim and Janet's first Northern Lite 8-11
It's funny that you had to camped at a KOA to discover truck campers. Having two truck campers pull in back to back has to be luck, fate, and a serious dose of road magic. How long did you have your first Northern Lite?
We had our first Northern Lite 8-11 for five years.  Then we went on a Canadian Caravan where everyone in the group had dry baths.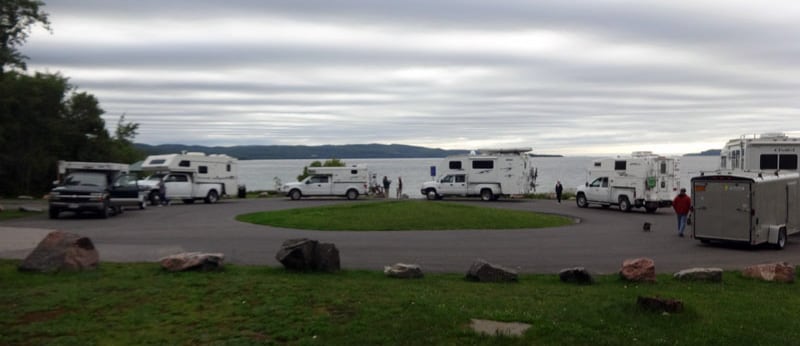 Above: The Canadian Caravan they went on with other truck campers
After that, we were set on getting a Northern Lite 10-2 CD Special Edition with a dry bath. We sold the 8-11, bought a dually truck and ordered the camper.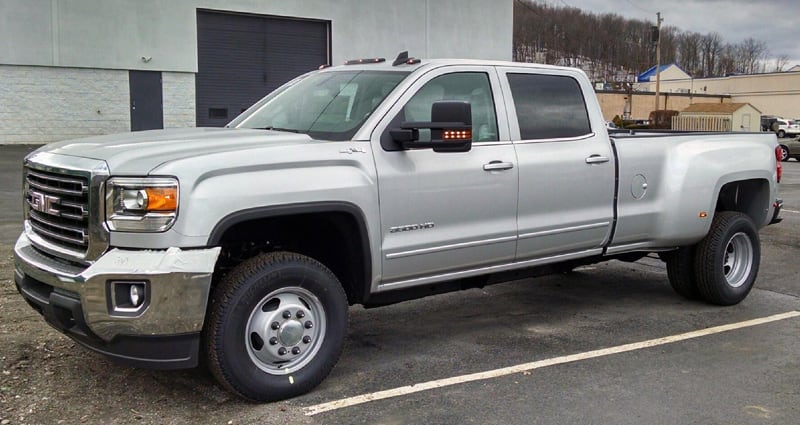 Above: The dually GMC they had bought for their upcoming Northern Lite 10-2
Then the Northern Lite factory burned down.  Northern Lite stated it would be nearly a year before they would rebuild and start producing campers again.  Northern Lite met that schedule, but we had reservations to go to Alaska before their new campers would be ready.
New truck in hand, we went to Truck Camper Warehouse to look at the two long bed truck campers with dry baths they had it stock.  We bought the Arctic Fox 992.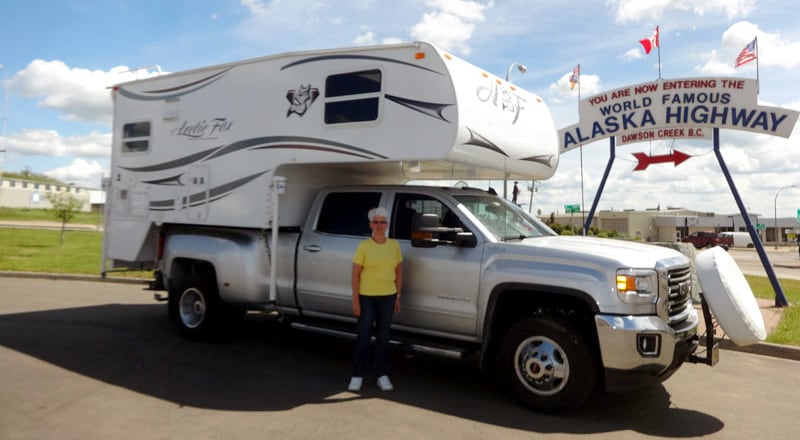 I didn't really want a slide, but I liked the construction of the Arctic Fox and it had a nice dry bath mid-ship.  The Arctic Fox worked well on our trip to Alaska, and was a nice match with our dually truck.
As a side note, our good friends, Ed and Donna Amato, later bought the Northern Lite 10-2 we originally ordered.  They love it.
What happened to make you give up your truck camper and go to a motorhome?
After spending time in a larger truck camper, we got the idea we wanted more space.  That's when we bought the Thor Four Winds Class C motorhome.  It had a gigantic dry bath and shower – exactly what we were looking for.
The length and width of the motorhome was not any bigger than our dually and Arctic Fox, and it was a non-slide.  With the same footprint, more living space and no slides, we thought it made perfect sense.
I didn't want the Ford E350 chassis, so we got the E450 chassis.  Electricity became a non-issue because it had a gas powered 4,000-watt generator and a 55-gallon fuel tank.  The E450 chassis also had a 14,000 pounds GVWR, which was great.
Then, we started to realize the disadvantages.
All of the holding tanks were slung underneath the frame and exposed.  Even the propane was exposed under the frame of the vehicle.  Stones would sometimes hit the propane tank as we were going down the road.
If you are staying only in KOAs and driving mainly interstates you are fine.  But, we like to go into National Parks and National Forests, so the roads and campsites aren't always perfect.
If you are driving the Alcan Highway with gravel, the exposed underslung tanks are going to get damaged.  At one point the 12-volt heating pads on the holding tanks were torn off on a dirt road.  I guess I could have gotten shielding.

To solve our desire to explore dirt roads, we bought a Jeep to tow.  It was great when we got to commercial campgrounds and parked the Class C, but we were towing again.  When you have a Jeep on a tow bar you can't back up.  The tow bar can literally bend the frame of the Jeep.
When driving, Class Cs are incredibly noisy inside.  There is no insulation and the cab isn't suspended.  A pickup truck's cab is mounted on shock absorbers, so you get a smoother ride with significantly less noise. Inside the Class C we could hear every dish rattle.  By the end of a day of traveling, we were hoarse from talking over the noise.
The Thor motorhome had Ford's V10 engine, which was gas guzzler.  On our worst day, we got six miles per gallon with head winds.  Even with gas engine trucks, our fuel milage was never that bad with the Northern Lite or Arctic Fox.
The Class C had a lot of power and torque, so there were no issues towing the Jeep no matter where we went.  We even had it on steep hills and the power remained great.
Going from the driver's seat to the back of the Class C was very tight.  I'm not a tall person, but it was always a squeeze to get from the driving position to the main living area.  Tall people would really be challenged.
Another problem was cultural.  Many motorhome owners don't leave their vehicles when they arrive at a campground.  They literally have everything they need in their motorhomes, and don't go outside.
We missed the social nature of the truck camping community.  Besides, after driving all day, we don't want to stay inside the camper.
We also sacrificed our ability to go places, and enjoy cold weather camping.  There was no way I would take the motorhome out in the snow.  It didn't come with tires for that, nor was it designed with cold weather camping in mind.
It wasn't even a good RV for grass or gravel.  There were no tow hooks on the front.  I have been out with other truck campers where we've had to use tow hooks to get people out of the mud.  If you need to get unstuck, the only place to get at it is the frame and the trailer hitch in the back.
How did your truck camping friends react to your switch to a motorhome?
We had been hanging out with the NorthEast Truck Camping Jamboree group for six to seven years before we got the Class C.
We actually didn't tell anyone when we sold the camper and bought the motorhome.  We pulled into a truck camper rally and it was a surprise.  People were saying, "Who is that?"  And, "What are you doing? You have a C?"
Nobody chased us away when we got the Class C and we generally felt welcome.  We did get teased a bit for, "Going to the dark side".  It's different being the odd vehicle.  It would be like showing up to a rally wearing a kilt.
You already talked about the positives and negatives of the motorhome.  So what led to you selling the motorhome and returning to a truck camper rig?
We had a couple situations in the motorhome when we were towing the Jeep.  Specifically, we would get parked in somewhere.  We couldn't just pull forward and turn both the motorhome and the Jeep to get out.  There wasn't enough room.
The logical thing to do when you get into a situation like this is to back up.  With the Class C, one of us had to disconnect the Jeep, drive it out of the way, back up the motorhome, and then reconnect.  By the time we did that it took up 20 to 30-minutes of time we should have been on the road.
I also never felt comfortable driving the motorhome in the snow.  We live in a place where there's snow and we like to go camping in the wintertime.  Realizing all of this we finally said, "What are we doing here?"
What happened next?  At first blush it sounds like a challenging thing to unravel, not to mention expensive.
The $100,000 question was, "Should we buy a pick up and a camper again?"
When we had the Class C, we had to have two cars.  A lot of places we go to, like our doctors, are in the city.  When we had the Class C we had two Subarus, the Jeep and the Class C.  We had four vehicles for two people.  At one point I thought, "Are we nuts?"
When we decided to go back to the truck camper again we sold the two Subarus and traded the Jeep for a new Subaru.  The Jeep only had 13,000 miles on it so, with all those vehicles being sold, we got enough for a brand new Northern Lite 8-11 EX Dry Bath.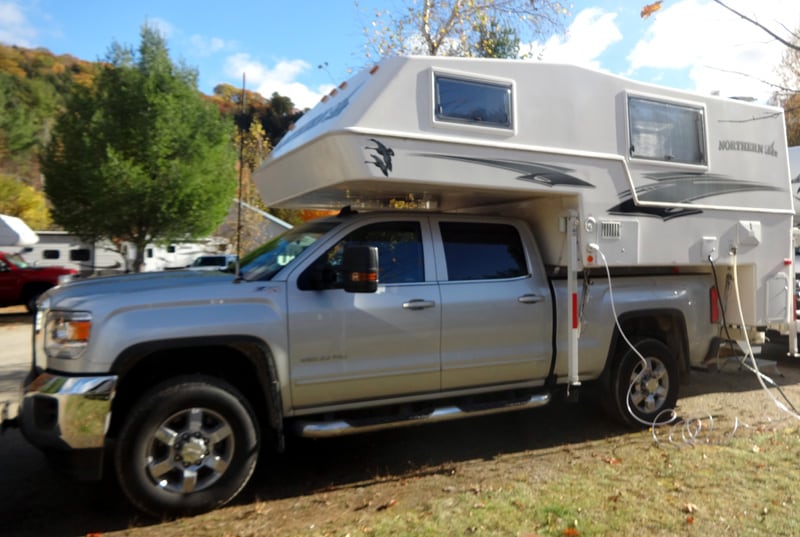 Above: Their new GMC and Northern Lite 8-11EX
In addition, I had a GMC Canyon that I traded for the new truck suitable for the Northern Lite 8-11.  When all was said and done, we did not take a $100,000 bath.  Janet tells me now that this is our last RV.  I think you can understand why.
Our short bed GMC 3500 truck is now our second vehicle.  Now all we have is one Subaru and our truck.  Not having a dually means I can take my truck to the movies. I can go into surrounding New Jersey cities.  I can take it to places where a dually would be a problem.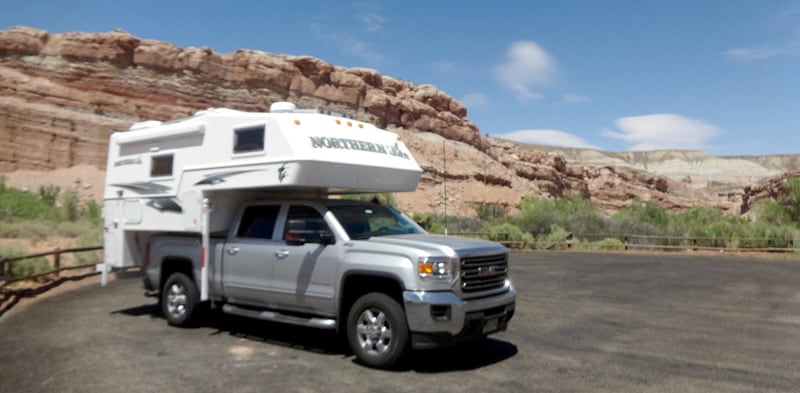 You bought a Northern Lite 8-11 wet bath, ordered a Northern Lite 10-2 dry bath (which you never received due to the fire), and then bought yet a third Northern Lite 8-11 EX Dry Bath.  What keeps bringing you back to Northern Lite?
The funny thing is, if anybody asks me, my favorite Northern Lite is the 9-6.  I think the 9-6 is better supported with a long bed truck, but I know that I have had the most maneuverability with my standard bed pickup truck and Northern Lite 8-11.
It was probably a mistake to get rid of the first Northern Lite.  If the fire had not happened at Northern Lite and we had gotten the Northern Lite 10-2 on time, we'd probably still have that one.
Why did we buy Northern Lite again?  We didn't have anything we could really critique about the first Northern Lite 8-11.  We had been through bad rainstorms and 65 mile per hour winds, and there was not one drop of water in the camper . It was solid, well sealed, and a very capable truck camper.  I wish we had kept it.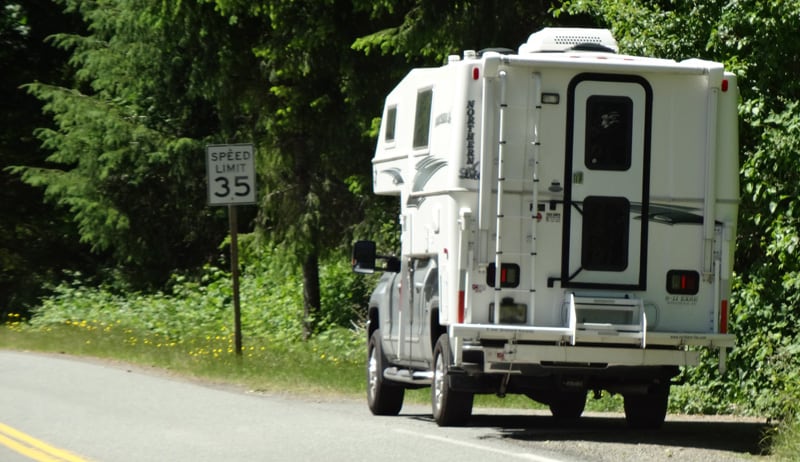 What's the vision for your truck camping and travel from here on?
We want to continue our efforts to visit every National Park in the United States.  There are restrictions in some National Parks about vehicles being under 25-feet.  With our current rig, we can go to all of those places.
All of the National Parks are different.  None of them are the same.  We both want to see as much of the country as we can.  We've met some really interesting people and learned a lot.
I've lived in New Jersey most of my life, except for college in Wisconsin.  The National Parks are so physically different from the world we are used to living in.  I worked in New York City and I was either in the sea ports or on the city streets in the Bronx.
On an emotional level, some things you can touch and see in the National Parks are almost overwhelming; vistas, petroglyphs, etc.  It just brings home how different, different places are.  The National Parks are a breath of fresh air.
"We both want to see as much of the country as we can.  We've met some really interesting people and learned a lot."
As we're talking, I'm wondering, "What if Jim could go back in time and talk to himself before he sold his Northern Lite 8-11.  What would he say to himself?
Don't get rid of the truck and camper.  We should have just adapted to the wet bath in our original Northern Lite 8-11.  The wet bath was the number one reason why we wanted to change campers.  In retrospect, we should have stayed put.
I love being outdoors, but at night I like to be warm, dry, and horizontal.  A truck camper is perfect for us.  We have never regretted having the three that we've owned.  They allow us to be outside by opening the door.
And the zipper never sticks.