Mike Tassinari takes us behind the scenes of the North-East Truck Camping Jamboree and tells us how to launch our own rallies.  Let's get this rally started!

We have met some of the most amazing people at truck camper rallies.  It's as if there's a magic law that ensures that only the friendly and fun people own truck campers and attend the rallies.  While we're all delightfully different, we're also on the same page about our desire to be social, adventurous, and helpful to one another.
As adults, it can be hard to make new friends with like interests.  Gordon and I are so happy that truck camping has helped us to make so many new friendships.  Through the rallies, we feel so connected to the truck camping community.  Plus the food is great and the conversations are often hysterical.  Who knew we were all so much fun, and funny?
Someone who deserves a lot of credit for helping to bring the truck camping community together in the Northeast is Mike Tassinari.  Not only does Mike chart the course for the truck camping club, but he's also incredibly knowledgeable about truck camper appliances and systems and never hesitates to pass his experience onto others.  As you will read in this story, Mike's the kind of guy you want to have around when you're in trouble.  He's also the guy who can get things done.  A real truck campers' truck camper.
Without further adieu, here's Mike Tassinari on how the North-East Truck Camping Jamboree was founded, what it's all about, and how we can attend and get involved.  Mike even has some suggestions to anyone who wants to launch their own truck camping rallies.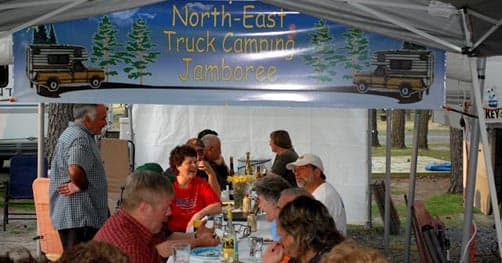 TCM: Tell us about how the North-East Jamborees began.
Mike: In December of 2006, a guy from New York named Mike Stryker started the ball rolling by posting a question on RV.net to see if there was any interest or support in having some type of gathering here on the East coast.  At the time, NATCOA was starting up in the Northwest as were several other clubs around the United States.  But there was nothing really organized in the Northeast.
At the time, I was recuperating from an accident and was bored to death.  The post languished for some time and I sent Mike a PM asking if I could further the cause in some manor and his reply was "go for it".
TCM: Have you ever met Mike Stryker?
Mike: No.  I talked to Mike Stryker on the phone, but I've never met him.  Unfortunately, I don't know what's happened to Stryker Mike.
TCM: How did the North-East Truck Camping Jamboree get its name?
Mike: In the beginning, we threw out three to four different names.  We were originally going to call it the New England Truck Camper Jamboree and I posted that name on RV.net.  I was reminded by several posters that there is more than just New England on the East Coast and I believe that even our northern neighbors in Canada chimed in.  Out of those postings  the "North-East Truck Camping Jamboree" was born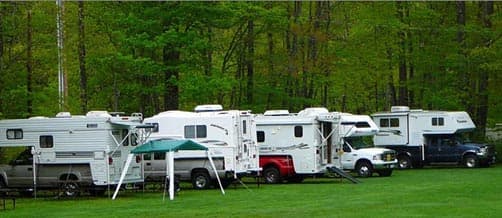 ABOVE: Truck campers at the first Jamboree in Andover, Vermont
TCM: Tell us about the first North-East Jamboree event.
Mike: We had our first event in Andover, Vermont at Horseshoe Acres Campground.  It has a huge safari field where we can all park together instead of being spread out.  It also has an enclosed pavilion for bad weather.  Twenty-four rigs or so showed up, and that was just off talking about it on RV.net.  It was a huge success!  I cooked a twenty pound prime rib on a rotisserie, which was my contribution to the Saturday night buffet.  Angela, I was so nervous that no one would come and it would be a total disaster that I do not remember very much of that first Jamboree.  Heck I did not even do any type of registration so have no idea who attended.  Luckily from various people taking many pictures, I was able to come up with just about everyone's name who showed up.
TCM: RV.net has certainly helped to create a good number of truck camper rallies and events.  How did things progress from there?
Mike: My thoughts were to have a once a year gathering and meet fellow Truck Campers, try to solve some truck camper issues, sample some great food, and head home hoping that everyone had a great time and would want to come back next year.