Mike Tassinari of the North-East Truck Camping Jamboree shares his hard-earned experience and advice on how to run a successful camper rally.  It all starts with a campground.

Mike Tassinari is probably responsible for more truck camper rallies than anyone in history.  Not only is he instrumental in organizing the truck camper rallies for the North-East Truck Camping Jamboree, but he often consults with other truck camper rally organizers across the United States.  He even approached us with the idea of writing this article.
Of course there's much more to starting a rally than just announcing it in Truck Camper Magazine.  It's critical that you choose your location, campground, and time of year carefully.  You also want to make sure that the rally has the organization and events that will make your rally a success.  Mike's article addresses all of these points, and many more.
Arranging the Campground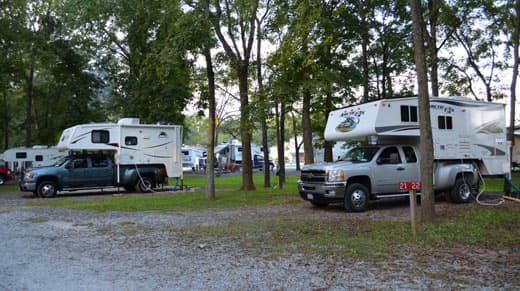 When anyone suggests a campground for a rally, I have four very quick questions.
First, is it a private campground?  Reservations at State and Federal campgrounds are often done through Reserve America.  Making reservations through Reserve America so  that everyone in the rally is camping together would be a logistical nightmare.  For this reason, I strongly recommend private campgrounds for rallies.
Second, does the campground want a large group?  Believe it or not, not all campgrounds do.  It's important that the campground is interested in hosting a rally.
Third, does the campground have some type of enclosed pavilion?  You can almost guarantee that one of our rallies will have rain at some point, so it's important to have an enclosed pavilion available.
That said, don't bypass a campground that works for you just because it doesn't have a pavilion.  Jayne and Rob McCullock ran a rally in Massachusetts a few years ago at a wonderful campground with a safari field, but no pavilion.  We adapted by lashing our 10×20 carport style tents together and added two large tarps over the roof to prevent rain from leaking inside.  Presto; an almost instant pavilion (and yes, it rained one day).  The following fall I purchased a 20×32 tent.  Our group is very versatile and adaptable.
And finally, although by no means a deal breaker, having a safari field is awesome.  A safari field is an area at the campground where multiple rigs can camp in an open field setting.  Some campgrounds call these areas group campsites.
It's never too early to reserve the campground, especially if the campground works with us and wants our business.
How to Get a Campground Group Discount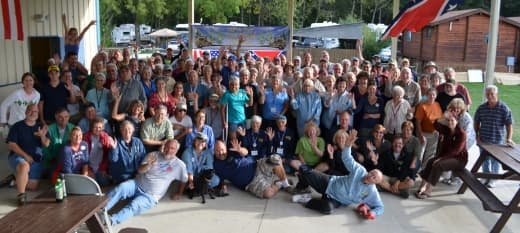 Click to enlarge the above group photo from the 2012 Gettysburg North-East Truck Camping Jamboree.
Most of the main North-East Truck Camping Jamboree rallies are before Memorial Day and after Labor Day.  This is the off-season for most campgrounds.  The reason for hosting rallies in this off-season is that it's the best time to ask campground owners for a discount.  It would not be fair, or sometimes possible, to get a group discount during peak season.
When approaching a campground owner for a discount, I like to stress that we will be bringing at least thirty to forty truck campers for the four days and three nights of the rally.  Plus, they can expect twenty-five to thirty arriving on a Thursday.  At an average price of $30 per night, the owner will realize a gross profit of around $750 just for that Thursday night.  Compare that to the one or two campers that might have arrived that Thursday.  That always puts a smile on their face.
As rally organizers, we are bringing a lot of business to a campground to use sites that would otherwise go empty.  Let the negotiations begin.