Our perspective on the concept of snowbirding has changed over the past five years.  In 2010, we drove an Arctic Fox 865 down to Florida in January, explored Everglades National Park and Key West, and then drive back mid-February to work the Springfield Massachusetts RV Show.
By the time we reached North Carolina, it was snowing.  All during the RV show, it was snowing.  When we finally got home, it continued to snow.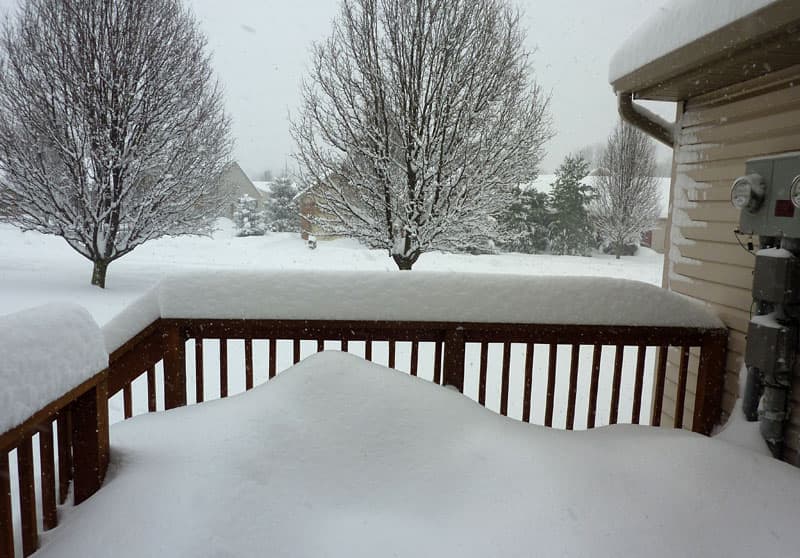 Above: The snow we returned home to in 2010
Tip 1: If you drive south for the Winter, stay south until Spring.  This lesson was explained and documented in the now infamous TCM video, "Everglades National Park to Key West".
The following year we went on a six-month tour of all the truck camper factories, returning in the late Fall.  Exhausted and with a huge backlog of work, we stayed home for the winter.
In 2012, we had just moved into a new-to-us house, and decided to enjoy it for the winter.  We later regretted both of these "stay home for the winter" decisions as the dark and cold had us watching way too much television, and bored out of our skulls.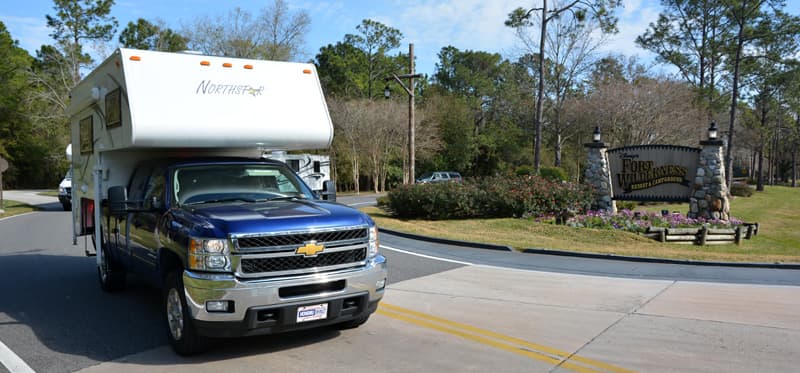 Tip 2: You have to make snowbirding an annual priority, and plan accordingly, or you'll end up staying home all winter for one stupid reason or another.
Finally, starting in 2013, we started to figure it out.  Mike Tassinari, Grand Poobah and master Klondike eater of the North-East Truck Camping Jamboree, organized a January gathering at (of all places) Disney World in Orlando, Florida.  We signed up, which forced us to make snowbird plans both before and after Mike's Disney World event.
The planning process involved reserving campgrounds for almost every night we would be in Florida.  Unlike The West, it's difficult to find free places to park for the night in Florida.  Some Walmarts allow it, but many don't.  And forget about BLM land.  There's lots of open land in Florida, but very little is accessible for camping purposes.
One of campgrounds we did find that year was Jetty Park near Kennedy Space Center.  We enjoyed that experience so much that we featured it in the magazine, and then had a gathering at Jetty Park in 2014.
Tip 3: In areas outside of Quartzsite, Arizona, it can be tough to find affordable and available places to snowbird.  Popular snowbird campgrounds are booked fast and early.  Making reservations a year in advance is common.
All of these tips apply to Florida – the only state we have officially snowbird camped – but are applicable to most snowbird destinations.  Speaking of Florida snowbird destinations…
Tip 4: Our favorite snowbird destinations in Florida (so far) are Jetty Park Campground at Cape Canaveral, Everglades National Park, Miccosukee Resort and Gaming Casino in Miami, Summer Breeze in Okeechobee, and Myakka River State Park in Sarasota County.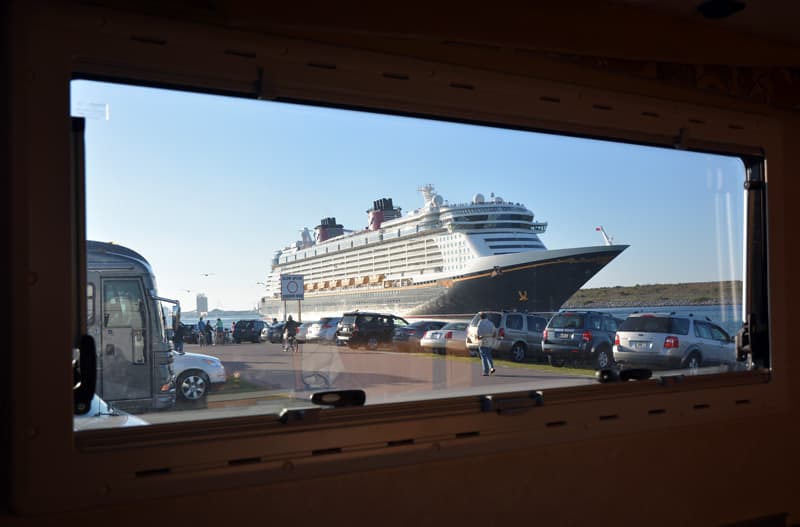 Above: Looking out the camper's window at a ship going by at Jetty Park Campground
We go to the above listed campgrounds almost every year.  Jetty Park Campground is relatively expensive, but the dry camping area is less expensive, and features the cruise ships close-up and personal.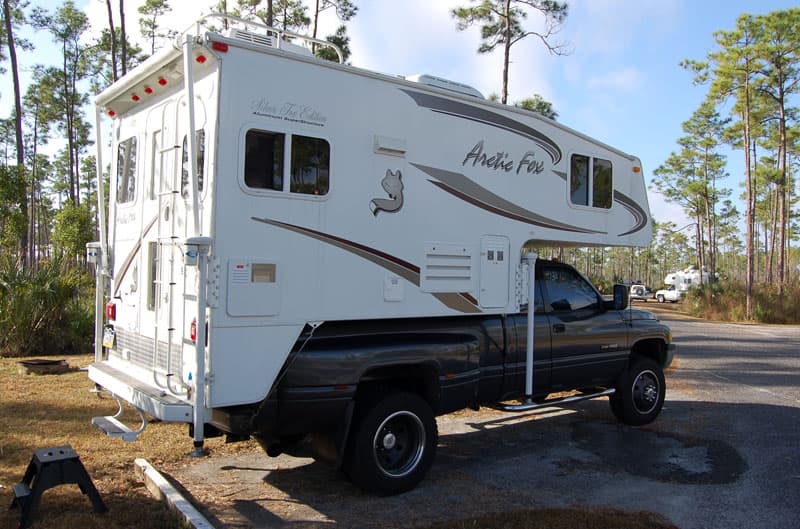 Above: Dry camping at Everglades National Park in 2010
Everglades National Park is a must and has a first-come, first serve campground.  Don't forget to bring serious mosquito spray.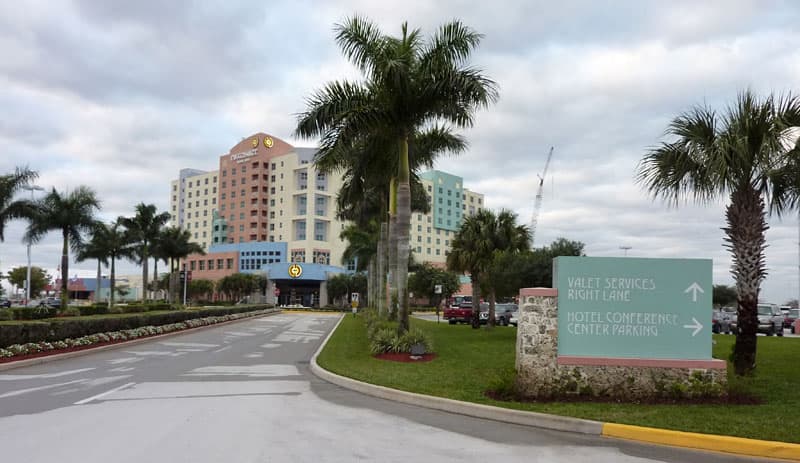 Above: Miccosukee Resort and Casino near Miami
Miccosukee Resort and Casino has free overnight camping (a rarity in Florida), and is the perfect place to launch into the Keys, or return from the Keys.  Miccosukee Resort and Casino also has a delicious buffet.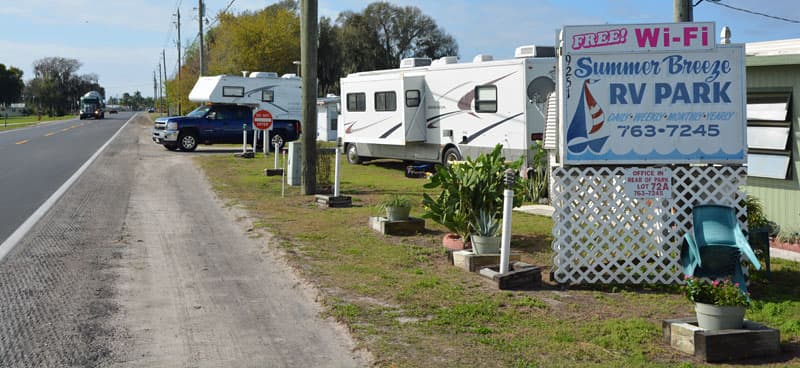 Above: Summer Breeze RV Park in Okeechobee, Florida
Summer Breeze is a favorite truck camper hide out, and is owned by a fellow truck camper.  At $15 a night for truck campers, full-hookups are a steal, but you better make your reservations in advance.  It's also very old Florida.  Snobs look elsewhere.  Frugal cheapsters with a friendly attitude?  Paradise found!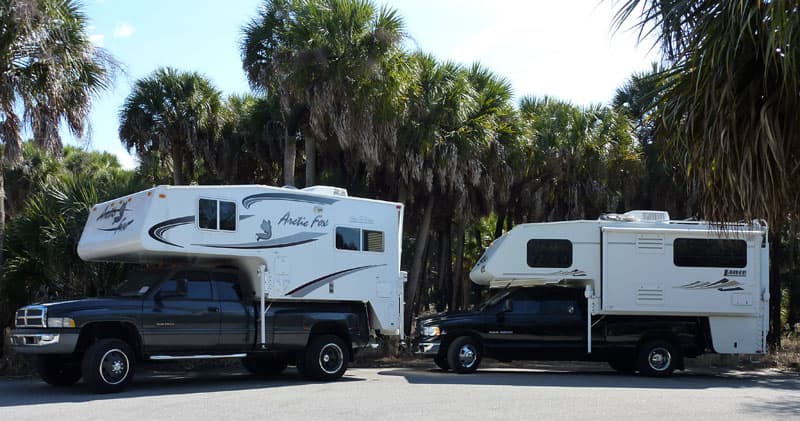 Above: Myakka River State Park near Sarasota, Florida
Finally, Myakka River State Park is a fantastic introduction to Florida's excellent state campground system.  Highly recommended, as are nearly all of the Florida state parks.  Again, make your reservations as soon as possible.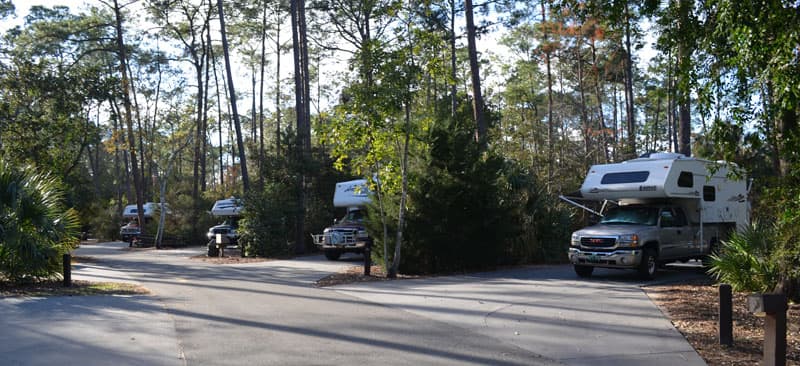 Above: Camping with truck camper friends in Fort Wilderness in Disney World
All of these locations are better suited to a few days or a week, not multi-month stays.  We like driving around and exploring, so this suits us fine.  If you need something longer term, Jetty Park is worth considering.  And, believe it or not, the Disney World's Fort Wilderness is, by far, the cleanest and nicest campground we've ever stayed in.
QOTW: Your Snowbird Tips and Destination Suggestions
Okay, enough of our snowbird tips and destinations.  Now it's your turn.  This week's Question of the Week is, "What are your best tips and/or favorite destinations for snowbirding in a truck camper?"
Fill out the form below to share your tips for snowbirding.