Scott Tuttle, Partner of Soaring Eagle Campers, sent us the following manufacturer's response to our Soaring Eagle first impressions article.
As stated in our Frequently Asked Questions, Truck Camper Magazine reviews (including first looks) are wholly independent and posted without notice or review by the industry until publication. However, manufacturers are invited to submit a response to be immediately published, without editing, on the following publishing date.
Scott Tuttle, Partner of Soaring Eagle Campers, submitted a manufacturer's response to the first look article, "The Soaring Eagles Have Landed" with some clarifications, details, and a correction.
Soaring Eagle Camper's Response:
"We were very excited to see the coverage of Soaring Eagle Campers in Truck Camper Magazine. We had no idea this was coming and it was exciting for us, as a small manufacturer to receive this kind of coverage.
I wanted to clarify some changes that have been made to Soaring Eagle Campers not represented in the article. First, we are now using composites to craft all of our dinette bases in the ADLAR camper line.
The ADLAR 6.5 photos with the aluminum framed, plywood-covered dinette bases were how a handful of our first camper dinettes were made as we developed the composite constructed bases. You can see the new composite dinette bases in the ADLAR 6.5XL pictures shown in the article.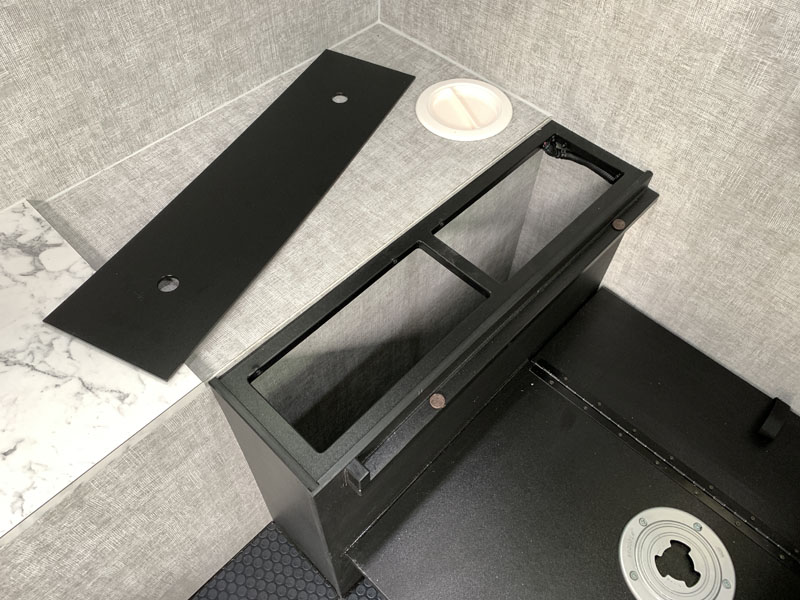 All of our dinette floors, storage boxes, and lids are now crafted from durable, waterproof, and lightweight composite materials. The resulting dinette bases cost approximately five times what the aluminum and plywood versions do, but we are committed to building the best campers possible and this was the right decision for Soaring Eagle Campers.
On the OV-X truck topper, there was a piece of plywood shown inside the rear of the open unit. This material is placed there for transportation only and is not part of the construction of the camper. The OV-X is 100 percent aluminum, metal, and composite – without a splinter of wood.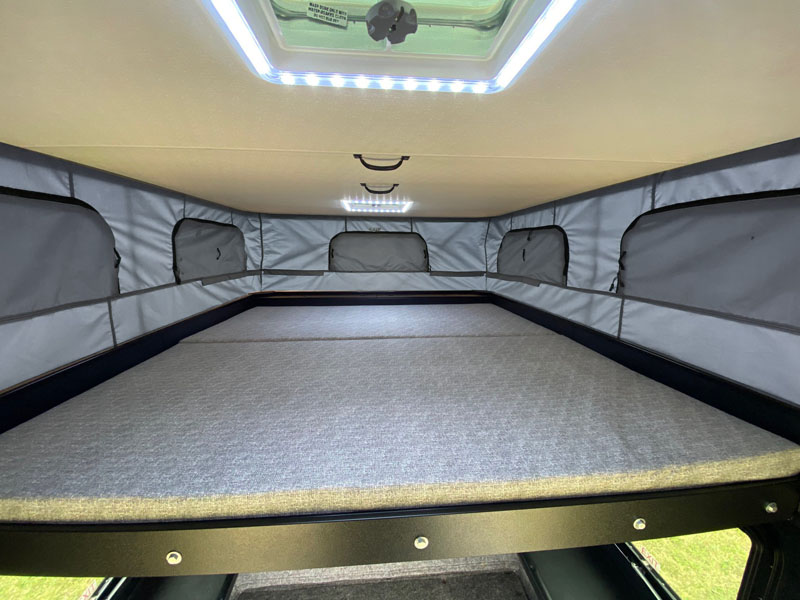 The article mentions finding the "full line" of Soaring Eagle Campers at Princess Craft RV. We actually have three additional OV-X models now; one for just about every truck bed size. The line now includes the OV-X 6.5, the OV-X 8.0, and the OV-X 5.0 for the Jeep Gladiator, Toyota Tacoma, and similar small truck models – not just the OV-X 5.5 shown.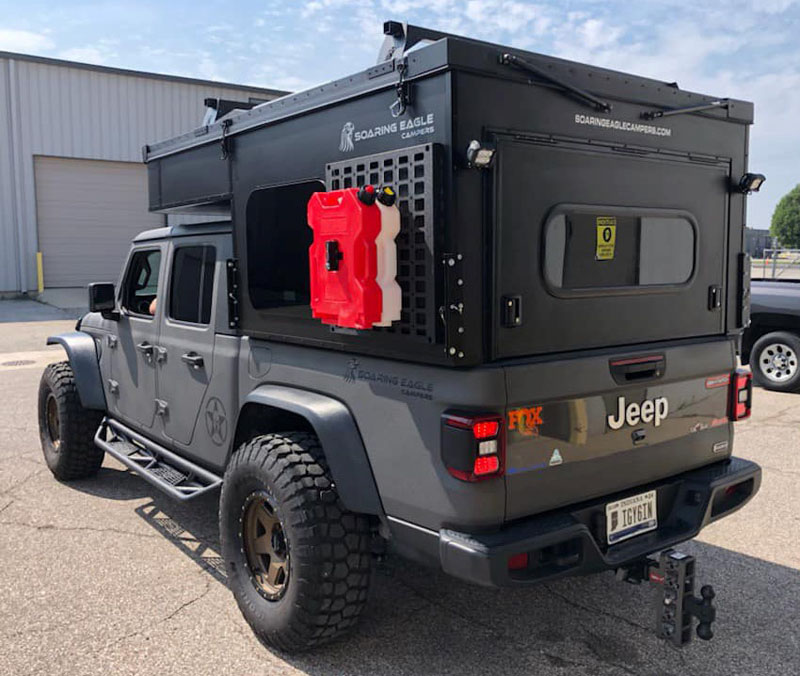 The article also mentions that Soaring Eagle Campers are for "half-ton trucks". I would add that we have models for smaller trucks including Toyota Tacomas and will be introducing an ADLAR model for the Tacoma at the Elkhart Open House in late September.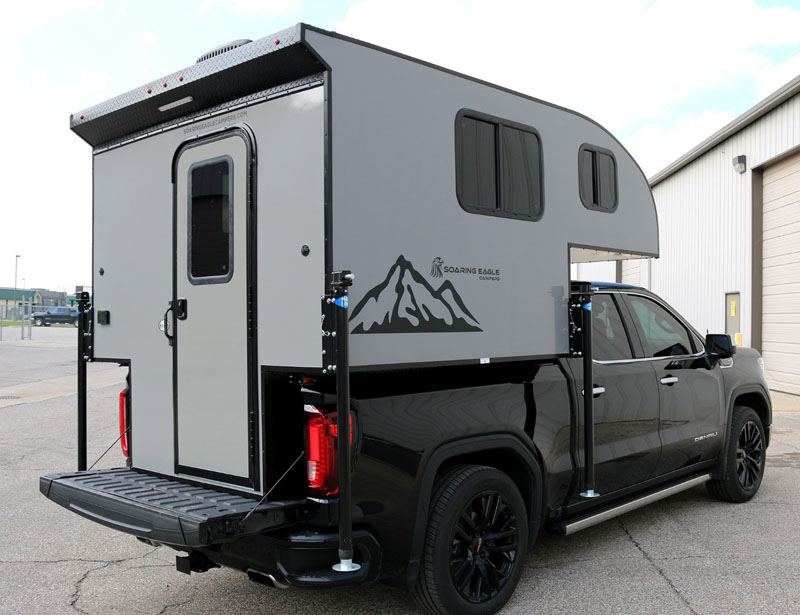 Also, we're now offering our ADLAR models in a platinum grey fiberglass exterior, which is becoming very popular. At the upcoming show, we plan on displaying our updated exterior graphics.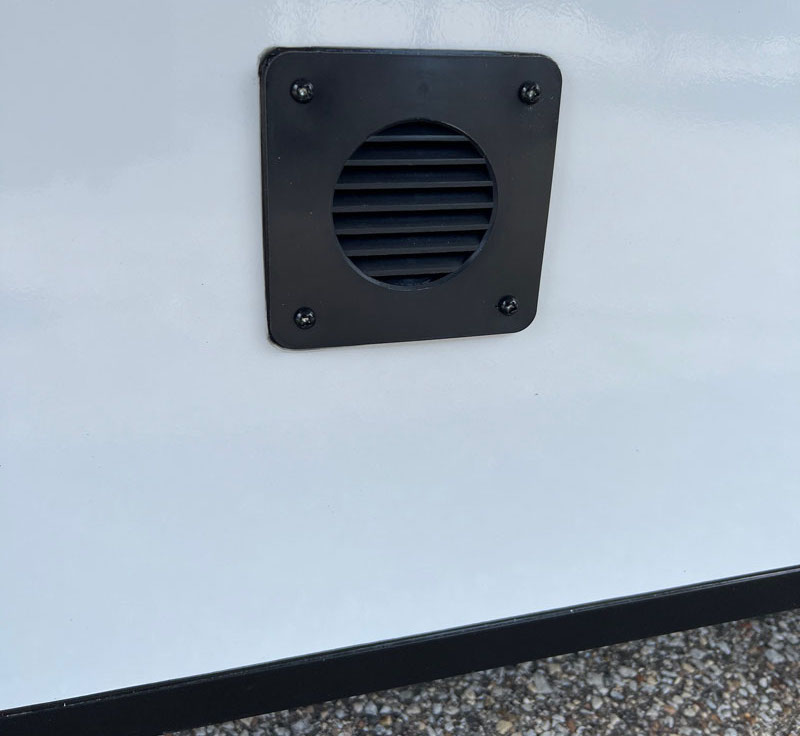 There is one correction that needs to be made. In the article, it's stated that "…only sealed batteries should be used as the (battery compartment) space is not vented." This is incorrect. All of our battery compartments are indeed ventilated.
Editor's Note: We have made this correction to the article.
The article also states that the ADLAR 6.5 is $15,300. To be clear, this is the starting sticker price before options are added.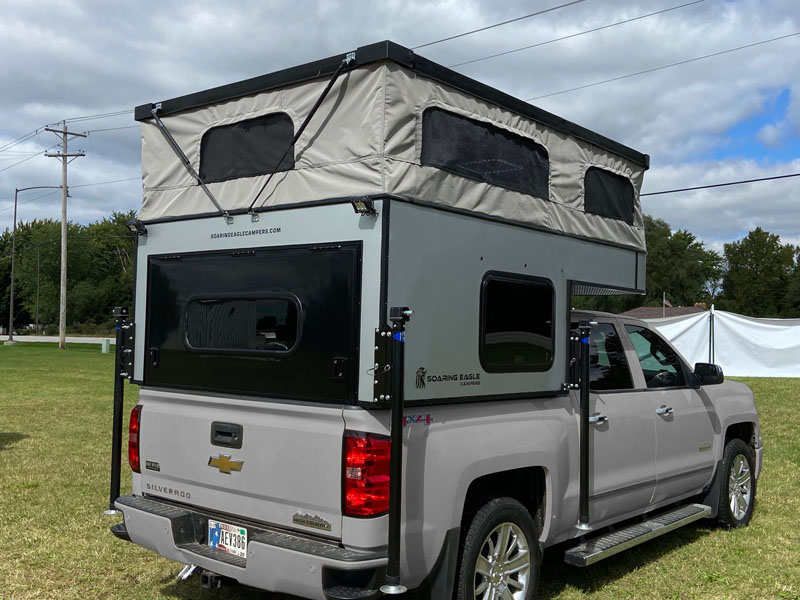 The article states Truck Camper Magazine's reservations about the OV-X's presentation at the dealer level. I agree that it shows better on a truck and with the roof popped up. I have included a photo showing what the OV-X looks like on a truck in camping mode to illustrate this concept.
Thank you again for the Soaring Eagle Camper coverage. Our product line is advancing fast and improvements are being made every day. We look forward to showcasing more updates at the Elkhart Open House next month where we have a few surprises in store."
For more information on Soaring Eagle Campers, visit their website at soaringeaglecampers.com. Click here to request a free Soaring Eagle brochure.