Truck Camper Magazine takes a crack at the newly hatched Soaring Eagle Adlar 6.5 and Adlar 6.5XL hard sides, and the OV-X 5.5 pop-up at Princess Craft RV. Soaring Eagle first impressions ahead!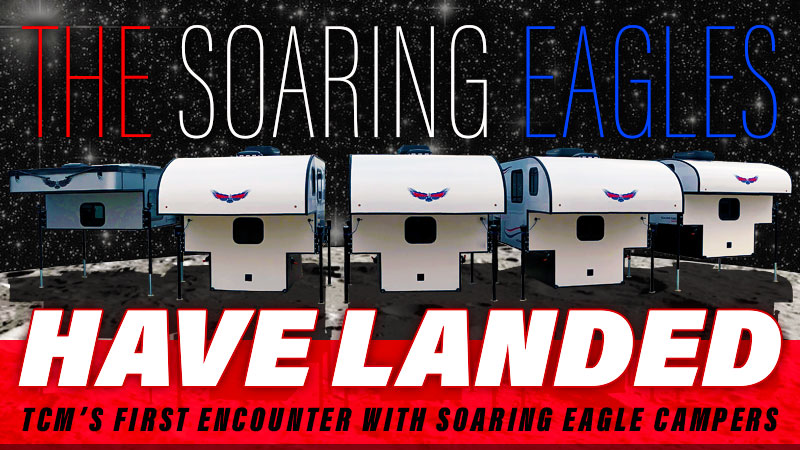 We arrived at Princess Craft RV a few days after the very first shipments of Soaring Eagle Campers started arriving at dealerships across the United States. The load that arrived at Princess Craft included the full Soaring Eagle line; the Adlar 6.5 and 6.5XL hard side models, and the OV-X 5.5 pop-up model. Could we resist taking a peek at these new hatchlings? Heck no.
Five Eagles Landed
Soaring Eagle Campers debuted in Truck Camper Magazine this past April. Based in Wakarusa, Indiana, the production truck camper company is focused on affordable and lightweight aluminum-framed pop-up and hard side campers for half-ton trucks. The floor plans are relatively basic as are the standard features and options. That's how you get an affordable lightweight camper; something much of our industry has kicked out of the nest.
The team behind Soaring Eagle Campers previously built Livin' Lite travel trailers and CampLite truck campers, and it immediately shows. There was a level of design and manufacturing quality and refinement on display that's rarely seen in first-generation products. It's also impressive to see a new company offer three distinct models from the outset, not to mention both hard side and pop-up models.
Even with close inspection, the exterior materials, fit, finish, and graphics were as well presented as camper brands years into their manufacturing. The campers also stood out from their elder peers with a bold red, white, and blue Soaring Eagle logo, intentionally minimalist decals, and black trim, jacks, and lower side walls.
In contrast, the OV-X 5.5 pop-up model featured grey skin and a black Soaring Eagle logo. This is a more modern aesthetic that should match better with more truck colors. Soaring Eagle has already indicated that this grey and monochrome exterior, logo and graphics are a direction they're leaning for future runs.
2023 Adlar 6.5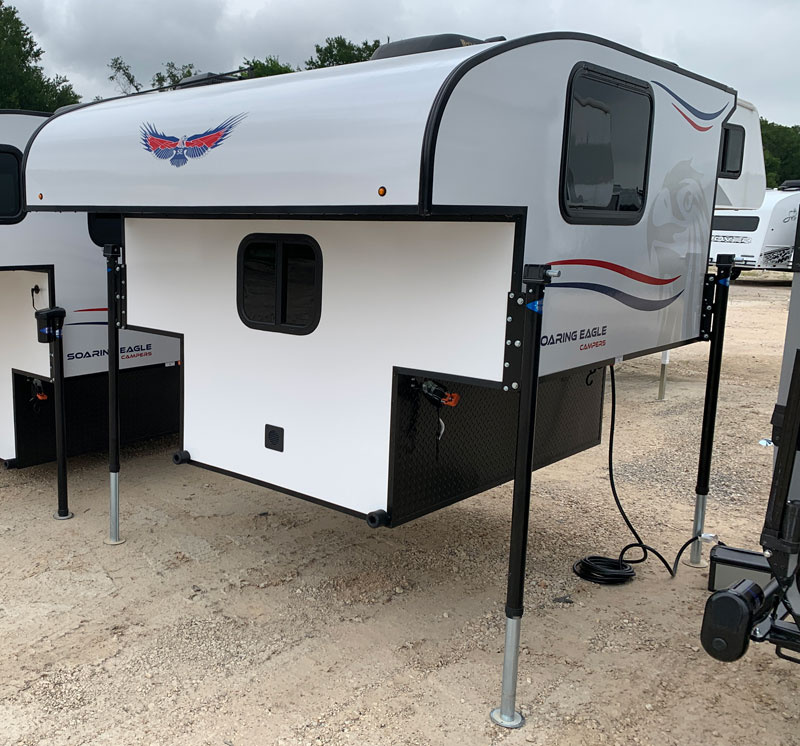 For their April debut, Soaring Eagle Campers presented two hard sides; the Adlar 6.5, and the Adlar 6.5XL. The 6.5 is essentially a non-cabover truck camper with a short nose to improve aerodynamics and provide interior storage.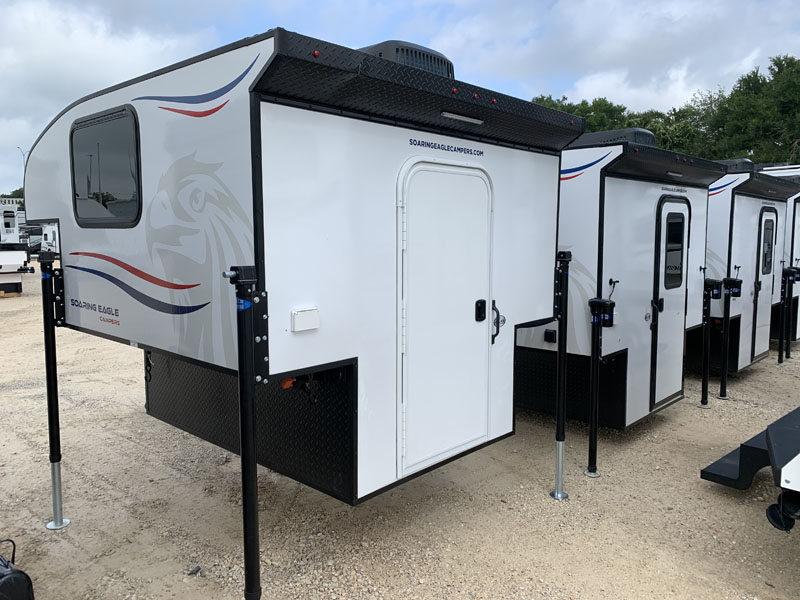 Inside the doorway, it's hard not to focus on the deep blue LED lighting inside the cabover storage area.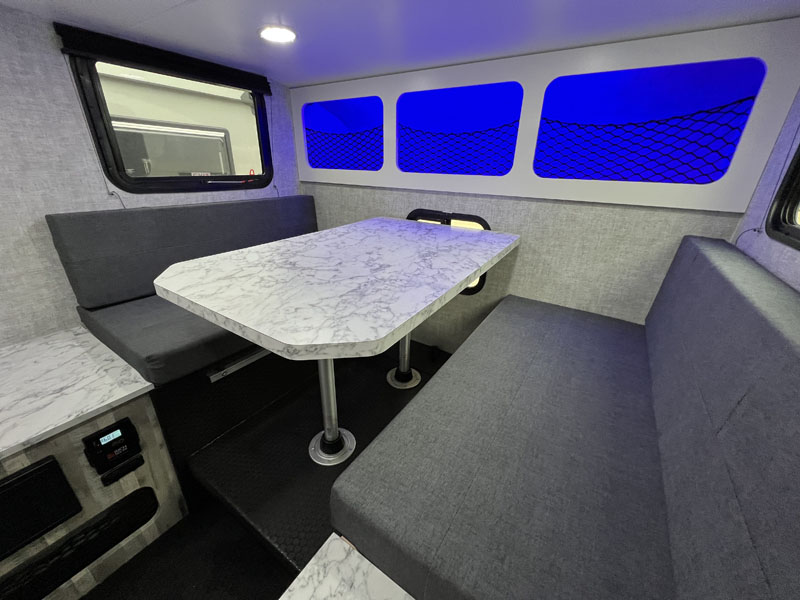 Together with the dark grey cushions, light grey sidewalls, and white marbled tabletop and countertop surfaces, the Adlar 6.5 has a decidedly contemporary interior. This should warm up considerably once the owner brings in their belongings and has the opportunity to decorate.
The full-size face-to-face dinette is the dominant feature in the Adlar 6.5 providing ample sitting area for four adults. Meals, laptop work, map planning, reading, and lounging are all on tap with this large seating arrangement and table space.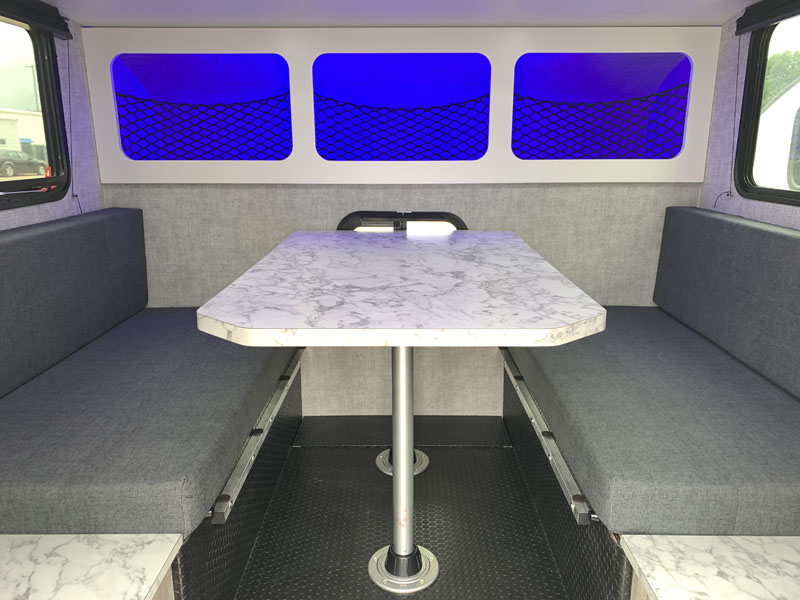 We've seen much bigger truck campers with smaller and less functional dinettes than this.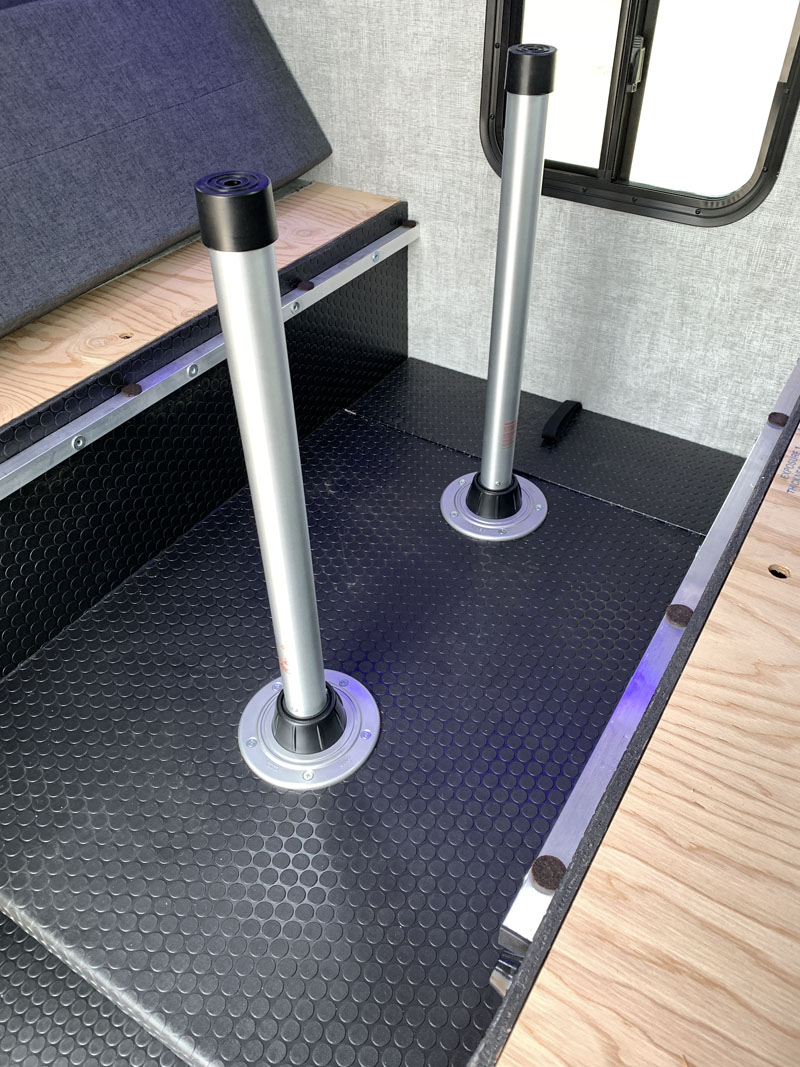 Converting the dinette into a bed is a quick and easy process. First, the dinette table lifts off the two two dinette table posts. Then the posts twist out of their floor mounts. Then the table is replaced between the seats creating the bed platform.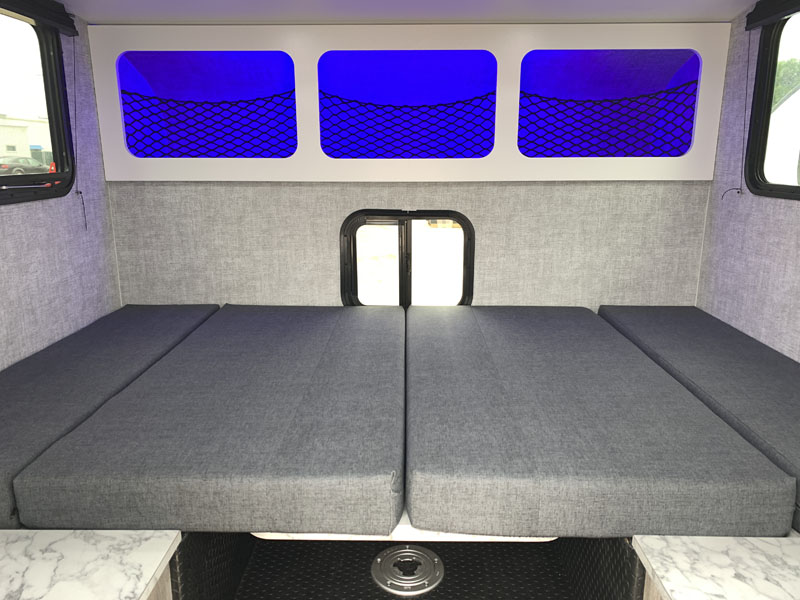 Reinstall the cushions as shown and voila, your dinette bed is ready for bedding. In practice, most owners should be able to make and unmake the dinette bed in less than a minute.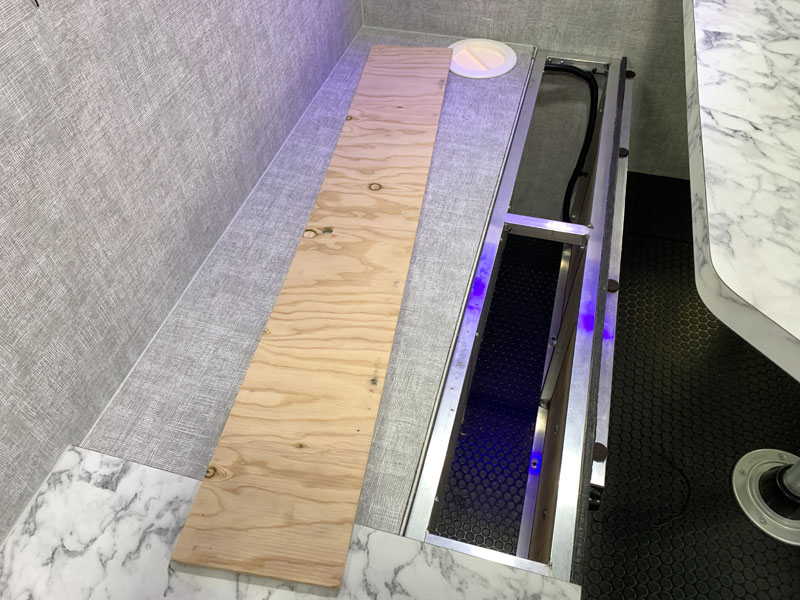 Underneath the dinette seats are storage areas and access to the forward ratchet straps.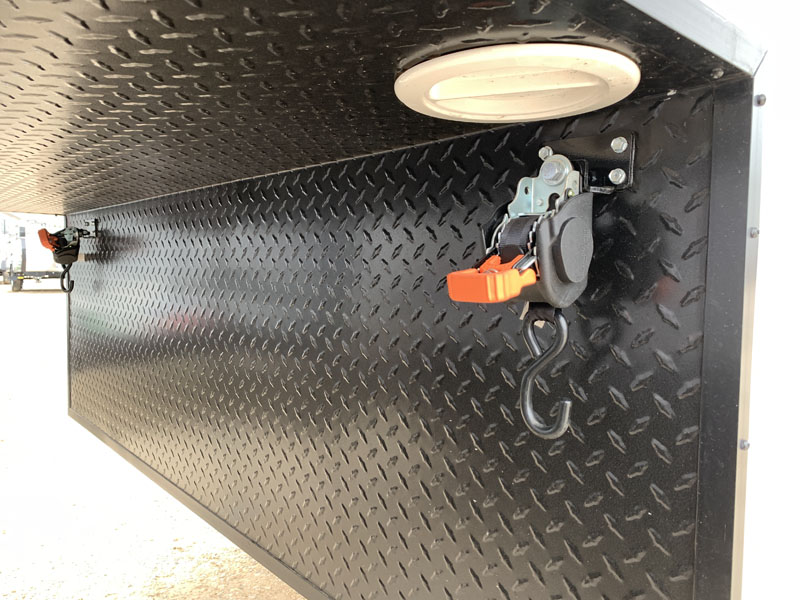 Above: The ratchet straps and circular access panel
In the foot area of the dinette is a lift-up compartment for sealed AGM or lithium batteries. Please note that only sealed batteries should be used in this space as it's not vented.
Correction: All Soaring Eagle Adlar truck camper battery compartments are ventilated via a front vent. We verified this via our own photography and are thus making this formal correction.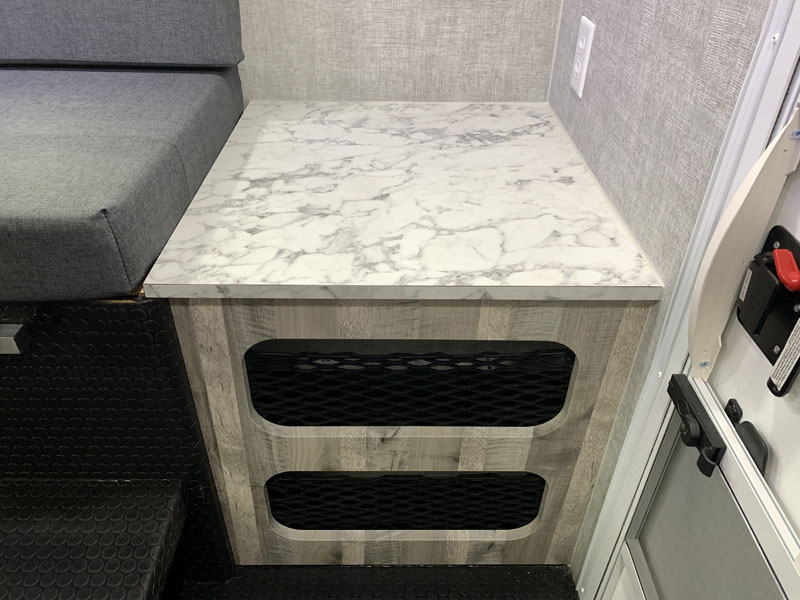 The rear section of the 6.5 has two dinette-seat height surfaces with storage (passenger side shown above) and a hybrid of storage and electrical features (fuse panel, 12-volt, and USB outlets, and optional solar controller on the driver side shown below).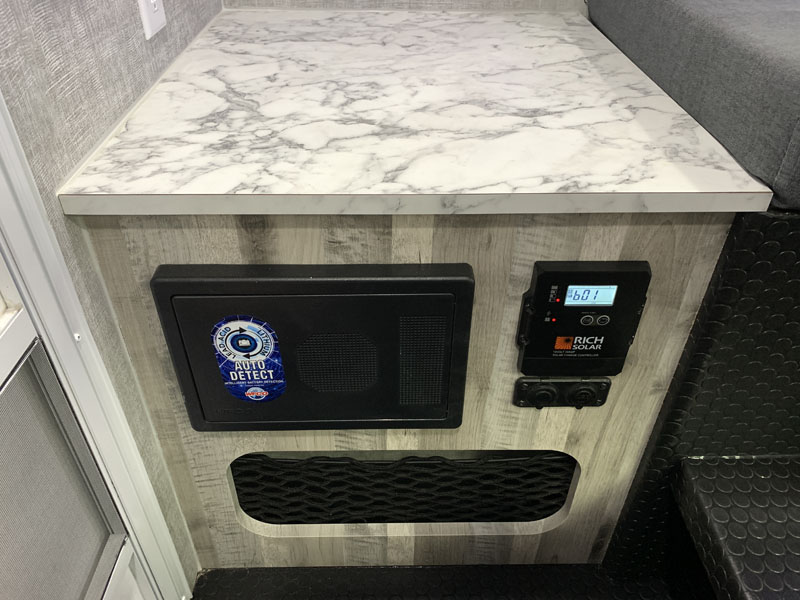 Both sides feature 110-volt outlets which activate when the camper is connected to shore power.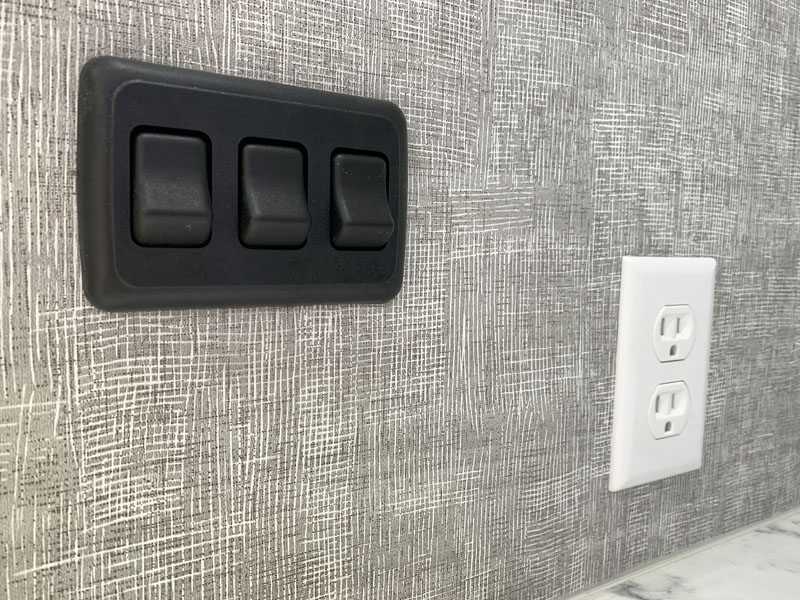 To appreciate the Adlar 6.5, you need to appreciate the simplicity, weight, and cost of this camper. It couldn't be more simple in its presentation and operation. At 850 pounds base weight, it's an easy payload match for half-ton trucks. And at $15,300, it's one of the most affordable truck campers on the market today. I'll dig deeper into all of the Soaring Eagle Campers when I formally review them, but those three qualities give the Adlar 6.5 a solid runway in the marketplace.
2023 Adlar 6.5XL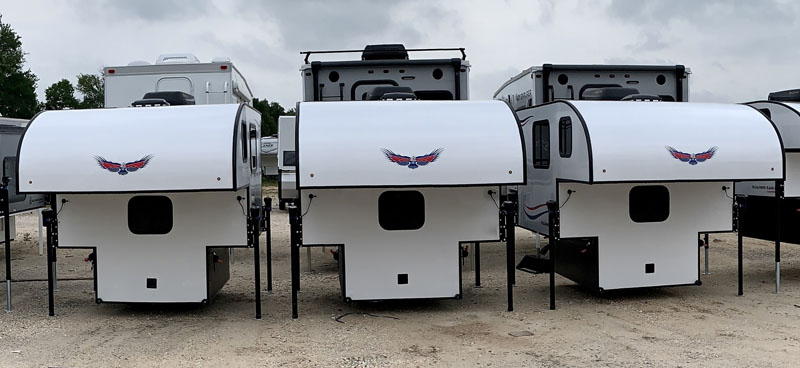 Above: A row of three Soaring Eagle Adlar 6.5XL models
The Adlar 6.5XL features the same 74-inch (just over 6-foot) floor length as the 6.5, but feels like another world. With a cabover bed, two-top style dinette, passenger side upper cabinet and microwave, driver side closet, porta-potty cabinet, and entry door with window, the Adlar 6.5XL feels like a traditional truck camper.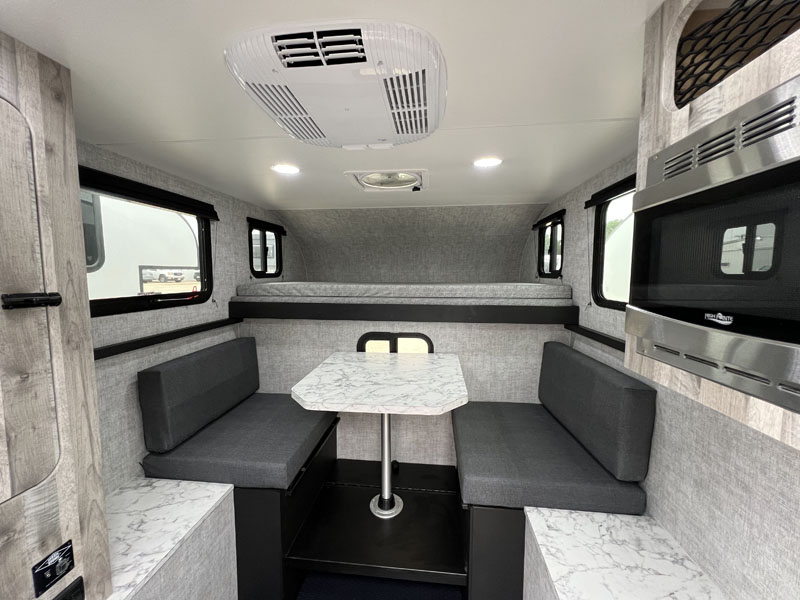 The 6.5XL cabover offers two additional windows bringing in more light and giving the XL a more spacious vibe. The optional pull-out bed platform (shown) slides over the dinette to create a North-South bed.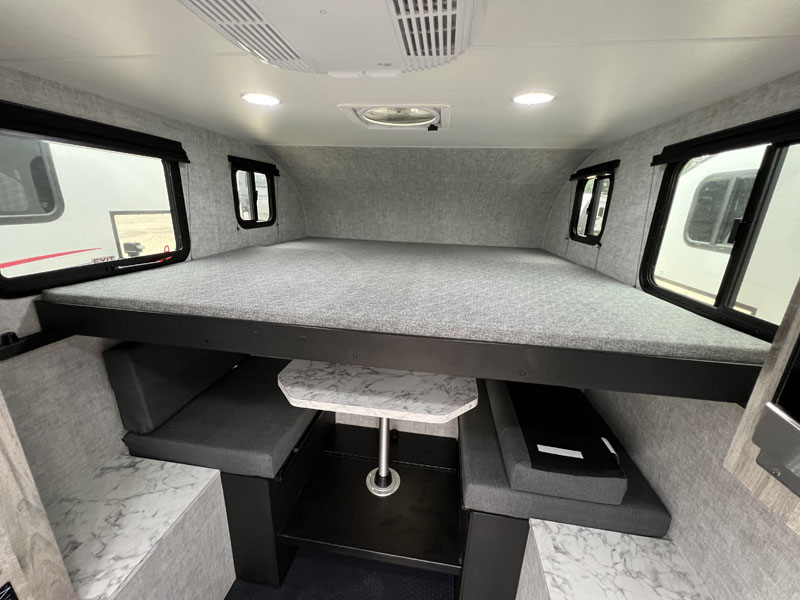 The dinette is appropriately proportioned for two, and the table is wide enough for meals and laptop work. All of this makes perfect sense for a camper this size.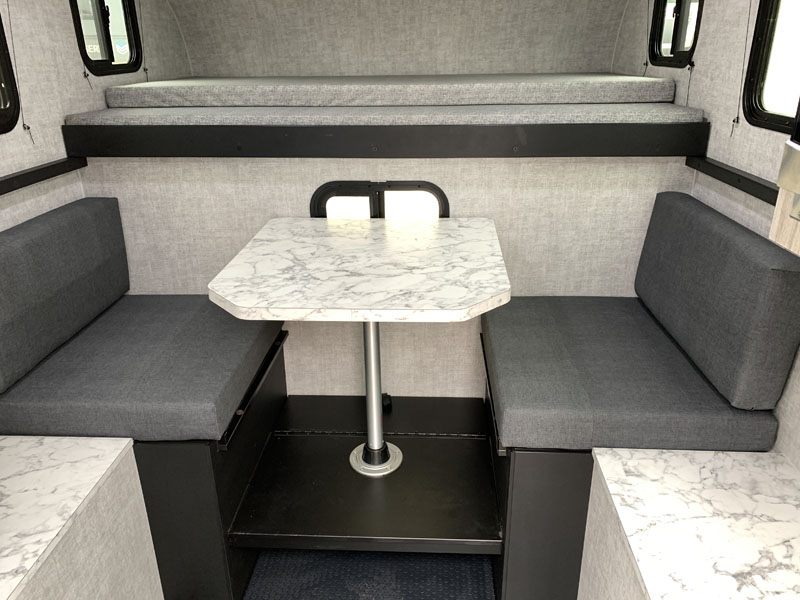 Like the 6.5, the 6.5XL dinette offers storage under the seats and a battery space against the lower front wall. Unlike the 6.5, the 6.5XL has an area under the footwell. This is the perfect place to store your shoes.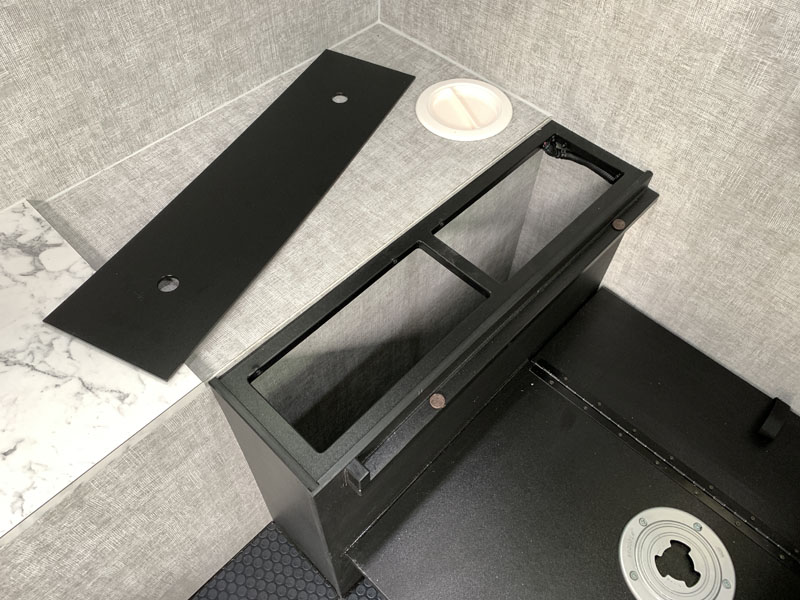 Also, note that the 6.5XL in the photography features a composite dinette construction not seen in the 6.5. Again, in our conversations with Soaring Eagle, we believe this is the direction they're headed.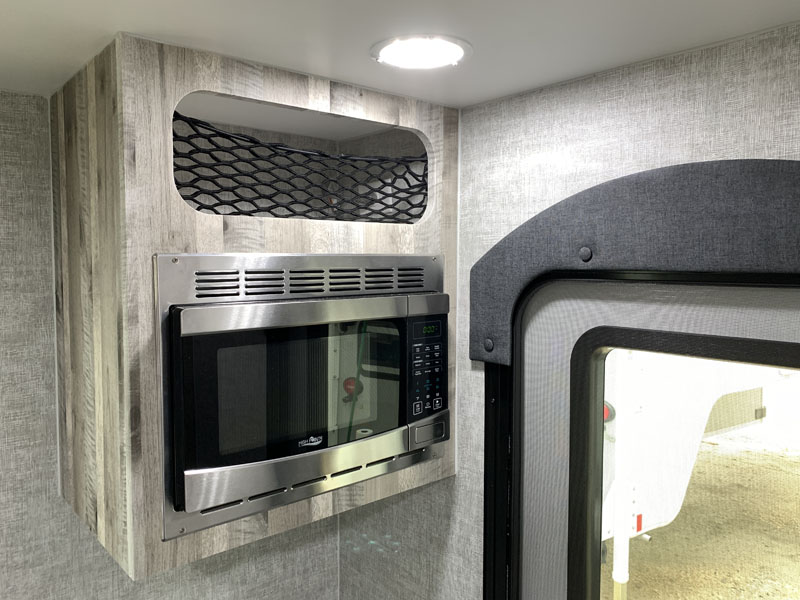 Somehow the optional stainless microwave in its dedicated upper cabinet takes this interior to another level. This is a feature we normally see on high-end campers, and yet there it is ready-to-cook meals in the Adlar 6.5XL. Of course, you'll need shore power, a generator, or a monster lithium power source to operate this option.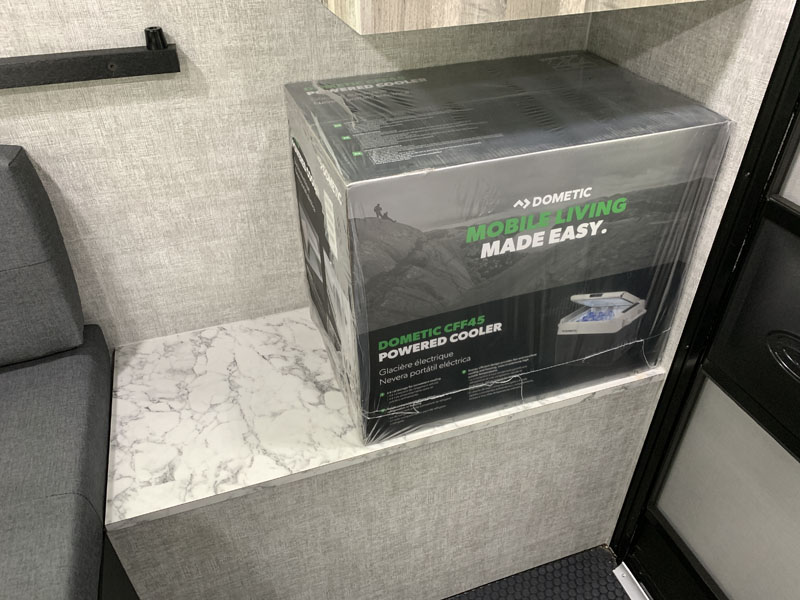 Underneath the microwave was a box containing the optional 12-volt (or 110-volt) compressor Dometic CFF45 Powered Cooler. This is a relatively small refrigerator for a truck camper but it seems right-sized for this unit. If an XL owner wants a larger refrigerator, there's more width available.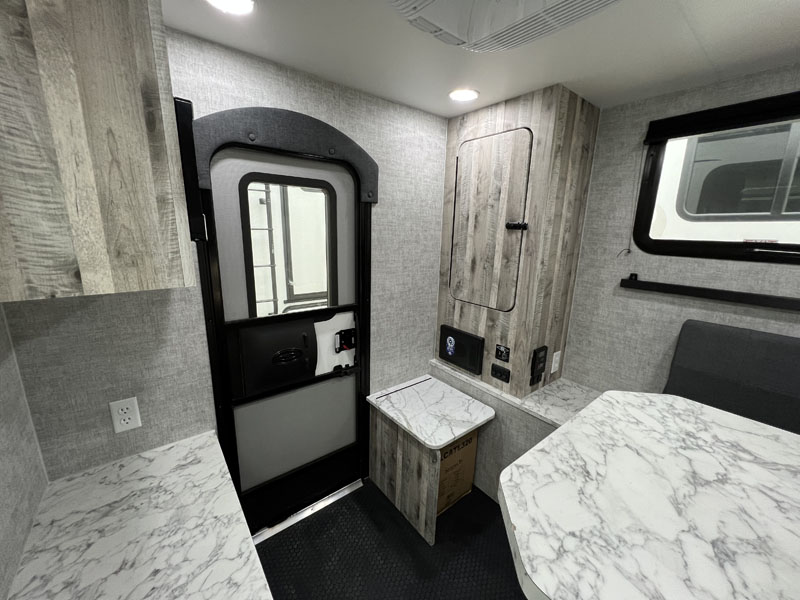 The driver side closet and porta-potty cabinet are more game changers for this model. The tall closet is convenient for hanging clothing, or to modify with shelving to utilize the vertical space.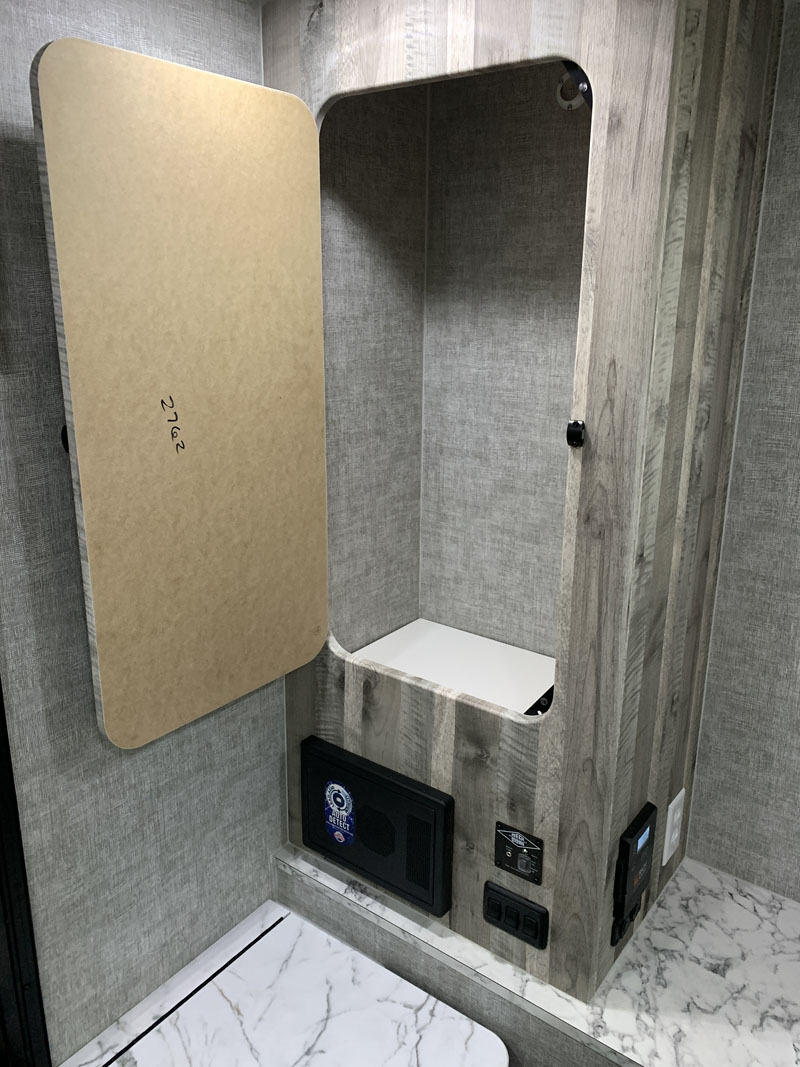 Inside the closet, the floor lifts up to access the optional Rieco-Titan electric jack system (shown below). The majority of the wiring is tied and secured, and the presentation is easy to follow and accessible for future maintenance.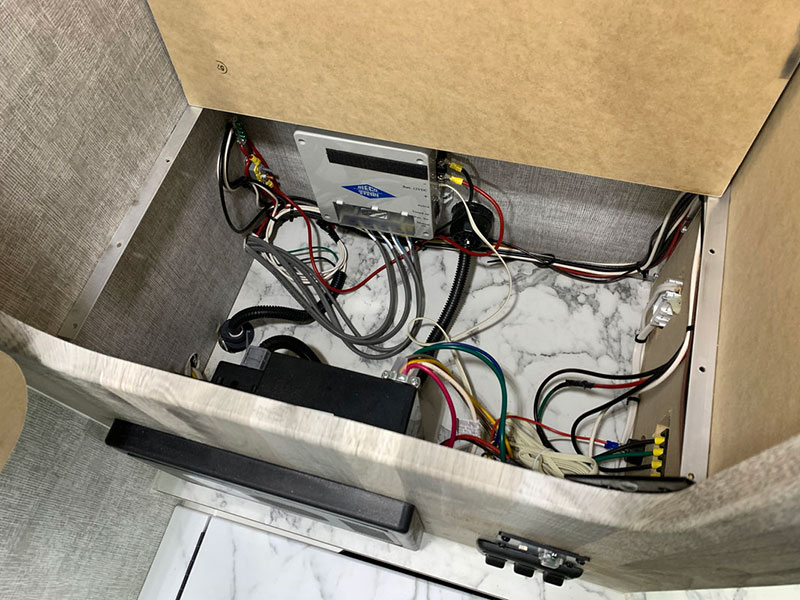 Having a dedicated porta-potty space is an important marketplace trend, and the 6.5XL comes standard with the SereneLife model SCCATL320 portable potty.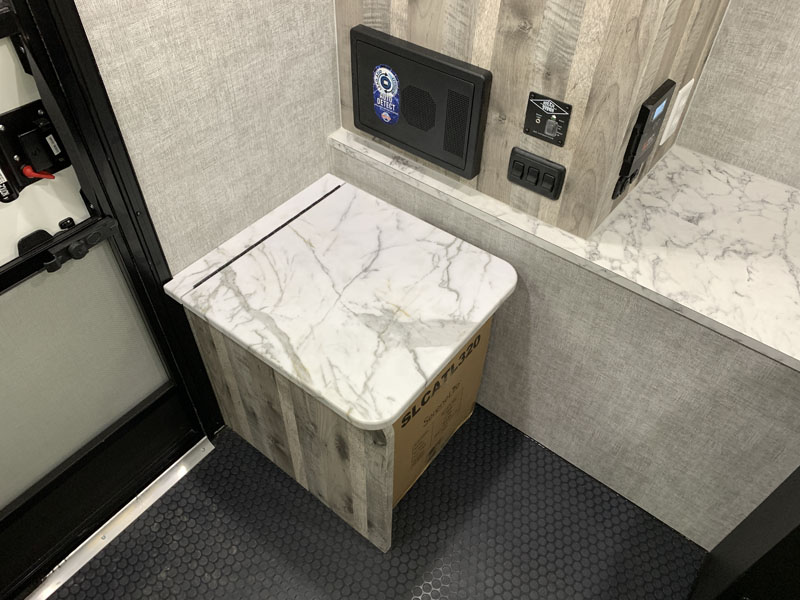 With a 5.3 gallon capacity, this feature alone will likely tip the balance for many buyers.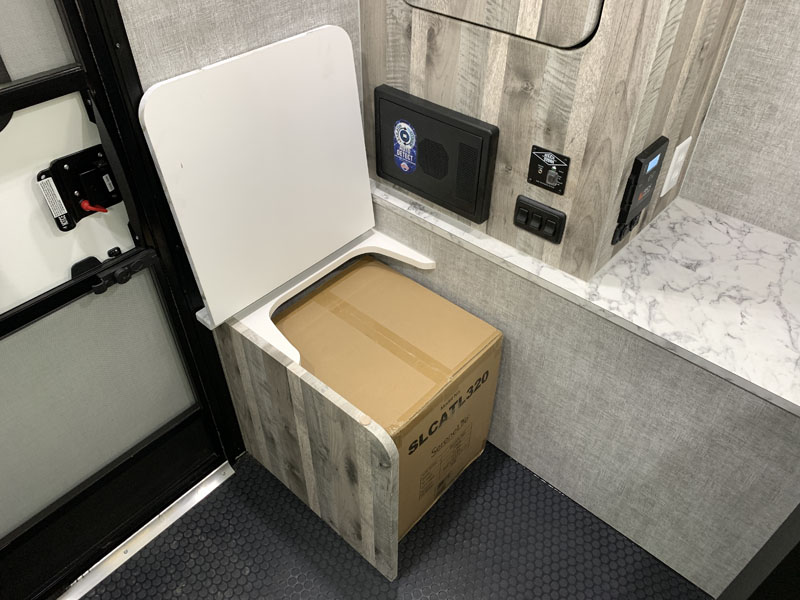 Both the 6.5 and the 6.5XL featured optional Houghton (RecPro) air conditioners. RecPro is a relatively new brand to the truck camper space, but they're making significant headway with their efficient power draw and low interior noise. We have yet to camp with a RecPro air conditioner and cannot speak to the use or reliability of the unit.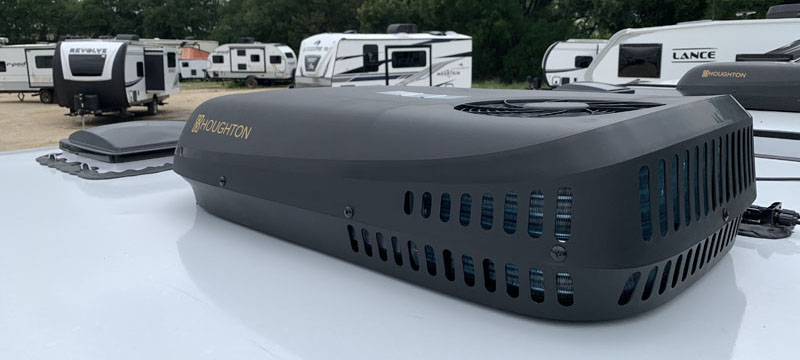 Honestly, the Soaring Eagle Adlar 6.5 XL surprised me. I can see this camper hitting a home run for someone who wants a well-made camper for a half-ton truck, but doesn't want a heavy or expensive unit. At 1,200 pounds base weight (without options) and a base price of $19,500, this camper is payload compatible with a huge number of half-ton trucks and goes easier on the pocketbook than many base pop-up units. I predict the Adlar 6.5 XL will be Soaring Eagle's number one seller in 2023.
OV-X 5.5

And now for something completely different. Sitting in a sea of hard side campers (see above), the Soaring Eagle OV-X 5.5 camper/topper was completely out of context. In fact, it doesn't even look like a camper or RV of any description. Where's the base? Where's the camper in this camper?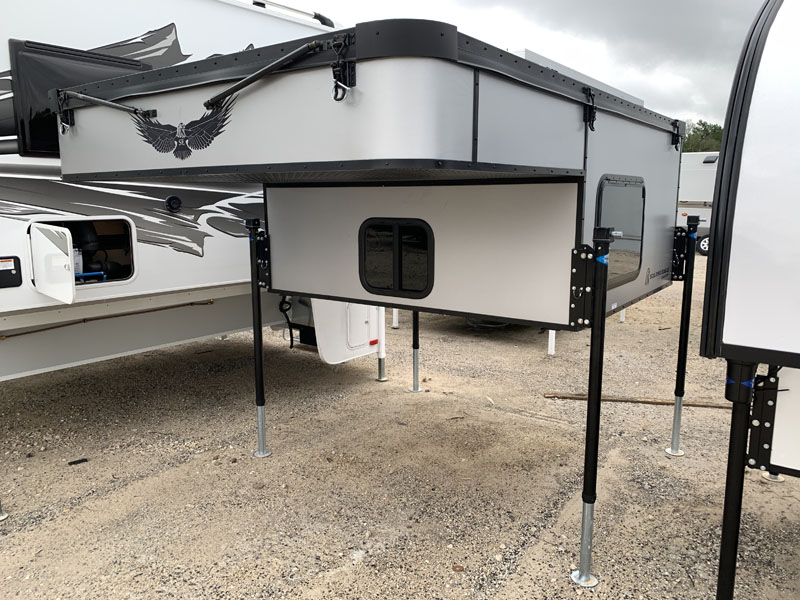 All of that would change the second a truck was mounted under the OV-X and the pop-up roof was lifted into its camping position. However, even then you would be presented with a very basic pop-up camper/topper with nothing but the truck bed in the main living area, and a cabover bed.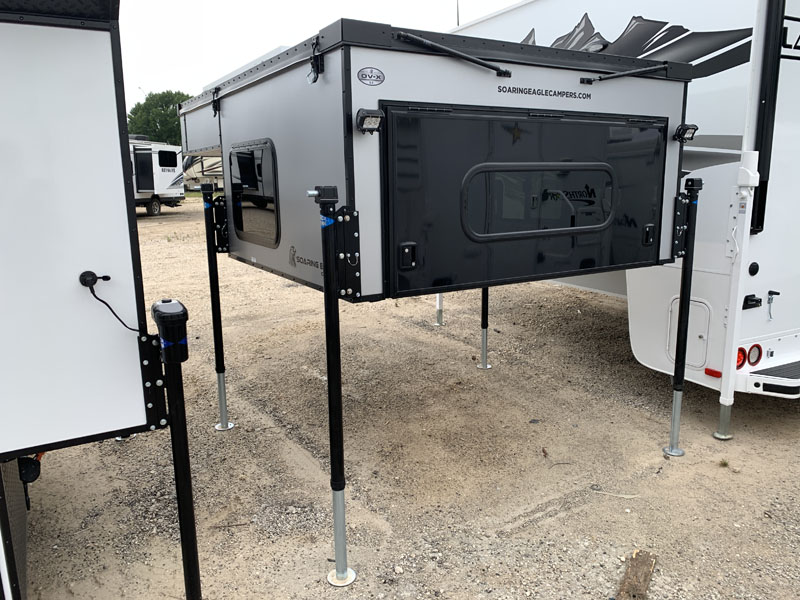 Folks, this is an overland concept that's finding its way into the truck camper niche of the greater RV marketplace. Put another way, these pop-up camper/toppers were everywhere at Overland Expo West this past May, but are somewhat out of context on an RV dealer's lot. Naturally, none of the camper/toppers were presented at Overland Expo West without trucks making them easier to understand and appreciate.
That will likely be the main challenge that faces the OV-X. Without a truck mounted underneath, it's hard to grasp. Then again, if someone arrives at dealerships already knowing what this product is, they'll see past that quibble. This isn't that different than truck campers of all descriptions. If you don't already understand what the product is, what it's about, and the 'go anywhere, camp anywhere, tow anything' lifestyle it represents, you might choose a trailer or motorhome (heaven forbid).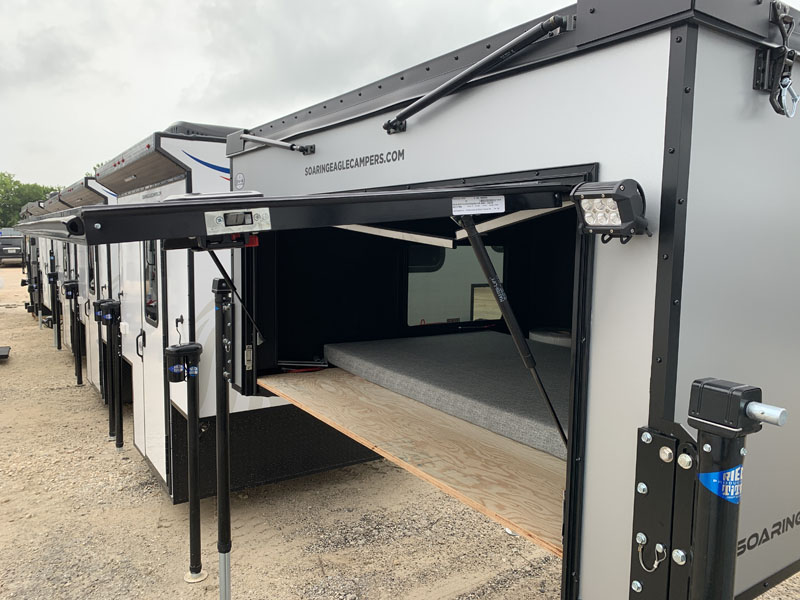 I have not seen an OV-X on a truck in person and will withhold further comment until I see one this fall at the Elkhart Open House. And if you missed it, the Soaring Eagle team just thought, "Well, we better have an OV-X on a truck at the Elkhart Open House." Yes, please.
From The West, To The Nest
I am always excited to see more affordable options hit the truck camper marketplace. The fact that Soaring Eagle Campers is backed by an experienced team with a solid reputation for quality manufacturing and rapid growth are more reasons to be enthusiastic about this new brand.
Without a doubt, I was most taken by the Adlar 6.5XL. I think that camper will surprise people with its interior comfort and feature set. It's way more camper than I expected it to be. That stated, there's no fresh tank, grey tank, sink, or bathroom. We're still talking about a very basic camper, but somehow the utility of the 6.5XL is more than the sum of its features.
The 6.5 is perfect for folks looking for a warm and dry place to sit and sleep off the ground. At its price and universally half-ton friendly weight, I can see the 6.5 camper being an almost impulse buy. That's a rare bird indeed in the RV world, and one that I expect will find its own niche within the truck camper marketplace and broader camping niche.
The OV-X is just beyond my personal comfort zone; both as a truck camper and in my feel for how the product will perform in the marketplace. Where the Adlar 6.5 and 6.5XL have their feet firmly planted in the truck camper market, I believe the OV-X skews overland and requires a more overland-focused buyer. Mount this camper on a Ford Raptor and take it to an Overland Expo and it could go gonzo. Leave it without a truck at an RV dealer lot and it could be a challenge. Perhaps more than other campers, the OV-X needs to be mounted on a truck to sell the concept.
Again, I will revisit the OV-X and the Adlars at the Elkhart Open House. I bet the Soaring Eagle team will have some updates, and trucks to best showcase their new brand and models. My first impressions of the 6.5 and 6.5XL are positive; especially for the XL. If you're an OV-X customer, you know who you are. Most importantly, the build quality, fit, and finish are solid across all three models. If these campers make sense for what you need, I recommend an audition.
For more information on Soaring Eagle Campers, visit their website at soaringeaglecampers.com. Click here to request a free Soaring Eagle brochure.