Out of Wakarusa, Indiana comes Soaring Eagle Campers, a new truck camper manufacturer producing aluminum framed pop-up and hard side campers. Focused on lightweight and affordable campers for half-ton trucks, Soaring Eagle Campers aims to spread the proverbial wings of the truck camper marketplace, and fly.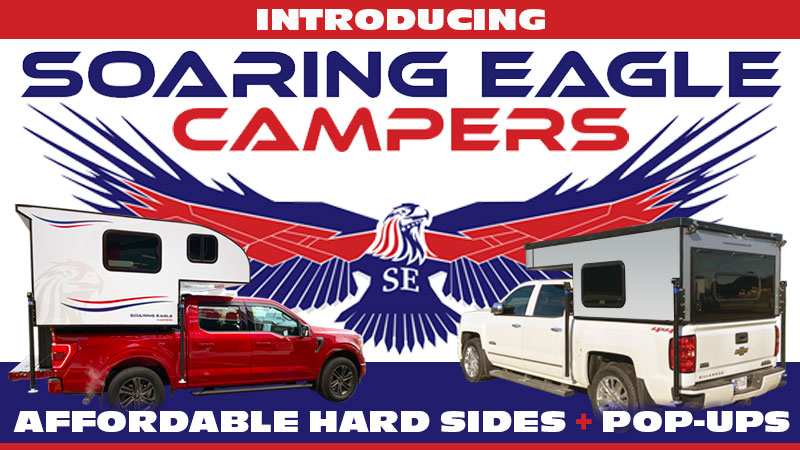 Over the past decade, we've watched the average truck camper price escalate to levels that threaten the future of our beloved pastime and industry. As camper manufacturers continuously chase profitable high-end buyers, the standard features and options have ballooned. The resulting camper weights push consumers into bigger and ever more expensive trucks. While some people have the financial resources to absorb these increases, others are getting left behind.
Soaring Eagle Campers is launching directly into the opportunity this situation has created. With a line of basic hard side and pop-up campers for half-ton trucks, they're catering to first time and more budget-conscious buyers. In fact, they firmly believe their models will meet the demand for affordable and lightweight campers and expand the truck camper dealer base and marketplace as a whole.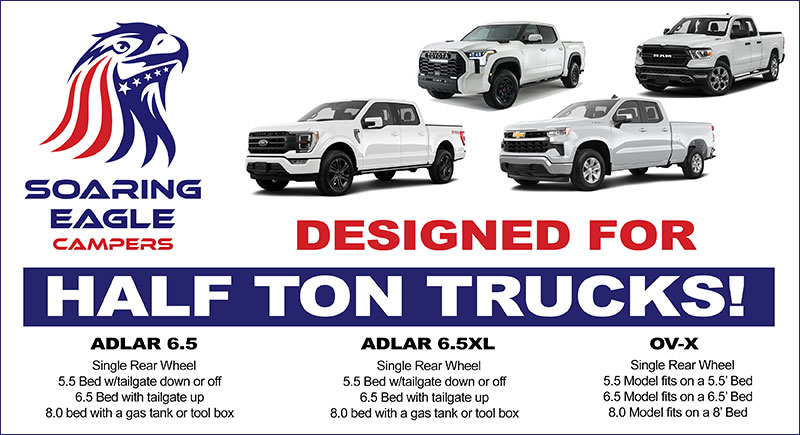 Above: A promotional banner developed by Soaring Eagle Campers
This all might come across as ambitious hype if it weren't from a proven source. Scott Tuttle, Founder and Partner of Soaring Eagle Campers, has an ironclad track record of starting innovative and ambitious companies that go on to become some of the most successful RV industry entrepreneurial stories of our time. Joining his leadership team and production crew are the who's who from his previous ventures. One thing is for sure; Soaring Eagle Campers will be a truck camper start-up to watch.
To learn more, we talked to Scott Bradshaw, Scott Tuttle, and Troy Andrews, three Partners at Soaring Eagle Campers. For the floor plans and specifications for the Soaring Eagle Campers Adlar 6.5, Adlar 6.5XL and OV-X, scroll to the bottom of this article. Click here for a Soaring Eagle Campers brochure.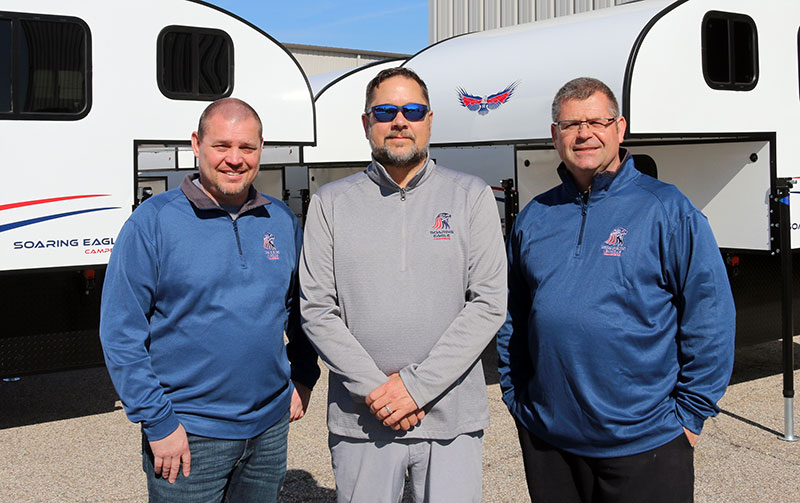 Above: Scott Bradshaw, Scott Tuttle, and Troy Andrews
Our first question is for Scott Tuttle. For those who don't know your RV industry background, tell us about yourself.
Scott T: I was one of the Founders of Heartland Recreational Vehicles and the Founder of Livin Lite Recreational Vehicles. With Livin Lite, we really changed the entry-level camping market by designing and manufacturing all-aluminum constructed units that were light enough to be pulled by cars and small SUVs. They were true "automotive campers".
We then brought the all-aluminum CampLite truck campers to the market, as well as developed the Ford-branded truck campers in cooperation with Ford Motor Company. At the present time, I am one of the current Owners of inTech Trailers which I helped get into the RV industry. inTech has brought a new level of luxury, quality, and fit and finish to the small trailer market, utilizing all-aluminum construction.
I co-founded Wakarusa Coach with Chad Newcomer where we build motorhomes from the ground up for the mobile medical market. I am also blessed to be an owner at Gen-Y Hitch, a manufacturer of some of the most innovative towing products on the market, including torsion trailer and fifth wheel hitches. Now, I am excited to be part of the ownership team that has founded Soaring Eagle Campers, manufacturers of unique, all-aluminum constructed, lightweight, entry-level truck campers.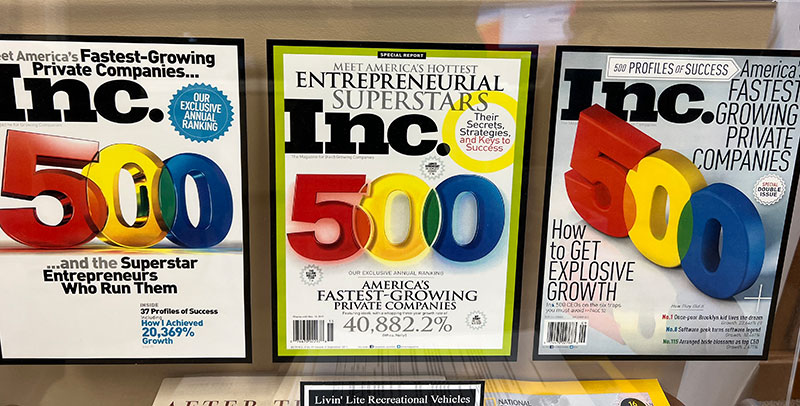 Above: Livin Lite was listed on Inc. Magazine's 500 fastest-growing private businesses for three consecutive years
Troy: I was one of the owners of Livin Lite Recreational Vehicles where I oversaw the operations side of the business, until the purchase by THOR.   I was a former Operations Manager at ShowHauler RV and a former Plant Manager at Lippert Components.  I bring production management experience and attention to detail to Soaring Eagle where I oversee operations.
Scott B: I am a second-generation owner of Bradshaw Construction and the owner of Homefront Realty. I bring knowledge of high-quality construction and a commitment to doing things the right way.  I am currently splitting my time between operations and purchasing at Soaring Eagle as we are all wearing a number of hats as we grow our team in the early stages.
Scott T: I always want to be a part of a company that takes the time to do it right, not build quickly to make money. That's what I have focused on in the past, including the last seven years at inTech, and now at Soaring Eagle. We care about how our customers are going to use them as well as their real-life experiences with our campers.
Sadly, there are a lot of examples around of how not to do it. Covid made it worse. The pandemic may have produced the biggest production boon in the history of the industry, but it also resulted in more poorly built RVs than ever before.
Today, potential buyers are more discerning and there are not enough financial incentives to get them to overlook any shortcomings in product quality. While that may be troublesome for some RV manufacturers, it is music to the ears of companies like inTech and Soaring Eagle Campers where we endeavor only to build a unit that we would be proud to have any of our family members use.
No offense, but we don't want to be like everyone else. We want to be exceptional. We will never be okay with sending stuff out that we know is wrong.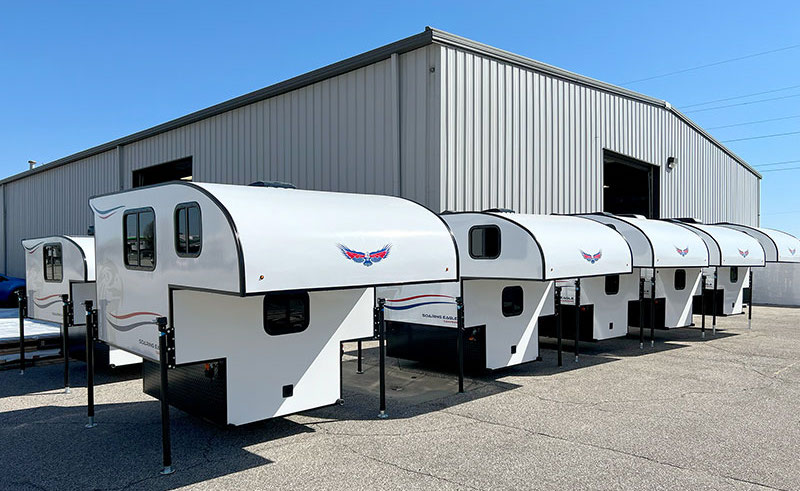 Above: Completed Adlar units outside the Soaring Eagle factory
Many of our readers will remember Livin Lite and the innovative CampLite truck camper line. What is bringing you back to the truck camper market?
Troy: A number of dealers have been searching for better quality entry-level truck campers that they don't have to worry about. We are coming back to truck campers because the dealers kept asking us for them.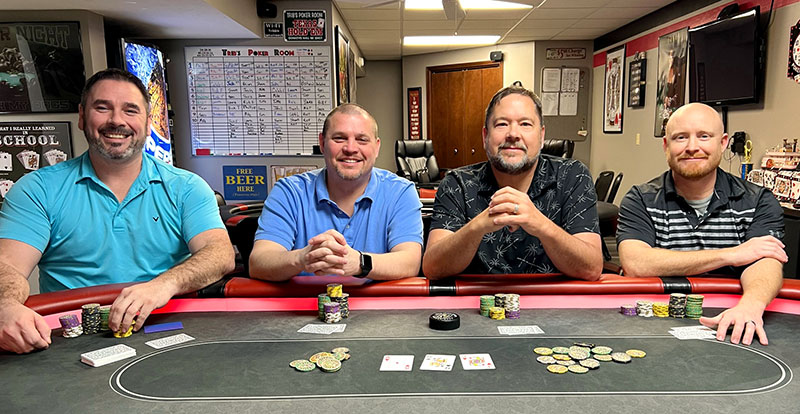 Above: Shawn Balentine, Scott Bradshaw, Scott Tuttle and Travis Cameron. Troy Andrews is shown in the first leadership team photo.
Rumor has it that Soaring Eagle started with a weekly poker game. Did the idea for Soaring Eagle really hatch around a game of poker?
Scott T: Yes, it did. For about fifteen years, we've been playing poker together along with the two other silent partners that are invested in Soaring Eagle. During one of our poker night discussions, we started to talk about what we could build that would be attractive to the market. That conversation came back to former Livin Lite dealer requests, and opportunities in the truck camper market.
When THOR bought Livin Lite, they quickly got out of truck campers. Since then I've been asked multiple times to build truck campers again. Dealers and customers loved the all-aluminum construction of Livin Lite and Soaring Eagle is going to offer a build quality similar to what we did with CampLite.
I have to give three truck camper dealers a lot of credit; especially Dave Hofert of D&H RV in North Carolina. He was a huge catalyst behind our prototyping process. Also Brent Hensley of Southland RV in Georgia, and PJ Buerger of Princess Craft RV in Texas. They all offered their design guidance, looked at our early prototypes, and gave us feedback.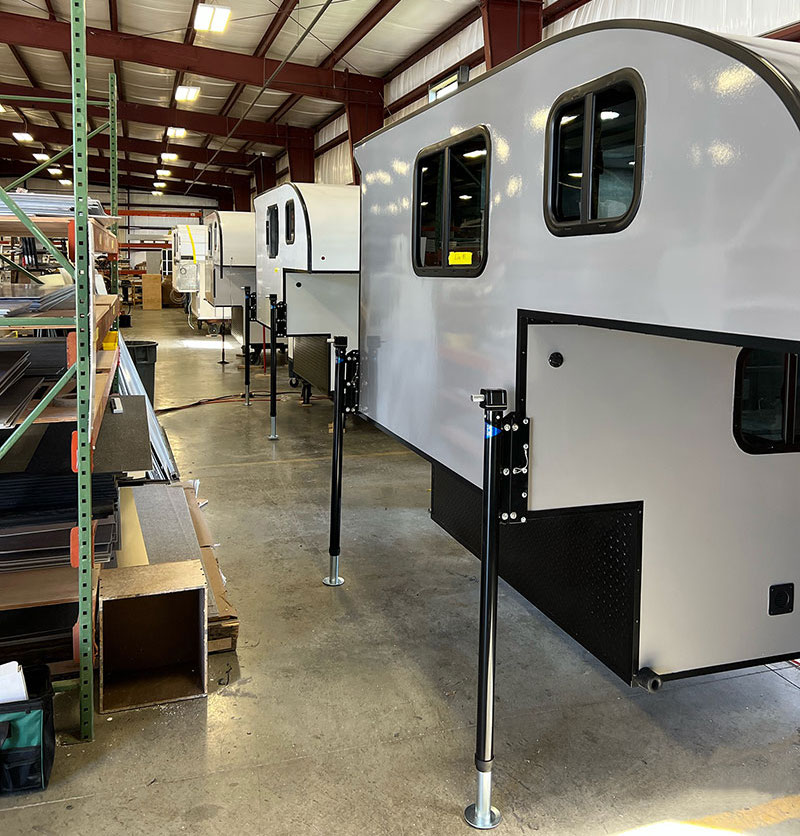 Above: Adlar 6.5XL models on the Soaring Eagle production line
Is the entire Soaring Eagle team formerly from Livin Lite?
Scott T: Everyone in management except Scott Bradshaw, but we've adopted him as part of the Livin Lite family. Troy is the head of operations. I work with the dealers. Scott Bradshaw is purchasing and administration. We have some former Livin Lite employees leading the production line. Troy and I have been through this before. The two silent partners are former Livin Lite management but are not involved in the day-to-day operations.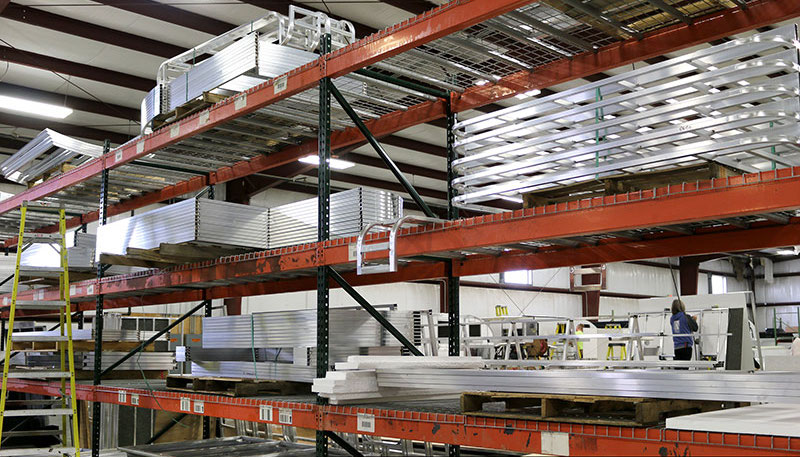 Above: Welded aluminum side walls, floors and roofs at Soaring Eagle Campers
Is Soaring Eagle a rebirth of the wood-free 100-percent aluminum and composite hard side truck camper approach you trail-blazed with Livin Lite?
Scott T: No, at Livin Lite we tried to avoid even a splinter of wood. At inTech, we've found success with wood cabinetry inside an aluminum structure.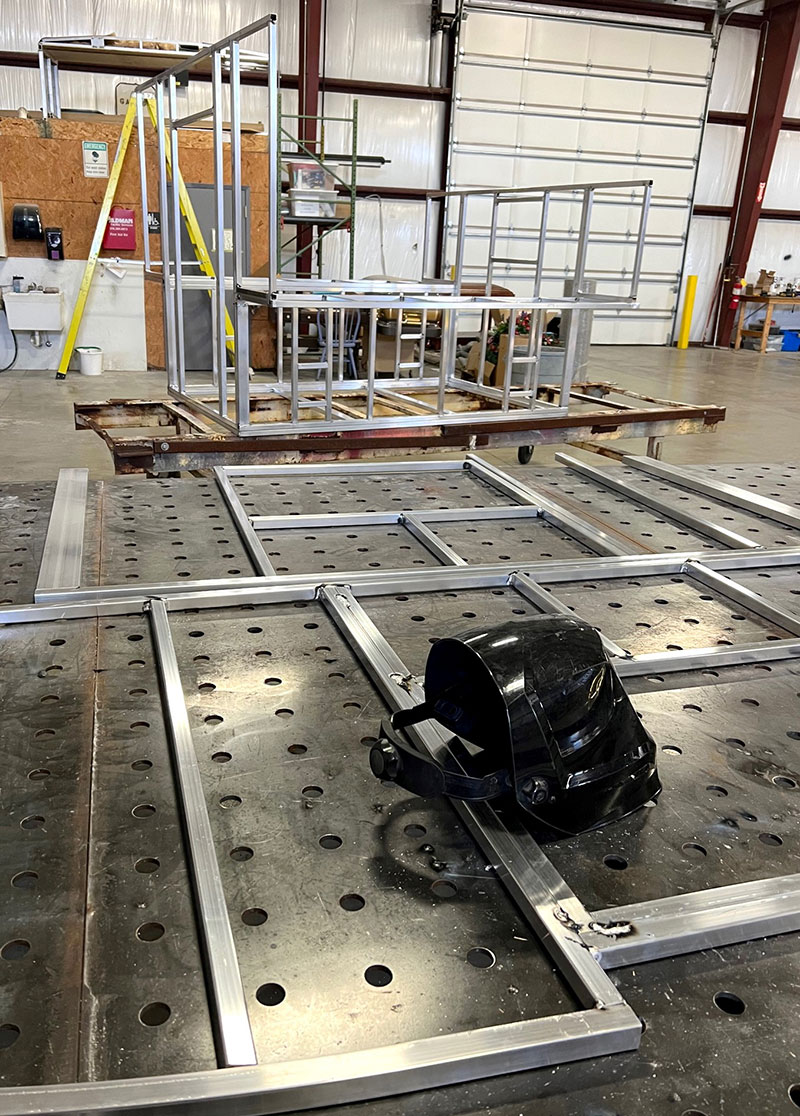 From that experience, the Soaring Eagle Adlar hard side structure is all-aluminum from the floor to the side walls to the roof, and with wood cabinetry. The Soaring Eagle OV-X pop-up is 100-percent aluminum and composites.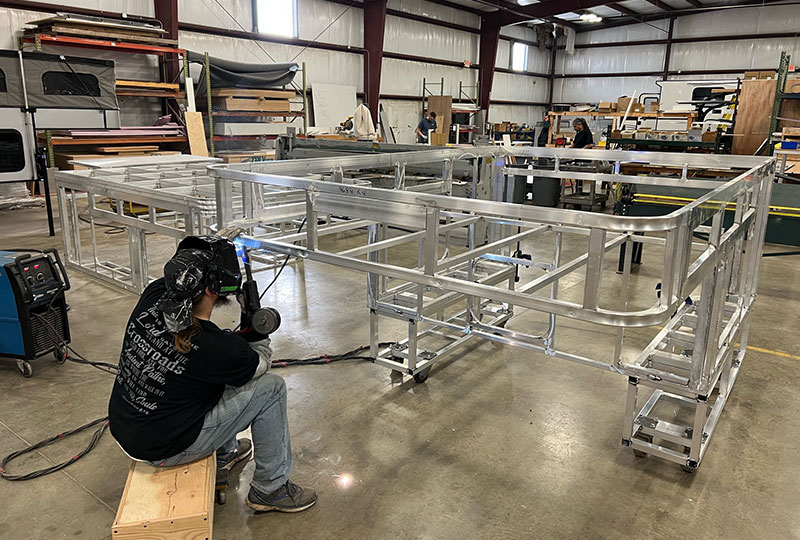 Above: Completing an all-aluminum OV-X pop-up camper frame
For strength and low weight, our countertops are foam core with Formica. The cabinet faces, wardrobe, and microwave cabinet are wood based with Formica or a wrap. You may remember we had a video where I was standing behind an entire side wall and I picked up the entire wall with ease. That's how light our campers are. We care about the strength, weight, and longevity of our campers.
One of my most fun stories from the Louisville show was when a dealer came up to me and said, "Why would I spend $13,000 on your all-aluminum product when I can spend $7,900 on the same size trailer down the aisle?" I asked him to open the overhead cabinet doors on our trailer and then pull and lift his feet off the floor. He did, and said, "Wow that's strong!" Then I said, "Now go do that on the $7,900 trailer." Well, he did it. He went back to the cheaply constructed trailer, opened the overhead cabinet doors, and attempted to do a pull up. He came back and told me that he pulled the cabinet right out of the wall! He bought our product instead. Turns out that tubular aluminum that's bolted and welded is strong.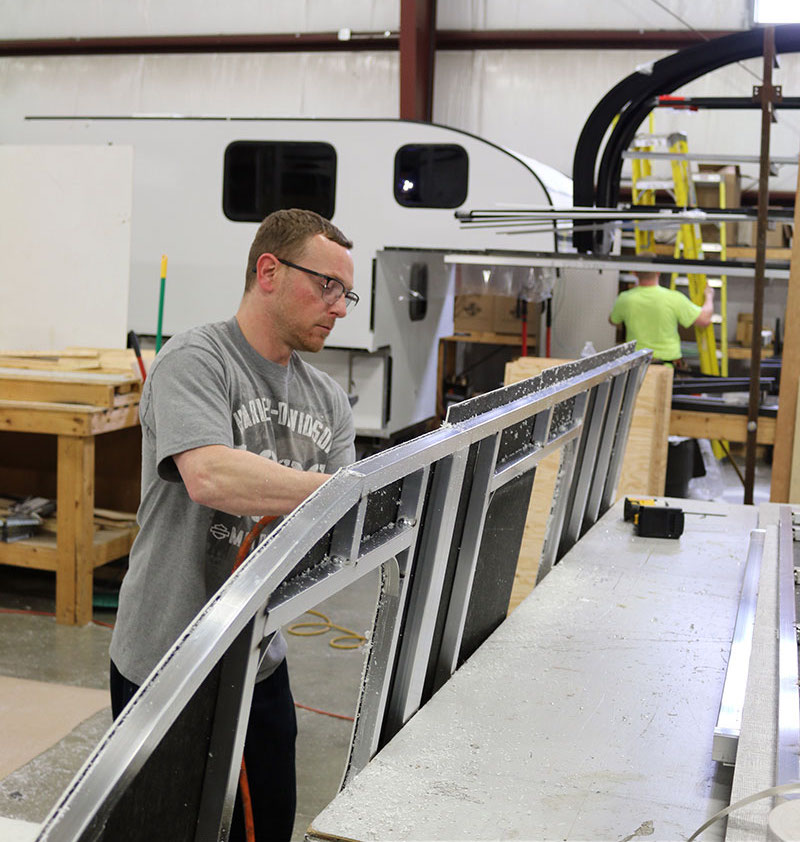 Above: Routing the walls of a Soaring Eagle Aldar 6.5XL
Troy: Ninety percent of the Adlar has no wood. Soaring Eagle frames are all-aluminum with fiberglass on the outside of the unit and Azdel composite backed wall board. We are using tubular aluminum for the floor, walls, and roof. There's a stud at least every 16 inches or less.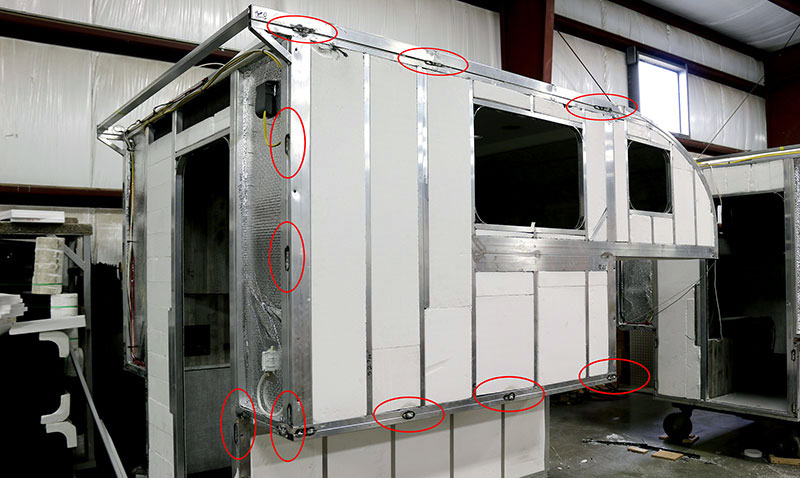 Above: Red circles indicate where the all-aluminum frame is screwed and welded
We are not skimping on the structure. If anything, we overbuild the structure. Sometimes we have discussions about how thin or thick the aluminum is in certain areas. It's heavier where the jacks are mounted and in the cabover area. It's engineered to be strong and ultra-light.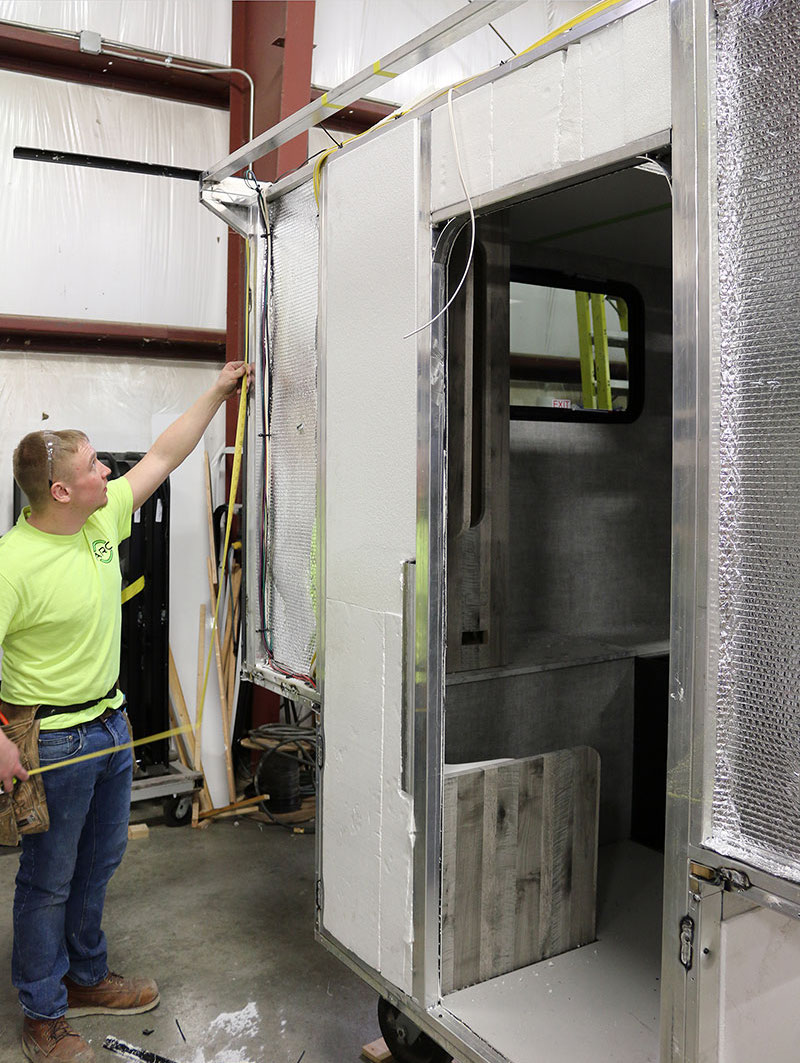 Above: Installing insulation in the Soaring Eagle Adlar 6.5XL
Some companies build lightweight trailers made from composite panels. Why did you decide not to build Soaring Eagle truck campers with composite panels?
Scott T: We like the structure in an all-aluminum design. Truck campers need that structure. With composite panels, you get a 3/4-inch sidewall thickness or more. How do you wire a 3/4-inch solid composite wall? For what we're doing, tubular aluminum is superior.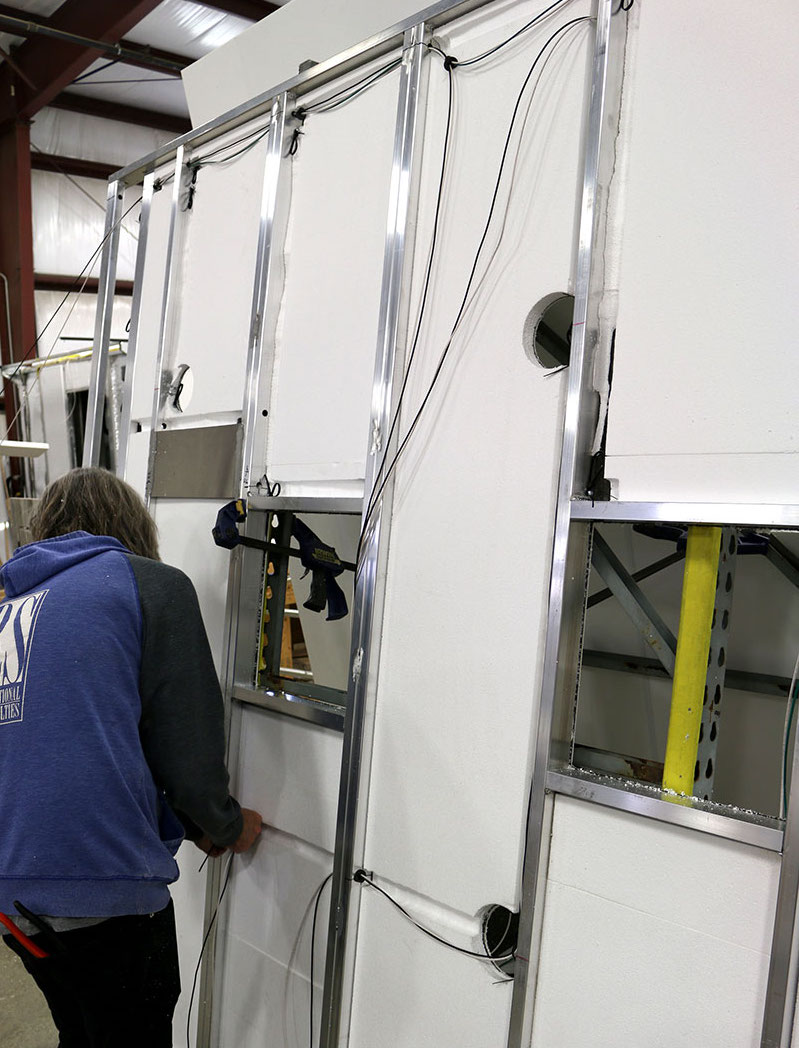 Above: Installing wiring on a Soaring Eagle OV-X roof
We are proud that we can call our campers a generational product. We say to a potential customer, "You will use it, your kids will use it and maybe even your grandchildren will use it." At the end of the day, our goal is to present a better value proposition because of our strength and longevity.
What's the story behind the name, Adlar?
Scott B: An Adlar is a young Eaglette. There aren't many names in the Eagle family as we found out.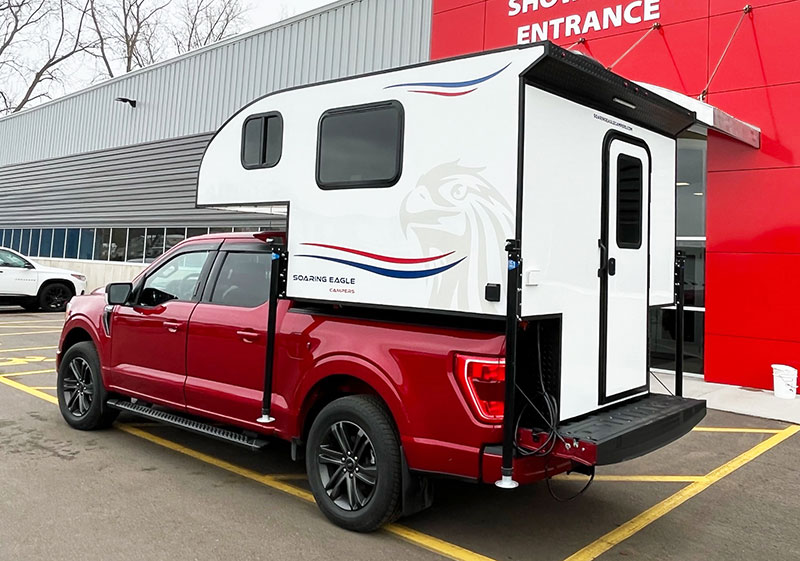 Above: The Soaring Eagle Adlar 6.5XL on a Ford F-150
Who do you see as the target customer for the Adlar 6.5 and 6.5XL?
Scott T: First and foremost, we are targeting half-ton truck owners. A typical Ford F-150 has about 1,500 pounds of payload capacity. If you have a camper that already weighs 1,500 pounds dry, adding water, food, clothes, gear, and other camping essentials will put you significantly over payload.
Our largest unit at this time, the Soaring Eagle Adlar 6.5XL only weighs 1,200 pounds and that is loaded with an optional air conditioner and jacks. It is so light that you won't need to worry about additional suspension products on your truck.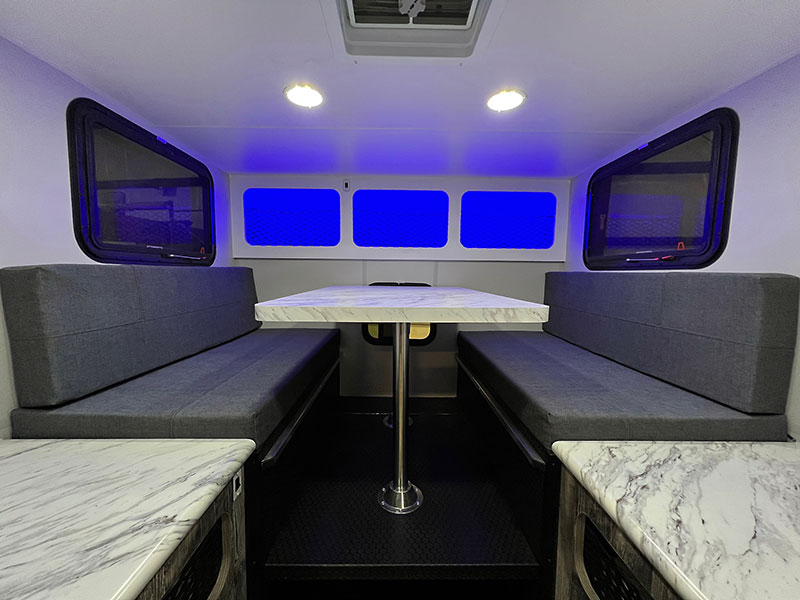 Above and below: The dinette and interior of the Soaring Eagle Adlar 6.5 makes into a bed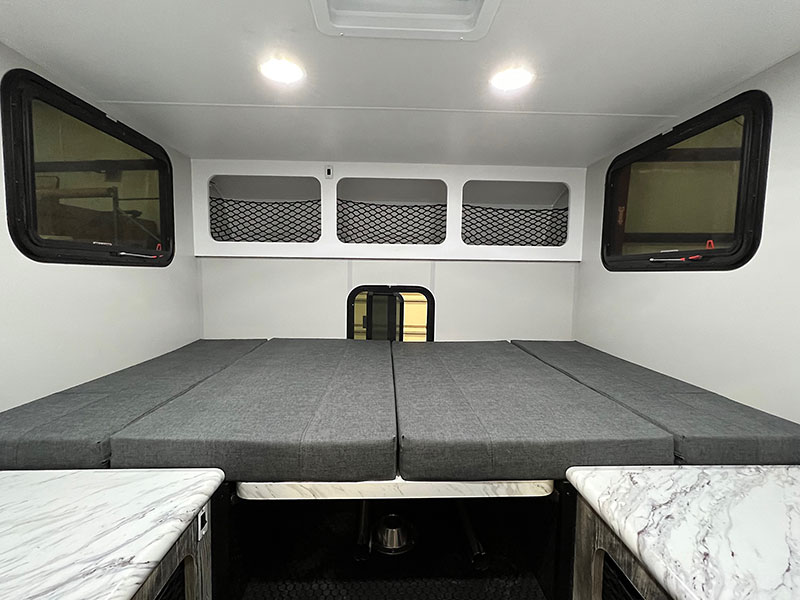 Will you be going smaller than the Adlar 6.5?
Scott T: We're absolutely going smaller. We have a number of dealers asking for something from us for the Tacoma market. We'd also like to offer campers for the Ford Ranger, Chevy Colorado, and even the Jeep Gladiator. That will probably be in the OV-X line. Right now we are focused on three models we have, but are planning on having the smaller models sometime later this year.
You talked about presenting an early Adlar prototype to dealers and gathering feedback. What changes were made after the feedback came in?
Scott B: Before we showed an all-aluminum prototype to dealers, we made a plywood prototype and installed the dinette and interior features. With that first prototype, we discovered some things, like putting more room and storage here and there.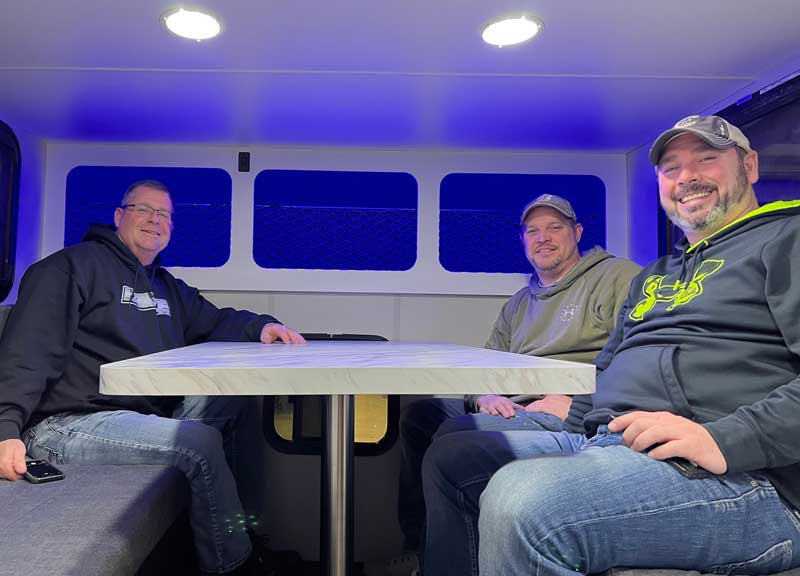 Above: Troy Andrews, Scott Bradshaw, and Shawn Balentine in an Adlar 6.5 dinette
Troy: Then we built the first all-aluminum Adlar 6.5, and took it to D&H RV in North Carolina and Southland RV in Georgia. After listening to their feedback, we brought the prototype back and expanded on their input to design and build the Adlar 6.5XL. They liked the smaller, price-leader 6.5, but right away they wanted the XL version with an overcab bed and a toilet.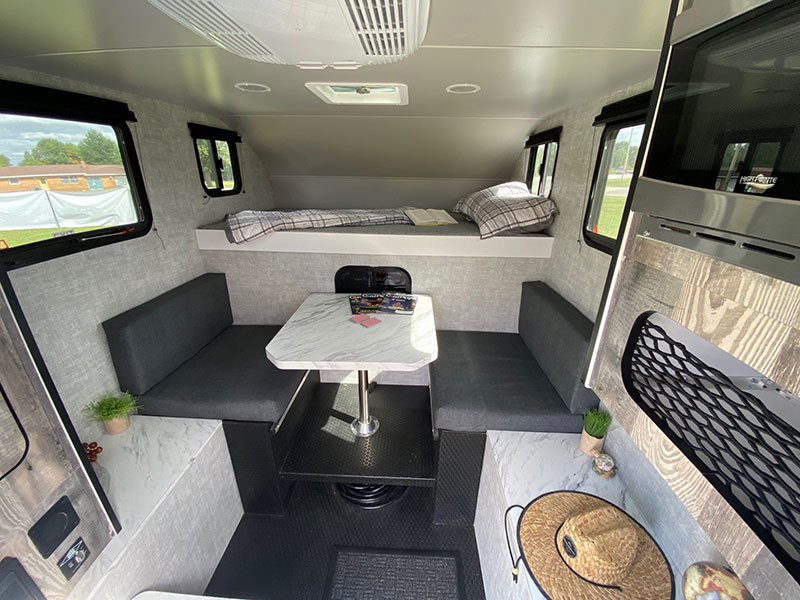 Above: The interior of the Soaring Eagle Adlar 6.5XL
The Soaring Eagle website states that closing the tailgate was a key criteria for the Adlar models. Why is this an important consideration for these campers?
Troy: It goes to the demographic of buyers that we are trying to attract, and those are people who are currently tent camping. A lot of them have half-ton trucks which they use to pull boats, ATVs, horses, etc. As you know, the newer trucks have back up sensors and cameras in the tailgate that are not easy to attach and detach. Most even have steps built into the tailgate, which makes them perfect for small truck campers like ours if they can still utilize them.
People who tow want to see their hitch when they back up. For these reasons and others, we think it's important to be able to shut the tailgate.
We are confident that you can close the tailgate with most half-ton trucks. It might be a challenge if you have an older truck. You can also put the 6.5 on a 5.5 truck bed. One of our retail customers has an XL on a 5.5-foot bed and loves it.
Scott T: Some campers out there are only a few inches away from closing the tailgate. That makes no sense to us. It is also great to be able to use the steps in the tailgate if a customer has that feature.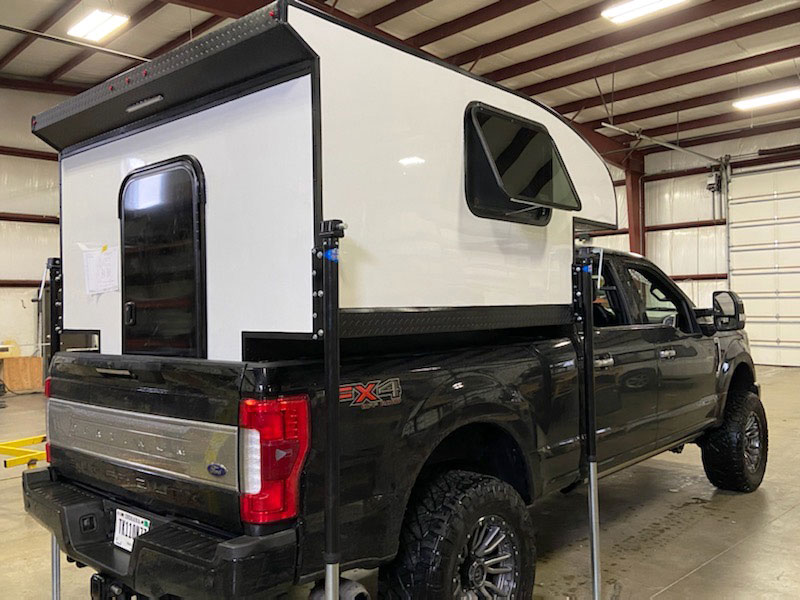 Above: The Soaring Eagle Adlar 6.5 fits inside the tailgate of a short bed truck
Another design objective for the Adlar models was no LP or plumbing systems. Do you see the absence of these systems as a benefit to the customer?
Scott T: There are no plumbing or gas systems in Soaring Eagle campers. That may sound crazy to some industry people, but we are not targeting the traditional RV buyer. We are going after the 64 million people who went tent camping in North America last year (according to the 2022 North American Camping Report). They would just like to get off the ground and enjoy a more comfortable night's sleep. The people I talk to at shows do not see not having those systems as a detriment.
Did you know that LP and plumbing systems account for roughly half of the warranty claims in RVs? We don't have a system that's going to leak water or gas. Our customers are fine with this.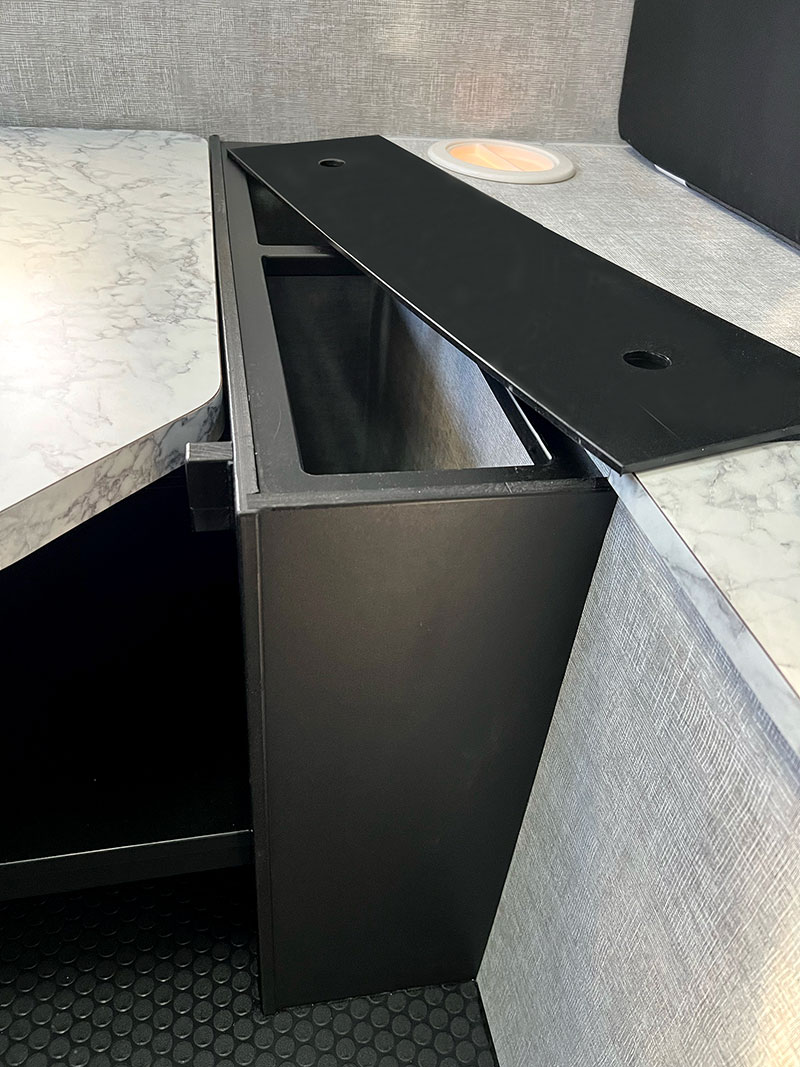 As part of our CPI strategy, (Continuous Product Improvement), all of the Adlar campers are now going out with composite dinette bases with composite lids.   This is a nice improvement from our aluminum-framed, plywood, and vinyl-covered dinette bases with wood lids on our first models.   It cost a lot more, but it fits with who we are and the level of quality that we are trying to bring to the market.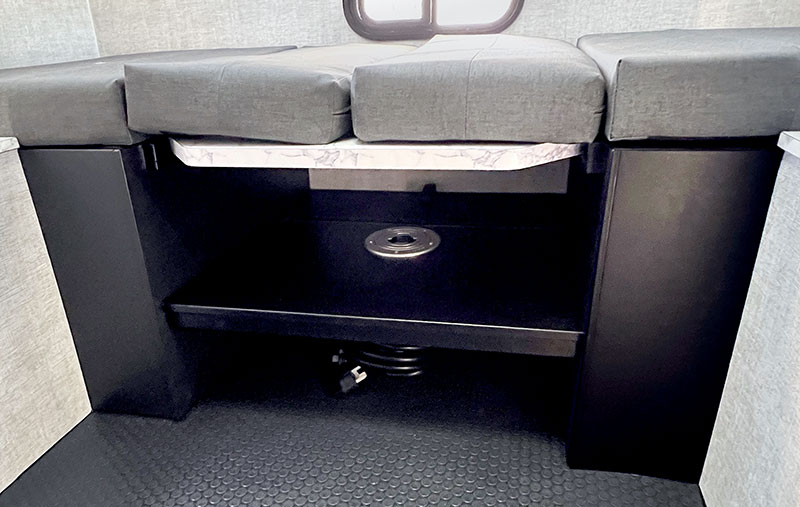 Above: The composite dinette in an Adlar 6.5XL
How do you see Aldar owners heating, cooling, and using water and water systems?
Scott T: We have an optional air conditioner and a standard microwave. In the cold, you can use a small ceramic heater. If you are camping in the heat, you can use the RecPro 9,500 BTU air conditioner. The RecPro is a low-profile unit from Europe and has a super low amp draw. You can get a 2,000-watt generator and run it all day long.
When it comes to water, there is no kitchen. Soaring Eagle owners are not cooking inside the unit. Most people buying our campers are used to tent camping and have their outdoor cook stoves.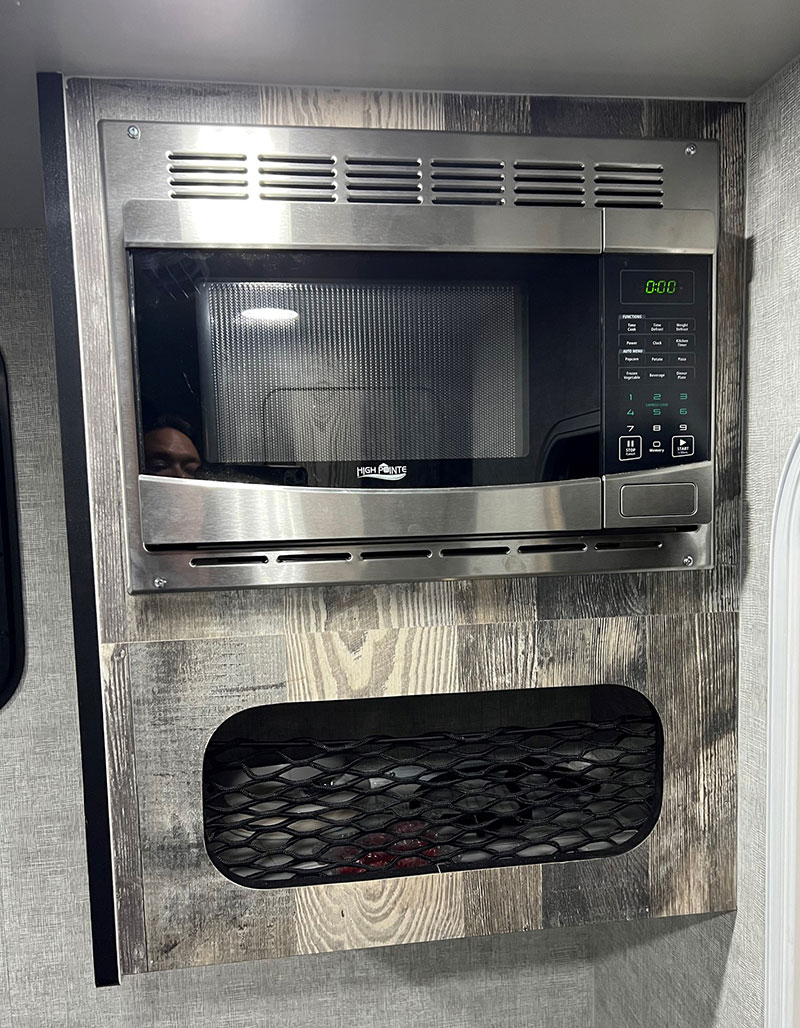 Above: The optional microwave on the Adlar 6.5XL
Does the Aldar 6.5 or 6.5XL have an electrical system?
Scott T: Yes, we have a 30-amp converter (optional on the 6.5) and space for two batteries under the dinette floor with a hinged access door. The batteries are stored there and vented out of the front of the camper. We have LED lights in the ceiling, a 12V outlet with a USB port and cigarette-style outlet, and 110V outlets on the inside and outside. With solar, you can get anywhere from 160-watts to 400-watts, depending on the model.
What windows are you using for the Adler models?
Scott T: They are traditional, single-pane RV glass windows.
Is the 6.5XL cabover North-South or East-West?
Scott T: It's an East-West cabover with an optional North-South pull-out that's a queen.
Is there a price or weight line you won't cross for the Adlar?
Scott B: For the first half of 2023, we not going bigger than the 6.5 XL. We may go down to the Tacoma, Ranger, and Gladiator. In the future, we will go bigger.
Scott T: We talked about being in our own lane. For now, that's specializing in the half-ton truck market with an eye toward the smaller trucks and the Gladiator. A niche within a niche. The big guys tend to avoid that lane. There are a ton of small truck owners who would like a smaller camper like ours. Bigger campers are on the possibility list but we're not rushing toward that now.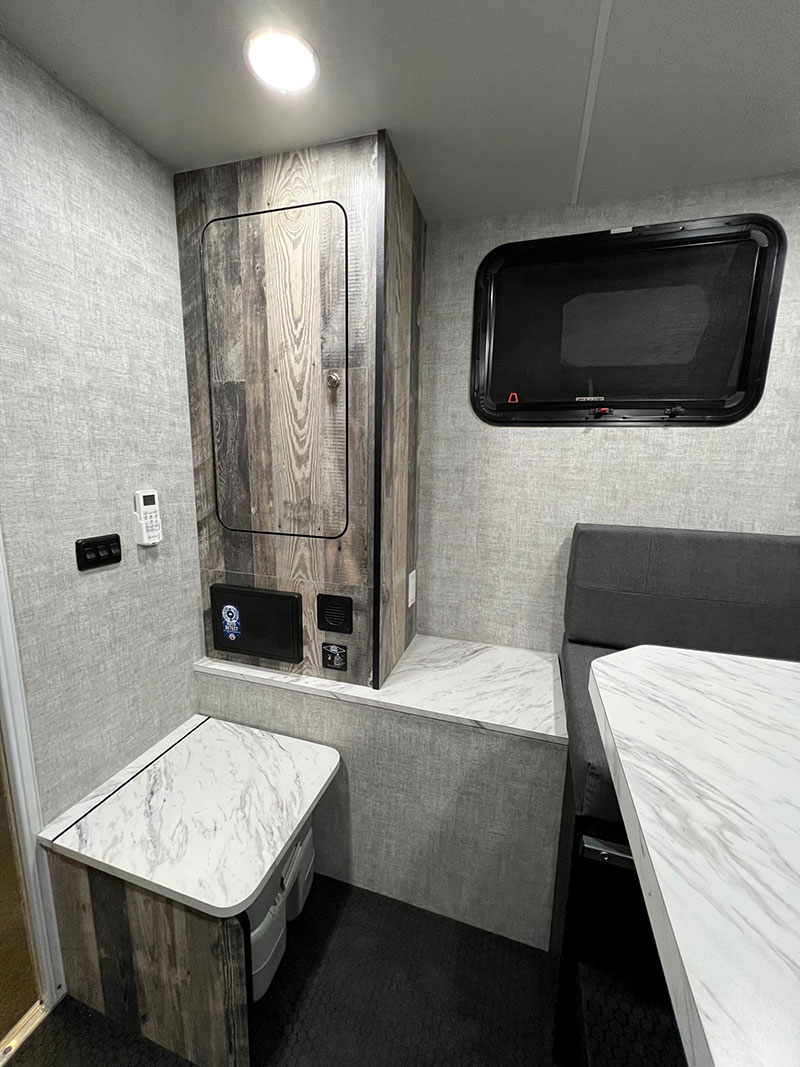 Above and below: The dedicated lift-up portable toilet area on a Adlar 6.5XL
Tell us about the Serene Life toilet. That's a brand we haven't heard about in the camper space.
Scott T: We were looking for something basic. It comes from the marine industry and offers a 5.3-gallon capacity.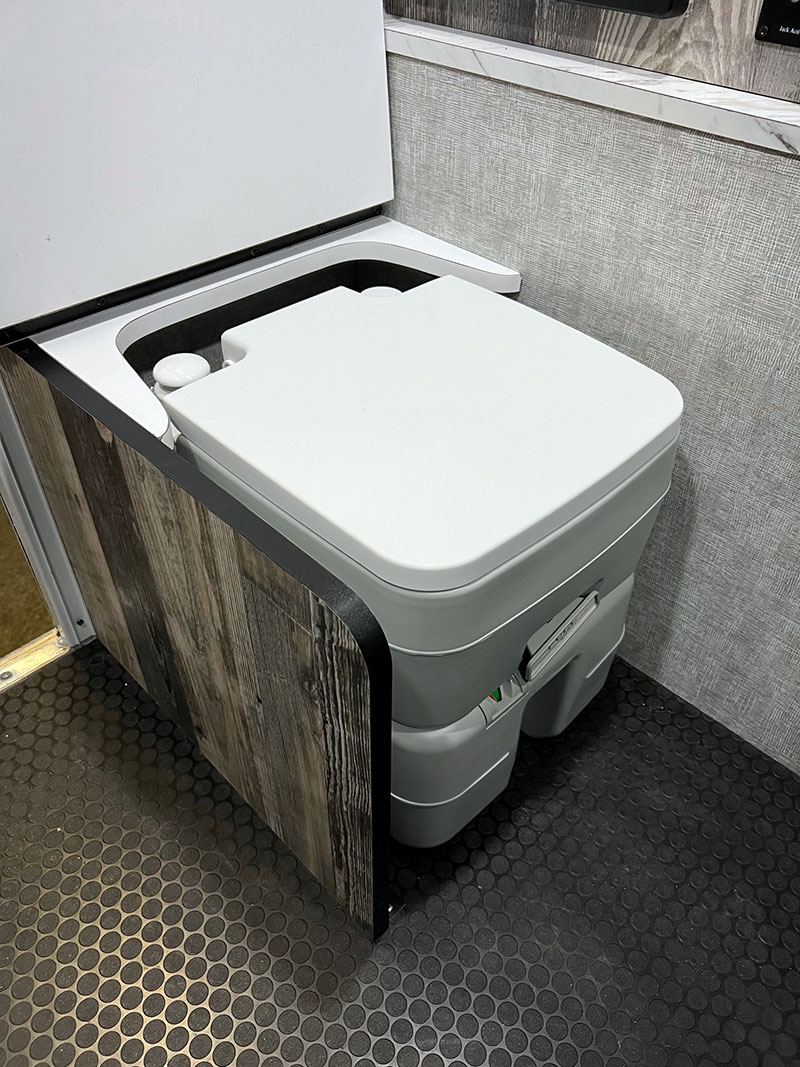 Your two hard side models, the Adlar 6.5 and 6.5XL, have been in the works for some time, but your pop-up model, the OV-X, was a more recent development. Why did you decide to launch into both the hard side and pop-up markets?
Troy: The pop-up marketplace was always on our radar, but we had to develop the Adlar first. We were refining the 6.5 and then the XL came out soon after that. The OV-X was on the burner, but it was not as hot as the XL. We're happy with the way the OV-X turned out and we are ramping up production. Refining the OV-X to work the way we wanted took us a little longer than we thought.
Scott T: The idea was there from the beginning. Dealers were looking for something that the retail market wanted. It's simple and offers lots of storage space. It's got a really big pull-out bed and storage under the bed. You can bring whatever you want. A lot of people are interested in that product.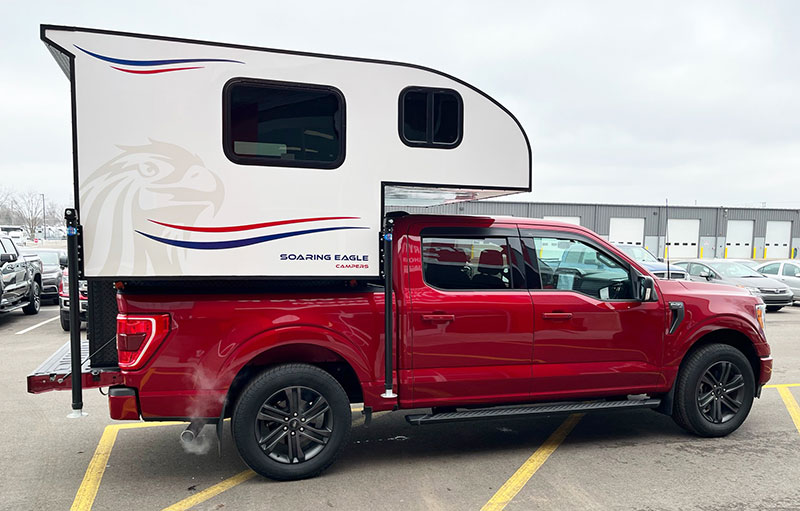 Are camper jacks standard on your Adlar series?
Scott: Yes. We are using Rieco-Titan jacks. In addition, we have a unique product that a person who used to work for us designed; a removable jack system. You can pull the pins and take your jacks with you or even turn them upside-down. That quick-detach jack system is an option on all of our units.
And what's your approach for tie-downs?
Scott T: We are using ratchet straps for tie-downs on both the Adlar and OV-X models.
The OV-X is a pop-up truck topper. There's no base or floor, and the structure starts from the bed rails up. Why did you decide on this approach rather than build a full slide-in camper?
Scott T: We laugh because we have talked about a full slide-in pop-up now and then. That may be something we do before we go to the bigger Aldars, but we know there's more competition in the slide-in pop-up niche.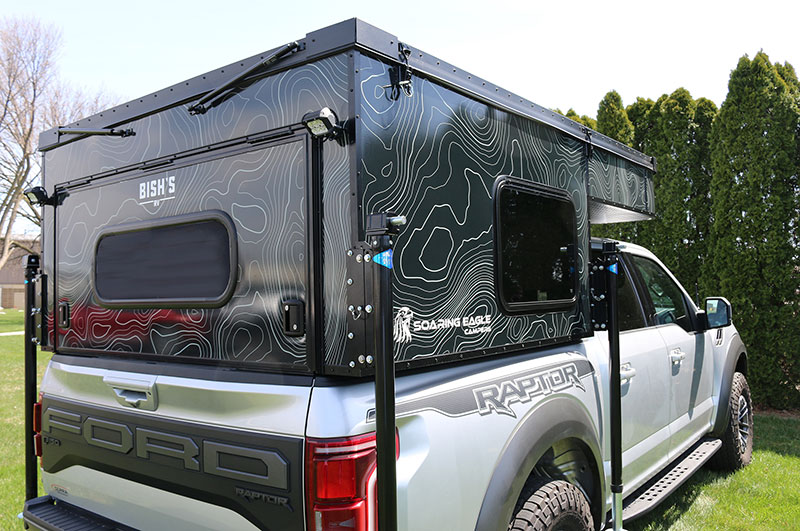 Above: A custom exterior on a OV-X
Troy: With the OV-X you can leave it on your truck, park it in your garage, and use it as your daily driver during the week. It's light and small enough to just leave on the truck full time. The design fell in line with what we are all about.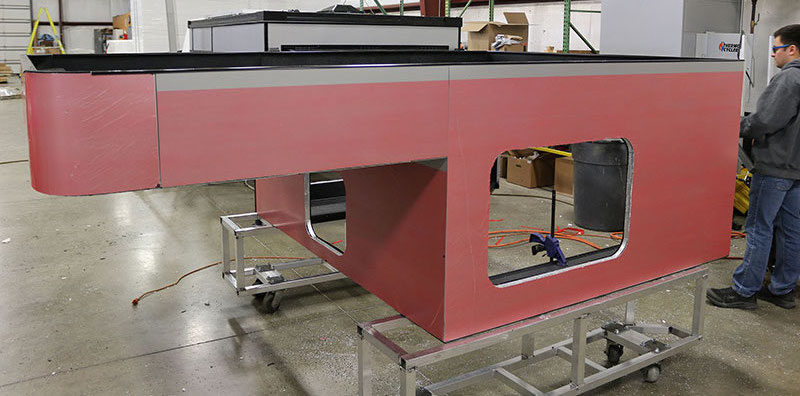 Above: During OV-X production, metal is installed over tubular aluminum
Are the OV-X frame, roof, and side walls made from the same materials as the Adlar?
Troy: The structure is the same as the Adlar. It has tubular aluminum and interior stud members. The only difference is the walls. There is aluminum skin on the outside and the interior has a composite wall board. You can hose down and clean this camper inside and out because there is no wood on the inside.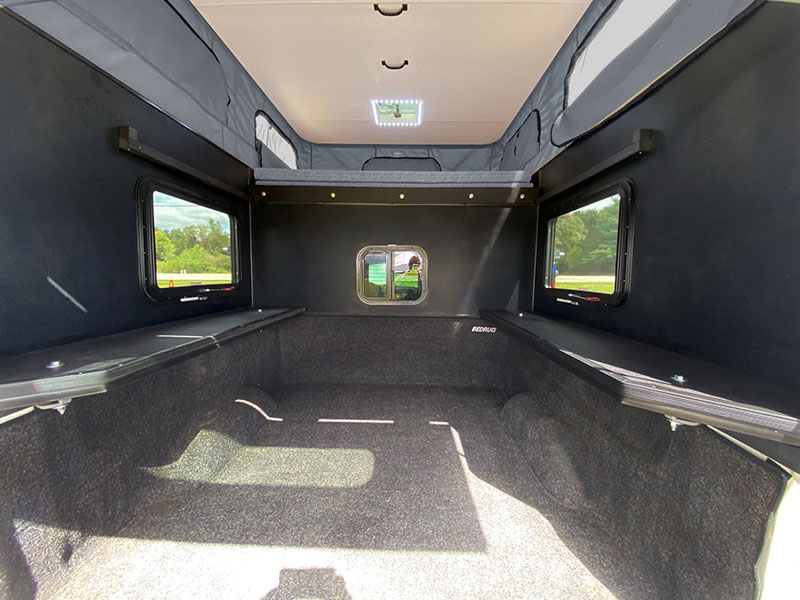 Above: The main living and storage area in a Soaring Eagle OV-X
What is the roof lift system on the OV-X?
Scott T: Our proprietary lift system is a little different. Imagine a tubular aluminum bar that lifts and locks into place. To pull it down, you do the opposite. There are support struts on the outside. The nice thing about our lift system is that it goes up and out of your way when you are using the camper.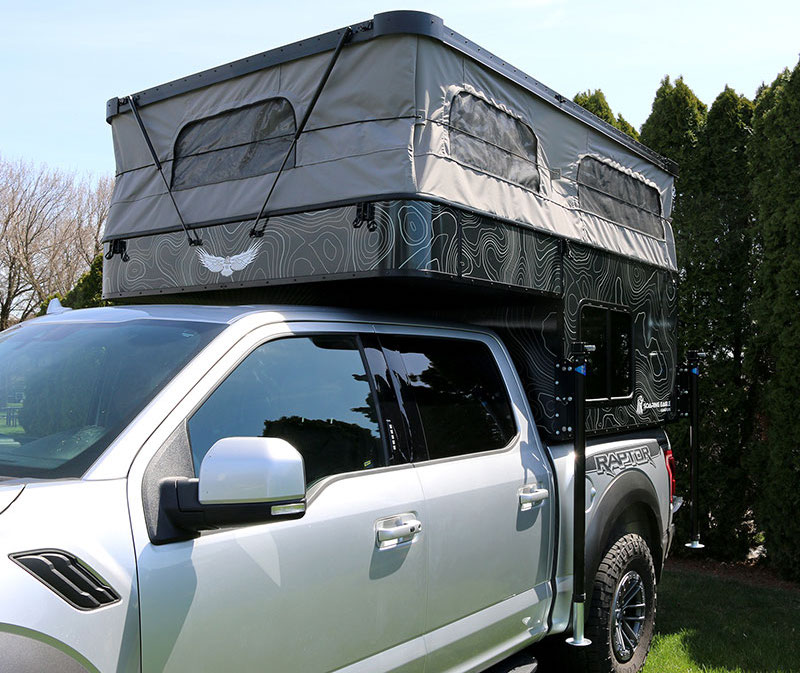 What is the soft wall material on the OV-X?
Troy: It's a water-resistant tent material. The way we are installing it, we shed water away from the inside. There is no channel or trough to hold water. The struts are the only external mechanism. The tent material keeps the water away from the unit.
Scott T: Like any tent camper, if you close it up wet, open it up when you get home and let it dry.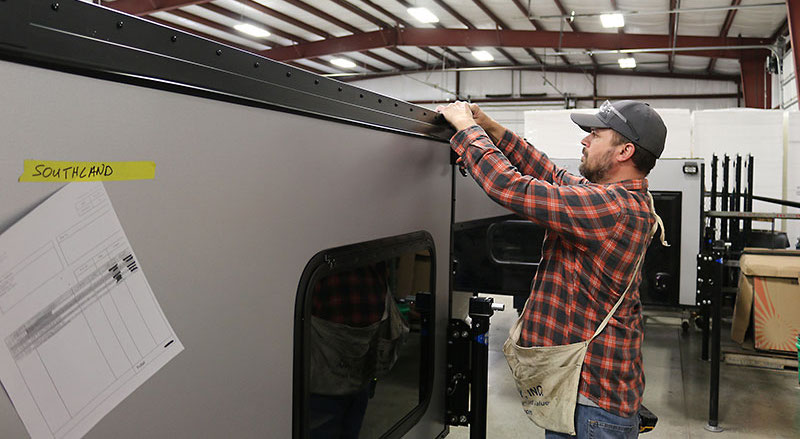 Above: Trimming the OV-X Roof
What trucks are you targeting for the OV-X?
Scott T: When developing new models, we start with truck dimensions knowing there is some variation even with the same make and model from year to year. Then we test things out on paper and have an engineer put together the proper drawings.
The first OV-X model was developed for 5.5-foot beds. We are working on a 6.5-foot prototype and then we'll move to an 8-foot version. The goal is to offer 5.5, 6.5, and 8-foot OV-X models – and then develop one for the Tacoma and smaller trucks.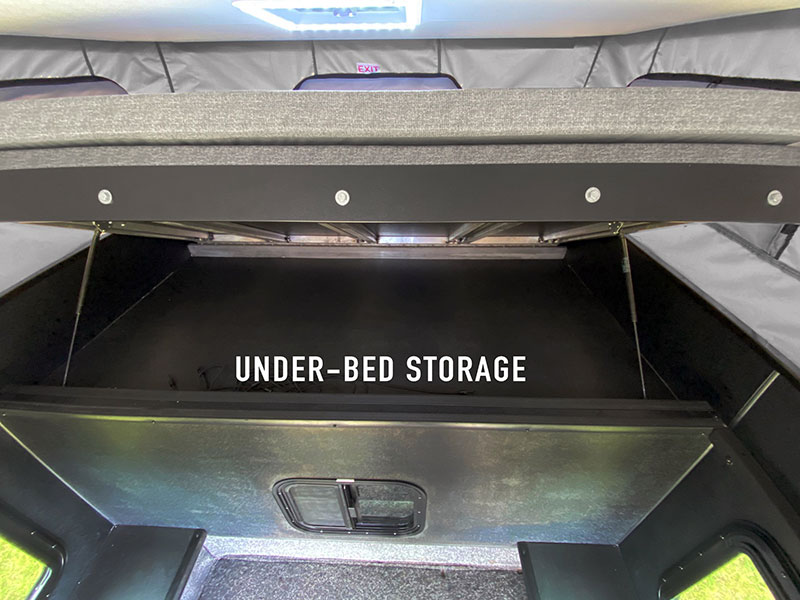 Above: The OV-X bed lifts up with struts to reveal under-bed storage
Are there any available options for the OV-X?
Scott B: You can get a king bed pull out, 200-watts or 400-watts of solar, flood lights on the back, Max Air vents, and LED light rings. Exterior racks and roof racks are in development. You can also add a portable power unit.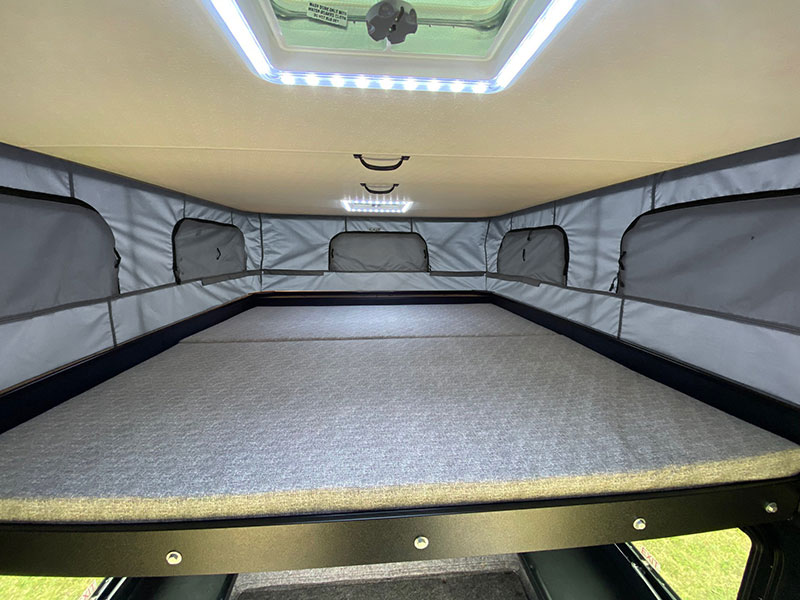 Above: The extended bed in the OV-X model
What do the 6.5, 6.5XL, and OV-X weigh?
Scott T: The Adlar 6.5 is 800 pounds. The Adlar 6.5XL is 1200 pounds. The OV-X is 750 pounds with jacks and 600 pounds without.
Are all three Soaring Eagle models available for order now?
Scott T: Yes. Right now we are shipping five units to dealers with each load; three 6.5 XLs, one 6.5, and one OV-X. A number of dealers have already received our products and we have about fifteen dealers who will be getting loads between now and the end of May.
What is the base MSRP for the Adler 6.5, Adler 6.5 XL, and OV-X?
Scott T: The base MSRP of the Adlar 6.5XL is $19,500. The Adlar 6.5 is $15,300. The OV-X is $18,000.
What is the Soaring Eagle warranty?
Troy: There is a one year bumper-to-bumper warranty and we have a three year structural warranty. The components have their own warranties.
If a customer has a warranty claim, how will that be handled?
Scott T: It starts with the dealer and then we have a warranty email. Here's where history plays a role. We have no plan to hire a warranty or service manager. You will talk to one of the owners if you call in. In 13 years of Livin Lite, we never got to even a 1-percent warranty rate. It was 0.6-percent most of the time. In an industry where it's typically 5-percent, we plan on being unique.
Should we expect to see any additional models in 2023?
Scott T: Like was mentioned earlier, we hope to have additional OV-X models this year. As far as the Aldars, we also hope to have a version that will fit on a Tacoma by the fall.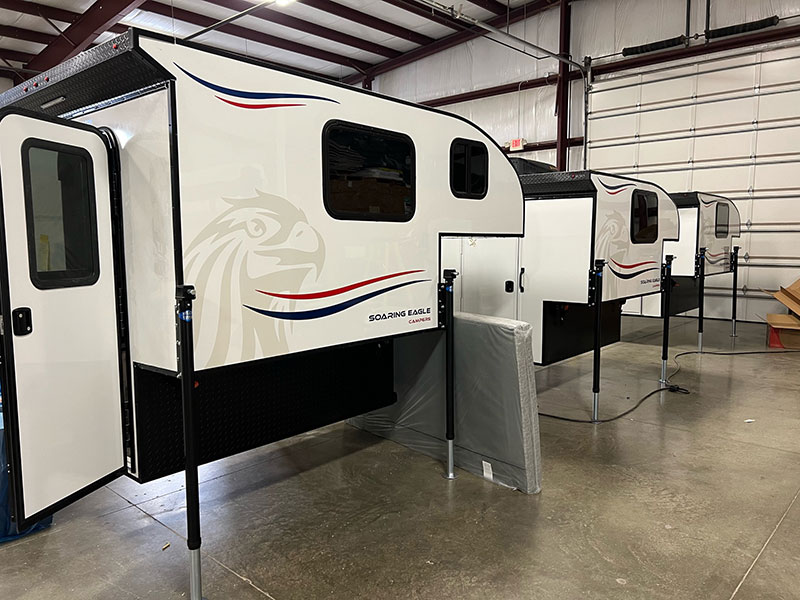 Above: Soaring Eagle Adlar 6.5XL units on the production line
What's your vision for Soaring Eagle? Where are you going with this company?
Scott T: The whole reason we started Soaring Eagle is our friendship and experience building a camper company from the ground up. It's fun and something we can be proud of. If it's successful, it will be a great bonus. People will be rewarded for their hard work. The fact is, we hope to establish ourselves as a leader in the entry-level truck camper market, and maybe expand into bigger campers someday. We want to make our name by building quality products.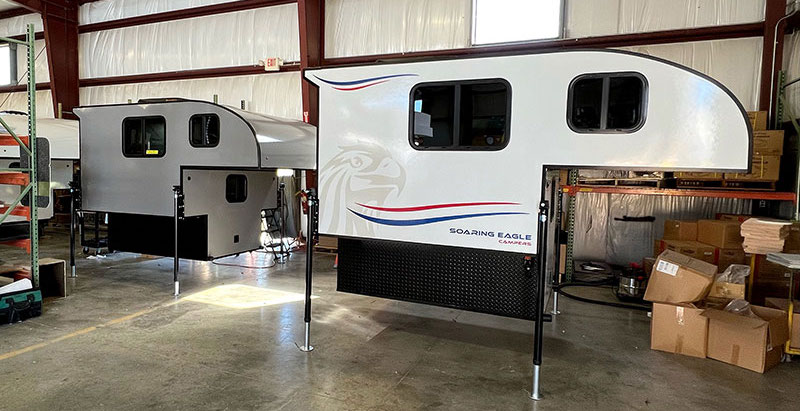 Above: Soaring Eagle will be introducing a grey exterior (shown left)
So it all comes back to the poker game?
Scott T: Yes, and we're all in. Scott Bradshaw and Troy left their jobs to do this.  When you commit to doing it right, great things can happen. When I bought into inTech, it was a $10 million company. This past year it was well over ten times that size. The success has been crazy, but it happened because Adam (Maxwell, the President of inTech) and my other partners are committed to excellence – and Soaring Eagle hopes to follow in those steps, guided by the same principles. We want to offer a better product that we can keep affordable. If we do it right, we'll always have customers.
When Soaring Eagle becomes a big success, will you sell to Thor?
Scott T: Not going to happen.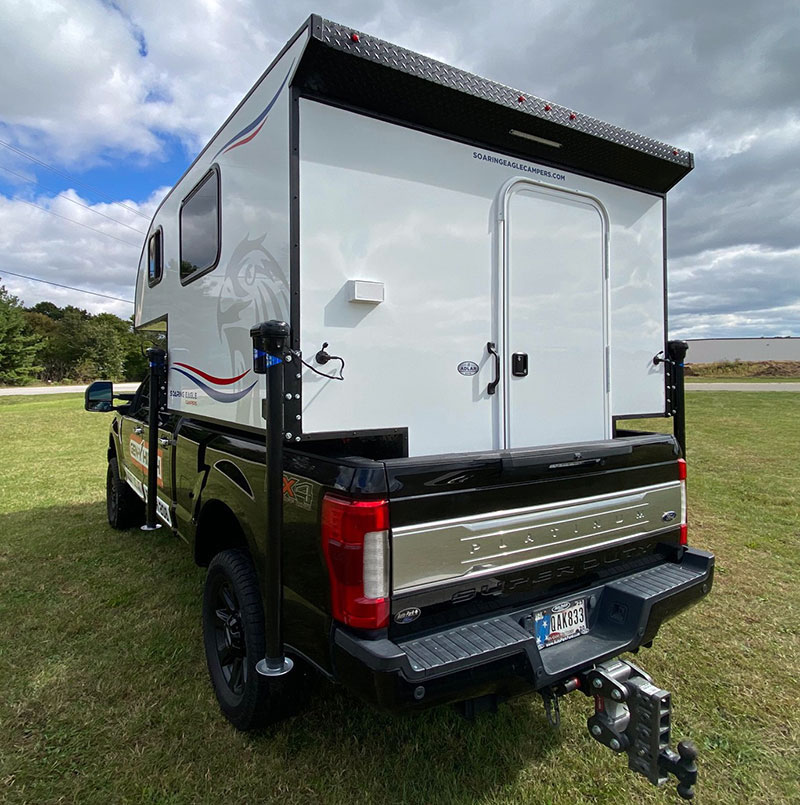 After what they did to Livin Lite and Camp Lite, that's good to hear. Is there anything else about Soaring Eagle that you want people to know?
Troy: At the end of the day, we want to put our heads on our pillow and be proud of it. That's what drives us.
Scott T: We are trying to bring an entirely new demographic of buyers to our dealer's lots; people who are tent camping and happen to own half-ton or light-duty trucks.
Soaring Eagle Campers target customers who are not typically interested in traditional RVs with their big screen TVs, massive kitchens and fake fireplaces. They love camping and being outside, enjoying evenings spent counting stars while sitting around a real fire. Our campers are attractive to them because while we offer a comfortable night's sleep, we do not take them very far away from their first love – and that is the camping lifestyle. They are hunters, fishermen, kayakers, and mountain bikers and they are attracted to Soaring Eagle campers not because of what we have, but in a lot of ways for what we don't have. It just so happens that there are tens of millions of them out there and we are excited about introducing them to the RV lifestyle, even if it is in one of the most basic RVs ever built. I like our chances.
For more information on Soaring Eagle, visit their website at soaringeaglecampers.com. Click here to get more information about Soaring Eagle Campers.
Here are the three Soaring Eagle Camper models, floor plans and specifications:
2023 Soaring Eagle Adlar 6.5 (hard side)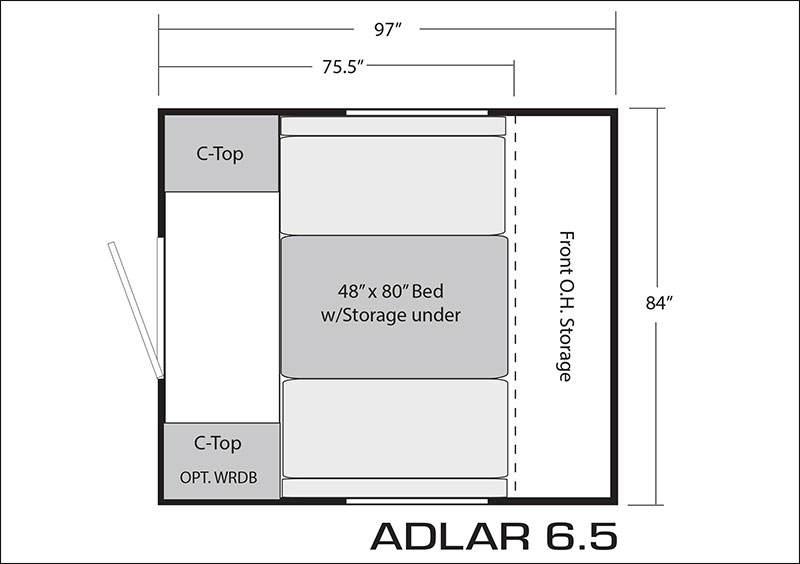 The 2023 Soaring Eagle Adlar 6.5 is a hard side, non-slide truck camper made for short bed trucks.  The interior floor length of the 2023 Soaring Eagle Adlar 6.5 is 102" and the interior height is 69". The center of gravity is TBD. The Adlar 6.5 does not have holding tanks. It can accommodate one Group 24 battery.
Soaring Eagle is reporting the base weight of the Soaring Eagle Adlar 6.5 at 850 pounds.  The cost of the 2023 Soaring Eagle Adlar 6.5 is $15,300.  Click here for a Soaring Eagle Adlar 6.5 brochure.
2023 Soaring Eagle Adlar 6.5XL (hard side)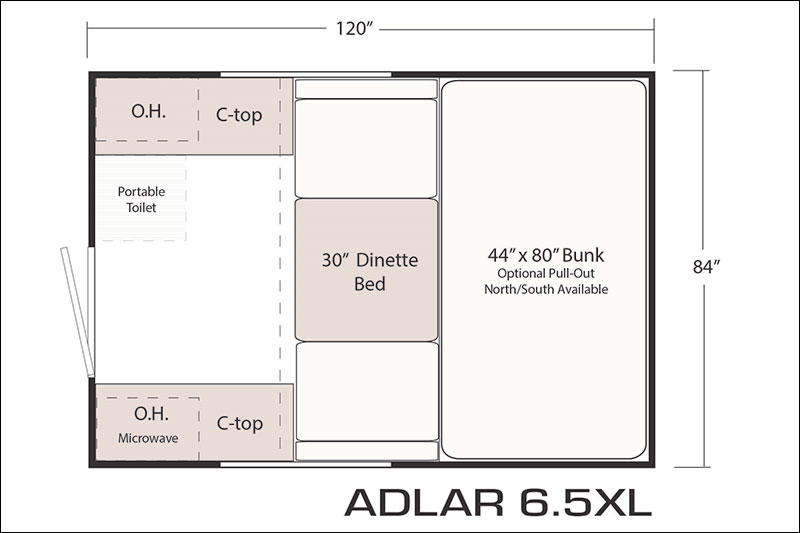 The 2023 Soaring Eagle Adlar 6.5XL is a hard side, non-slide truck camper made for short bed trucks.  The interior floor length of the 2023 Soaring Eagle Adlar 6.5XL is 126" and the interior height is 83". The center of gravity is TBD. The Adlar 6.5 XL does not have holding tanks. It can accommodate one Group 24 battery.
Soaring Eagle is reporting the base weight of the Soaring Eagle Adlar 6.5XL at 1,200 pounds.  The cost of the 2023 Soaring Eagle Adlar 6.5 is $19,500.  Click here for a Soaring Eagle Adlar 6.5XL brochure.
2023 Soaring Eagle OV-X (pop-up)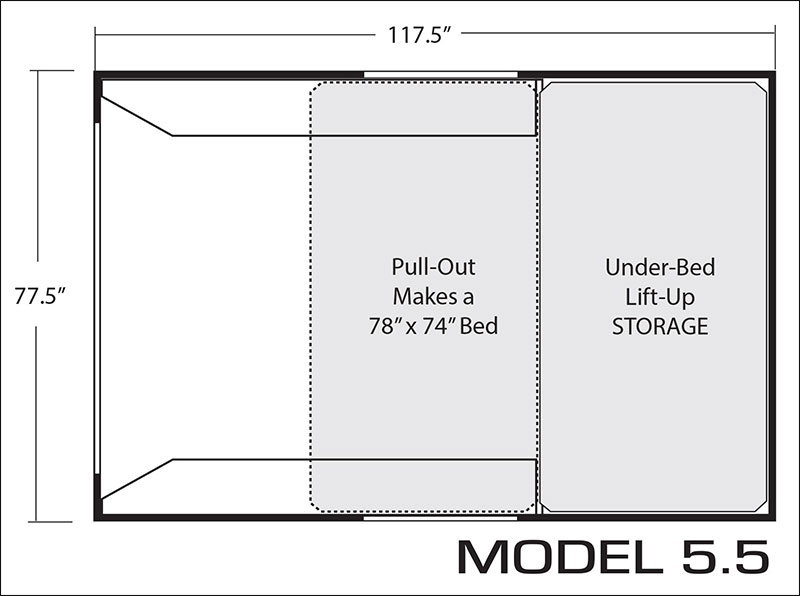 The 2023 Soaring Eagle OV-X is a pop-up truck camper topper made for short bed trucks.  The interior floor length of the 2023 Soaring Eagle OV-X is 117", the interior height is 40", and the center of gravity is TBD.
Soaring Eagle is reporting the base weight of the OV-X at 750 pounds.  The cost of the 2023 Soaring Eagle OV-X is $18,000.  Click here for a Soaring Eagle OV-X brochure.