Where have you parked overnight that isn't exactly listed in a campground directory?  We're not talking about boondocking.  We're talking about breweries, bowling alleys, barnyards, and other unusual spots.
In the article, "Hops Across America" Celina and Brett Binns parked overnight at a few breweries after enjoying what was on tap.  They asked first, and didn't expect hook-ups or a view.  In return, they got a flat patch to park overnight, for free, and smartly played it safe.
Last year we parked overnight at a number of vineyards, orchards, farmers markets, and museums using Harvest Hosts.  Harvest Hosts was founded by a truck camping couple who saw an opportunity for a nationwide network of free and interesting overnight spots.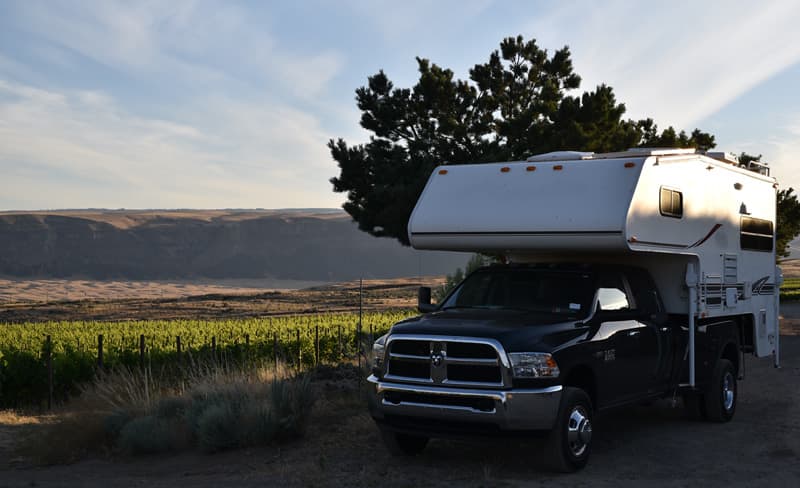 Above: Angela and Gordon "Vineyard Camping" in Washington State using Harvest Hosts
Honestly, Harvest Hosts is almost too good to be true.  For a nominal sign-up fee, and the understanding that you'll do some business with the Harvest Host location, you get a free place to park overnight in some really amazing locations.
Above: Same vineyard in Washington State, we found a huge outdoor chess board and a cat exploring the grapes
Rather than spend $25 or so on a campground, you can stay at a vineyard with a view for free, buy a bottle of wine (after several tastings), or eat a delicious breakfast at a family-owned farmers market, or take a tour of a warplane museum.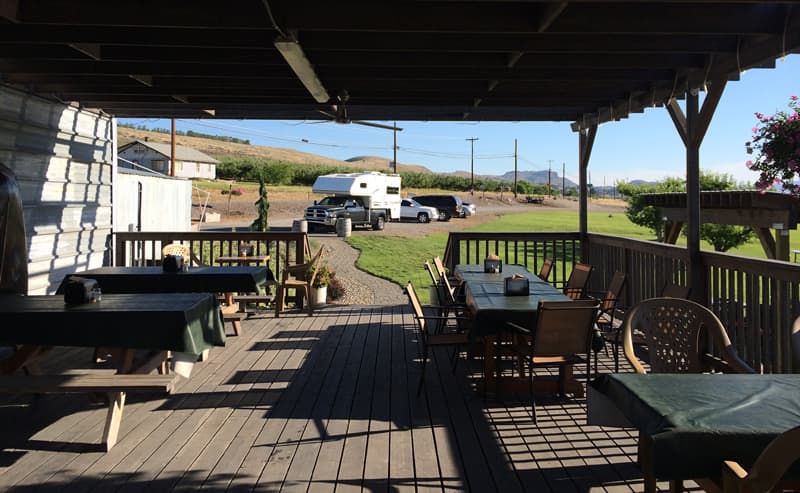 Above: Our rig at a Harvest Hosts fruit/vegetable stand that also offered breakfast
We did all of the above through Harvest Hosts in 2015.  For more about Harvest Hosts, read our interview with the truck camping founders, Kim and Don Greene, "Vineyard Camping With Harvest Hosts".
Above: A Harvest Hosts location, an airplane museum that we visited in Utah
Of course you can park overnight in interesting places without Harvest Hosts, just like the Binns did on their brewery tour.  Over the years we have parked overnight at various restaurants, casinos, and museums.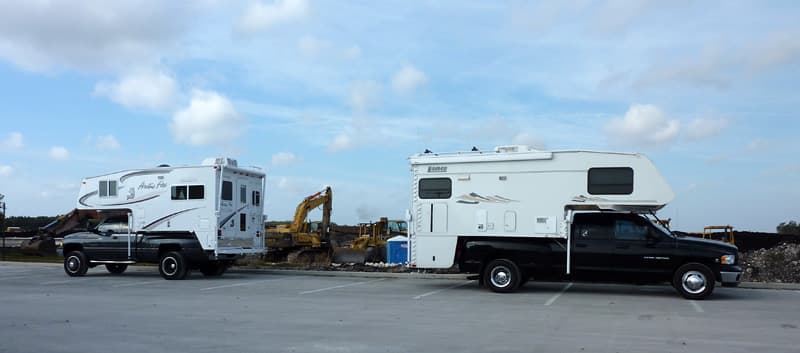 Above: Camping on the edge of the parking lot of the Miccosukee Indian Casino, 500 S.W. 177th Avenue, Miami, FL 33194
In fact one of our most memorable free dry camping spots was the Miccosukee Indian Casino at the corners of 997 and 41 near Miami in southern Florida.
Another favorite unconventional overnight parking spot of ours is Panera Bread.  Not every Panera Bread is suitable for overnight parking, but they often leave their WIFI on at night, and provide excellent coffee and breakfast in the morning.  As a bonus, they have outlets near the tables to charge your laptop while soaking up their free WIFI.  Let's just say that many a TCM article has been published from a Panera Bread.
This week's Question of the Week is, "Have you parked overnight in any unconventional places?"