The Binns traveled from Maine to Alaska in their Arctic Fox 1150 visiting as many microbreweries as possible along the way.  It's a coast-to-coast truck camping beer adventure!

One of the greatest pleasures of traveling is exploring one's hobbies and interested in the road.  Over the years, we've done amazing stories with model rocket launchers, star gazing astronomers, dare devil auto racers, gold panning prospectors, and even antique chain saw collectors (just to name a few); all who use their truck campers to better enjoy their hobbies.
Then there's beer.  A few years back we titled an article, "Just Enough Food, Propane, and Beer" and saw a near record breaking amount of readership.  Now perhaps there was a pent-up interest in propane, but it was more likely the suds that sent the stats into the stratosphere.  Truck campers like beer?  Who knew?
Well beer friends, do we have a story for you.  Celina and Brett Binns of Gouldsboro, Maine are avid home brewers.  They also happen to be truck campers owners.  Putting those things together, they went on a 15,000 mile trip to Alaska visiting as many microbreweries as humanly possible.
Truck camping, Alaska, and beer in the same story?  You bet.  And if this article is a huge hit we're going to quit TCM and start Beer Camping Magazine.  Clearly the readership would be better.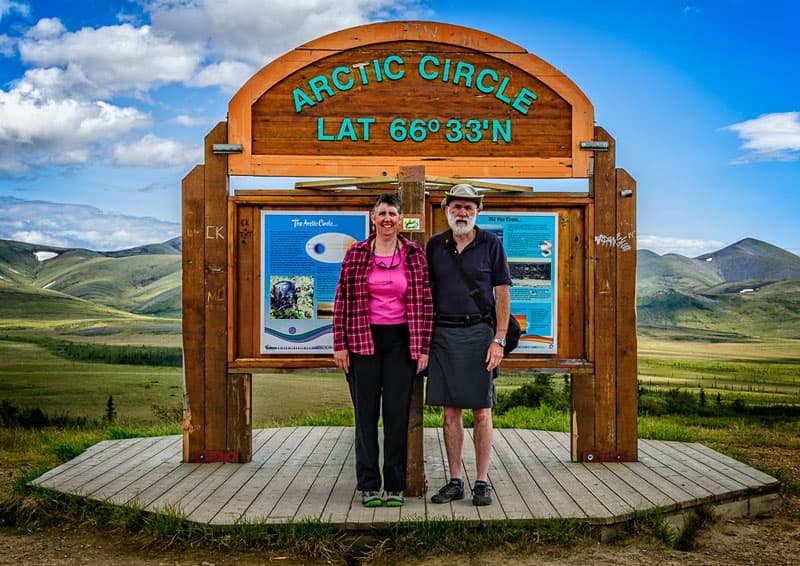 Above: Celina and Brett Binns, Arctic Circle
TCM: How did you get into truck camping?
Celina: We both camped with our parents as kids.  Brett's family tented and my family had a small travel trailer.  Brett and I camped together over the years, but not frequently.
We knew we wanted to travel by RV when we retired.  When that time approached, we started attending RV shows and all but decided to purchase a fifth wheel.  We even had a model picked out.
That decision changed when we took a trip to Alaska.  We were driving a rental car and realized that we would not be able to turn around at some of the trail head parking areas in a fifth wheel.
That's when we started looking very seriously at truck campers.  We subscribed to Truck Camper Magazine, and started researching.  Based on what we read, we were very interested in Arctic Fox.
On our way to and from our vacation house in Maine, we stopped by Truck Camper Warehouse a couple times and checked out Arctic Fox truck campers as well as several other brands they carry.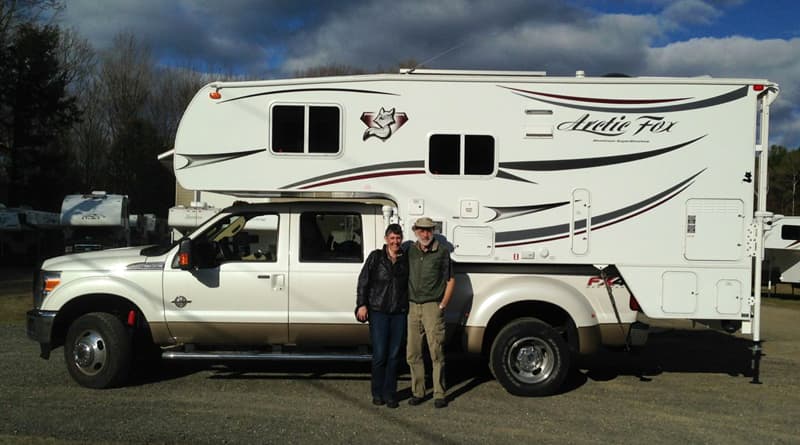 Above: Picking up the camper at Truck Camper Warehouse
After careful evaluation, we chose Arctic Fox because of their quality.  We had heard good things about Arctic Fox and we were impressed when we saw their campers in person.
We picked the Arctic Fox 1150 because we liked the floor plan and the ability to get a dry bath.  We knew we would be taking extended trips and the open feeling of the 1150 appealed to us.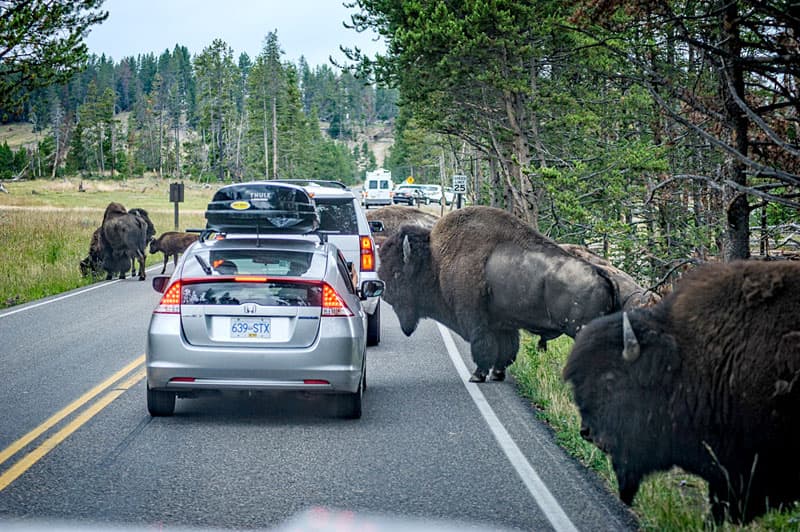 Above: Buffalo traffic jam in Yellowstone National Park, Wyoming