The Binns traveled from Maine to Alaska in their Arctic Fox 1150 visiting as many microbreweries as possible along the way.  It's a coast-to-coast truck camping beer adventure!

One of the greatest pleasures of traveling is exploring one's hobbies and interests on the road.  Over the years, we've done amazing stories with model rocket launchers, star gazing astronomers, daredevil auto racers, gold panning prospectors, and even antique chain saw collectors (just to name a few); all who use their truck campers to better enjoy their hobbies.
Then there's beer.  We have even titled an article, "Just Enough Food, Propane, and Beer" and saw a near record-breaking amount of readership.  Now perhaps there was a pent-up interest in propane, but it was more likely the suds that sent the stats into the stratosphere.  Truck campers like beer?  Who knew?
Well beer friends, do we have a story for you.  Celina and Brett Binns of Gouldsboro, Maine are avid homebrewers.  They also happen to be truck campers owners.  Putting those things together, they went on a 15,000 mile trip to Alaska visiting as many microbreweries as humanly possible.
Truck camping, Alaska, and beer in the same story?  You bet.  And if this article is a huge hit we're going to quit TCM and start Beer Camping Magazine.  Clearly, the readership would be better.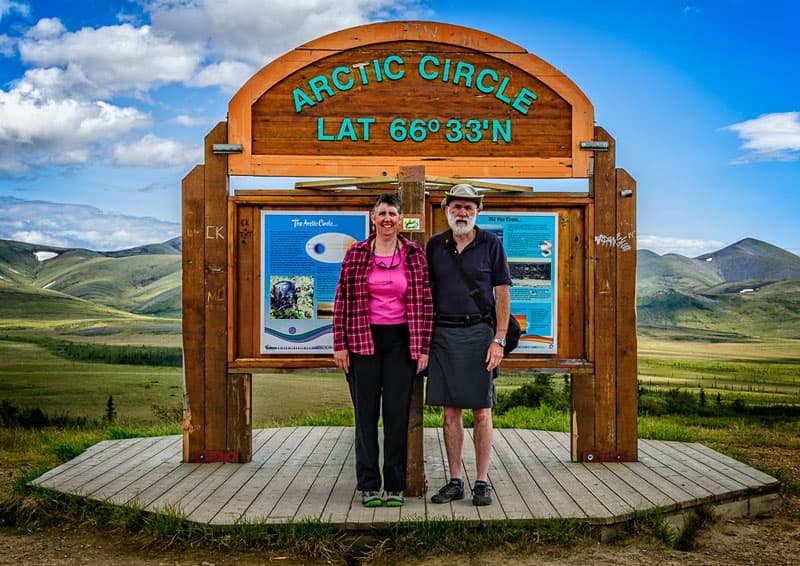 Above: Celina and Brett Binns, Arctic Circle
How did you get into truck camping?
Celina: We both camped with our parents as kids.  Brett's family tented and my family had a small travel trailer.  Brett and I camped together over the years, but not frequently.
We knew we wanted to travel by RV when we retired.  When that time approached, we started attending RV shows and all but decided to purchase a fifth wheel.  We even had a model picked out.
That decision changed when we took a trip to Alaska.  We were driving a rental car and realized that we would not be able to turn around at some of the trailhead parking areas in a fifth wheel.
That's when we started looking very seriously at truck campers.  We subscribed to Truck Camper Magazine and started researching.  Based on what we read, we were very interested in Arctic Fox.
On our way to and from our vacation house in Maine, we stopped by Truck Camper Warehouse a couple of times and checked out Arctic Fox truck campers as well as several other brands they carry.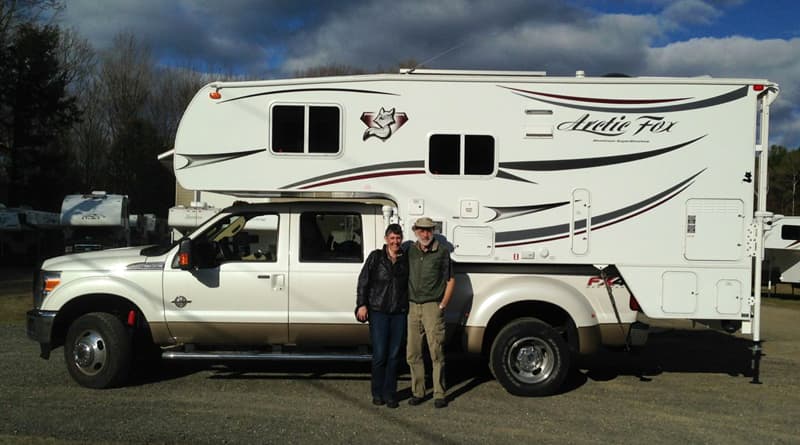 Above: Picking up the camper at Truck Camper Warehouse
After careful evaluation, we chose Arctic Fox because of their quality.  We had heard good things about Arctic Fox and we were impressed when we saw their campers in person.
We picked the Arctic Fox 1150 because we liked the floor plan and the ability to get a dry bath.  We knew we would be taking extended trips and the open feeling of the 1150 appealed to us.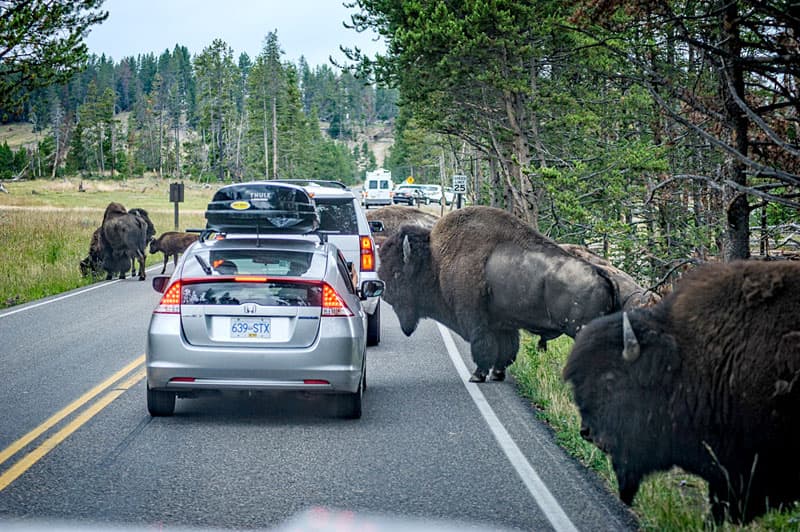 Above: Buffalo traffic jam in Yellowstone National Park, Wyoming
What do you enjoy doing while truck camping?
Celina: Brett enjoys fishing and photography.  We both enjoy visiting the National Parks, wildlife viewing, and hiking.   We also like visiting microbreweries as we travel.  We particularly like the very small, local microbreweries.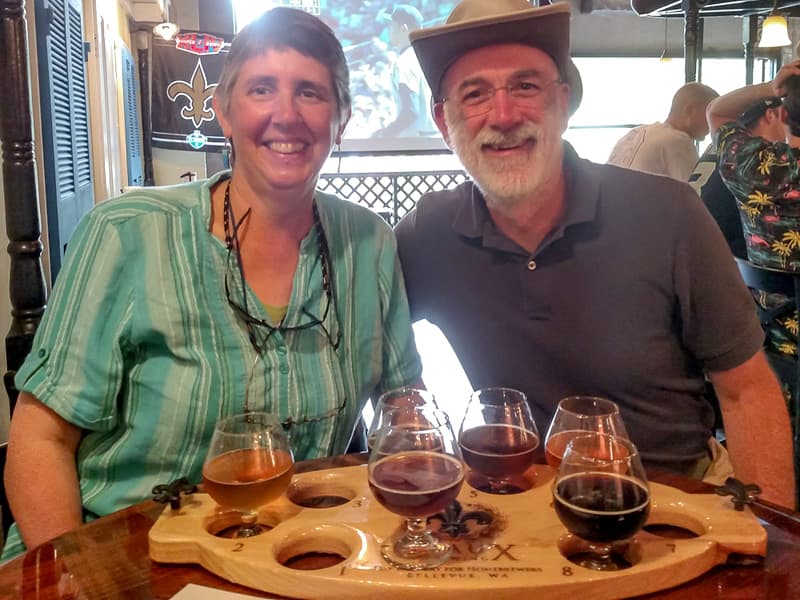 Above: Celina and Brett Binns at Geaux Brewing, Seattle, Washington
Where did your interest in microbreweries begin?
Celina: It's my husband's fault.  My husband is a beer drinker and homebrewer.  During our travels, we stop at breweries and learn about the process.  It's actually quite interesting.
Brett: There's an opportunity when visiting a microbrewery to talk to the owner, share experiences, and learn a lot about brewing beer.  I always come away with new ideas.
There are easy ways to brew using extract, and for years I brewed that way.  Recently we moved to Maine, and we built an electric brewery in our barn.  Now we do all-grain brewing.  All-grain brewing is more of a professional process.  It's also less of a mess to brew the beer in the barn instead of our kitchen.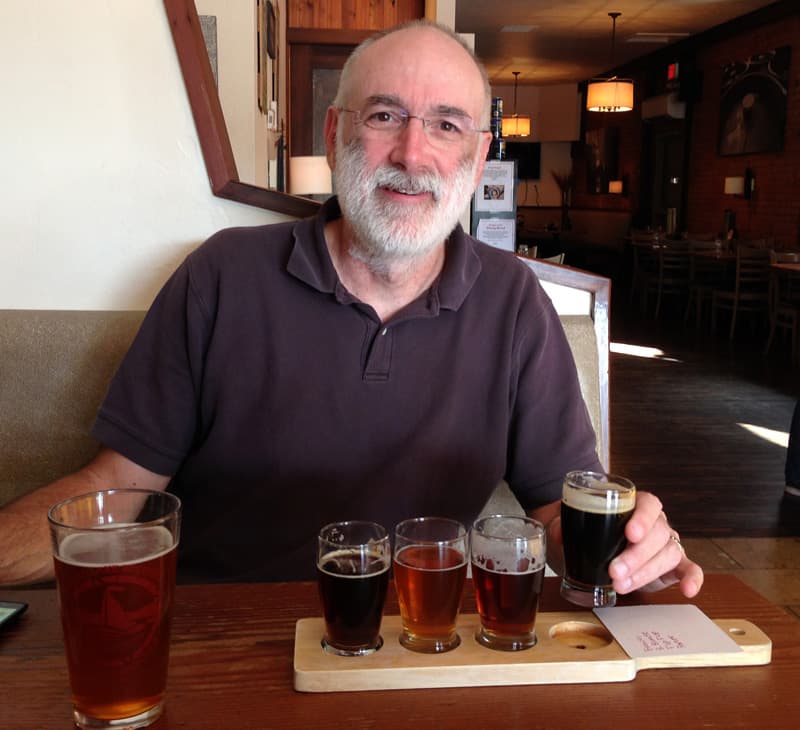 Above: Flathead Brewing, Missoula, Montana
Do you plan what microbreweries you want to visit ahead of time?
Brett: Celina is our trip organizer and she does an amazing job.  She plans out the route including the main attractions and places we want to stay.
Celina: For our trip this past year to Alaska, I planned the route first, and then looked along the route for breweries along the way.  This trip was more about Alaska and the journey there, so we didn't hit all of the breweries.
Here in New England, the state tourism department has a pamphlet with all the beer trails.  We're trying to visit all the breweries in Maine, but they're building them faster than we can get to them.
Above: Barrell room in Allagash, Maine
That sounds like a good problem.  Have you ever camped overnight at a brewery?
Celina: Last year was our first trip out with our truck camper.  We went to Virginia and visited friends, and then to North Carolina's Outer Banks.  On our way back north we stopped at a brewery in Wilmington, Delaware to meet our cousin for dinner.
Well, we got talking and it got late.  The waitress said, "Do you want another round?"  Brett said, "It depends.  If we can stay in your parking lot, okay."  She checked and it was fine.
The next morning we didn't realize that they were having a marathon.  The parking lot was jammed, and we were lucky to get out before it became too crowded.
Brett: It doesn't happen often but, if it's not safe to drive, we can go into the camper and rest.  It's great to have the option to stay.
Celina: We also call ahead to the breweries and ask if we can park our truck camper, especially for breweries located in cities.  Most of them help you figure out a place to park.
Brett: Some also suggest a campground nearby.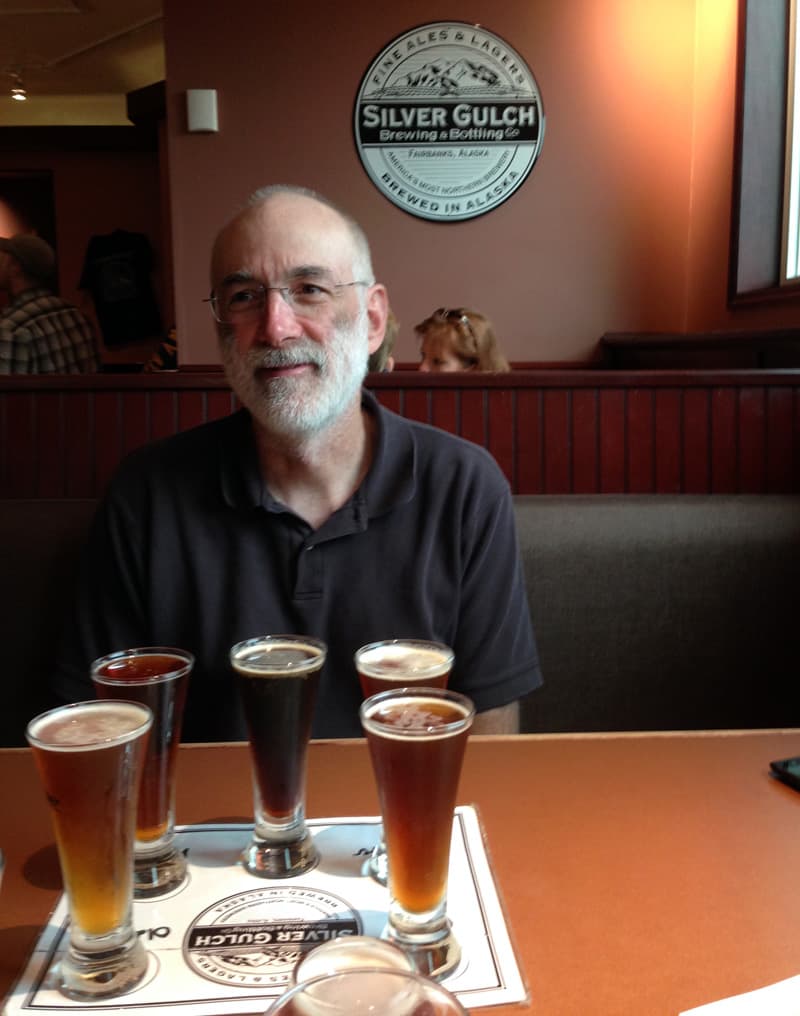 Above: Trying out a flight sampler at Silver Gulch Brewery in Fairbanks, Alaska
On long-distance driving trips, we sometimes find that we're just too tired to drive safely, and pull off the road to sleep.  And yes, after a winery tour or two in New York, it was great to just relax for a while before resuming our adventure.  What do you traditionally do at the microbreweries?
Celina: We usually get a flight, which is a sampler with four to five ounces of different beers.  We share the samples, so having a flight of four, six, or even eight beers ends up being the equivalent of us each having a single pint.
Given that we usually have to get back into the truck and drive, this allows us to sample the beer and still be able to drive safely.  We also like to find breweries that have a brew pub so we can eat lunch or dinner along with our beer samples.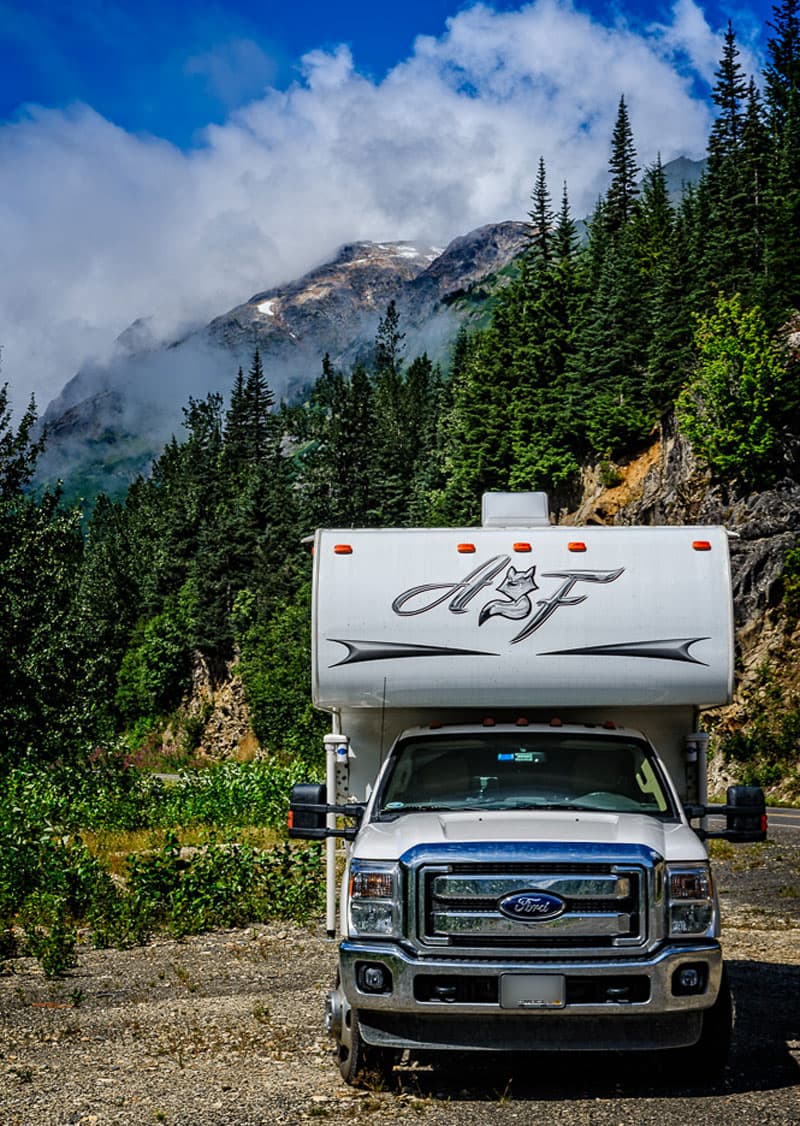 Above: Road to Hyder, Alaska
What's the most unique or memorable microbrewery experience that you've had?
Celina: We visited quite a few breweries on our last trip.  We've enjoyed most of them, but our favorite was Haines Brewing in Haines, Alaska.
Haines Brewing is very small.  Maybe four or five people can fit when you walk in.  Since we've been there they may have moved to a different building.  We spent a couple of hours talking beer with the owner.
Brett: The owner, Paul, makes incredible beers.  It's just him and an assistant brewer.  We spent the whole time talking, and wanted to try everything.  You can't do that and drive safely, so we went three times.  Each time we stayed for multiple hours.
Paul and I are different types of brewers.  I am a gizmo brewer.  I use more automation and tools.  Paul has a stronger skill set, and he makes beer using his senses.  He can just tell the hop level and alcohol level.  I use tools and calculators.  It was interesting talking to him about his approach and contrasting them to my own approach.
Paul makes a spruce beer.  Now I'm going to go out and find spruce tips to make a brew with.  From the perspective of the quality of beer and the visit, Haines Brewing was my favorite place.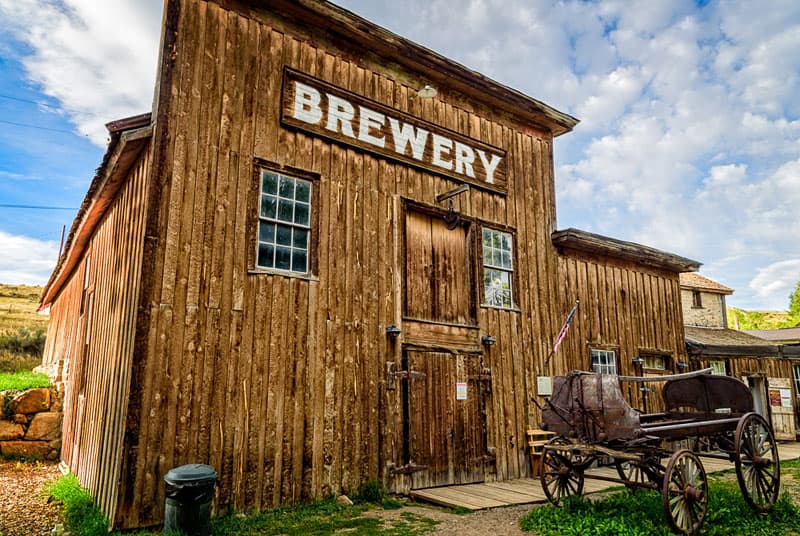 Above: Virginia City Brewery, Nevada
Celina: Other breweries we enjoyed include Yukon Brewing in Whitehorse, Yukon Territories, Silver Gulch in Fairbanks, Alaska, Holy Mountain in Seattle, Washington, and Bent Paddle in Duluth, Minnesota.
Most owners and staff are willing to talk to you about their brewery.  It's fun to go when they are into it and share how they make it.
Above: Richardson Highway at Thompson Pass, Alaska
You probably just created a travel itinerary for a few dozen truck camper owners out there.  Are there any other microbreweries on your bucket list?
Brett: The most fun is to visit a small town and find a real gem of a microbrewery.  It's special to find something different.  I do have a list of larger breweries that I think highly of and would enjoy visiting, but it's the discoveries that make this pursuit most enjoyable.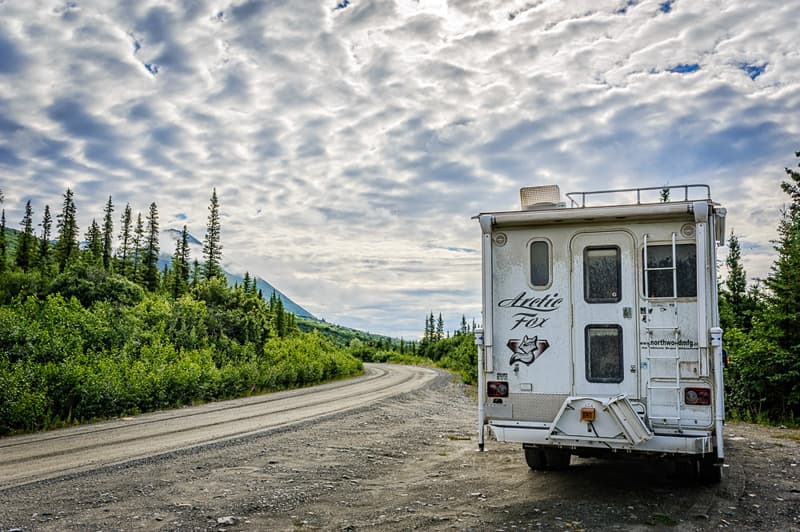 Above: The Denali Highway, Alaska
How did you plan for a three-and-a-half month trip to Alaska?
Celina: I put a route together using maps and the internet.  National Geographic has north, south, and central maps of Canada.  I also used the Alaska Delorme map, a Canadian atlas, and The Milepost, which was a huge benefit.
Then I laid out what I wanted to see; the Canadian Rockies, the Yukon, and Alaska.  I looked at The Milepost and the routes they have in their book.  I highlighted stuff and put together a big spreadsheet.  I did all this research and planning last winter, working on it a little at a time.
Then I went on Google Maps and planned how far we wanted to travel in a day.  I kept our driving to under 250 miles a day.  On my spreadsheet, I entered a campground or state park, along with ideas of what I wanted to see in that area.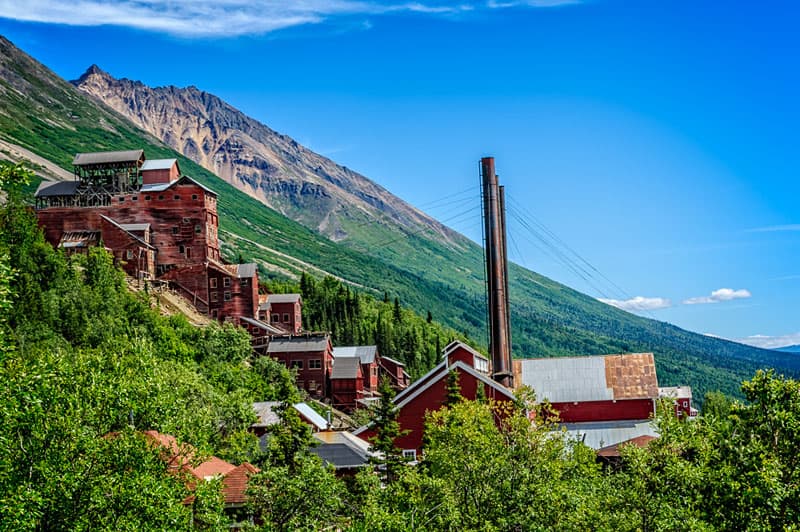 Above: Kennecott, Alaska; the fourteen story concentration mill
On the trip, we generally followed the route, but there were quite a few deviations.  We didn't end up at all the campgrounds.  We knew they were there, but that didn't mean we had to stop at them.  If we really wanted to see something, we changed the plan.  I didn't book anything on this trip.  We winged it.
On the 4th of July, we were in McCarthy, which is the funkiest little town.  We drove down an old railroad bed, which was sixty miles in.  The road ends at a river and a walking bridge.  There was a guy with a tent, and he said, "If you can find a parking place you're happy with, pay me the $20."
In McCarthy, we found a great spot in the hills and had a private area.  There are only 45 people there year-round and 140 in summer.  It was Road Magic that we were there for their July 4th parade.  It was wonderful.
Brett: It was classic with a pie-eating contest and all.
Celina: The only other time we had trouble with camping was in British Columbia coming from Whistler.  The campground was full, so we ended up at Walmart.  That was the only time we stayed at Walmart.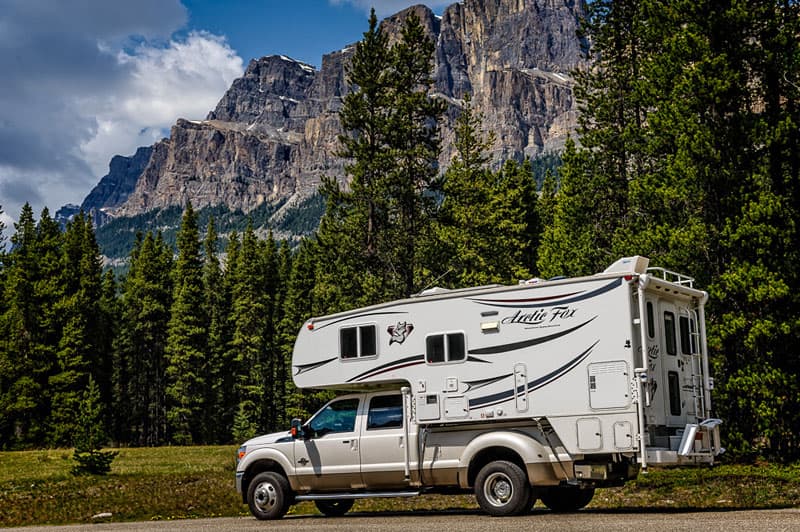 Above: Bow Valley Parkway, Castle Mountain, Alberta
You went through Canada quite a bit on your drive from Maine to Alaska.  Did you see any other states in between, or did you stay in Canada?
Celina: We got onto the Trans-Canada Highway and drove all the way to Calgary.  Then we went into the Canadian Rockies, Banff, and Lake Louise.  It wasn't crowded at all.  The land was wide open, the people were nice, and there was so much history and natural beauty.
Brett: Canada was a highlight for us.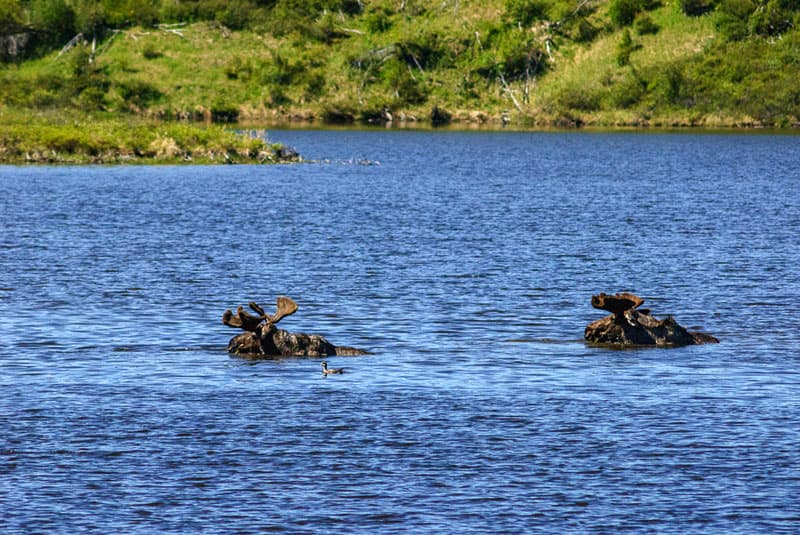 Above: Moose swimming along the Dempster Highway
Celina: We also really enjoyed the Yukon Territories, particularly the drive up the Dempster Highway to the Arctic Circle and Dawson City.  In Dawson City, they have a campground in town.  You can park the camper there and walk around the town.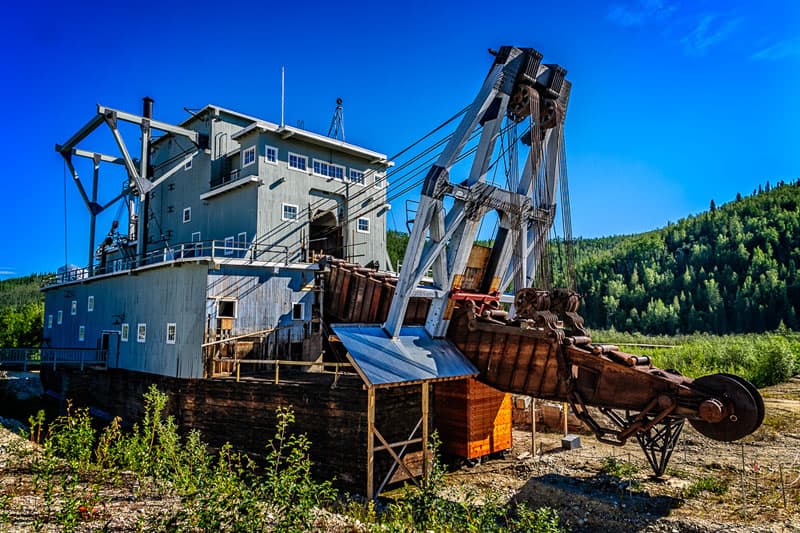 Above: Dredge no 4, Dawson City, Yukon
Driving the Dempster Highway 250 miles took three days.  On the road, you can see 80-100 miles in every direction.  There's not even a telephone pole.  Coming from the northeast where it's crowded and busy, I like to see areas like that.  It was relaxed.
In the Yukon at the Provincial parks, it was $12 Canadian a night with free firewood and pit toilets.  They were in beautiful locations near a lake or a waterfall.  We also liked Banff, Yoho, and Jasper National Parks.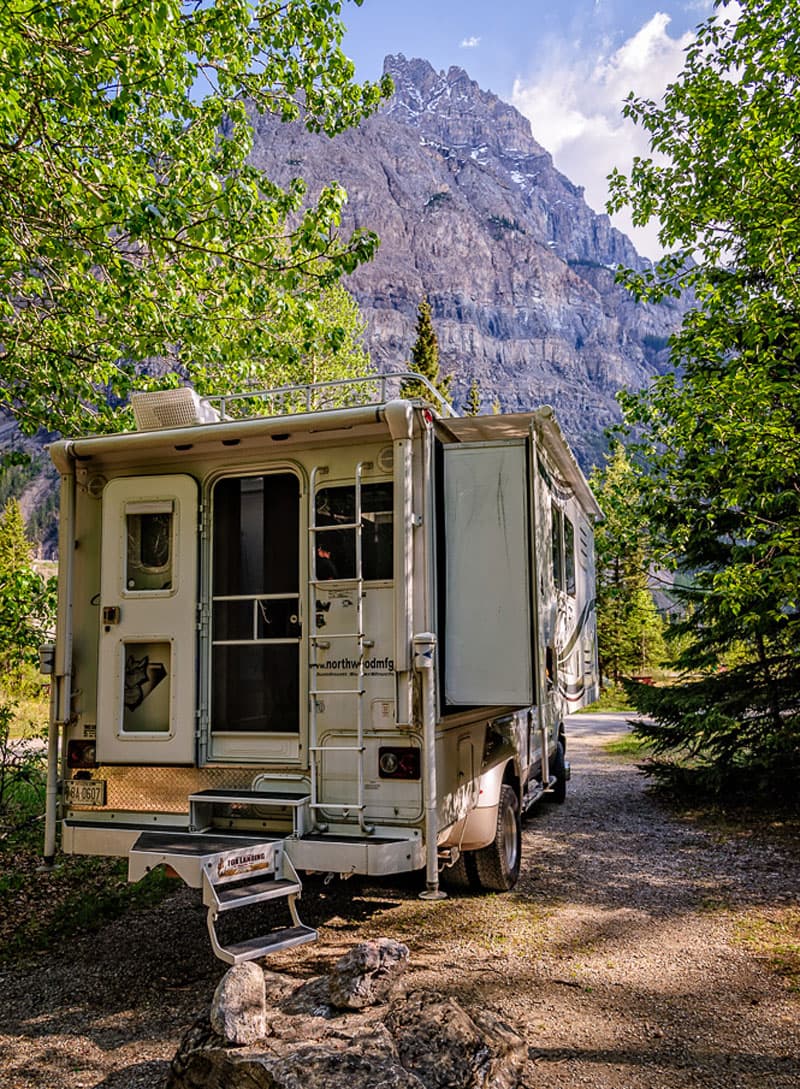 Above: Camping in Yoho National Park, Canadian Rockies, British Columbia, Canada
Brett: The Northwest Territories and Yukon stood out.  Like Alaska, they have amazing natural beauty but are even more remote.  It is also a better bargain staying there.  The folks were friendly.  Our trip to the Arctic Circle was amazing.  I think about Alaska as Maine on steroids but, for me, the scenery in Canada topped Alaska.
You also hear a lot about the state of Canadian roads.  Our finding was the Canadian roads were considerably better than we thought they'd be, except for some permafrost on the Alaska Highway.
Celina: The Canadian dollar was in our favor.  People cross the United States instead of Canada because of the fuel but, because the exchange rate was in our favor, the American dollar went further.  In the end, we didn't have to spend that much more to drive across Canada.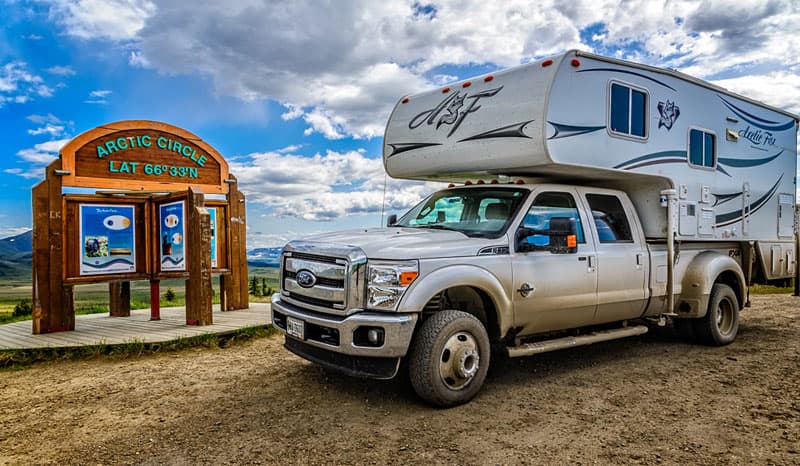 Above: They made it to the Arctic Circle
How was the internet in Canada?
Celina: It was hit or miss.  I'd get behind with our blog.  We'd go to a restaurant or coffee house, and spend four hours there catching up on our Flickr or blog.  We'd also use the internet at the Visitor's Centers.  In the rural areas, they had satellite internet, but they had data limits, so we wouldn't upload pictures there.  It was much easier in the United States because the internet in the campgrounds was better.
Brett: There also isn't cell coverage everywhere in Canada, but it was good along the Trans-Canada Highway.  We did get a Canada plan on our phone, and it was nice to be able to communicate by phone, but the internet was a challenge.
Celina: Brett took the photos and put them on Flickr when we got a good connection.  Every night in the camper he would pull out the computer and we'd look at the photos.  That was a big highlight of the trip.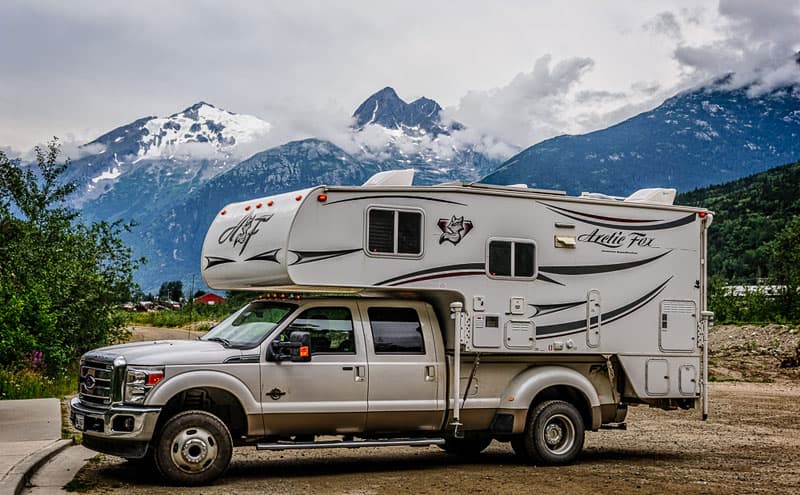 Above: Their Arctic Fox 1150 in Skagway, Alaska
How long did it take you to get from Maine to Alaska?
Celina: We left on May 11th and got to Alaska at the end of June.  We were in Dawson City the day after the solstice.  We spent three weeks in Alaska and then went on to Vancouver and Seattle. Then we took another month to get back home to Maine.
It was intentional to spend that much time in Canada.  We'll probably never get back to the Yukon and Northwest Territories because it's very far away.  We really wanted to see Alberta, the Northwest Territories, the Yukon, and British Columbia.
Above: Dinosaur Provincial Park, Alberta, Canada
One of the things we love about our truck camper is that everything is with us.  We don't have to pack and unpack or check into a hotel.  We can pull off for the night, go into the camper, put the slide-out, and we're home.  We'll make dinner and go to sleep.  It's less stressful than finding a hotel.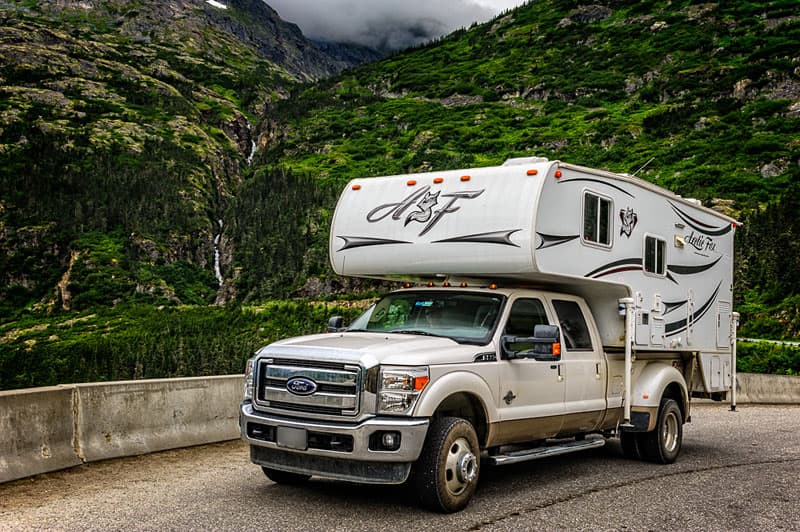 Above: White Pass, South Klondike Highway
How many miles did you travel?
Brett: I drove 15,000 miles on this trip.
Celina: We will probably not do a trip that long again.  A couple of months is good, but on a long trip you sort of get jaded.  We got to Yellowstone, and said, "Yeah that's nice" when we saw a buffalo.  Had we had gone to Yellowstone first, we would have been excited.
Brett: We live in Maine which is incredibly beautiful with rocky coasts, the ocean, mountains, and forests.  We have to stop and take notice and say, "Isn't this incredible?" even though it's the scenery we see every day.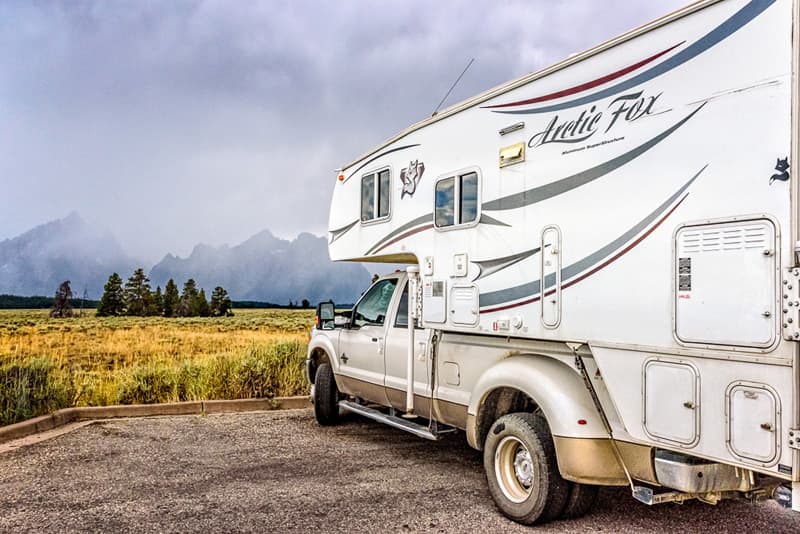 Above: Grand Teton National Park, Wyoming
That's cool that you met Truck Camper Magazine writer, Bryan Appleby.  How did that happen?
Celina: This was a hoot.  We were in Yellowstone and headed to Grand Teton National Park.  John D. Rockefeller, Jr. Memorial Parkway is in between the two parks.  We pulled into the Visitor Center and, when we went in, we met this guy.  We told him that we were headed into the Tetons, and that we needed to find a campsite.  He asked what we needed, and what we were driving.  We told him that we have a truck camper, and he got excited.
He said something about RV.net and that we may have read some of his stuff in Truck Camper Magazine.  We had read each other's posts on the forums.  We were going to go to a campsite, but we followed him and camped in the ranger campground.  Then we got to chat with him after he got off work.  That was fun.
We had no idea we would meet and it was totally out of the blue.  It was another road magic experience.
Brett: We've really enjoyed Bryan's articles in Truck Camper Magazine.  He is very interesting and so knowledgeable.  We look forward to meeting up with him again in the future.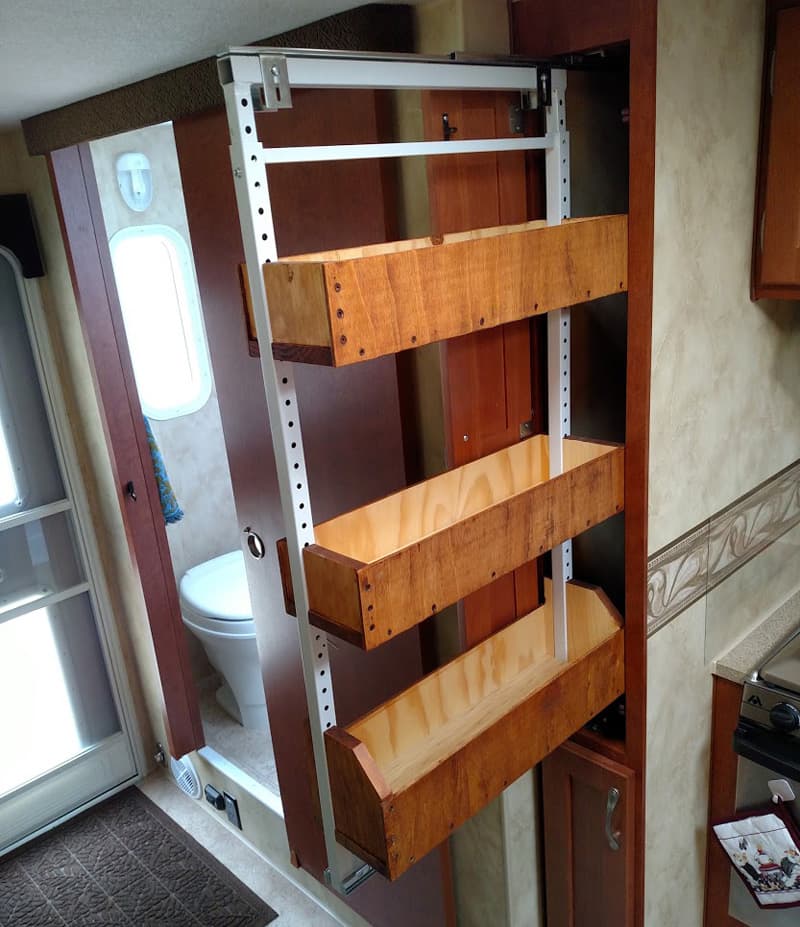 Above: The wooden pantry modification in their Arctic Fox
Bryan is certainly a valued contributor here.  Have you made any modifications to your truck or camper?
Celina: We purchased a Ford backup camera, mounted it in a wooden box, and installed it on the bottom of our Fox Landing bumper step system.  That allows us to use the same wiring and screen that the built-in Ford camera uses.
We had a 150-watt solar installed when we purchased the camper.  We installed additional 12-volt outlets near the dinette and at the head of the bed so we could charge our electronics.  We also replaced the pantry wire shelves with wooden shelves that gave us much more storage room.
Those are some useful mods.  What are your truck camping plans now?
Celina: We plan to take several more extended trips, although maybe not quite as long as this past one.  We definitely want to do a Southwest trip as well as a trip to Labrador and Newfoundland sometime over the next few years.
Celina and Brett's Rig Information
Truck: 2014 Ford F350, Crew Cab, Long Bed, Dual Rear Wheel, 4×4, Diesel
Camper: 2014 Arctic Fox 1150
Tie-Downs and Turnbuckles: Torklift Fastguns
Suspension: Firestone airbags and Torklift StableLoads