Trapped in a snow storm, Patrick Brannan survived for three days in his Northstar TC700.  He had already won the truck camper lottery.
If there's such thing as a truck camper genie, the lamp is somewhere in Patrick Brannan's Northstar TC700.  How else can you explain how lucky he was to find his truck camper the way he did?  And how else can you explain how he managed to pull himself out of what has to be one of the worst truck camping pickles we've ever heard at Truck Camper Magazine?  This is one story you have to read to believe.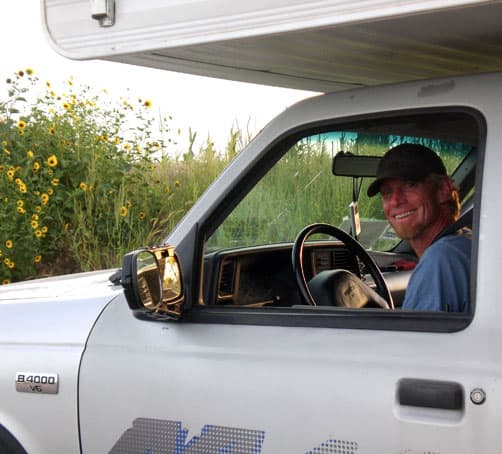 TCM: You said in your email that you have an interesting story about when you bought your camper.  Tell us your story.
Patrick: I'm a high level rock climber, and met my ex-wife through mutual friends.  On the week of our wedding, people were flying in and my truck dies.  I was stuck out in Ohio shopping for a truck.  I found a Mazda B4000 truck and bought it.
I tried to generate excitement about a truck camper with my wife because she was into rock climbing and camping.  She's European and didn't know about truck campers.  I went online and pulled up Northstar's website and showed her camper floor plans and pictures.  As I was showing her the website, we saw a TC700 and said, "Isn't this nice?" and, "Wouldn't you want to be camping in this instead of under the truck cap?"
On our first day back in Colorado, my wife went out to do some errands.  When she returned, she said, "You're not going to believe this.  There's a Northstar TC700 at the bank here in Leadville".  We're lucky to have a Pizza Hut and a Subway at 10,000 feet in Leadville.  To find something we're looking for in Leadville is extremely rare.
When I went to the bank, sure enough there was a practically new black Toyota truck and a Northstar TC700, just sitting there.  It turns out the truck and camper were repossessed by the bank, were only a year old, and had hardly been used.  The president of the bank came out, popped the top, and let us look at the TC700.  We were like little kids in a fort.  It was so cool.
At the time, I was hoping to find a used camper for around $2,500.  The bank president wanted $7,000.  That was well out of my price range so I said to him, "In case you don't sell it, here's my name and phone number".  He took my information down and I went back home.
The next morning the phone rang at 9:00am and it was the president of the bank.  He asked if we'd go for $3,500 dollars, I said "I'll be there in five minutes".   My wife was so excited when she got home and saw it in the driveway.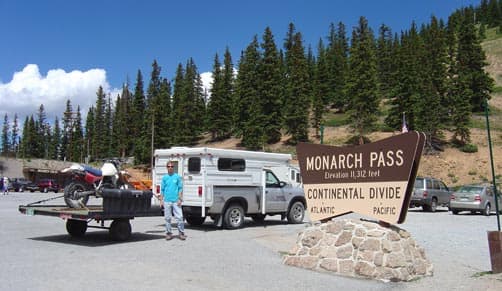 TCM: What amazing luck.  You truly hit the truck camper lottery.  Let's backtrack.  How did you get into camping?
Patrick: We camped all the time.  I had a cap on the back of my truck.  It was basically a sheet of plywood covered in carpet and a long box like a coffin with gear in it.  I would sleep on the floor of the truck and my wife was sleeping on top of the box.  She couldn't even sit up to drink water.
We live in Colorado, so I had seen truck campers and thought they looked nice.  I hadn't really looked inside of one, but knew that's what I eventually wanted.

TCM: What do you enjoy doing when you go out truck camping?
Patrick: In the photographs I sent in, you can see my double bike carrier.  With the double bike carrier loaded with a dirt bike on the outer place, I can still get into the camper.  That was my configuration when I was single.  When I met my girlfriend, we started using an 8' x 10' snowmobile trailer.  That's how we roll with the dirt bikes now.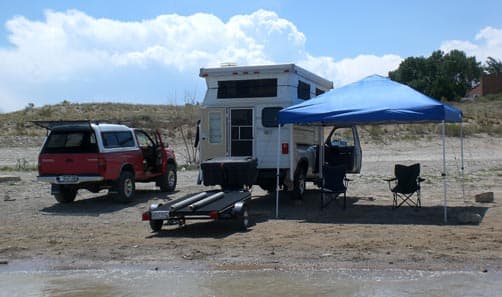 During jet ski season, we use an 8' x 8' trailer.  I have PVC tubes that fit in the channels to carry two jet skis.

In July and August, we go jet skiing in Colorado at a local reservoir.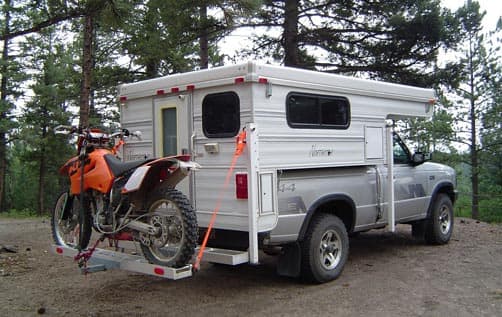 TCM: Why did you choose a truck camper for towing your toys rather than a toy hauler?
Patrick: Toy haulers tend to be big and are too much drag if you get into sand, mud, or snow.  Also you get gasoline fumes in your camping area.  When you arrive at your campsite, you need to open up the windows and doors to ventilate.  What if it's raining or snowing?  When you put the toys in with your living space, your living space is compromised.

Towing a small trailer with a truck camper rig gives us more options.  We want to get an enclosed trailer so the dirt bikes aren't covered in dust after driving down dirt roads.  Having our toys enclosed is a better way to go.  With the truck camper and trailer combination we can also separate them, which is ideal for getting into tight places or if the toys stay home when we just need a place to stay.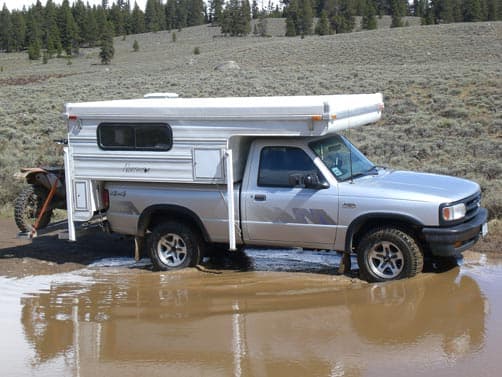 With a pop-up truck camper, I can go on rough roads and fit in tight corners.  The places we can take this truck camper are amazing.  With something bigger, you can't get to the cool spots.  One time I parked my truck camper where the only other people there were backpackers.  I passed their Subarus four miles down at the sign that said, "Four-wheel drive and high clearance vehicles only".  I just put my truck in four-wheel drive low and made sure my jacks were clear of the rocks.  I ended up in this meadow with the backpackers.  You should have seen the look on their faces as I was pulling ice cold beers out of my refrigerator and sat in my lawn chair.

For those of us who want to get further out, truck campers rock!  I go by these huge campgrounds where there is literally ten feet between RVs.  They are paying outrageous money to be ten feet away from each other.

 TCM: Tell us about your experience camping in a pop-up in the snow.
Patrick: I work as a ski patroller in the winter six months a year and take my summers off.  So my camper and I are out in the most rugged parts of Colorado, Utah, and the West every week during the Spring, Summer, and Fall.
My biggest adventure with truck camping in the snow was on Uncompahgre Ridge in western Colorado.  It's the last plateau close to Utah.  I loaded up my dirt bike with the carrier and went out there.
It was a beautiful spring day with green grass and wildflowers.  I drove down a sketchy dirt road with huge drop-offs and spent a beautiful day riding my bike.  Then, I woke up the next morning to snow pounding down.  It was fairly deep.  I hadn't told anyone where I was going so no one knew where I was.  I just picked a road that went to a cool campsite so that I could have privacy for three days.
TCM: That must of been scary.
Patrick: I said, "I'm screwed!"   I started inventorying food.  I took water out of the camper tank and put it into containers that I could keep warm.  I turned on the weather radio and there was almost no reception.  I was trying to figure out what weather the was going to be.  All I could make out through the static was that it was going to continue snowing all day.  It was indeed continuing to snow hard and after two feet had accumulated I was worrying about the snow load on camper.  I dropped the pop-top down for the load and because it was freezing.  That made it warmer.  I also turned the bench into a bed and huddled down underneath.  Then, I spent the day building a trail to a place to go to the bathroom and gathering wood for a campfire.  I figured I was just going to hunker down and stay cozy in the truck camper during the day and sit by a blazing fire at night.
The furnace was going on every twenty minutes or so with the top up.  If the propane tank ran out I would have no heat or cooking, so I knew I had better be careful.  By keeping the temperature low once I popped the top down the furnace only cycled on once an hour for five minutes or so.  I got two sleeping bags, put one inside the other, and the furnace kept my camper at 55 to 60 degrees.  I had magazines, my laptop, firewood, beer, and food.  I hung out for three days until the snow got dense and settled to just a few inches.  Then I chanced driving that crazy road and got out of there.  Fortunately I keep my mud/snow tires in good condition and on all year.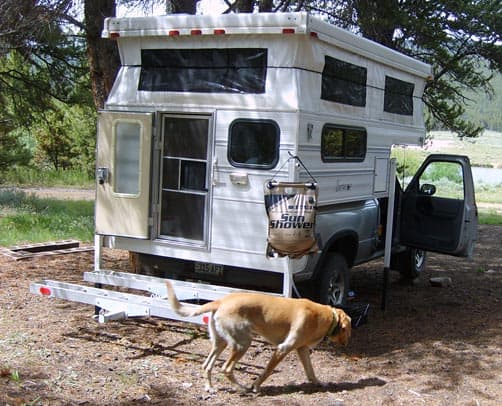 TCM: That certainly could have been a disaster.  Good thinking about popping the top down and conserving propane, food, and water.  What do you think of solar showers?
Patrick: They work well when there is sun and it is a warm day.  The key is that it can't be a windy or cold day.  In either of those conditions the water in the solar shower bag doesn't heat up.  On those days I've found that if you boil a pot of water on the camper stove and put the solar shower bag just below the height of the bottom of the pot, you can siphon out the hot water into a half full solar shower bag using the shower head and hose that they come with.  I have a temperature strip on the bag and watch it until the water gets to the temperature that I want.  Then I use that to shower and dash back into my cozy camper to dry off.  I also use the pop top on the camper to lift my heavy shower to a nice height over my head instead of trying to wrestle it on to a tree branch that is usually too low or too far away.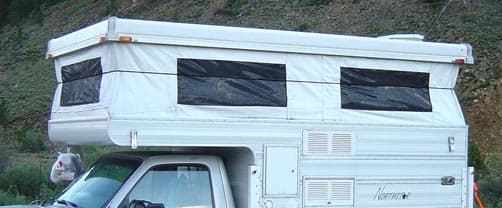 TCM: You said in your email, "I have added an elastic band around the middle of the canvas which makes bringing the top down as fast and trouble free as putting it up".  Tell us about that.
Patrick: Just like I said in the email, I put an elastic cord around the canvas so that I can bring the top down as fast as I can put it up without the canvas falling to the outside.  With my set-up I don't have to worry about running a fan to get negative air pressure, squirming between the bed and the ceiling with the top mostly down to get the front pulled in, or having to run around the outside stuffing in those few stubborn spots that stick out even after you pulled everywhere on the inside.  That elastic cord pulls in all the canvas so that none of the canvas is hanging out.
TCM: How did you put that elastic cord together?
Patrick: I went to a hardware store and got twenty-feet of bulk bungee cord on a spool. Then I tied two half hitch knots on the tails in the back with the other part going through the half hitch.  This way you can slide the half hitches along the other section to adjust tension and they stay in place when you let go.  When I installed it, I took the top and put it 90% of the way down so I could see it.  The elastic is adjusted with just enough pressure at 90% down to be sure that the canvas is pulled in.  The elastic stretches out when the pop top goes up.  It works nicely and it's super easy.  Just make sure it's not too tight or too loose.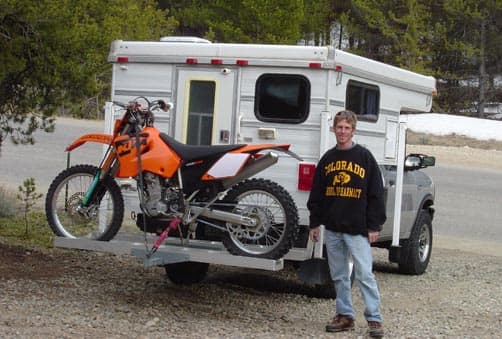 TCM: That sounds like an awesome modification that lots of pop-up camper owners could try.  Any other mods that you can share with us?
Patrick: It's not really a modification, but I would advise people who want to reach the really cool spot to take their eye off the bigger truck campers.  If you are willing to go lighter and smaller with a truck camper, the places it can take you to are amazing.  And ask yourself, are you going there to sit inside your camper or would you rather end up somewhere more remote where being outside of your camper is the real reward?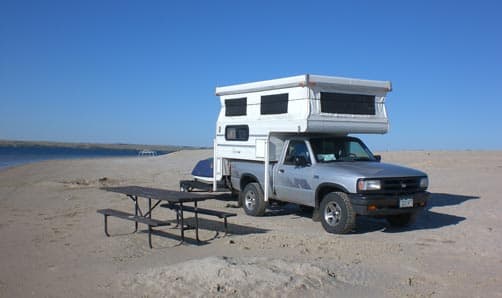 There are so many more places, so much better privacy, and other true camping experiences that can happen with a lighter and smaller camper.  Manufacturers need to stop packing things in and making 3,500 pound campers, especially since the trucks needed to haul them are becoming more undesirable as fuel prices continue to increase.  1,000 to 1,500 pound campers are the ones that are going to go into tight places, and leave you with a truck that is economical to drive Monday through Friday.  You also need to think about your center of gravity and getting it as low as possible.  That's why a pop-up is great with their lower center of gravity.
Another actual modification I did was to install wheel well shims that keep the camper from moving left to right when driving off-road.  With the shims in place, the camper is locked left to right and can't move.  I just drop them between the camper and the wheel wells as I'm lowering the camper in with the jacks.
The suspension on the truck was good, but I was getting flashed by on coming traffic at night because my headlights were pointed too high.  I installed airbags for headlight adjustment and the additional stiffness reduces the side to side rocking and cornering lean.  I also have super duty shock absorbers to reduce rocking.
I added an electric water pump to the hand pump in the sink.  Then I discovered that if I wanted to hand pump the water so I didn't disturb the people near me, I needed to make a bypass valve.  So I installed a short section of tube that bypasses the electric pump with a shut-off valve for when I'm using the pump.  That required a three-way faucet with the built in electrical switch that operates the pump.
I changed the mattress to a French multi-density foam mattress.  The core is thick firm foam and as you go out there are softer and softer layers.  The French have way better mattresses and wine, but I guess the two go together.  It isn't heavier and it's way more comfortable, but does cost some money.
I've made wooden blocks padded with old snowmobile belt that are mounted where the truck camper overhangs the sides of the truck bed.  Two in the front and two in the back.  When the camper is on the truck they rest lightly on the sides of the truck bed.  This widens the narrow base of truck campers from the three or so feet needed to fit between the wheel wells to almost five feet at the edge of the truck bed sides. T his almost completely eliminates any independent rocking of the camper inside the truck bed.  The truck camper manufacturers can't do this since it needs to be a custom fit to your truck based on model of truck.  It also depends on whether or not you have a bed liner and the thickness of that liner.  If you plan on taking your truck down rough roads they are a must have modification.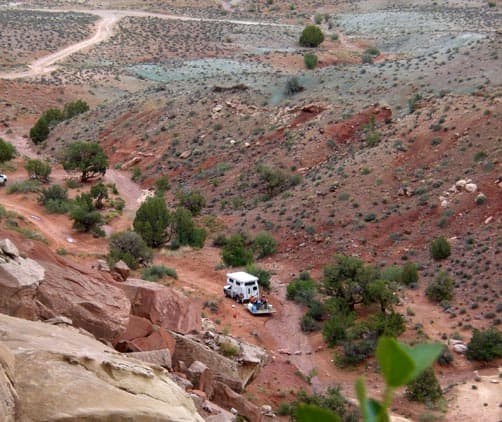 TCM: That's a lot of modifications.  Thank you for your interview Patrick.  I look forward to catching up with you and your truck camping adventures.  Please keep in touch.
Patrick: I certainly will.
Patrick's Truck Camper Rig

Truck: 1994 Mazda B4000 (Ford Ranger), regular cab, single rear wheel, short bed, gas, 4×4
Camper: 2000 Northstar TC700
Tie-downs and Turnbuckles: Dynamic turnbuckles
Suspension Enhancements: Airlift airbags, super duty shock absorbers, BF Goodrich TA KO tires (55 pounds in the front and 60 pounds in the rear)
Gear: Mirror extensions, trailers for jet skis and bikes