Trapped in a snow storm, Patrick Brannan survived for three days in his Northstar TC700.  He had already won the truck camper lottery.
If there's such thing as a truck camper genie, the lamp is somewhere in Patrick Brannan's Northstar TC700.  How else can you explain how lucky he was to find his truck camper the way he did?  And how else can you explain how he managed to pull himself out of what has to be one of the worst truck camping pickles we've ever heard at Truck Camper Magazine?  This is one story you have to read to believe.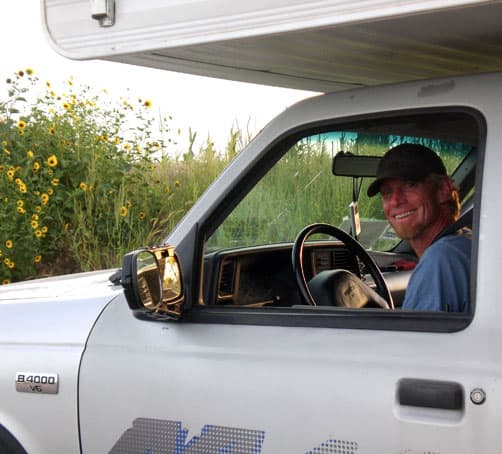 TCM: You said in your email that you have an interesting story about when you bought your camper.  Tell us your story.
Patrick: I'm a high level rock climber, and met my ex-wife through mutual friends.  On the week of our wedding, people were flying in and my truck dies.  I was stuck out in Ohio shopping for a truck.  I found a Mazda B4000 truck and bought it.
I tried to generate excitement about a truck camper with my wife because she was into rock climbing and camping.  She's European and didn't know about truck campers.  I went online and pulled up Northstar's website and showed her camper floor plans and pictures.  As I was showing her the website, we saw a TC700 and said, "Isn't this nice?" and, "Wouldn't you want to be camping in this instead of under the truck cap?"
On our first day back in Colorado, my wife went out to do some errands.  When she returned, she said, "You're not going to believe this.  There's a Northstar TC700 at the bank here in Leadville".  We're lucky to have a Pizza Hut and a Subway at 10,000 feet in Leadville.  To find something we're looking for in Leadville is extremely rare.
When I went to the bank, sure enough there was a practically new black Toyota truck and a Northstar TC700, just sitting there.  It turns out the truck and camper were repossessed by the bank, were only a year old, and had hardly been used.  The president of the bank came out, popped the top, and let us look at the TC700.  We were like little kids in a fort.  It was so cool.
At the time, I was hoping to find a used camper for around $2,500.  The bank president wanted $7,000.  That was well out of my price range so I said to him, "In case you don't sell it, here's my name and phone number".  He took my information down and I went back home.
The next morning the phone rang at 9:00am and it was the president of the bank.  He asked if we'd go for $3,500 dollars, I said "I'll be there in five minutes".   My wife was so excited when she got home and saw it in the driveway.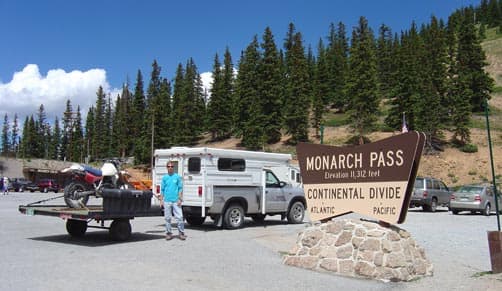 TCM: What amazing luck.  You truly hit the truck camper lottery.  Let's backtrack.  How did you get into camping?
Patrick: We camped all the time.  I had a cap on the back of my truck.  It was basically a sheet of plywood covered in carpet and a long box like a coffin with gear in it.  I would sleep on the floor of the truck and my wife was sleeping on top of the box.  She couldn't even sit up to drink water.
We live in Colorado, so I had seen truck campers and thought they looked nice.  I hadn't really looked inside of one, but knew that's what I eventually wanted.

TCM: What do you enjoy doing when you go out truck camping?
Patrick: In the photographs I sent in, you can see my double bike carrier.  With the double bike carrier loaded with a dirt bike on the outer place, I can still get into the camper.  That was my configuration when I was single.  When I met my girlfriend, we started using an 8' x 10' snowmobile trailer.  That's how we roll with the dirt bikes now.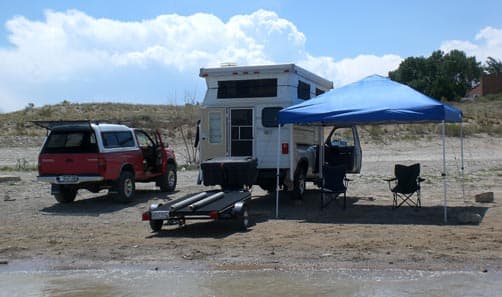 During jet ski season, we use an 8' x 8' trailer.  I have PVC tubes that fit in the channels to carry two jet skis.