Kim and Don Greene have created Harvest Hosts, which is a new solution to overnight camping in the USA, Canada, and Baja Mexico.

Imagine being able to camp overnight at vineyards, wineries, breweries, distilleries, museums, ranches, and farms of every conceivable category across the United States, Canada, and Baja Mexico.
Introducing Harvest Hosts, a growing network of 491 locations where you can camp for the night next to something other than another RV or box store.  This is big news to anyone who's looking to add to their overnight camping options.  As a magazine, we would certainly prefer a nice brewery or vineyard to a Walmart.
We bumped into Kim and Don at the Florida RV Super Show this past January.  They had a booth and were signing up new members to their Harvest Hosts program.  When we learned more about their unique available overnight camping opportunities, and heard about their Lance truck camper, we knew we had a story.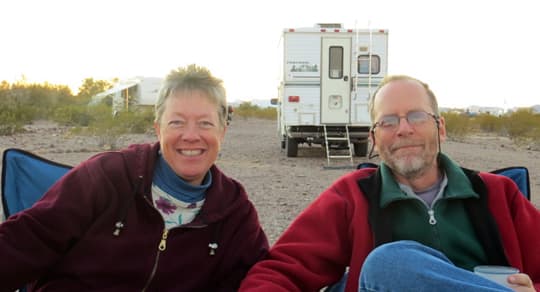 Kim and Don Greene, Founders of Harvest Hosts

TCM: Tell us about Harvest Hosts, and where the idea came from.
Kim: In 2008, we were RVing in France and discovered a program called France Passion.  Through the program, RVers can camp overnight at 1,850 French vineyards, farms, and gourmet businesses.
We enjoyed France Passion so much that we wanted to join a similar program when we returned to the United States, but couldn't find anything like it.  That's what gave us the idea to bring this idea to American RVers.
In 2010, we launched Harvest Hosts with locations in California, Washington, and Oregon.  We had about thirty-five locations participating when we went to Quartzite, Arizona and were invited to speak and introduce the Harvest Hosts program.
We got a great response at Quartzite from members who wanted to join Harvest Hosts.  From there, Harvest Hosts has spread to all lower forty-eight states, nine Canadian provinces, Alaska and Baja California, Mexico.  There are currently over 490 farms, wineries, and breweries participating as hosts.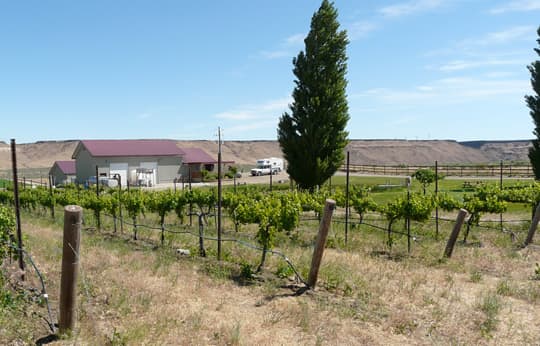 Above: Camping at a winery in Idaho
TCM: How do you go about getting farms, wineries, and breweries to participate with Harvest Hosts?
Don: We've created a database of locations that we believe would make good Host locations.
We then contact the company, introduce ourselves, and present Harvest Hosts.  We then explain how the Harvest Hosts program would work on their end, and that Harvest Hosts would introduce their location to RVers who are looking for fun and interesting things to do.
Another way we find potential hosts is by word of mouth from our members.  When they find an interesting potential host they'll tell us about them.

Above: Winery Camping in Wisconsin, California, and Nevada – click to enlarge
TCM: Over the years, has Harvest Hosts been a positive experience for the hosts?
Don: When we travel in our truck camper, we try to stop at as many Harvest Hosts locations as we can.  We want to get a feeling for the people we're working with and get feedback on how the program is working for them.