Kim and Don Greene have created Harvest Hosts, which is a new solution to overnight camping in the USA, Canada, and Baja Mexico.

Imagine being able to camp overnight at vineyards, wineries, breweries, distilleries, museums, ranches, and farms of every conceivable category across the United States, Canada, and Baja Mexico.
Introducing Harvest Hosts, a growing network of 491 locations where you can camp for the night next to something other than another RV or box store.  This is big news to anyone who's looking to add to their overnight camping options.  As a magazine, we would certainly prefer a nice brewery or vineyard to a Walmart.
We bumped into Kim and Don at the Florida RV Super Show this past January.  They had a booth and they were signing up new members to their Harvest Hosts program.  When we learned more about their unique available overnight camping opportunities and heard about their Lance truck camper, we knew we had a story.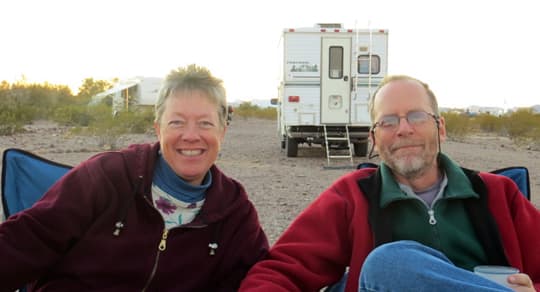 Kim and Don Greene, Founders of Harvest Hosts
TCM: Tell us about Harvest Hosts, and where the idea came from.
Kim: In 2008, we were RVing in France and discovered a program called France Passion.  Through the program, RVers can camp overnight at 1,850 French vineyards, farms, and gourmet businesses.
We enjoyed France Passion so much that we wanted to join a similar program when we returned to the United States, but couldn't find anything like it.  That's what gave us the idea to bring this idea to American RVers.
In 2010, we launched Harvest Hosts with locations in California, Washington, and Oregon.  We had about thirty-five locations participating when we went to Quartzite, Arizona and were invited to speak and introduce the Harvest Hosts program.
We got a great response at Quartzite from members who wanted to join Harvest Hosts.  From there, Harvest Hosts has spread to all lower forty-eight states, nine Canadian provinces, Alaska and Baja California, Mexico.  There are currently over 490 farms, wineries, and breweries participating as hosts.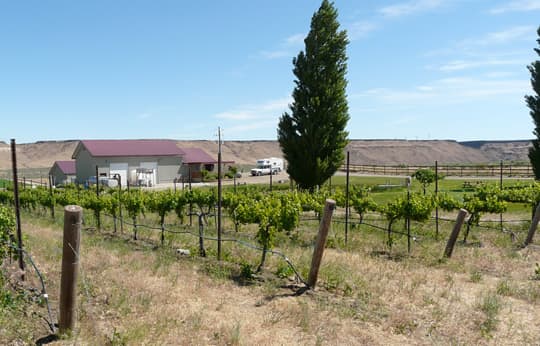 Above: Camping at a winery in Idaho
TCM: How do you go about getting farms, wineries, and breweries to participate with Harvest Hosts?
Don: We've created a database of locations that we believe would make good Host locations.
We then contact the company, introduce ourselves, and present Harvest Hosts.  We then explain how the Harvest Hosts program would work on their end, and that Harvest Hosts would introduce their location to RVers who are looking for fun and interesting things to do.
Another way we find potential hosts is by word of mouth from our members.  When they find an interesting potential host they'll tell us about them.
Above: Winery Camping in Wisconsin, California, and Nevada – click to enlarge
TCM: Over the years, has Harvest Hosts been a positive experience for the hosts?
Don: When we travel in our truck camper, we try to stop at as many Harvest Hosts locations as we can.  We want to get a feeling for the people we're working with and get feedback on how the program is working for them.
They tell us that participating with Harvest Hosts has been fantastic!  They like our members, and the stories they tell.  Our very first host, located in Oregon, is still with the program and is a big supporter.  The hosts appreciate that we send them new business.  They love the rapport they get with the members.
Above: Farm Camping in Oregon and Florida – click to enlarge
TCM: Tell us about Harvest Hosts and how it benefits RVers.
Don: Everyone knows about campgrounds and Walmarts.  Everyone knows about boondocking.  Harvest Hosts offers a great addition to the traditional RVing lifestyle, a new and exciting category of places to park overnight.
If you're traveling around North America, you probably enjoy meeting the locals.  Locals offer a better feel for their community and region.  The companies who participate in Harvest Hosts are run by longtime residents who often have wonderful tips and suggestions of places that our members can visit.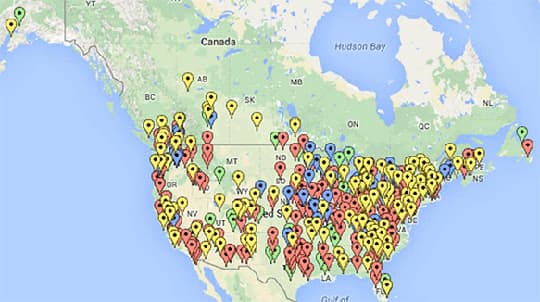 Above: A map showing the many Harvest Hosts locations
Kim: Through Harvest Hosts, you can also learn about the lifestyle of the hosts at the different wineries, breweries, and farms.  You can also wake up looking at a vineyard or an orchard rather than someone else's RV.
Currently, 54% of our hosts are wineries – with some breweries and distilleries, and 46% are farms or other attractions like ranches, museums and animal rescue facilities.  If you want to stay at a winery or farm, you have a large variety of places.  You can also find a lot to do at each location because our hosts are open to the public and have lots of visitors.  Some have tours or vineyard walk-throughs.  Some even let you help if it's the right time of year.
Don: We are continually adding more host locations.  We have farmer's markets, orchards, lavender farms, you-pick farms, alpaca farms, milk and dairy farms, sugar and maple farms, and even a gator ranch in Mississippi where they have airboat tours of the nearby bayou.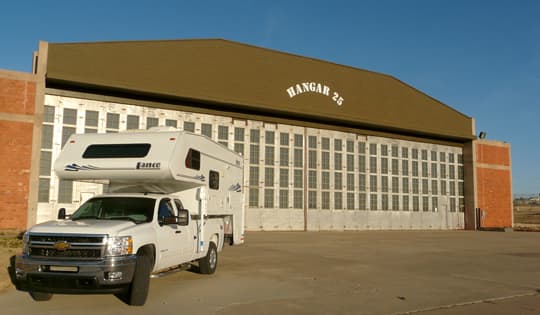 Above: An air museum in Texas serves as a Harvest Hosts location
TCM: It sounds great.  How do you become a member of Harvest Hosts?
Don: New members can join on our website, HarvestHosts.com.  You can sign-up on the website.
Kim: On the website, there is a sign-up form for basic information.  Prior to joining, we ask that everyone reads the Code of Conduct.  Good common sense is paramount.
Don: Members can print their membership card, or save it on their smartphone.  That means you can join Harvest Hosts now, and go to a Harvest Hosts location right away.
It's just Kim and I running Harvest Hosts.  We take pride in our company and want to provide good customer service to our members.  We correspond in a timely manner with our members and call back if they have any questions.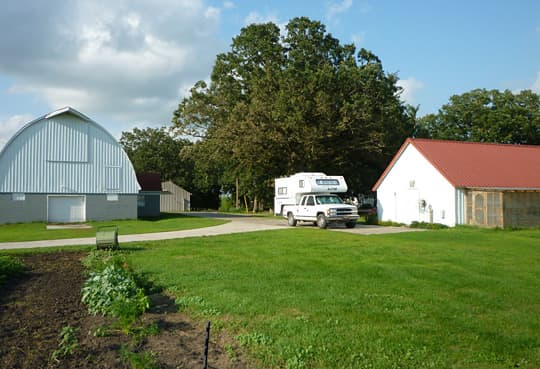 Above: Camping at a host farm in Wisconsin
TCM: Can you just show up at a Harvest Hosts location?
Kim: We strongly advise that our members don't just show up on a host's doorstep, unannounced.  We consider that impolite.  We request that you notify a participating host 24 hours in advance.  Some are okay with notice on the day of your visit, but we prefer that you call at least a day in advance.
Sometimes they may need to move a tractor from where the RVs park.  There are a couple of hosts that request 48 hours notice.  For example, there's a small winery in California run by a single woman who does everything herself.  Our Code of Conduct says that you will give our hosts 24 hours notice.
Don: When planning a route, instead of choosing a campground for a night, take a look at our directory and include a stop over at a participating Harvest Hosts location.  We encourage you to make a new friend and, once you do, you might be able to stay another night.
Since the hosts are not campgrounds there are usually no services at the Harvest Hosts locations.  Most truck campers have batteries and water, and are self-contained, so you're all set to stay with the hosts.
In our directory and on the maps, we have descriptions and notes on each host location.  You can find out if they're seasonal.  For example, some of the farms are closed in the winter, and a handful are only open on weekends.  They are mostly mom and pop operations.
Kim: We ask members to be respectful of the hosts property when visiting and to express their thanks for the overnight stop by making a purchase.  They are not being compensated in any other way for being a host.  Buy a bottle of wine, take a tour, or make a donation of some sort.
As a Harvest Hosts member, RVers can stay for free and support a small business.  They get a tangible product and a comfortable parking space.  We get the satisfaction of knowing that we've put together a good program that people are benefiting from.  So, it's a win-win-win.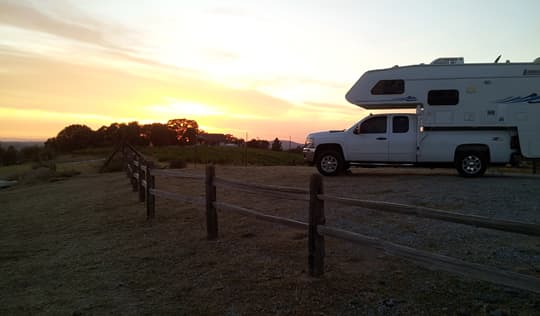 Above: Winery Camping in California
TCM: What have your personal experiences at the host locations been like?
Kim: We enjoy visiting the wineries, farms, and attractions that are part Harvest Hosts.  Our truck camper allows us to visit 100% of the locations and spend the night.  Being in new places and meeting the locals is one of the reasons we started Harvest Hosts.  It gets us off the beaten path and introduces us to parts of North America that we would never have found if we hadn't visited the host locations.
When we go to a winery, we like to spend time with a wine maker or owner.  We learn about their lifestyles and crafts, buy their wines or fresh produce, and stay overnight on their properties.  We've enjoyed meeting the owners and hearing about how they enjoy meeting our members.  It's been great.
Our very first host is so enthusiastic about our program that he installed outdoor showers for our members' use.  Our members tell us that they get treated like royalty while they're at the Harvest Host locations.  It's really a special experience.
TCM: Now that we know about Harvest Hosts, tell us about how you got into truck camping.
Kim: We both started tent camping as kids with Boy Scouts and Girl Scouts.  Camping in tents continued for each of us into adulthood.  Our first non-tent camping began with a trip across Mexico where we slept in the back of an Isuzu Trooper that had been outfitted with a sleeping platform.  That was not really an improvement on tent camping.
We ultimately decided that truck campers are more versatile and fit our lifestyle better than other RV types.  We enjoy going everywhere without worrying about size issues.  We also live in a rural area, so having a pickup truck is a necessity.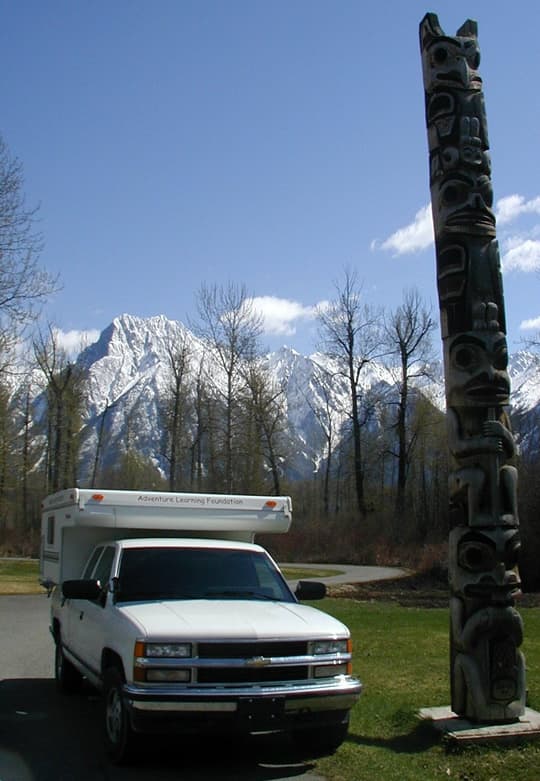 Above: Don and Kim's Palomino pop-up went on expeditions for Adventure Learning Foundation
We purchased our first truck camper, a Palomino pop-up, in 2000.  We chose the pop-up camper simply because it fit the weight limit for our Chevy half ton short bed pickup truck.  We weren't ready for the expense of an additional vehicle and wanted to utilize what we already owned.  We used the Palomino during the first couple of years as we went on expeditions for Adventure Learning Foundation (questconnect.org), a non-profit educational foundation.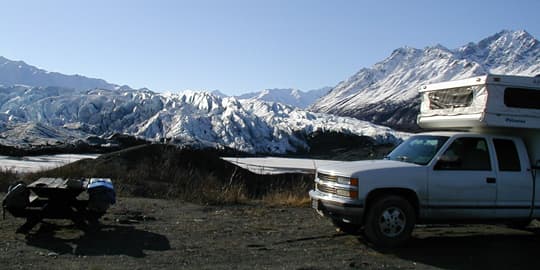 Above: The Palomino in Matanuska, Alaska
Then we got a camper made by Fleetwood called the Tracker.  It was the Bass Pro Shop brand.
The Tracker was small, but well laid out.  It had a lot of storage for a small camper.  It had a big storage tube running the length of the camper for fishing poles.  We are not fisherman, however it perfectly fit the rug we use in our rally booths.  Over time, we determined the Tracker was too small.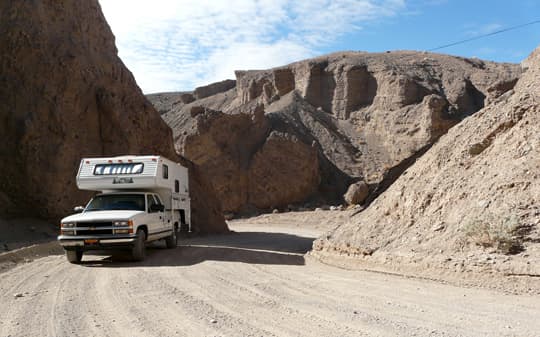 Above: Don and Kim's Fleetwood Tracker in Death Valley, California
Don: After the Tracker, we built a custom four-wheel drive expedition vehicle on a 2004 Mitsubishi Fuso chassis.  That vehicle carried us through forty-eight countries while traveling across North, Central, and South America, New Zealand, Australia, Western Europe, and northwest Africa.
After the expedition vehicle, we tried a trailer for a short time, but it didn't work well on small back roads.  Every time we would talk about a new camper, we knew a truck camper fit our lifestyle best.  That's when we chose a Lance Camper.  It offered the layout, interior space, and inside storage we needed.
Above: Kim and Don Greene at Perito Moreno Glacier in Los Glaciares National Park, Santa Cruz, Argentina
TCM: That's an amazing story.  Forty-eight countries – wow!
Kim: Travel is a passion for us.  We were in our early 30s when we met, and neither one of us chose to have children because we wanted to travel.  We didn't have other obligations other than the need to work to fund our travels.
Don: We plan to travel again to South America to visit new areas.  We also want to update our "how to" book on driving across Central and South America "Americas Overland, the Driving Handbook".
We also hope to travel across Canada, visiting the Northwest Territories and the Maritimes.  We love to travel back roads and we'll be looking for small businesses in Canada that we can add to the Harvest Hosts network.  We're also hoping to one day find a four-wheel drive camper owner in Southern Africa who wants to swap vehicles with us so we can explore Namibia and Botswana.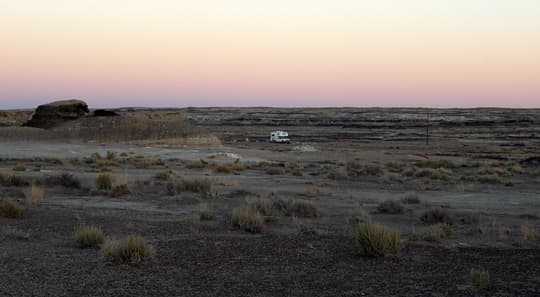 Above: Camping in New Mexico's Bisti Badlands
TCM: Is there anything else you would like to share about Harvest Hosts or your truck camping lifestyle?
Kim: We love to travel and enjoy having our home with us.  We like to go wherever we want to go.  If we want to make a last minute turn, we like to do that.  And we like having four-wheel drive.
85% of the Harvest Hosts locations can accommodate RVs forty-five feet or longer, but they can accommodate 100% of truck campers because a vehicle of twenty-nine feet or less gets into 100% of our locations.  Having a smaller vehicle really expands on the places we can go and opens up opportunities.
Don: We have a video produced by members at HarvestHosts.com that shows the lifestyle we are promoting.  They are so enthusiastic about Harvest Hosts that they helped us with the video.  I think your readers will enjoy it.
Rig Information
Truck: 2012 Chevy 3500 Z71, Extended Cab, Long Bed, Single Rear Wheel, 4×4, Gasoline
Camper: 2005 Lance 1030
Tie-Downs and Turnbuckles: Happijac