Tyson D'Acosta, Vice President of Capri Camper, sent us the following manufacturer's response to the 2022 Capri Cowboy Review.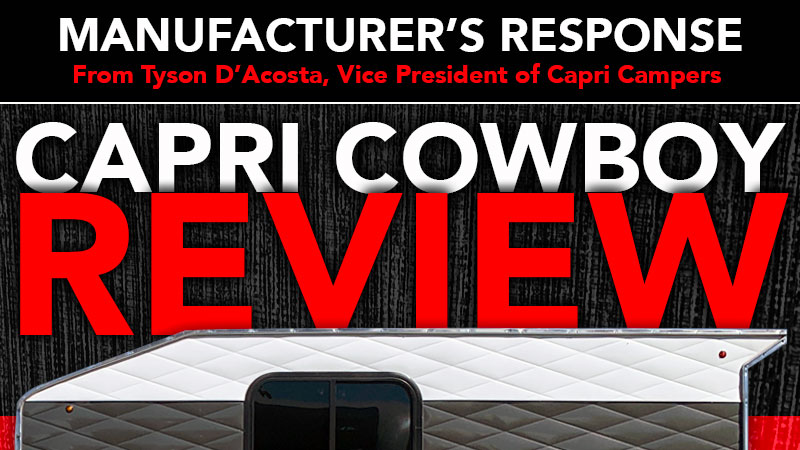 As stated in our Frequently Asked Questions, Truck Camper Magazine reviews are wholly independent and posted without notice or review by the industry until publication.
However, the manufacturers are invited to submit a manufacturer's response to be immediately published, without edit, on the following publishing date.
Tyson D'Acosta, Vice President of Capri Camper, sent us the following manufacturer's response to the 2022 Capri Cowboy Review. The sections referenced in the review are quoted to put Capri's responses in context.
Capri's Response:
I want to thank Truck Camper Magazine for taking the time to review our Cowboy camper. We feel the Cowboy camper is really a unique model that gives people an option for a low-profile hard side camper that is not available anywhere else in the market.
As you stated in your review, it is a small and simple camper, but extremely versatile. The camper only has an interior height of 5 feet, but still feels spacious inside and allows you to move around without feeling too cramped. Most people go camping to enjoy the outdoors and explore.
Our Cowboy model is a way to get out of the elements, cook, and sleep. A lot of people don't need a large camper with all the bells and whistles. Using a camper like the Cowboy allows people to have a very lightweight, hard-side camper that can go anywhere and still has the convenience of a big bed, a place to cook and relax.
We even have an outside shower available so you can rinse off outside with cold or hot water. The Capri Cowboy is definitely not for everybody, but we believe it offers a unique option with a lot of different uses.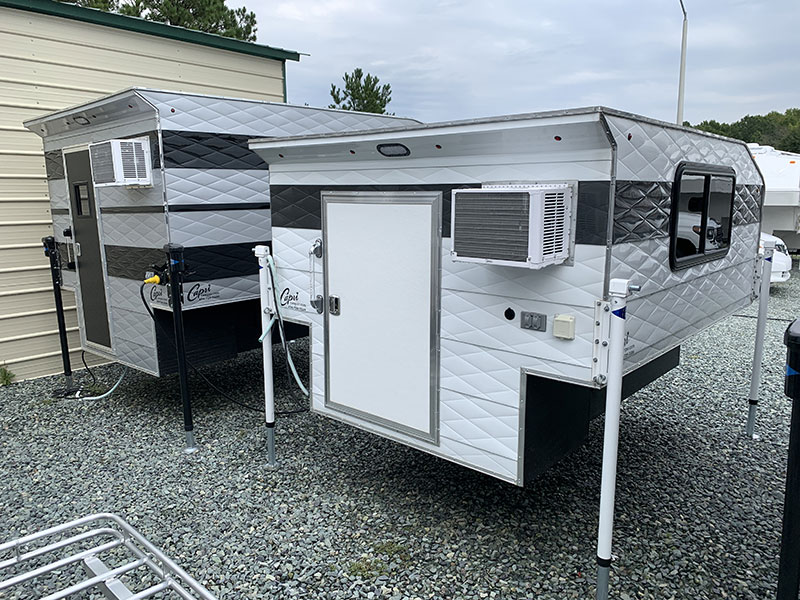 From the Review:
Owners should quickly adapt to the low door, but the lack of a door screen is unfortunate. Since this particular unit was manufactured, Capri has changed to a radius entry door and screen as standard on all of its campers. For folks who prefer to keep their rear door open for airflow, this is a fantastic upgrade.
Capri's Response:
All of our new Capri Cowboy campers come standard with an opaque back door window and screen door. We do have a back wall window option if someone wants to be able to have a clear window to see out the back.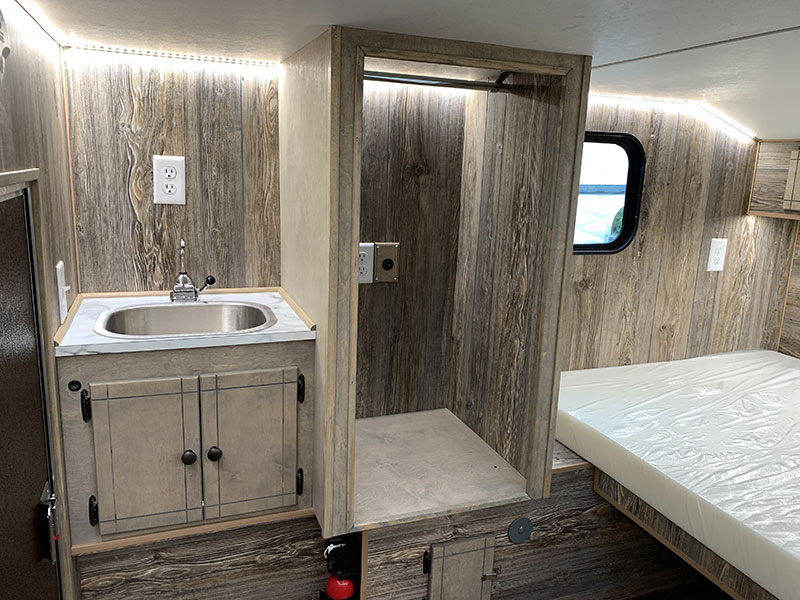 From the Review:
The driver's side features a sink, a hanging closet, and another window. In a fun bit of irony, the hanging closet is one of the biggest we've seen in any camper. If the closet were in my camper, I would probably turn part of it into shelving for better utilization. Then again, I don't travel with dress suits or rodeo gear.
Capri's Response:
The fun part about our campers is almost every unit we build is unique. The camper in your review did have a larger closet area than normal, but we are able to alter that so a customer could have more counter space or a refrigerator in that area. I have included pictures (shown below) from a few different camper layouts to give an idea of what all we can do.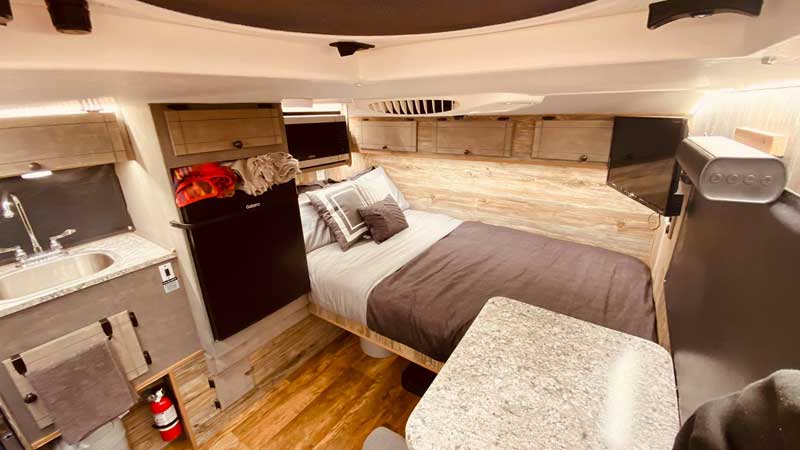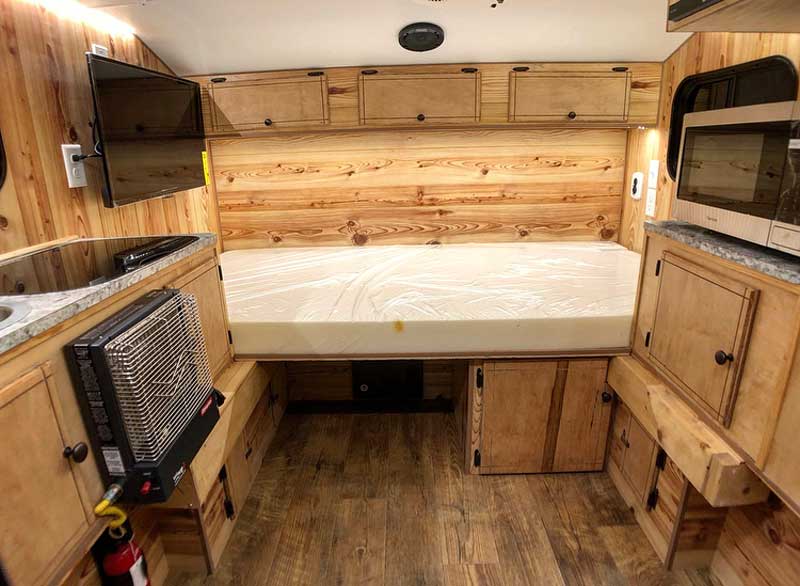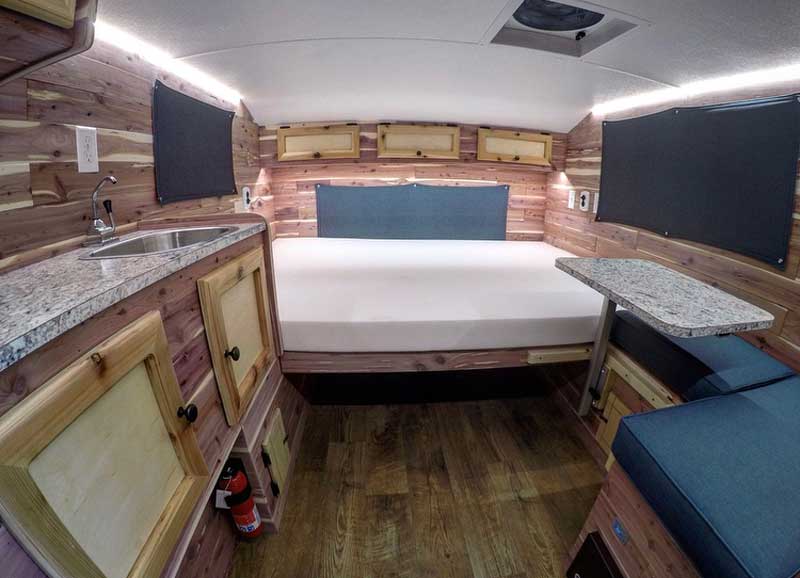 From the Review:
Mid-ship on the driver's side is that huge closet. Inside is a closet rod for hanging clothes, a 110-volt outlet, and a 12-volt outlet. I'm never one to forgo outlets in a camper, but the location seems a bit odd. Most likely, these outlets are normally positioned for kitchen or bedroom area use, but this unit was ordered with the closet. After a little digging, I believe the outlets and closet space were intended for an optional dealer-installed refrigerator.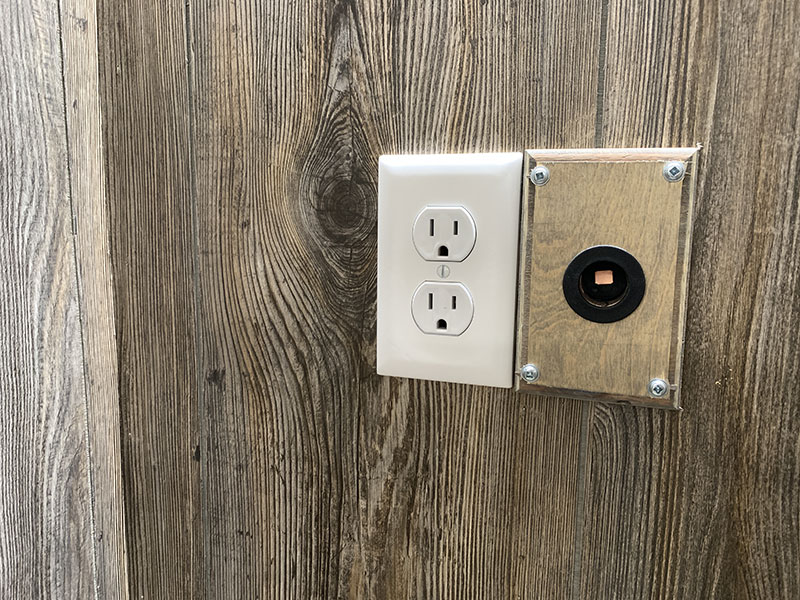 Capri's Response:
Every time we build a camper, we try to put outlets in the most accessible places and try to anticipate a customer's needs for what they might need. Especially in the Cowboy camper where space is limited, we want the inside to be as versatile as possible.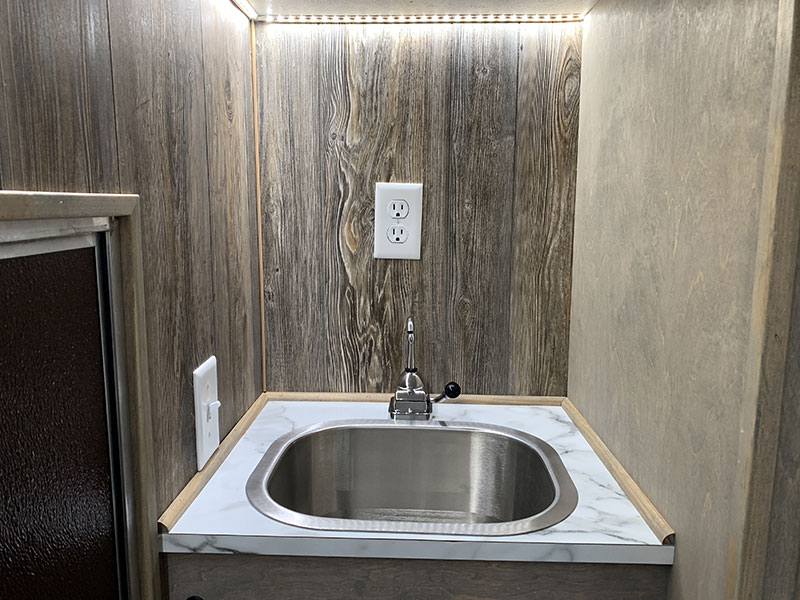 From the Review:
Above the sink is a 110-volt outlet that will be active when the camper is connected to shore power. With the addition of an inset cutting board, this space would be perfect for a coffee maker or a single-burner induction cooktop.
I would prefer this outlet to be on the rear wall so that a mirror could be placed in this location for shaving, checking cowlicks, and general grooming and maintenance. There's something about having a sink and mirror that seems universally appreciated and useful.
Capri's Response:
As you mentioned, the outlet behind the sink prevented a mirror from being put up. That is a great point and we agree. The good news is we can now put the outlet on the side wall to accommodate for that on any camper we build going forward.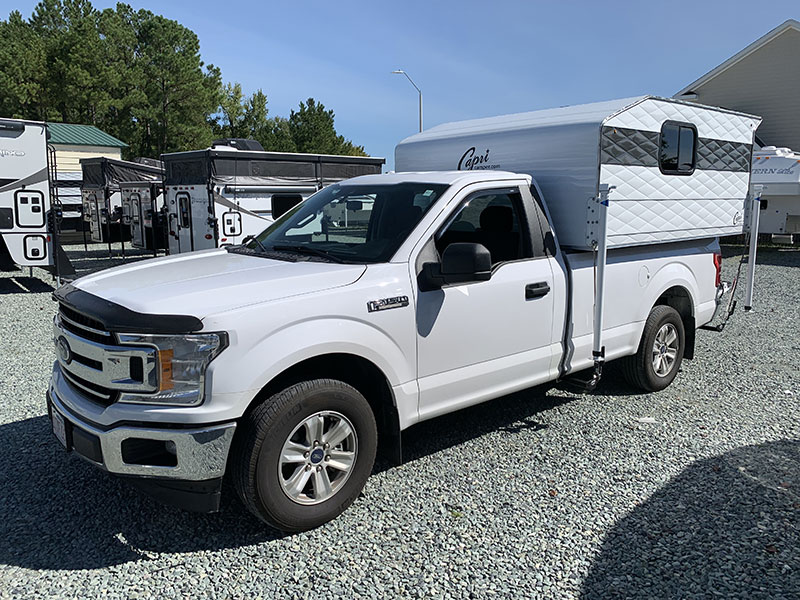 Capri's Response:
We loved reading your review, and you brought up a lot of good points. We are excited to offer a low-profile, affordable, lightweight option for people looking to get out and explore without needing all of the extras that come in most campers.
We will be taking all of your feedback and learning where we can improve our Cowboy camper. Even the small things, like outlet placement, make a big difference. We appreciate you taking the time to write this review!
For more information on Capri Campers, visit the Capri Camper Buyers Guide and their website at capricamper.com.  Click here to order a free Capri brochure.