Angela has a truck camping journal where she documents where we go, where we stay, and what happens along the way.  As a former school teacher, she also grades each day, and documents details about the boondocking spots and campsites we visit.
If a particular campground gets high marks, she'll walk the entire park to find the best sites, and write them down for next time.  We happen to be camped in one of these sites right now.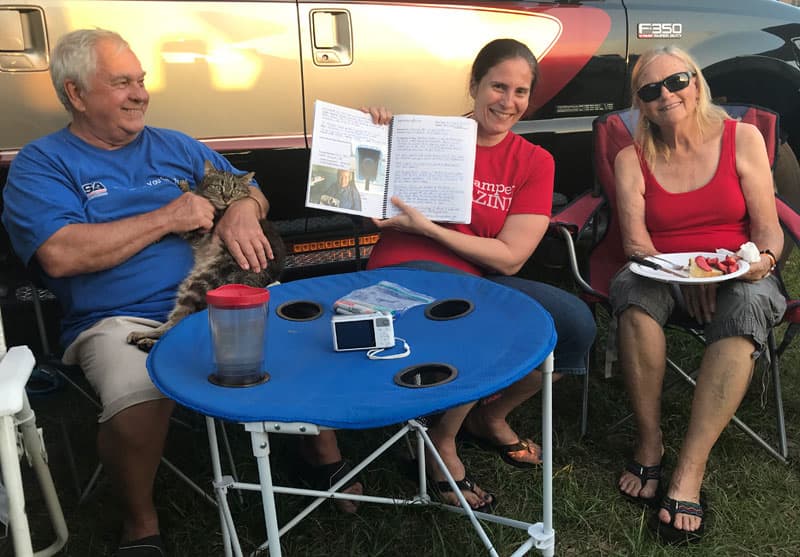 Above: Angela sharing her truck camping journal with Gus Postreich (holding Harley) and Sonya Shrimplin at the 2018 Florida Flywheelers gathering.
Just for fun, she also gets fellow truck campers and friends to sign the front or back of her journal, along with the date and location where it was signed.  If you truck camp with us in Austin, Texas, you'll put Austin, Texas next to your name, and the date.  This way we know who we met, where we met them, and when.  It's really neat to see all the names, dates, and locations – and read the comments.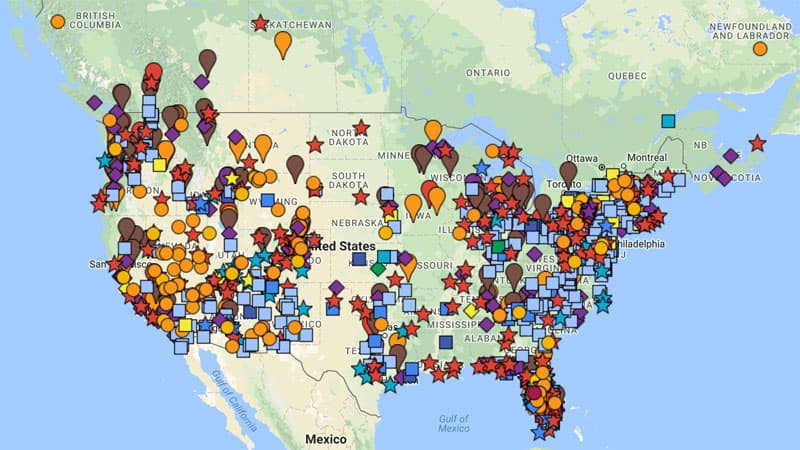 Above: Angela's Google Map has hundreds of pinned truck camping locations.
Another way we record our travels is on a Google Map.  Google allows you to create your own map, place pins anywhere you please, and write notes for each pinned location.
Angela has created a Google Map for us that includes the homes of friends and family, favorite campgrounds, boondock spots, event locations, industry headquarters, and more.
Where Angela's journal is in written form, the Google Map is visual allowing us to plan future adventures.  If you would like to try your own Google Map, Angela wrote a great article on the topic, "Essential Google Maps for Truck Camping".
I enjoy recording our truck camping travels with photography.  Some of my photos make it into Angela's journal, but most just remain on my computer.  Someday I want to make a photographic album of my travel photographs for my own amusement, and share it with friends.
This week's Question of the Week is, "How do you record your truck camping travels?"
Do you keep a journal, take pictures, or have an online blog?  Do you maintain a Google Map of your adventures?  Maybe you have a handwritten daily diary, or publish and mail a newsletter for friends and family back home.  Whatever your method, we want to know how you record your truck camping adventures.
This QOTW is now closed.  Check out the responses at, "Truck Camping Blogs, Journals, and Diaries".  Readers also share YouTube videos and apps they use to record their travels.