Some of the best days of our lives happen when we're off traveling in our truck campers.  Here's how fellow truck campers record their wonderful adventures; online, off line, and beyond.
This week's Question of the Week was, "How do you record your truck camping adventures?"
"I keep a handwritten log of campground names and sites.  I also record the numbers of the best campsites.  In addition, I try to log the travel times as well as recording the price of gas.  I thought it would be interesting to look back and see how the prices have changed.
I am also a local Google guide, so I post pictures on Google maps of campsites, sunrises and sunsets at the various campgrounds." – Pauline Richardson, 2016 Ram 3500, 2017 Adventurer 86FB
"Our travels have always been recorded with cameras.  Digital photography has made photography much cheaper and more convenient.  I even take photos of the signs that announce our locations; it's more accurate than a memory a few years later." – Philip Tron, 2009 Chevy 3500, 2012 Lance 1050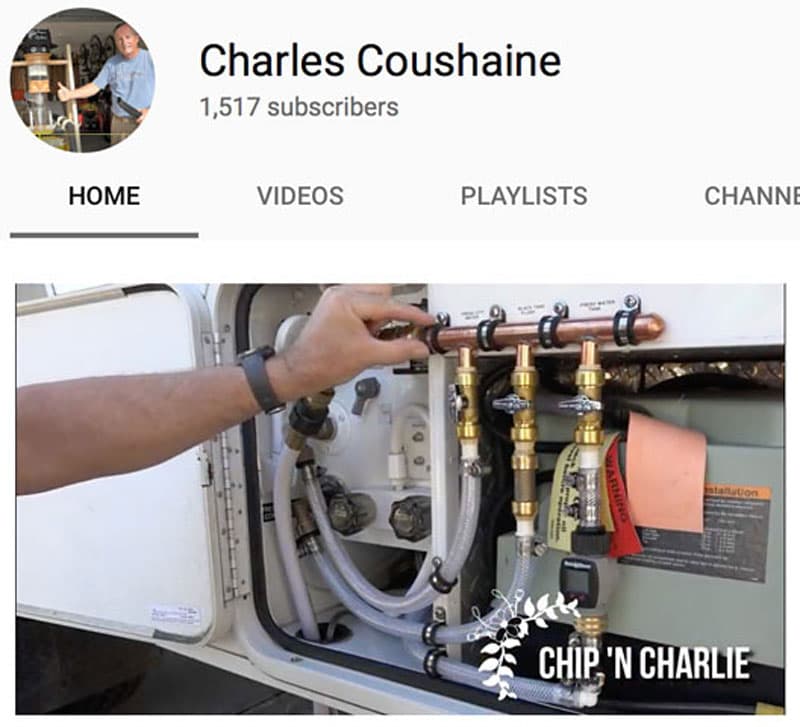 "We have traveled all over the United States, including Alaska.  We have taken our family and friends along with us on our travels using our YouTube channel.
Being an avid photographer and videographer, I make a video of each place we stop.  I have great videos of all 49 states (except Hawaii)!  To see these videos, check out my YouTube channel. " – Charlie Coushaine, 2001 Ford F350, 2012 Chalet DS116RB
"I have kept a spreadsheet for all the campgrounds, boondocking spots, and driveways we have stayed at since the first day we started our adventure.  It contains information covering whether each place has electric, sewer, water, the nearest city, price, date we were there, boondocking grid coordinates, etc.
I even have locations (in a different color) that we didn't stay at but drove through and liked.  That way they can be returned to at a later date. I thought my list was fairly complete until I saw Angela's.  Wow, nice job." – Glenn Blount, 2012 Ford F350, 2017 Lance 1172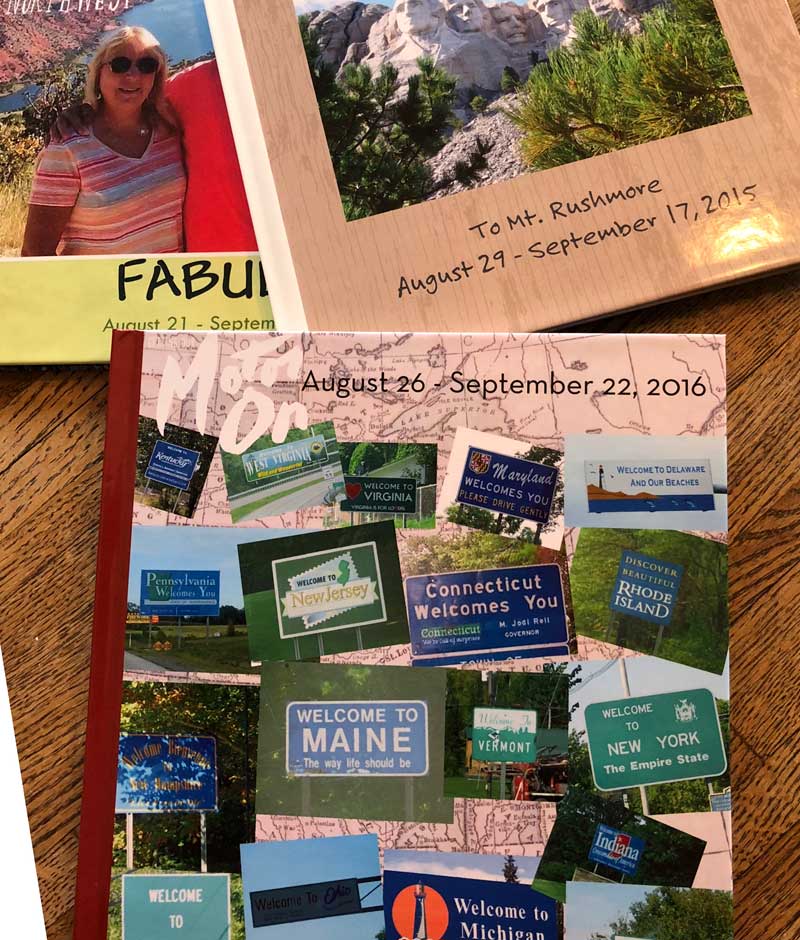 "I take 'Welcome To' state signs for each state to start the section.  Then I might take photos of our campsite, a funny tree, or unique things to remind me of that particular place.  When I get back home, I develop a bound book through Snapfish or Shutterfly with the highlights.
I usually take over 1,000 photos, so it can be an expensive book to print.  You can add any information and notes you want.  Watch for coupons and deals on the Snapfish and Shutterfly websites!
The book is great for memories and I leave it sitting out on my coffee or end tables for visitors to peruse.  I also tell my granddaughter the books are for her to show me and remind me of the fun we had before I forgot everything!" – Jody Smith, 2014 Chevy 3500, 2013 Lance 1172
"While traveling, I keep a daily Facebook journal. I take many pictures and, in the evening, sort out the pictures and write a post with a brief description for each picture. Through Facebook, our friends and family can see what we're doing, and I have a journal to look back on whenever I want.  I'll be interested to see what others are doing." – Ken Pastorius, 2015 GMC Denali 3500, 2012 Arctic Fox 1150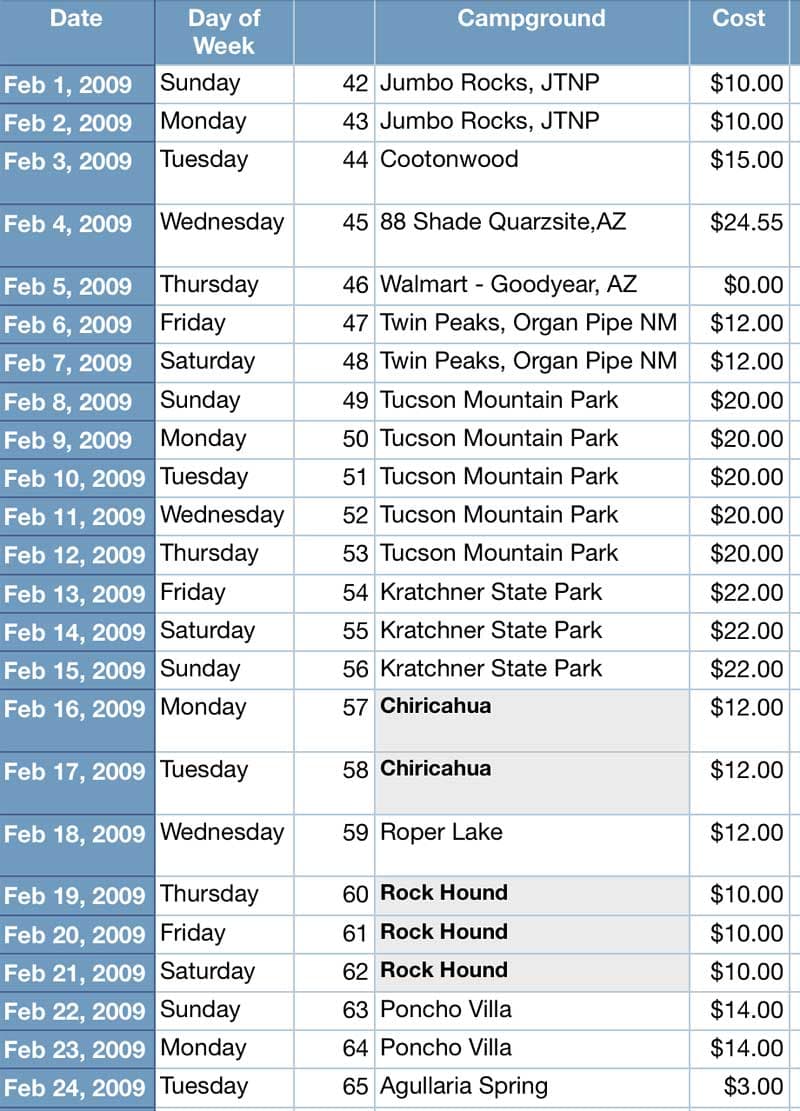 "We carry a spiral notebook.  Every time we pull out of our campsite we record the date, mileage and where we are.  It's very low tech.
On most trips I keep a spreadsheet of where we stayed and what it cost.  I like to see if the average price per night is reasonable and if the Walmarts balance out the splurges.  We also like to use a highlighter to mark the routes we've taken in the road atlas.
I think we're going to be creating a Google Map or two – thanks, Angela!  We take many pictures and use iPhoto (not the new Photos) because it stores the photos by date.  We can compare this to the log or spreadsheet and know where we took them." – Sue Graf, 2008 Ford F350, 2013 Arctic Fox 865
"My wife keeps a log book on park and campground site numbers, restroom and shower conditions, and any hints on what to do for the next trip.  It's very helpful when you visit many different places." – Sam Tardo, 2002 Ford F250, Shadow Cruiser 1100