Some of the best days of our lives happen when we're off traveling in our truck campers.  Here's how fellow truck campers record their wonderful adventures; online, off line, and beyond.
This week's Question of the Week was, "How do you record your truck camping adventures?"
"I keep a handwritten log of campground names and sites.  I also record the numbers of the best campsites.  In addition, I try to log the travel times as well as recording the price of gas.  I thought it would be interesting to look back and see how the prices have changed.
I am also a local Google guide, so I post pictures on Google maps of campsites, sunrises and sunsets at the various campgrounds." – Pauline Richardson, 2016 Ram 3500, 2017 Adventurer 86FB
"Our travels have always been recorded with cameras.  Digital photography has made photography much cheaper and more convenient.  I even take photos of the signs that announce our locations; it's more accurate than a memory a few years later." – Philip Tron, 2009 Chevy 3500, 2012 Lance 1050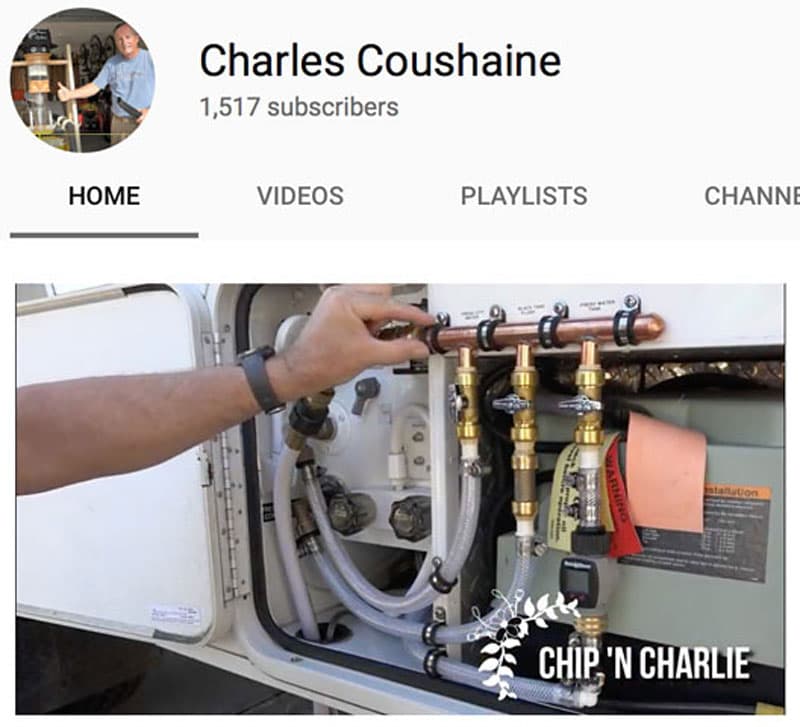 "We have traveled all over the United States, including Alaska.  We have taken our family and friends along with us on our travels using our YouTube channel.
Being an avid photographer and videographer, I make a video of each place we stop.  I have great videos of all 49 states (except Hawaii)!  To see these videos, check out my YouTube channel. " – Charlie Coushaine, 2001 Ford F350, 2012 Chalet DS116RB
"I have kept a spreadsheet for all the campgrounds, boondocking spots, and driveways we have stayed at since the first day we started our adventure.  It contains information covering whether each place has electric, sewer, water, the nearest city, price, date we were there, boondocking grid coordinates, etc.
I even have locations (in a different color) that we didn't stay at but drove through and liked.  That way they can be returned to at a later date. I thought my list was fairly complete until I saw Angela's.  Wow, nice job." – Glenn Blount, 2012 Ford F350, 2017 Lance 1172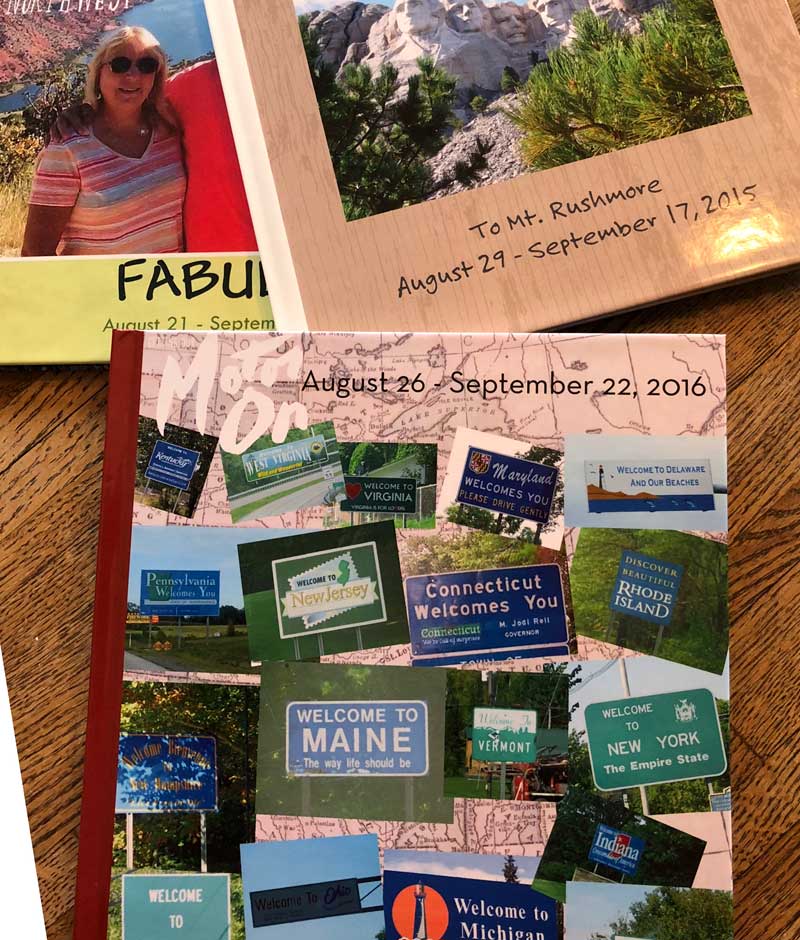 "I take 'Welcome To' state signs for each state to start the section.  Then I might take photos of our campsite, a funny tree, or unique things to remind me of that particular place.  When I get back home, I develop a bound book through Snapfish or Shutterfly with the highlights.
I usually take over 1,000 photos, so it can be an expensive book to print.  You can add any information and notes you want.  Watch for coupons and deals on the Snapfish and Shutterfly websites!
The book is great for memories and I leave it sitting out on my coffee or end tables for visitors to peruse.  I also tell my granddaughter the books are for her to show me and remind me of the fun we had before I forgot everything!" – Jody Smith, 2014 Chevy 3500, 2013 Lance 1172
"While traveling, I keep a daily Facebook journal. I take many pictures and, in the evening, sort out the pictures and write a post with a brief description for each picture. Through Facebook, our friends and family can see what we're doing, and I have a journal to look back on whenever I want.  I'll be interested to see what others are doing." – Ken Pastorius, 2015 GMC Denali 3500, 2012 Arctic Fox 1150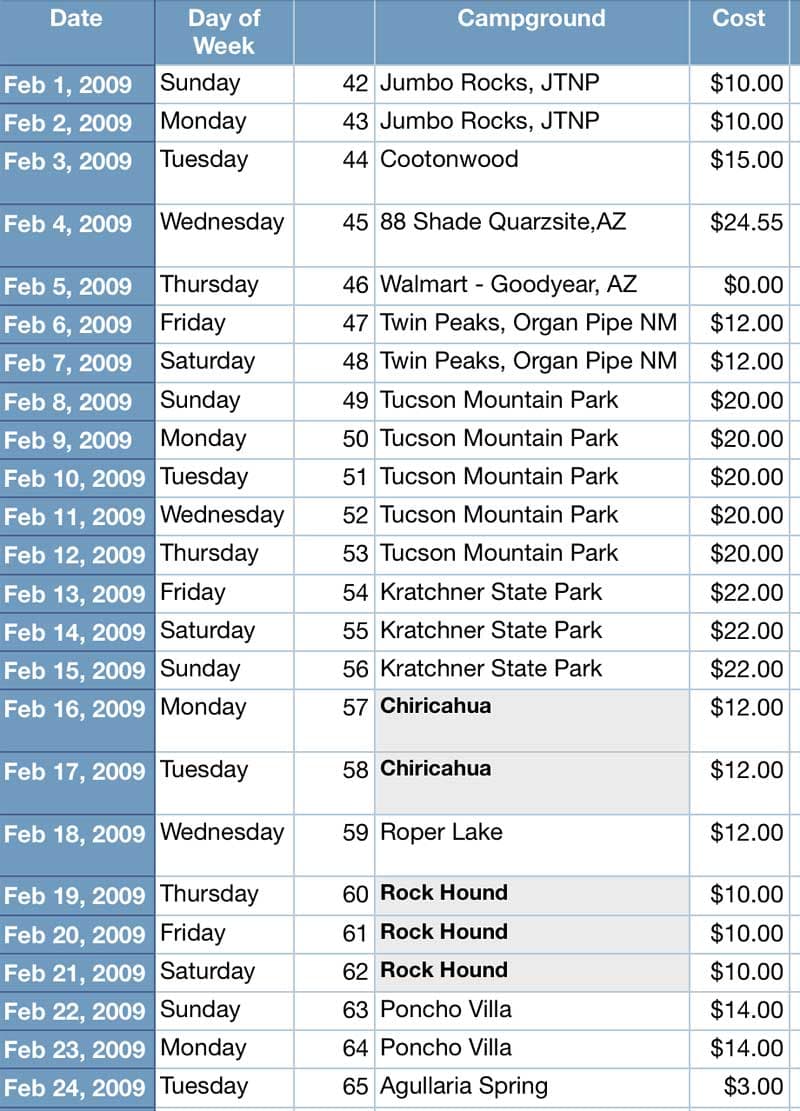 "We carry a spiral notebook.  Every time we pull out of our campsite we record the date, mileage and where we are.  It's very low tech.
On most trips I keep a spreadsheet of where we stayed and what it cost.  I like to see if the average price per night is reasonable and if the Walmarts balance out the splurges.  We also like to use a highlighter to mark the routes we've taken in the road atlas.
I think we're going to be creating a Google Map or two – thanks, Angela!  We take many pictures and use iPhoto (not the new Photos) because it stores the photos by date.  We can compare this to the log or spreadsheet and know where we took them." – Sue Graf, 2008 Ford F350, 2013 Arctic Fox 865
"My wife keeps a log book on park and campground site numbers, restroom and shower conditions, and any hints on what to do for the next trip.  It's very helpful when you visit many different places." – Sam Tardo, 2002 Ford F250, Shadow Cruiser 1100
"I write in a journal to record each day of our camping travels.  I note what time we left, the time we arrived to our destination for the evening, what the weather was like, food we ate, gas stops, attractions we saw on the way, and how we liked the campground.  For places we plan to return to, I also note other campground sites that look good.
In our truck, we have a smaller notebook where we note mileage for each day, price of gasoline, miles per gallon, and the weather.  Some of these notes make it into the larger journal.
At the end of a trip, I tally up all costs.  We also put together a photo album at the end of a big trip.  It is fun to look back at the photos and the journal, especially during the times we are not traveling.  Someday when we are gone our relatives may enjoy reading our journal." – Susan Visconti, 2015 GMC 3500HD, 2016 Arctic Fox 990
"Since we started truck camping in 2001, we have kept a log.  Every day we use the camper, one of us will record thoughts, activities, likes/dislikes about campsite, or what we did for the day.  We take turns filling in the log every other day.
While filling in the log we will leave spaces for pictures.  When we return home we will look over trip's pictures.  We each pick out our favorites and attach them to the spaces we left in the log.
We keep the log(s) in the camper.  It's great fun on a rainy day to look back." – Lou Buesseler, 2000 Ford F250, 2016 Northstar TC850SC
"Years ago I wrote detailed descriptions on my computer.  Later, I began a blog, just for when we were traveling.  Our very first tour was our last entry." – Pat Jones, 2007 GMC Sierra, 2017 Host Mammoth
"I have kept a daily journal for many years, so I naturally continue it while I'm on a truck camper trip.  I am relatively new to having a smart phone, so I will look more closely at the way Angela marks Google Map locations from your own trips, but also on suggestions from others.  I'm not sure I will be able to master that.
After we return home, my wife has the pictures put into an album for that specific trip, using the journal to put them in correct order as much as possible." – Allen Brummel, 2013 Ram 2500, 2016 Northstar 650SC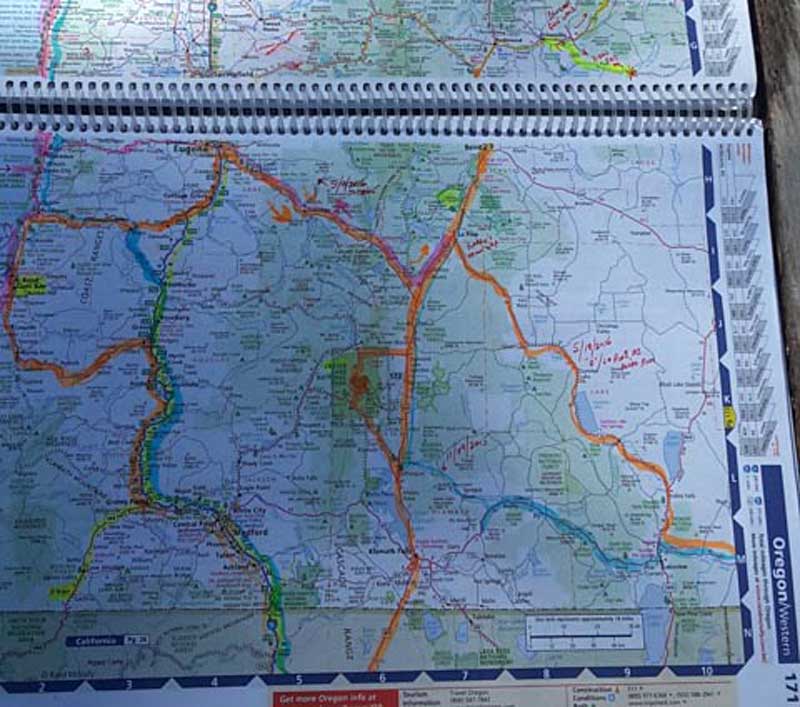 "I use a Map/Atlas in color marker pens with dates and routes traveled so I don't do the same route all the time.  Typically, looking for back roads.
I ended up with the uMap system for free.  It was a little labor intensive at first but, once I got the routine down, it's really quite simple.  It's a pin map that's customizable, with pop-up pictures, a GPS, and links.  I use the Google Albums to post the rest of my pictures.  Pins are changeable along with colors and layers.
On the pop-up, I put four pictures to remind me of the locations, comments, GPS, and then a link to a website or resource.  I can link to more photos in the Google gallery.  You can also do routing, and trips by months and years in layers – depending upon what you're trying to do.  I used a tutorial that helped a lot.
Fun, eh?" – Frank Poole, 2016 Ram 5500, 2016 Arctic Fox 990
"I keep a journal similar to Angela's where I record just the basics of each day; where we went, where we stayed, the cost, and anything particularly noteworthy about the day. I also write a blog where I write much more in depth about our adventures and I include lots of pictures.
If anyone is interested, you can check out my blog.  We traveled full-time for two years visiting every state, province and territory in The West from Alaska to the Mexican border, every Gulf Coast state, and the plains states from South Dakota to Oklahoma and Arkansas too.
I often refer to both the journal and the blog to refresh my memory about our travels.  We finally settled in Tucson, but still enjoy traveling in the summer months." – Joanne Hall, 2014 Chevy Silverado 3500HD, 2014 Lance 1172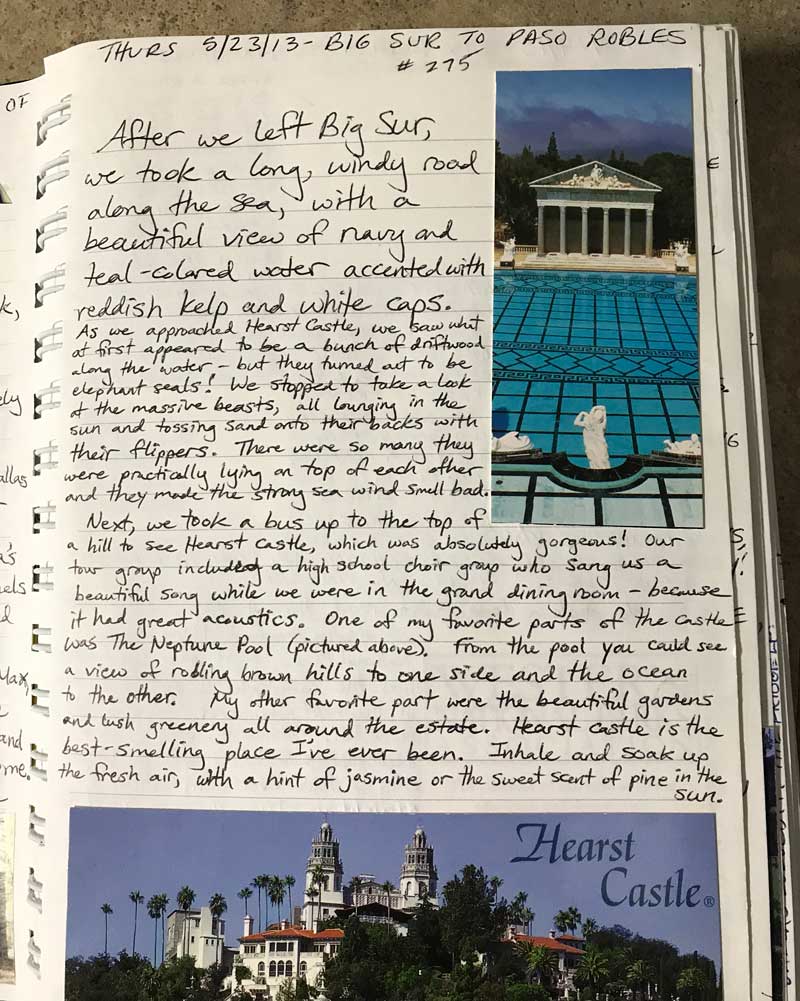 "We started a journal from Day 1 and have recorded each day's travel; where we stay, what we've done, who we met, and the number of nights we have spent in the truck camper (originally to motivate us to get our money's worth).
We get lots of brochures and I cut out the pertinent photos and maps, use double-sided tape, and put them in.  We often look back to see where we stayed or what year we were last in a place.  The years tend to blur after awhile and we often guess wrong!" – Sharon Day, 2007 Dodge Ram 3500, 2007 Arctic Fox 811
"We have kept a journal with the places we traveled to, and the route we took to get there, where we stayed, what we saw, etc.  We also document what camping spots or sites we consider to be ones we would like to visit again.  Of course we also note if we would never want to visit or camp there again!
One day I will attempt to combine the binders we started many years ago when we bought our first RV (a used Holiday Rambler 20-foot travel trailer).  We've had many RVs, six to be exact, in more years than I want to admit to.  We have quite a lot of information recorded.  It makes interesting reading at those times that we are not filling pages in our current journal." – William (Bill) Mayer, 2005 Ford F350, 2007 Arctic Fox 990
"We tend to accumulate the mirror hang tag or dashboard display site parking passes as a record or history of our visits." – Ken Knopp, 2010 Ford F350, 2016 Lance 1172
"Recording our travels is accomplished by writing the stories and adding the photos to a website.  You can read more on our website.  We started writing to share the stories with my mother.  Now we find that they are helpful to other travelers and followed by many friends and family!
We also create maps by dropping pins on a mapping program called Pocket Earth.  Each pin drop includes a date, brief description and important information about our time at that location.  This can be accumulated into a tracking map that we post on our website occasionally." – Geneva Saint-Amour, 2013 GMC 2500HD, Northstar Arrow 8.5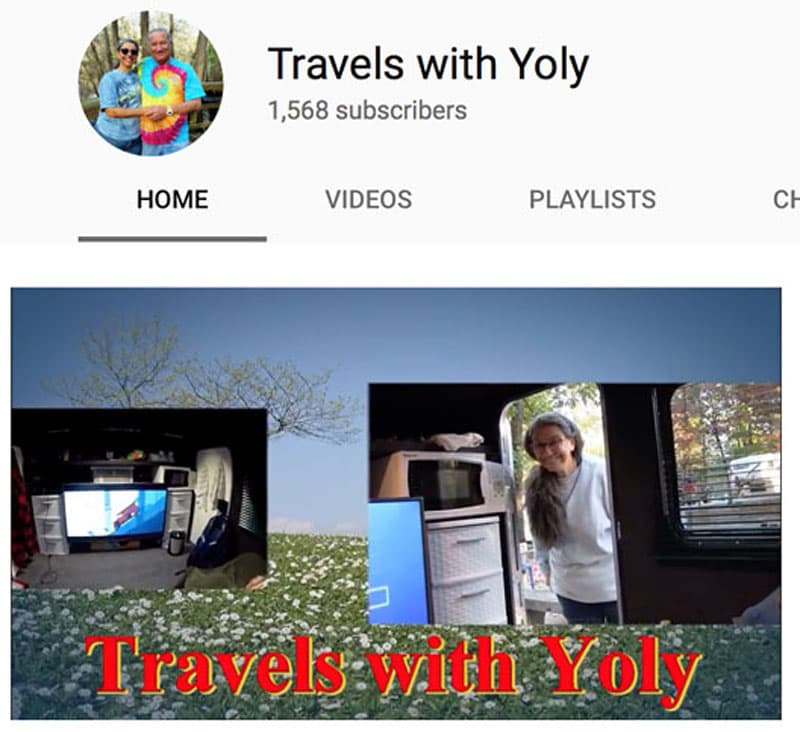 "We've been retired now for 11.5 years and have traveled over 10,000 miles a year for eight of those years.  Much of our travels have been in a variety of rigs, but we finally discovered truck campers in 2016.  The first two were short lived and the third served us well for over 10,000 miles.  We'll be taking delivery of our fourth truck camper at the beginning of April.
I started our YouTube channel ten years ago and have documented most of our journeys in video.  It's not a Vlogging channel, but I do try to make a video of each day's journey and activity.  I don't edit most of them until we return home.  The Canada Bound 2017 playlist covers 44 days of travel in our former Adventurer 80RB.  Check out our YouTube channel." – Neil Mullen
"Having moved from Belgium, Europe to Texas in 2003 for work, I kept an online blog so that my family and friends in Belgium could stay updated.  Each week was described to some extent with pictures.  This became a little much and boring to read I'm sure.  Now I only post a new blog entry when something worthwhile occurred.  This is usually a trip with our truck camper.
It's fun to look back at all the trips we have taken since we moved to the United States.  We have gone on many weekend trips, a five month trip into Mexico and Central America, multiple trips to Alaska and Canada, and our many trips in the western states. Check out our blog." – Jorn Vangoidtsenhoven, 2005 Dodge Ram 3500, 2014 Camplite 8.6
"We mostly take pictures, and leave only footprints and tire tracks.  We record the better restaurants we patronize for repeat visits when possible.  It's the same with hiking and MTB (mountain bike) trails." – Mario P., 2006 Tacoma, 2017 homemade truck camper
"I record our truck camping travels the old fashioned and non electronic way; on a calendar with a ballpoint pen!  Each day I record the location, any interesting sites/sights, activities, people, etc.  I keep each calendar and refer frequently to them when planning new travels and adventures." – Carl Goode, 2016 Dodge Ram 3500HD, 2008 Okanagan 116DBL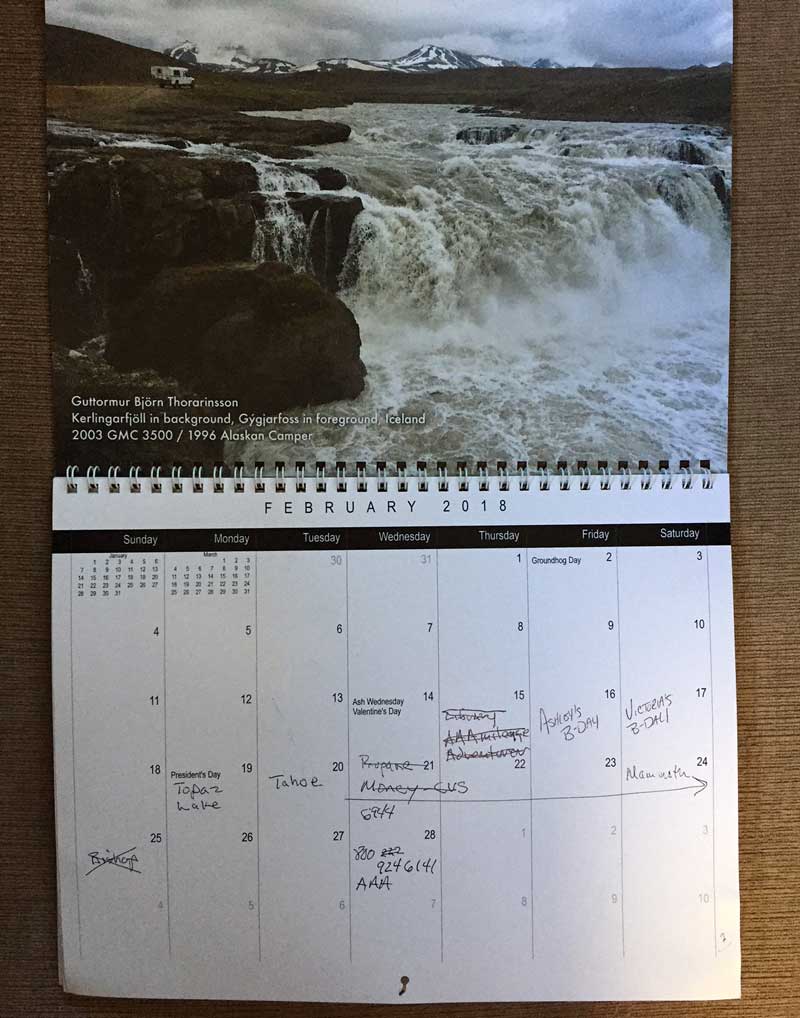 "We have a Truck Camper Magazine calendar in our camper and write where we stayed on the days." – Marc Wilde, 2017 Ford F250, 2017 Adventurer 89RBS
"We keep a yearly log using Microsoft Word which includes the trip number, destination, daily event, campground and campsite number.  We take a picture of the campground sign, office, and the campsite with campsite number visible.
For each trip, we record our path using Microsoft Streets and Trips (which has been discontinued) with stops at overnight stays." – Finck Jim
"I take a lot of pictures of everywhere we go, whether it's a camping trip or not.  For all of our trips I do a daily journal on our laptop.  I missed journaling a couple of big trips in the past couple years, and I am really regretting it.
My wife, Ellen, is a scrapbooker supreme.  She has all our trips in separate scrapbooks  and enters the daily journals into them.  I enjoy going back into those scrapbooks and reading the journals and looking at the pictures.  It brings back a lot of precious memories.
We are always amazed at the number of camping trips we have taken.  This year's trips will be journalized on a daily basis." – Rick Jones, 2005 Chevrolet 2500HD, 2013 Wolf Creek 850
"Only with pictures.  At one time I kept a small notebook with better details, but now I'm usually too busy to track things.  I like the idea of using an album.  My wife uses pictures to have a book made for special trips.
As we age we find that we don't really need a lot of memorabilia to clutter up our place.  We have way too much as it is." – Harry Palmer, 2008 Dodge Ram 2500, 2008 Lance 915
"Since I'm a 'keep it simple' type of guy, and don't go online while on camping trips, an online record just is not going to happen.
What I do manage to do is keep a little 5.5-inch by 4-inch notebook that has a tiny bit of information for each day.  I write down where my day starts.  I keep track of when I get gas, where it was, how much it was, and the temperature at the time.
When I get a propane fill or exchange, I keep track of if it was empty or exchanged with some propane still in it.  I'll write down small tidbits that are interesting to recall like, "I caught two rainbows, and had one for dinner" or, "a bull elk crossed the clearing below camp".
I take a lot of pictures and often take one of the camper at each location it is parked at.  My camera puts a date on each picture.  It's not on the picture, but does show on my computer when I download them.  Then, I can find the location in my notebook." – Terry Gfeller, 2015 Ram 2500, 2013 Lance 865
"We take hundreds of photos and I use them in composing an extensive 'Travel Log' that I email out every few days during our travels.  We both have family members and friends that are unable to travel for various reasons.  They get to travel vicariously through us.  We have recently added a high quality video drone to our travel log arsenal.  Now 2018 will have even more interesting content." – Wes Hargreaves, 2016 F450, 2006 Snowbird 108DS
"My wife has kept a journal of our adventures since 2001." – Roy Oostdyk, 2007 Chevy Silverado, 2004 Lance 920
"I have used a spiral note pad since we have been snowbirds (six years now).  We are still on the first spiral.  I try to make notes for each day, but sometimes I forget.  We have gone back several times to the notes (a year or two before) to solve an argument or two, so its been helpful a number of times.  I wish I could do what you guys do, but at this age I guess that won't happen." – Frank and Lynn Niehus, 2007 Ford F350, 2007 Arctic Fox 1150
"On a blog, I take lots of pictures.  I occasionally write a diary until I am back home and get the website updated." – Ed Keith, 2006 Toyota Tacoma, 1990's Four Wheel Camper Ranger converted to Eagle
"I am starting my retirement today and using a journal to record the journeys." – Carl Ragland, 2002 Chevrolet 2500, 2005 Alaskan 10-foot cabover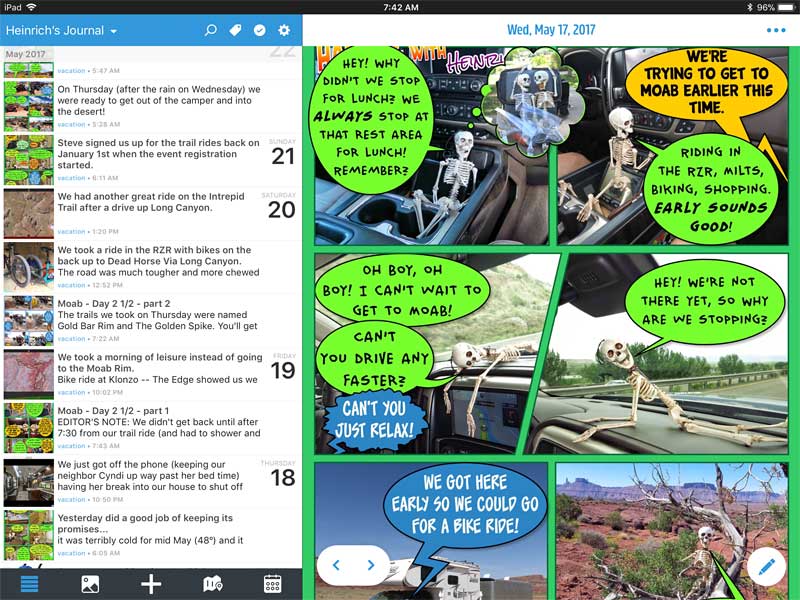 "We use an app called Day One (iOS) which allows for text and pictures to be added each day.  I have used it for over four years and it is great to have our whole lives at our fingertips on all devices.  You can also email your entries straight from the app so it is easy to share your adventures.
I produce a daily cartoon of our lives. Our Day One journal is filled with episodes detailing what we are up to and where we are.  It is all through the eyes of our skeleton, Heinrich, along with cartoon avatars of my husband and myself.  We love going back and seeing what we were up to on any given day (with just the push of a button you can find it).
I highly recommend the app for the creativity it allows.  You could even combine it with a scrapbooking app for an easy to store and read journal collection." – Tracy Schuster, 2015 GMC 3500, 2012 Lance 992
"Nothing too unique.  My wife uses a red and black notebook to record every day's happenings, campsites, etc.  Both of us take pictures.  I will usually do some daily editing on my Mac, but all the pictures are stored on my drive.  One day I'm going to make coffee table books for each of our journeys via Shutterfly." – Woody Flickinger, 2003 Ram 3500, 2012 Arctic Fox 1140
"We daily keep a diary and take tons of photos.  Using The Milepost allowed us to directly document daily locations.  We correspond the photos which we transfer to a complete travel adventure app." – Shellie Barnes, 2017 Ford F250, 2017 Palomino SS-550
"I have a travel log.  I have taken a picture of our camper in every location it has been parked in.  I log every trip in our book and post at least one picture.  It is a lot of fun to read about the trips and places we have seen.  I encourage all travelers to do this." – Rochelle Berg, 2013 GMC 3500, 2013 Arctic Fox 992
"We have a travel blog.  I keep a large list of camper blogs bookmarked in a folder on my laptop.  Several do a great job with their blogs." – Bill Harr, 2005 Toyota Tundra, 2013 Four Wheel Camper Hawk custom built shell
"Madeline and I each keep a daily journal.  Mine consists of a few lines scribbled in a diary, while hers is a much more detailed account.  I take a lot of pictures, but I am running a couple of trips behind in documenting and organizing them.  I think our great grandchildren will get a kick out of reading stories and seeing pictures of old truck campers at the turn of the century!" – Jamie Rea, 2012 Ford F350, 2012 Lance 855S
"We plan our road trips by mapping out where we think we're going.  We look at the mileage between cities to figure out the daily drive distance that we're comfortable with.  It's usually around 150 to 250 miles.
I like to take pictures of where we go with the thought that I will remember where we were. Heck, that never happens.   By the time I load 'em into the computer I'm at a loss sometimes to remember "where was this taken?" Thankfully, the photos uploaded go in by the date taken.
Luckily, I have Elaine who keeps a very accurate daily journal.  Every night she takes the time to record our daily activities while on the road.  As she's writing, she'll ask me "what campground is this?" or "what restaurant did we have lunch at?".  So I rely on her journal to help update my photos." – Roger and Elaine Odahl, 2008 Dodge Ram 3500, Eagle Cap 950