Jesse Collinsworth, CEO of Rugged Mountain RV, is the fifth industry leader to complete our Triple-Dog truck camping dare.  Here's his in-depth dare report, photography and perspectives on a Rugged Mountain Granite 11RL.  Well done, Jesse!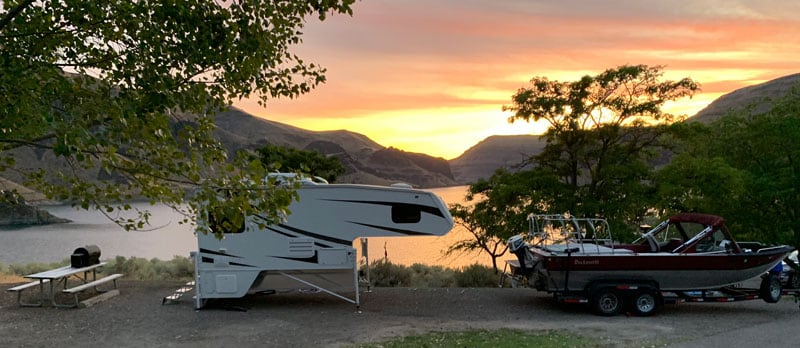 From August 23-25, 2019, Jesse and Anca Collinsworth went out camping to Owyhee Reservoir, located just outside of Adrian, Oregon in a 2018 Rugged Mountain Granite 11RL on a 2016 Chevy 3500 truck.
Here is Jesse's dare report:
Rugged Mountain's Dare Report
My wife, two daughters (one four, one eleven months), two year old Labradoodle and I try to go on as many family truck camping getaways as possible.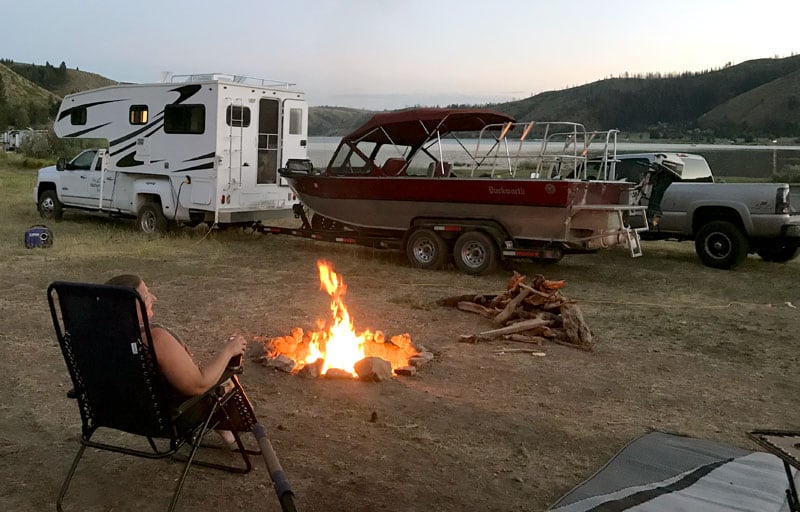 In fact, we use our 2018 Rugged Mountain Granite 11RL camper all the time.  I used it on Labor Day for a salmon fishing trip to Astoria, Oregon.  We'll be using the camper again for a trip to Utah to attend a wedding.
Even if we go on short trips, we use our truck camper because it makes things easier when our kids need to use a rest room, or get fussy or hungry.  We can just pull-over and get into the camper.  As parents, having our truck camper with us is priceless.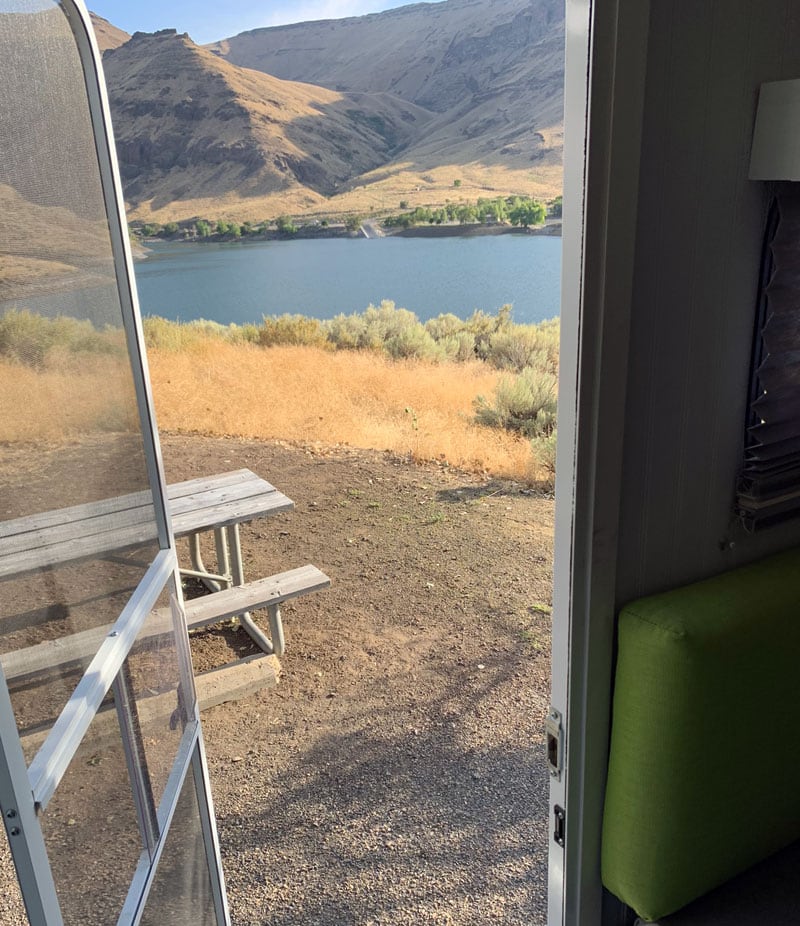 For Truck Camper Magazine's dare, we took our Granite 11RL to Owyhee Reservoir, located just outside of Adrian, Oregon, for a weekend of boating and fishing.  We pulled our 22-foot jet boat behind our camper.
Owyhee Reservoir is great because it's close to home, has beautiful campgrounds and offers great fishing opportunities.  On this particular trip we spent most our time on the water letting the kids swim and hang out on the tubes.  The kids had a blast.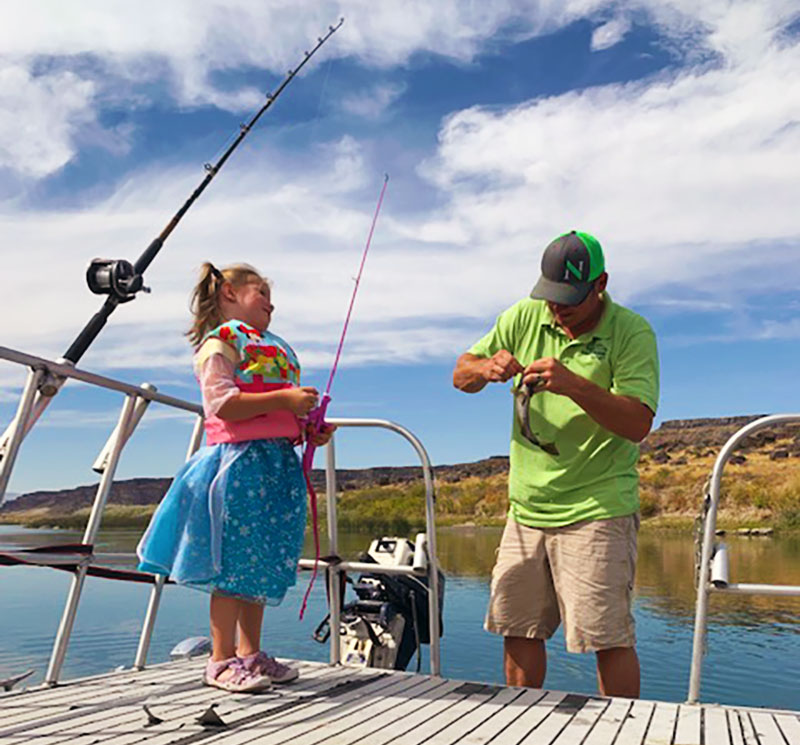 For this adventure we went with my mom and stepdad, who own a Heartland Mallard pull-behind, and two other families.  One family has a Lance truck camper and another has a motorhome with a deck boat in tow.  It's always fun to camp with family and friends.
Ideally, my wife and I would sleep in the cabover and the girls would sleep in the dinette bed, but it never happens that way.  One way or another, we each end up with a kid and one of us is always sleeping in the dinette bed.
This is one more reason why it's important to us to have a non-slide truck camper.  Non-slide dinettes are typically bigger than slide-out dinettes.  A full-grown adult can comfortably sleep in our 6-foot dinette made into a bed.  Trust me, I know.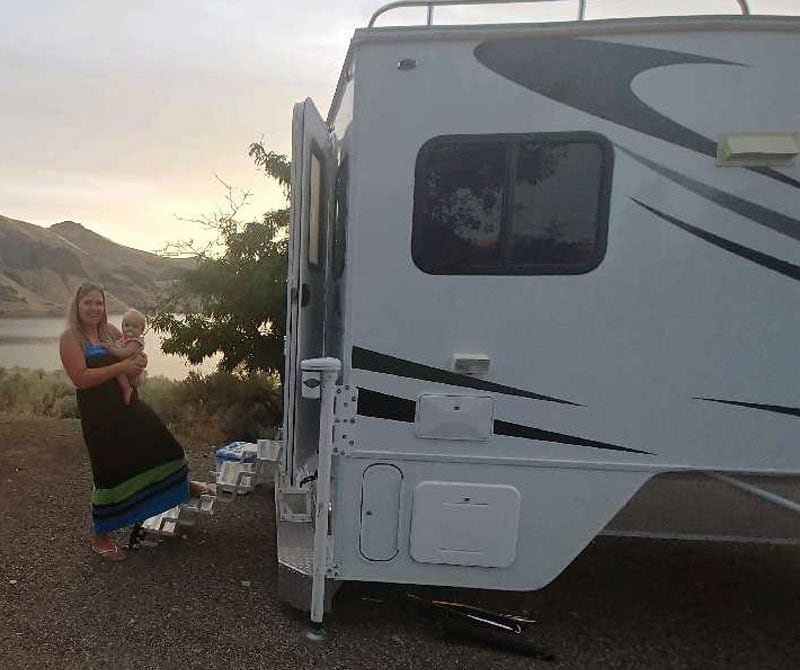 When we are truck camping, we tend to spend most of our time outside around a campfire or out recreating.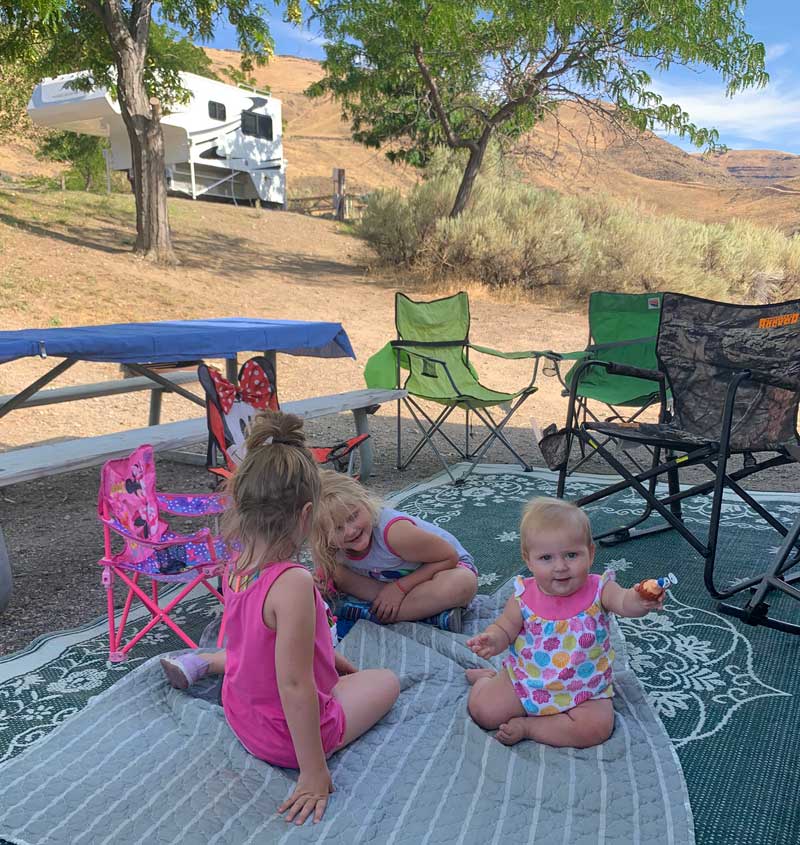 We had the kids with us and our friends had their daughter who is four years old.  With the kids with us, how could the weekend not be entertaining?  Kids are just little comedians who always bring in laughter and joy.
Since we spent most of the weekend on the water, there was a lot of fishing.  The girls caught lots of fish and they were really excited.  I think they found fishing the most entertaining part of the entire trip.  However, swimming, kayaking and paddle boards were also a great entertainment for them and for all of us.  Spending time with our family and friends is always fun.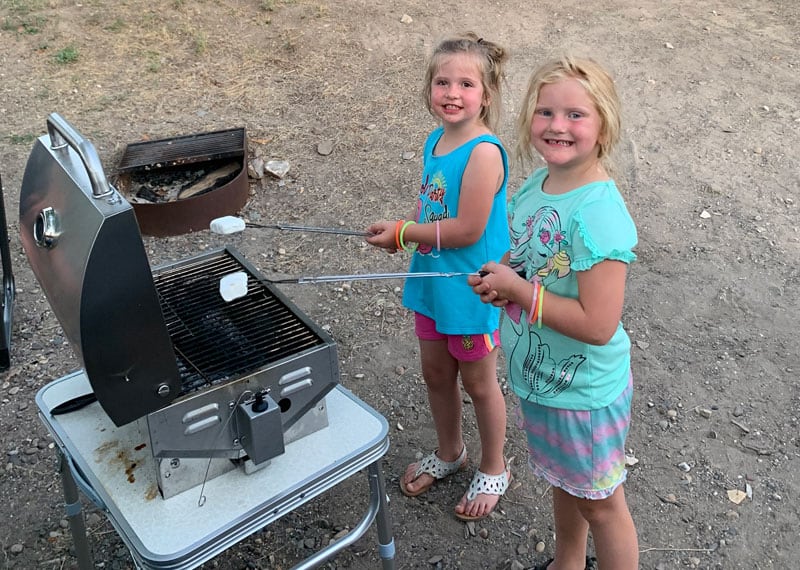 And who says that you can't have marshmallows on the grill?  When we went camping, since it was really hot, we couldn't have any campfires.  We can't go camping and not have marshmallows, so we have decided to cook marshmallows on the grill – not bad.
Unfortunately, our boat broke down.  Actually it never started.  I guess you never know.  Boats are fun, but they give you a lot of grief too.  Luckily our friend brought his boat as well so we could all went on his pontoon.
This time we unloaded the camper before launching the boat.  Most of the time we unload our camper unless it is a short night or we go on a trip where we do not sit in one place.  That is pretty much the only time we do not unload the camper.
Jesse's Evaluation Of The Granite 11RL
The Granite 11RL we personally use is actually the first prototype we built.  It's the camper that was featured in Truck Camper Magazine for the introduction of the Rugged Mountain Granite 11RL back in June of 2018.
Since this camper rolled out of our factory, we have a ton of updates and improvements.  Many of the changes are from observations and experiences during our frequent truck camping trips.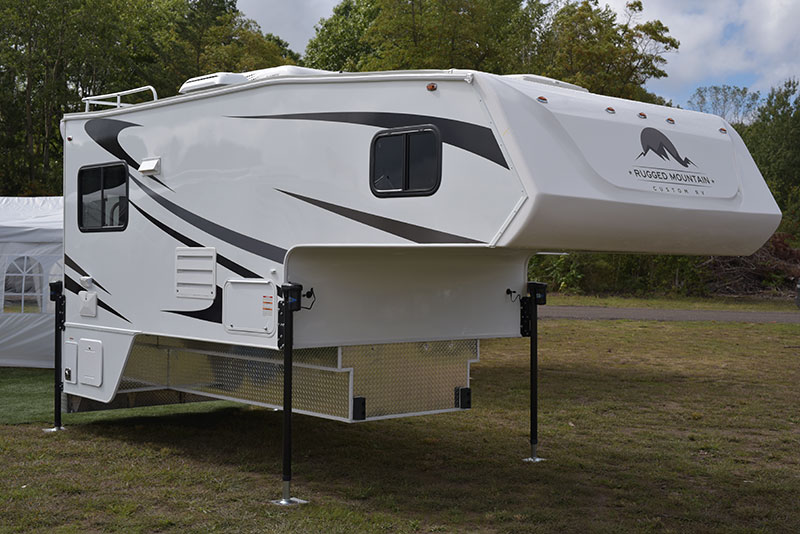 For example, we have changed our roof from TPO to PVC for multiple reasons.  We like the PVC roof because it has a 15-year warranty, stays white and the PVC sealant and patch material can be obtained at most major hardware stores.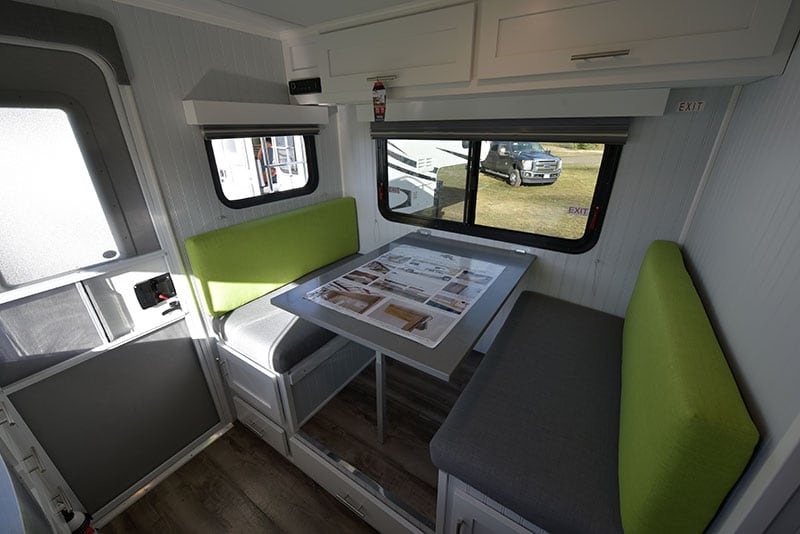 As a result of us camping, we moved the furnace on the Granite 11RL from under dinette to outside under the kitchen sink.  That gives us more storage under the dinette.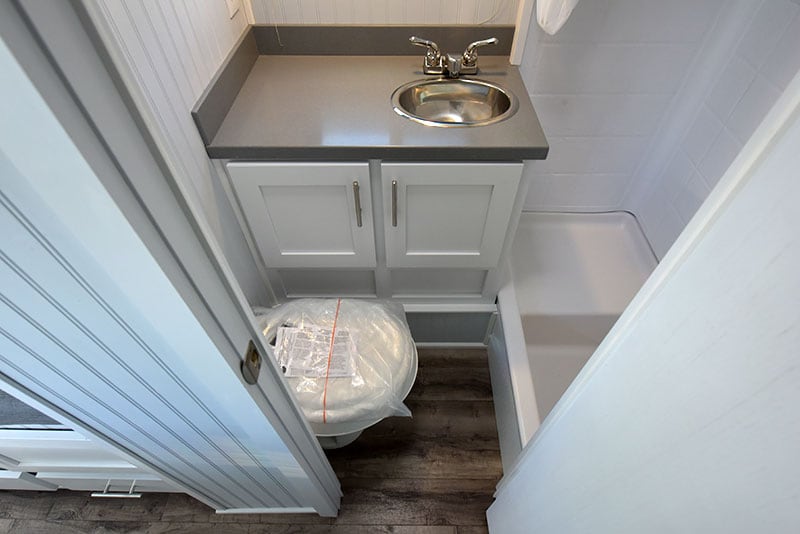 The bathroom cabinet has been moved by 2-inches to allow a little more leg room.
We have also added two USB ports; one by the TV and one by the radio.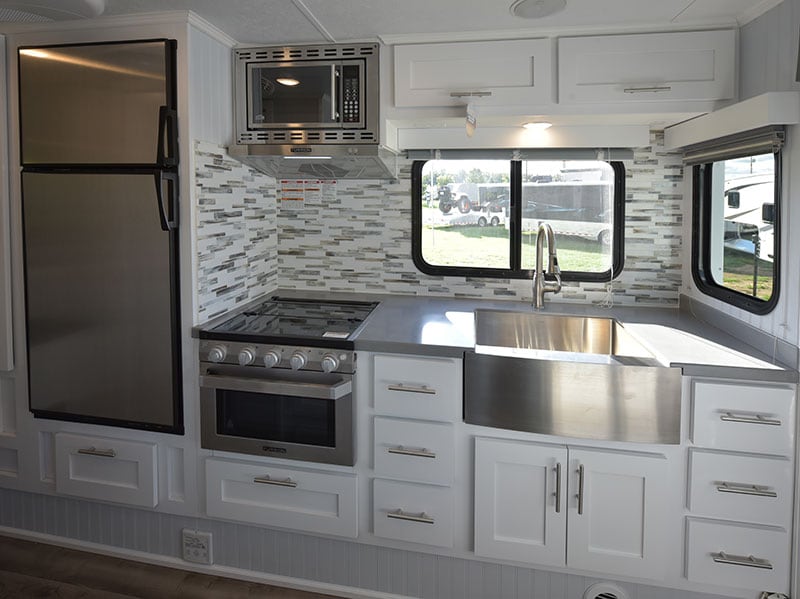 We have changed the backsplash multiple times, but the current one we are using is a self-adhesive back tile-like product.  It is very thin and light to save weight, but still gives it the feeling of home.  We are constantly evolving and finding new and better products to use.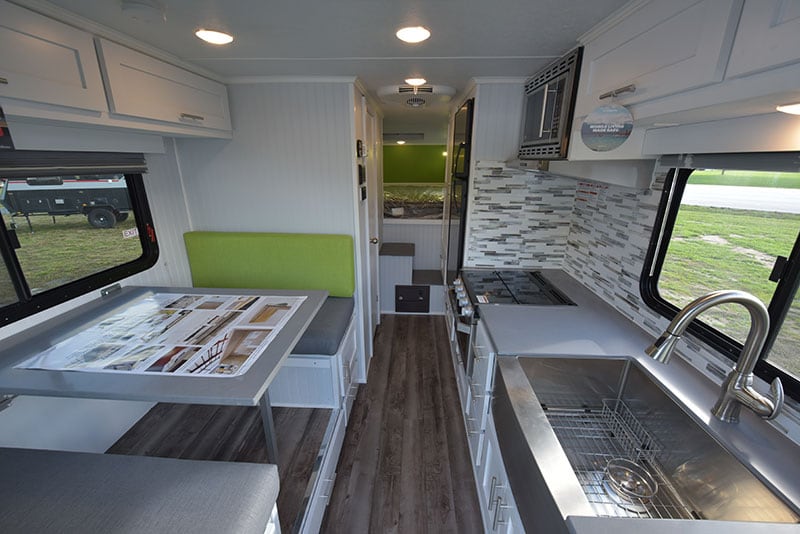 New 2020 Granite truck campers benefit tremendously from our truck camping experiences.  Every time we go out we find things we can do better.  We also listen to or customers for ideas.  That's how we move our truck campers forward.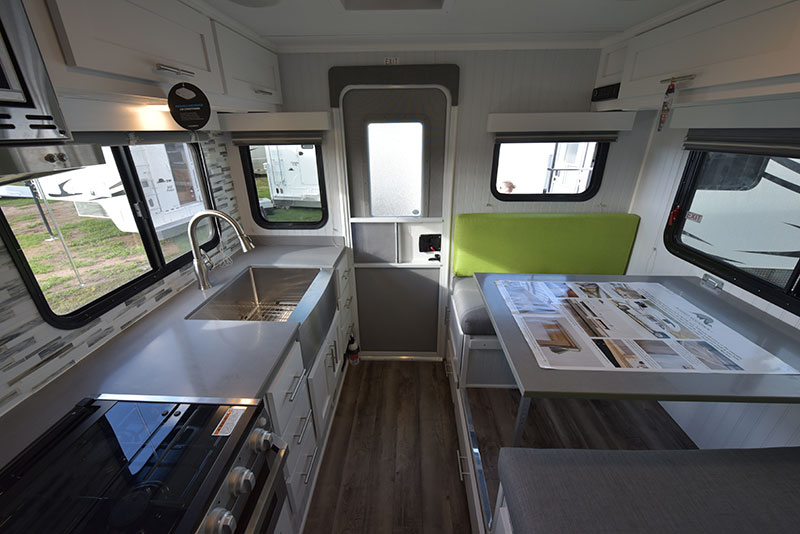 Right now I'm playing with a new set of Torklift International GlowSteps to create new entry ideas.  I want Rugged Mountain to have the most comfortable and safe entry step system on the market.  I don't have the perfect solution yet, but I'm working on it.
For more information on Rugged Mountain, visit their website at ruggedmountaincustomrv.com. Click here to get a free Rugged Mountain brochure.