Oh your cheating heart!  Did you sell a truck camper, try another RV type, and then return to a truck camper?  Tell us why you went in another direction, and what brought you back.
Above: Our Lance 1030 and Chevy 3500 dually in Monument Valley, Utah
Our very first RV was a 2004 Lance 1030 truck camper.  Now 15-years later, truck campers still make the most sense, and we've never had anything else.
That doesn't mean we haven't look around now and then.  In fact, the first RV that caught our attention was a Leisure Van.  Even in 2004, Leisure Van Class Bs were absolutely gorgeous.
The price was not.  Leisure Van was asking in excess of $100,000 for their Class B motorhomes.  That was way out of our comfort zone.  The tiny bathroom was the other sticking point – far too claustrophobic for us.  Even today, that same Leisure Travel Van MSRP is $147,690 – and the bathroom is still tiny.
For that kind of money you could have a 1-ton dually diesel ($75K loaded) and multi-slide truck camper ($60K loaded) with a huge dry bath, and over $10K leftover fuel money for an epic multi-month cross-country adventure.
The other RV type that tempted us before we bought a truck camper was a Thor Four Winds 22E Class C.  The 24-foot non-slide motorhome seemed very approachable and was in our budget.  Honestly, we got very close to buying one of these motorhomes.  And Truck Camper Magazine would never have happened…
Upon additional research, it became clear that the resale value of Class C motorhomes was often terrible, and the maintenance costs could be high.  If anything went wrong, you really have to take a Class C to an RV dealership at $100+ per hour.  This remains true of all motorhomes; Class A, Class B and Class C.  The more I read, the less enamored I was.
Then we discovered truck campers.  We bought a brand new Chevy Silverado 3500 long bed dually gas base work truck for $25,000 (with GM's employee discount program they were running in 2005) and a barely used Lance 1030 for $18,000.  With tie-downs and turnbuckles, we were on the road for less than $45,000.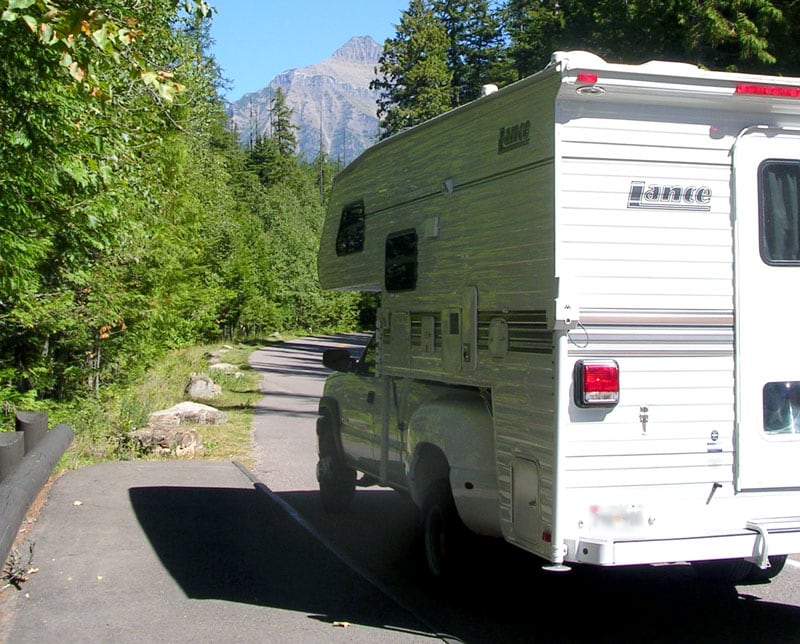 Above: Our first rig in Glacier National Park, Montana
The quality of the truck and camper was light years better than the Class C, and the resale value was far superior as well.  We loved that rig so much we started a magazine about truck camping.
As a side note, even today you can buy a 1-ton dually long bed gas work truck for under $50K and a nice non-slide used camper like the one we got for under $30K.
Dig around and negotiate and a nice truck camper rig like the one that got us started can still be assembled for under $75,000.  Pound for pound, dollar for dollar, that beats the heck out of that $147,690 Leisure Van.
Inspired by Jim and Janet Kaley's film and story, this week's Question of the Week is, "Have you ever sold a truck camper, bought a different type of RV, and then returned to a truck camper?"
This QOTW is now complete.  Click here to read "Boomerang Truck Camper Stories" to see what campers readers sold and why, what other type(s) of RV(s) they bought and why, and what campers they returned to.