Bob Rogers, Director of Marketing For Lance Campers, has officially accepted the Triple-Dog dare to go truck camping. Actually, he has an even bigger dare for his fellow competitors.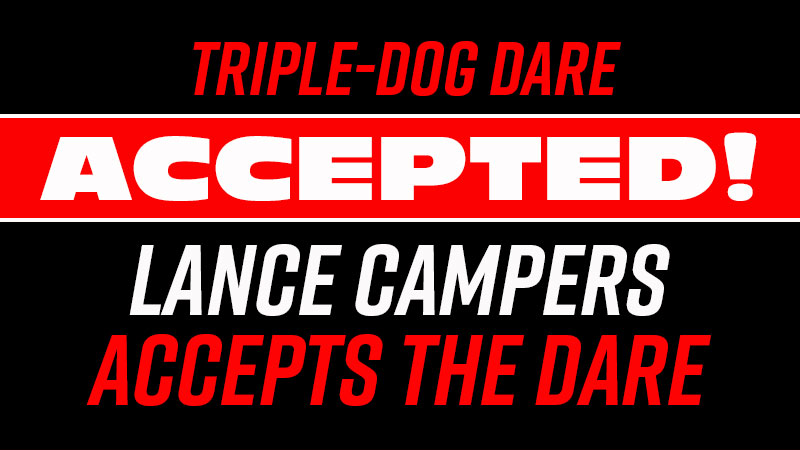 Bob stated, "Wow! I absolutely love your challenge to industry execs to get out and camp in our respective products. I fully accept the Truck Camper Magazine Triple-Dog Dare. I couldn't agree more on the value to the company, product and consumer for industry executives to camp in their own products.
In my marketing career, I have worked for Ross Perot's EDS, Nissan, Fleetwood, Kawasaki and Lance Campers and have always "geeked out" and fully embraced the lifestyle, design, manufacturing, marketing, sales and service of the product. This is what I call "maximizing the passion quotient".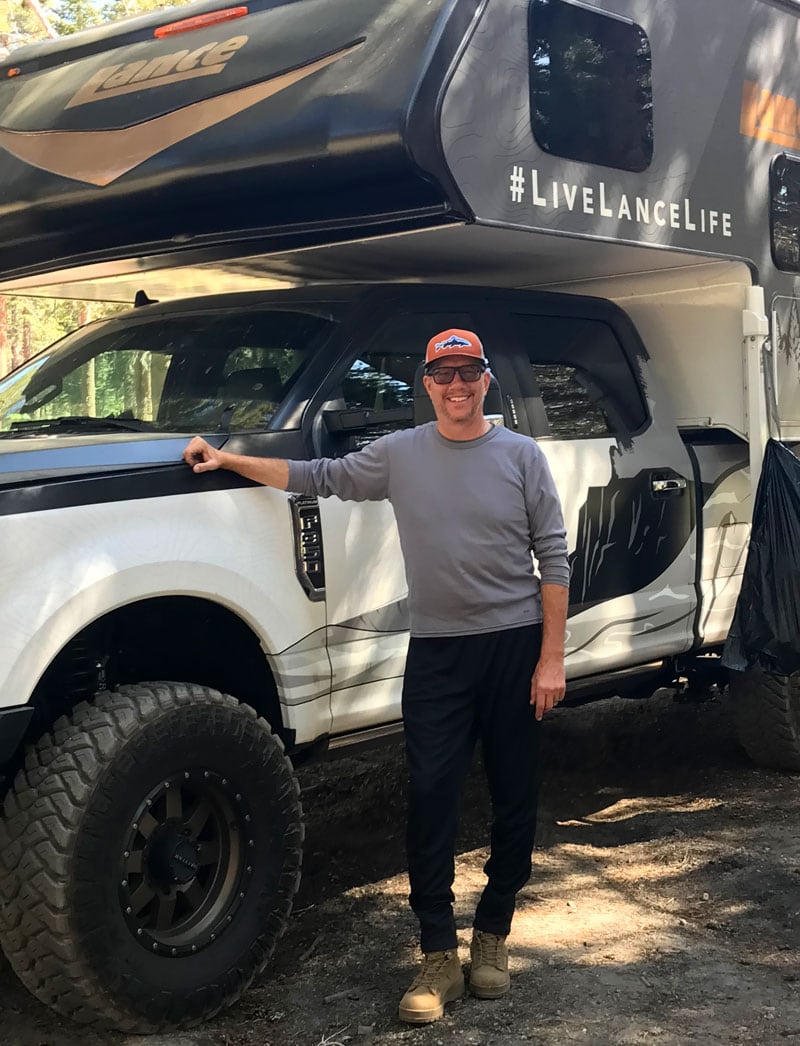 I have found that the more passionate you are about the brand, product and lifestyle the company you work for, the more fun you have. And the more fun you have, the better marketing work you do. My position as Director of Marketing at Lance Camper has just about (not totally!) maximized this "passion quotient" for me.
I grew up in Michigan RVing with my family in an Open Road chassis-mount truck camper racing snowmobiles in the winter and fishing in the summer. I continued the RVing family tradition with my family here in California while dirt biking and ATVing in the desert with every class of RV on the market. These experiences fueled my passion for this industry and lifestyle well beyond just a job.
Due to my two-hour commute from Orange County to Lance Camper in Lancaster, California, I elect to spend over 130-nights in a Lance Camper (on-site and elsewhere) every year. This has provided me with great marketing content and tremendous insight as a member of the Lance Product Development team.
In fact, I would like to officially throw out a, "Quadruple Dawg Dare" to any RV executive that spends more nights in an RV each year than I do. That's at least 130-nights a year. Does such a competitor exist?
Along with my acceptance for your "Triple Dawg Dare", please find attached some images of my most recent trip in a Lance truck camper. This trip was real truck camping; off-grid on BLM land in Bishop and Mammoth Lakes, California, using the 2019 Lance 855S "The Altimeter" for 100-percent recreation – not work.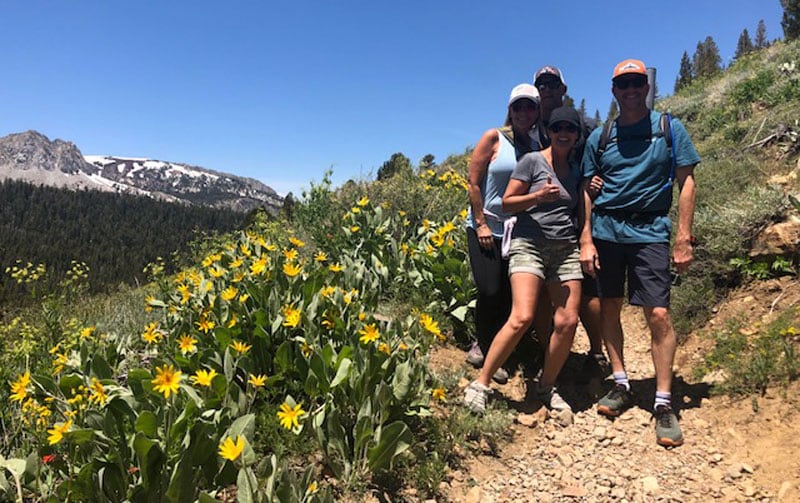 Along with my wife, Laura, and fellow RVers, Jim and Robin Wolff (in a Sprinter van conversion), we went mountain biking and skiing on the same mountain in July, fly fishing, UTV off-roading, hiking to a high country lake, cooking, drone flying, natural hot spring soaking, reading, tequila sipping, and hanging around a campfire.
All of this happened on a four-day truck camper trip. We utilized all of the truck camper systems. Ironically, this trip happened just days before your required time period, but it shows why I am so excited about your challenge.
Thank you so much for issuing this challenge. It provides me even more reason to do what I love to do, camp in Lance truck campers! Bob to Jack Cole, Vice President of Lance Campers… "Jack, you know Gordon has issued a Triple Dawg Dare challenge for RV execs to use their products. I just gotta go!" Dare accepted.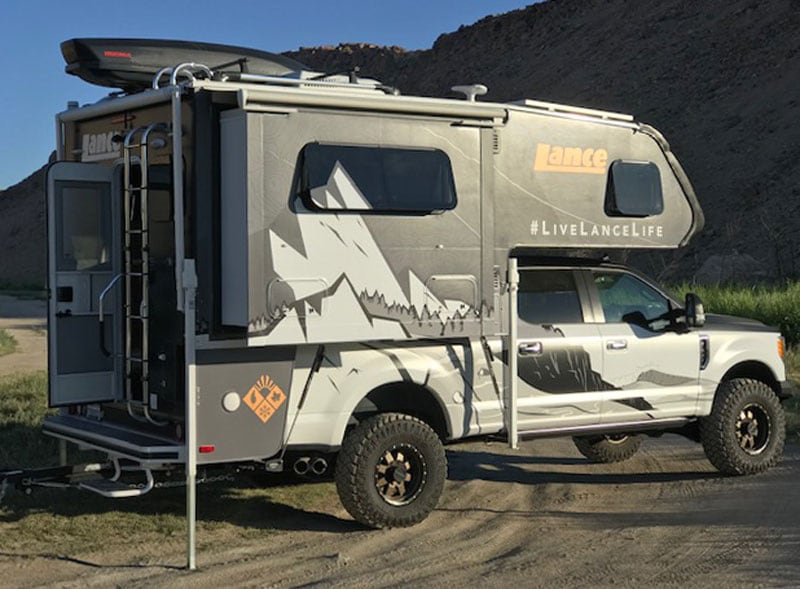 Bob shared that for his dare acceptance he will be taking a Lance 855S out from September 6th to 8th to Mammoth Lakes, California.  We can't wait to hear about what Bob experiences and what he learns about Lance products during his trip.
Congratulations, Bob! You are the fourth industry leader to accept the truck camping dare. We will hold you to it, and look forward to hearing about what you learn about Lance Camper truck camper products on your adventure.
Industry Leaders: How To Accept The Dare
Any Industry Leader who wants to accept the dare needs to email Truck Camper Magazine with their, "dare accepted" announcement.
With your announcement, please include the dates you plan to go truck camping, and the truck and camper you plan to take out. We will publish your acceptance message in Truck Camper Magazine.