Doug Karr, Northwood Manufacturing's truck camper expert, completes the Triple-Dog truck camping dare with a weekend camping at Skagit Speedway. Here's Doug's report, and his perspectives on a 2019 Arctic Fox 992.
Doug Karr of Northwood Manufacturing has simultaneously accepted the our triple-dog dare and completed the dare. Since there were no rules in the original dare article pertaining to the timing of accepting the dare and completing the dare, it counts!
Doug and his wife, Randi, took a 2019 Arctic Fox 992 to Skagit Speedway for the World of Outlaws Summer Showdown this past Labor Day Weekend. Here is Doug's dare report, evaluation of Arctic Fox truck campers and personal backstory with RVs and truck campers. Here is the report from Doug Karr:
Northwood Manufacturing Dare Report
Given my life-long personal history and passion for truck campers, the Truck Camper Magazine triple-dog dare really wasn't a challenge for us. We stay and camp in Arctic Fox and Wolf Creek products all the time.
To date, we have had 28 Northwood demo units that we've weekend camped and vacationed in over the years. I seriously doubt anyone in the truck camper industry has camped more in their products.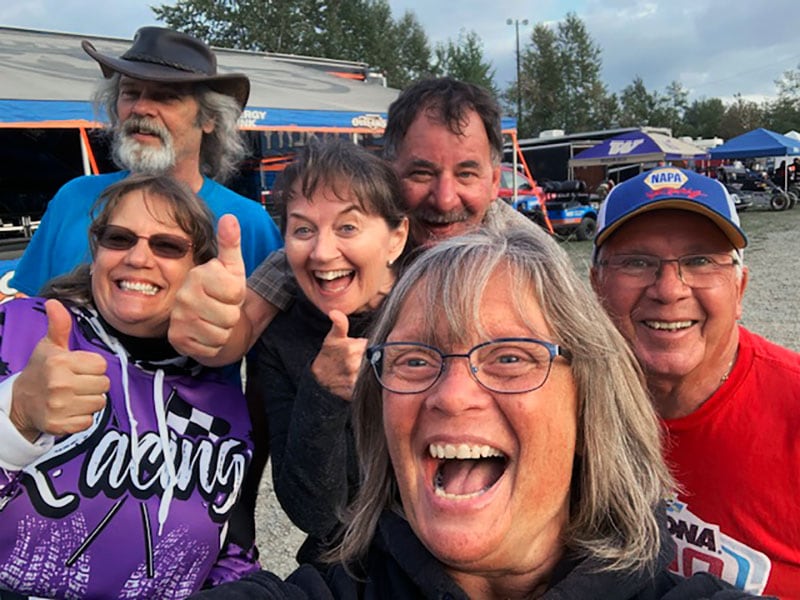 Above: Doug (top center), his wife, Randi, and friends at the Skagit Speedway
For the dare, our challenge was to see how comfortable can we be with four adults staying in our Arctic Fox 992. We invited our friends to join us for a weekend of dry camping at Skagit Speedway for the World of Outlaws Summer Showdown Weekend.
Because we spend so much time in our product, packing it up and prepping it for the weekend feels like auto-drive. Load the food, water, clothes, outside chairs and trays… and we're off!
When we arrived at the track, we hadn't been parked for 10-minutes when two gentlemen walked up and announced, "We just want to check out your new truck and camper". We laughed, gladly showed them our rig and finished setting up.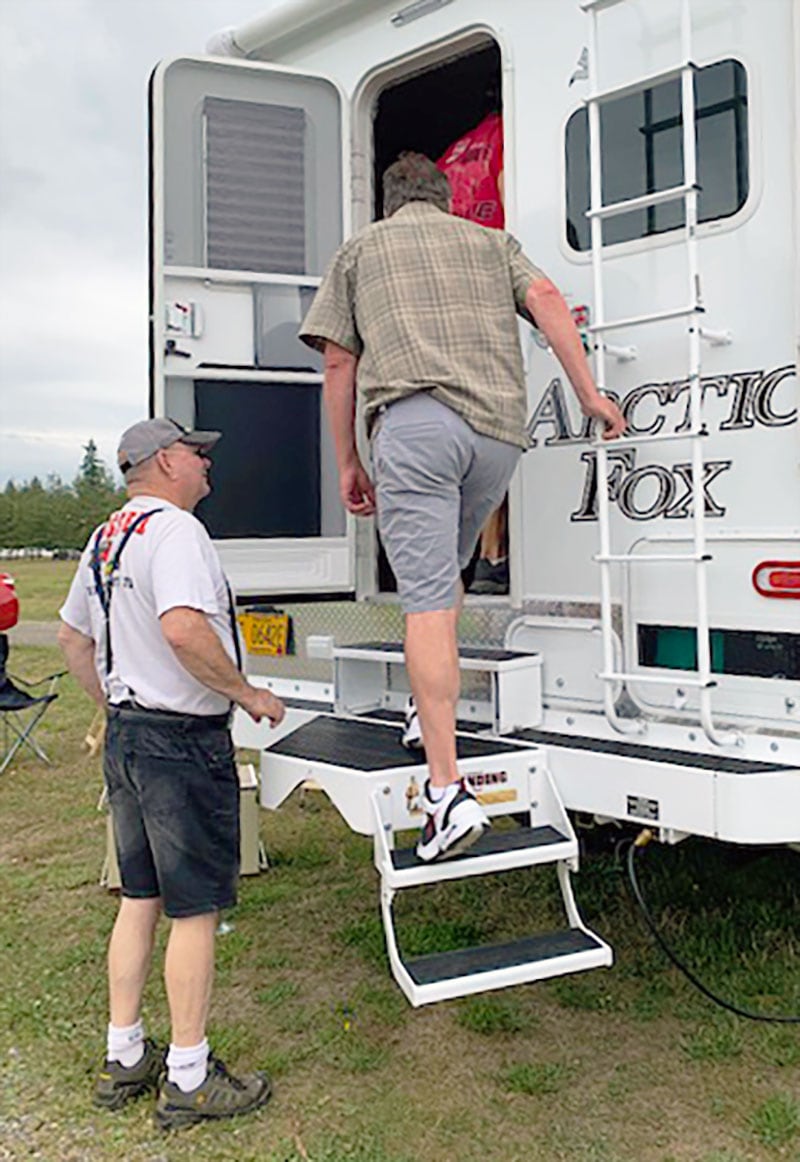 Our friends arrived later and another couple we know showed up too. We all had a great barbecue before the race. The propane barbecue hooks up to the outside of the camper – a brilliant design. All six of us sat comfortably outside.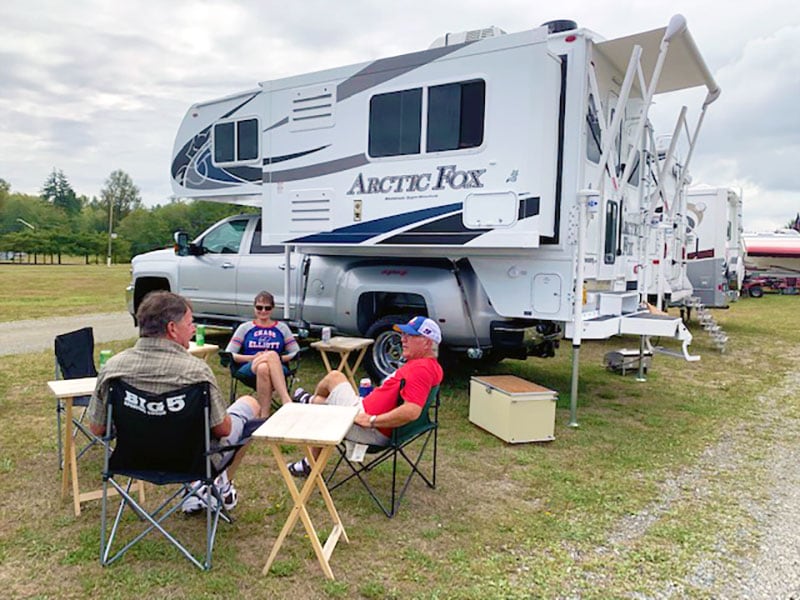 We went to the races, came back and all took showers in the camper to wash the dust and dirt out of our hair (dirt track racing is very dirty) and settled in for the night. We slept in the cabover and our guests slept in the dinette made into a bed.
On the morning of day two, the generator was everyone's best friend providing power for coffee and breakfast sandwiches. We all took turns getting ready for the day and the next two days were more of the same with everyone enjoying the time together.
The generator and solar panel kept up the batteries really well. Even after four adults used the camper, we still had about 25-percent left in the fresh tank, 30-percent capacity left in the black tank, and 15-percent remaining in the grey tank.
Doug Karr's Evaluation of the Arctic Fox Campers
Without knowing it, I have been taking the Truck Camper Magazine dare for decades; camping in current Northwood products, finding things that needed to be improved, and working with our team to make those improvements happen.
The arched ceilings in Arctic Fox truck campers are probably the biggest change we made from my camping experience.
I'm tall so I needed more headroom. In the 1960s, Avion, Silver Streak and Chinook truck campers had arched ceilings. I went to Lonnie, our Production Manager, and said, "Can you make this work?" He said, "Yeah".
We started with arched ceilings in our Arctic Fox travel trailers. That was successful, so we added arched ceilings to our truck campers.
It takes a little more time to build the arched ceilings and adds a little more weight, but it's well worth it. The insulation in our arched ceilings is great. The water run-off from rain is insane. And you get the extra interior height for taller people, like me.
Another recent result of my camping experiences and improving Arctic Fox truck campers is the new television. There was a 19-inch television in the previous Arctic Fox I was using. The 19-inch was okay in the cabover, but you needed binoculars to see it from the dinette.
I wanted to get a 32-inch television and luckily Jensen makes one. To accommodate the larger television, we changed the upper cabinet in the Arctic Fox 811, 990, 1140 and 1150 to be cut at an angle. If you are laying in the cabover bed, the 32-inch television looks like a 60-inch television because you are so close to it. It's easier on your eyes, too.
The big stainless steel sink is also a change we made. The split sink was easy to scratch because it was acrylic and hard to clean. If you put in a plate, it half stuck out. I've never washed and dried on one side or the other.
With the new sink, everything fits in nicely. With a big sink you can clean about anything in it. I just looked at the kitchen sink at my house and realized we could have that in the campers too.
Sometimes it's the little things.
I was in a campground and, seeing that I had an Arctic Fox, a customer with an Arctic Fox came up to me to point out a problem. I went in his camper and he played the music for me. Then, he ran the air conditioner and speakers at the same time and we could only hear the music from one side. After that, we moved the speakers to the dinette.
One night I was laying in bed and turned on the reading light and it was like a spotlight. Now we have rope lights for ambient light. They are much better.
I have lots of stories of camping experiences with Northwood products that have resulted in improvements. As a result of my constant camping experience, and listening to our customers in the field, we continually make changes.
The Arctic Fox 992 is a comfortable home base away from home. We love our time "glamping" and will continue to enjoy our Arctic Fox well into the future!
Doug's History With Truck Campers
My dad sold Security and Aloha trailers from his RV dealership.  The Aloha trailers had iceboxes, a porta potti, and a furnace, if you were lucky.  March of every year we went to the Seattle Center for the RV show.  I can remember being there when I was three years old.  Security built me a little trailer, just like a big one.
When I was five years old, I was at the Seattle Center RV show and Dad was in a camper with door closed.  He told me I couldn't go into the campers when the door was closed because that meant he was selling a camper.
While dad was in the camper with the door closed, a guy came up to me and said, "Do you work here?".  I was wearing a suit and tie and was part of the show.  He started asking me questions like, "How big is the propane tank?"  I knew it took 4.8-gallons.  He then asked me, "How much is the total cost on the trailer?".  Well, I could see the tag in the window and it said $895, so I told him what it cost.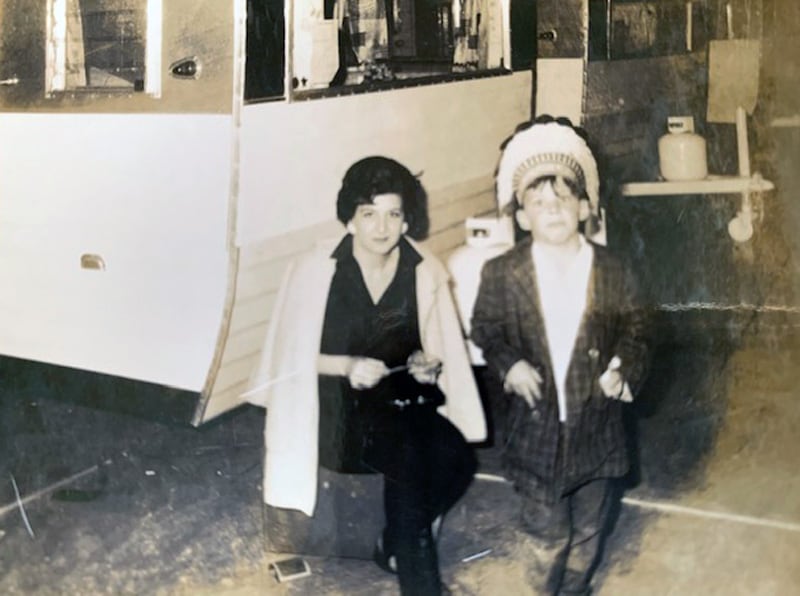 Above: Doug and his mother in front of the Kit Campanion he had just sold. His father was inside writing the deal.
Then, he asked me what it would cost with tags and license.  I didn't know what that meant, so I went over and asked this sales guy and he wrote it down on a card for me.  I took that card over to the guy and showed it to him.  He said, "I want to buy it."  We sat down in the trailer and he wrote me a check.  Then he said, "Do I get a receipt?"  And I said, "What the heck is that?"
It took all the guts I had to knock on Dad's trailer.  I knocked and he saw it was me and closed the door.  Then I knocked again.  I showed him the check and dad was the happiest guy in the world.  Dad gave me ten bucks for selling that camper.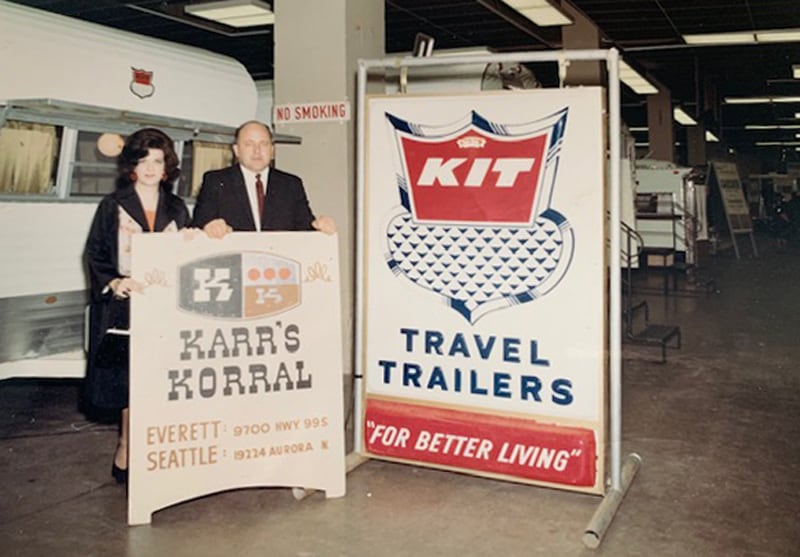 Above: Doug's parents at the Seattle RV Show
I basically grew up on Dad's RV lot.  It was called, Karrs Korral.  Dad originally opened up a car lot.  Then one day a representative came by from Aloha.  He was towing a trailer and said, "You ought to sell RVs".  Dad said, "That's not going to happen".  So the guy said, "I'm going to leave a trailer here for the weekend and see what happens".  We sold it!  So, the cars went away and we had 5.5-acres of RVs for 32-years.
When I got off the school bus, I would help out.  I would drop the garbage, help the shop guys, make coffee, vacuum, and things like that.  I was twelve years old when I got my first paycheck.  The year was 1972 and I made $4,200.  I remember asking my dad what all this Social Security stuff was.  Two years later I was running my dad's rental department.  I worked my way up to the parts department and then to service and trailers.
We were at the shop seven days a week.  Dad would say, "Go get a motorhome PDI," and we'd go out.  Mainly we weren't camping.  We went to private camping clubs and we would sell trailers like crazy.  It was a business for him.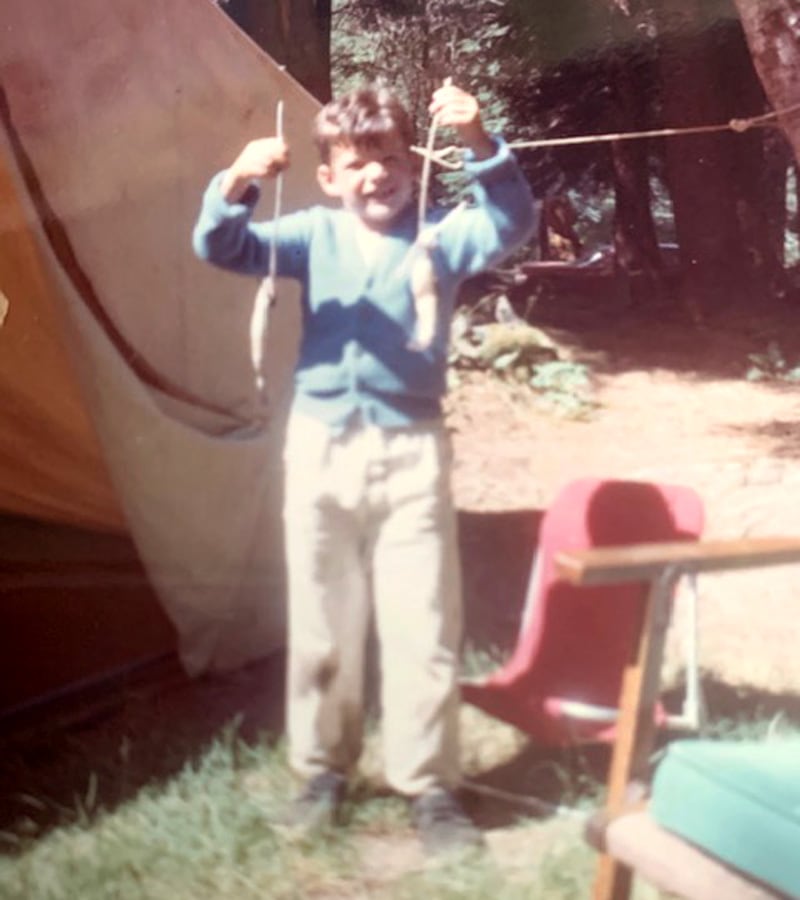 Above: Camping is nothing new for Doug
1983 was a bad year for my family.  My older sister died of leukemia and my older brother was killed in an accident.  Dad was going to turn over the business to my brother.  At that point, I was only 23-years old and I did not have the knowledge to run a dealership.  So dad sold the business and I worked for Everett RV.  Then I was at Apache Camping Center for over fourteen-years before I went to work for Ron Nash at Northwood.
At Apache, I first started working in the service department with trailers and truck campers.  They had a little camper called Pastime and lots of others.  The lot got busy one day, so the owner asked if I could work in sales department.
We sold Caveman Campers, Security Campers, Kit Campers, Dreamer Campers, and Conestoga Campers.  We also sold Western Wilderness which turned into Alpenlite.  For a short time we sold a brand called Tilton Hilton which were so bad I called them Leaky Tikis.  We were the top selling truck camper dealership in the United States for twelve years straight.
Ron Nash, the Founder of Northwood, called me up in 1998 and said, "I want to build a truck camper. If I do it, will you help me sell it?"  I said to him, "If you want to be unique, then I'll help."  At the time, truck campers had all the same floor plans and holding tanks.  So Ron had designed some campers and sent them to the dealership.  They needed some improvement and I made some recommendations.
As things progressed, I was getting tired of the retail market.  So I went to Northwood to be a sales representative for them.  I left Apache selling 80 to 100 truck campers a year, plus other types RVs.  They had good products.  We handled several brands of truck campers. Plus, with me living here all my life, I knew a lot of people.
Campers are my specialty.  If dealers have questions on weights or trucks, I can tell them the answer.  With the knowledge I have, it's easy to train sales people.  There's not too many things I don't know about truck campers.  I'm called the camper guy.
I helped design the 811.  I went to Ron and told him I had a design.  He said, "Will it work?" and I said, "Yes".  He said, "Build it."
With our campers, we do a prototype at the plant.  We refine it and put it all together.  It takes us approximately 60-days to do a prototype.  For the 811, we took the 64-inch dinette and made it into 70-inches.  We also made the bathroom 30-percent larger.
We are always looking to refine our campers.  We upgrade all the time. If there was something out there that would be better for the frame or integrity, we'd do that – but there isn't.
All of the things I learned over the years, I integrate into our campers. For example, if you took our 990 and opened up the pantry, there is a panel where you can get to the kitchen plumbing.  With other campers you have to pull the whole floor out to access the plumbing.  With our designs, you can get to things easier.  We've built a lot of service into our campers.  I have serviced a lot of campers and I know what people need.
Northwood's philosophy is that if there is ever anything wrong with a Northwood product, we're going to fix it.  We stand behind our products.  We tell that to people straight up.