For Behind the Shot Part 7, we are featuring photos and stories from Lake Koocanusa, the Denali Highway, Zion Wright Family Ranch, and many more!
Click here to participate in the 2022 Truck Camper Magazine Calendar Contest and be considered for a Behind the Shot feature. Click here to see all of the photos entered so far in the 2022 TCM Calendar Contest.
Carl Straathof
Why, Arizona
2008 Ford F350
2004 Northern Lite Ten-2000
Camera Used – FinePix S9400W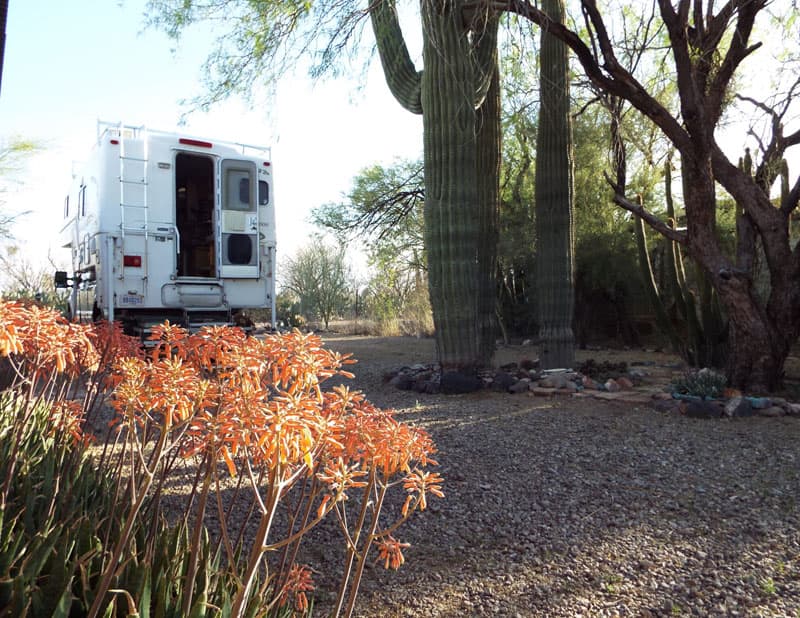 After spending time at our location in Why, Arizona, we loaded our camper to head back home to Michigan.
Grant Sorge
Capitol Reef, Utah
GMC Sierra HD3500
1996 Weekender by Skyline
Camera Used – Galaxy S20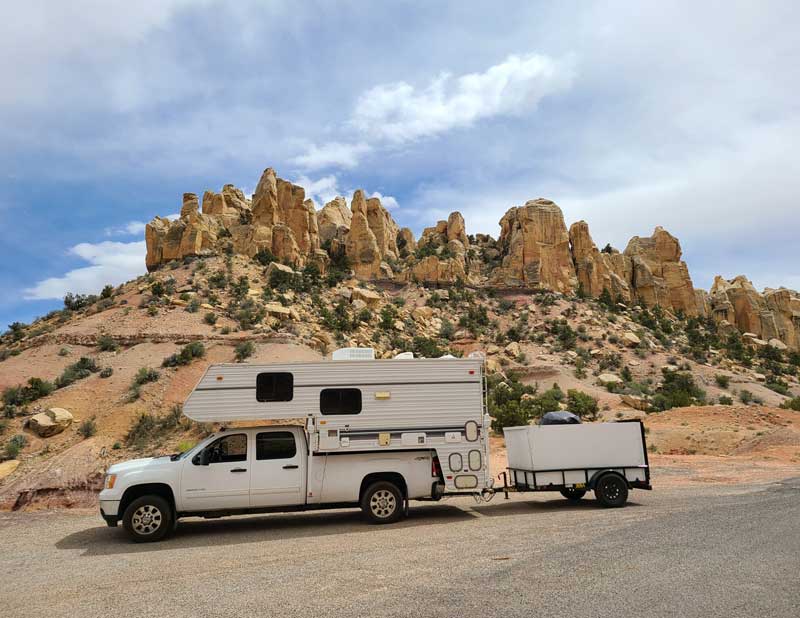 In this picture, I was boondocking in Capitol Reef, Utah. Bea's Lewis Flat is an awesome place. I spent extra days for views, sunrises, and sunsets. The weather was perfect and there are so many places to see and hike!
Jose Flores
Denali Highway, Alaska
2010 Dodge 3500
2022 Arctic Fox 990
Camera Used – iPhone 11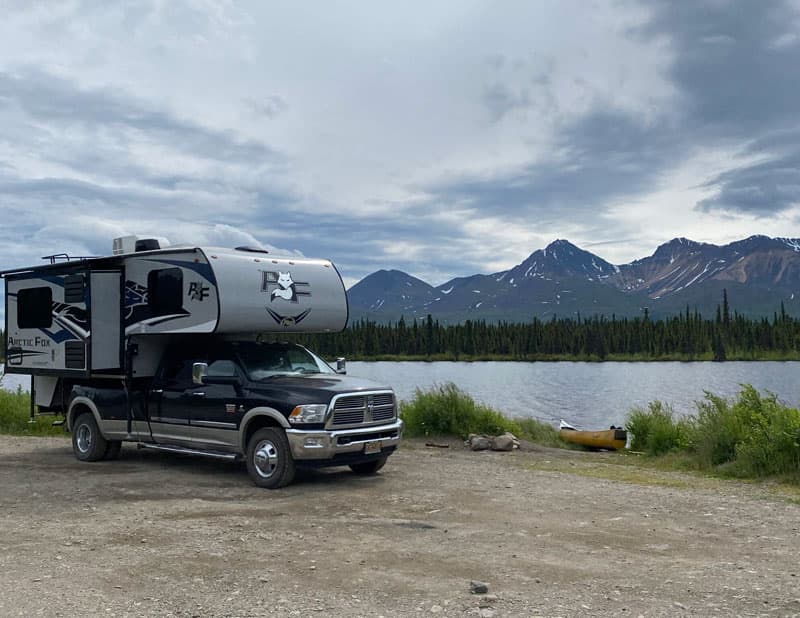 We took a trip to break in our new Arctic Fox 990. The Denali Highway boasting beautiful views seemed like to proper option. It was July 4th.
Brandon Hartwig
Alabama Hills, California
2017 Ford F350
2020 Northstar Laredo SC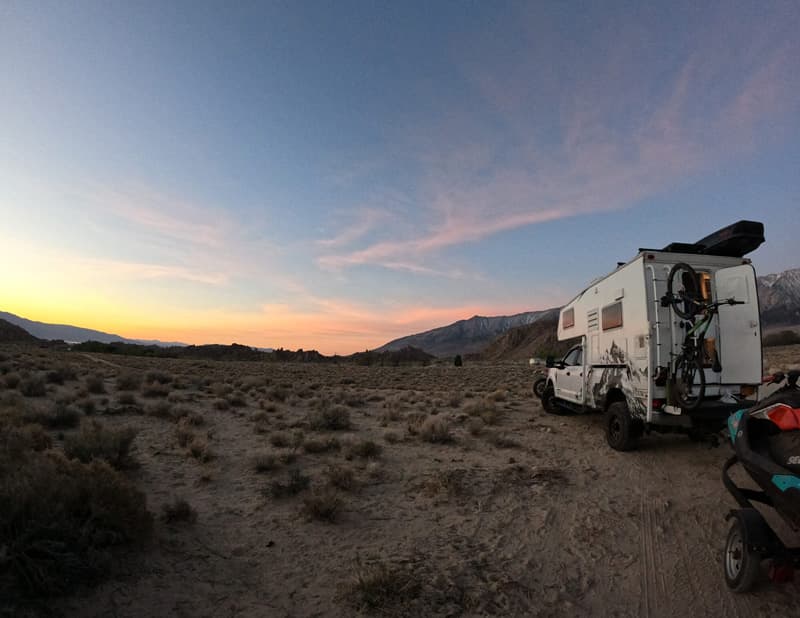 Road tripping from Reno, Nevada to Mammoth, California to ski we stopped through Alabama Hills to see the famous movie road and off-road while checking out famous movie sites. This area boasts rock climbing, off-roading, and camping with an incredible view of Mt. Whitney.
Nick Deschermeier
Muskallonge State Park, Newberry, Michigan
2019 Ford F350
2011 Lance 830
Camera Used – iPhone 8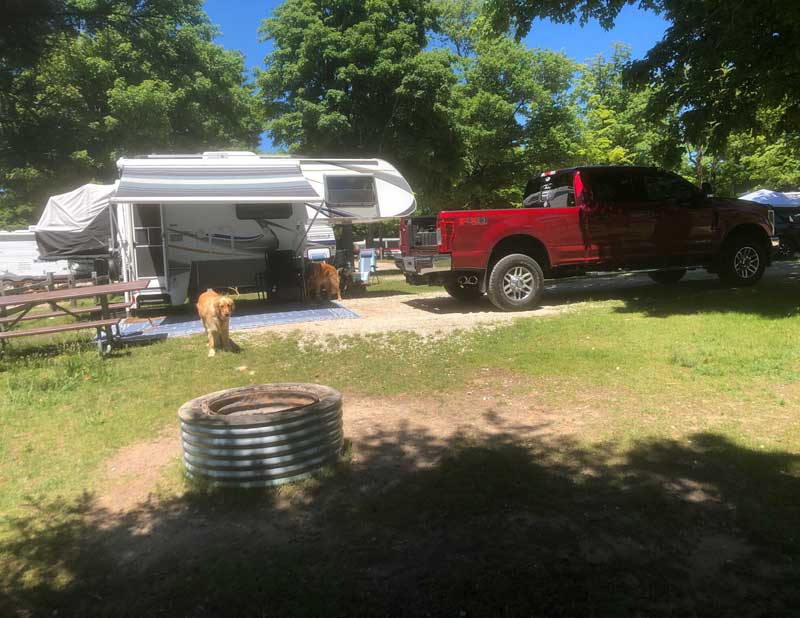 We had a beautiful 4th of July weekend at Muskalunge State Park in Newberry, Michigan. It was just great to be camping on one of our many beautiful lakes in this great state with my golden retrievers, Cooper and Henry, and my wife, Alicia.
Matt Call
Zion Wright Family Ranch, southern Utah
2013 GMC Sierra 3500
2007 Lance 1131
Camera Used – Sony A7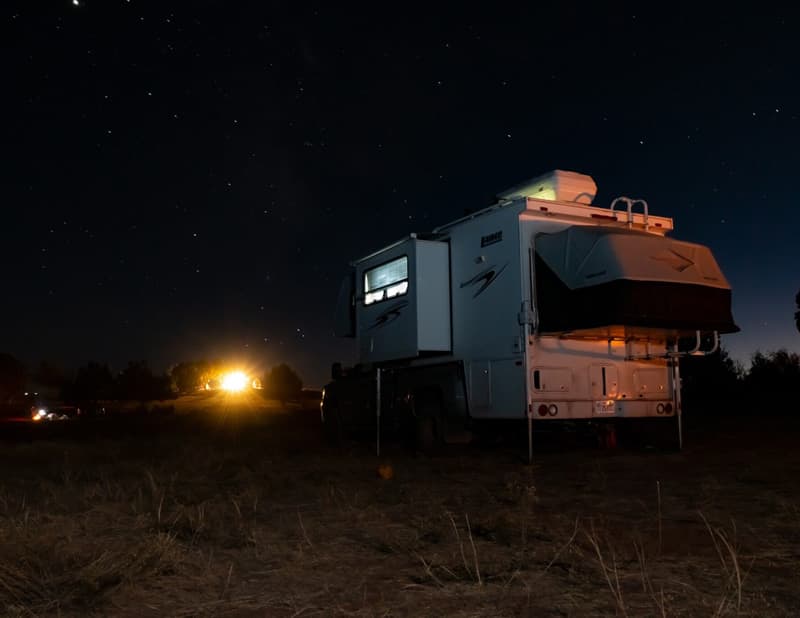 This campground is on the mountains overlooking Zion National Park. It's a tough off-road climb, but the views are worth it. It's unbelievable.
Jason Yu
Mammoth Lakes, California
2020 Ram 3500
2015 Eagle Cap 850
Camera Used – iPhone 11 Pro Max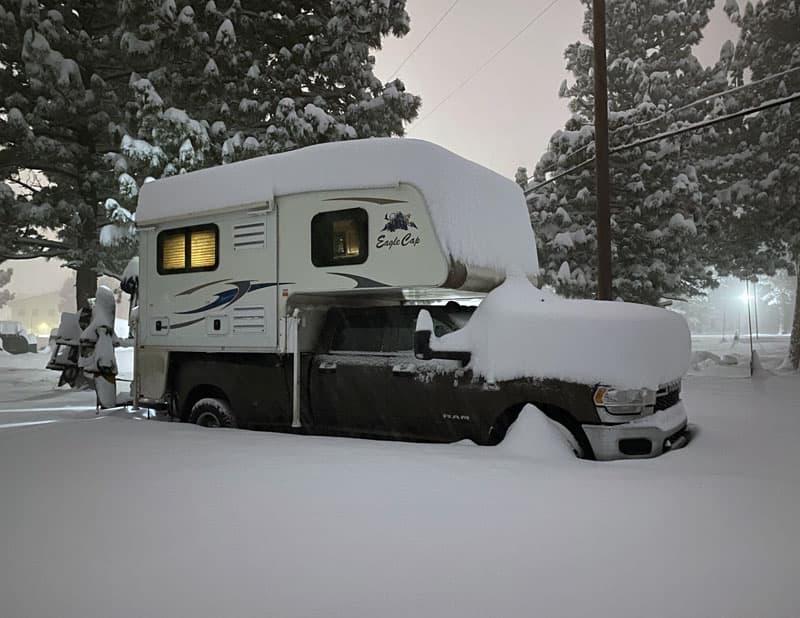 The photo was taken in Mammoth Lakes, California. It is a local mountain that my wife and I snowboard pretty regularly. We actually camped at a campground just because the owner plowed the snow throughout the day. It was the biggest snowfall of the season, so we could not miss out! The photo was taken on the first night of the storm. The storm lasted for about 2-3 days. It was our first experience in such a big storm, and it was a great way to test out how the camper does in very cold weather and also how handles.
David Rolfe
Kananaskis, Alberta on Highway 40/Highwood Pass
2021 Chevy Silverado 2500
2021 Adventurer 89RB
Camera Used – iPhone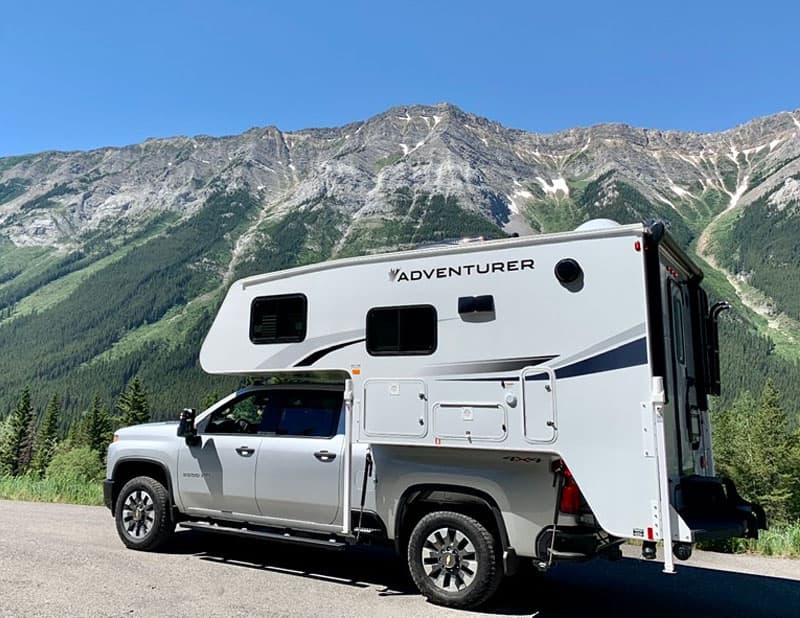 This photo is along Highway 40; one of the most beautiful highways in Canada, and possibly the world. It's a place where grizzlies and mountain goats are spotted daily. My wife and I camped at Elkwood Campground in Peter Lougheed Provincial Park on July 1, 2021. It was 41 degrees Celsius that day.
David Pearson
Lake Shelbyville, Illinois
2011 Ford F250
2018 Palomino HS-2902
Camera Used – iPhone 12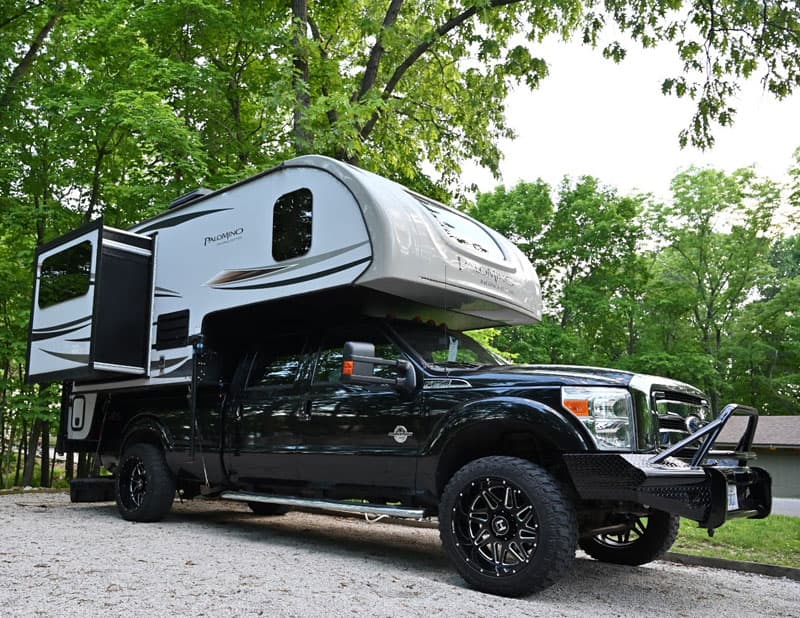 Memorial Weekend camping was the first time at Site #26 at Lithia Springs Recreation Campground. All of the booking is now online and there are no more first-come spots. I stayed four nights and had to go to another campground for two nights. I found site #26 was open so we came back for two nights. It was my first-time test the timing with my new Nikon Z6 II and Ronin SC Gimbal. It was accomplished at that site.
Carl van Warmerdam
Vedauwoo Campground, Medicine Bow National Forest, Wyoming
2014 Chevy Silverado
2015 Pastime 800 FDS
Camera Used – iPhone 8
We stopped at this campsite on the second day of our cross-country trip going west heading home from Portland, Oregon to Rhode Island.
When we camp, we try to stay far enough from the highway so that we can't hear the noise. This campground could use a mile or two further off, but the beauty made up for the slight highway sound. When we arrived tired from a long day of driving around 6pm, which is later than we normally arrive for sites, the RV electric hookups were all taken.
Disappointed, we kept driving around the campground and found another loop that was for tent-only camping; just parking spaces for each site. A lot of these were open, so we choose this beautiful spot. Oh, the advantages of a truck camper.
It was first come, first serve, no reservations, and only $5 with a senior pass.
The formation is made up of 10 square miles of weathered Sherman granite, providing lots of space to explore. The general area was once used as a hideout for outlaws. Native Americans thought playful spirits piled up the boulders. There is access to rock climbing and a nature trail through the rocks. I would have loved to stay longer. No wonder the RV sites were all full.
Mike Tumchewics
Lake Koocanusa, British Columbia
2020 Ford F-350
2021 Cirrus 820
Camera Used – Nikon D850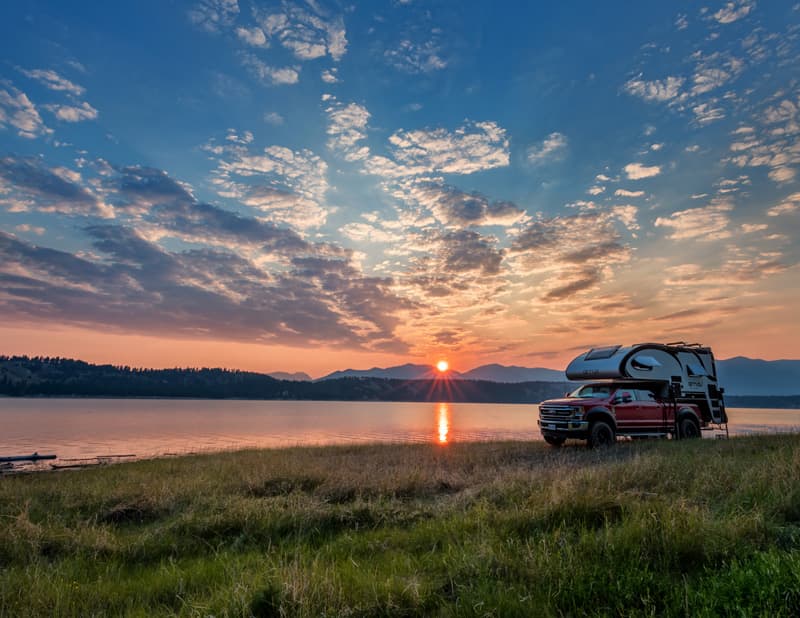 Living in British Columbia, we enjoy accessing the numerous BC recreational sites throughout the province found along both active and inactive forestry logging roads. These are user-maintained campsites, often free of charge, usually with a picnic table and fire ring but without amenities such as power, water, or waste disposal.
This particular site along the shore of Lake Koocanusa (near the border of BC and Montana) is even more rustic (no amenities at all) and is classified as an "undeveloped camping area". This lends itself beautifully to our self-contained truck camper. I had to wait a couple of mornings before clouds appeared and mixed with lingering smoke from nearby forest fires to produce this dramatic sunrise.
Click here to see all of the photos entered so far in the 2022 TCM Calendar Contest. Enter your truck camper photos today!