For Behind the Shot Part 14, we are featuring photos and stories from the Million Dollar Highway, West Quoddy Head Lighthouse, Prince Edward Island, and many more!
Click here to participate in the 2019 Truck Camper Magazine Calendar Contest and be considered for a Behind the Shot feature. Check out all the 2019 Calendar Entries!
Rich Klepper
Red Mountain Pass on the Million Dollar Highway, Colorado
2017 Ford F-350
2016 Lance 975
Camera Used – Nikon D810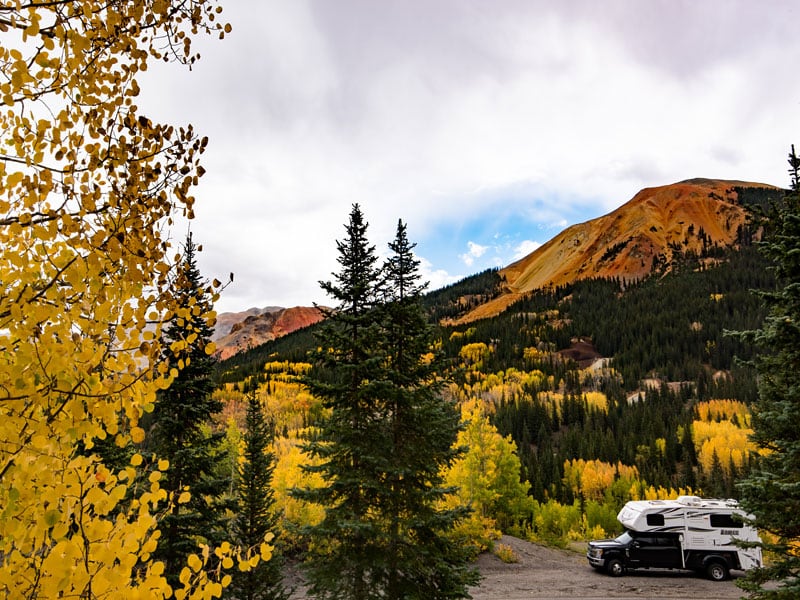 One of our favorite places to see the fall colors in Colorado is along the Million Dollar Highway. My wife and I go out camping every fall to photograph the beautiful Colorado scenery. My wife mentioned this contest as we were sitting on the side of the road waiting out the rain. I went across the highway and climbed up the hill a little ways to get a photo of our truck camper and the wonderful fall colors.
James Duarte
West Quoddy Head Lighthouse in Lubec, Maine
2015 Ford F350
2013 Eagle Cap 850
Camera Used – Samsung Galaxy Note 8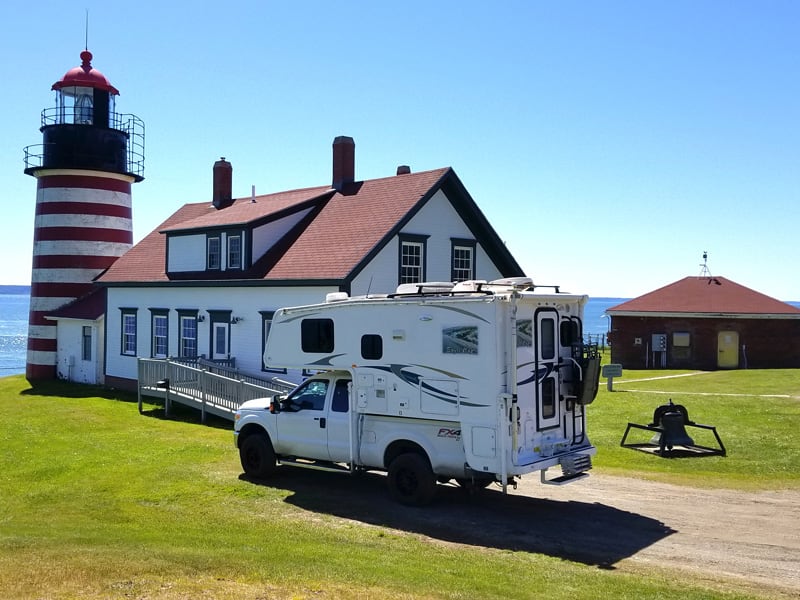 After many years of only beach camping, we were forced to stop due to me having several back surgeries. After two full seasons of not camping at all and contemplating selling the rig, my wife suggested trying some campgrounds. Lubec, Maine was our third trip of the season and what a beautiful place! It was quite the long drive for my back, but we had four days to rest before heading back home. I have lots of gorgeous photographs but no more with the camper or truck in them – figures right?
Treve Johnson
Tioga Lake, California
2017 Toyota Tacoma
2017 Four Wheel Camper Fleet
Camera Used – Nikon D800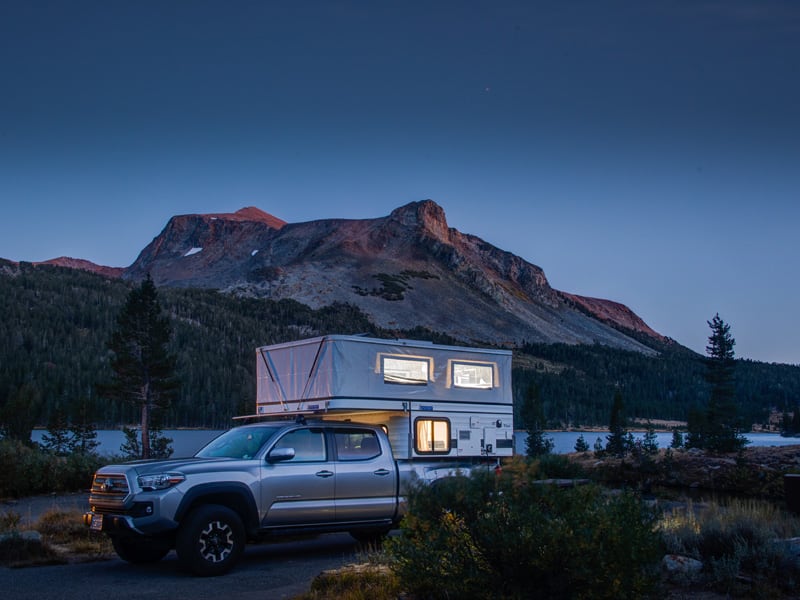 On a recent trip over the Sierras we decided to spend the night at Tioga Lake near Tioga Pass. I'm always looking for interesting locations to take photos of our camping rig. I had a photo in mind of the camper with the lake and mountains in the background.
Bruno Gauthier
White Sands, New Mexico
2011 Ford F-350
2005 Adventurer 100wsb
Camera Used – Samsung Galaxy Note 8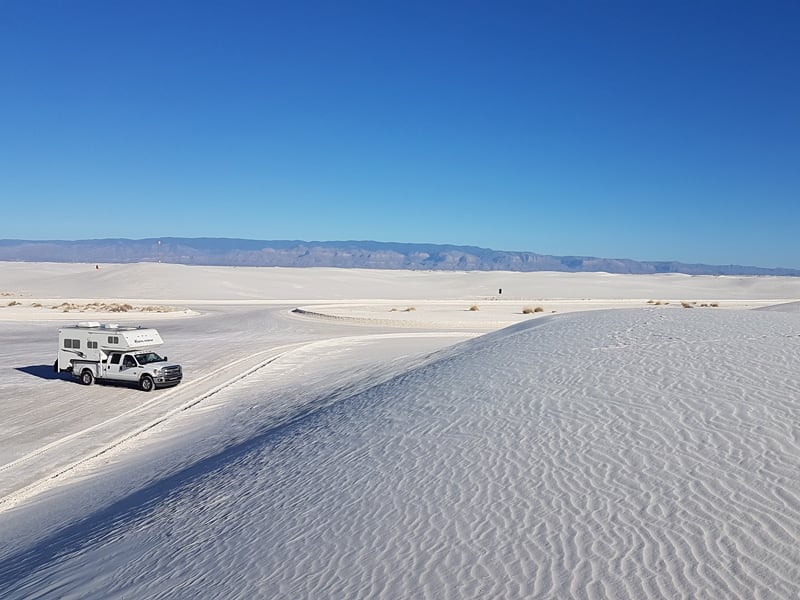 Justin Hinds
La Bocana, Baja, California
2001 Ford F-250
2007 Lance 861
Camera Used – iPhone 6s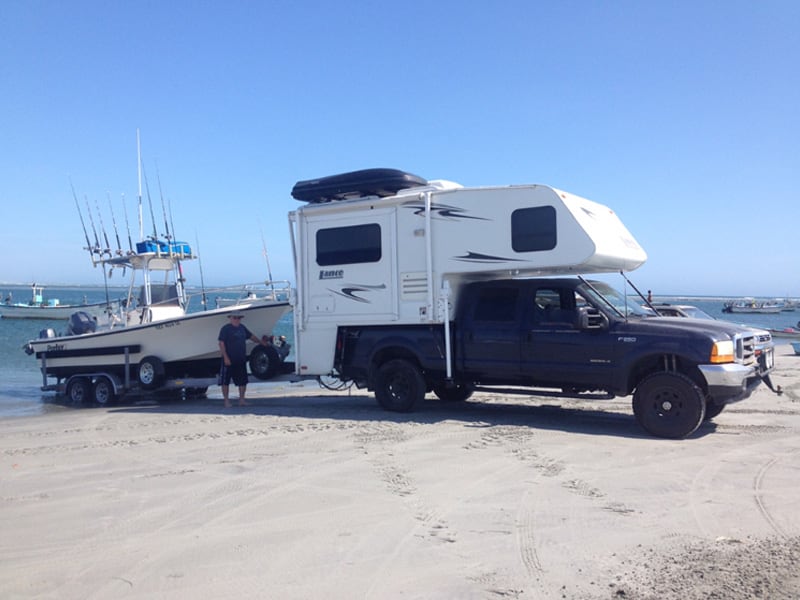 I was beach launching in Baja California with my father. Truck campers paired up with a 4×4 truck are the only way to go in Baja because of their versatility to let you go off the beaten path.
Karl Proude
Murray River, Prince Edward Island
1997 Ford F-150
1967 Vanguard Pop up
Camera Used – Phone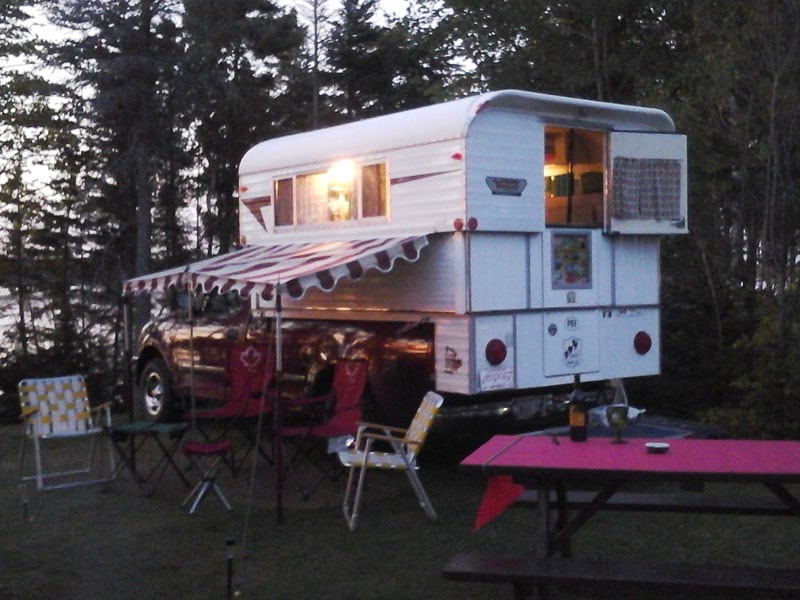 After a very busy summer of performing, my wife, Louise Arsenault, an Acadian Fiddle Player, just wanted some quiet time and space to totally relax. Louise played for nine years in fifteen countries around the world in a very high energy show.
After having performed all weekend at our own Acadian Festival here on Prince Edward Island Louise said, "I would love to just go and park our vintage 1967 Vanguard camper for a week and not turn a wheel. So, we did that right here in our own beloved Prince Edward Island. We had never camped at this campground before, but we will be going back.
Our summers are very busy music wise, so it is hard to say when and where we may be camped. One of our highlights of camping is the Maritime Vintage and Fiberglass Camper meet which I founded in 2006. I am very proud to say that it is still very successful. Thank you for this opportunity to show you our camper and our love for it.
Martin Spriggs
Haines, Alaska
2007 Ford Ranger
2014 FWC Eagle
Camera Used – Olympus OMD EM5
Ralph Goff
Owyhee Backcountry Byway in Idaho
2006 GMC 2500HD
2001 Lance 845
Camera Used – Canon Powershot A590IS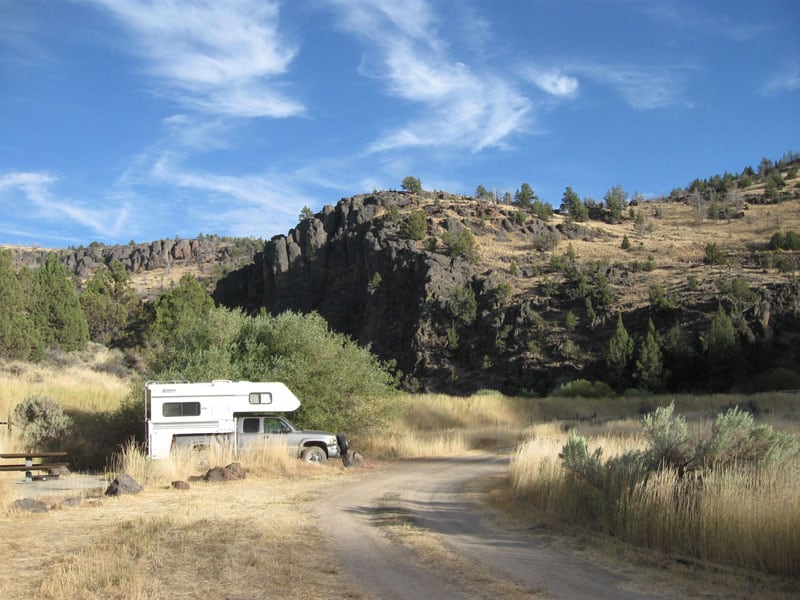 During my Ramblin' 2018 session, I took the Owyhee Backcountry Byway in the boonies of southwest Idaho. It's 105 miles long with 75 miles of gravel. The picture was taken in the neat seven site BLM North Fork campground near the Oregon end of the Byway. It's in a canyon surrounded by black rock bluffs. It's very peaceful and scenic.
Tim Larrabee
Summit Lake, HooDoo Mountains, Alaska
2009 Chevrolet 3500HD
1997 Fleetwood Elkhorn
Camera Used – Canon 6D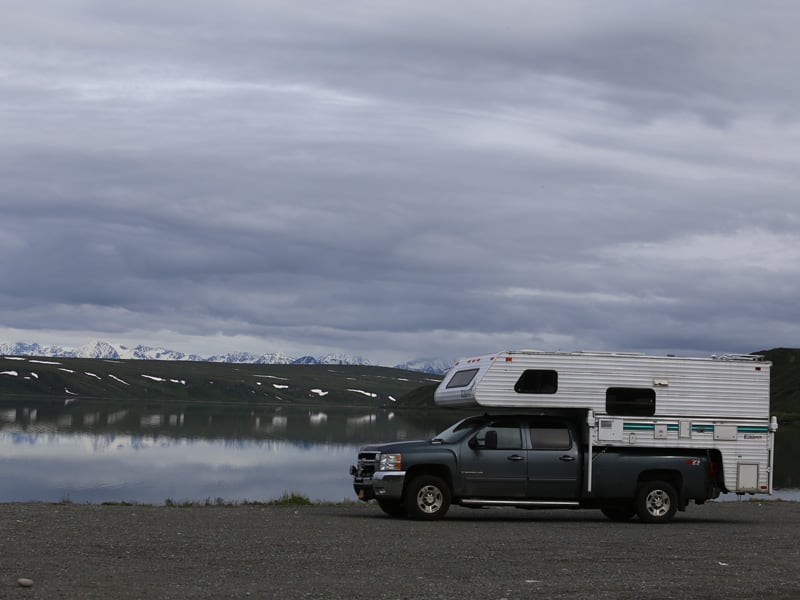 I pulled off to have lunch on our way to Kenncott historic site and this seemed like a good view.
Bruce Allison
Moki Dugway, Utah
2017 Ram 3500
2012 Adventurer 910FBS
Camera Used – iPhone 6s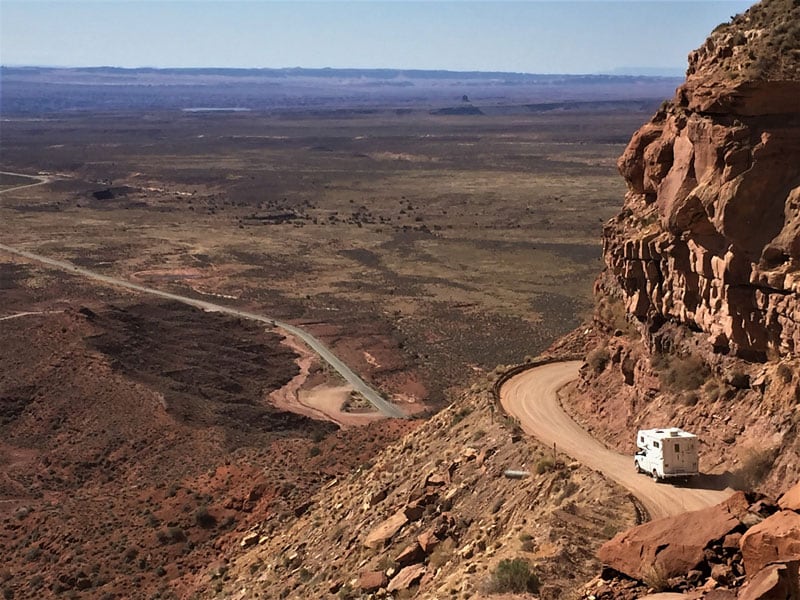 George Lovely
Taughannock Falls State Park, New York
2018 Silverado 2500
2001 Lance 845
Camera Used – iPhone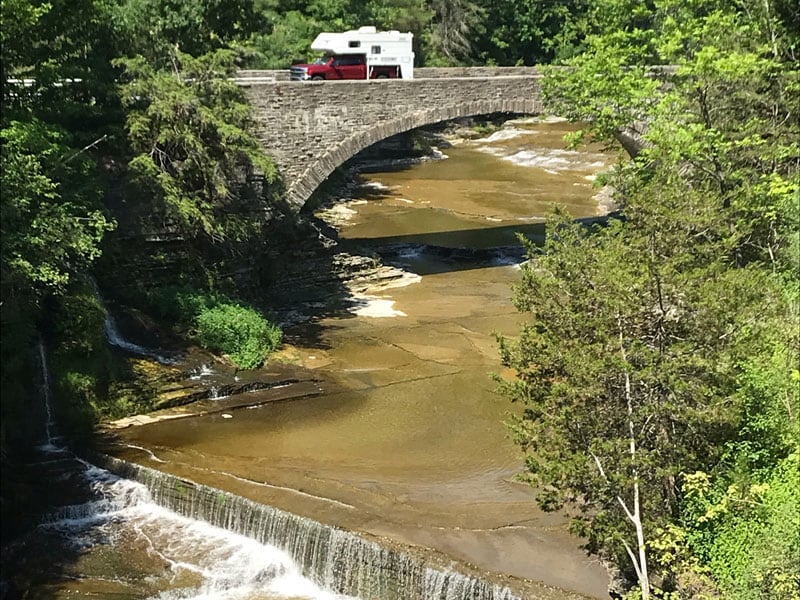 My wife and I spent a weekend seeing six of the eleven possible waterfalls in the Ithaca, New York area. Saturday we enjoyed a full day of hiking and wading in knee deep water finding waterfalls with our two senior Jack Russell Terriers. With our tired dogs we spent the night at the Yellow Lantern campground in Cortland, New York.
Angela Klinger
Boondocking on BLM land North of Elephant Butte, New Mexico
Off of I-25 on Monticello Road
2018 Dodge Ram 5500
2017 Arctic Fox 1140
Camera Used – iPhone 6s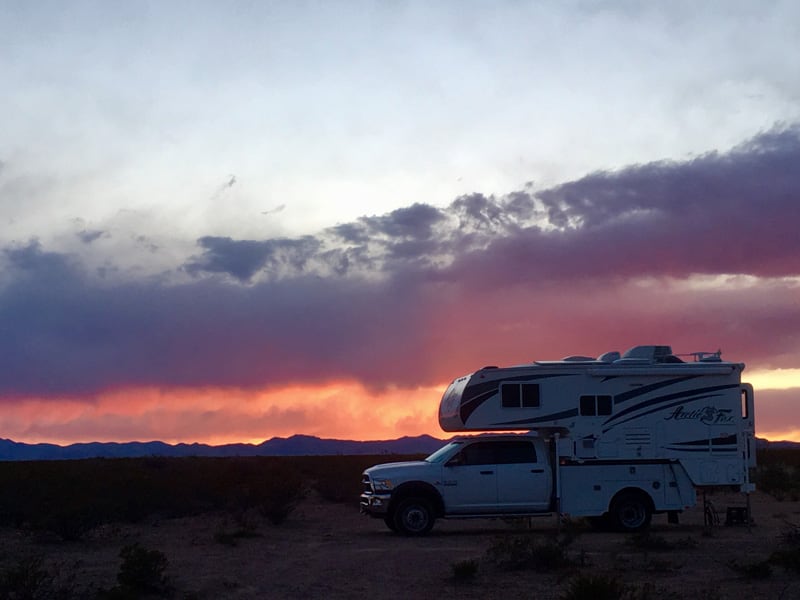 Jim Fraser
Dawson City, Yukon
2016 Silverado 3500
2000 Lance 1020
Camera Used – Phone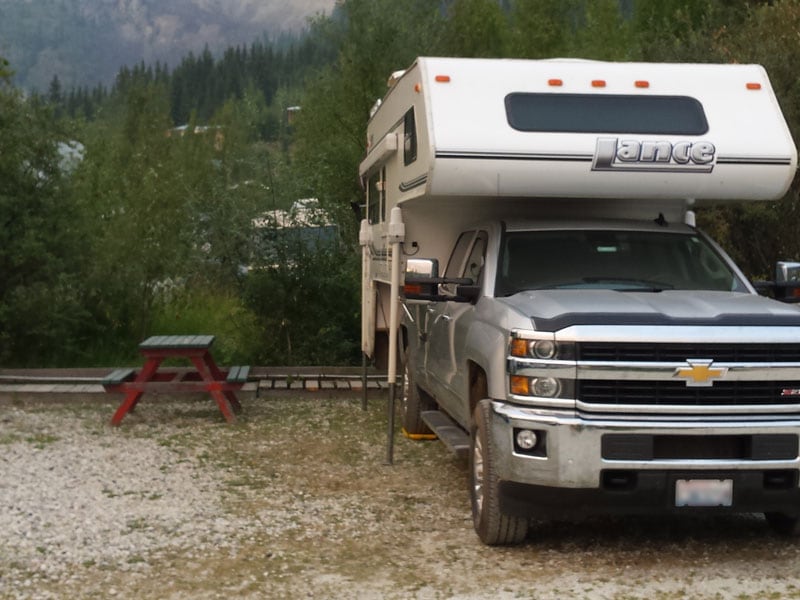 This photo was taken at a campground in Dawson City in July 2018.
Sandy Schmidt
Zapata Falls Campground, Colorado
2006 Toyota Tundra
2015 Four Wheel Camper Hawk
Camera Used – Phone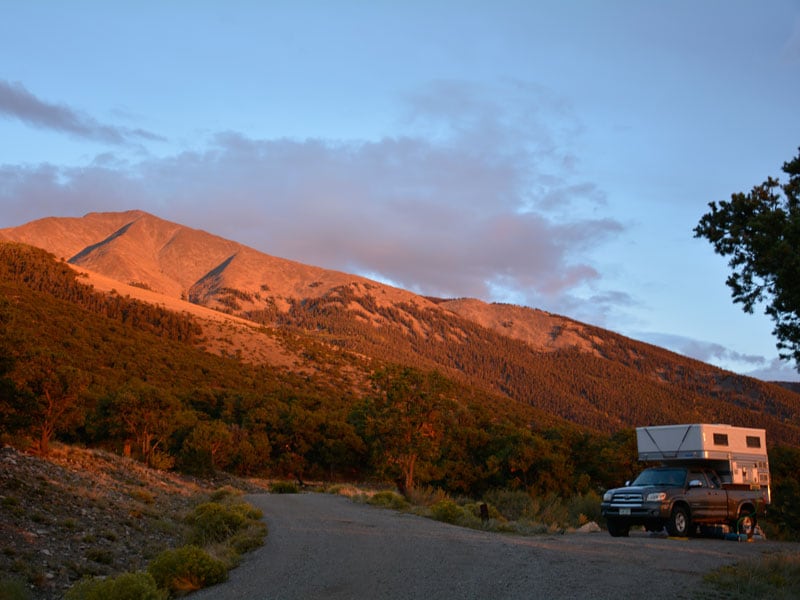 After a good rain and hail storm we got this spectacular sunset over the San Luis Valley. The San Juan mountains are in the distance.
David Stephens
White Sands National Monument, New Mexico
2014 Ram 2500
2018 Lance 825
Camera Used – Samsung S5 phone
This photo was taken the second day after we purchased our Lance 825 truck camper. We stopped at White Sands National Monument on our way from Arizona to our home in Texas. It was a picture perfect day!
Kevin Burkhart
San Isabel National Forest, Colorado
2015 Ford F250
2016 Lance 995
Camera Used – Nikon D7000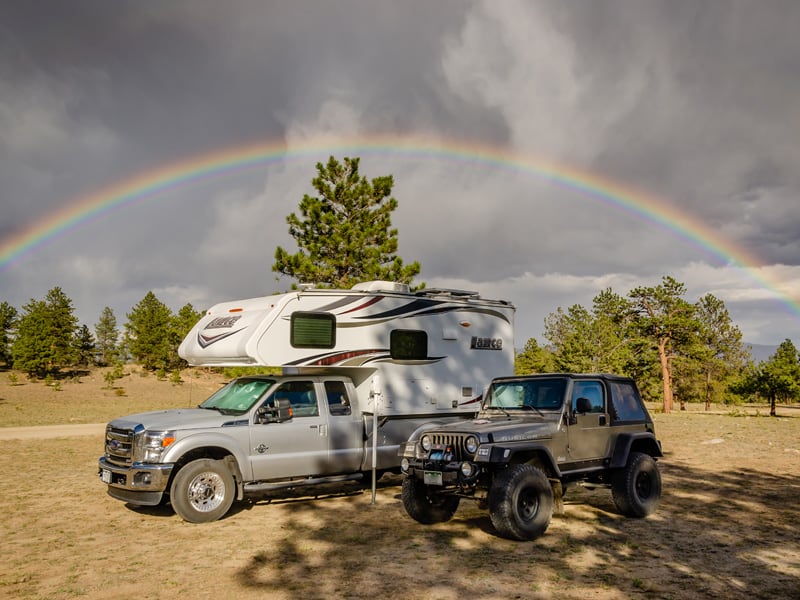 While enjoying our dinner inside during a short rain shower, my wife looked out and saw the end of a rainbow. I grabbed the camera and walked to get away from the tree, and there it was, right over the campsite. This photo was taken September 24th, 2018 as we boondocked in the San Isabel National Forest near Salida, Colorado.
Becky Lucci
Salmon Glacier in Hyder, Alaska
2015 Ford F250
2016 Lance 995
Camera Used – Nikon D7000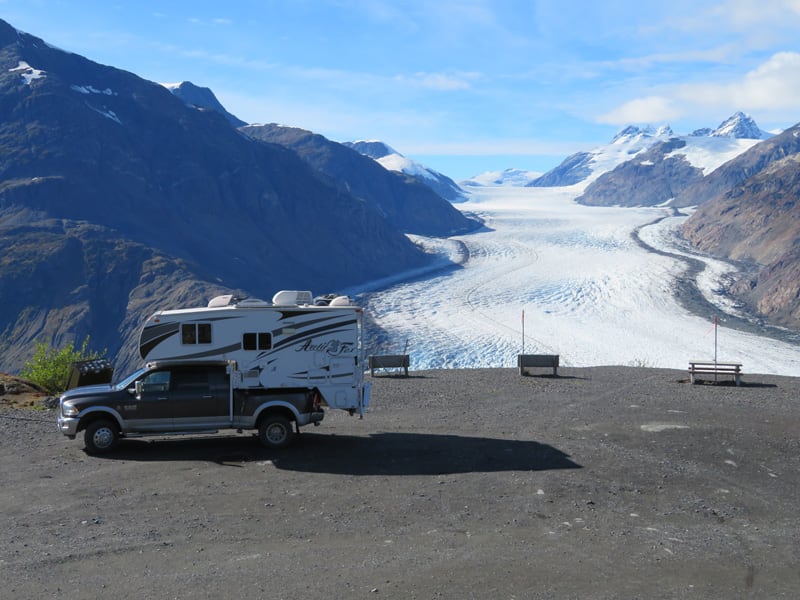 We have been traveling for six months in our camper through Canada and Alaska. The is of the Salmon Glacier in Hyder, Alaska.
Eldon Rhodes
Pierce Stocking Scenic Drive, Empire, Michigan
2008 Chevy 3500HD
2011 Lance 1050
Camera Used – Samsung Galaxy S8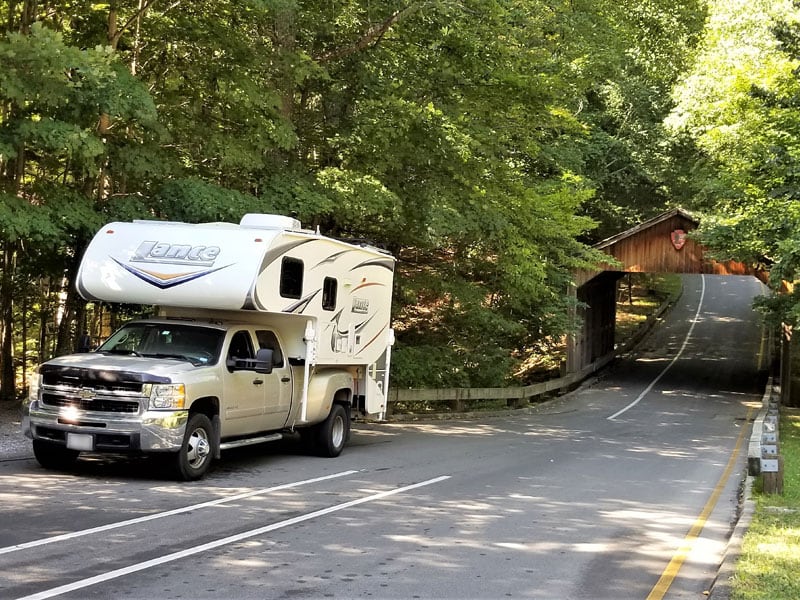 My girlfriend and I were on our way to the Upper Peninsula of Michigan and camped at the Platte River Campground on Sleeping Bear Dunes National Lake Shore. One of our neighbors in the campground suggested we drive the Pierce Stocking Scenic Drive. We did and saw some gorgeous scenery including great views of Lake Michigan from the top of the dunes.
Steve Hinkey
Twin Lakes, Colorado
2012 Chevy 1500
2012 Northstar TC650
Camera Used – iPhone 8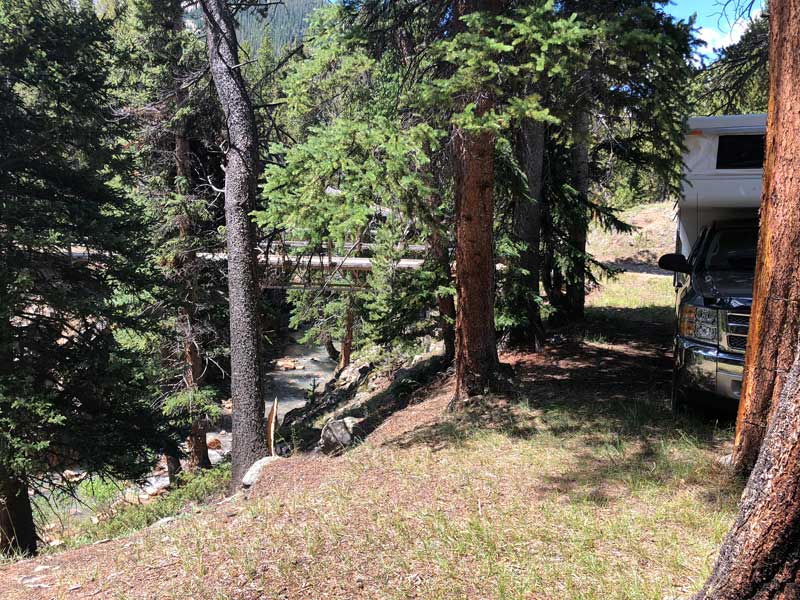 Returning from a ten mile hike to 12,500 feet where we swam in a lake on the Continental Divide and plunged into the stream below the waterfall on the way back down, it started storming like mad. Once it cleared my sweetheart asked if we could jump in the creek below our camp!
This was on our first real camping date together with me not knowing that she likes virtually the same style of hiking, swimming, and backcountry travel. In fact, I picked her up at Denver airport at 10pm, and drove her three hours to the completely torn up backroad. We had no cell for four days.
We crawled the rig in the dark, hacking overhanging branches with a machete, and I did not hear one squeak out of the truck or the camper during the entire five mile crawl. With all the reachable campgrounds packed, we ended up with the most gorgeous backcountry site. We saw all of four people in four days. Lovely.
Click here to participate in the 2019 Truck Camper Magazine Calendar Contest and be considered for a Behind the Shot feature.