Truck Camper Magazine invited the entire 2013 Mid-Atlantic Truck Camper Rally to check out a prototype 2013 Chalet TS116 triple-slide truck camper with a washer/dryer.  And that was just the beginning.

When we first learned that Don and Pat Rose, the Owners of Chalet RV, had a one-of-a-kind triple-slide prototype with a completely new floor plan, 650 watts of solar, a washer/dryer, and radiant floor heating, we had just one thought in mind.
With fingers crossed, we called the Roses and asked, "Would you guys bring your new prototype to the Mid-Atlantic Truck Camper Rally?"  Then we held our breath and waited for a response.  Turning blue…
"That sounds like a great idea!" replied Don and Pat.  Angela and I quietly inhaled, simultaneously lip-sinking, "No way" at each other, and tried to keep our cool.
Upping the ante, I suggested, "We'll do a rally review and let everyone take a look at the camper and publish their responses in TCM".  Again, no breathing.
"Let's do it," said Don.  I think they were as excited about the idea as we were.
To put this into perspective, there were a whole lot of firsts about to happen.  Never before had a significant prototype been brought to a rally for direct consumer feedback.  Even better, this prototype was bring presented by the owners of the company themselves, who were actually camping in the unit!  Truck camper manufacturer owners who camp in their campers, at rallies, and show us a prototype?  No way!
Over one hundred people came through the Chalet over a three hour period.  What follows are their comments.
Check out our thoughts on this triple-slide truck camper.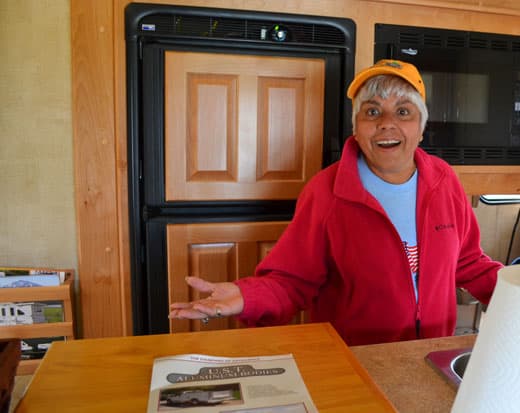 "It's beautiful.  I love the windows.  I'm a cook, and this is a cook's kitchen.  It's a dream." – Doris Bluth
"If you're not holding the shower door, it snaps shut.  This camper has a chair.  I would like something with a couch.  This camper has a lot of storage.  There is a lot of room in the bathroom.  I like how you get in the bed on either side.  There is lots of room and this is a great camper." – Gary and Lynn Bell
"It looks like an apartment sized washer/dryer.  The fit and finish shows improvement from the older Chalets.  This is top notch.  The woodwork shows attention to detail.  I believe it fits the price point of the camper well.  The design is well thought out for the person who would want a washer/dryer on a high-end camper.  They should have See Level gauges.  They cost about $130." – John Wells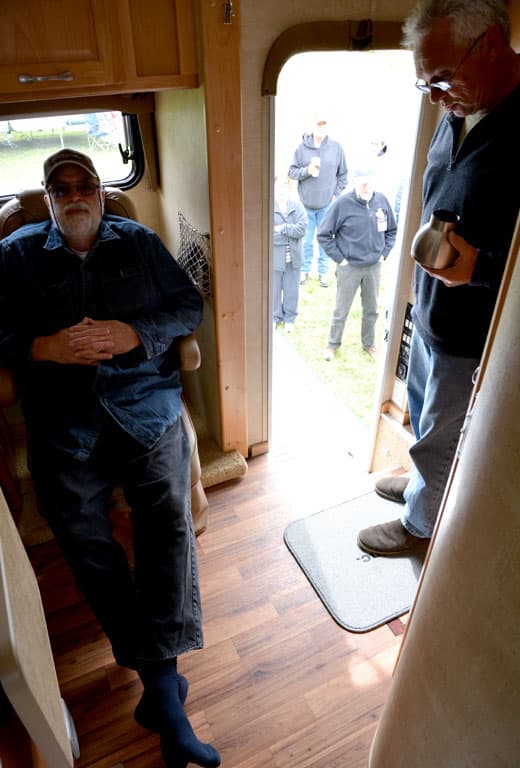 "It's good that you have both sides to get into the bed.  I like the recliner chair.  There is a lot of storage and a washer/dryer.  I am impressed." – Joe Brown
"The stairs getting into the camper are nice.  I love the shower door.  I like the storage in the back of the camper.  There is a lot more storage in this camper than the other TS116s.  I love the windows.  I wonder what the power draw of radiant floor heating is when you are off the grid camping.  Is it an option?  There is a very nice use of cabinetry in the overcab.  I like the cutting board on the sink.  Good placement of the controls." – Anne Brown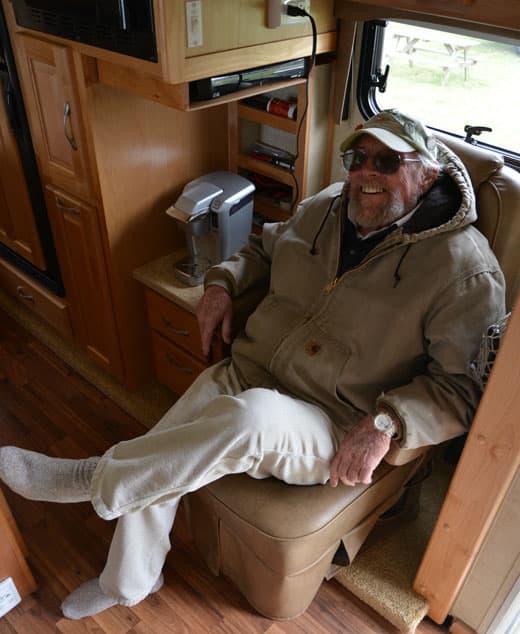 "Really nice design.  The recliner is nice.  The camper is too big for me for the stuff we do, but it is beautiful inside." – Skip Bosley
"The heated floor is nice.  I would want to get in to the bathroom with the slide-out in." – Trish Evans