Chalet RV built a one-of-a-kind prototype triple-slide truck camper to demonstrate their vision and test new materials, layouts, and appliances for future models.  Stop the press!  Breaking News at the end!

Due to the fact that the Chalet TS116 Prototype camper is a one-of-a-kind prototype, and not a production unit, my review of this product is more general than usual.  This approach is also appropriate given that I was only inside the camper for about an hour total.  The rest of the time I played, "gate keeper" outside during the rally review.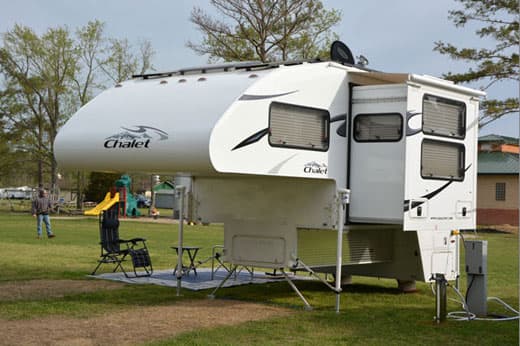 As soon as the Chalet prototype rolled onto the rally field grass on Friday evening, a buzzing crowd gathered.  The rally was bursting at the seams with anticipation about this new Chalet floor plan.  People couldn't wait to find out where that washer/dryer was!  Honestly, I was excited too, but I knew we needed to wait until Saturday to go in or Don and Pat would never get any rest after their long travel day.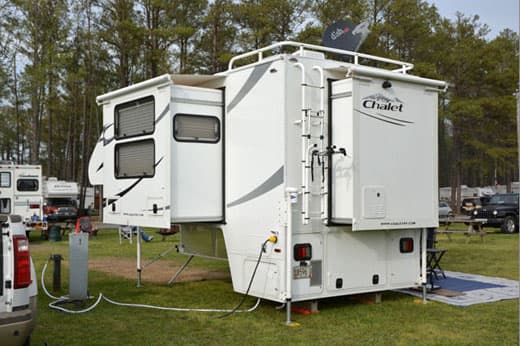 Even with the few minutes we stood outside, it was obvious that this camper was different.  The first thing that jumped out were the windows.  The dinette slide featured two big acrylic windows and smaller acrylic windows on the sides.  Then I noticed the rear slide was a different size and depth than I had seen on other Chalet units.  Clearly there were some interesting things going on inside this camper.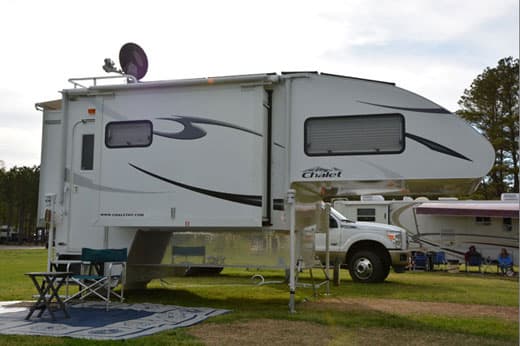 The rally review began at 11:00am the next day.  By 10:59am, Angela was sitting in the dinette writing comments and I was playing goalie so no more than four or five people were in the camper at one time.  I asked Don and Pat to stay outside so folks would be comfortable saying what they wanted to say.  Within the next fifteen minutes, the line stretched far and wide.  It was a full on rally review!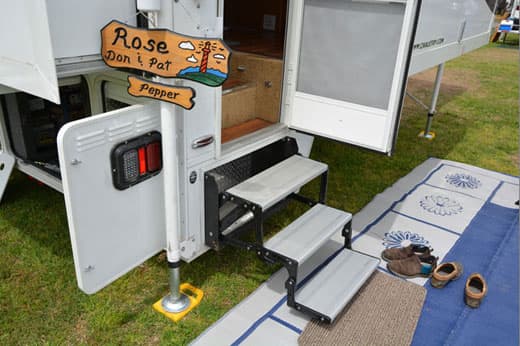 Standing outside, I couldn't help but admire the step system.  They presented a wide and deep step at what appeared to be a residential height.  Almost everyone who waited to explore the camper favorably commented on the steps.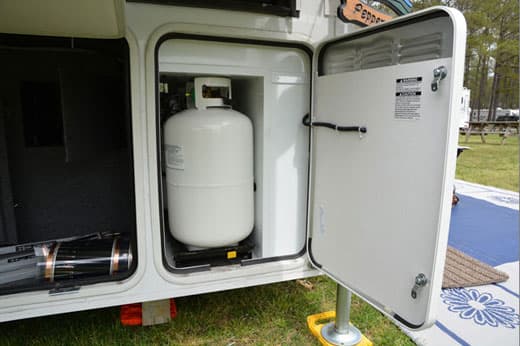 Around the rear skirt, the Chalet prototype had two thirty-pound propane tanks on a roll-out tray and a large rear basement area.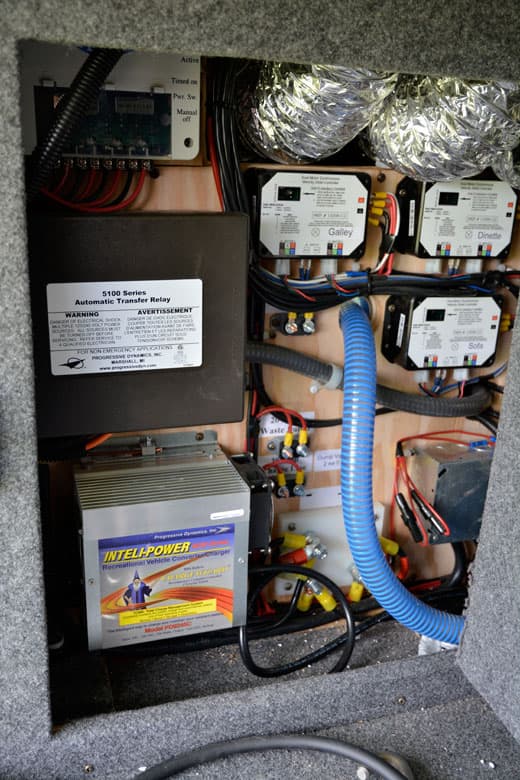 What impressed me the most about the basement were the well organized and installed 2000-watt inverter, Schwintek slide controllers, and Rieco-Titan jack controller.  Everything looked well cared for and easy to access.  Well done Chalet.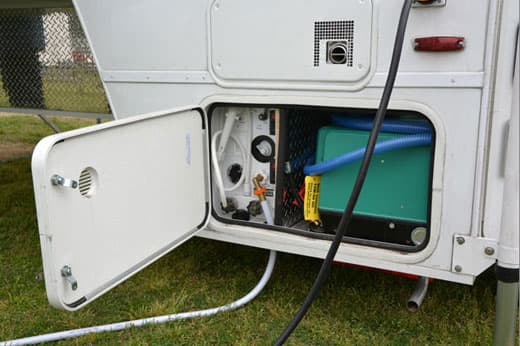 The driver's side skirt had a propane generator, exterior shower, city water connection, and hot water heater vent.  Again, everything looked neat and tidy.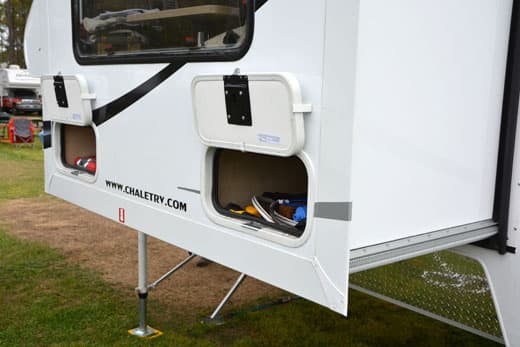 The driver's side dinette slide had two storage compartments and a beautiful red center of gravity sticker.  Boy, those red center of gravity stickers are sure pretty.  Don't you think every truck camper should have pretty red center of gravity stickers like these?