The last consideration for your 12-volt circuit is choosing between a permanently wired 12-volt device (such as a light fixture or fan) and a 12-volt outlet.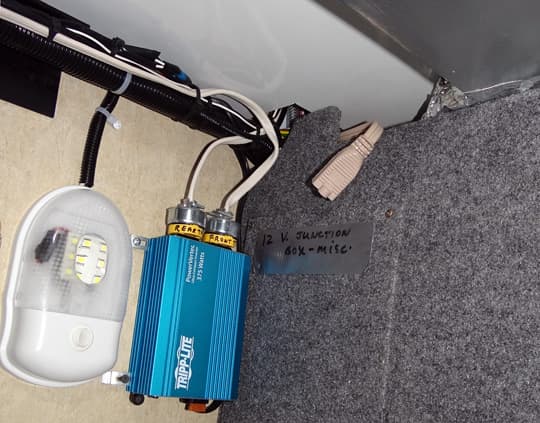 Above you can see a 375 watt inverter is hard-wired in the basement of the camper.  The circuit includes a 30 amp relay and a remote switch with LED indicator upstairs in the living space.  In this example, the inverter powers two televisions and a DVD player.
If your new circuit will be permanently wired to a device such as a 12-volt light fixture, it can be hardwired directly to your new 12-volt circuit.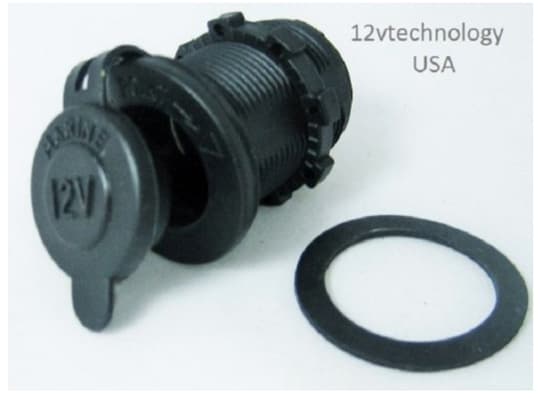 Above: Just one example of many 12-volt outlets available.  These look essentially like the ones in a car or truck.  Photo taken from Amazon.com.
If, however, you want the versatility of being able to plug and unplug a 12-volt device, you will need to select the appropriate 12-volt outlet for the devices you intend to use.  For example, most 12-volt devices have a cigarette-lighter type plug.
USB Sockets Available For 12-Volt Outlets
Other 12-volt devices, including many smart phones, MP3 players, Bluetooth devices, and other portable electronics, have a USB plug.  Inspect the gizmos you need to plug into your new 12-volt outlet, and choose your socket accordingly.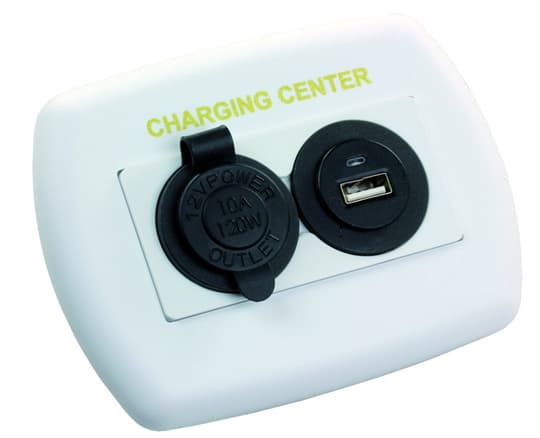 Above: Photo of a Charging Center taken from Amazon.com.
An increasingly popular option is a dual 12-volt standard and 5-volt USB outlet.  If you need both cigarette-lighter and USB outlets, and you have the space in the mounting location, these versatile dual-outlets are definitely worth your consideration.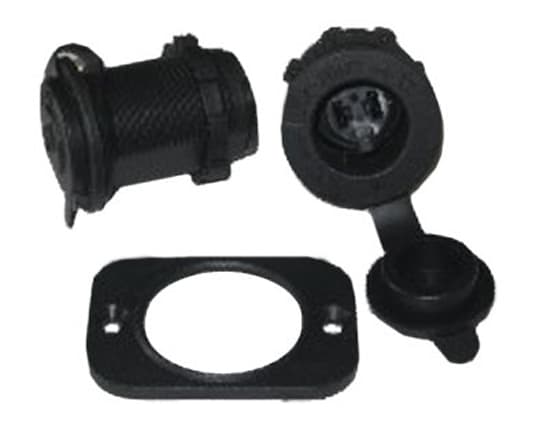 Above: Engel socket and mounting plate, Photo of an Engel socket and mounting plate on Amazon.com.
The Engel 12-Volt Outlet
There are other 12-volt outlet types to be aware of.  The Engel 12-volt refrigerator-freezer outlet is an Australian design with a 12-volt plug developed to be especially secure for appliances.  Some 12-volt appliances, including 12-volt refrigerator-freezers, require high current.  The Engel plug resists accidental unplugging through vibration or inadvertent bumping.  We will be installing an Engel refrigerator-freezer for an upcoming 12-volt project.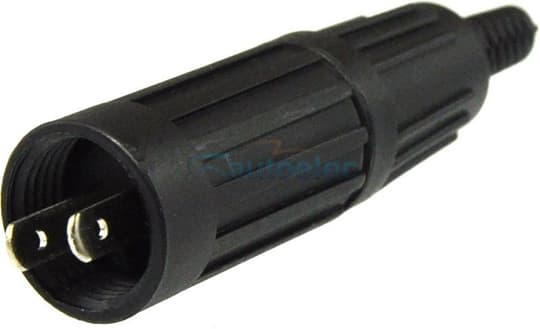 The Engel plug and socket is especially suited to higher current (up to 20 Amps) due to its large flat blades and the securing shroud that actually screws into the outlet after insertion.  This plug cannot pull out accidentally.  Photo from Engel plug on Amazon.com.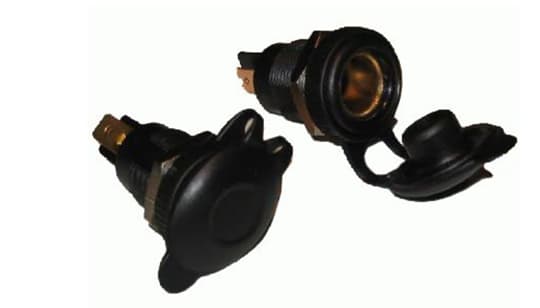 Photo from Flush mount Merit Socket on Amazon.com.
Only slightly less secure than the Engel is the Hella or Merit socket.  Lots of motorcycle-designed accessories use Hella's well-designed socket and plug combination and there's no reason the Hella socket couldn't be used in a RV if you have an accessory with a Hella plug.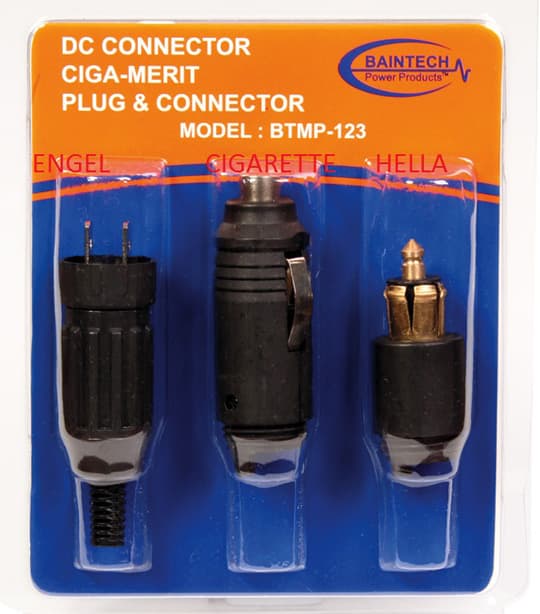 Above: Here are all three plug types side-by-side for comparison and identification. Photo from BatteryTraders.com.au.
12-Volt Outlet Installation Tools
In addition to the 12-volt wire, and chosen termination (device or outlet), you will need a short list of tools.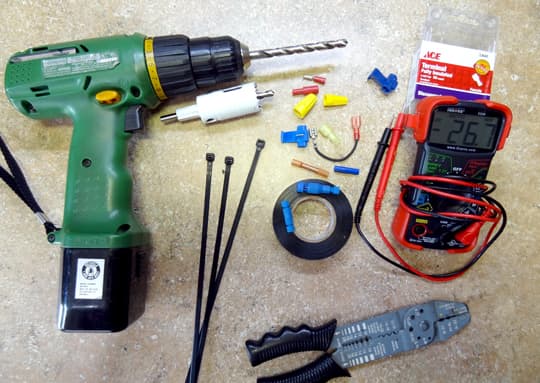 I've assembled some important tools above; cordless drill with hole saw, cable ties, bullet connectors, wire nuts, spade terminal, butt splice connectors, posi tap, posi-lock, electrical tape, scotch lock tap, digital multi-meter, and wire cutters.
You'll see some common (and not so common) connectors as well.  Keep your eye on those blue ones on the tape roll.  I like to call them the Electron Pirates.  They're my favorites, and you'll see them featured in part 2!
Installing The 12-Volt Circuit
Once you have determined (1) a 12-volt power source, (2) the appropriate gauge 12-volt wire for safety, (3) hidden versus surface wiring, and (4) a termination type (permanently wired 12-volt device, or a 12-volt outlet), you're almost ready to install a 12-volt circuit.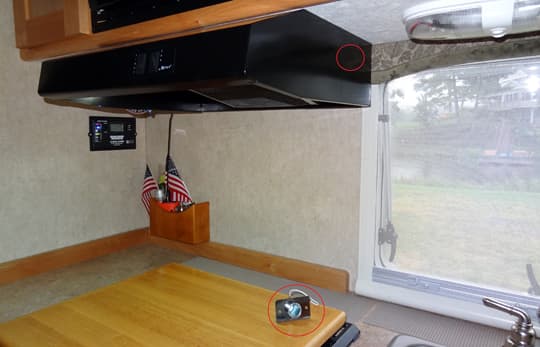 Above: Riddle me this, How will we install a lowly 12-volt cigarette outlet in yonder range hood?  Stay tuned…
Next Up: Installing A 12-Volt Outlet In A Camper
Now that you've studied for your TCEE (Truck Camper Electrical Engineering) degree,  it's time to go for your first practical exam; installing an outlet.  In 12-Volt RV Circuits 102, you'll see a step-by-step 12-volt outlet installation process in my truck camper.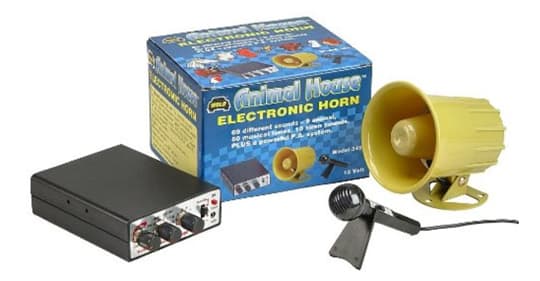 Photo from Wolo 345 Animal House 12-volt Electric Horn on Amazon.com.
After that, I may even take requests.  Want a Wolo 345 Animal House 12-volt Electric Horn and PA system with sixty-nine different tunes and nine animal noises?  Of course you do.  We can do that, in addition to 12-volt LED lights, 12-volt fans, and more 12-volt outlets.
Welcome to the new 12-volt series I like to call, "Doctor John and the Electron Pirates!"  Until then, give me an "ERRRR!" for Electrical RRRResistance!
12-Volt Power Sources  |  Running 12-Volt Wire Through A Camper