While we have visited Bigfoot industries in Armstrong, British Columbia three times over the past 11 years, it's been over 10 years (2007) since we conducted an official and thorough factory tour.  This is partially due to Bigfoot Industries post-recession hiatus, and partially due to Bigfoot's previous desire to be low-profile as they ramped up production.
Weights and Specifications of the Bigfoot 25C10.4 Camper
| | |
| --- | --- |
| Specifications | |
| Dry Weight | 3,230 pounds |
| Wet Weight* | 4,275 pounds |
| Floor Length | 10'6″ |
| Overall Length | 17'11" |
| Width | 7'11" |
| Interior Height | 6'4″ |
| Exterior Height | 8'3″ |
| Center of Gravity | 50″ |
| Truck Type | Long Bed |
We have made a Bigfoot Industries factory tour a priority.  It's time.
In the meantime, we cannot confirm that Bigfoot Industries has onsite scales.  That stated, the 3,230 pound dry weight provided by Bigfoot Industries is in line with our expectations for a long bed molded fiberglass truck camper.
Bigfoot 25C10.4 Weight Sticker
The exterior weight sticker on the rear of the 25C10.4 under review shows a dry weight of 3,090 pounds.  This is likely the base dry weight without options, not the dry with options weight of the camper.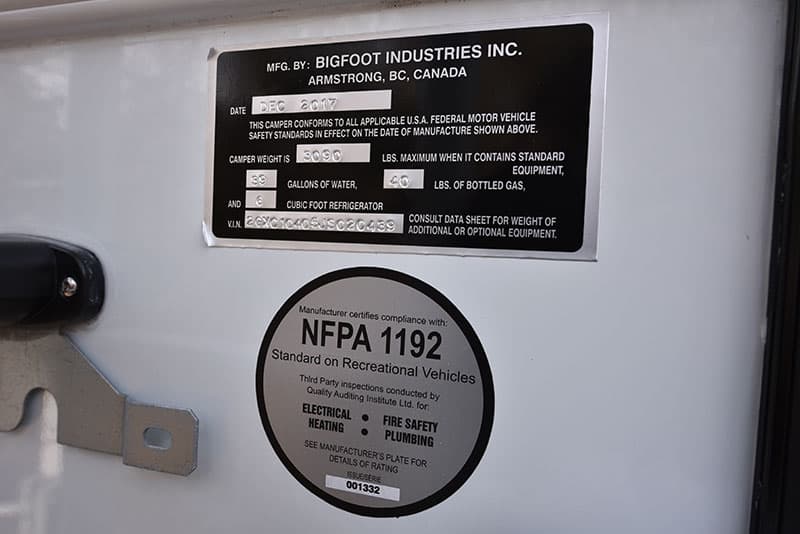 The 140 pound discrepancy between the Bigfoot Industries provided 3,430 dry weight and the 3,090 pound dry weight on the unit is a mystery.  We are hoping Bigfoot Industries can clarify this difference.  If Bigfoot has onsite scales, or certified scale tickets for the 25C10.4, they are welcome to include that information and/or weight tickets in a Manufacturer's Response.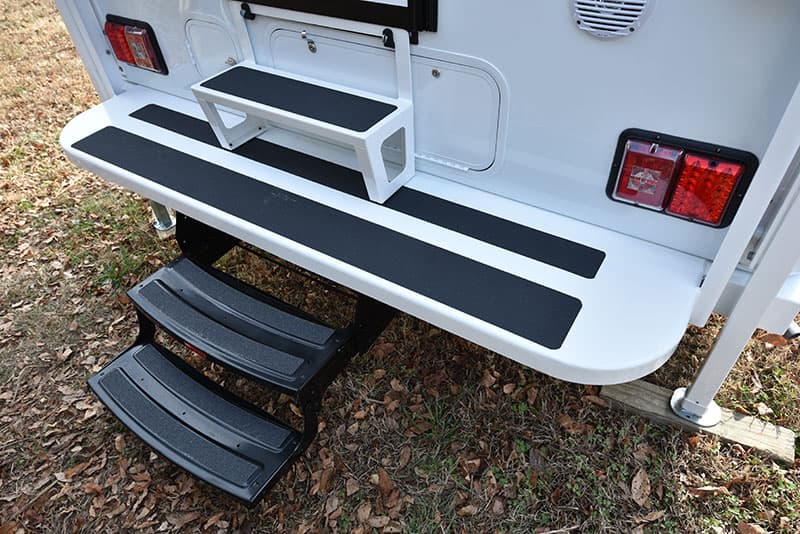 Even at 3,230 pounds, the Bigfoot 25C10.4 presents a lot of truck camper for the weight.  This is especially true given the impressive standard feature list including an aluminum rear bumper step (shown above), remote control electric jacks, 72-inch electric rear door awning with LED strip, 6-cubic foot 2-way Dometic refrigerator, microwave, 30,000 BTU ducted furnace, all LED interior lighting, and a porcelain toilet.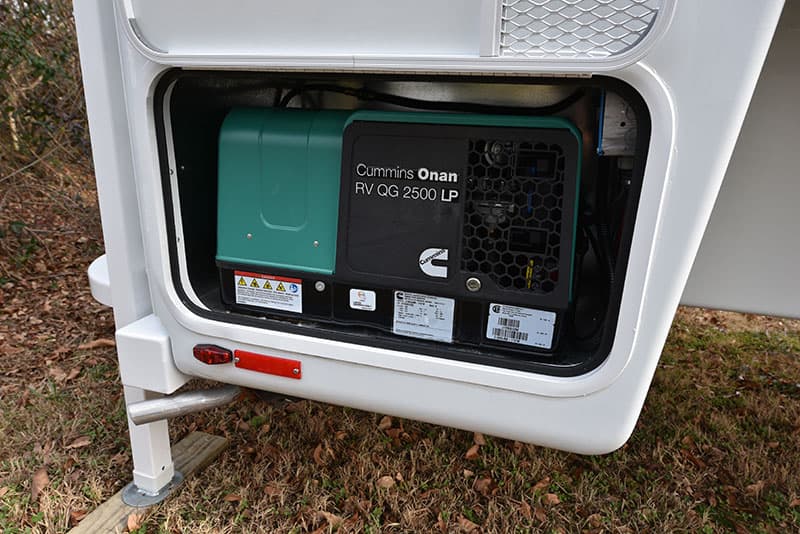 Optional Solar Panel, Air Conditioner and Generator
The Bigfoot comes standard with solar panel system pre-wire and roof air conditioner pre-wire, but a solar panel system (with up to two solar panels) and 11,000 BTU air conditioner are optional items.  Other options include a built-in Onan QG 2500 LP propane generator (shown above), and a wireless rear view camera system.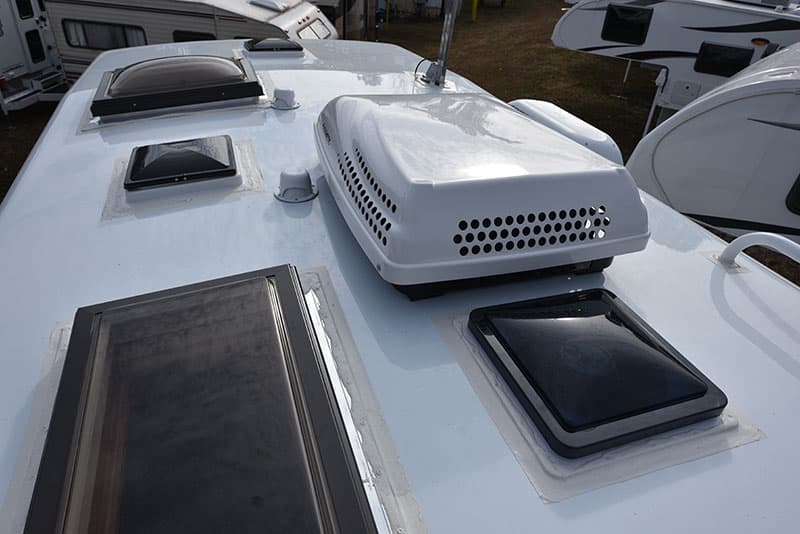 Above: The optional Dometic 11,000 BTU air conditioner on the roof.  Note the molded gel-coat fiberglass.
The interior height of the unit is 6'4".  This is in line with many other truck camper manufacturers, although some offer another few additional inches of ceiling height.  As previously stated, I stand at 6'3" tall and was comfortable walking around inside the unit.  Unless you're as tall as me and have perfect posture, or taller than me, the interior height should be more than adequate.
Center of Gravity At 50″
We are very pleased to report that Bigfoot marks the Center of Gravity (COG) on their truck campers.  We would like to see the COG sticker itself be moved to the visible exterior sidewall of the camper.  As it is, the COG sticker is placed on the underbody of the camper.  It cannot be seen once the camper is loaded.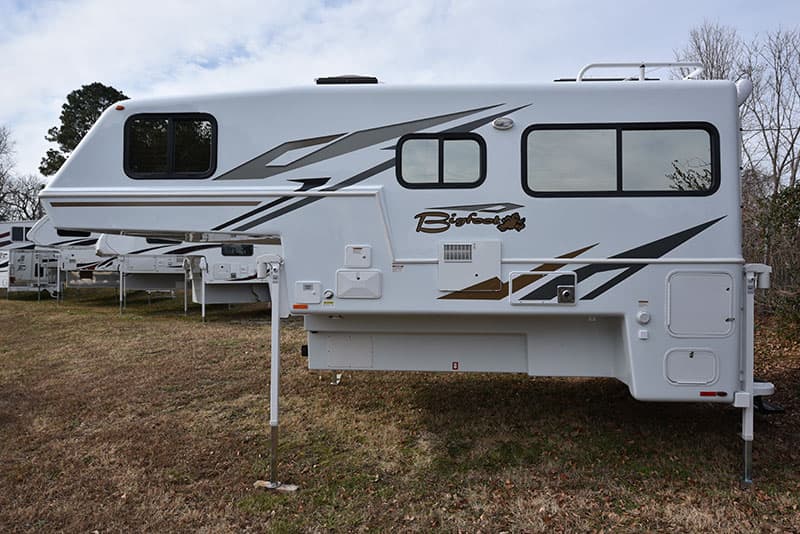 Above: The red Center of Gravity sticker on the underbody of the camper
The 50-inch Center of Gravity reported by Bigfoot should be forward of the rear axle for most long bed trucks.
NEXT – Bigfoot 10.4 Capacities  |  VERDICT – Bigfoot 10.4 Pros and Cons