After repeatedly caulking and sealing our framed, laminated, and screwed together project camper for the past four years, I can barely contain my enthusiasm for two-piece molded fiberglass campers.  No frame to rot or sweat.  No lamination to de-laminate.  An approximately 5-to-1 reduction in external seams and the countless screws they require.  Ladies and gentlemen, after everything we have seen, two-piece fiberglass construction is the best way to build a truck camper for long-term durability – period.
Bigfoot 25C10.4 Final Analysis
The 2018 Bigfoot 25C10.4 is an exemplary example of this superior construction approach, but that's not the whole story.  The 180-degree panoramic rear view, enormous dry bath, highly functional kitchen design, nearly ideal holding tank balance, and excellent battery, propane, and battery capacities add up to something much more.  This is a very special non-slide truck camper.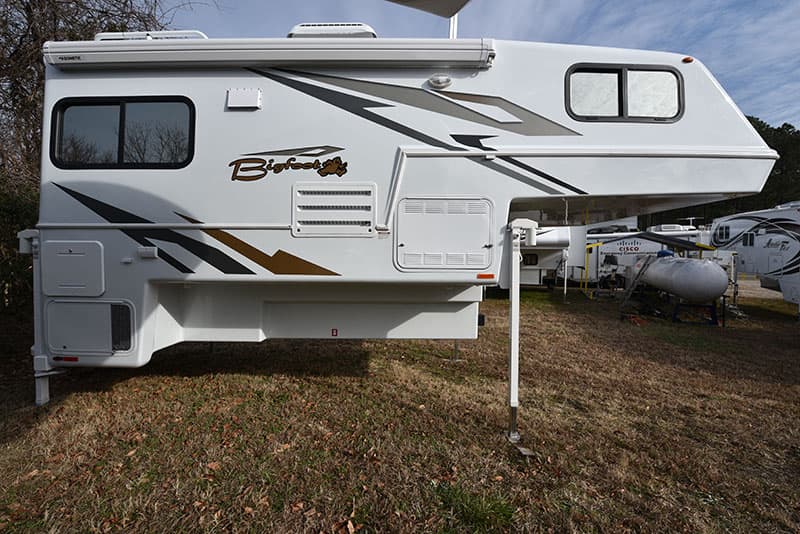 That doesn't mean the 2018 Bigfoot 25C10.4 is perfect.  During the course of the review I found a number of design details that are less than optimal; Center of Gravity stickers that need to be moved, entry way light switches that need labeling, dinette cushions that don't quite make into a bed, an awkwardly placed television antenna crank, and an inconvenient heat duct location in the cabover.
There's also a shortage of 12-volt and USB outlets in the kitchen, dinette, and cabover.  To be fair, the JVC stereo in the dinette does feature a 12-volt outlet, but I would prefer to see a dedicated 12-volt and USB outlet in that area; preferably with more than one USB connection.  While we're at it, the cabover needs an additional 110-volt outlet on the driver's side for a CPAP machine.
Quibbles aside, the quality and quality control on display throughout this camper are beyond reproach.  Everywhere we looked we found evidence of a manufacturer and team who cares about the quality of the materials, appliances, construction, fit and finish.  With a base MSRP of $43,260, the 2018 Bigfoot 25C10.4 is a premium-priced non-slide truck camper, but you can literally see the quality at every turn.  Put bluntly, this is one of the best built RVs on the planet.  Well done, Bigfoot.
Bigfoot 25C10.4 Pros
Outstanding two-piece molded fiberglass construction
Stunning 180-degree panoramic rear view with five big windows
Huge dry bath with a window and a one-piece molded fiberglass shower stall
Excellent quantity of storage throughout unit
Battery, propane, and holding tank capacities are spot on
Built to last by a team that cares about quality and quality control
Bigfoot 25C10.4 Cons
At $43,260 Base MSRP, this is a premium-priced luxury non-slide truck camper
Center of Gravity stickers are obscured from view after loading
Entry way exterior and interior lights need to be labeled
Asymmetrical dinette makes into an odd-shaped bed with non-fitting cushions
Refrigerator door can contact dry bath door on opposite side of camper
Missing 12-volt and USB outlets in kitchen and cabover – dinette has one USB
Model Information:
2018 Bigfoot 25C10.4
MSRP: $43,260
Warranty: Three-year structural warranty.  Individual appliances have their own warranties.
Bigfoot Industries (2010) Inc.
Phone: 250-546-2155
Request a Bigfoot Brochure
Web: BigfootRV.com
RETURN TO – The Complete Bigfoot 10.4 Review
Quality, Customer Service, and Long-Term Reliability
Truck Camper Magazine inspects all reviewed truck campers for design, material, and quality issues and reports what we find.  However, since Truck Camper Magazine reviews only brand new truck campers, our reviews do not address long-term quality, customer service, or reliability.
To learn about a brand's long-term quality, customer service, and reliability, Truck Camper Magazine recommends talking directly with truck camper owners at truck camper rallies and online via truck camper forums and truck camper owners groups.
Please be sure to balance your gathered feedback across multiple sources including direct correspondence with the truck camper manufacturers and your closest truck camper dealers.  Click here if you are new to truck campers.