I distinctly remember the first time Angela and I saw the dry bathroom in a Bigfoot 25C10.4.  It was July of 2007 and we were at Camping Country RV in Fountain, Colorado.  We instantly loved the layout, but the dry bath completely threw our socks out the window.  This dry bath is in a molded clamshell fiberglass non-slide truck camper.  Holy cow!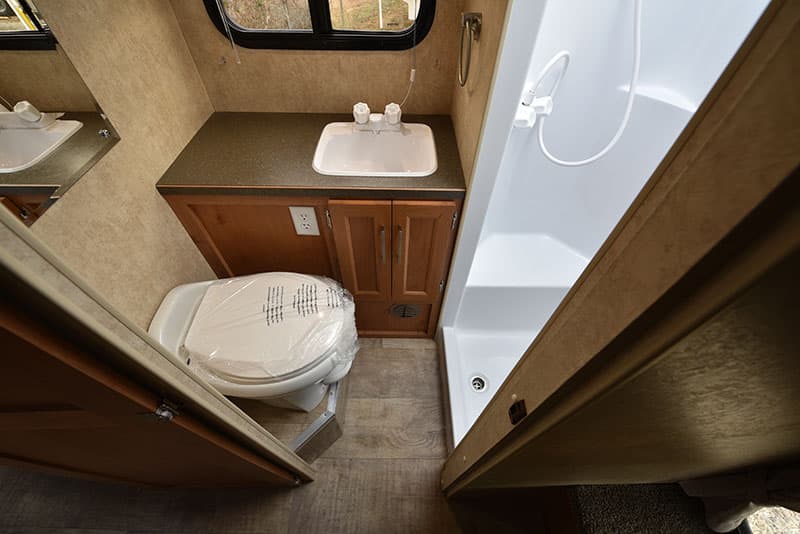 Well, that impression hasn't changed.  Eleven years later our socks went clear out the window, across the street, and on some guy's lawn.
Truck Camper Bathroom With A Window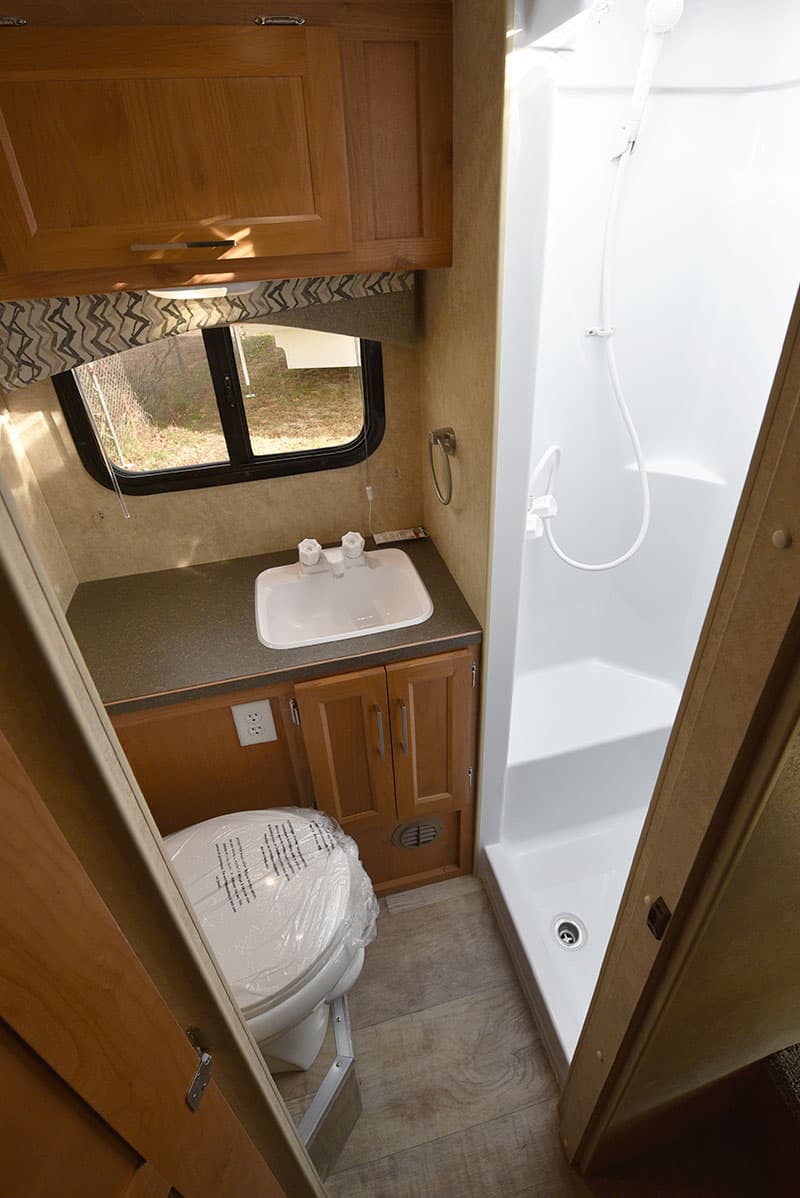 Of course that wouldn't even be possible if this stunning dry bath didn't have a big window.  Not only is this dry bath as big as dry baths in some multi-slide truck campers, but those campers rarely, if ever, have a big window.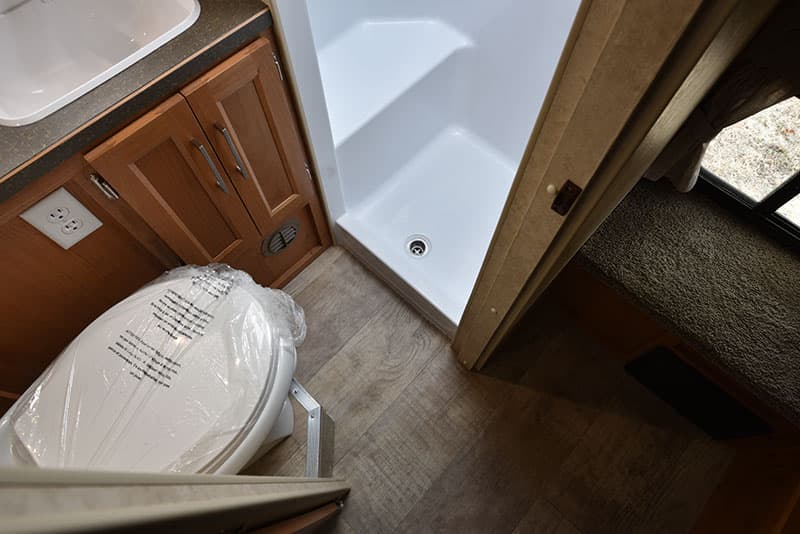 Bigfoot 10.4 Fiberglass Shower Stall
The one-piece molded fiberglass shower stall is as good as it gets.
Also note the ducted heat and the continuation of the stainless cabinetry pulls.  Ideally, the bathroom sink and faucet would also be stainless to match the new decor.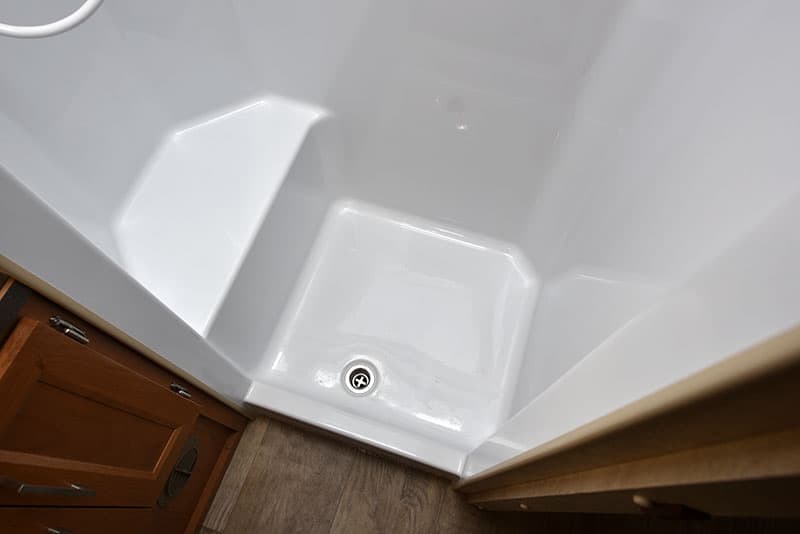 Some manufacturers have gone to multi-piece plastic shower floors, walls, and ceilings.  That's fine to control cost and decrease weight, but nothing beats a one-piece molded fiberglass shower stall for quality and durability.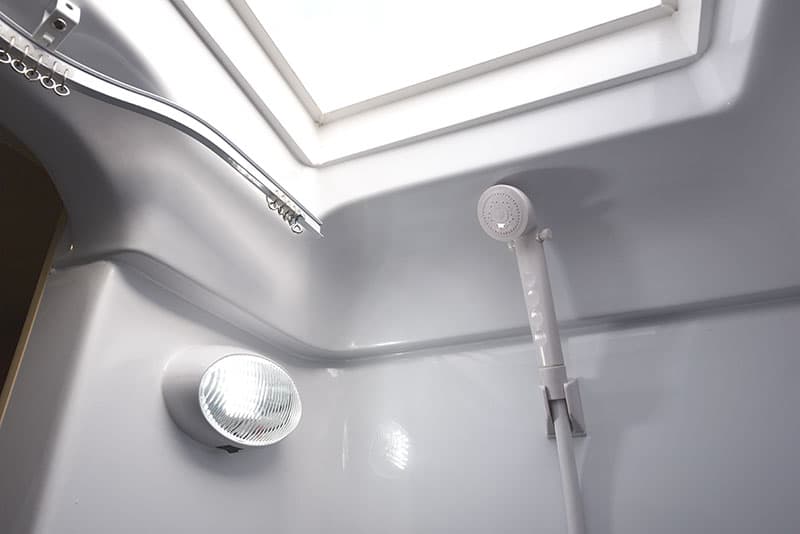 Plus, the white gel coat fiberglass looks better and is easier to squeegee the water down the drain.
Bigfoot 10.4 Bathroom Counter Space
The counter space is awesome with space to put down toiletries and clothing when you get out of the shower.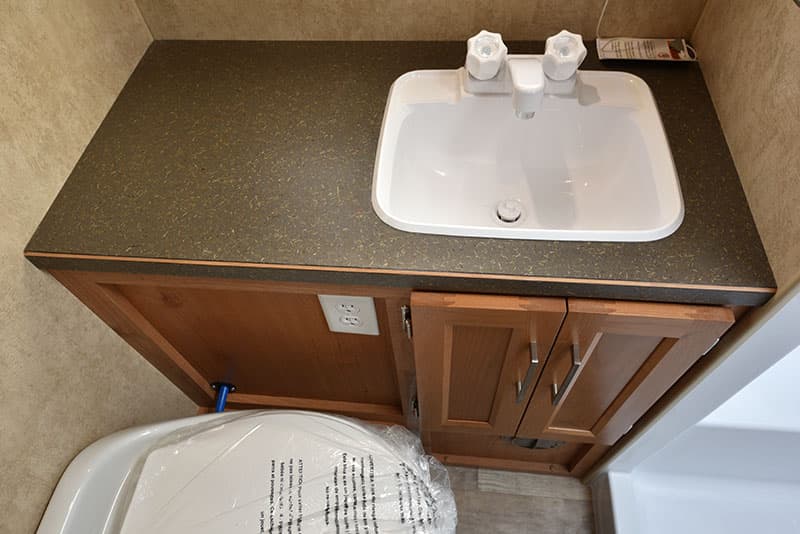 I know residential bathrooms with less functional counter space than this.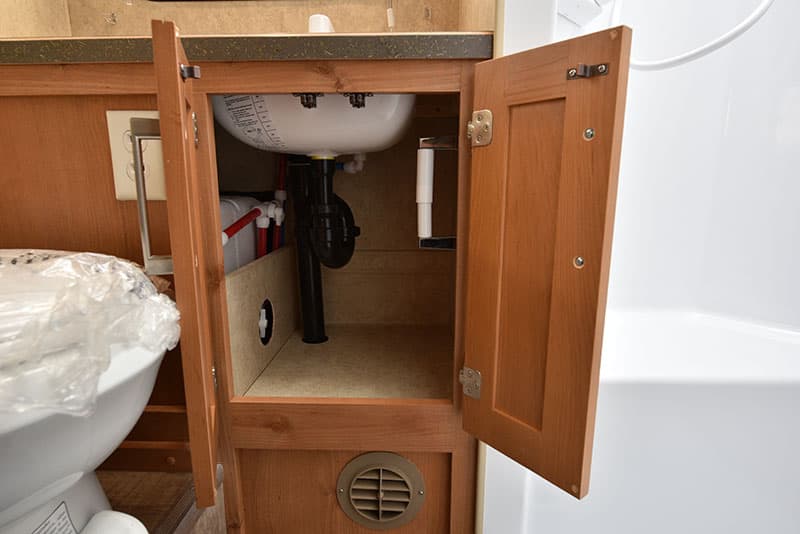 Remember when I said that we were impressed with all of the plumbing and electrical in this camper?  Well, here we go again.  The plumbing work under the bathroom counter is first rate; high quality, well installed, and beautiful attention to detail.
I would be tempted to move the toilet paper roll to the inside of the cabinet door facing the throne.  As it is, it might be a bit awkward to reach.
Water Heater Close To Shower For Immediate Hot Water
While you attempt to scrub that visual, notice that the water heater is located just to the left of the sink's plumbing.  Having the water heater that close to the shower means less water will be wasted waiting for the hot water to arrive.  In our camper the water heater is on the opposite side from our shower and we waste a lot of water every morning waiting for the hot water to arrive.
Finally, that circular cut out under the sink offers access to the bypass valve.  I love details like that!  And you should too because it makes the ownership experience so much better.  Bravo Bigfoot!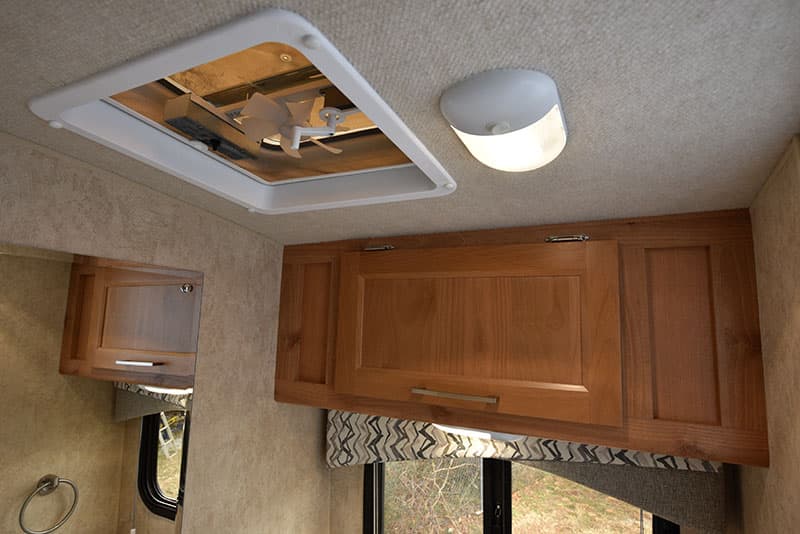 I'm well known for my requirement of a bathroom fan in a truck camper.  That box is checked.  This is one of our favorite dry baths in all of truck camperdom.  Incredible.
NEXT – Bigfoot 10.4 Bedroom  |  VERDICT – Bigfoot 10.4 Pros and Cons