The concept of holding tank balance is important when evaluating the holding tank capacities.  It's also important to understand how fresh water flows to both the grey and black tanks, not just the grey tank.
This occurs because the RV flush toilet draws from the fresh tank.  About 1 to 2 gallons of fresh water gets flushed into the black tank for every 10 gallons that goes to the grey.  Your flushing habits may vary.
Battery and Tank Capacities
| | |
| --- | --- |
| Capacities | |
| Fresh | 39 gallons |
| Grey | 32 gallons |
| Black | 21 gallons |
| Water Heater | 6 gallons |
| Propane Tanks | 2x 20 pounds |
| Batteries | Two Batteries |
Bigfoot 25C10.4 Holding Tank Capacities
With this in mind, the 39 gallon fresh, 32 gallon grey, and 21 gallon black tank holding capacities of the Bigfoot 25C10.4 seem perfectly balanced.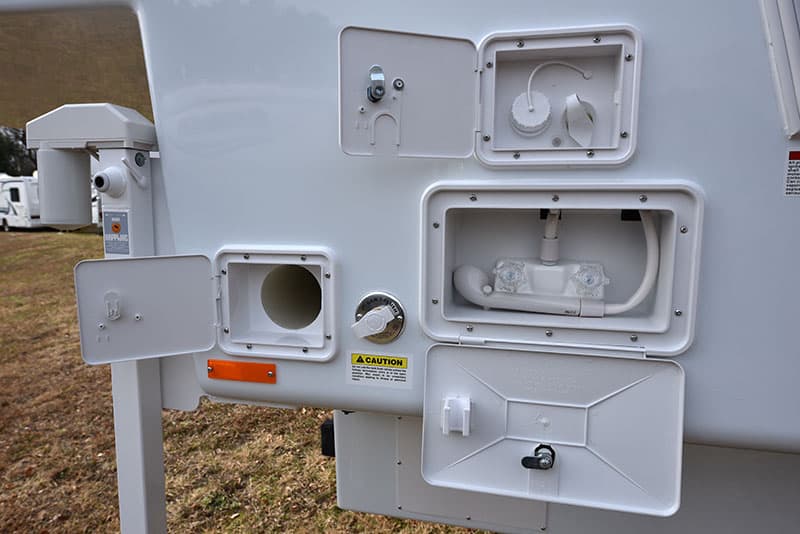 Above: The front driver's side includes a sewer hose compartment, black tank flush, fresh water fill, outside shower
Based on our truck camping experience, these tanks should last about 5-6 days of camping.  With aggressive water and holding tank conservation techniques, you could camp off-grid for a 8-9 days (or more) in the Bigfoot.  Start with paper plates, sponge baths, quick flushes, and never letting the water just run.
The 6 gallon water heater is a standard size for hard side truck campers.  We have showered hundreds of times with 6 gallon water heaters and never once run out of hot water.  It's truly incredible how well they work.  In fact, I've often wondered if the industry should go to 4 gallon water heaters to save weight.
Bigfoot 25C10.4 Propane Capacity
The Bigfoot 25C10.4 has a molded fiberglass propane compartment that holds two 20-pound vertical propane tanks.  20-pound vertical propane tanks are the standard throughout the truck camper marketplace, and for good reason.
You can exchange 20-pound propane tanks at many big box hardware stores, grocery stores, and convenience stores coast to coast, 24-hours a day.  Or you can refill them at any propane filling station.  Excellent choice Bigfoot.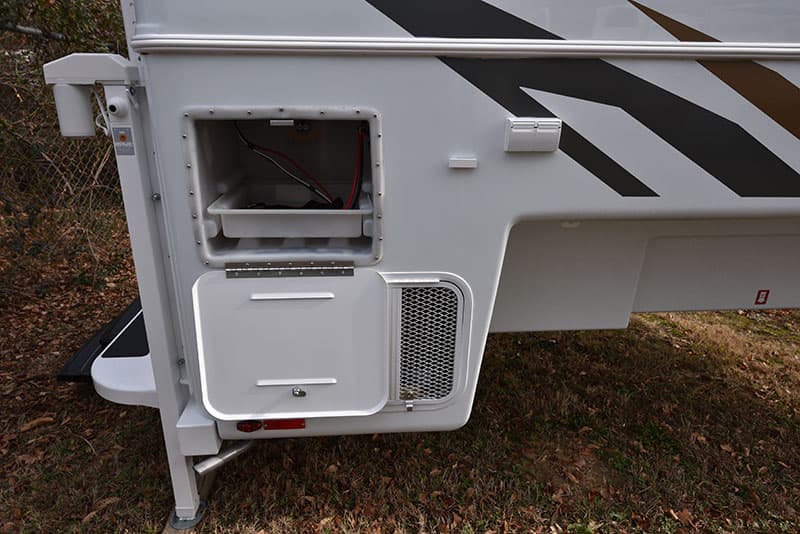 The rear passenger's side of the unit features an external battery compartment with a pull-out tray.  This compartment can hold two Group 27 batteries.  Dual Group 27 batteries are standard for a hard side truck camper this size and provide plenty of amp hours for typical truck camping lifestyle.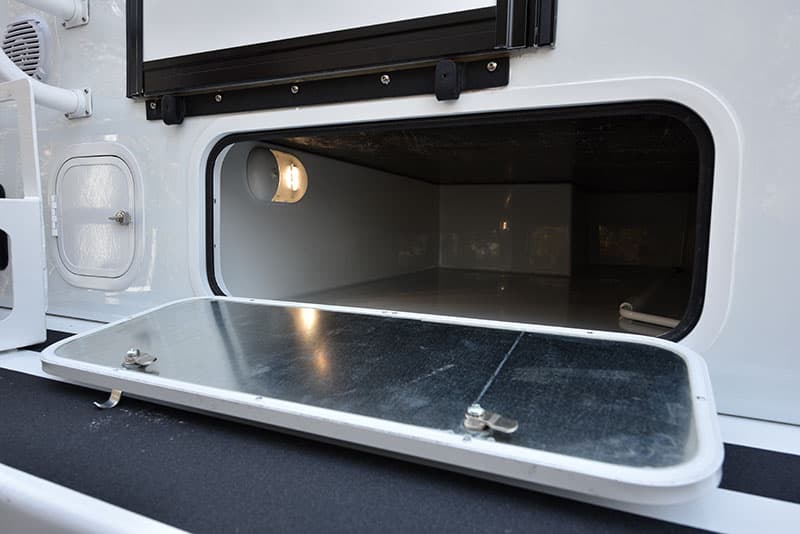 Above: The rear basement storage compartment interior is molded fiberglass
If you need more power for constantly charging laptops (like us) or regularly running 110-volt appliances off an inverter, you might want to consider the optional built-in generator option, a portable generator, and/or finding a suitable location on your rig for additional batteries.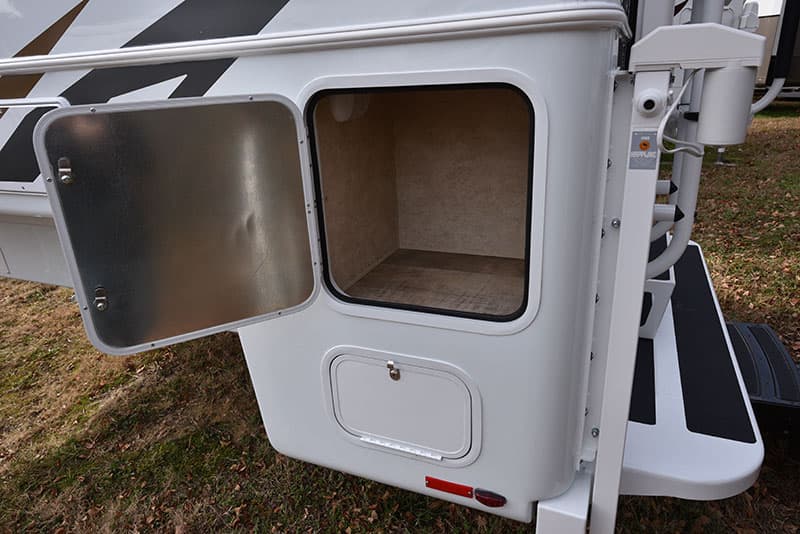 Above: The rear driver's side features a exterior storage compartment.  Overall the exterior storage on the Bigfoot 25C10.4 is outstanding.
NEXT – Wet Weight and Trucks  |  VERDICT – Bigfoot 10.4 Pros and Cons