With four-wheel drive and decent ground clearance, we are fairly comfortable driving most dirt roads, gravel roads, and graded roads. We are also comfortable in moderate weather conditions (rain, snow, and wind) and feel prepared for the occasional slippery mud, leaves, and grass.
We do not tackle deep sand, deep mud, rock crawling, or anything beyond the above dirt, gravel, graded, or somewhat slippery road conditions. The fact is our rig is too long, too tall, and too heavy for real off-roading. Never mind that we don't have locking differentials, aggressive off-road tires, off-road tuned suspension, a winch, snatch straps, or Maxtrax. Snorkel anyone?
If we wanted to go beyond our limitations, we would design and assemble a new truck and camper rig for off-road travel (something shorter, lower, and lighter), and get some serious off-road driver training. Even then we would proceed with caution.
Some might read this and think, "But I thought truck campers were the 'Go Anywhere, Camp Anywhere' RV?"
Everything is context. Within the realm of RVs, truck camper rigs are still superior in their versatility and ability to 'Go Anywhere' and 'Camp Anywhere'. Even if our off-road capabilities are more like a SUV than a Jeep, we leave most motorhomes and trailers in the dust with where we can reach and stay.
This week's Question of the Week was, "Would you consider your truck camper more of a Jeep of RVs or a SUV of RVs?"  Click here for Jeep Camper or SUV Camper Part 1.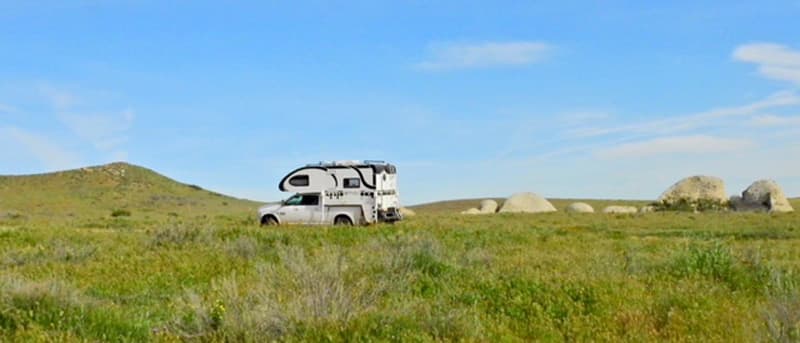 "We have a Cirrus 800 camper mounted on our 2017 Ram 3500 short bed, four wheel drive truck.  It is our first truck camper and we have taken it on several extended trips including an 8,000 mile trip to Alaska.  Our answer to the Jeep or SUV question is that we are definitely some of both, depending on the nature of our excursion (and who's driving).
We bought our truck and camper for a wide variety of uses from overnight grandson babysitting to overnight wine tasting trips to the aforementioned Alaskan trip (which included taking our truck camper on three separate ferry rides.  A Jeep wouldn't work for some of what we do and neither would an SUV, but a four wheel drive truck camper sure does." – David and Nancy Casterson, 2017 Ram 3500, Cirrus 800
"I would have to consider our rig to be more SUV because of its size.  However, we have been in some interesting and challenging situations in the Adirondacks of New York.  We were glad for four-wheel drive and low range!" – Scott and Daryl Kern, 2015 Chevy 3500, 2017 Bigfoot 25C10.4
"SUV works fine.  We tow a JD RSX 860i that does the Jeep part." – Dick Hoffman, 2012 Silverado 2500, 2016 Lance 855s
"It's more of an SUV because of the size and high center of gravity.  That limits some of the places we can go.  We still prefer boondocking, but have to be a little selective of the site and how we get there.  That's why I tow a 47 Jeep." – Dave Erickson, 2011 Ford F350, 2006 Arctic Fox 990
"I don't have four-wheel drive, so our rig is not a Jeep.  Still, we're off-pavement whenever possible and love camping off-grid." – Bruce Colby, 2004 Dodge 2500, Lance 835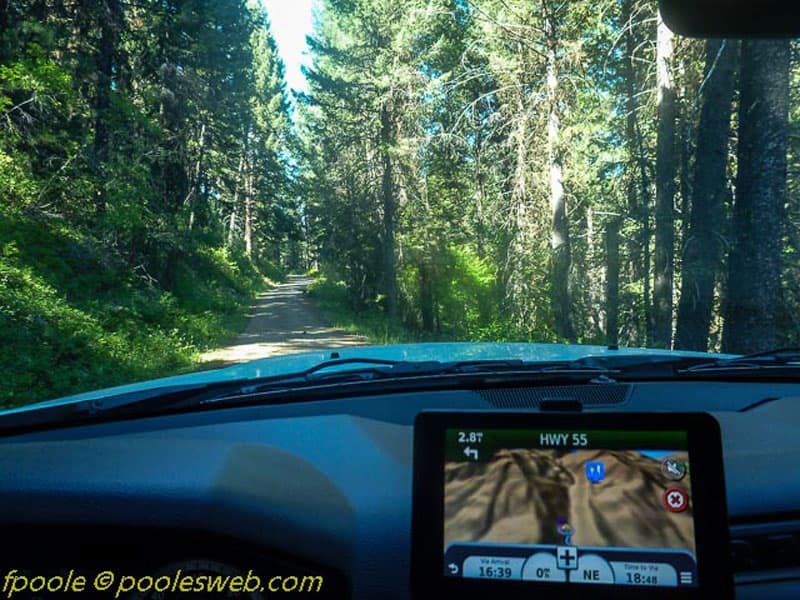 "I'm more like an RV transitioning to the Jeepy side of the outback.  It's a dually, so it's not going whole hog.
I have 480-watts of solar and three sets of six volt batteries.  I am going to add one more 160-watt panel for a total of 640-watts.  I will add another set of 6-volt batteries for a total of eight T-105s wet.
I have a Buckstop-Outback bumper with Warn 16.5 synthetic cable.  I'm adding some recovery tools; four TRED Pro or Maxis extraction pads, Pull-Pal winch anchor, airbags with compressor, and all required accessories.
That might allow me off the beaten path.  I figure it's approximately seven-days before I need to dump and fill.  I consider a hook-up as R&R.  I have hooked-up two times a year in the 2.5 years of a solo full-timing.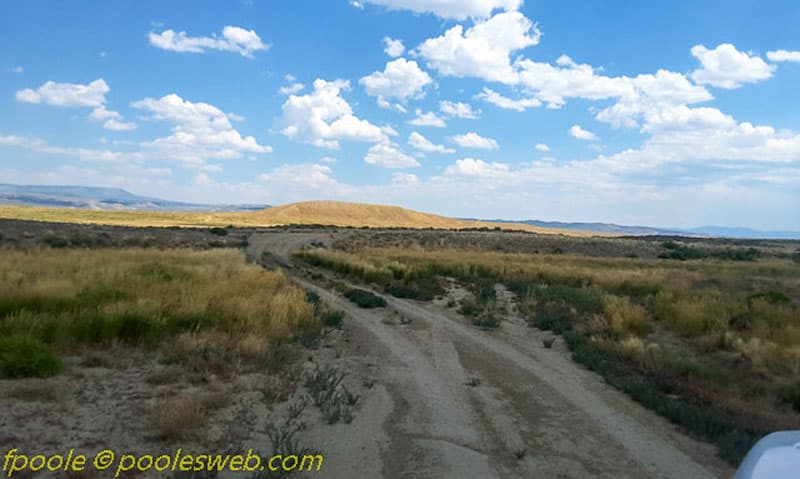 I go on mostly back roads in Quartzsite, Arizona.  They are dirt patches.  I am wary of getting stuck in soft sand out there since I'm by myself.  Thus, I need the above enhancements before I tackle more Jeep trails.
I did have a RZR buggy in tow and have been caught on trails starting to narrow and no place to turn around.  I have been on the side of 100+ drop offs where my arch-nemesis, Ms. Garmin, decides to jump ship and dump me out in the middle of nowhere.  Worse, it might show a turn around loop and then it disappears.  So, it's still an SUV status, but I'm working on it.  Sigh.  Someday.  Fun." – Frank Poole, Ram 5500, Arctic Fox 990
"I use my setup for K9 search and rescue.  This allows me to go on many searches in mostly wilderness settings.  Multiple times a month I go to trainings, but I would never attempt some of the Jeep trails with this setup.  It's too big and would not be safe for the vehicle or people.  I don't want to become the nutcase that the SAR Jeepers had to come out and rescue." – Mike Blomgren, 2001 Ford F150, 1997 Lance Squire light
"We are nowhere close to a Jeep and almost barely an SUV.  Although we have a four-wheel drive truck, we are limited by our 8.5-foot width, our 28-foot length (48-feet when we tow our Jeep) and definitely by our 14,000-pound weight.
We are very hesitant to leave the asphalt for a gravel road and have to think long and hard about driving on dirt or sand.  Sometimes it is just not worth it to risk getting stuck or worse." – Jon Hancock, 2015 Ram 3500, 2016 Northern Lite 10-2EX CDSE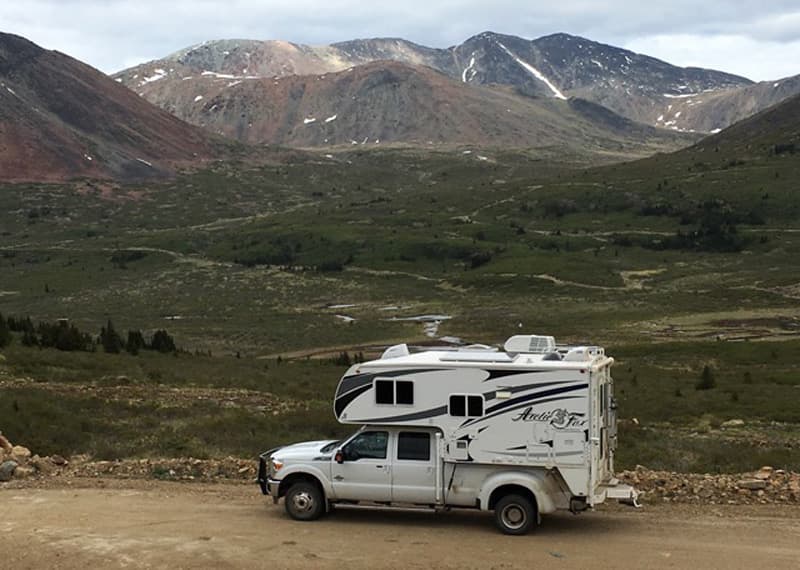 "When we bought our rig, we planned on heading out to the boonies where we had previously taken our Jeep.  In other words we were going to go almost anywhere, taking our bed and kitchen with us.  We've done a lot of backcountry travel in northern Canada, Alaska, the Cascades and Rockies.
Last fall, when I spent several days roaming around the Black Rock Desert, our rig got hammered by the desert roads and overwhelmed by the dust from the Black Rock Desert Playa.  I decided that next time, when we're really out in the middle of nowhere, I might leave the truck and camper at home and take the Jeep instead.
Another limiting factor for backcountry travel with our rig is its height.  We've put a lot of scrapes and one puncture in our camper from trees and branches that have gotten in our way when we've been driving into a remote lake or river campsite." – Jim Owens, 2016 Ford F350, 2017 Arctic Fox 811
"A truck camper couldn't handle even the mildest Jeep trails that I take my Jeep on.  The truck camper doesn't have enough ground clearance.  It's too tall and too wide, so it can't handle off-camber roads.  It's not even in the same class as a Jeep.  It's more comparable to a Subaru's off-road capability.  Of course, what I consider to be an easy Jeep trail may not be considered easy by others." – Phil Rodacy, 2012 GMC 3500, 2006 Okanagan M90W

"Definitely a SUV.  I have Jeep for Jeeping.  We flat tow it." – Paul Kulick, 2015 Ford F350, 2017 Cirrus 820
"The truck having diesel power, skid plates, and the lighter weight of the Bigfoot camper with no slides means the rig was designed and intended to go places other than rutty gravel roads in older RV parks.
It has been in several off-road conditions, especially in Indian country, and snow and ice.  That's when I get a big wide smile while driving.  The off-road capability is mostly just in case and a few off-road trips, but it is better to have than finding ourselves in a situation without it.
I have put my 12,000 pound tow strap to good use helping others that don't have it, or common sense.  So far it has just been cars.  Granddaddy low gear and Positraction are great helpers.  You can have fun at just two miles per hour." – Joe Sesto, 2015 Silverado 3500, 2015 Bigfoot 2500 10.6e
"It's the SUV of RVs.  We also have a Jeep JK Wrangler.  We have done some backwoods roads with the camper, but nothing like we do in the Jeep.  Our truck camper is too top heavy.  It has too much weight on rear axle compared to the front axle and it's a little wide for the really rugged woods trails.
We have driven it on hard pack sand and in snow.  The truck has 19.5-inch truck tires with thick rubber and aftermarket truck wheels, so they are not a limiting factor.  It's more the weight distribution and high center of gravity." – Doug Robinson, 2016 Ford F350, 2016 Northern Lite 10-2 SE RR
"Our truck camper is more of a Jeep of RVs.  We can climb medium hills and get way back in the backcountry and still tow our real Jeep!  We have no overhang." – Vickie Welch, 2016 Dodge 2500, 2016 Lance 860
"An SUV.  We will go off-road on well established, high traffic, graded trails." – Randy Buncr, 2017 Ford F350, 2016 Northwood Wolf Creek 840
"We like to go off-road.  Some of the roads we travel would prove difficult for an SUV." – John Dorrer, 2013 Ford F250, crewcab, 8-foot bed, 2014 Four Wheel Camper Grandby
"An SUV for sure!  I have street tires, no lift, and no winch." – Lane Noyes, 2012 Silverado, 1997 Jayco Sportster 8
"Our truck is a low rider with a Transfer Flow fuel tank, which sits lower to the ground.  We tend to check out our path before ripping down and having problems.  Our center of gravity is a lot lower and this allows for better over the road traveling.  With a long wheelbase, it can't make ditches that are too deep." – Eric Devolin, 2007 GMC 3500, 2006 Adventurer 106 DBS
"It's more of an SUV, with fairly capable four-wheel drive.  I've been limited more by it's physical size than such things as traction or suspension travel." – Charles Phy, 2011 Dodge 5500, 2010 Eagle Cap 1160
"It's more of an SUV because of its highway capabilities and its off-road incompatibilities, especially as far as size and weight distribution." – Tom Burns, 2015 Ford F350, 2006 Northern Lite 9.6 SE
"We are more of an SUV of RVs.  Our truck camper is smaller, more nimble and far more capable than other types of RVs in negotiating rough roads, snowy roads, and small campsites.  We usually have our pick of campsites that bigger RVs can't fit in or negotiate.  We have a higher clearance and four-wheel drive when we need it.  We can camp in cold and snowy conditions without concern.
We won't, however, go off-road in places that are beyond our skills or, in our judgement, too dangerous to us and our rig." – Stephen Paushter, Ram 3500, 2016 Northstar Arrow 8.5U
"My rig is more the luxury SUV because of the weight, height and size.  Plus, I run with more of a road tire tread.
The width of my rig limits me from narrow passageways.  The ground clearance is still high at 17-inches but, with the length, it makes it tricky to go over rocky rough terrain.
Also, the total height is a bit tall and can damage from low rock cliffs and timber.  But, with the comfort and room that one can get with three slides, I am willing to hike the extra miles over the Jeep terrain.  I also sometimes pull a 20-foot cargo trailer to haul more excitement (toys) and comfort (hot tub)" – Kevin Sato, 2015 Chevy 3500HD, 2017 Host Mammoth 11.5
"An SUV.  The camper is too big to take to really remote places.  We bought it for more of a base camp.  We have a sidecar motorcycle to take us to the more remote places.  I would rather beat up a $7,000 toy that I can manhandle if the need arises." – Mark Harrison, 2005 Dodge 2500, 2017 Northern Lite 10.2 EXCD
"Our pickup carries the camper and pulls our 1952 Willys M-38 Jeep on a trailer to flat fender Jeep runs.  I do not think my pickup could follow where we take our Jeep.  The pickup is too wide, too long, and too low to take on the trails we drive the Jeep.  We are not rock crawlers, but do trails with 40 or so other Jeeps at each run." – Tom Ralls, 2009 Chevy 2500HD Silverado, 1994 Shadow Crusier 800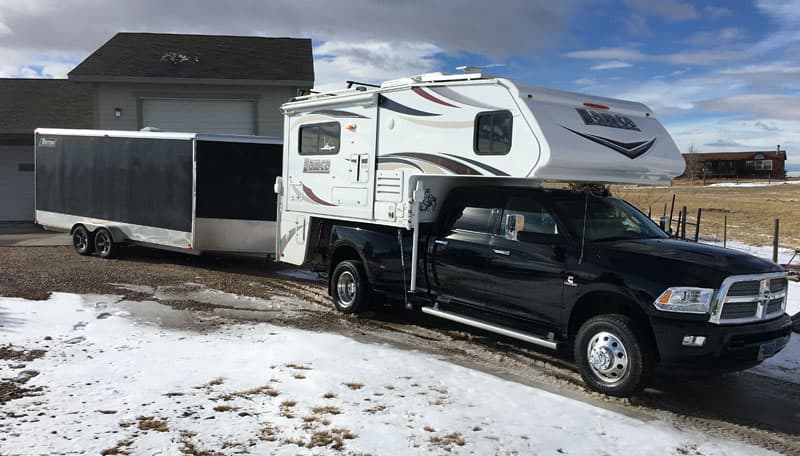 "An SUV.  I tow a Jeep behind my rig.  I wouldn't take my truck camper the places my Jeep can go.  Get off-road far enough and leave the tough terrain for the Jeep." – Bernie Butler, 2014, Ram 3500, 2015 Lance 1052
"I believe my rig is more of a Jeep.  While my truck is basically stock, I've added improvements that make it more capable.  I've added a cold air intake, a free flowing exhaust, a performance tuner, heavy duty adjustable shocks, A/T off-road tires, a Torklift SuperHitch, and a Warn transformer brush bar with integral hitch in the front (also a Warn Xenon 10s winch that fits both front and back).
My truck came with the FX4 off-road option that included limited slip.  I added a selectable locker to the front differential.  In addition, I carry recovery gear; tow straps, Hi-lift jack, tree saver, shovels, etc.  Plus, I have a top end Garmin GPS hand held in addition to the on board GPS in the dash." – Steve Timmings, 2003 Ford F350, 2013 Four Wheel Hawk SC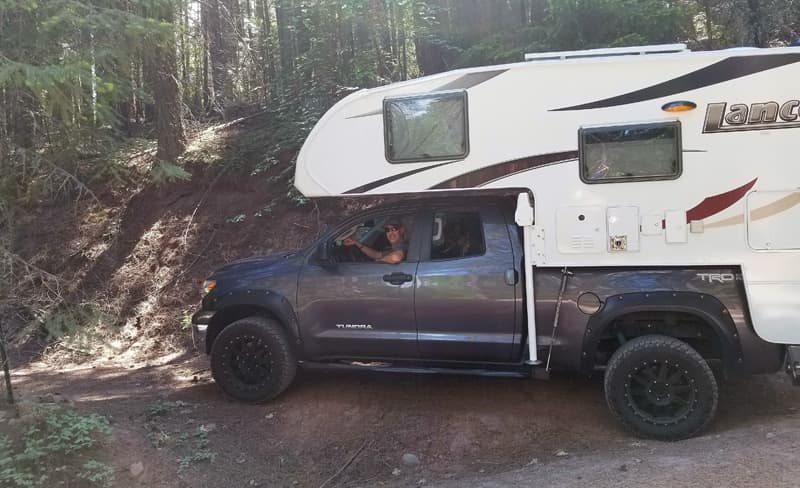 "I have to say SUV.  As I know, I couldn't keep up with the pop-up campers.  However, with a small lift, off-road tires, and four-wheel drive, I can go almost anywhere, albeit really slow at times.
This is the reason we chose the Lance 650.  We needed a hard sided camper to use for business as a mobile office on a daily basis and we wanted something that can keep up with our backwoods, off-road camping lifestyle.  We love camping in our rig where we could only tent camp before." – Mike Langgle, 2018 Lance 650
"SUV, definitely.  With a 325hp turbo diesel, road tires, and a lightweight camper (1,500 pounds loaded), I can cruise comfortably all day long on one tank of fuel (500+ miles).
It's a very easy to drive long haul rig.  I went 7,000 miles through 13 western states last summer, including a few 12-hour runs.  I went through lots of mountains; Beartooth Pass, Glacier's Road to the Sun, Pike's Peak, and much more.  It was very relaxing.
The engine is impossible to overheat, even with the air conditioner on full bore at 100 degrees.  The brakes are more than enough for any road possible to pave.  Sure, it'll go off-road with four-wheel drive and lots of ground clearance, but I bought it for cross-country trips.  When I find the right boat I'll be exploring out of the way fishing holes in Minnesota." – Dave B., 2006 Dodge 2500, 2018 Travel Lite
"It's the SUV of RVs.  It's a two-wheel drive with a high aspect heavy camper." – Larry Mitchell, 1996 Ford F350, 2007 Lance 1181
"I would consider ours closer to a Jeep than an SUV.  We have traveled some seriously rugged Jeep roads in our Ram 3500 four-wheel drive pickup truck without the camper on.  When we are carrying our Palomino pop-up camper we are more careful and we avoid the very worst Jeep roads.
I worry somewhat about damaging the camper from the shaking and bouncing on the rough roads, but it has held up fairly well with only a few minor issues." – Brian and Chris Hagen, 2004 Dodge Ram 2500, 2014 Palomino SS-1251 Backpack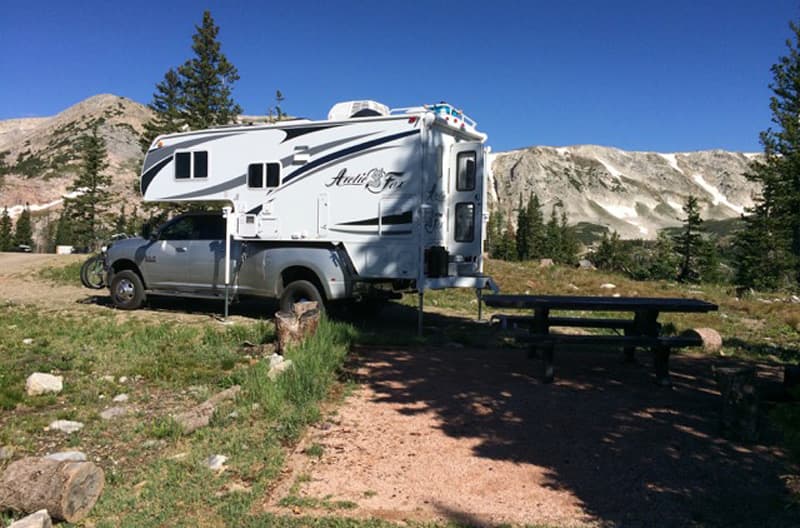 "We downsized a few years ago from a 30-foot motorhome to our truck and camper rig. The motorhome was just too much rig for a lot of the campgrounds we like to visit and the roads we like to drive on.  It was just to ostentatious for our lifestyle.
With our truck camper, we have plenty of room for the three month trips that we take in the summer.  We do not plan any demanding off-roading.  So, I guess we consider our rig more an SUV of RVs.
We do flat tow a Jeep.  We use that for the real exploring.  Is there a category for that?" – Rob Zimmerman, 2016 Ram 3500, 2017 Arctic Fox 1150
"I have a four-wheel drive pickup .  I wouldn't have a two-wheel drive truck.  I actually needed to use four-wheel drive all the way to work this morning.
The tire pressure, weight, and height are too much for anything technical.  Also, I do need to be concerned about overhead branches.  I popped a hole in a previous camper backing out of a road I shouldn't have started.
If I had something like an Alaskan or Four Wheel Camper, then things might be different.  Every choice in a truck camper is a compromise somehow.  We have gone many thousands of miles on gravel roads and similar, but that is not the same as Jeep roads." – Steve Merrill, 2009 Silverado 3500, 2007 Lance 992
"The truck camper goes places I would not take a Class A, Class B, Class C, or travel trailers.  I've owned several and have driven them all.
There are places I do not go with the truck camper rig that I have gone in a four-wheel drive truck with a canopy.  With the canopy I camp from the back of my truck." – John Hallett, 2011 Dodge 3500, 2014 Bigfoot 9.6 LB
"We have a very heavy and large Chalet double side camper on a Ford F350 dually.  There is no way we would feel comfortable driving it on any rough off-road terrain!  We love our SUV of RVs and don't want it damaged!" – Charles Coushaine, 2001 Ford F350, 2012 Chalet DS116RB
"Even driving some of the Federal Parks in Florida, I run in four-wheel drive because of the weight.  These roads are all sand!  Yes, I drive back a good eleven miles and sometimes it has 12-inches of sand.
Last year there were five truck campers back in this campground; 25-feet from a beautiful lake.  That's why I bring my trailer with the kayaks, bikes, and toys.
My saying is, "Use your brain and take your time."  Get out and look where you're going and remember you might have to turn around!" – Neil Steirer, 2017 Ford F350, 2015 Lance 1172
"An SUV.  The truck is four-wheel drive with 32.5-inch tires.  It will go off-road, but not heavy duty off-roading.  For Jeep trails I tow a Jeep Rubicon behind me." – Erwin Greven, 2002 Chevrolet Silverado 2500HD, 2002 Lance 921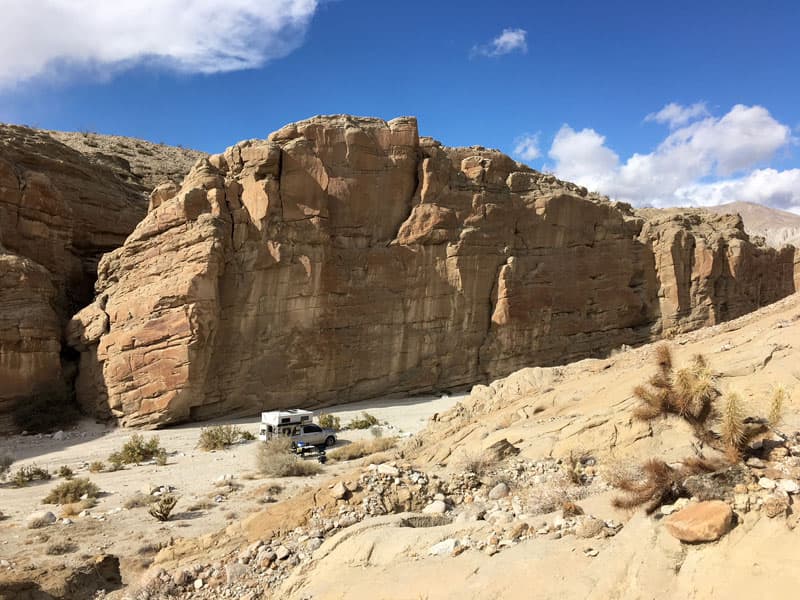 "An SUV.  It's wider and has a longer wheelbase and less ground clearance than a serious off-road rig.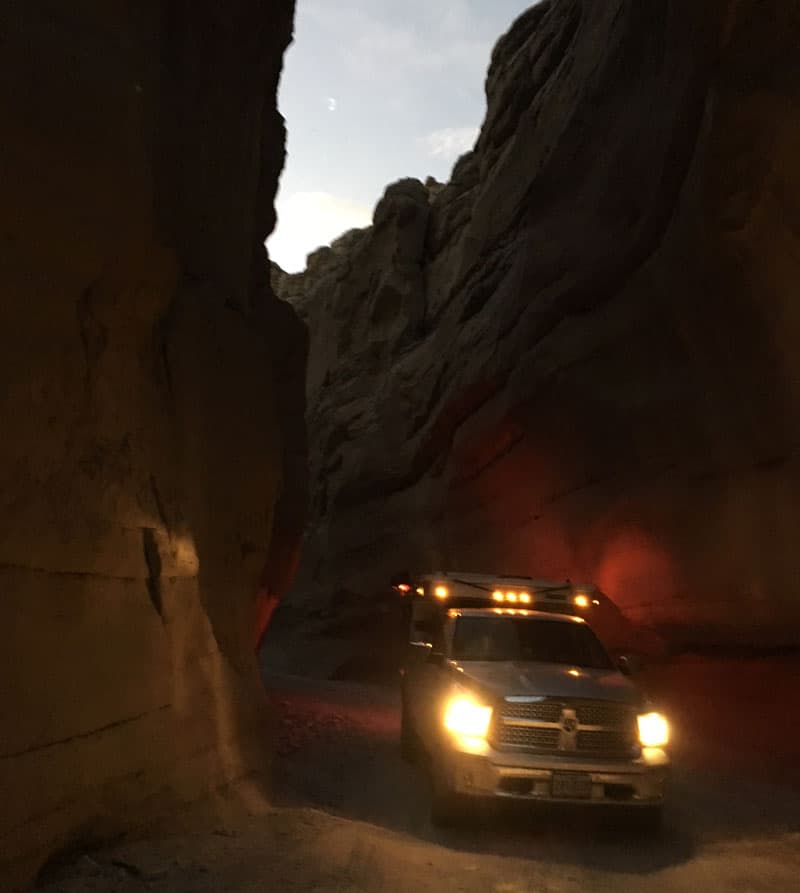 I just came back from a desert trip including Afton Canyon – the Grand Canyon of the Mojave – and Sandstone Canyon in Anza Borrego." – Alex Lockfeld, 2016 Ram 1500, 2016 Four Wheel Camper Hawk
"I consider it more of an SUV.  I can back down a boat ramp to launch my boat with the camper on.  I can drive in snowy conditions and not have to worry about traction.  During a snowstorm last winter through Portland, many vehicles had to stop or became stuck.  I had not problems at all.
The main problem that keeps me from tackling more challenging roads is the height and clearance issue.  I have a full-size camper on an already tall four-wheel drive truck.  I am concerned about the weight of the vehicle.
If I end up with too much mud on the road, the weight of the rig does not help.  If things become too bumpy, I tend to be top heavy and can have issues with body sway." – Willis Cook, 2017 Ford F350, 2009 Adventurer 950B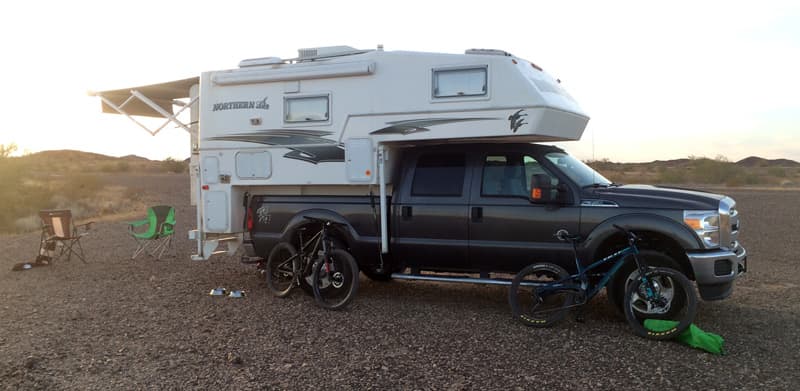 "We are SUV truck campers.  When we get to roads that are four wheel drive roads, we usually stop and boondock.  We pull out our mountain bikes and go exploring on them.  We've ridden lots of 4×4 roads on the bikes.  There is very little traffic and it's a great way to sight see. We have done this in Redwoods National Park, Joshua Tree National Park, and lots of old mining roads in Arizona." – Tracy Rivera, 2016 Ford F-350, 2016 Northern Lite 8-11
"For sure it is SUV for us.  We can travel economically, safely, comfortably, and in our familiar environment when we stop to rest or sleep for the night.  We can park anywhere and camp in state parks, national parks, or five star resorts.  The convenience and comfort is uncompromising.  I prefer to sleep in my camper when visiting friends or relatives instead of a motel or hotel.  We have camped in most beautiful places that even a five star resort hotel cannot offer." – Ron Oh, 2008 Ram 2500, 2015 Bigfoot 1500
"Although I take my rig on most any dirt road and two lane pig paths that I can find, it has tamed me to not take crazy risks with a top heavy turtle shell that is my vagabond home.
I have gotten stuck in the mud from snow melt.  I spent the night knowing that I could just drive out over frozen ground in the morning, only to have temperatures remain above 35 degrees and have to dig out of the mud after all.
Now I have a winch mounted up front and plan to add traction mats before this coming spring.  I have been over rocks and uneven ground to the point that I have broken the tie-down plate at the front corner of my camper and have had to have it repaired.
I am still bound to cover just a little more ground and get off the beaten path.  I consider my rig a Super SUV of RVs. Have fun!" – Tom Bryan, 2014 Chevy Silverado 2500, 2013 Wolf Creek 850
"My rig is an SUV that I will take off the pavement to a point." – Richard Bowman, 2012 Ford, just a shell for now
"I own a Jeep and an SUV.  I have done my share of off-roading and an SUV is a closer metaphor, IMHO." – Kevin Coleman, 2012 Ford F350, still looking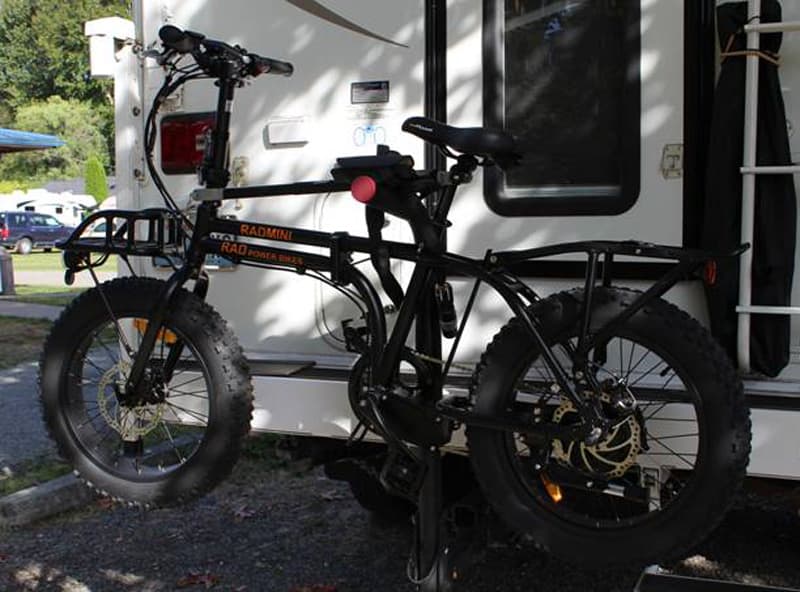 "Our rig is our, 'home away from home' while we're on road trips.  It's our base camp and I want to keep it nice for years to come.  If we wanted to take serious off-road trails I would consider pulling a Jeep or a Polaris RZR.  Right now, I use my Rad-Mini electric bike for riding trails." – Roger Odahl, 2008 Dodge Ram 3500, 2004 Eagle Cap 950
"Ours would be an SUV on steroids.  We think of it more like an expedition or support vehicle.  Our truck is a lifted with all-wheel drive and oversize tires so we are not scared of off-road travel.  But, with the dual wheels and a heavy camper just over 12-feet tall, we watch narrow roads and cramped spaces.
We leave the Jeep trails alone.  We are enjoying exploring BLM land and extended boondocking this winter in the southwest.  I wish we had this much space to roam in the northeast." – Phil McEachen, 2000 Ford F350, 2008 Okanagan 117DBL
"Our truck has a long wheel base (long bed crew cab), which keeps us off the extreme dirt roads.  Still we have taken many back roads and camped off-grid.
It just doesn't seem like an SUV is the right description for a truck camper.  A Jeep is a little better to me because it helps to visualize the flexibility and fun of truck camping.  How about the Backpacker of RVs?" – Hope Ryan, 2006 GMC, Four Wheel Camper Hawk
"Since I have a very radically built up Jeep, it's not really a fair comparison. I've taken that Jeep all over the country on extreme trails, even rolling it.  So I would never attempt to to take my truck on those trails.
However, my truck is lifted with 37″ tires, lockers, and a winch.  It's a very oversized Jeep in some respects.  I have taken some very desolate and remote roads.  But, they are a road, at least on a map.  So it's more Jeep than an SUV and way more than a street only truck.  In the end if I'm going extreme, I tow the Jeep there and then go play.  If it's to get away and spend extended time out in the boonies that has a road, I take the truck and camper." – Jim Plesko, 2006 Chevy, Northstar Liberty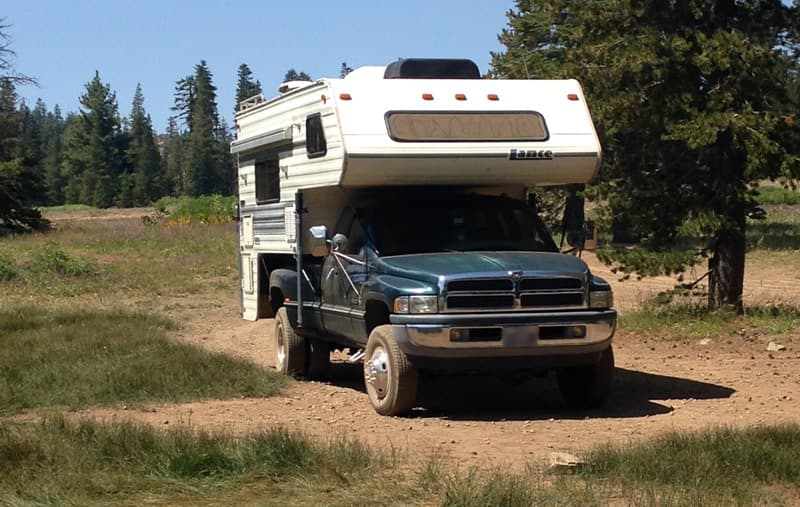 "Our truck fits into the SUV category although it is capable of Jeeping with the aid of the oversize tires and duallies.   This unit is totally ready for off-grid camping as we prefer our privacy.  We have 60 gallons of water, two batteries, a solar roof panel, and a small portable generator for various needs." – Ed and Debra Avansino, 1996 Dodge Ram 3500, 1993 Lance LC 980
"While I'll try dirt roads, I think we're not quite an SUV.  We're more a Land Yacht.  I am very careful where go off-road." – Thomas Lowe, 2016 GMC 3500HD, 2017 Host Mammoth
"My rig is more like an SUV because I can tow my boat behind my truck to the lake and launch my boat without getting stuck on the ramp.  It has enough traction to pull the boat up the ramp with no spinning of the tires. Also I can haul my Jeep Wrangler on a 16 foot tandem axle trailer.  I go into the national forests.  Some of the roads are secondary and gravel or just single track dirt roads with some small boulders to maneuver across.
I look for a nice level spot to park, and then I unload my Jeep and leave extra gear on the trailer for future use while I am there.  I use the Jeep to further explore the national forests and explore new places where the trails might not permit the truck and camper to clear over head or side to side.
I enjoy out of way places and also the stillness and solitude.  I am able to go on errands and explore small towns that surround national forests.  It is just about all I need because it suits my lifestyle better than a bigger rig would.  I am not condemning any rig that anyone has, because what I have would not serve everyone.  We all like different things and different places." – Ralph Tindell, 1997 Chevrolet, 1997 Lance 840 11′ 3"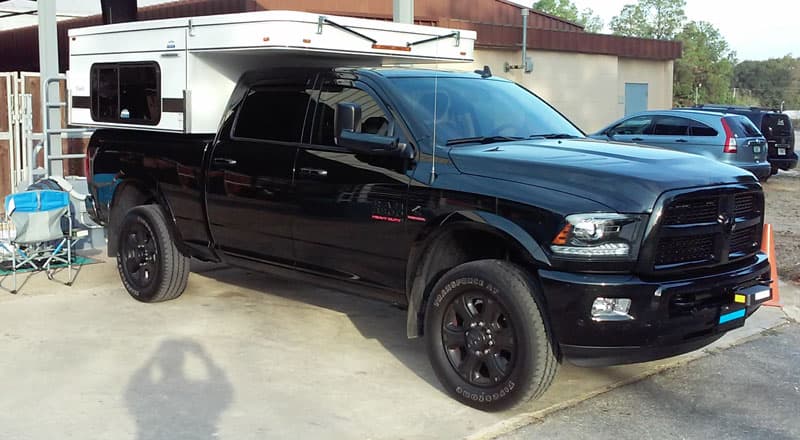 "Our rig is a SUV of RVs.  The truck is fully-equipped with air suspension, four-wheel drive, a turbo diesel 6.7 Cummins with Aisin auto-transmission, dual batteries, etc.  It's been up and down some pretty rustic trails so far.
Our combo is still too new to risk needlessly.  I don't want to dent or scratch it up yet.  Later on, I'll add a portable hitch-mounted winch and a few other items to take me even deeper off-the-grid.  That was my original plan to begin with.  So far, so good." – R. Shaffer, 2016 Ram 3500, 2016 Four Wheel Camper Hawk
"I'd consider my rig to be more an SUV.  The truck has 6.7L diesel with six-speed automatic transmission, 14,000-pound GVWR with off-road packages, tow-haul, an exhaust brake, and a 48-gallon fuel tank capacity.
The camper has a thick welded-aluminum frame, a vacuum-bonded arched walk-on roof, a LPG generator, 59-gallons of water capacity, and weighs 3,465 pounds dry.  It's the most competent/comfortable rig I've ever had." – Joseph Battenburg, 2017 Ford F350, 2010 Arctic Fox 1140
Editor's Note: The base weight of the Arctic Fox 1140 is actually 4,060 pounds with the mandatory Fox Value Package.  Our wet weight calculations in the Arctic Fox Buyers Guide put that camper at approximately 5,236 pounds, without additional options.
"My rig is more the SUV of RVs.  Our canvas pop-up includes everything my black lab and I need for adventure, except for my trip to Yellowstone!  I can work everything myself.  With electric jacks and a set of steps, we are good to go.  I stay mostly at camper spots.  I am not really an off-roader and like the convenience of showers and potties.  We love to get up and go.  I already have 8,000 miles in the new camper and I got it last summer." – Nancy Roberts, 2014 Ram 1500, 2018 Northstar TC800
"With the Northstar Igloo I consider it an SUV.  The reason I just purchased a second F350 is that I want to purchase a Northstar 950SC pop-up to turn my second pickup into a Jeep.  This way I will have both. K
Keep up the great work.  I also intend to purchase a third Northstar and ship it to Europe, more specifically Portugal." – Paulo Leal, 2006 and 2017 Ford F-350, Northstar Igloo 9.5U XB