This week's Question of the Week was, "Would you consider your truck camper more of a Jeep of RVs or an SUV of RVs?" Before explaining their answer in detail, we had a poll on the same question. The resulting graph is quite telling.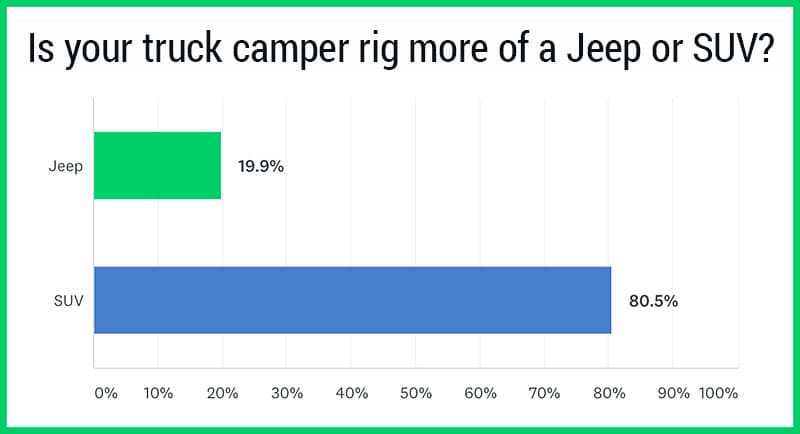 Clearly most of us consider our truck campers to be more of an SUV than a Jeep when it comes to off-road capabilities, but that's not the whole story.
First, there are truck camper owners who specifically designed and assembled a truck and camper to maximize off-road capability. Most of these same folks have also developed their off-road driving skills for years. Put these two elements together and we have the closest thing possible to a true Jeep trail capable truck camper rig.
Second, most truck camper owners have no intention of tackling Jeep trails with their rig. Either they're not interested, or simply know better given the relative durability, size, and weight of their truck and camper. These folks consider their truck camper rigs to be more like SUVs. We are squarely in this camp ourselves.
You are going to love the stories about how a good number of us discovered our off-road limitations – the hard way. Other readers share the thought processes they have about what off-road opportunities they pursue, and which they pass.
The overall moral of these responses is this; be realistic about the off-road capabilities of your rig and your driving skills. A lapse in judgement off-road can be very expensive, if not dangerous. If you want to go off-road and you're not experienced, be prepared, do your homework, and take baby steps. We'll be right behind you.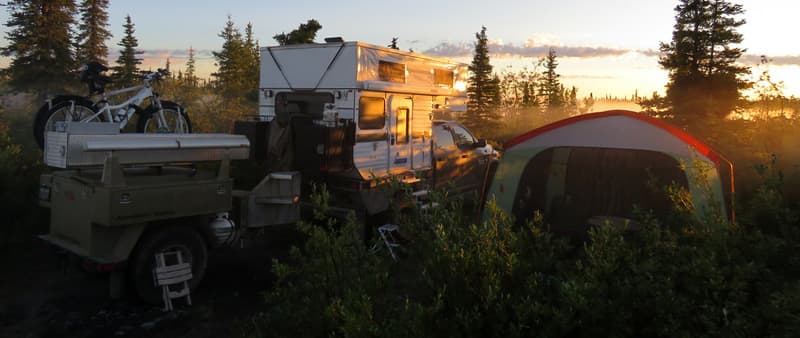 "We ran a 2006 Wrangler Rubicon towing an off-road trailer for ten years.  It worked well for dryer climates of the southwest for one to two week trips from our home base in Texas.  We wanted our retirement rig to be capable for longer trips to some not so dry climates.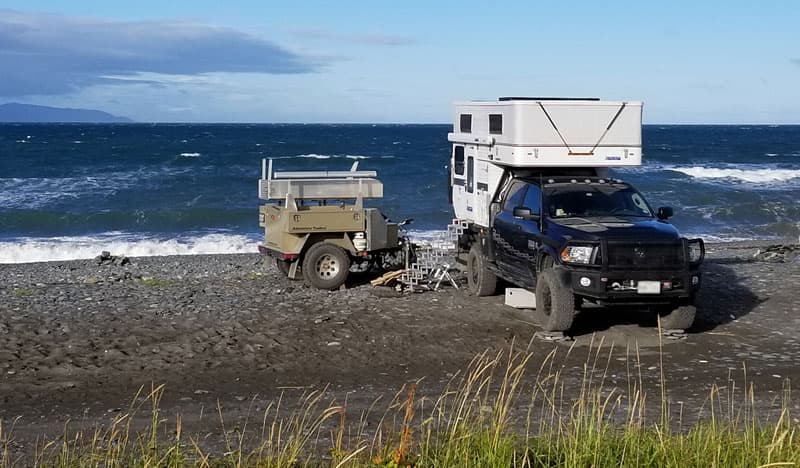 This past summer we made the drive up to the Prudhoe Bay.  The comfort of the truck camper on the highway and capability of the truck off-road gave us the confidence to go where we wanted.  Additionally, we had a comfortable place to spend the nights when the weather outside was less than ideal.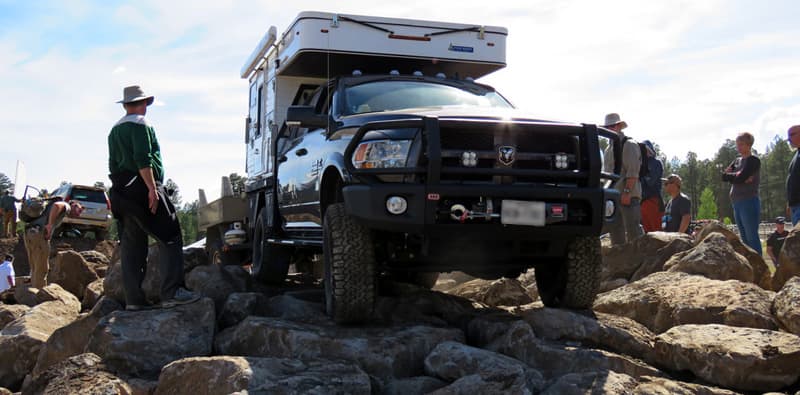 We did take the truck on some of the driving courses at Overland Expo West to get the feel of the much larger rig and test its limits in a controlled environment prior to the trip. There are no regrets on how the rig performs and we've been back to many places we've been previously in the Jeep." – Bill Elwell, 2016 Ram 2500, 2016 Four Wheel Camper Flatbed Hawk
"The wheel base of our truck is 176-inches and the full length is about 21-feet.  That is too long for a Jeep trail.  We have taken some backcountry byways that are very rough, but they tended to be open county in Montana, Wyoming, Utah, and New Mexico and had no super short turns.
We like backcountry roads, but are choosy about which ones we take with our truck camper rig." – Laurel Wilson, 2018 Ford F350, 2016 Four Wheel Grandby Shell
"At 11,000-pounds, 26-feet long, 11-feet high at the roof, plus air conditioner, and 8.5-feet wide, I'm not going anywhere seriously off-road.  The truck camper has been on logging roads, gone slowly across the prairie, and spends a lot of time on gravel roads – which city folks seem to consider off-road.
Our all-wheel drive Honda Pilot is much more an off-road vehicle than our truck camper.  The Pilot has been on two-track trails in Canadian forests, across ditches with a foot of water in them, and other places where my wife would be horrified, all in pursuit of fish in Ontario." – Philip Tron, 2009 Chevy 3500, 2012 Lance 1050
"My camper is like a Jeep.  The video is worth a 1,000 words." – Bill Harr, 2005 Toyota Tundra, 2013 Four Wheel Camper Hawk custom built shell
"Our rig is too heavy and too wide for Jeep trails.  It's good enough for backroads, but not trails.  Plus, I don't like branches scratching along my camper, even in a campground!" – Richard C. Raymond, 2005 Chevy Silverado 3500, 2007 Palomino Winter Creek 11.5RS
"Our truck camper is more of a SUV.  My rig, being a full-size unit, is tall.  It needs slightly more than 12-feet of clearance, which would be much more tippy and unstable on rough and uneven roads." – Carlton Basmajian, 2012 Ford F-350, 2015 Wolf Creek 850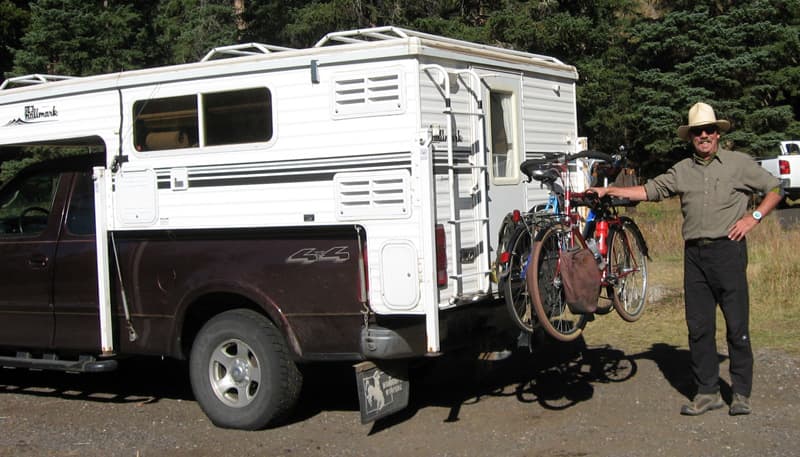 "Jeepy camper rigs are like nipples on men.  We don't really need them but, if we do, there they are.  We often don't attack rough stuff in our truck camper.  However, when it gets between us and that night's paradise, we are able to negotiate visible routes.
Twenty-five years ago we started truck camping with an 1988 Ford Ranger and Hallmark LaVeta.  That rig was super light and the way to go.  We soon found that western two-tracks were all made by full-sized rigs, so our narrow Ford Ranger was never in the slots by a tire width, and always hard to handle.
With a now a proper stance, we can almost let go of the wheel in ruts.  Driverless four-wheeling!" – Keith Benefiel, 2001 Ford F-150, 2003 Hallmark Guanella
"I definitely consider our truck camper to be a Jeep of RVs.  We love to take ours off road and off-grid as much as possible.
We have been on trails that we started having second thoughts about, and no way could we have turned around.  Then, we'd come to a beautiful spot that we wouldn't trade for anything.
When you consider most Jeeps never leave the road, our rig is more like a Jeep than a Jeep is." – Dave Barker, 2014 Ram 3500, 2017 Northstar Laredo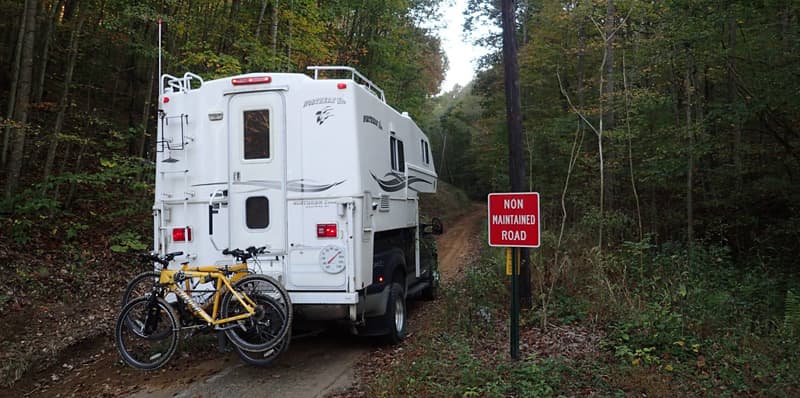 "We take our truck camper down Jeep trails and forest trails all the time.  That is why we bought a camper; to go to the places we love.  The more off-grid and more primitive, the better it is for us!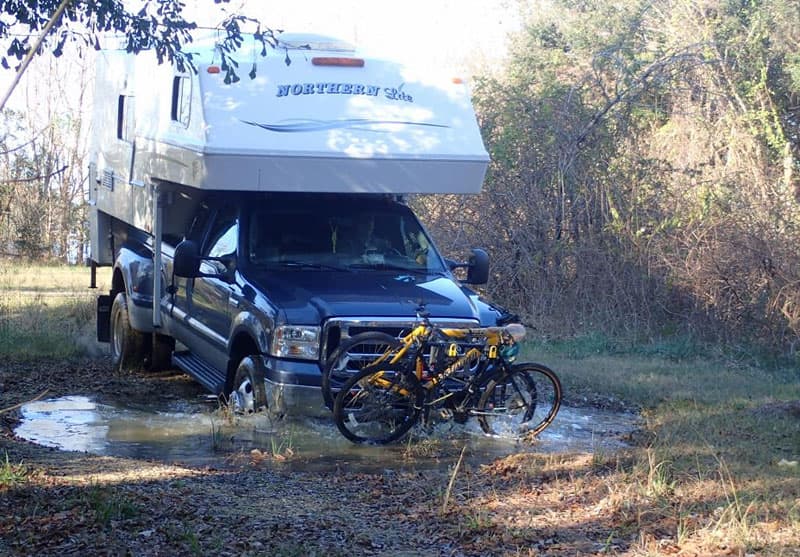 Our camper has the scars to show for it, but it's been a great adventure and we wouldn't change a thing.  Happy Trails!" – Kim Scott, 2006 Ford F-350, 2005 Northern Lite 10-2
"Our truck camper rig is a SUV.  With our total rig weight of over 15,000 pounds, I just don't feel comfortable on anything but mostly level ground.  Dirt is okay.  Boondocking is okay.  But, I'm not going to be doing any rock climbing with our rig." – Jim Goodrich, 2006 Chevy 3500, 2008 Lance 1191
"I very much enjoy going camping where the Pavement Queens can not go.  I really enjoy BLM and off-grid camping.  So a pickup camper is the perfect choice for us.  I have been camping like this since 1972 and don't even want something different." – Rag Rag, 2017 Ford F150, 1990 Sportsman 8FSD
"I have been up washes and Jeep trails, but the long wheel base and weight keep our truck camper rig from being a real Jeep.  I have tested it many times." – David Weinstein, 1999 Ram 3500, 2005 Arctic Fox 1150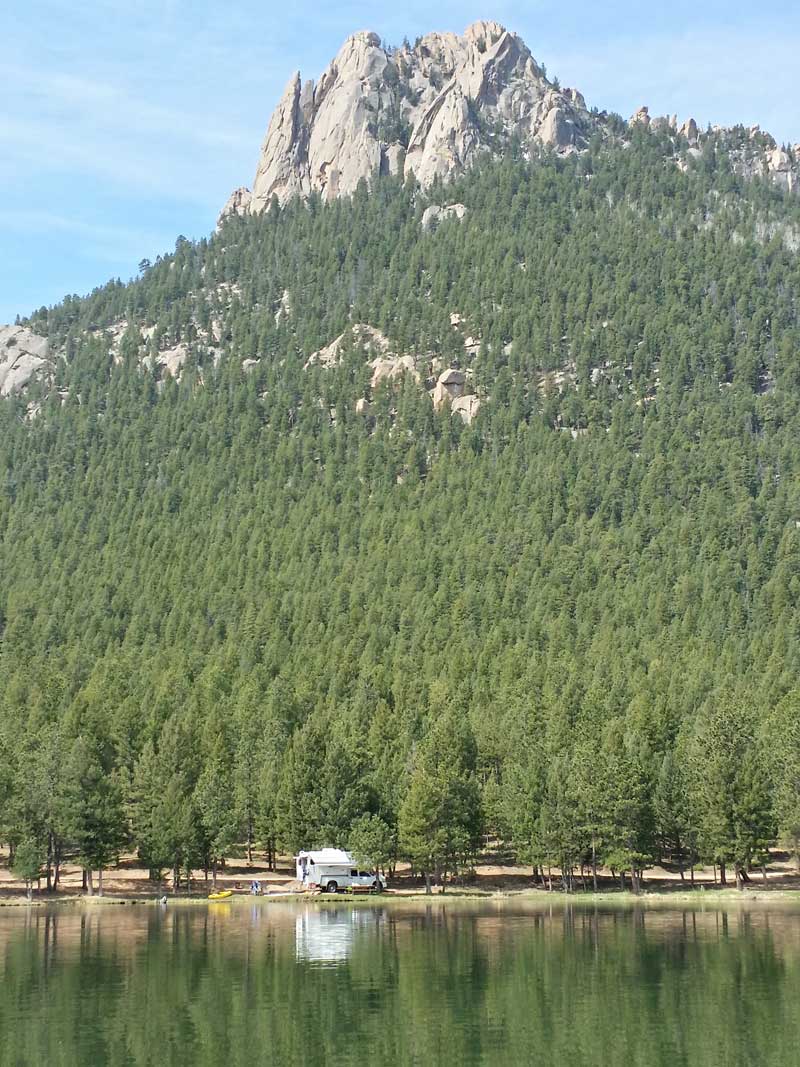 "A quad cab dually, even with four-wheel drive, plus an 11.5-foot full-wall slide camper puts our total weight on the hoof at around 12,500 pounds.  While a very capable four season rig, this is not a nimble rock crawler with a bed and stove.  So, SUV of RVs sounds closer to our rig.  We can certainly get off the beaten path, but not too far." – Mark Joslin, 2006 Ram 3500, 2005 Lance 1181
"With my dually kit, it's the go anywhere vehicle." – Ben Boulet, 2006 Dodge Ram 2500, 2012 Lance 855S
"I would consider my rig a Jeep.  The truck is four-wheel drive with great ground clearance, and the camper has a low center of gravity.  The entire rig is only 8.5-feet tall when on the road.
That said, I would never take it on a Jeep trail because I don't have the judgement or skills to do so safely.  That's a driver experience issue, not necessarily a rig issue.  So, my Jeep is being driven like an SUV!" – Anne Stauffer, 2017 Ford F350, 2017 Alaskan 8.5
"In the past I have done serious damage to my campers by taking them down Jeep trails.  Now, I am way more careful as to where I take our rig.  No more Jeep trails for me.  Don't get me wrong, I still take it places passenger cars can't get to.  I'm just way more cautious as to which roads I drive down." – Rick Bridarolli, 2006 Ford F350, 2001 Adventurer 9-foot RDS
"I would not feel comfortable with our truck and camper combination on Jeep trails.  Dirt roads?  No problem.  Rocky, off-road, technical stuff?  No way.  A fixed side, even with out a basement, is too top heavy in my opinion.  All I can picture is ripping the air conditioner off the roof or ripping the camper off the bed and frame." – Kevin Jenckes, 1996 Ford F250, 2005 Lance 820
"It's too wide and tall, plus I do not want to damage it." – Bernie Neale, 2006 Dodge Ram 3500, 2016 Northern Lite 9.6 SE
"First of all, we have dual rear wheels.  Then add our overall length of 26-feet and consider our 4-foot overhang in the back.  So, while we have done plenty of off-roading on forest service roads and gravel river beds that others might not risk, we would never consider our rig a Jeep and would not attempt any crazy Jeep trails or rock-crawling." – Esther David, 2014 Ram 3500, 2017 Northstar STC
"With our camper being an Arctic Fox 1150, it's very big.  We do take it places in the desert where we camp.  Then, we start the adventures with the ATVs and RZRs.
Years ago I listened to directions from someone who said I could camp just up the road and shouldn't miss the opportunity.  The road got so narrow and steep that I had to make a decision to try to turn around.
We were in the desert with sand so, when I was about half way, it bogged down.  I stopped and put it in four-wheel drive, but it just wanted to dig down.  I was devastated thinking that it was going to cost $1,000 to get someone way out there to pull me out.
I was by myself, so I unloaded the ATV and then the trailer.  I scrapped all the sand away (down to the moist sand) in front of the tires with my hands.  Then, with the four-wheel drive low, it walked out.  What a lesson.
Even with four-wheel drive, don't use it as a Jeep.  Just use it to get to the trails.  Use four-wheel drive only in an emergency.  The price of four-wheel drive paid for itself in that one incident." – Frank and Lynn Niehus, 2007 Ford F350, 2007 Arctic Fox 1150
"Our camper is more Jeep-like because most of our camping is outside the vehicle. About the only thing done inside is dress and sleep.  There is no built-in kitchen, tanks, closets, heat, etc.  We designed the unit to be as narrow, low and light as possible given the requirements of full standing headroom (popped-up) and sitting headroom over a queen-size bed." – Kurt Herzog, 2018 Ram 1500, 2018 Phoenix Pop-up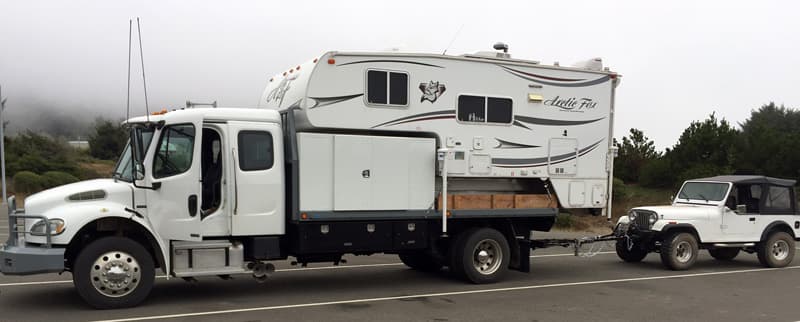 "Our truck camper rig more a SUV.  We go off-road to camp, but tow a CJ-7 and/or bring an ATV in the bed box under the camper's overhang for venturing into the real off-road.
With the tool storage and air from the truck, we have a complete base to do a lot of playing and hunting.  I have been very impressed with how well the truck handles the camper on rough and uneven roads.
We have an 18,000 pound winch up front just in case.  The Jeep and ATV also have them.  We have lots of nearby open spaces in our area of Oregon to explore." – Jon Schnebly, 2004 Freightliner M2-106, 2014 Arctic Fox 1150
"It's an SUV for sure.  The rig is a monster in regards to dimensions and weight.
I have used the four-wheel drive to get out of trouble a couple of times.  Once was in sand and it was clear to me not to venture too far from firm footing.  Also, there are the potential dangers of damage from very uneven surfaces causing twisting and swaying.  I approach slowly or not at all.  We made this decision when we choose our rig, so we have no regrets.  There are rare events where we want to go well off the beaten track.  In those instances, am prepared to unload the camper and head out with the truck alone." – Wes Hargreaves, 2016 Ford F450, 2006 Snowbird 108DS

"Interesting question.  Our rig is more of a hybrid, so I checked both boxes.
At nearly 60-feet in length, we can't go on every Jeep trail, but we are equipped to go on many Jeep trails, especially in desert areas.  That's where we hang out the most.
We do have the ability to extricate ourselves from most problems we encounter.  Our truck has a 16,500 pound winch in front.  Our Jeep trailer has a 12,000 pound winch facing where we've been, and our Jeep has a 10,000 pound winch.
Our off-road-designed trailer has two 12,000 pound hydraulic jacks in the front for quick disconnect, if necessary.  We carry a mig welder and plasma cutter on the trailer, and both the truck and the Jeep have compressors that will operate air tools.
Being somewhat prudent geezers (well, geezer and geezette), however, we usually park the rig somewhere in the flats and then take the Jeep exploring." – Gene and Linda Yale, 2016 Ram 5500, 2017 Host Mammoth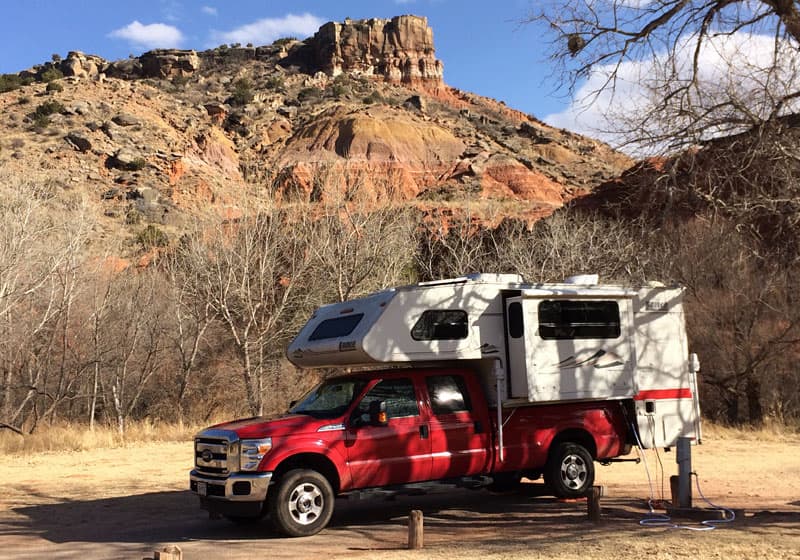 "I have an F350 Super Duty FX4 with the option to lock all four wheels so all will turn.  That will get me out of anywhere.
One would think I am a Jeep camper, but I am not.  I am an SUV camper because I have crew cab and 8-foot bed and my Lance weighs over 4,000 pounds.  I sometimes have to search for a place big enough to turn around on dry pavement." – Fred Patterson, Ford F350 SD, 2002 Lance 1161
"My rig is more of an SUV.  Although it has four-wheel drive, it's also very heavy, and right at the payload limit of my truck.  California's rough roads are about as much I can handle.  I do my off-road adventures with hikes." – Steven Cordis, 2000 Ford F250, 1996 Skyline Weekender
"My rig is neither a Jeep or SUV.  While my rig will get me places that others will not, it is not the reason that I purchased a truck camper.  I have a truck camper for the versatility that it gives me in bringing along the extras.
We have a kayak trailer with several kayaks for when we want to go paddling.  We have a utility trailer for when we want trail rides with our ATV and side-by-side group.
I also have a 1986 Fiero SE that only has 19,000 miles on it that I take to car shows.  Some of the car shows are quite a distance away and I don't want to put the extra miles on the car.
So you see it is not a matter of where I can go, but what I can do when I go camping." – Mark Brown, 2004 Ford F350, 2015 Palomino HS-2902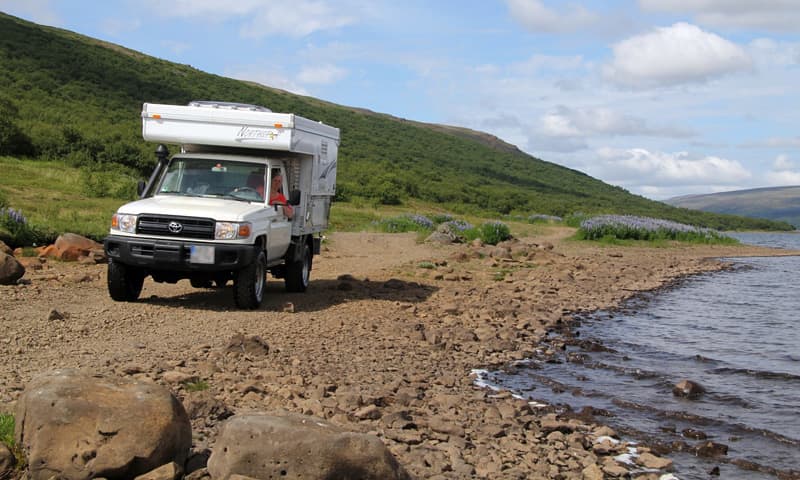 "We have had some good off-road experiences in different locations.  We have traveled some of the hardest roads in Iceland and our rig was able to do everything.
I think the biggest restriction to going on Jeep trails is our own ability.  Last year in Iceland we made a very rough trip through a lava field and the only car we met was a Jeep Wrangler.  The people told us that they managed the path, but it was sometimes hard.  We found out what they meant when we made the path." – Holger Neumann, 2009 Toyota Landcruiser HZJ79, 2015 Northstar 600SS
"My rig is like a Jeep. The drivers are like a SUV.  I am running stock tires, and I need to upgrade to 10-ply.  I added Timbrens to the rear springs.  I'm very new to truck camping.  It seems luxurious and flexible compared to tent camping (which we still enjoy)." – Steve Spencer, 2006 Tacoma, 1999 Shadow Cruiser 700 pop-up
"Because we have four-wheel drive and the shorter wheelbase of an extended cab short bed, we can go nearly anywhere.  To level when stopped with the camper on, we just put it in four-wheel drive low and drive onto whatever we need to level the rig.
With the camper off, we can explore the Jeep trails of Colorado – carefully!  We just air down the tires and air bags, remove the overload spring clips, and we're off for an adventure.
We've taken the camper along on rough roads, but slowly and because we've been there before.  We can park in a standard space in towns and Walmart lots, so the rig is the best of two worlds." – Stanley Kamys, 2004 Chevrolet 2500 HD, 2015 Lance 855S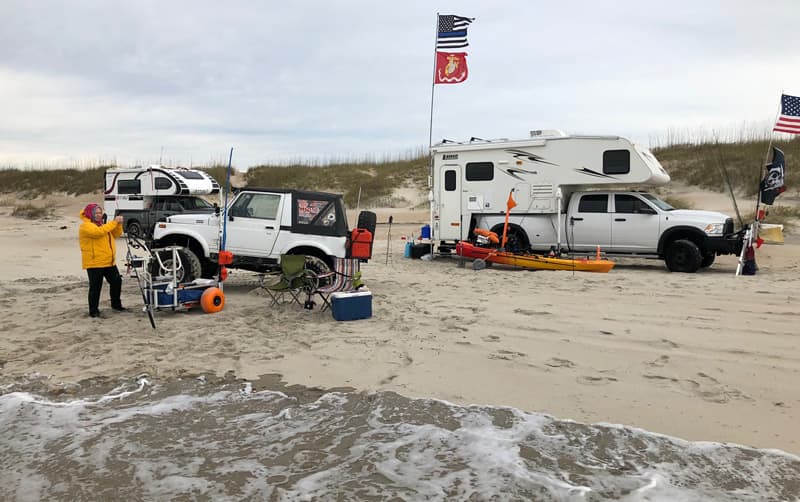 "I would consider my rig a very capable SUV.  The limiting factor on my my rig is the size; a long bed, crew cab dually with a Lance 1191.  It won't fit on most Jeep trails.
However, with the lift, all-terrain tires, onboard air, and 18,000 pound winch with a pull-pal land anchor, I can go several places regular SUVs cannot.
I enjoy taking it out to Cape Lookout National Seashore in North Carolina.  Four-wheel drive is required and the ability to self-rescue allows me to go places others do not." – Kevin Harris, 2014 Ram 3500, 2007 Lance 1191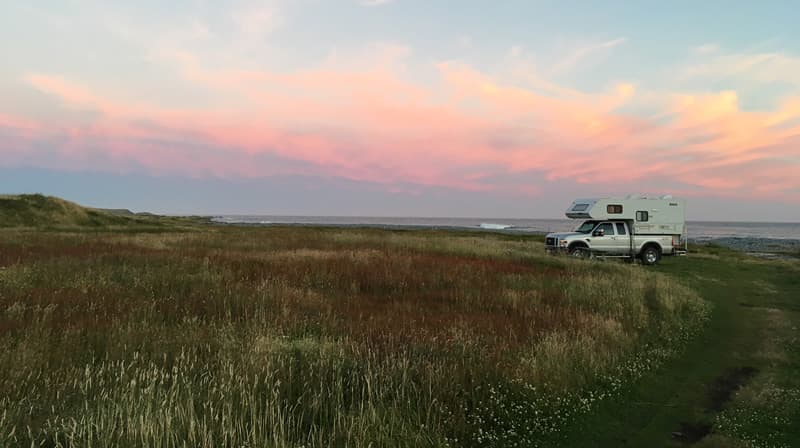 "Our 2011 Ford F250 is equipped with highway tires and not outfitted for off-road travel.  The truck was purchased to pull our 32-foot fifth wheel.  We sold the fifth wheel this past fall.
In 2016 we bought our 1999 Lance 815.  We bought it for a 18,000 kilometer trip this past summer over rough roads.  It was essentially a four-month driving adventure.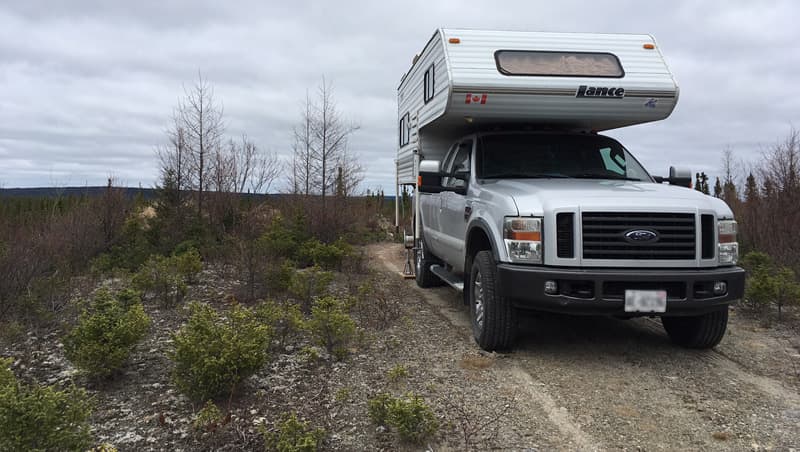 On our way to Newfoundland, we found out just how capable our new rig is.  We were confident that we could explore the narrow dirt side roads that we would never have taken any other RV down.  But, we are still not going to drive it like a Jeep." – Stephen Leonard, 2008 Ford F250, 1999 Lance Lite 815
"We are a little cautious about off-road travel.  As Gordon said, the rig would handle it but not the nerve in some cases." – Tom and Karin Slack, 2011 Ford F350, 2008 Okanagan 85SL

"My setup is more SUV.  While I have the heavy tires, suspension, and added equipment, I feel confident that I can take it on what the backcountry can offer.
That said, I don't take the chance of injuring myself or my equipment.  I camp in the backcountry and off the beaten trail, but I am just as comfortable in a forest service or BLM campground.
If I want to really hit the Jeep trail, I pull my home-built expedition style trailer that carries my 2014 Polaris Ace.  It will take on any trail.  So for me, it's the best of both worlds; Jeep trails and SUV." – Dave Nutter, 2003 GMC Sierra 1500HD, 2001 Northstar TC650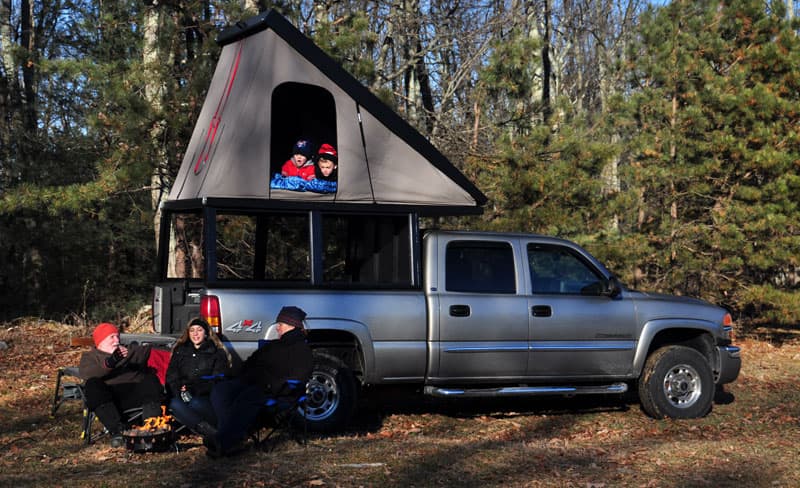 "Our rig is definitely an SUV.  Our SNAP Outfitters pop-up truck camper was designed for our activity-based lifestyle.  Our objective was to get an inexpensive, modular, activity support vehicle that could handle the dirt roads less traveled in the backcountry.
Sitting in a campsite or driving all day isn't our style.  We're active.  We kayak, bike, hike, and photograph nature.  Driving undeveloped, sketchy roads gets us to more isolated and interesting jump off points for our passions, but we have limits.  The driving is fun, but not our primary focus.
Rolling a kayak is fun!  Rolling a truck is not!  Our vehicle and road choices are part of our escape plan.  If something goes wrong, we don't want to add highly technical Jeep or ATV trail drama to our adventure.  A dry, safe place to sleep that deploys in less than 60 seconds is a big bonus." – Richard Dennis, GMC Sierra 2500 HD, 2018 Outfitters Snap
"I have a good, relatively small off-road truck with rear lockers, unmodified except for "E" rated off-road tires (16-inch) and rear air springs.  It is not a rock crawler.  My camper is only 3-inches longer and 10-inches higher than than the truck with a low center of gravity.
I have driven Hole in the Wall, Schaffer Switchbacks, the White Rim, remote trails off Hells Backbone, and similar trails with the camper with no problem.  I generally stay on at least two tracks avoiding deep mud and sand.
I have no winch or high lift jack, but carry paper maps, Max Trax, tow strap and chain, and a satellite phone." – Frank Tuttle, 2013 Tacoma, 2017 Four Wheel Camper Swift
"An SUV.  As a Jeep Wrangler owner, I know the limitations of our truck camper.  With a crew cab and a pop-up camper, we can go to some isolated spots, but we stay on the wider dirt and gravel roads.  We have plenty of power and torque with our diesel rig, but limits on width and length are a concern." – Mike Kolinski, 2012 GMC 2500 HD, 2012 Four Wheel Camper Hawk
"It's the SUV of RVs.  I'm the same as you; a lack of bravery, plus I don't want to have to fix my truck or camper." – Gord Collings, 2005 Ram 2500, 2008 Bigfoot C9
"I actually sold my highly modified Rubicon Unlimited to pay for the camper.  It was capable of the Rubicon with a yawn.  I had a flip-top roof tent, complete rear kitchen, and 12 gallons of fresh water.  There was no toilet (other than the portable one I carried) and no shower, which is why I wanted the camper.  No camper over about 1,800 pounds on any truck could be considered in the same class as the Jeep I had." – Dirk Keeler, 2017 Ford F350, 2018 Cirrus 820
"Ours is more of an SUV.  We have 2015 GMC crew cab, dually, diesel, four-wheel drive truck.  I'm more than willing to travel backcountry narrow dirt roads going over mountains and down into valleys, but I'm not a Jeep.  I've had situations where four-wheel drive was an absolute must, but again I've not and would not tackle the Rubicon.
We consider ourselves adventuresome, but not entirely crazy.  We have two other four-wheel drive vehicles for more wild adventures, but even then it's smart to know your limitations.
With our camper, I want to be able to leave and return home without leaving my camper down a hillside.  We want to be able to go on another adventure." – David Pracht, 2015 GMC K3500, 1987 Lance LC900
"It's more like an SUV mainly because I won't take my rig down a Jeep trail." – Roger Wareing, 2013 Chevy Silverado 3500 HD, 2016 Arctic Fox 990
"I have had my truck and camper down a couple of pretty nasty Jeep trails, so I consider my rig to be a Jeep of RVs.  The truck has great ground clearance and, with the Hallmark camper, it is not too high or too top heavy.
I have had the opportunity to drive a couple of different late model Toyota Land Cruisers over the Rubicon so I have the confidence to tackle some rough roads in the truck, with some limitations.  Life is good." – Wanda Myers, 1999 Dodge Ram 2500, Hallmark Cuchara
"While our rig is capable of going on a Jeep trail, we try to take good care of our rig and not take it anywhere that damage might occur.  Therefore, it's more of an SUV.  It's capable of off-grid and off-road, but a little more pampered." – Pem Richardson, 2016 Dodge Ram 3500, 2016 Adventurer 86FB
"My setup is certainly not for rock crawling.  It's also very tell, so I keep my travels to bush, logging, and oil roads that are in good shape.  They can be just two ruts, but they need to have a good solid base of gravel.  I do go through some shallow mud holes, but certainly not the deep gumbo mud we have here." – Bruce Neumann, 2006 Dodge 3500, 2008 Okanagan 96DB
"More of an SUV.  I'm a novice with four-wheeling.  And my wife is less adventurous than I am.  Being a half-ton, we're at the upper limit of payload, even with the StableLoads and Timbrens." – Dick Russell, 2009 Ford F150, 2016 Palomino SS-1251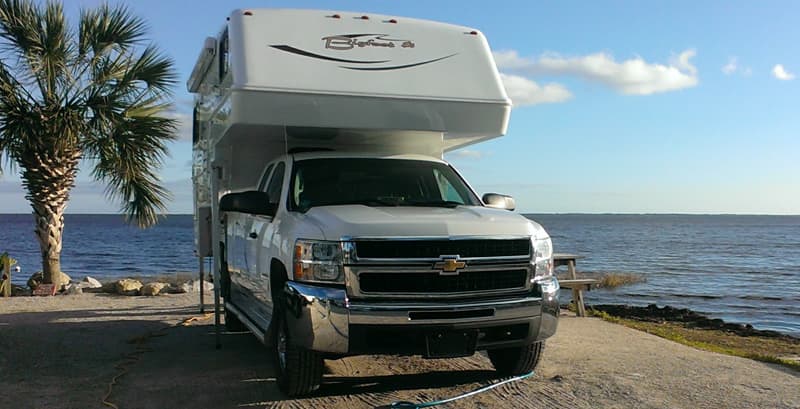 "Our rig is 25-feet long.  It has air bags, Hellwig overload springs, and a sway bar.  It has 3,700 pound wheels and Michelin M/S tires.  The engine produces about 360 HP and, in low range, I think it would pull stumps.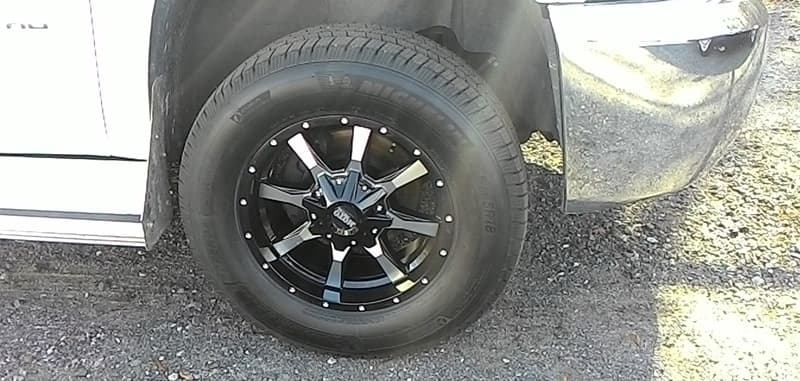 It will probably go up or down anywhere I can point it, but it has a high center of gravity, and might roll on a Jeep trail.  I have hauled smaller pop-ups on a four-wheel drive trucks.  You can really use those rigs anywhere." – Tom Scholtens, 2010 Chevy 2500HD, 2013 Bigfoot 25c10.4
"With four-wheel drive and a pop-up camper, we've been places a lot of truck camper rigs wouldn't dare go.  That said, our truck is a mega-cab and our fully-optioned Hallmark is a big load.  There are a lot of trails we won't attempt, so we consider our rig an SUV." – Mike Cash, 2014 Ram 2500, 2015 Hallmark K2
"We have an SUV rig.  We inadvertently tested it once while trying to find a fishing pond.  We were following some handwritten map, which forgot to tell us about an OHV staging area where we should have turned.
Instead, we continued straight and found ourselves on this crazy road with big holes and dips.  It was more than we were comfortable doing with the camper.  When the road literally turned into an OHV trail (read: tire tracks were half the width of our truck), we made a seven-point U-turn and went back the way we came.
When we stopped at a different lake (with a good road), we found that one of the top cupboards had opened and ejected most of our plates and bowls.  Good thing they are melamine and plastic!  The offending cupboard has one of those latches where the metal clip pressure fits around a plastic 8-shaped base, and it was as old as the camper.
Short story: the truck alone could probably handle a lot more, but with the camper on the back, it can't handle that kind of jostling.  We have an SUV rig." – Melissa Malejko, 2002 Chevy Silverado, 1981 Okanagan
"Definitely an SUV.  We utilize four-wheel drive a lot, especially during desert trips, hunting season, and in winter.  But, we have no desire to push off road limits.  We have too much money invested and our center of gravity is too high.
I really don't think traditional hard sided campers were designed for four-wheeling.  I think a pop-up style camper is much better suited for serious off-road work." – JT More, 2004 Ford F250, 2005 S&S Ponderosa 8.5
"It's definitely an SUV.  When I think Jeep, I think skinny trails and a lightweight vehicle. Our full-size diesel truck and narrow camper let us go on a lot of rugged trails, but we can't go everywhere Jeeps go." – Pete Horneck, 2006 Ram 2500, 2011 Northstar Laredo
"I have owned several Jeep Wranglers over 20 years time and I have done a lot of off-road driving as well as rock crawling.  I can take my Jeep anywhere.  When it comes to the RV world I can take my truck and camper were no other RVs can possibly go." – Jeff Dieter, 2016 Chevy Silverado 3500HD, 2018 Lance 1172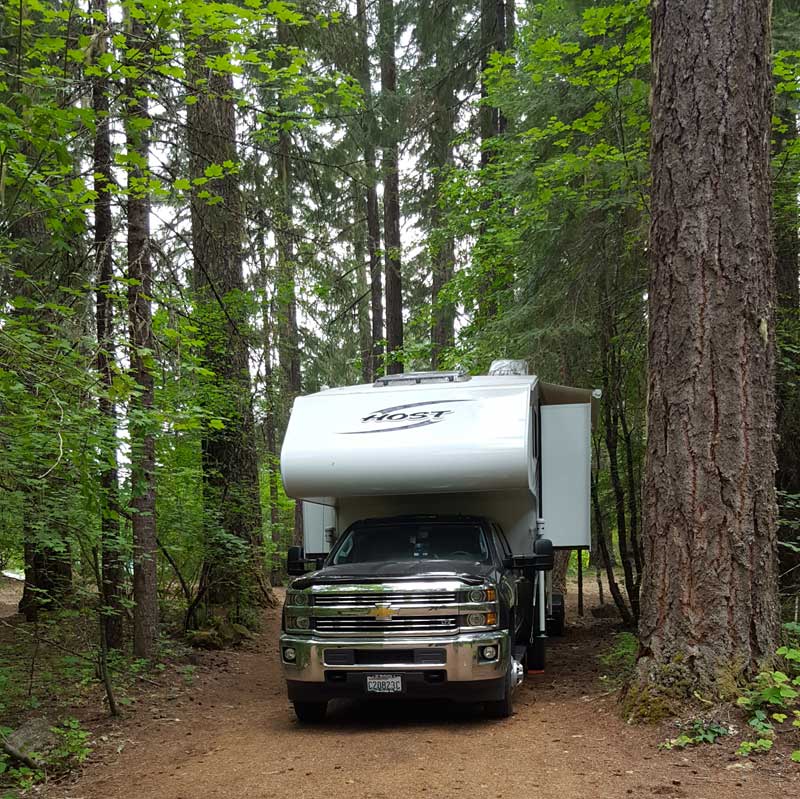 "Our truck camper rig is definitely more of a luxury SUV for three reasons.  First, the camper's size, weight, and design.  At 10.5-feet and about 4,500 pounds, it is harder to get into some of those tighter, narrower roads and trails that are often deep in the woods with an abundance of overhead clearance issues.
Second, the size of the truck that I haul the camper with.  A one ton dually, long bed, four door truck is a great vehicle for many things including carrying the camper, but not so much for getting down those tight narrow and often steep roads and trails.
Finally, it's not what I purchased this camper for.  This camper was purchased to use in different campgrounds which are not as far off the beaten path, but are dry camping campgrounds.  We also use it in places where there isn't a campground per se and in places where there are full hookups.  It's not a backwoods, down the narrow steep trail through the brush camper." – Dave Riddle, 2015 Chevrolet 3500, 2017 Host Mammoth