The Spear versus Boomerang Camper question is officially settled.  Even better, 100 readers submit 300 destinations worth returning to again and again.  You might want to get your 2017 truck camping plans out, and a pen.
This week we suggested that there are two types of truck campers; Spear Campers, and Boomerang Campers.  Spear campers go, and go, and go in the pursuit of new places and fresh experiences.  Boomerang campers find places they like and return, and return, and return to enjoy their favorite spots.
For this week's Question of the Week, we first asked our readers to vote for which type of camper they are; Spear or Boomerang.  After 387 TCM readers voted, here are the results: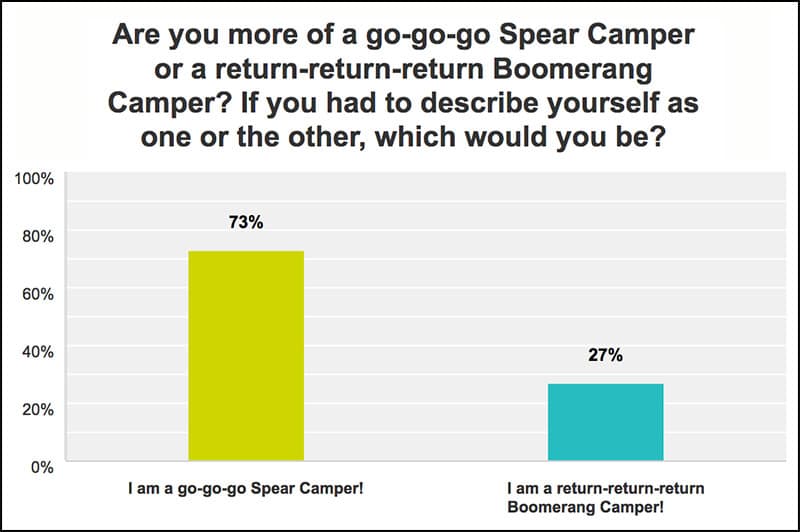 Obviously the vote overwhelmingly proves that truck campers are Spear Campers.  We don't like to camp in one place for weeks or months, we like to go-go-go!
Wouldn't it be interesting if we were able to conduct this same poll with folks who owned other RV types?  I would bet that travel trailer, fifth wheel, and motorhome owners would skew the opposite way.  Where we are go-go-go Spear Campers, they would be return-return-return Boomerang Campers.  I only have anecdotal evidence to support this, but that's what my gut says.
Now for the good stuff!  After having readers vote to indicate their Spear or Boomerang status, we asked them to imagine that they had to be Boomerang Campers.  What three truck camping destinations would they return to year, after year, after year?
Over 100 readers answered this challenge creating a treasure trove of best-of destinations for truck campers.  We were writing down places as we read the responses.  You probably will too.
This Week's Question of the Week was, "Which three places would you want to visit year, after year, after year?  And why?"
"As we are fairly new to the fun of truck camping, we are definitely go-go-go campers at this point.  There's so much to see and do.  Ask this question again in a few years and then we may settle into the, "Oh, let's go there again mode".
Our first big push was a two week journey around the East Coast through Maine, New Brunswick, Nova Scotia, and Prince Edward Island.  Two weeks did not do it justice.  We need maybe two weeks in each province and state.  We will definitely be returning in the future." – Gord Jopling, 2010 Dodge Ram 1500, 2006 Palomino 1251
"1. Yellowstone National Park.  Why?  The park is in a constant state of change.  There is always something new to see.  No matter how many times we return we still have not seen it all.
2. Michigan's Upper Peninsula. Why?  This is a beautiful part of our home state.  We like to visit the Porcupine Mountain region.
3. Florida / Florida Keys. Why?  This was our honeymoon spot.  There is plenty of wildlife above and below the water.  We always have a good time there." – Norm Cushard, 2005 Chevy Silverado 3500, 2016 Palomino HS-8801
"Yellowstone, Grand Tetons, and the Snowy Range of Wyoming.  I love the scenery, the wildlife, and the fishing." – Jerry Smith, 2012 Chevy 3500, 2013 Arctic Fox 992
"Alaska, British Columbia, and Washington." – Lindsay Little, 2015 Chevy 2500HD, 2015 Wolf Creek 850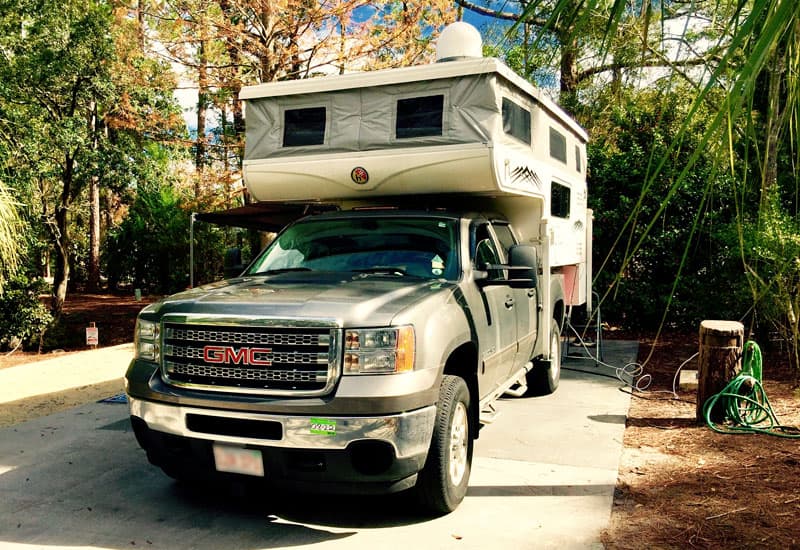 "1. Disney World, Fort Wilderness Campground.  Disney, enough said!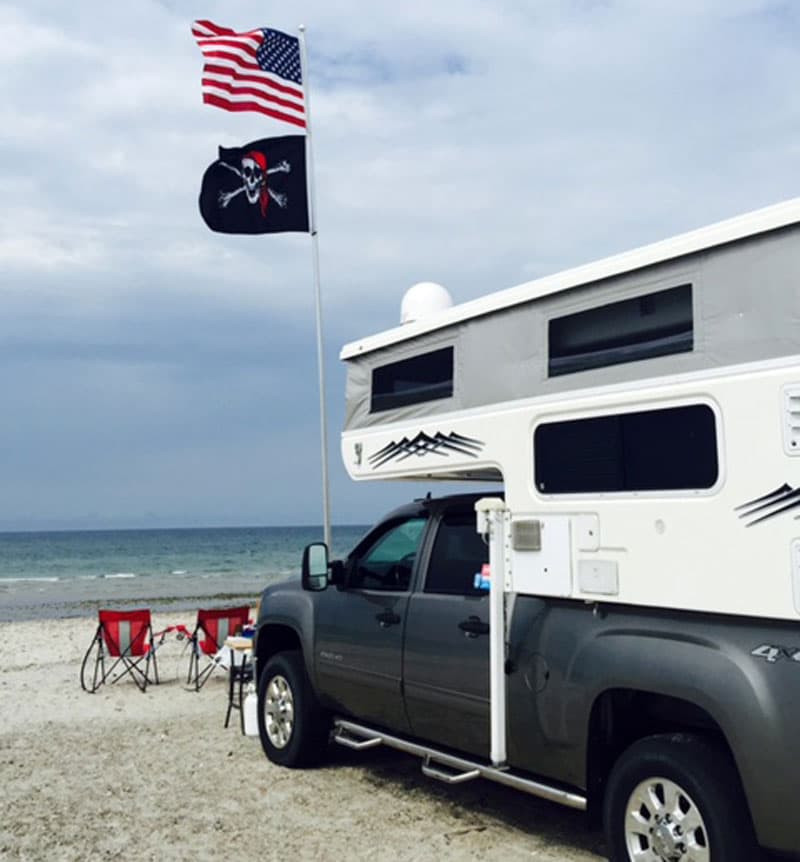 2. Sandy Neck Beach, Cape Cod, Sandwich, Massachusetts.  Beach Camping is the best with swimming, the ocean breeze, sunsets, and campfires.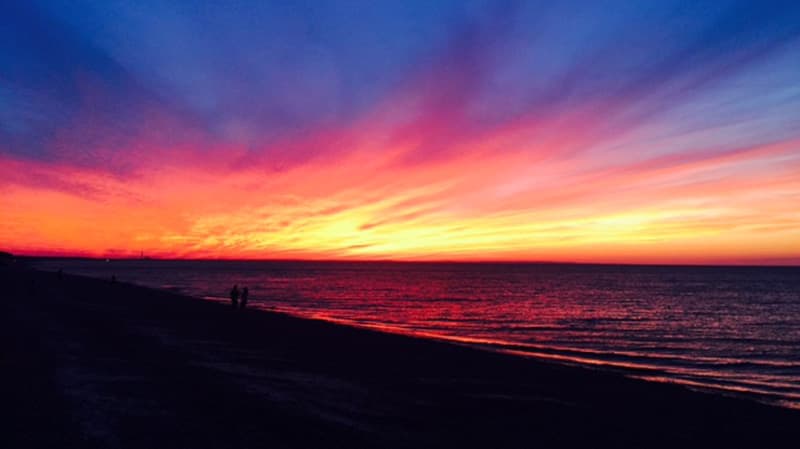 3. Knights Key RV and Marina, Marathon, Florida has nice facilities, a sunset grill next door, and I had a spot right on the marina." – George Lake, 2012 GMC 2500 HD, 2014 Hallmark Ute
"The Oregon Coast.  The combination of mountains and sea is a huge draw for me." – Pete Clark, 2017 Ram 5500, 2008 SnowRiver 10-2 RK
"We have returned to Death Valley National Monument every November, except one, since we've owned our camper.  We love the beauty of the desert in November.
We have also returned to the southern Oregon coast every summer since owning our camper.  We find the beauty of the southern Oregon coast unsurpassed.
For a third place we are torn between Utah with its beautiful monuments and the Olympic Peninsula with its expansive beaches, rainforest, and proximity to the islands of Puget Sound." – Carol Wegner, 2011 Toyota Tundra, Northstar TC650
"All of Mexico – Barranca del Cobra (Copper Canyon), near Ciudad Valles west of Tampico, and MayaBell campground near Palenque ruins towards the Yucatan.
The natural landscapes and ruins and the people in all three rural areas are wonderful.  The mix of world travelers at the MayaBell are fascinating." – Mike and Pat Jones, 2006 GMC Sierra 3500, 2007 Bigfoot 9.5
"That's really a hard question for us since we live on the East Coast.  The only places we'd go back to are west.  The Black Hills of South Dakota has great things to do, and places to see and explore.  There is great hiking, history and fishing.
The Crater Lake area going up through Mount Shasta is so beautiful and quiet.  Once again it's a great place to explore, hike, and just plain relax.  Breathe in the fresh air and read a book outside.
The Oregon coast is unspoiled, spacious, and not commercialized like the East Coast.  There are many state parks to camp, beaches to walk, lighthouses to explore, and fish shacks to have great meals.  It's my wife's favorite spot.  Oh, and we have great friends out there." – Mark Dyvig, 2001 Ford F250, 1969 Avion C-11
"The Smokey Mountains, the Adirondacks, and Moosehead Lake in Maine.  We love the mountains and the lakes." – Melinda Eaton, 2015 Ford F350, 2016 Eagle Cap
"Manti-La Sal National Forest in Utah, specifically anywhere along and off of skyline drive.  We also like the Upper Green River area in the Wind River Range of Wyoming.
Anywhere in Jasper National Park in Alberta is great.  Our preferred area is on Highway 11, which is twenty-five miles east of Icefields Parkway.  These three areas are free and dry camping only." – Rollie Thurston, 2004 Ford F350, 2005 Alpenlite Santa Fe 1100
"I spend February in Corpus Christie, Texas and March in either Gulfport, Mississippi or Pensacola, Florida escaping the winter months in Michigan.  I also spend ten days in June in Idaho visiting my daughter and grandchildren." – Carl Mutschler, 2005 Dodge 3500, 2005 Lance Max 1181
"There are three state parks in Indiana I go to – Potato Creek, Tippecanoe River, and Brown County.  I usually go to them every year because I have horses and it is hard to go long distances with them.  There are not many options.  I do try every year to go to one new place that's further away, usually without the horses." – Joshua Magner, 2010 Toyota Tundra, 2016 Travel Lite 800X
"Yellowstone, the Grand Canyon, and Monument Valley.  Sheer scenic pleasure you can't get enough of." – Joe O'Brien, 2001 Dodge Ram 2500, 2002 Northstar Laredo
"In Folly Lake, Nova Scotia, we park on a friend's property 40 feet from the lake.  We wake up to the sound of the loons most every morning.  It's a beautiful fresh water lake, nestled in Wentworth Valley, Nova Scotia, Canada.  We go boating, ATVing and trail hiking." – John Court, 2016 Ford F350, 1997 Timberline
"Since retirement, we've been to Alaska twice in the last three years.  Adventure before dementia!
When we were both working for a living, we visited a few Minnesota lakes, the Black Hills, and Glacier, Yellowstone, and Grand Teton Parks repeatedly.  Getting there was a day's drive." – Philip Tron, 2009 Chevy 3500, 20121 Lance 1050
"I bought my camper with one destination in mind, our northern Michigan owned property which is where we camp 99% of the time.  Rarely, I'll hitch up my buddy's boat and go fishing and camping, but really the camper is our home in the woods on our own property.  We're not into campgrounds with people and noise.  We prefer the solitude of the woods and no other people.  I guess we are hermits." – Daryl Davis, 1997 Ford F350, 2015 Palomino SS-1500
"1. Any place in the mountains.  The mountains are calling and I must go.
2. Any other place in the mountains.
3. Pacific Northwest coastline and Olympia.  My wife likes to go there." – Bill Peters, 2013 Chevy Silverado 1500, 2013 Four Wheel Camper Hawk
"Berea and Frankfort, Kentucky are great artisan communities.  We love to trail our dune buggy on the picturesque roads.
The Upper Peninsula of Michigan anywhere for history, smoked fish, beautiful scenery, falls, and hikes.  We also like along the Mississippi River on either the Wisconsin side or the Minnesota/Iowa side.  There is great scenery, businesses, and good Corps of Engineers campgrounds for very little money, if you don't mind hearing the train going past." – Beth Edwards, 2004 Dodge, 2006 Lance
"Zion National Park is majestic with great hiking.  The Grand Canyon is beautiful and restful with great hiking.  Lake Powell has amazing canyons to explore on our paddle boards." – Mimi Philpott, 2003 Ford F350, 2000 Lance 1061
"1. The desert has open area and room for my UTV.
2. Big Bear.  During the summer, Fawnskin campground is the best.
3. Pismo; beach camping at its best." – Winston Gotte, 2003 GMC Sierra 1500HD, 2016 Four Wheel Camper Hawk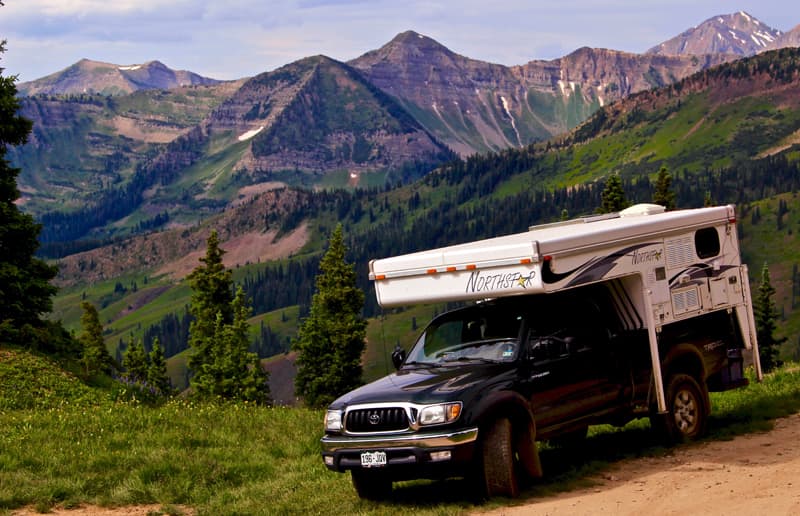 "Glacier National Park, the Grand Tetons, and Gunnison National Forest.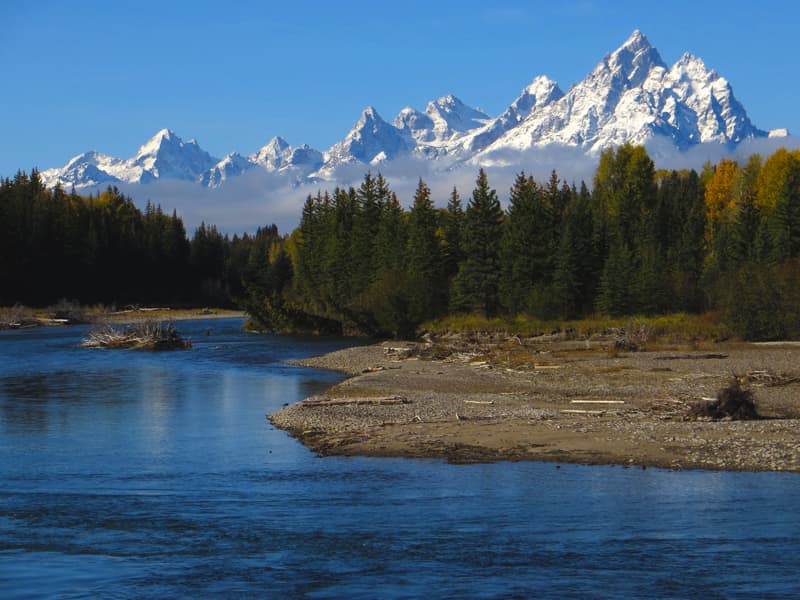 I chose these places because of the spectacularly diverse scenery, the wealth of hiking and kayaking opportunities, and the relative proximity to my home in Colorado." – Kris Cassidy, 2003 Tacoma, 2013 Northstar 600SS
"1. Upper Midwest, North Dakota, in the spring for bird migration.
2. Colorado mountains in September.
3. Alaska, just because." – Jim and Irene Thompson, 1999 Ford, 2001 Kodiak K-99
"Assateague National Seashore (OSV).  Lots of friends go there and we fish, cook out together, and enjoy the beach.  It is beautiful and peaceful.
Since we have been working full-time up until this past July, we haven't been able to go many places.  So, after our house is finished being renovated, we plan to be more of a Spear camper seeing new places which, to me, is more of the reason for having a camper versus a vacation home.  We will kick off our journey on Spike's Alaskan caravan in 2018." – Kim Brinn, 1998 Ford F250, 2009 Lance 981
"We like going to Arizona in the winter because we have grandkids there and it is a great place to get away from the cold with wonderful scenery.  The BLM lands are great for boondocking.
We like Texas, especially Fredericksburg with the German culture and the Galveston area where we can watch the waves roll in and walk the beach looking for seashells.
Branson is another place we love.  We may go there a couple times a year for the shows and scenery.  We love going to the Christmas gathering in Branson held by the Midwest Truck Campers and Friends.  We enjoy all the friends we have made there." – John Bull, 2004 Dodge 3500, 2015 Arctic Fox 990
"Alaska, the western United States, and the northeastern Canadian provinces.  There are beautiful unexplored lands, fantastic history, and we want to see it all before man destroys it." – Bill Meehan, 2009 Ford F350, 2010 Arctic Fox 811S
"Fort Pickens, Padre Island National Seashore, and Big Bend National Park.  The first two because we love the beach and the third one because of the isolation and natural beauty." – Mark Peters, 2008 Ford F450, 2015 Lance 1172
"Sunset Bay State Park in Oregon for the crabbing and views.  Nat Soo Pah Hot Springs in Idaho during the off season.  It's a great little hole in the wall spot for a night stay over.  Bastendorff Beach in Oregon for the beach and crabbing." – Wendy Larrieu, 1999 Ford F250, 2012 Northern Lite 8-11 Queen SE
"The Grand Canyon." – Robert Dudden, 2014 Chevy, 1996 Shadow Cruiser 81-2
"Lake Side State Park on Lake Ontario in New York is a clean family park right on the lake with great lake views and sunsets.  The Grand Canyon, which shouldn't need further explanation.  Lake Pleasant Campground and Marina in Arizona is a big open property with very private sites, very clean facilities, and a beautiful lake with every water sport you could want.  Did I mention perfect weather?" – Thomas Fallon, 2009 Ford F250 2014 Lance 825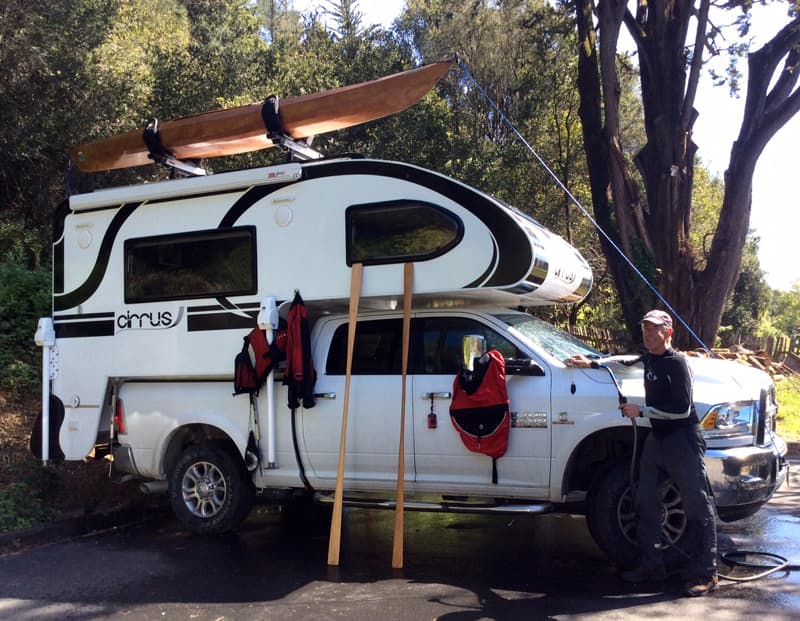 "1. Yosemite Falls.  In winter or spring, Yosemite Falls has world class scenery and a great system of bike paths.
2. Southern California in the spring has wildflower blooming areas and we like to go during years that they really bloom.
3. A Forest Service road on a Sierra lake that prohibits motorized boats where we can kayak or canoe and spend peaceful days and nights reconnecting with nature." – David Casterson, 2016 Ram 3500, 2016 Cirrus 800
"The Maine coast, Montana rivers, and Sonoran desert." – Patrick Strang, 2012 Chevy 3500, Lance 855
"1. Glacier National Park.  It's majestic and we can go through Teton National Park on the way.
2. Maine.  It's beautiful and has the ocean.  We can visit our daughter and travel through New England on the way.
3. Shimmick Forrest.  Shimmick Forrest is quiet, serene, and not crowded." – Stacie Link, 2016 Ram 2500, 2001 Four Wheel Grandby
"1. Anza Borrego State Park in California.  What's not to love?  It's a perfect snowbird destination with boondocking, hiking, hot springs, four-wheel drive roads, flowers, and lots of wildlife.
2. My backyard; the Cariboo/Chilcotin Region of British Columbia.  A true year-round playground with hunting, fishing, hiking, four-wheel drive roads, great sledding in the winter, and wonderful scenery.
3. The Moab area of Utah; simply amazing!" – Ken and Jenn Burton, 2012 GMC 3500, 2012 Arctic Fox 992
"We camp off grid at:
1. 600 road north of Prince George, British Columbia with berries and hiking.
2. Barkerville.  A lovely back road with beautiful vistas
3. 2200 road.  Vistas, berries, and walking." – Ken and Marian Muir, 2011 Dodge 3500, 2004 Snowbird 8.5
"Spearer here.  It's a tough call.  When I was diving in the Pacific Northwest, I was always asked, "What dive site is the best?"  The answer was, "All of them".  Well, most anyway.   Each has its own uniqueness and character.  So none really stand out and none would I want to stay months at.
I like my campsites to be a room with a view.  Here are my choices: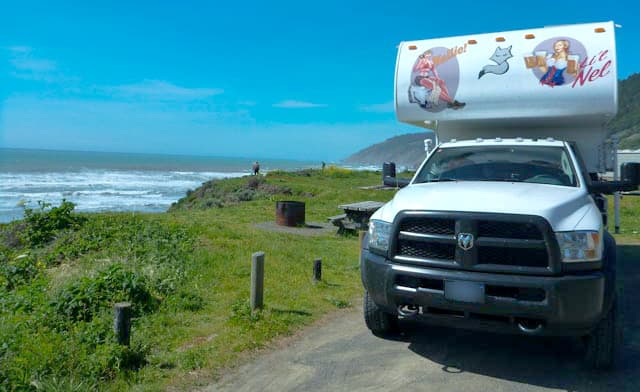 1. Westport, California on the bluff overlooking the ocean was a great favorite.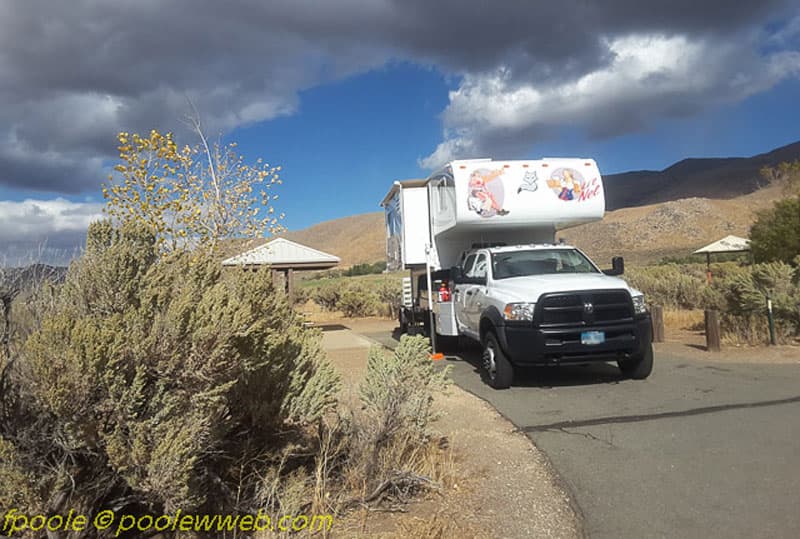 2. Washoe, Nevada was a nice quiet area with a wildlife sanctuary.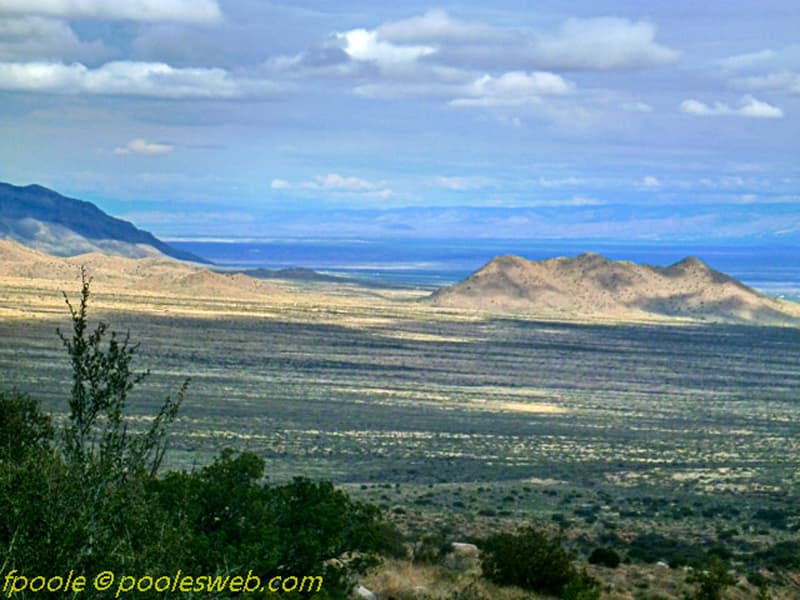 3. Aguirre Springs, New Mexico was great with view.
And yes, as soon as I post this I'll think, "Oh Man, what about…"  Thus the uniqueness of them all." – Frank Poole, 2016 Ram 5500 HD, 2016 Arctic Fox 990
"1. Boondock on the Deadwood River in Idaho.
2. Baumgartner's Campground in Idaho.
3. Boondock in the Gospel Hump area of Idaho." – Dave Erickson, 2011 Ford F350, 2006 Arctic Fox 990
"The Sierras.  We've only been once, but keep feeling tugged to go back.  There is so much to see that I think it would take many trips to feel like we had seen it all.
Yellowstone/Grand Tetons.  We've been many times so it feels comfortable, but there are still things there we haven't seen or done.
Glacier National Park.  Again, we've been many times it feels comfortable, but there are still things there we haven't seen or done." – Connie Westbrook, 2003 Chevy 3500, 1997 Lance Squire 5000
"Bryce, Zion, and Yellowstone National Parks." – John Abbott, 2016 Ford F350, 2014 Lance 992
"Ludington State Park is always beautiful and it's close to home; two hours or less depending on traffic.  This would be our winter/early spring, late fall trip.  We can't stand it for summer camping because it gets way too crowded!
The Upper Peninsula of Michigan.  Now some will get technical and say we didn't state one specific place.  Well, there are so many wonderfully amazing spots up there that I could never pick just one.  This would be a summer boomerang.
And last, I would have to say the Hocking Hills area of Ohio.  It's just a beautiful area year-round.  It has great hiking trails and a very nice campground.  We prefer it in spring and fall." – Cindi Delo, 2002 Chevy, 2004 Adventurer 90 RDS
"The McCloud area of northern California, Teton National Park, and Mendocino National Forest." – Thomas Bjerk, 2005 Ford F350, 1999 Elkhorn 9T
"Lassen National Park, Banff/Jasper, and Hendy Woods State Park." – Doug Baker, 2006 Tundra, 2006 Six Pac D650
"We camp at a number of places again and again because it is on the way to a new place.  Those are Glendo State Park in Wyoming, Prairie Dog State Park in Kansas, and Lovewell Lake State Park in Kansas." – Laurel Wilson, 2013 Ford F350, 2006 Four Wheel Grandby Shell
"Utah, Colorado, and British Columbia.  All three offer rich views and a multitude of places to be which makes them ultimate boomerang camping destinations offering a lifetime of spear camping opportunities." – Ben and Tory Matthews, 2007 Ford F350, 2006 Outfitter Apex 8
"Glacier, Canyonlands, and the Jackson Hole area.  They are absolutely beautiful and there are lots of great places to camp." – Lyle Haas, 2002 F350, 2015 Lance 995
"1. Custer State Park.  The whole Black Hills and Badlands area has so much to offer and see.  I have already been seven times and haven't seen everything.
2. Glacier National Park.  For pure hiking, beauty, and serenity, Glacier could keep you busy for a lifetime.
3. South Park, Colorado.  Over 50 miles of Gold Medal fishing, cool summers at 9,000 feet, hiking, historical mines, and (with a land mass bigger than Rhode Island), there's plenty of uncrowded space." – Nancy Raimondi, 2009 Ford Ranger, Four Wheel Camper Eagle Shell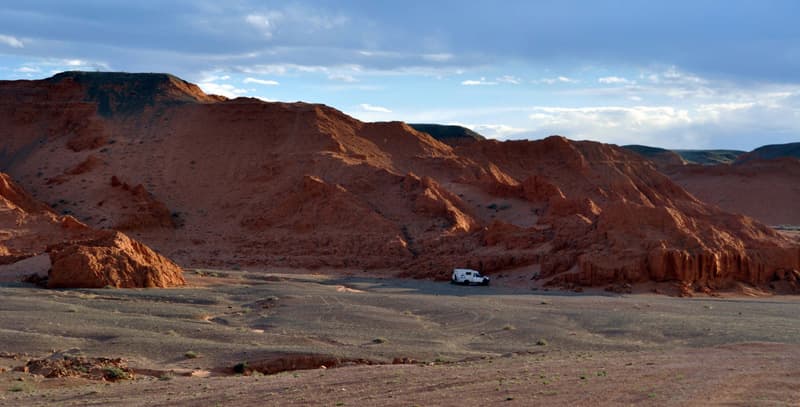 "1. Mongolia (Khövsgöl Nuur, Gobi Desert, and all Mongolia), without another word.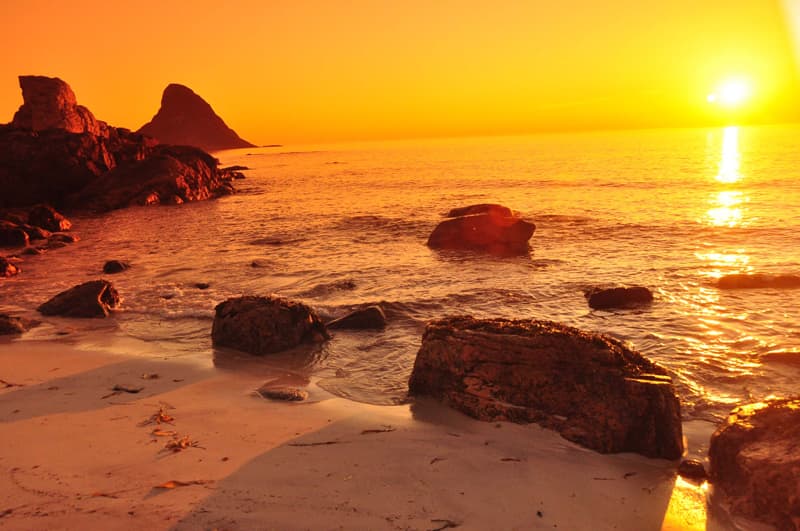 2. Lofoten Islands in Norway.  Superb to observe the Aurora Borealis (northern lights).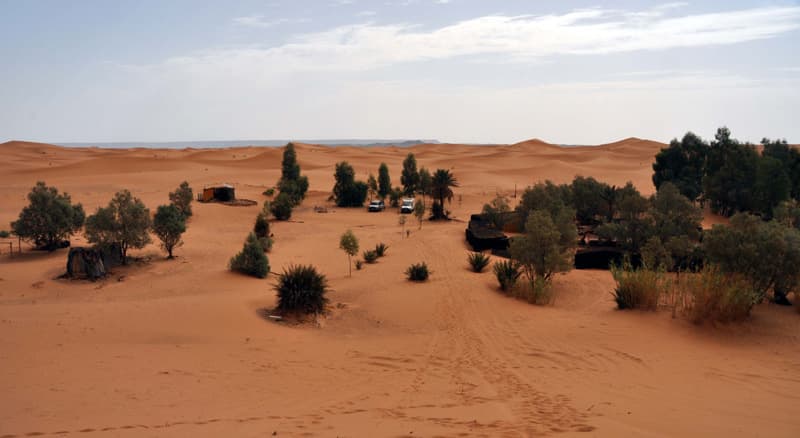 3. Sahara Desert.  The tranquility, peace and beauty of the dunes.
This year we will explore some USA National Parks and state parks (including Alaska) such as Canyonlands, Craters of the Moon, Yellowstone, Denali, Deadhorse, and more." – Frederic Amorós Le-Roux, 2011 Toyota Hilux, 2011 PSI-Azalaï (Fix Cell)
"The Florida Keys, Canada, and the Upper Peninsula of Michigan." – Roger Simon, 2006 Chevy Silverado, 2007 Lance 861
"Living in the southeast, we love Arizona, New Mexico, and anything out west that we haven't seen.  There is so much beauty and history that we haven't seen yet.
I may have skirted the question, but how can you limit yourself if you have never been anywhere?" – RJ B, 2007 Dodge 2500, 2003 Palomino Maverick 1000
"Montana.  We love the mountains and have cousins and ranches to visit.  In Texas, we like Galveston Island and Big Bend National Park.  In Colorado, we love the mountains." – John Dorrer, 2013 Ford F250, 2014 Four Wheel Camper, Grandby
"1. Gettysburg Pennsylvania.  It's about three hours away and I am a Civil War enthusiast.
2. Glacier National Park.  My wife and I got married at Iceberg Lake 18 years ago, so what's not to like about that?  There are so many wonderful places to hike.  A few of my favorites are Iceberg Lake of course, Grinnell Glacier, Hidden Lake, Cobalt Lake, and the Highline Trail.
We like to stay at the at the Many Glacier campground.  An added bonus is the Swiftcurrent Motor Inn across the street with a camp store and restaurant featuring Italian food that's not bad.
3. The Wind River Range in Wyoming, home to the highest peak in Wyoming.  If you like to fish there are some great trout streams.  Also the backcountry is dotted with numerous lakes, many of which were stocked with fish by Finis Mitchell back in the 1920s and 30s.  This being a National Forest, you can hike with your dog!" – Tom Berry, 2016 Ford F350, 2007 Lance 981 Max
"We love southwest Colorado.  We love being up in the mountains.  We also spend time off-roading.  If we could find good jobs we would probably move there.
We have been to Yellowstone National Park twice already.  There is so much to see that I could take years to see and do it all.
We like to go along the Oregon coast down along the Pacific Coast Highway.  Being from Nebraska we love the ocean." – Matt Wiegand, 2014 Ford F150, 2015 Palomino SS-1251
"Great Smoky Mountain National Park and Blue Ridge Parkway.  Having been born and raised in Tennessee, we have lived in Mississippi all of our working life.  These two places are the most beautiful places on earth to us!
The great state of Colorado is one state that has it all!  Yellowstone National Park has so many wonders to behold." – Denver and Linda Woods, 1997 Ford F350, 2001 Lance 1121
"Monterey Bay, California, (location, location, location) provides access to the Pacific Coast Highway, Santa Cruz and San Francisco.  Plus it has its own charm and things to do in the area.
Likewise, Key West, Florida offers relaxation, sun, and plenty of water.  We can't decide where our third place would be.  The first two were hard enough to choose.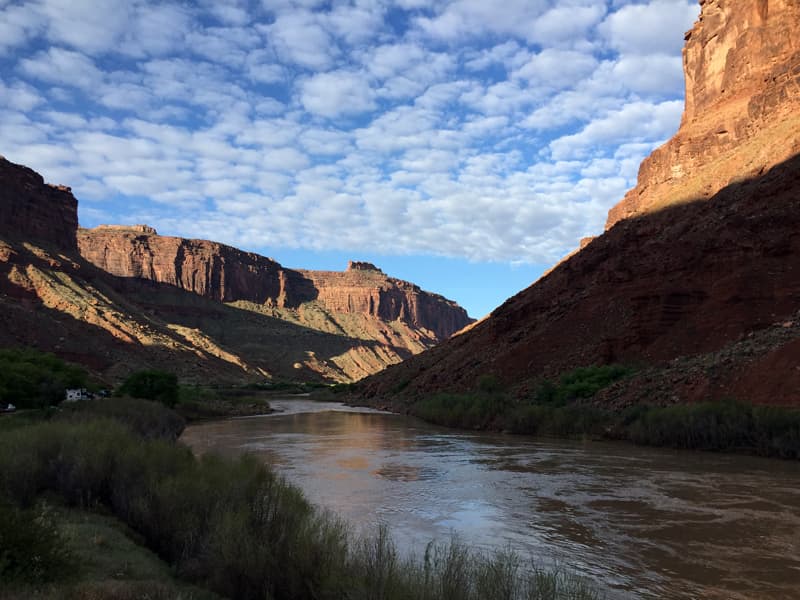 We have enjoyed the Oregon coast, Florida panhandle, Yellowstone, Utah, the Outer Banks, and Colorado to name a few.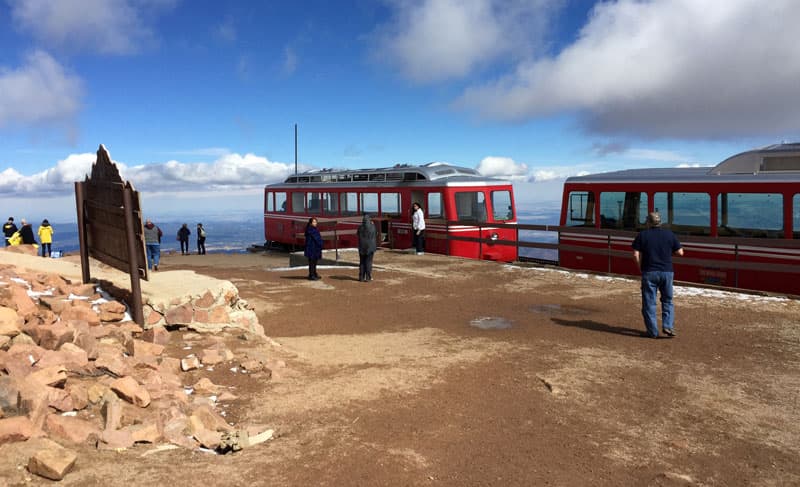 If we were really forced to choose, perhaps Manitou Springs, Colorado." – Steve and Teresa Gomez, 2014 Ford F350, 2015 Host Mammoth
"1. Nashville Tennessee.  We enjoy country music and the country area around Nashville.
2. Green River/Moab Utah.  There's wonderful exploration of the canyons and the beauty of the area.
3. California North Coast.  Just plain beautiful." – Ralph Bunn, 2015 GMC 2500, 2004 Four Wheel Camper
"1. Cape Hatteras.  The fishing capital of the world.
2. Disney Fort Wilderness.  The nicest campground on the East Coast.
3. Brigantine, New Jersey.  The closest beach to home." – Joe Skelly, 2005 Ford F250, 2007 Lance 845
"1. Devil's Den State Park, Arkansas.  Peaceful and beautiful walking trails out in the sticks.
2. Davis Mountains State Park, west Texas.  Wild, out of the way, quiet, and peaceful.
3. Grand Canyon National Park.  Needs no explanation, but I liked it better about ten years ago!" – Pauline Hunt, Ram 4500, 2016 Arctic Fox 990
"Snow Valley, Utah is scenic, offers hiking, and good facilities.  Escalante State Park, Utah has four-wheel drive roads, scenic, hiking, and good facilities.  Redfish Lake, Idaho has mountain scenery, a lake, and good facilities." – John Dillman, 2017 Toyota Tacoma, Four Wheel Camper Fleet
"We actually first visited Moab, Utah and the surrounding area in 1997 and have gone back there every year, at least twice, and can't seem to ever get enough of it!  We mountain bike, hike, explore in our UTV, and just do what ever the day brings, drinking in the calm that creates – for us – a large slice of heaven every time we go.
We also like visiting Grand Junction, Colorado every year but that is because Flyin' Miata puts on a great Summer Racing Camp.  The area is beautiful with lots of hiking, biking, driving, etc.
As for a third place, we'll get back to you on that.  We retire in two and a half years, but who's counting?  We plan to move into a toy hauler and explore everything the USA has to offer for the remainder of our days.  We also plan to keep our camper and our twenty-foot enclosed trailer because, why not?  We love it and it's like home (and a member of the family)." – Tracy Schuster, 2015 GMC 3500, 2012 Lance 992
"Big Bend National Park, Escalante National Monument, and the Gulf Coast of Florida.  They have amazing beauty, solitude, nature, peace, quiet, hiking, and wildlife." – Russell Berquam, 2014 Ford F350, 2015 Arctic Fox 1140
"Curlew Lake in Washington has great fishing, weather, forest, mountains, and it's far away from it all.  Howard Miller Steelhead Park in Rockport, Washington has fishing, hiking, trees, it's close to home, and it's a great park all year long!  The Washington and Oregon coast is great for beach camping.  There are festivals, good weather, and you get away from the hustle and bustle." – Kimberly Zimmer, 2000 Dodge Ram 2500, 2016 Lance 1050s
"Although we are spear campers, we would like to become boomerang campers.  The reason is the same for both.  There are so many new places we want to visit and there are so many places we want to see again.
Last year we returned to the Yukon.  The year before we had an accident and totaled the truck and camper, so we had to return to finish our visit and to prove that we could do it.
My number one place is the Yukon; beautiful scenery, wildlife, wonderful people, variety of experiences, easy pace, and no crowds.  It is 6,000 kilometers from home.
Number two is Big Bend National Park.  Big Bend is probably the best National Park in all of the USA and Canada.  The park has a variety of habitats, great scenery, road runners (any place with road runners is worth returning to), great bird watching opportunities, and solitude.
There are too many number threes: Utah's canyon parks, Palo Duro Canyon, Texas, Prince Edward Island, Newfoundland, Labrador, Redwood country, Jasper National Park in Alberta, and Atchafalaya Swamp in Louisiana.  I just want to return to all the places I have been." – Judi Sutherland, 2016 Ford F350, Adventurer 86SBS
"I'm a Northeast guy with just one season of truck camping under my belt.  We have been doing a 4th of July week tent camping for the last six years, with this past year in the truck camper for its maiden voyage.
I love the Adirondacks and did a four day lakeside, no hookup trip last August.  I have two more four day trips up coming to the same place.
The first campground is family run with lots of seasonal and return campers.  It's very clean with a great lake for the fishing and kayaking.  The Adirondack campground is primitive and you can't beat having a secluded lake only feet from the rig.
As our truck camper legs grow, we would love to venture towards the Great Smoky Mountains and farther west.  I know that's only two places.  I don't think taking the rig to Citi Field for the Dead and Company show counts as an actual trip, or does it?" – Robert Schene, 2004 Chevy Silverado 2500 HD, 1996 Lance 10'6″
"The Blue Ridge Parkway for the fall colors, Dreher Island State Park, in Chapin, South Carolina for fishing, and Douglas Lake in Dandridge, Tennessee for fishing." – Kenneth Wright, 2005 Dodge 2500D, 2011 Travel Lite 890
"The Florida Gulf Coast going to their state parks.  The Maine coast from Camden to the New Brunswick border.  And the coast and mountains of North Carolina." – Mike and Paula Bostic, 1999 Ford F350, 2012 Chalet S95R Ascent
"Pine Island, Florida near Fort Myers.  It's warm in the winter and has good bike trails.  Central Minnesota is cool in the summer and has good bike trails.  Southern Ohio has good bike trails." – Robert Mayton, 2014 Ford F450, 2015 Lance 1172
"1. Rogers Rock, Lake George, New York.  Dry camping, a boat launch, hiking trails, and it's beautiful.
2. Raystown Lake, Pennsylvania.  Great marina, electric hook-ups, and scenic.
3. Sturbridge, Massachusetts.  Old village, quaint shops, and our annual anniversary trip." – Thomas Slack, 2011 Ford F350, 2008 Okanagan 85SL
"1. Yellowstone/Jackson Hole; just beautiful.
2. Bandon, Oregon; quiet and secluded.
3. Whidbey Island, Washington.  Back to the 50s." – Marvin Awtry, 2000 GMC Sierra 2500, 2000 Lance 915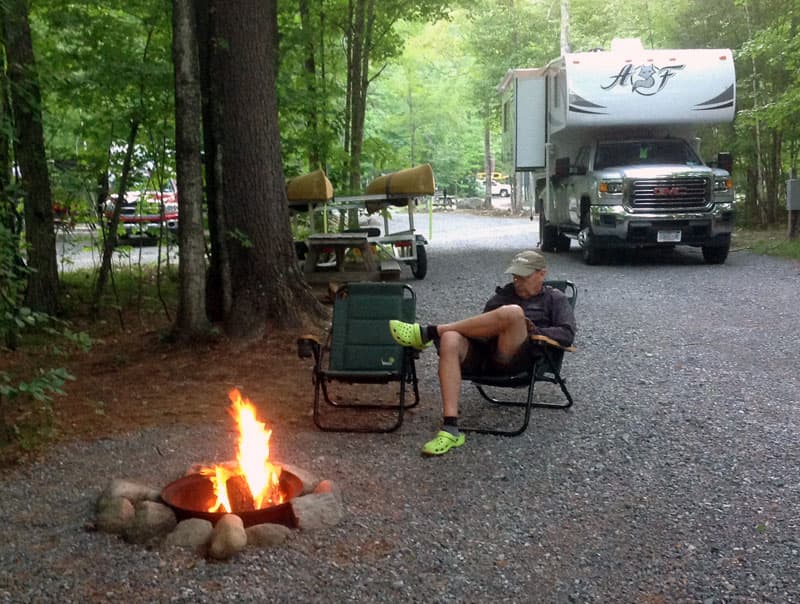 "In the Adirondacks, Saranac Lake and Lake Placid have hiking, canoeing/paddling, and relaxation.  Bar Harbor/Acadia National Park is total relaxation.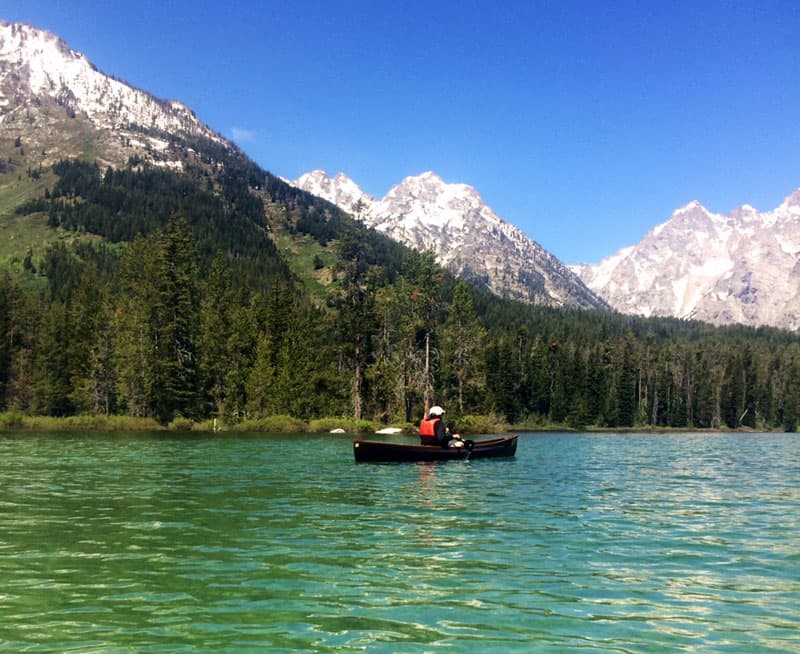 Teton National Park has the the magnificent mountains." – George and Susan Visconti, 2015 GMC Sierra 3500HD, 2016 Arctic Fox 990
"Steen Mountains, Florence on the Oregon Coast, and Quartzite, Arizona." – Colin Kough, GMC 2012 Sierra, 2007 Starcraft
"First and most special is Alaska!  Second, the Rockies anywhere from Colorado through Wyoming.  Third, and probably most surprising to most, is where we live in Oklahoma.  We have what are called department lakes.  These are small lakes that are well stocked with few campsites that are not developed.  There's rarely anyone else there." – Tom Elliott, 2007 Ram 2500, 1999 Lance 835 Lite
"First Landing State Park in Virginia Beach, the Outer Banks in North Carolina, and the
Adirondacks Mountains in New York." – Fred Patterson, 2013 F350, 2002 Lance 1161
"In June, Whitewood, South Dakota for the Black Hills Flat Fender Jeep Run.  There are good Jeep trails, beautiful vistas, lots of old Jeeps from all over the country, and drivers to talk to.
In July, Rapid City, South Dakota has the Hills Alive free Christian Concert in the park. Three days of Christian Music.
In September, I go to Nathrop, Colorado to the Thirsty Dirt Ranch for the Colorado Flat Fender Club Fall Colors Tour.  Lots of good Jeep trails, golden Aspens, tall mountains, some to 14,000 feet.  There are lots of old Jeeps from all over the country and lots of shop talk into the evenings." – Tom Ralls, 2009 Chevy 2500, 1994 Shadow Cruiser 800
"Big Bend National Park is always different.  We love the area of Yosemite National Park and the hiking.  In Wyoming and Montana, I go fly fishing." – Roger Wareing, 2013 Chevy 3500HD, 2016 Arctic Fox 990
"Marathon Key, Florida with our rig and boat in tow.  Fishing the bay and ocean and swapping drinks for fish in the coolers is great.
Sebastian Inlet State Park with our rig and boat in tow.  Fishing the lagoon and ocean with our kids while camping right on the beach.  Surf fishing is also at its finest here.
Last is the in-laws.  Our rig and great thanks for my own space." – Nicholas Gazzillo, 1999 Ford F350, 2001 Lance 1130
"Yellowstone National Park because it is dynamic and too immense to ever see it all in one visit.  Colorado because it is truck camper friendly and our adult children and grandchildren live there.  The Great Lakes because they are unsalted and shark free!  Besides, we grew up in the region." – Jody Johnson, 2011 Chevrolet Silverado, 2012 Adventurer 810WS
"Grand Canyon, Sedona, and Lake Powell.  It's God's country and beautiful!" – Ann and Anthony Catanzaro, 2006 Ford F150, 2013 Four Wheel Camper Hawk
"Key West has a laid back lifestyle and lots of fishing opportunities.  Yellowstone National Park was the first and most beautiful of all the national parks.  Alaska because I went there out of college with a buddy and a tent.  I have always wanted to go back in my camper and explore." – Robert Passage, 2005 Ford F350, 2004 Lance 1161
"Arizona." – Frank Niehus, Arctic Fox
"1. Quosatana campground 14 miles up the Rogue River from Gold Beach, Oregon.
2. Cave Lake Campground, Nevada.
3. Horseshoe Bend Campground on the Umpqua River, Oregon." – David Pracht, 2015 GMC K3500, 1987 Lance LC900
"1. Ballarat, California in mid-April in the Panamint Valley of the Argus Range.  There are many places to boondock, and great UTV riding; some is very difficult.  This is the back side western part of Death Valley.  We never see all of it each season.  Most is BLM/USPS.  We set up the campers on the free BLM land and use the UTVs to travel.
2. Eureka and Hamilton, Nevada in August.  Not as many camp spots, but there's lots of area to travel, and many mines to visit.  Both these areas are BLM and not many visitors.  It's at 7,300 to 9,000-feet.  We still find new places every year on our UTV.  We visit the same places many years apart.  There is so much to see.
3. Beatty to Tonopah, Nevada.  Lots of wide open BLM areas, camping, and UTV riding. We visit every mid-April to May and usually camp in four to five camp spots over 30 days.  Most of these vacations cost less than $600." – Bill Close, 2014 Ram 3500, 2012 Lance 850
"A local spot on the east end of Grand Mesa, Colorado.  It has lovely open parks full of mountain flowers most of the summer with reservoirs here and there.  The Moab area in Utah is great.  I love the desert.  Our local state park is close to good fishing, boating, kayaking, hiking around the lake, and lots of wildlife that is easy to see, which is fun for our grandchildren." – Karen Lacey, 2001 Dodge, 2014 Four Wheel Hawk Camper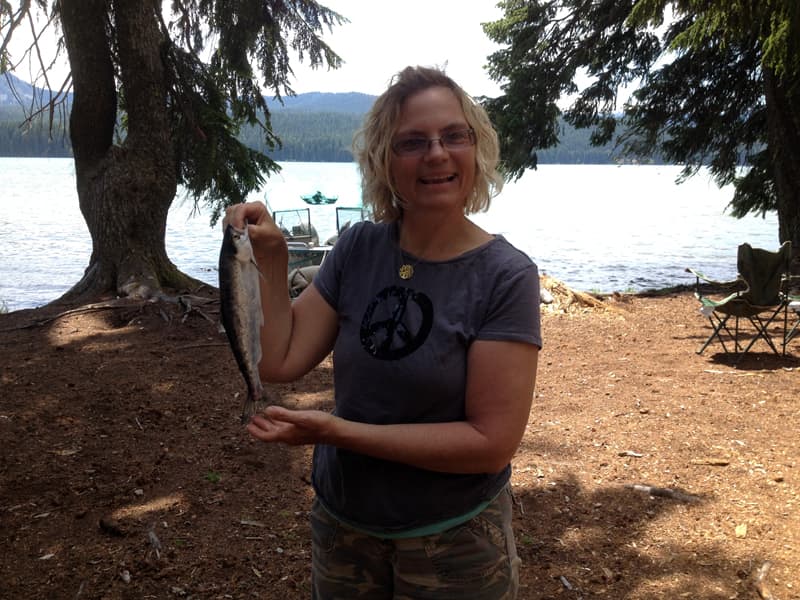 "Odell Lake, Princess Creek Campground in Oregon.  Odell Lake has awesome views, sunsets and sunrises, great fishing, camping by the water with the boat pulled up to the campsite, and campfires with lapping waves.  Dry camping is no problem for about five days.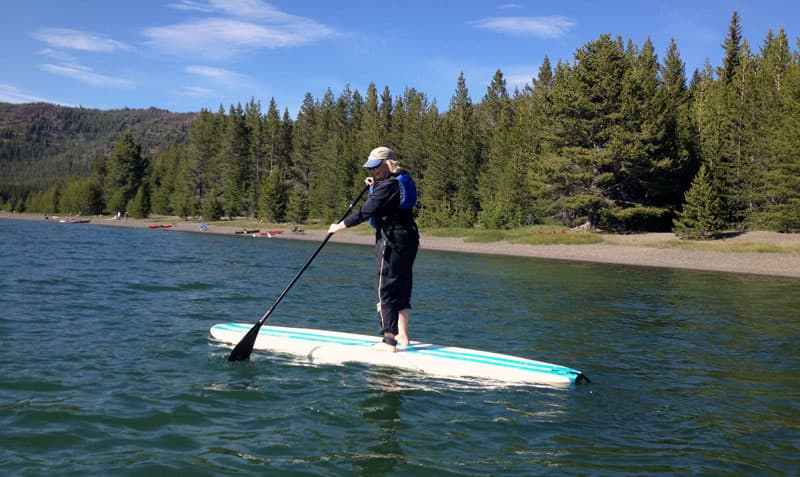 East Lake, Cinder Hill Campground in Oregon.  East Lake has great views, hiking, good fishing, camping with awesome sunsets and beaching the boat on the sandy beaches.  The weather is cool enough in the summer to really enjoy a great campfire with the most awesome sky.  It's at 6,400 feet.
Bandon, Oregon, Bullards Beach State Campground.  Bandon offers hiking trails everywhere, deserted long beaches much of the time, and wonderful small downtown to enjoy with great cinnamon rolls at the Bandon Bakery.  There's wonderful weather in the spring and fall.
It was a toss up between Bullards Beach and South Beach State Park outside Newport, Oregon.  Both are awesome coastal places with different amenities.  Cinnamon rolls beat out the Rogue Nation Brewery – this time." – Jon Schnebly, 2004 Freightliner M2-106, 2014 Arctic Fox 1150
"Anywhere on the Atlantic Coast, because I love the ocean.  It's hard to beat the scenery of the Rocky Mountains anytime of the year.  The Pacific Ocean, even though I haven't been there yet." – William Cowgar, 2012 Ford F350, Lance 1172
"Lake Tahoe is so beautiful with so many things to see and do.  You're not just sitting around and watching the pine cones fall.  Yosemite is my church as somehow I feel closer to God there.  Truck camping is ideally suited to the dry campsites in Yosemite as the campsites were built long before 30 and 40 foot trailers and motorhomes ever saw a campground.
The western Arizona deserts.  There's nothing like an Arizona sunrise!  The camping opportunities for all types of RVs abound there." – Brian H, 2016 Ram 3500, 2016 Lance 1062
"Yellowstone, Glacier, and Yosemite.  All three parks have many beautiful camping areas and great hiking trails with breathtaking views." – John Boney, 2017 Ford F350, 2017 Cirrus 820
"Yellowstone, Grand Teton, and Glacier National Parks.  They are multifaceted and you can spend weeks really exploring." – Mark Harrison, 2005 Dodge 2500, 2017 Northern Lite 10.2 EX CD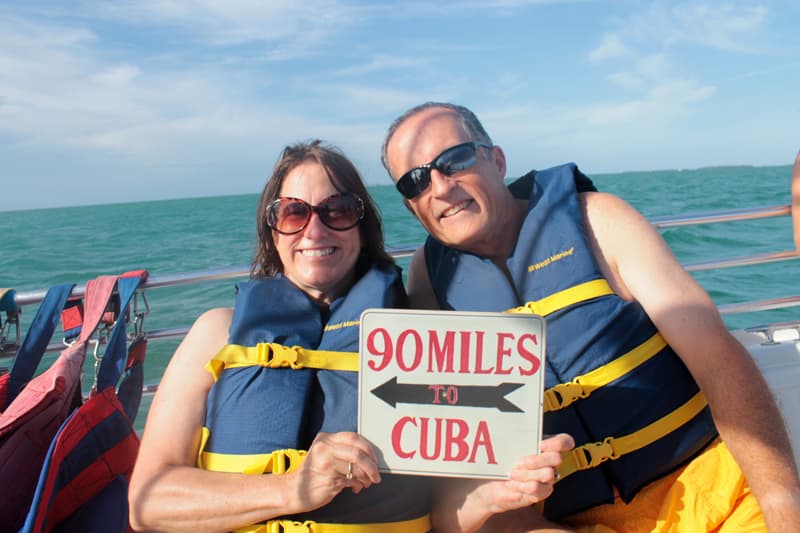 "1. Boyd's Campground  in Key West.  Lots of fun stuff to do!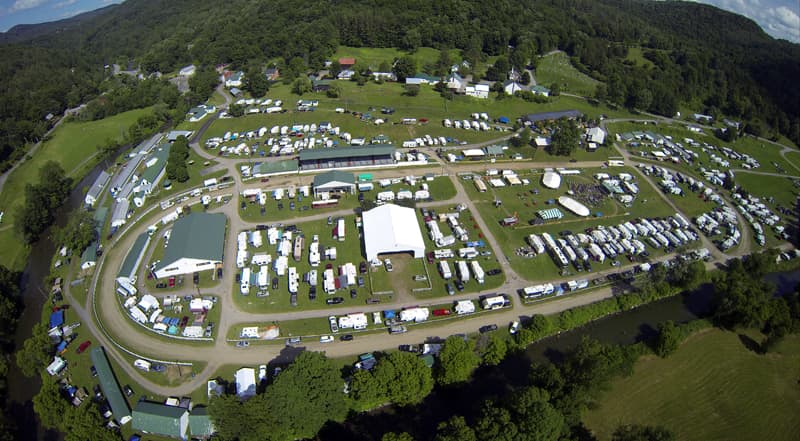 2. Jenny Brook in Tunbridge, Vermont.  A week-long Bluegrass concert!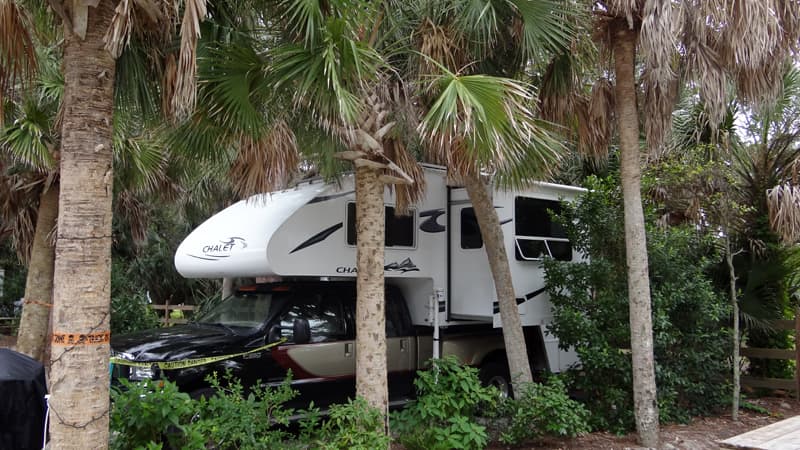 3. Turtle Beach in Sarasota, Florida.  A beautiful campground with private beach and near Siesta Key!" – Charles Coushaine, 2001 Ford F350, 2012 Chalet DS116RB
"First on the list is Glacier National Park.  While sometimes we camp at a campground we have stayed at before, last time we visited a new portion of the park.  So while we return to the park many times, it is new at the same time.  Why do we return?  It is my favorite place on earth.  Simple as that.
Second is Mount Saint Helens.  While we have only visited the park (post eruption time frame) once, we want to return to hike the trails and explore more.  Maybe next year because this year is already full.  Why?  It is amazing to see the devastating power of nature, and the recovery.
Third?  With so many places to see, how can I name one spot for a third choice?  Our third choice is anywhere in this beautiful country." – Rich Bain, 2004 Dodge 3500, 2010 Adventurer 810
"Cathedral Pines in Eustes, Maine is the most beautiful and peaceful place on earth!
Acadia National Park on the Schoodic Peninsula.  There's a campground near Winter Harbor, Maine that has a brand new and beautiful campground.  It's well planned out with private sites.
I can't remember the name of this one, but it's a county park northeast of San Francisco, California in Castro Valley.  There's a beautiful vista, lots of wildlife, and eucalyptus trees with a beautiful smell!" – Sheryl Garofano, 2013 Ford F240, 2004 Alaskan 8-foot cabover
"We're still working full-time and we run a business, so our travels are limited to where we can go for a long weekend.  We look forward to being spear campers someday!  If we had to return to three places, we would go to:
1. Two Rivers Bluegrass Fest, Harrison, Illinois.  We love bluegrass, and this is by far our favorite place to camp and play.  It's rustic camping at its best, but its beautiful, friendly, and fun.
2. High Cliff State Park, Sherwood, Wisconsin.  Beautiful cliffs and views, great hiking, large comfortable sites, and a gorgeous drive along the east coast of Lake Winnebago.  What else could you want?
3. Bong State Park, Kenosha, Wisconsin.  We do our shake-out trip each year here.  Because it's close to home (about 30 minutes), we're not too far if anything goes horribly wrong.  The sites are comfortable, the company is good (we go with other friends on their shake-out trip of the year), and it gets us ready for the rest of our camping adventures." – Linda Becker, 1999 Ford F250, 1992 Lance 880
"I consider myself a boomerang camper but, once retired, I hope to be more of a spear camper.  Living in Southern California, my three places would be the desert, the Colorado river, and the mountains." – Ron Williams, 1997 Ford F250, 2003 Lance 1010
"Yellowstone.  There is so much to see here and every season it changes.  I would go in all the seasons to experience the changes.  I can also easily drop down to the Tetons.  They are so close to each other.
Grand Canyon.  Again, so much to see here.  North Rim is my favorite, but the South Rim is beautiful as well.
Moab, Utah.  Easy access to five or six national parks.  Last time we were there, we rented a Jeep and went off-roading in Canyonlands.  Would love to experience that again and spend more time in the bottom land." – Shelley Pike, 2009 Ford F350 diesel, 2006 Lance Sportster
"1. Anywhere on the Bay of Quinte, Ontario, Canada.  Fabulous fishing.
2. Algonquin National Park, Ontario.  The scenery, calm, and quiet demeanor of most visitors and the historic significance for the Ottawa Valley (my home area).
3. Last but not least, Gros Morne National Park, Newfoundland, Canada. This park is outstanding in its beauty, history, and people.  Perhaps the most friendly people in the world.  It doesn't hurt that it is a Unesco World Heritage Site." – John Desjardins, 2007 GMC Sierra 2500HD, 2002 Globetrotter 91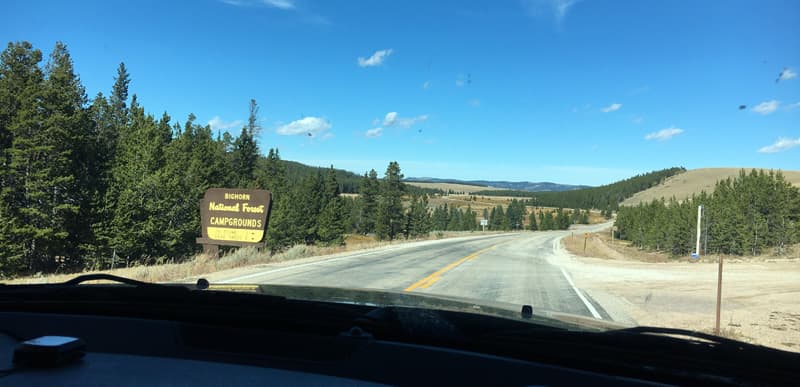 "1. Wyoming.  Our favorite state has it all; mountains, forests, canyons, rivers, lakes, and wide open spaces.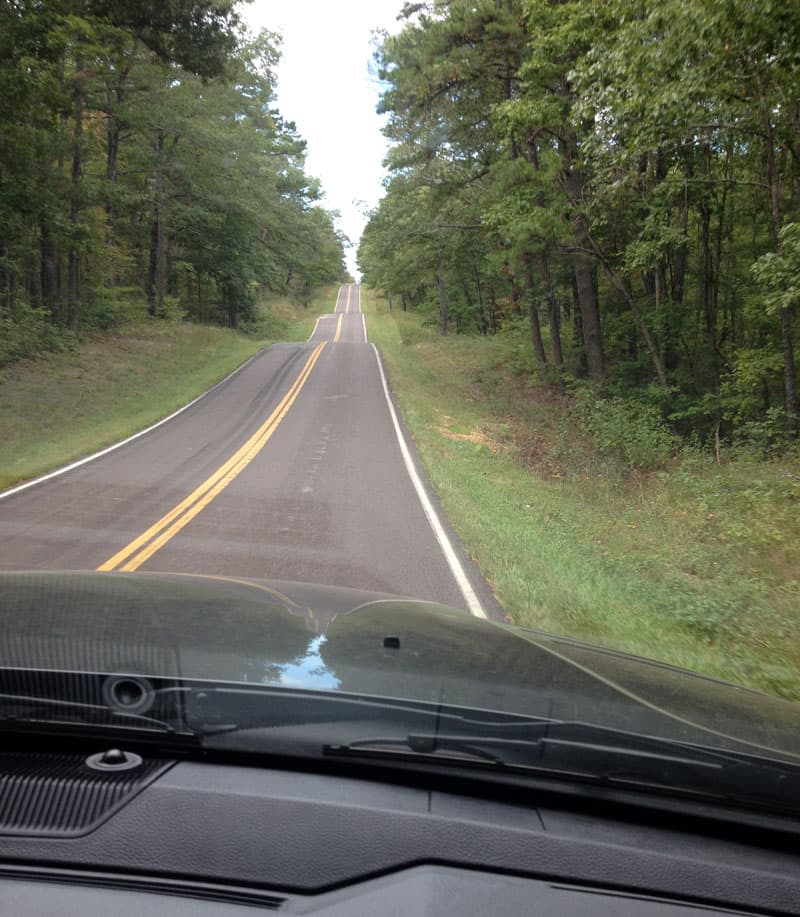 2. Ozark Mountains, Arkansas.  Beautiful mountains, lakes, rivers, the friendliest people, and great hilly, curvy, two-lane driving roads.
3. Saint George Island, Florida.  It's old Florida with a laid back lifestyle, beautiful beach, and great seafood." – Janet and Jim Manis, 2014 Dodge Ram 2500HD, 2016 Travel Lite 960R Illusion
"As a dyed-in-the-wool spear camper, I would hate that.  However:
1. Nation Lakes, Northern, British Columbia.  It's hard to reach and few get there, but the fishing is good.
2. Oregon Coast south of Florence, Oregon.  What's not to like about beach camping?
3. Greenbelt Campground, Washington, DC.  We've visited twice and can't seem to get enough of all the opportunities.  Greenbelt is underground with easy access to all of DC, is inexpensive, and offers good access to many historic sites.  It's a great base." – Chuck Raddon, 2003 Silverado 2500, 1998 Phoenix 500
"1. Fortescue bay, Tasmania.  Great camp site in a small bay where whales visit.  Good fishing.
2. Lake Echo, Tasmania.  Free camping, lakeside sites, fabulous lake.
3. Bruny Island, Tasmania.  Good choice of beaches and free camping in limited numbers.
All three sites are in my home state in Australia." – Grant Weatherburn, 1973 Chevy C30, 1993 Lance 900
"Hmmm… This is going to be hard as I so much enjoy exploring new places with my family and sometimes alone.  With that said I'll try to answer.  I would never turn down an opportunity to go to the Canadian Rockies, the beaches of North Carolina, and anywhere in Alaska!  We are a true spear camping family." – Rick Guffey, 2012 Ram 2500, 2013 Hallmark Everest (Best camper ever)
"I mostly camp out west and go to the BLM in the Southwest." – Jeff Hagberg, 2002 Ford F250, 2006 Travel Lite 800SBX
"Excluding places where I have kids and grandkids my choices would be:
1. Grand Teton area of Wyoming because the scenery is wonderful.
2. North shore of Prince Edward Island because of the beaches, the people, and the red dirt roads always feel welcoming.
3. North Padre Island, Texas because I love the solitude and the ever changing sand and shells." – Richard Mount, 2013 Ford F150, 2013 Four Wheel Camper Grandby

"To choose three locations was very quick for us because we've said we'd buy there if/when we stopped traveling or at least moved out west to make the trip easier.
Our number one location to return to would be Ninilchik, Alaska.  Located on the Kenai Peninsula, half way between Homer and Soldotna, Ninilchik is a quaint fishing community with several camping opportunities.
The community is situated along the shore of Cook's Inlet and looks across at some of the awesome volcanic mountains along the Aleutian Chain, while hundreds of Bald Eagles soar overhead.  For those who don't want the ocean, there are woods and hiking trails galore in the region.
While it's only an hour's drive to major shopping areas, a visit to the Ninilchik General Store offers snack chips and fur pelts on the same shopping trip.  It's an experience one should not miss.
Our second return to location is Dubois, Wyoming, located approximately 80 miles from the Tetons and Jackson Hole to the west, and 80 miles to Riverton (closest Walmart when we visited a few years ago).
What we enjoyed about the Dubois area was the scenery; the stark contrast of the Wyoming Badlands on one side of the Wind River to the Sheep Mountains on the other.  And the Wind River flows right through town, which is great for fly fishermen.  One might see actual cowboys riding their horses right down main street and hitching them to the post in front of a store.  They sponsor rodeos and even have a "Day of the Cowboy" parade.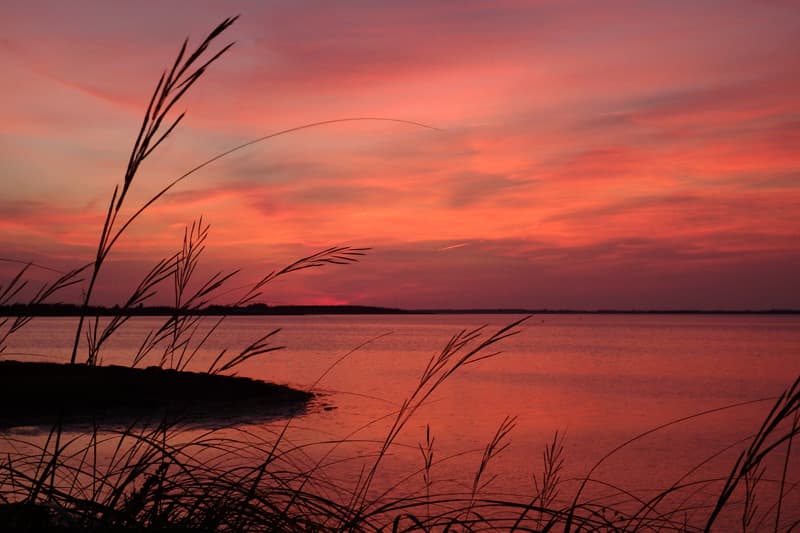 Above: Malpaque Bay, Summerside, Prince Edward Island
Our third return to destination is Summerside, Prince Edward Island.  This location has provided us some of the most fantastic sunsets we've seen and is a short drive to tourist opportunities across the island.  We visited a wind turbine farm one day, Anne of Green Gables the next, and went kayaking in Malpaque Bay the next." – C&J Ramsey, 2012 Chevy Silverado 3500, 2014 Adventurer 116DS
"1. Woodland Campground, Woodland, Pennsylvania: Awesomely beautiful park with open and shaded sites.  We love nature and this park has a lake for boating and fishing, walking trails, a playground, and lots of activities.
2. Grange Fair in Centre Hall, Pennsylvania: A camping fair with tons of history.  It is like a huge family reunion with free entertainment.
3. Woodall's RV Park in Lakeland, Florida: A winter destination that is billed as the friendliest park (and it is).  It's very clean, near many attractions, and offers plenty of shopping, and great places to eat." – Dee Gheen, 1999 Dodge Ram 3500, 2007 Host Yellowstone
"1. Utah has so many National Parks and opportunities to boondock.
2. Yukon Territory, Canada has so much untouched wilderness to explore!
3. Key West, Florida for its dependable sunshine in the winter and warm temperatures!" – Lucien Langlois, 2012 Ford F250, 2004 Lance 1025
"1. Long Beach, Washington.  The RV park near the beach has been a favorite family place for 60 years.
2. Boonies around Bend, Oregon.  I've been camping, fishing, and hunting the area for 60 years with all my brothers.
3. Western Montana has many, many places to see and fish." – Tom Adams, 2001 GMC Sierra 2500HD, 1998 Northland 10-foot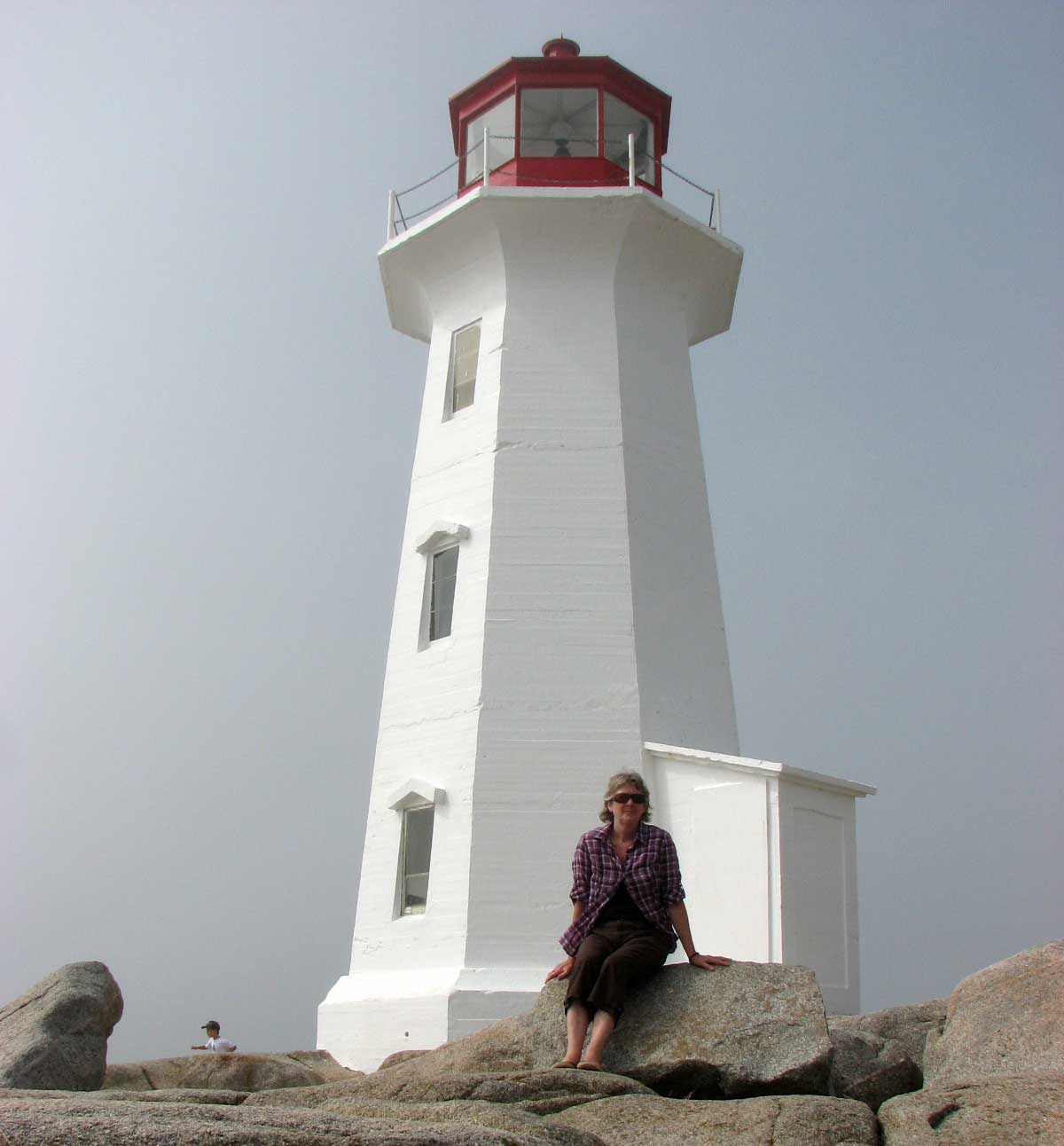 "We go back to New Brunswick, Prince Edward Island, and Nova Scotia because of the beautiful landscape and ocean playgrounds." – Jean-Pierre Audet, 2008 Chevy Silverado 2500HD, 2006 Lance 845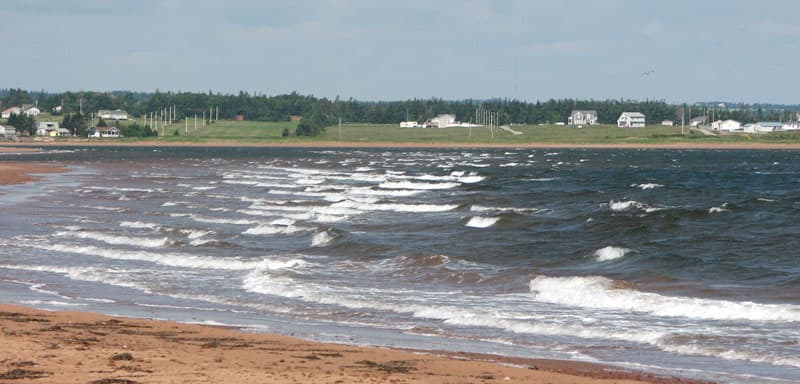 "We revisit these places almost every year; Lake Audy, Riding Mountain National Park in Manitoba, Big Whiteshell in Whiteshell Provincial Park, and Sandilands Provincial Forest, Manitoba.  All are within a few hours of our home so it makes them reasonable to visit often." – Tricia Mason, 2009 Ford F350, 2008 Montana Ponderosa
"The Colorado River end to end, Moab, and all of Wyoming." – Jim Norman, 2001 Dodge Ram 2500, Four Wheel Camper
"National Parks in the west, southwest, northwest United States, and southwest Canada." – Rag, 2003 Chevrolet Silverado, 1980 Sportsman 8FSD
"I go to Colorado mountains, rivers and hot springs, Geraldton, Ontario for bird hunting, and Copper Center, Alaska for salmon fishing." – Ernie and Barbie Leet, 2006 Ford F250, 1999 Bigfoot 10.2
"1. Island Beach State Park, New Jersey for striper fishing.
2. Montauk Point State Park for striper fishing.
3. South Dakota for pheasant hunting behind my dog." – Bob Lick, 2003 Dodge 3500, 1993 Alpenlite 11-foot SK
"Alaska, Utah, and Glacier National Park." – Bev Stellge
"1. I have a favorite spot at Lake Oauchita, Arkansas, and it's my favorite lake in Arkansas.  I like to camp in the fall after school starts.  Great sunsets.  Arkansas has a lot of great places to camp.
2. Grand Teton National Park is a beautiful park and I haven't slept as good as I did there and I was last there in 1982.
3. Glacier National Park.  I love hiking the trails here.
I'll be retiring in a year and, God willing, I'll be camping a lot and visiting the western states looking for the spot that I can say is the very best.  It will have to have mountains, water, and not very many people." – Randy Dowd, 2015 GMC SLT 3500, purchasing a 2017 Lance 975 this spring
"Since we are definitely spear campers, it's difficult to pin down three specific places we would visit year after year.  But we do have three specific regions of the country we like to visit year after year.  Within these three favorite regions we mostly wander around to new places.
Our three favorite regions that we wander around in are:
1. The middle of Nevada on US Highway 50.
2. The southern half of Utah and western Colorado.
3. The western ends of North Dakota, South Dakota, and Nebraska." – Buzz and Sherri Merchlewitz, 1998 Dodge Ram 2500, 2015 Hallmark Ute
"Florida because my aging parents are there for the winter from Quebec.  So, as a good daughter, I visit for the holidays then again during January. Then we return home to dream of new adventures to Iceland, Australia, and Africa – but we stay in Texas because of our renewed passion of sailing." – Jake and Sylvie Mathis, 1994 Dodge Ram 2500, 2005 Northern Lite 9Q C
"Alaska because the entire state is something to behold.  It's a must visit.  No words can describe it, and they don't make a camera big enough to show its majesty.
South Dakota because we are motorcycle riders, and have been for many years.  We love the beauty of the scenery.
Southern Florida because we love the area during the winter.  And it's another great place to keep the tires turning on the Harley." – Gary and Cinda Whistler, 2013 Chevy 3500, 2017 Lance 1172
"I took a three month spring trip to the canyons of the Escalante, which included the Vermillion Cliffs Utah/Arizona.  There is always something different to see and do there.  We have been to Wire Pass, South Coyote Buttes, and White Pocket in the Paria River Canyon area.
We have been on a three month fall trip to New Mexico.  We went to the Santa Fe mountain areas of Angel Fire, Eagle Nest, Red River, and the surrounding areas.  Then, we went to the Colorado Hermosa Creek area out of Durango, Silverton, Quary, Ridgeway, Gateway, cross La Sal mountain, etc.  It has great scenery, free camping areas, and unlimited hiking!" – Harvey Stallings, 2010 GMC Sierra 2500, Travel Lite 890SBRX
"In Ouray, Colorado there is camping right in town.  It's an utterly charming town.  You can walk into town and camp right next to river.
Sleeping Bear National Lake Shore in Michigan has campsites that are very clean and Lake Michigan is very beautiful!  We go to all the National Parks." – Janis Tester, 2004 GMC Sierra 3500, 2005 Lance 11'6″
"1. Alamos, Sonora, Mexico.  Beautiful little place in the mountains; a bit of old Mexico.
2. Bahia Concepcion, Baja Sur.  Every turn in the road has another breathtaking view, truly outstanding.
3. Mojave National Preserve.  Amazing long vistas, quiet, and great hiking." – Dale Proulx, 2003 GMC Sierra 2500HD, 2006 Lance SC9
"Gulf shores, Orange Beach Alabama, the Florida panhandle, Florida Keys, and numerous mountain lakes." – James Davis, 2009 Toyota Tundra, 2016 Lance 650
"1. Collier Memorial State Park, Oregon.  It has forest, rivers, and springs. It's near Crater and Klamath Lakes.
2. Banff and Jasper National Parks, Canada.  It has the Rocky Mountains, rivers and lakes.
3. Joshua Tree National Park, California.  It has jumbo rocks, Blackrock Canyon and high desert camping and hiking." – Matt Murdoch, 2012 Chevy 2500 HD, 2016 Northstar Laredo SC