Cheaper than RV garages, RV shelters and carports offer excellent sun and weather protection without the permits.  TCM readers recommend the best brands and offer invaluable tips on design and installation process.

We stored our camper in a RV garage during a summer stay in southern Florida about a year ago.  For those who aren't versed in southern Florida's typical summer weather, it goes something like this; hot, humid and sunny followed by a crack open in the sky and then it rains cats, coconuts, and lizards – for about half an hour – everyday.  Rinse (literally) and repeat.  That's southern Florida in July, August, and September.
When this daily routine occurred, I was so incredibly glad our camper was safely stored under a solid roof.  We have used and maintained Sikaflex 715 sealant and EternaBond on our roof, but the rain comes down so hard in southern Florida that you begin to wonder if even that double-seal could withstand the assault.  A high quality cover would certainly help, but nothing is going to give the peace of mind that a solid roof above your camper provides.
If money grew on palm trees, we wouldn't hesitate to build an honest to goodness RV garage.  No doubt they provide the best protection for RVs, but at a price.  A portable or permanent RV shelter or carport does nearly the same trick.  A hard roof to block the sun and rain for a fraction of the cost, build time, and permit pulling?  Yes, please!
Perhaps this is why so many readers have a RV shelter or carport for their truck camper.  They make a lot of sense.  Honestly, I don't know why the dealers don't at least offer them when they sell you a camper.  I bet a lot of folks would say, "Yeah, I'll take one of those.  When can it be installed?"
If only it were that simple.  There are a myriad of shelter and carport brands, sizes, designs and features.  One size does not fit all.  The good news is that 19 fellow truck campers have taken the time to share their choices and experiences.  Isn't this community awesome?  We've got each other covered.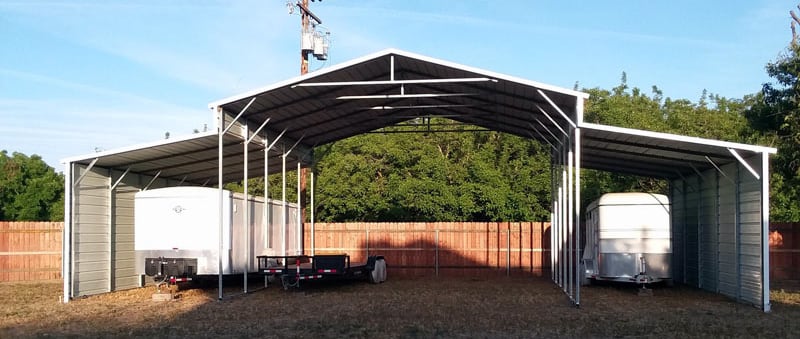 "I have an unknown carport brand. It's a 26-foot by 50-foot four bay metal carport with a 14.5-foot roof. It was $7,100 installed.
We had the company construct it on dirt with no electricity. That way we didn't have to go through the county permit process. They did install mobile home anchors. The anchors look like a 4-foot spiral slinky that goes into the ground along the base.
I added Coleman 100-watt solar panels with controllers to charge all of my trailers and toys that are parked inside the carport.
The front and back of the carport are open. Front roll up doors and back walls would have added an additional $11,000 to the build. We were just looking to keep the 110-degree sun and minimal central California rain off. The camper sits on its legs with a Calmark cover on it.
We contacted GreenTek in Dinuba, California for black netting that the local farmers use on their carports. It's cheap and they cut it to size. We hang it from the top beams. It keeps the sun off and can be driven through when moving trailers.
The sun tears up everything. Get a great quality cover. It's worth it the money. Get a carport as a minimum. They are cheap. Every climate brings its unique challenges and everyone online is ready to critique not knowing your circumstances for camper storage." – Ed Lardner, 2008 Ford F350, 2008 Arctic Fox 990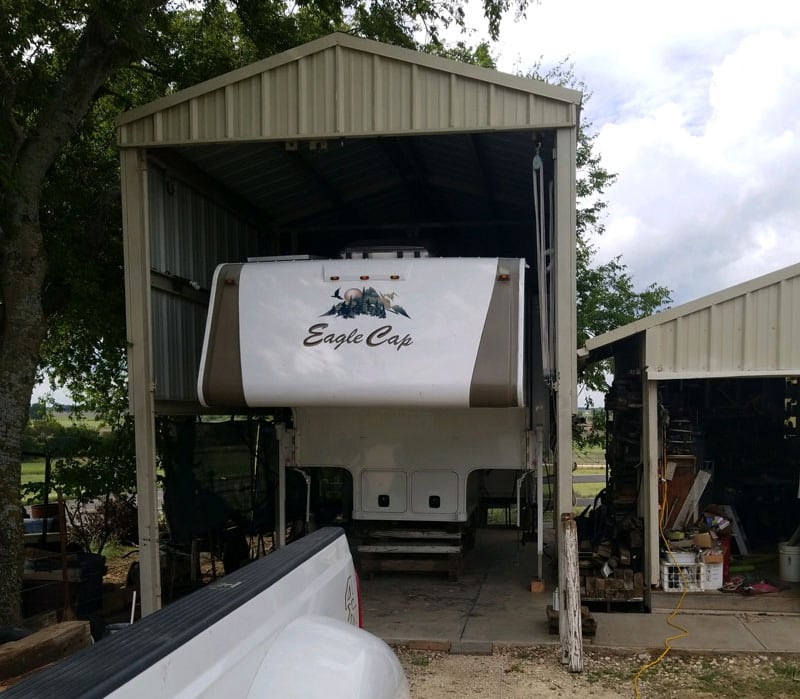 "I originally designed the RV port to house our 1988 Lance 980. Our ultimate dream was fulfilled when we purchased the 2016 Eagle Cap 1165.
I can move the camper and utilize the cement slab for other work projects. A friend from church is in the construction business, and he did a wonderful job at constructing the port. I wanted a larger one, but space availability limited the external dimensions. I also wanted a 14-foot opening and this was achieved.
To do all over again, I would have moved the fence and trimmed the trees. I would have also poured a larger slab. The present dimensions are 12-foot by 24-feet. With the three slide-outs on the 1165, I would have poured a 16-foot wide by 26-foot long slab.
In fact, I am in the process of designing modifications to the structure to accommodate the slides. Any input or suggestions would be appreciated. I would use the same steel building materials, but my contractor is aging and in bad health, so I am on my own.
Don't scrimp on materials. Go big enough to accommodate future expansion needs." – Paul Roberson, 2014 Ford F-350, 2016 Eagle Cap 1165