Cheaper than RV garages, RV shelters and carports offer excellent sun and weather protection without the permits.  TCM readers recommend the best brands and offer invaluable tips on design and installation process.

We stored our camper in a RV garage during a summer stay in southern Florida about a year ago.  For those who aren't versed in southern Florida's typical summer weather, it goes something like this; hot, humid and sunny followed by a crack open in the sky and then it rains cats, coconuts, and lizards – for about half an hour – everyday.  Rinse (literally) and repeat.  That's southern Florida in July, August, and September.
When this daily routine occurred, I was so incredibly glad our camper was safely stored under a solid roof.  We have used and maintained Sikaflex 715 sealant and EternaBond on our roof, but the rain comes down so hard in southern Florida that you begin to wonder if even that double-seal could withstand the assault.  A high quality cover would certainly help, but nothing is going to give the peace of mind that a solid roof above your camper provides.
If money grew on palm trees, we wouldn't hesitate to build an honest to goodness RV garage.  No doubt they provide the best protection for RVs, but at a price.  A portable or permanent RV shelter or carport does nearly the same trick.  A hard roof to block the sun and rain for a fraction of the cost, build time, and permit pulling?  Yes, please!
Perhaps this is why so many readers have a RV shelter or carport for their truck camper.  They make a lot of sense.  Honestly, I don't know why the dealers don't at least offer them when they sell you a camper.  I bet a lot of folks would say, "Yeah, I'll take one of those.  When can it be installed?"
If only it were that simple.  There are a myriad of shelter and carport brands, sizes, designs and features.  One size does not fit all.  The good news is that 19 fellow truck campers have taken the time to share their choices and experiences.  Isn't this community awesome?  We've got each other covered.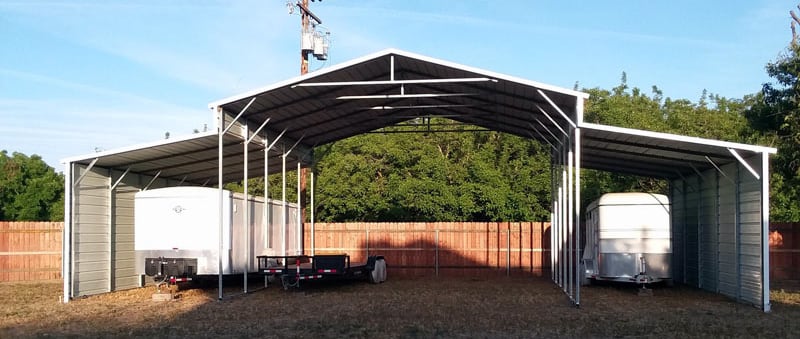 "I have an unknown carport brand. It's a 26-foot by 50-foot four bay metal carport with a 14.5-foot roof. It was $7,100 installed.
We had the company construct it on dirt with no electricity. That way we didn't have to go through the county permit process. They did install mobile home anchors. The anchors look like a 4-foot spiral slinky that goes into the ground along the base.
I added Coleman 100-watt solar panels with controllers to charge all of my trailers and toys that are parked inside the carport.
The front and back of the carport are open. Front roll up doors and back walls would have added an additional $11,000 to the build. We were just looking to keep the 110-degree sun and minimal central California rain off. The camper sits on its legs with a Calmark cover on it.
We contacted GreenTek in Dinuba, California for black netting that the local farmers use on their carports. It's cheap and they cut it to size. We hang it from the top beams. It keeps the sun off and can be driven through when moving trailers.
The sun tears up everything. Get a great quality cover. It's worth it the money. Get a carport as a minimum. They are cheap. Every climate brings its unique challenges and everyone online is ready to critique not knowing your circumstances for camper storage." – Ed Lardner, 2008 Ford F350, 2008 Arctic Fox 990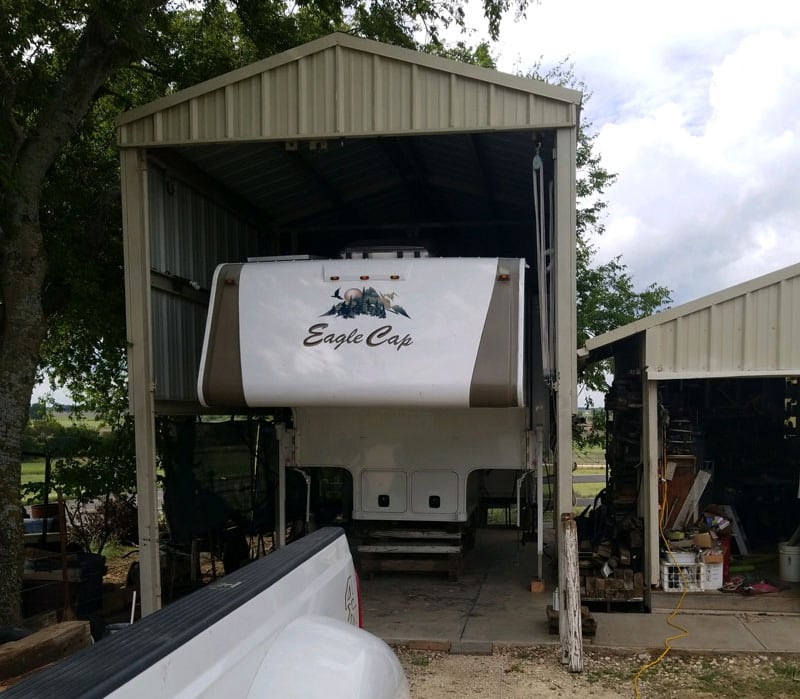 "I originally designed the RV port to house our 1988 Lance 980. Our ultimate dream was fulfilled when we purchased the 2016 Eagle Cap 1165.
I can move the camper and utilize the cement slab for other work projects. A friend from church is in the construction business, and he did a wonderful job at constructing the port. I wanted a larger one, but space availability limited the external dimensions. I also wanted a 14-foot opening and this was achieved.
To do all over again, I would have moved the fence and trimmed the trees. I would have also poured a larger slab. The present dimensions are 12-foot by 24-feet. With the three slide-outs on the 1165, I would have poured a 16-foot wide by 26-foot long slab.
In fact, I am in the process of designing modifications to the structure to accommodate the slides. Any input or suggestions would be appreciated. I would use the same steel building materials, but my contractor is aging and in bad health, so I am on my own.
Don't scrimp on materials. Go big enough to accommodate future expansion needs." – Paul Roberson, 2014 Ford F-350, 2016 Eagle Cap 1165

"My carport is built onto the end of a two car garage and shop. The carport is merely an extension of the garage. It is mostly just a roof extension with overhang to protect the truck and camper.
We built it so we could close it in if we ever wanted to some day. My wife and I are perfectly happy with the far end being open. We can easily pull the truck out from under the camper." – Gary Gadwa, 2012 Ford F-350, 2010 Eagle Cap 950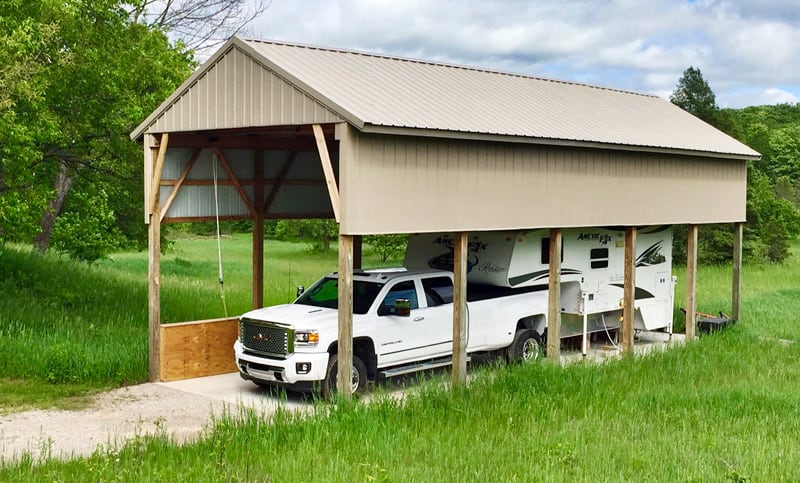 "I designed a 16-foot wide by 40-foot long by 14-foot tall pole building styled shelter with a 5-feet of wall extending down from the top. The roof is constructed by sixteen 6/12 trusses with 1-foot overhang. It is supported by 6-foot by 6-foot by 18-foot treated posts that are buried 4-feet into the ground on 24-inch concrete pads. The floor is concrete.
I gave the plans to a local pole building contractor and he bid it out for $10,000.
The project did go as planned and I'm very pleased with the building. The contractor did an excellent job and completed the building and the driveway within a week.
After five years of use, I don't think I would change anything. I have since built a storage box for storing the truck's tonneau cover and tailgate when we are on the road. I have even built a pulley system, designed to lift the tailgate off the truck and glide it over to the side and easily lower it into the storage box.
It really is a simple design which any pole building contractor should erect without any difficulty. I love it because of its durability." – Ken Pastorius, 2015 GMC 3500, 2012 Arctic Fox 1150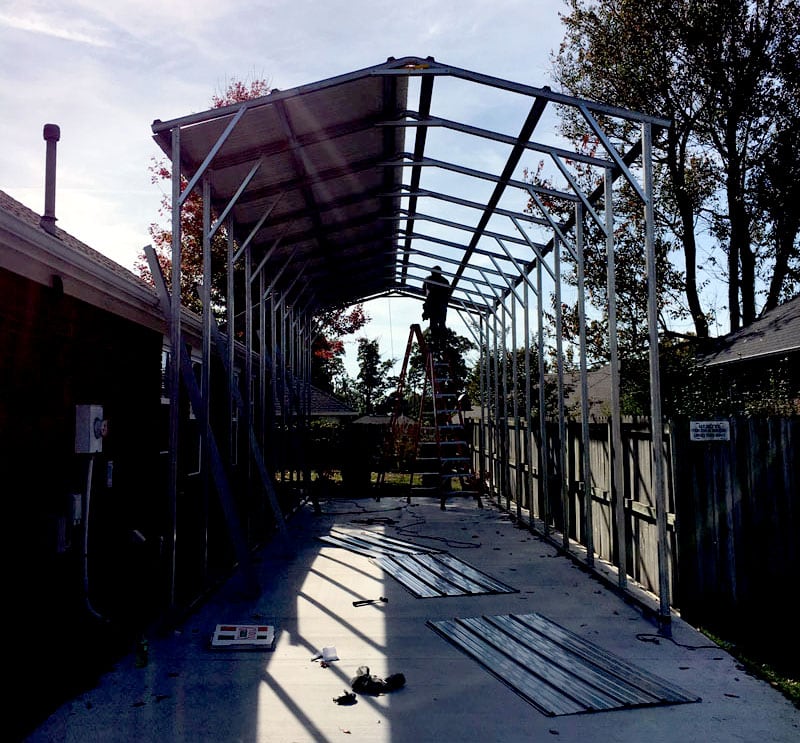 "We bought our RV cover (carport) from Coast to Coast Carport. It is an A-frame vertical style RV cover that cost $3,500. This was a large scale project that required checking city codes, measuring the available space on the west side of our house, and hiring a concrete contractor to pour 35-yards of concrete.
We also had to relocate our home air conditioner from the west side of our house to the south side. I spent a lot of time researching and purchasing the RV carport, installing the RV cover, installing lights, and adding 30-amp shore power.
I was the contractor and hired out all of the different sub-contractor work. Five different sub-contractors worked on our RV cover project; a concrete crew, an air conditioner relocation crew, two different RV Cover crews and an electrical crew. In several instances, I also helped the different crews when they needed a hand.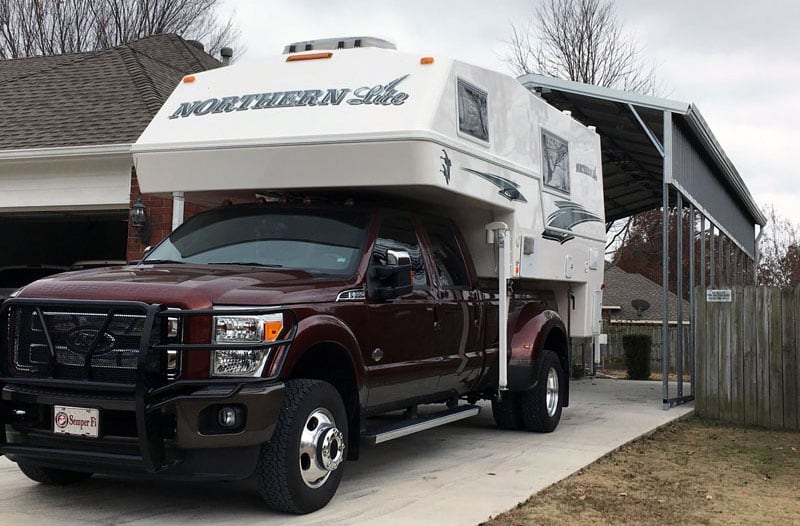 The carport has been awesome. Our truck and camper are both protected from the elements when we are home. We have 300-amp shore electrical power, 120-volt electrical power, lighting, a concrete driveway, and potable water.
Are you sitting down? We also have a dump station T-connected into our sewer system! It's a full hookup, covered storage area right beside our home.
We spent extra money along the way but, looking back, we have no regrets about any of those decisions. For example, we used re-bar in the concrete even though many people are starting to use cheaper alternatives like concrete fiber additives.
We purchased an A-frame vertical RV carport because it is certified up to 110 mile per hour winds. It also has a much higher snow weight load than horizontal metal buildings. We recommend building it like you want it and try to do everything with an eye towards quality control." – Sean Engle, 2016 Ford F-350, 2017 Northern Lite 10-2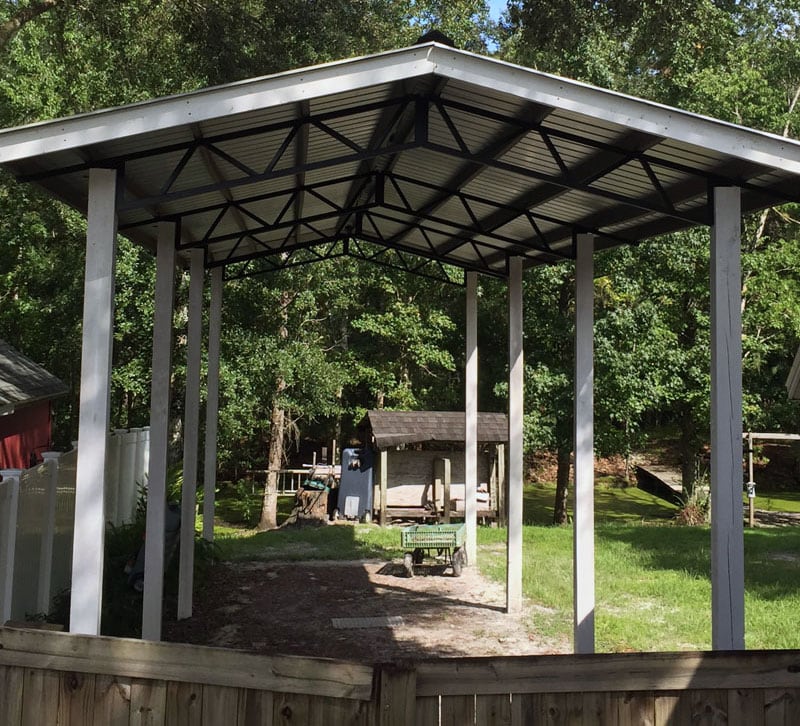 "I installed the 36-foot by 12-foot pole barn RV port by Affordable Buildings (I believe). I found the kit on Craigslist. It was $1,500, plus $100 for the delivery of the materials.
I would say it would difficult for most people to install. If you are handy and in fairly good shape, it's a project worth taking on.
The shelter does everything I hoped it would do. It keeps the rain, sun, and leaves off the camper.
One very important dimension to consider besides length and width is the height. Make sure you know the height of your camper on the truck including the air conditioning unit. Remember that you have to jack your camper up from there to remove it from your truck." – Rick Jones, 2017 Chevrolet Silverado 3500, 2018 Arctic Fox 1150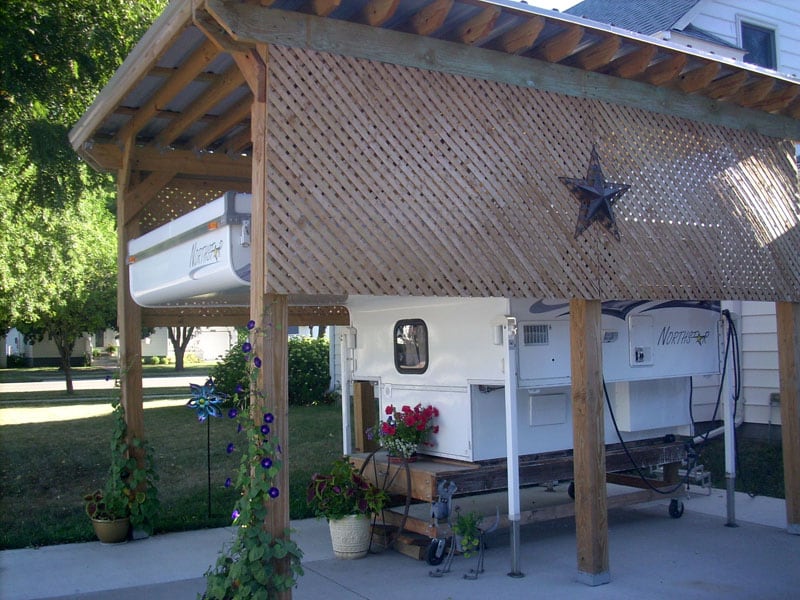 "I have a homemade pergola-type cover. My son and a few grandsons came to help me build it. It keeps most of the sun, rain and snow off it.
I had been storing my truck camper in a garage but, when I got a new camper, it no longer fit. That is the reason I built the pergola-type port to store my camper." – Allen Brummel, 2013 Ram 2500, 2016 Northstar 650SC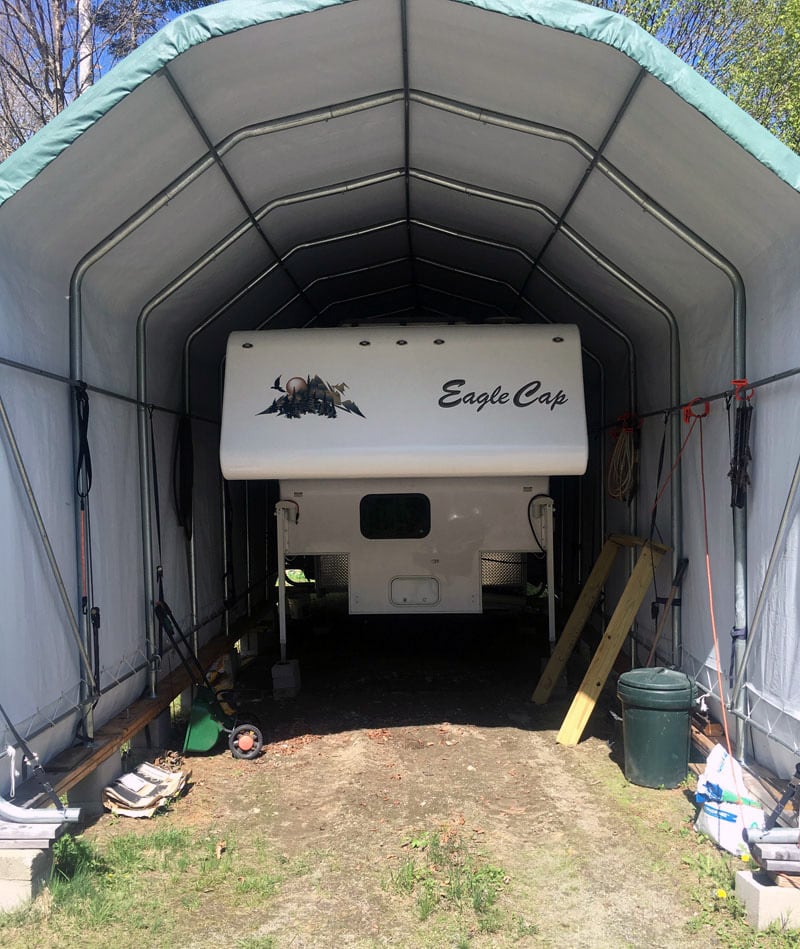 "We have a Rhino Shelter that is 12-feet wide, 12-feet high and 28-feet long. Four years ago it cost $1,700 without shipping. I picked it up at the dealer.
It is pretty easy to install. Our son and I erected the frame and I installed the cover. It took most of a day to complete the job ourselves.
Our shelter is great and protects the camper from sun, rain and snow load. It is a very durable cover and it barely shows any wear after four years.
We have some big snow falls here and lots of very windy days. There have been no problems so far!" – John and Cathy Strasser, 2012 Chevy 2500HD, 2013 Eagle Cap 850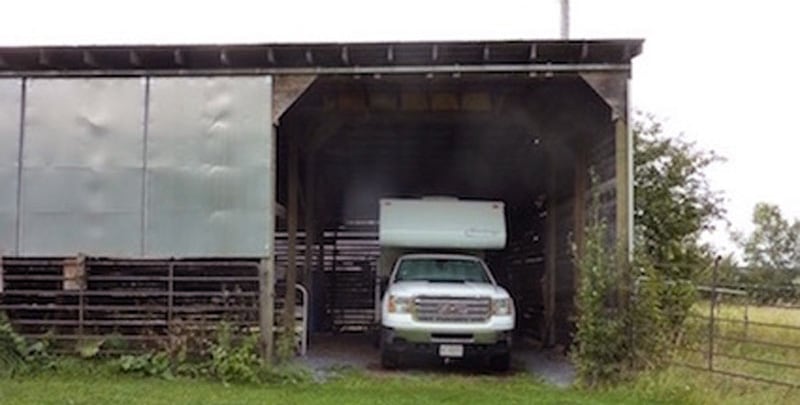 "We have a homemade shelter. My husband built a big three bay hay shed back in the 1980s. It did not take long to build. I use one bay for my camper and a neighboring farmer uses the rest for some of his equipment
There are also two 15-amp outlets in the bay I'm using. It's great for plugging in the camper when needed. I have a sonic mouse deterrent plugged into the other outlet. The upper half has sliding doors as well." – Maaja Sutak, 2012 GMC Sierra, 2017 Northstar Adventurer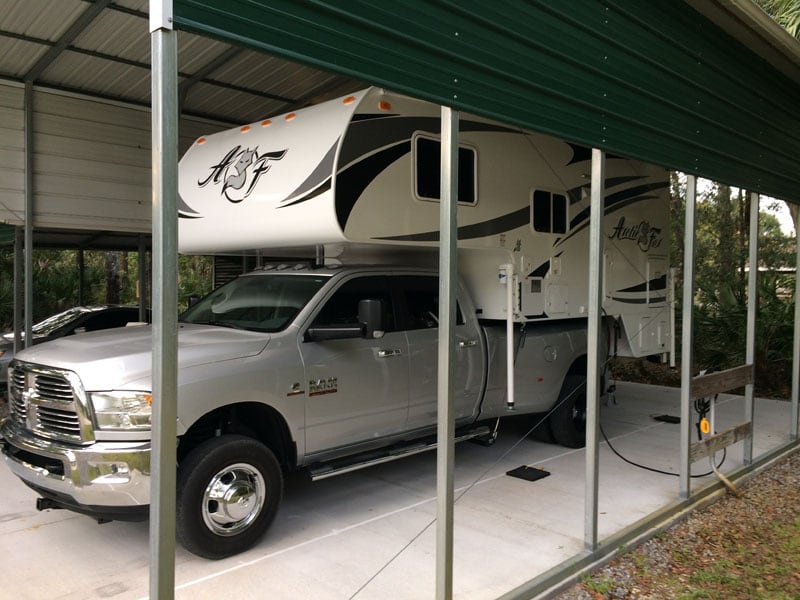 "This large carport was built for a motorhome. The carport itself cost $4,700 when it was installed in 2011.
The shed was built on site from a company called Factory Direct, Inc. out of Orlando, Florida. I would not use this company again. I was rather picky about having everything vertical, plum and square. It has held up to a few hurricanes though.
This shelter is just what we needed. It is open on the sides so we get a nice breeze. This makes the structure comfortable to work in year round. During a real storm, water does come into the structure because of the openness. But this is not a problem. Our camper stays pretty dry.
This extra large carport is 20-feet by 36-feet by 12-feet high on the sides. This makes it even higher on the peak. The galvanized square tubing is 2.5-inches." – Rob and Dawn Zimmerman, 2016 Ram 3500, 2017 Arctic Fox 1150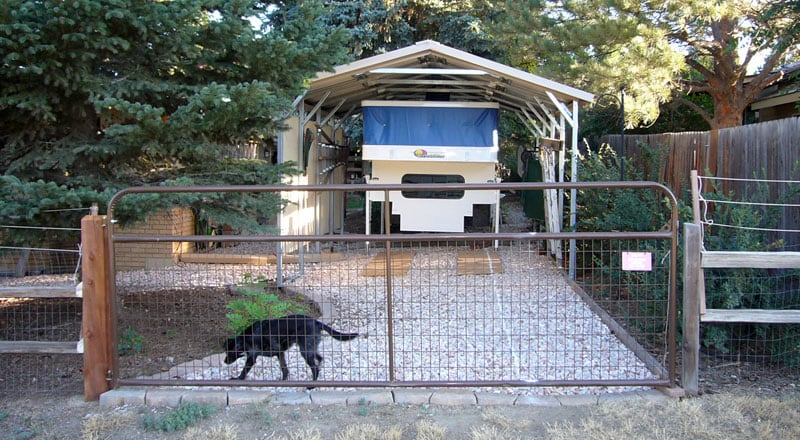 "I bought a steel carport from Catapult Structures. It is 12-feet by 21-feet by 8-feet high. The cost was about $2,000. The manufacturer showed up with a crew and all the parts. They had it up and anchored in about four hours.
It is a beautiful carport. However, I do wish I had made it about 4-feet longer. When the sun is low it will hit one end of the camper. To mitigate this, I hook some shade cloth over the front of my camper.
I also wish it was 1-foot higher. My advice is to go longer and a bit higher if you have the room. It's nice to have plenty of room to move all around the camper when all is said and done.
Properly leveling the ground is paramount with these structures since the legs rest on a continuous steel foot for the length of the carport. A year later I added a concrete slab.
I wish I had done the slab first and then just mounted the carport on top of it. Things were more difficult because I did not spend the money for the slab up-front." – Tom Fitch, 2002 Toyota Tacoma, 2016 Outfitter Caribou Lite
"I have a 24-foot by 31-foot carport with 12-foot sides. It's from Carolina Carports. For the concrete and carport the cost was $7,000.
The installation took one afternoon with a crew of three. The local dealer told me of a concrete man and then Carolina Carport furnished the crew for the install.
It does protect the camper from the weather and sun. I had the carport installed adjacent to an existing concrete structure and can back it in far enough to keep the sun off the front of the camper. The side panels go all the way to the pad protecting the sides of the camper.
I ordered the carport that is hurricane rated for 120-mile per hour winds. It did its job when Irma came through last year." – Michael Suan, 2009 Chevy 2500HD, 2010 Lance 830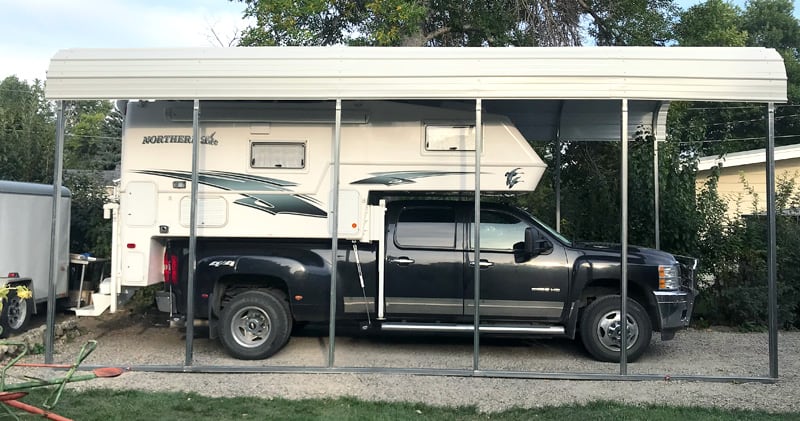 "I have a Sonoran-style carport from Absolute Steel in Phoenix. It's 12-foot by 12-foot by 25-feet. It was about $2,500, including delivery, but not including installation.
The flat gravel pad I sit it on has been a continuing project over the last couple of years. It started as a place to park a bumper-pull.
Once we settled on the Northern Lite and decided we wanted a cover, the actual shelter took me and a buddy just one full day of work to, as they say in the steel building business, erect.
It seems to work so far. I have some extra steel (the company sent replacements for a couple of panels with minor shipping damage). I will probably add one more row of panels on the west side for the afternoon sun and prevailing storm and wind protection.
Our corner of Montana seems to be suffering more frequent and more severe hail storms every summer. The peace of mind the shelter affords is well worth it. We considered it to be basically just part of the cost of owning a nice truck and camper." – Scott Ellis, 2012 Chevy 3500, 2018 Northern Lite Queen Classic SE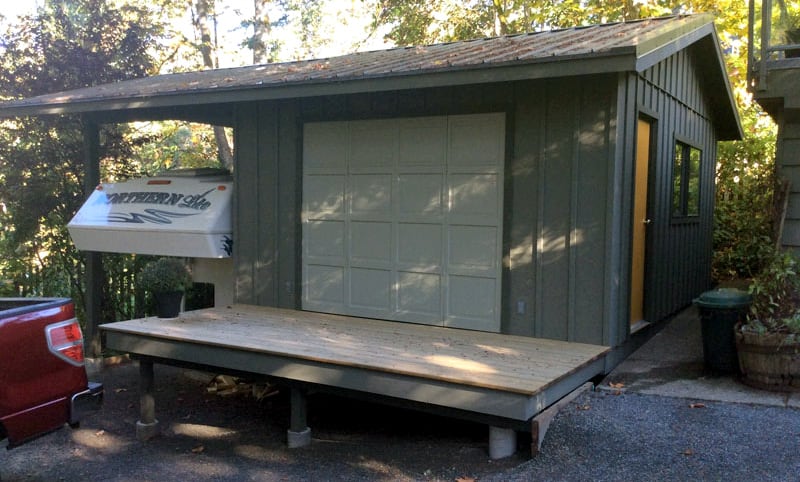 "I designed my combination workshop and camper port to fit a sloped area next to our existing garage. I obtained building permit. Unfortunately I was limited in height and footprint due to property line set-backs.
I did the construction. With the help of friends and neighbors we did the framing and pouring of concrete piers, wall raising, truss fitting and roofing. It went well and I am very pleased with the results.
If I were to do it again, I would negotiate harder to encroach a bit more on my wife's garden. I could have made the camper port a couple of feet wider.
Keep your design simple and get working on relationships with friends and neighbors. I was surprised at how eager they were to assist. Also, I found the building inspectors very helpful." – Steve Mullen, 2013 Ford F-150, 2012 Northern Lite Sportsman 8'11"
"Eagle Shelter System was the supplier. I am not sure of actual brand name. It was approximately $3,400. I installed the cover with a couple of buddies on a weekend day. The install was pretty easy.
I have a 25-foot by 24-foot shelter. The camper is on one side and my boat is on the other. It works well and keeps the sun and rain off the vehicles.
If you don't have room for a permanent shelter the portable ones are great. In my location a permit was not needed to put up shelter because it is portable." – Kelvin Kohanes, 2017 Ford F-350, 1994 Caribou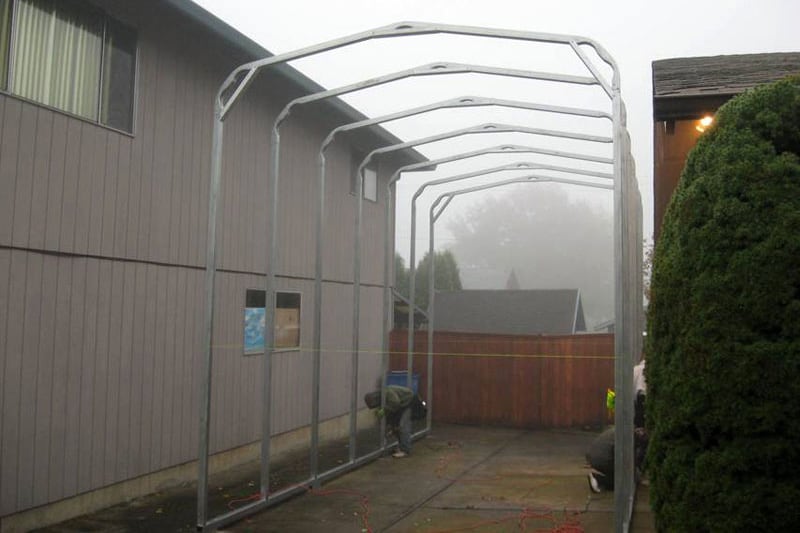 "I have a canopy from Northwest Metal Buildings in Hillsboro, Oregon. The cost with tax was $1,557 in September of 2011.
The canopy measures 12-feet wide by 26-feet long. The roof trusses are pre-manufactured along with the correct length of aluminum roof panels. Everything was brought over by trailer and four workers had it installed in less than an hour.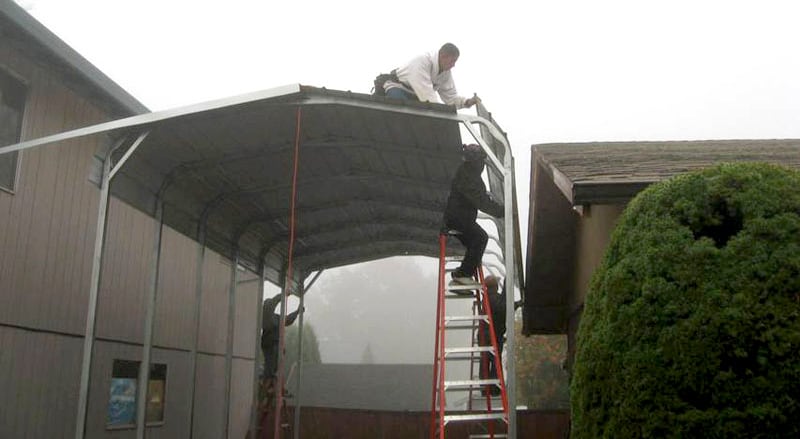 The truck and camper are both well protected. If I had solar panels they would never get charged. I put a 30-amp plug-in on the side of the garage. Because the aluminum siding that could be added would be quite expensive, I decided to use a 12-foot by 24-foot tarp on the left side to deflect rain, and a tarp across the back to shield the afternoon sun.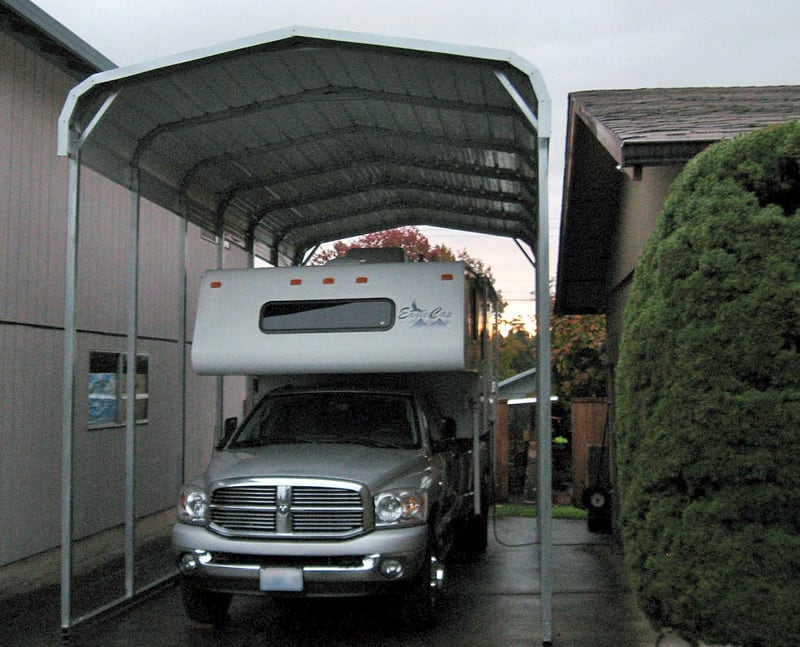 In hindsight I should have had the roof lowered about 18-inches and extended the length of the canopy to 28-feet. This would have given a little more room to park the truck under the canopy/camper when it's off-loaded." – Roger Odahl, 2008 Dodge Ram 3500, 2004 Eagle Cap 950

"A number of years ago I had a custom-built shed constructed in my yard. It is 30-feet by 40-feet by 16-feet high. I also had a porch added which is the same size. Both have concrete floors.
My fifth wheel and truck camper are stored under the roof of the porch. I have room to drive between the two so I can enter the shop through the 12-foot by 12-foot rollup door.
It works great. I added RV electric for both the trailer and the camper. I can be prepared to head out at any time with either RV.
In hindsight, I would have extended the porch roof by 10-feet so the entire camper would be under shelter. I would also have the electrical connectors run to the far end of the porch along with air pressure so I would not need to run extension hoses or cords.
Would I use the same contractors? Only if it was the dad; the son was too much of a 'know it all'. That's why the porch floor is concave instead of convex. This results in water pooling up at least two-inches deep every time it rains.
Make your plans early, discuss them well and ensure you include everything you want before the contractor shows up to disturb the soil. I forgot to put the pipe in for the sewer line so now I always need to run to the house if I need to go. The sewer line is 200-feet from the shop, so it is not a short dig." – Harry Palmer, 2008 Dodge Ram 2500, 2008 Lance 915
"I do not know what brand of shelter I have, but it cost about $1,700 installed. It was installed by the seller, and only took the installers about 1.5 hours to erect it.
It absolutely does the job. My camper looks pristine and it's five years old.
I got the idea after my first winter with my boat. I kept it outside under a Sunbrella cover and when I looked inside it had mold and mildew from one end to the other. It obviously wasn't getting enough ventilation.
When I bought my camper, I bought another car port for it. It's great. It keeps the rain and UV off and it gives me a place to putter around out of the elements. Now if I could just do something about the dust, it would be perfect." – Steve Timmings, 2003 Ford F350, 2013 Four Wheel Hawk SC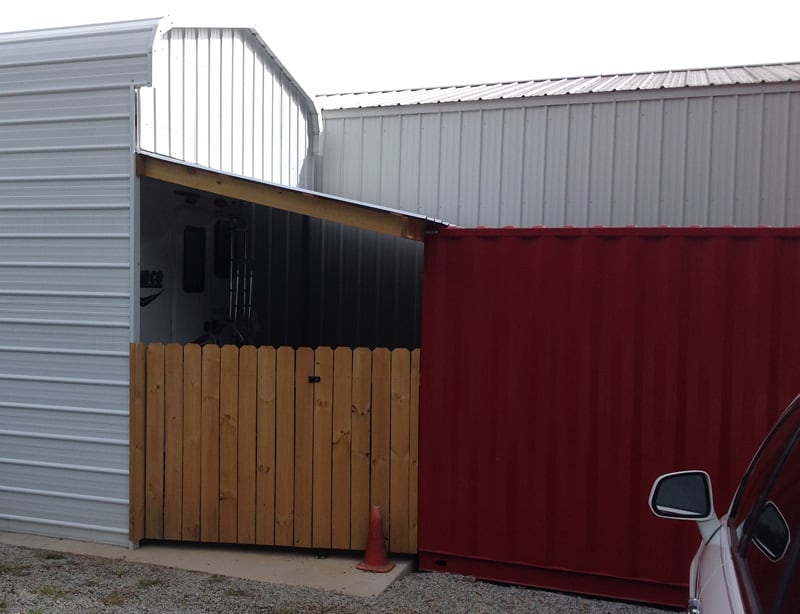 "I have an RV port that was $5,000. It is concrete and was built by others. It is 12′ wide. I would have built it wider to better accommodate the slide." – John Sturm, 2004 F350, 2018 Lance 995
"I have a generic metal 30-foot by 40-foot building that was approximately $20,000 with concrete flooring. A company installed it and had it up in less than a week after the concrete was poured. I also keep my fishing boat inside. It provides shelter and security for my toys." – Chris Jeffery, 2017 Ford F 250, 2016 Travel Lite 625
In addition to keeping your camper covered, regularly check your camper's seals and caulk problem areas.