Truck Camper Magazine readers reveal their incredible RV garages and share critical details and tips about the design and construction process.  Don't even think about building an RV garage until you've read their hard-earned advice.

Last December we were exploring the town of Quartzsite, Arizona attempting to wrap our minds around exactly what that place was all about when we saw a sign for an open house that instantly captured our attention.  We are not in the market, but the sign had two words that practically steered our rig, "RV garage".
"Should we go?" I asked Angela.
"Heck yeah!" she answered.  I just love how enthusiastic she is about anything to do with travel and truck camping.  If I had kept going she would have hopped out at the next stop light to go see it for herself.  Tenacious?  You have no idea.
After a short drive, we pulled into a small neighborhood full of RV garage homes.  They were all custom designed and built.  Following the signs, we parked our rig and approached what looked like a RV garage with a tiny home on the side.
"It's perfect!" exclaimed Angela, but I was already thinking it.
After years of truck camping, we are done with big houses.  The average house in the United States is now 2,600 square feet.  For us, that's way too much to heat, air condition, maintain, clean, and pay taxes on.   Then there's furniture, decorations, and stuff, stuff, and more stuff to fill up that space and make it feel like home.
There is zero interest in that here.  If we can't be on the road full-time, give us a small home and a RV garage.  Maybe not a 400 square foot tiny house, but a smartly planned 800 to 1,000 square foot small house would be perfect.  Of course nobody makes such a thing so we might as well forget about it…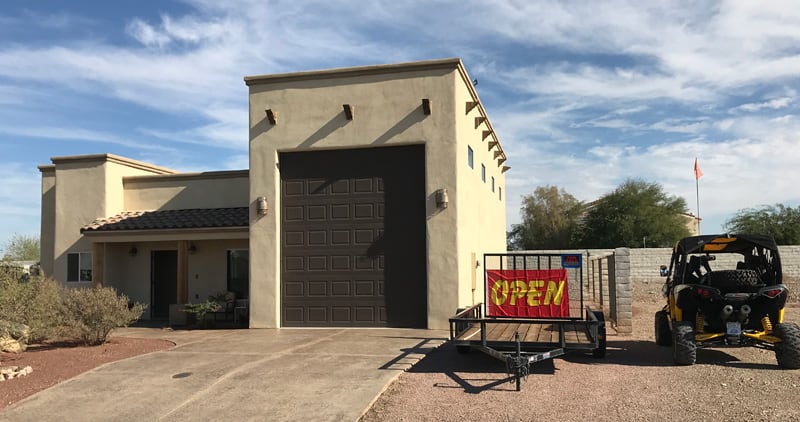 And there it was!  About 1,000 square feet of living space and a beautiful 50-foot RV garage with full hookups.  The best part was that the house was selling for a mere $135,000.  We were gobsmacked.
I swear on my cat that we would have bought that RV garage house on the spot had it been someplace we wanted to live.  Quartzsite is fascinating, but I don't see us buying a house there.  Camp in Quartzsite for a winter?  Maybe.  Buy a house in Quartsite?  Can't see it.
That said, I do see us owning a house with a RV garage some day.  Maybe we'll find the courage to build a house like the one we saw in Quartzsite, only in southern Florida.
If you've ever dreamed of designing, building or at least buying a RV garage, the following feedback from those who have already done the deed is nothing less than priceless.  No doubt these tips will save you money while making your RV garage better than you imagined.  Tip number one; make it bigger.  A lot bigger.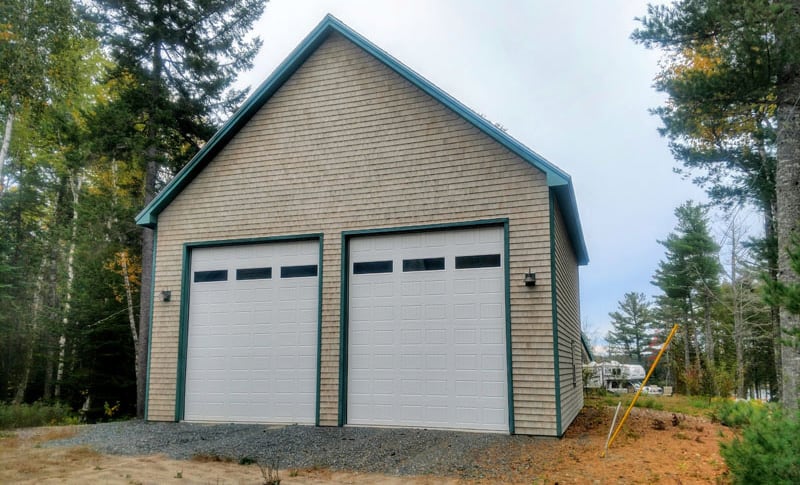 "Our Truck Camper Storage Facility (TCSF), has a 32-foot square foot footprint. We have two 14-foot tall doors, a 16-foot ceiling, and a steep roof for shedding snow here in the north.
We designed it, but it's really very simple. It has a single door and a couple of windows. It uses conventional 2×6 stick-built construction, but a crane was required to place the manufactured roof trusses in place.
After site work and slab pour, two professional construction friends built it with assistance from me. I did the electrical work bringing 220-volt over from a close-by barn, installing a sub-panel, and wiring outlets, lights and the door lifts.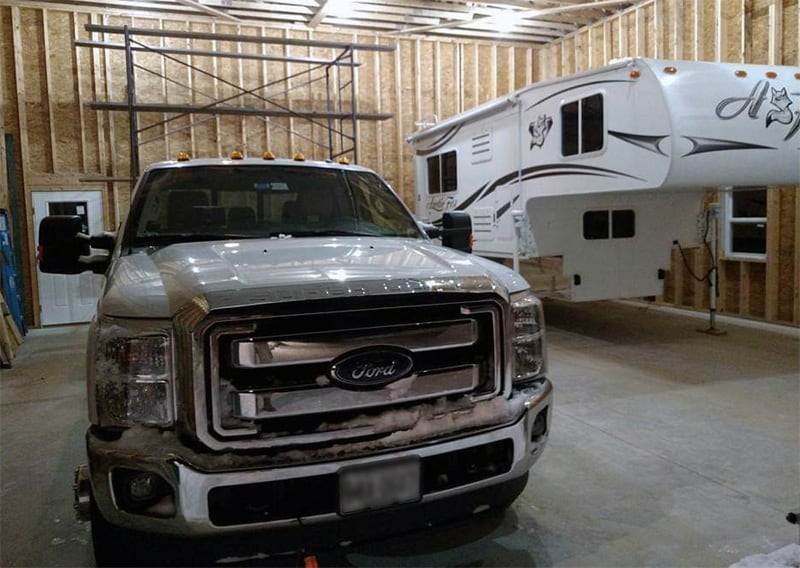 The TCSF works out great. I can work on the roof comfortably, even when the camper is on the truck. The batteries are kept charged and the camper is safely out of our harsh winter weather. The one thing I wish we had done was seal the floor, but that can easily be done at any time.
While building the TCSF was a large outlay of money, we have already made a huge investment in our camper and truck. With two bays, it protects both our camper and our truck. We feel it was a sound investment." – Brett Binns, 2014 Ford F350, 2014 Arctic Fox 1150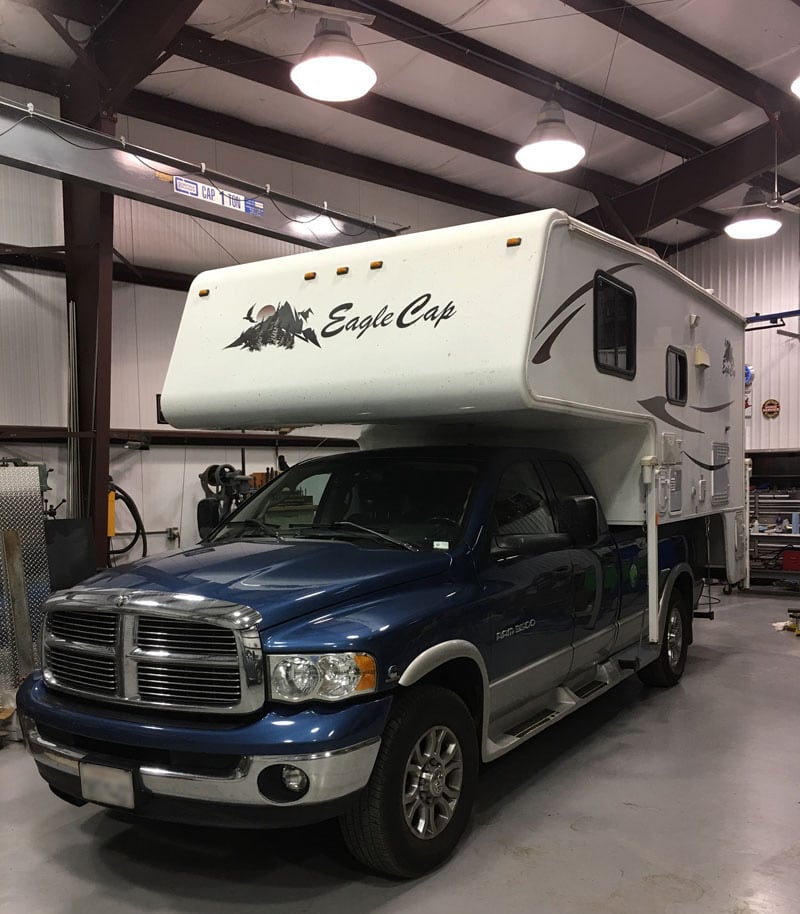 "I park my camper in my custom built 7,700 square foot workshop. The ceiling height is 23'6" with foam filled panel walls.
I designed and built it with the help of my wife and two children. It has eight infrared heaters that are 60,000 BTU each. It also has three wood stoves for heat.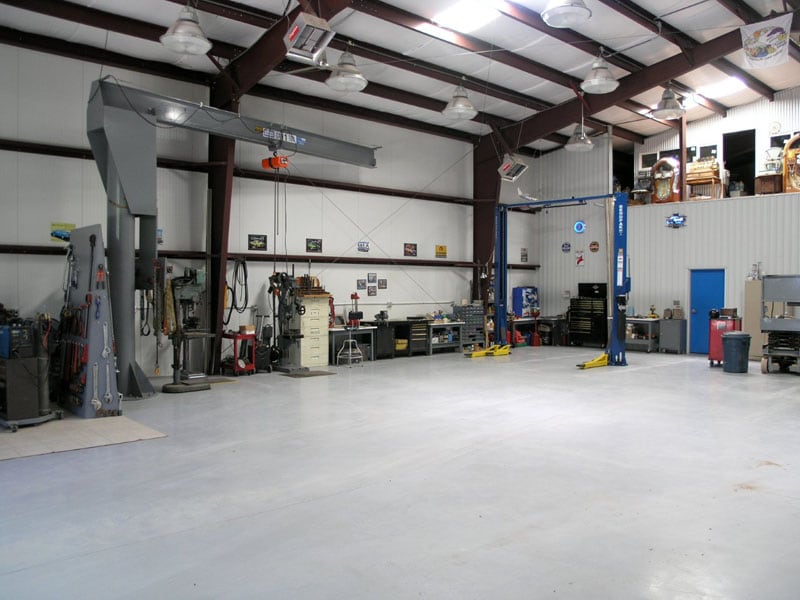 For lights it has twenty-two 400-watt HID fixtures. In another area it has sixteen 6-tube high-output fluorescent fixtures. The workshop is also equipped with a floor mounted rotating crane, two car/truck lifts, and many machines and hand tools.
I would recommend looking into the foam filled panel walls. They have R-21 insulation with 2.5-inch thickness. There are choices of exterior and interior textures which are pressed into the metal. They reduce noise, are easy to put up, have no visible fasteners on the outside and you barely notice them on the inside. You can have different textures on the inside than the outside and different colors as well.
I would do everything the same if I were to build the workshop it again." – John Powell, 2004 Dodge 3500, 2009 Eagle Cap 950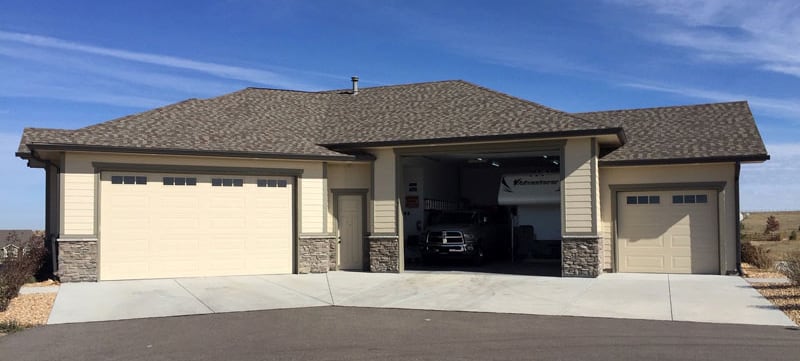 "We built a new house in 2016 and had the attached garage designed for the camper and truck. At the time we had a Hallmark Cuchara pop-up. We got the new full size camper in 2016. One main consideration on the new camper was the overall height, since the truck camper combo needed to fit under the RV portion of our garage. It has a 12′ door. That is one reason we chose the Adventurer. It has a lower overall height than several of the full size campers.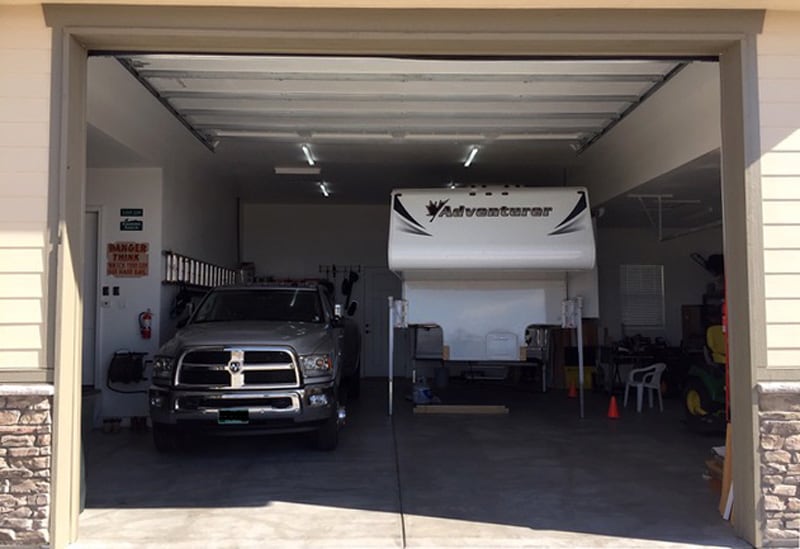 There are several things I would change. I would go from a 16′ wide x 12′ high door to a 18′ wide by 14′ high door. Although we are completely happy with and recommend the Adventurer, the higher door would have opened up the choice for other campers if we were interested. I would also make that portion of the interior of the garage about 6′ wider. You can never have too big of a garage.
Of course, the standard 12′ wide by 14′ high doors that are in most of the RV garages around here are great. You would also need a place to pull the truck in when the camper is not on it. The reason we went with the 16′ high x 12′ wide door is so I can pull the truck in the garage beside the camper, but the 16′ wide door makes this a little tight." – Mike Shippy, 2016 Ram 3500, 2017 Adventurer 89RBS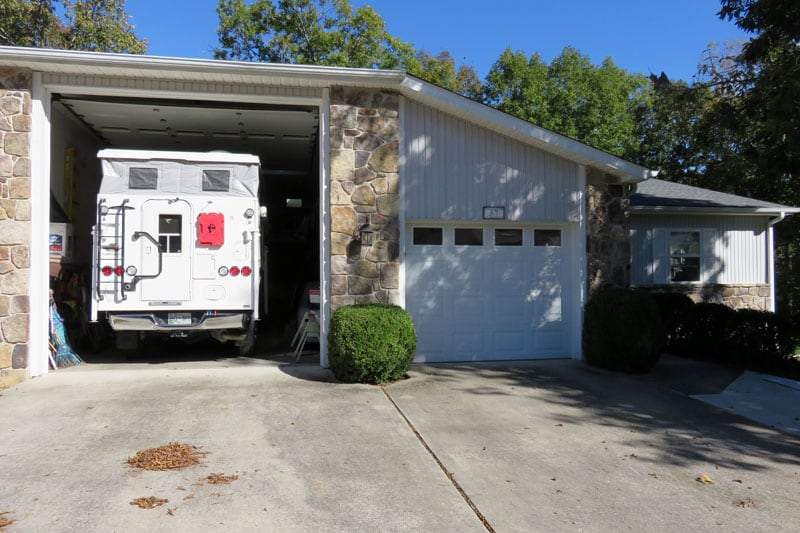 "We recently moved to a community in east Tennessee that welcomes RVs. When we found this community a couple years ago, we were going to build a new house and RV garage. Then we found an existing home there with a RV garage that we liked and purchased it.
The RV garage is 54-feet long, 16-feet wide, has a 12.5-foot door and full hook-ups. There is access to the laundry room and another door with access to the master bedroom and closet. I can off load the camper and still have enough length to keep both the truck and camper in the garage.
There is a large powered vent fan in the ceiling to remove exhaust fumes. Although it's not heated, the garage stays warm enough that we do not have to winterize the camper.
Believe it or not, I wish our RV garage was larger. One can always dream, right? The newer homes being built in our community have RV garages with 14-foot high doors and floor dimensions around 20×70-feet, or larger. The 14-foot door is necessary to accommodate Class A motorhomes or large fifth wheel campers.
Even though we don't have a large RV, the extra space and larger door would be nice. I would have more room for my hobbies and other rolling stock. It may help the re-sale value if we ever sell. The contractors building the new homes in this community are very experienced with building these custom RV garages.
The first bit of advice I can give is to make sure the garage door is large enough. The door should be at least 12-feet wide and 12 to 14-feet high. The 14-foot height would be enough for any RV.
The width of the garage should be wide enough, probably a minimum of 18-feet. That way, if you have a camper with slide-outs, you can walk around the camper with all the slides out.
The length should be enough so both the truck and camper, when separated, can be parked inside. I would recommend full hook-ups inside the garage with sewer, water, and 30 or 50-amp electric.
Ideally, the garage should be insulated and heated so it doesn't freeze in the winter. With full hook-ups, heat, and proper ventilation, the camper in the garage could be used as a spare bedroom if you have visitors." – Buzz and Sherri Merchlewitz, 2017 Ram 3500, 2015 Hallmark Ute
"I had a garage built with the express purpose of parking the camper mounted on the truck and also parking my car." – Carl Mutschler, 2005 Dodge 3500, 2005 Lance 1181
"All the commercial storage places around our Florida house were filled up, and we weren't allowed to store our camper in our driveway. Therefore, we purchased the lot beside our house and decided to build an attached RV garage. We designed the two-bay 16×50-foot RV garage ourselves with a 20×40-foot wood shop. We hired a local contractor to do the build.
Permitting through the County was a nightmare but, with my lawyer's help, we marched forward. The County was good at telling you what you couldn't do, but was very lacking with suggestions on how to solve problems. We also were required to build this cement block garage to the latest hurricane standards in Florida. We use one bay, and rent out the other to pay all our taxes.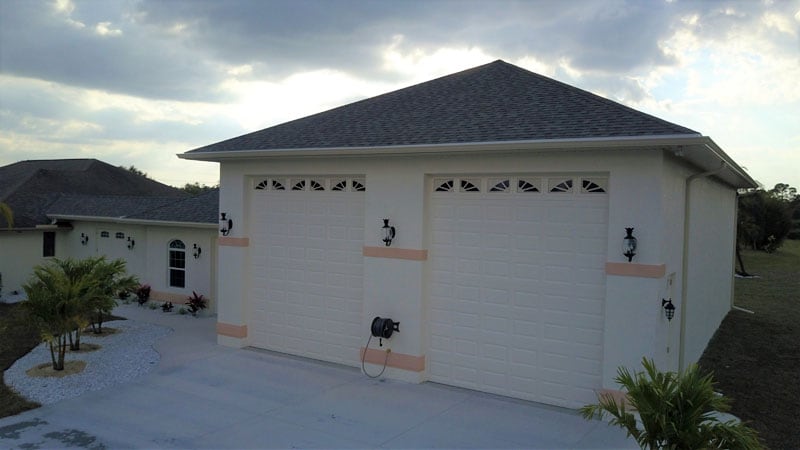 We were very careful to be intimately involved in all aspects of the design and build of the RV garage. The final product came out exactly as planned, and met the aesthetic match to our existing house per our association rules.
Many minor mistakes would have occurred if we were not living right next door. Luckily, I could watch the build every day in person. I was so thorough in my watch that slowly the general contractor came by less often and counted on me to make sure all of the sub-contractors made it per plan. The only very small item I would change is to have a storage area framed into the attic area amongst the pre-made trusses.
We picked our general contractor based on the expensive houses he builds, which we viewed and were of very high quality. However, what we didn't realize was that he had never built an attached garage and this required many different regulations which he was not well versed!
Lessons Learned:
1. RV bay venting must go through the side walls, not into the attic.
2. Attaching the RV bay to your existing house (via a breezeway) allows you to use your existing house power, water and sewer.
3. To maintain the hurricane rating of the garage door, louvers to allow air into the garage must come stamped into the door, not cut in afterwards.
4. Stay involved in the process. Hold the contractor accountable." – Charles Coushaine, 2001 Ford F350, 2012 Chalet DS116RB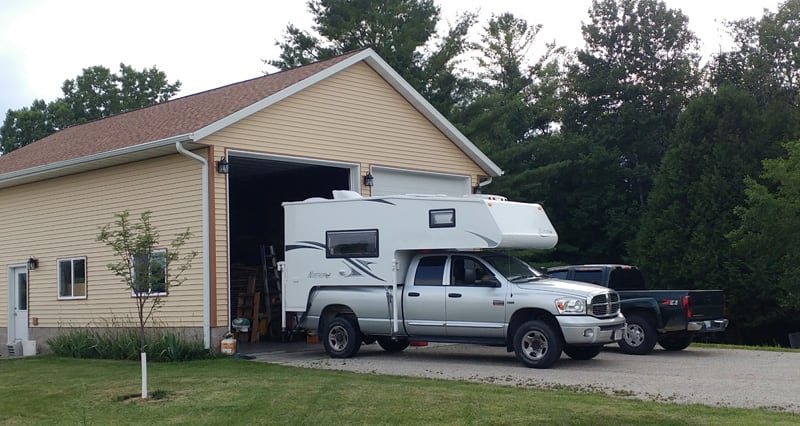 "We had three considerations for our RV garage; (1) keep advancing age in mind, (2) storage of the car, truck, camper, boat, and woodworking lumber, and (3) meeting the set-back and Shoreland Zoning regulations.
We ended up with a 28×40-foot building (10-foot,1-inch from our deck), 1-1/2 stories high. We are extremely pleased with how it turned out, even though the boat doesn't fit.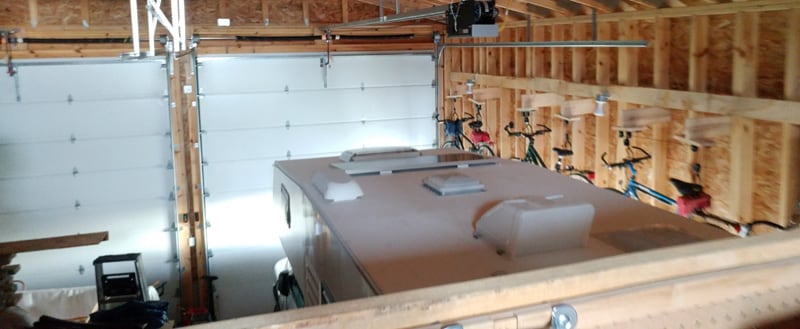 The planning phase was six-months and the actual construction about a month. We went through six to eight floor plans, got four estimates (two metal buildings, two frame buildings), and chose the builder who specializes in pole barns/garages and who uses a high-quality supplier.
The electrician that the builder recommended upgraded our service to 200-amps as well as installing a whole-house surge protector and wiring the house and garage for a generator (we did the interior wiring).
There are two 12-foot wide by 14-foot high doors and one 10-foot wide by 8-foot high door. Both are insulated. Scissor trusses were specified so one can stand on top of the RV. It also allows for a 12×28-foot storage room over the car area.
Three rows of concrete blocks keep the framing up and out of the rain and snow while allowing for shorter studs.
We would definitely recommend our builder. We preferred working directly with the various trades because we could choose who worked on our building. We go for quality, not price. We would not do anything differently.
Here are some important suggestions:
1. Check with your county zoning administrator first.
2. Check with the local building inspector as to possible unforeseen complications of your plan.
3. Speak with previous customers of possible builders.
4. Envision the proportions of the building in relation to your house.
5. Look ahead. What can you do now that may increase the value or utility to a new owner (higher garage doors, storage loft), ease use with old age (minimize steps, allow space for a wheelchair ramp, etc.), or increase convenience (put electric underground, provide water or sewer, self-cleaning roof gutters that drain through buried pipes)?" – Kathy Claycomb, Dodge Ram 2500HD, 2019 Northstar Laredo SC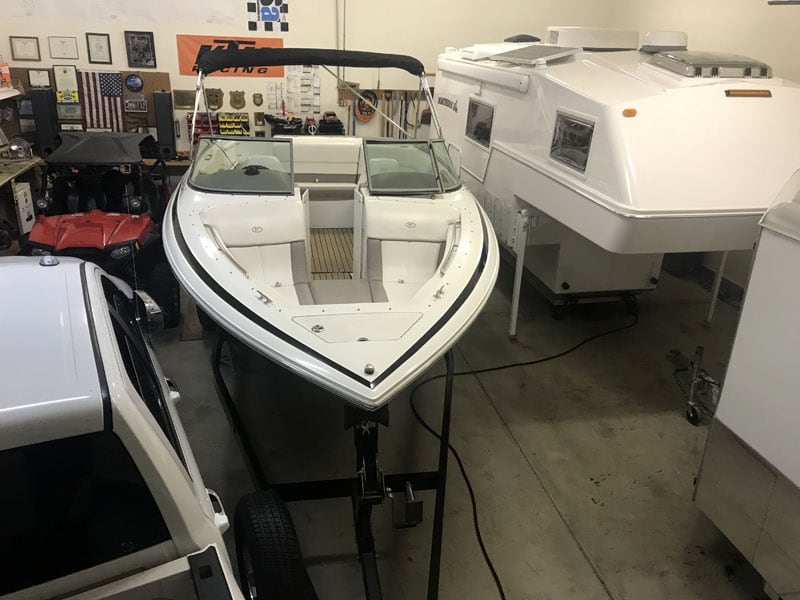 "Our RV garage was built prior to our ownership and is as purposeful as possible. The interior footprint is 40×40-feet with concrete floors with a 20×40-foot concrete entrance apron. It's also insulated and dry walled with full hook-ups; 50-amps, water, and septic.
At first we thought it would be too big, but we filled the space, It not only has our camper, but our boat, utility trailer, RZR, motorcycles, and truck.
Our advice is to build it as big as you can. You won't regret having extra space. 12×12-foot doors and level concrete floors are a must. Having 50-amp RV service, water and sewer are nice.
Consider a platform dolly with heavy casters to simplify positioning the camper around the garage and aligning it for easy loading. Consider enough room to simplify the alignment.
Loading and unloading on the truck can be done inside or in front of the garage. Consider a 20-foot entrance apron to a roll camper out for cleaning or use with guests as overflow." – George Collett, 2017 Ram 3500, 2018 Northern Lite 10-2 EX CDSE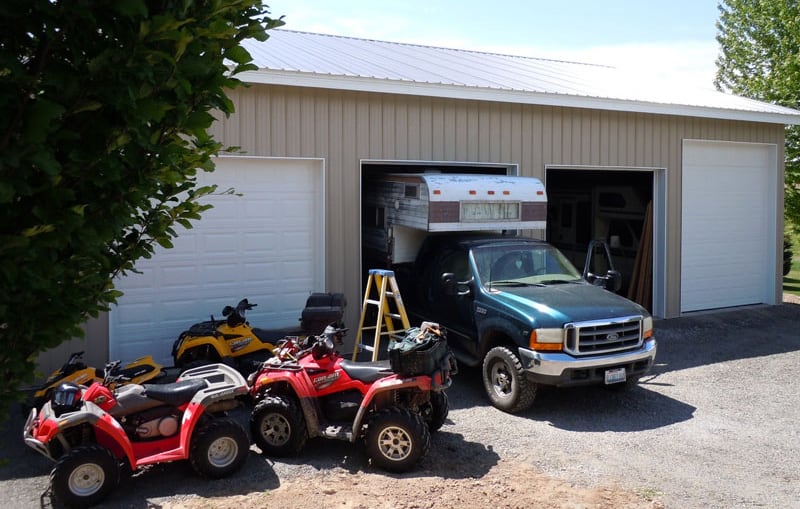 "I needed a multi-purpose shop. I had a Steel Structures of America pole building put up a 40x60x14-foot to the rafters, with four garage doors and a walk-through.
Where I screwed up was only getting one 12-foot door and three 10-foot doors. My 24-foot motorhome uses the 12-feet and I thought I could also park the camper in the same stall, but came up short by a couple of inches.
Luckily, my old camper just slips under a 10-foot door with less than 2-inches to spare on my stock height truck. If I upgrade, I'm back to square one.
I do have a rolling stand I sit the camper on, so I can load/unload through the 12-foot door, and then roll it to a different part of the shop, but it isn't easy.
I love my shop overall and Steel Structures was a great company to work with. The exception was their concrete contractor who did a poor job on pouring the floor, but that issue was taken care of.
Build bigger. I thought a 40×60-foot shop was huge, but now I'm wishing I had another. If you are a collector of stuff, it fills up fast!" – Matt Mead, 2016 Ford F-350, 1969 Bell 8-foot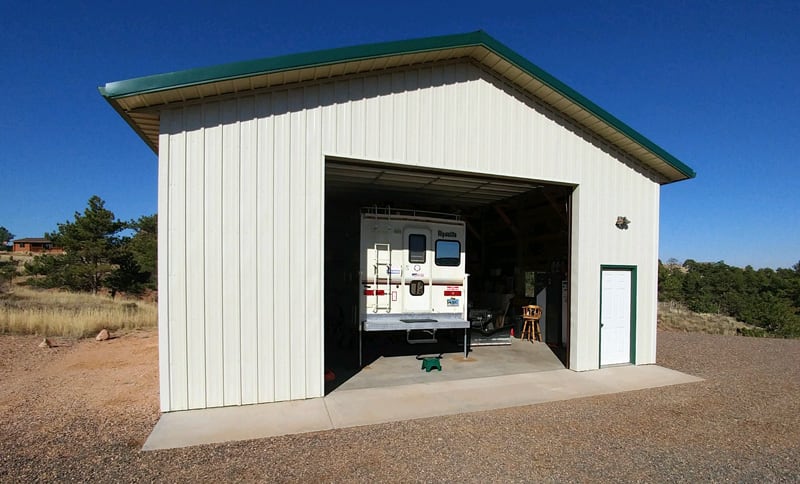 "I had a pole barn built specifically to shield my truck and camper from harsh Wyoming winter weather. A significant portion of the cost was earth moving. Here in the mountains, a level spot had to be constructed.
The barn is 30×32-feet with 14-foot walls. The overhead door is 16-feet wide and 12-feet high. The wide door allows me to park the truck next to the camper when the camper is off the truck.
I could not be happier with my toy box. My advise to anyone thinking of a building is to size it to your very best estimate and then increase it by at least 25-percent.
I went for the option of insulation panels under the metal roof and siding, which I learned later was a great investment. Without these panels rain is deafening and, in the frequent Wyoming winds, you feel like you're in a beer.
If an RV garage/barn is within your budget, go for it! This becomes especially true if you plan to keep your rig for a long time. My camper is 25 years old and I often get comments about it's in like new condition.
Another advantage of a building is the ability to work on the rig in bad weather. We are ready to roll as soon as springtime arrives." – Robert Lick, 2003 Dodge 3500, 1993 Alpenlite 11-foot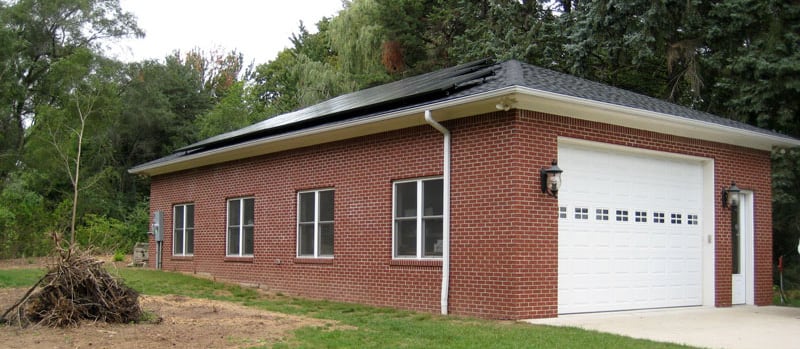 "My truck camper is stored in my 1,500-foot hydronic-heated workshop with 12-foot ceiling. I wanted 12-foot overhead doors so I could drive in and offload, but building height codes in my town restricted me to 10-foot overhead doors, thus the 12-foot ceiling.
To adjust to those restrictions, I fabricated a four-wheel dolly to off load the camper. I off load outside my shop on a concrete pad then roll my camper into the shop.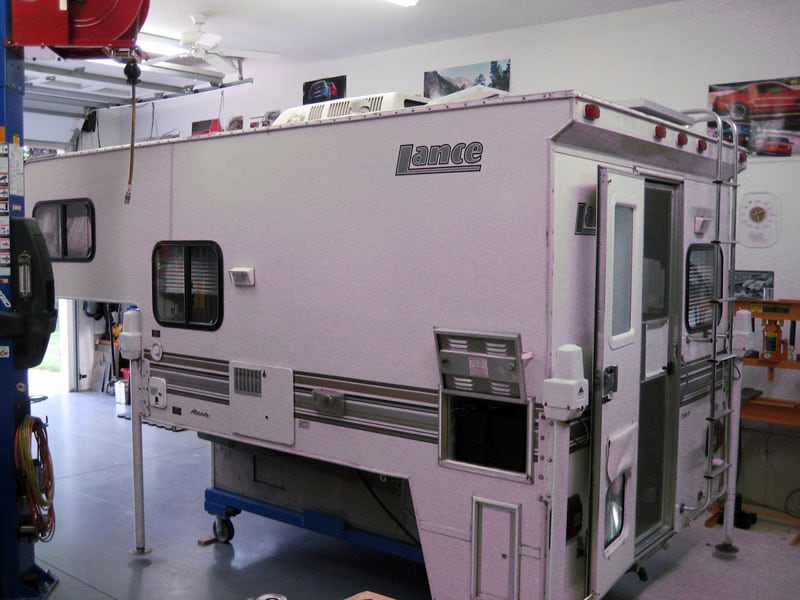 I've accepted the compromise and it's really not bad as I only move the camper in and out a few times a year. I selected high quality casters that allow easy movement of camper and fabricated a tow bar so I can move the dolly with my truck.
As for recommendations, I really can't think of anything I would design differently. My obstacle was the zoning board.
Have a minimum of a 12-foot door with requisite ceiling height. If you go the dolly route like I did, have the floor finished super smooth and near level. I added a slight pitch for water drainage, but not enough for the camper to move unassisted." – Guy Lipane, 2018 Ford F350, 2019 Lance 865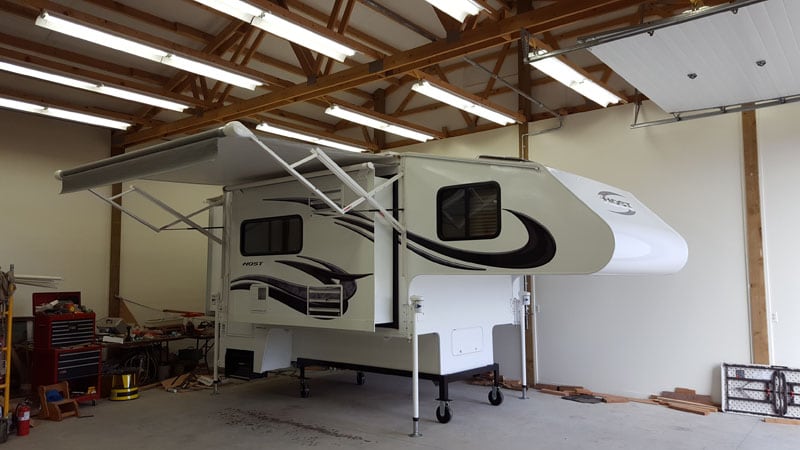 "I have a 40×60-foot shop that I designed. It has 12-foot high doors. The shop wasn't designed just for the camper, but it works well for that purpose. I also store a boat and and use the shop for various projects.
The shop is a pole building style with a metal roof and sides. The construction process went very well and I'm pleased with the results. After the shop was built, I had the concrete floor poured and finished. The doors were installed. All of it went very well. A 200-amp service provides power to the shop.
Due to the height of the camper on the truck, I unload the camper and move it inside and back on a special wheeled cart that I designed and built, which also works well.
For anyone else looking to build a RV garage, I would have one entry door that is 14-feet and would reduce the total number of doors from three to two. All of the doors would be 12-feet wide.
Some of the newer campers are quite a bit taller. When loaded onto a truck with 17-inch rims or a slightly lifted truck, they are really tall! In my case, my camper sitting on the truck is about 12-feet 7-inches tall. So I have to unload the camper outside the shop and roll it in on the wheeled cart. It works well and allows me to move the camper inside the shop." – Dave Riddle, 2015 Chevrolet 3500, 2017 Host Mammoth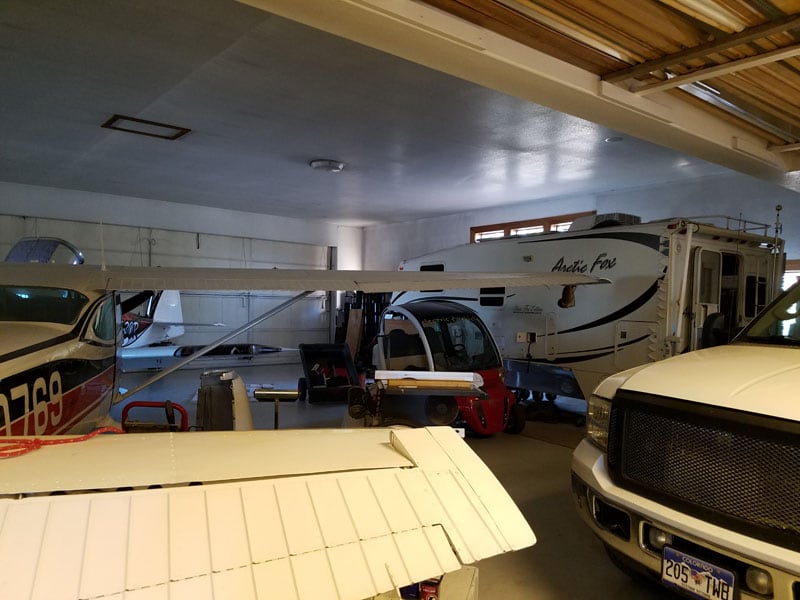 "We are very fortunate to live at an air park and have an airplane hanger attached to our house. We use our camper to go to Arizona for the first three months of the year and don't use it much, if any, the rest of the year.
So having the camper out of the weather is fantastic. It never needs to be winterized since the hanger is heated and we're down south the rest of the time.
We had the house and hanger built 20 years ago and we were only thinking of it being used for airplanes. I didn't think about the door being high enough to get a RV or the camper in under the door.
Yes, I should have thought about the door height. I can only get the camper in after I unload it onto custom made dollies. The jacks are 1/2-inch from the floor. I installed a second limit switch to the bifold hanger door to get extra height. I only use that second limit switch when loading or unloading the camper.
When the camper is in the hanger, I only have 1/2-inch above the air conditioner and 1/2-inch under the jacks. My first camper was a Lance and was about 1,000 pounds lighter. With that I used car dollies on the special wood boxes. The Arctic Fox 1150 is much heavier so I had to make new boxes with heavier casters.
If you are building any building, think about the future, and make a big enough opening and width." – Frank and Lynn Niehus, 2007 Ford F-350, 2007 Arctic Fox 1150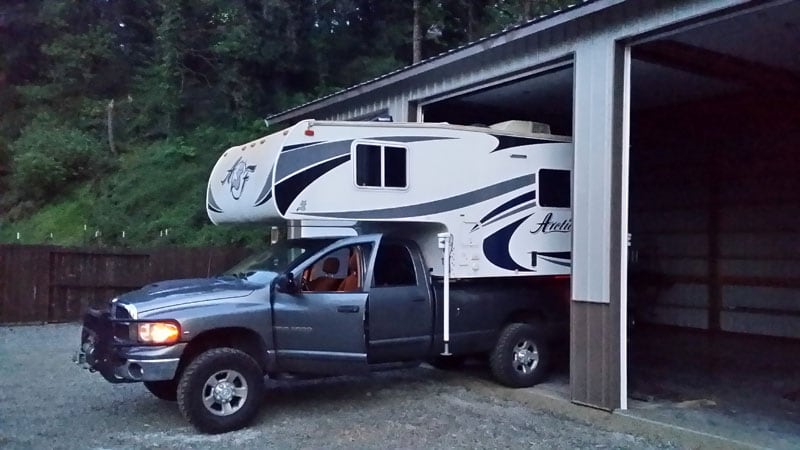 "I had a contractor build a 30×50-foot three-bay shop this last year. The cost was $30,000, but that was with a family discount. The two biggest expenses were the three 14-foot tall by 12-foot wide insulated doors and the 4,500psi concrete.
If I had to do it again, I'd have gone an extra 5-feet since I use one bay as a shop with a vehicle lift. I also recommend doing a lot of research on the contractor. Price isn't everything." – Ron Berry, 2005 Dodge Ram 2500, 2016 Arctic Fox 865
"I built a new home six years ago and part of the plan was a RV garage. Since I've had several RVs, it needed to fit anything I may want in the future. My RV garage is 30×50-feet with 14-foot doors, spray foam insulation, two 50-amp plugs inside and one outside.
I also have a sewer dump on each side and hot and cold water hookups. The hot water is a great black tank flusher! I heat the garage with a tankless gas water heater and pipes under the concrete floor. It is very economical to heat and works great.
Spray foam insulation is worth the extra cost if you heat the garage. Under floor heat works great in a tall building like a RV garage." – Robert Mayton, 2014 Ford F-450, 2015 Lance 1172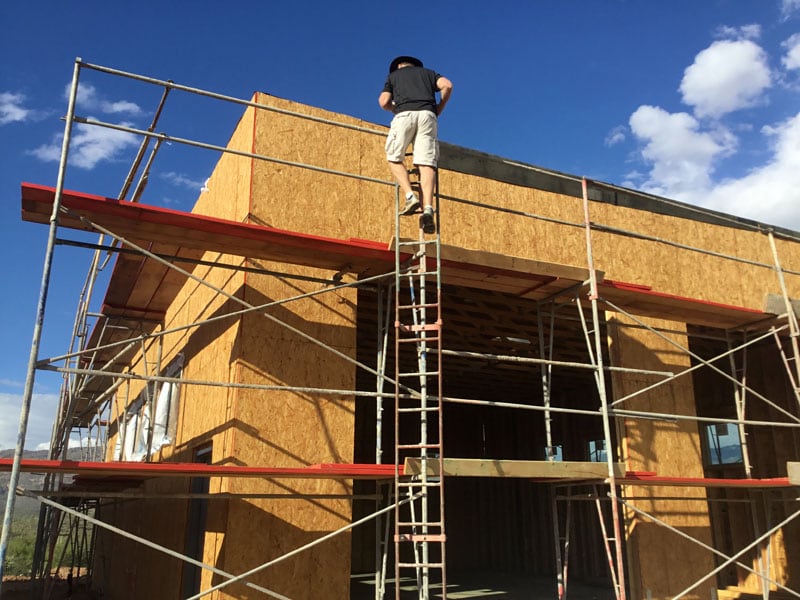 "I am currently constructing an RV garage along with our new house. I worked on the design with our builder. So far it is going as planned. It is 41-feet deep (inside dimension) and 36-feet wide (also inside dimension).
It has two 12-foot wide and 14-foot high doors. There is a dump station inside in a back corner. This area also has water spigot for dump clean out and another for water fill.
We included both 30 and 50-amp electric. TV and Internet connections are also in the same proximity. We are in the desert so we included wind-powered fans on the roof for air movement.
The building is fully insulated and includes skylights and numerous windows. It is reasonable for guests to stay inside the camper when they visit.
HOA requirements were that the building has to match the house. It adds expense but it is much nicer to look at. It's too early to tell, but we would definitely use our current builder.
As for recommendations, think about the next person that might buy your house. We only have a truck camper and did not really need a huge building. Thinking about resale, many people have large fifth wheels or motorhomes.
In our case, we also were thinking about guests using this space. A number of our friends have 40-foot motor homes and we wanted to accommodate them. One of our friends just purchased a 45-foot motor home. They will be staying outside! Also think about a 14-foot high door. You may end up with a taller RV in the future." – Brian Medley, 2004 Lance 835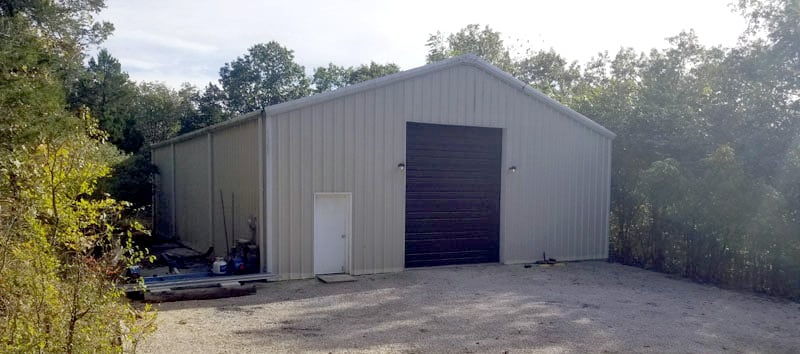 "I didn't really have the garage built for my RV, but I did have a 40×60-foot steel building built years ago. When I got my truck camper last year, I just had the door changed from a 10×12-foot door to a 12×14-foot door. Now she fits nicely. You can't have too big of a door." – John Leslie, 2017 Ram 3500, Palomino HS-2911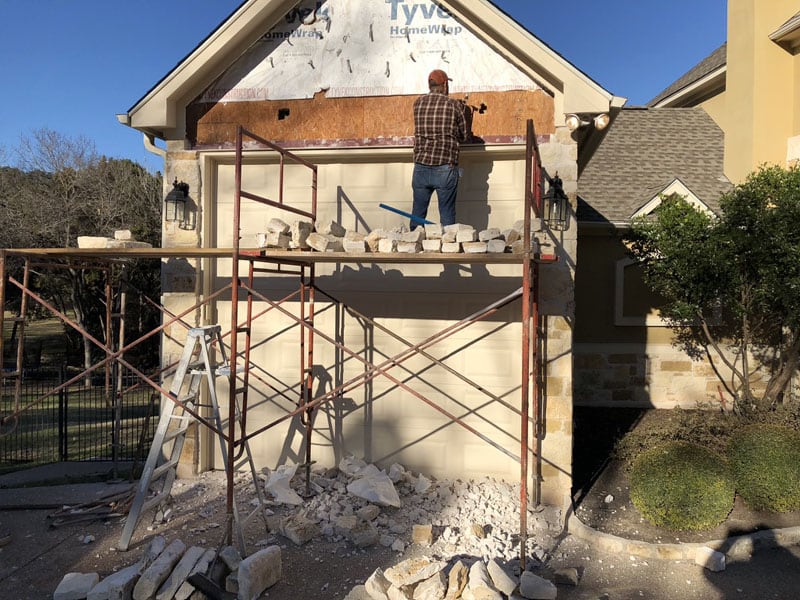 "We had a contractor making a repair to our house and showed him what we'd like to do with the RV garage. We first thought raising the header and installing a roll up door in the attic would be the best way to go.
The contractor took a look and suggested barn doors. He said they would be easier and look great. He was right. They did change the look of garage.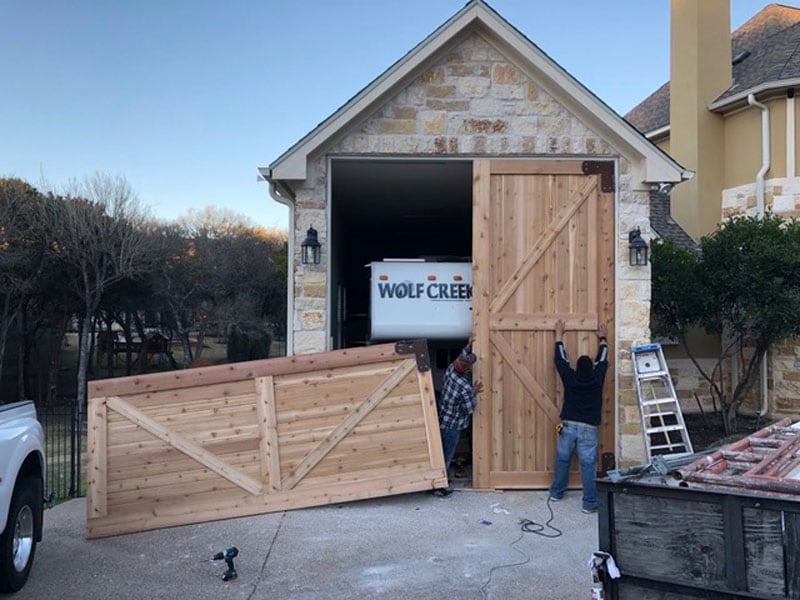 We are very happy with the results. The doors are 12-foot 6-inches tall and 10-feet wide, so they are extremely heavy. He hung them with four 1,500 pound bullet hinges six months ago. So far there has been no sagging.
We love the design. If we were to do it again, we would have incorporated built-in door stops which we are now adding. Also, we would have tied into HVAC from our house. We did add a window air conditioner unit. That works fairly well, but Texas summers are pretty hot.
We have had been storing our Wolf Creek 816 on a dolly in our RV garage for the last three years. When we decided to get a bigger truck camper, one of our dreams was to leave it on the truck in the garage. Princess Craft RV in Austin let us borrow an 1172 before purchasing to do a test fit. Thank you, Princess Craft.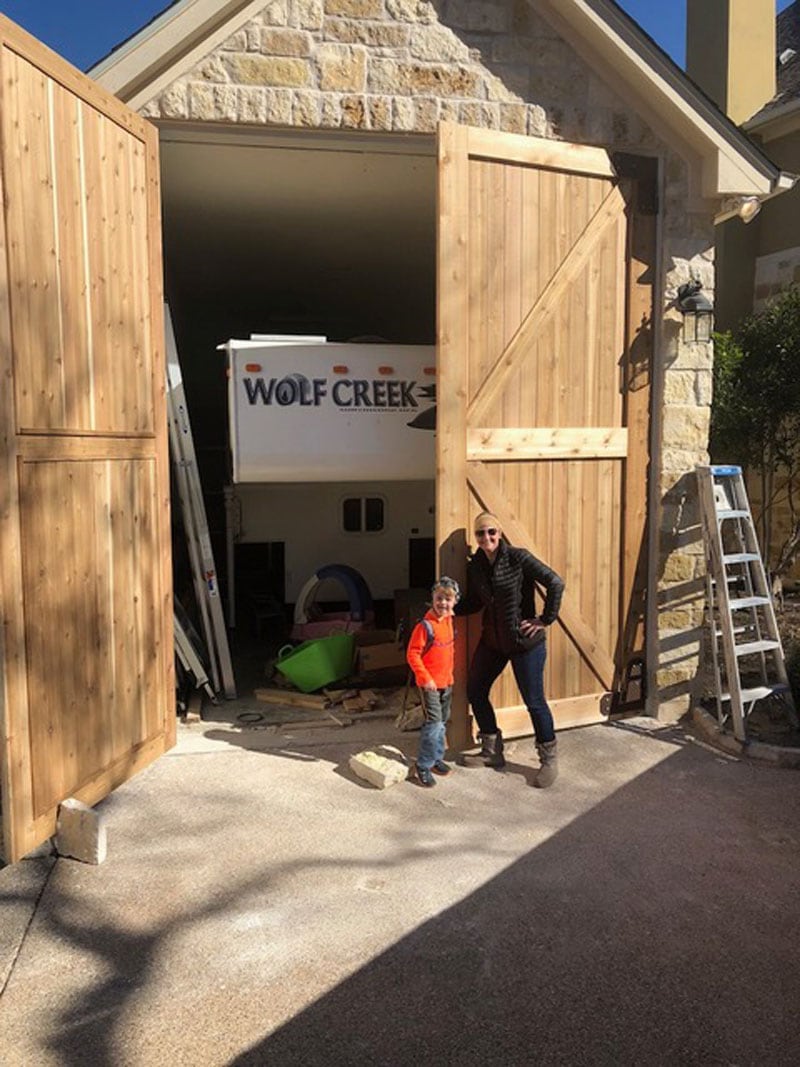 We truly love our truck camper garage. Our neighborhood has pretty strict HOA rules and we would have had to rent a storage unit somewhere. Having the camper in the garage and on the truck, it's always ready to go. We use it more because we can go camping or on a road trip anytime without much prep work.
Also, even without going camping, our kids, Johnny (7) and Jackie (8), love sleeping in the camper in the garage on the weekends." – John O'Shaughnessy, 2007 Ford F550, 2018 Lance 1172
"Living in a condo, having any kind of RV means that you need a place to store it. I had to rent a space in a storage facility and started out in a covered spot. The rate kept going up for my spot, so I moved outside and purchased a cover for the camper.
After a few months, the cost went up and it felt like it was going up every few months. That's when I started asking around to see if I could find a place to build a shed on their property for our camper and pay rent for that privilege.
Our garbage collector, who is a good friend, came by and said that he heard I was wanting to build a shed for the camper. He said I could build on his farm next to one of his barns – if it matched his other buildings.
I asked how much the rent would be. He said there was no rent because someday I would quit camping and he would have a shed.
The shed and gravel cost me around $2500 eight years back. Prior to that I was paying $185 per month. As you can see, we have saved a lot of money to store our camper. Plus it is only eight miles from our condo. We have saved over $15,000 in the eight years we have been storing our camper in our shed on our friend's farm.
If you do not have a place to store your camper, ask someone who has the space if you can have a nice shed built on their property. You better be great friends." – Ed Krech, 2006 Dodge 3500, 2011 Northern Lite 8-11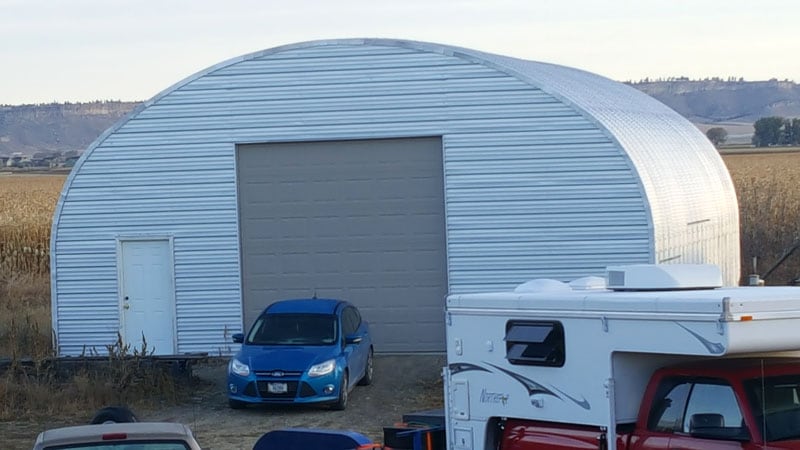 "I use a steel Master building that I bought back in 1989 for $7,500. It is designed to bolt all the panels together and took about 200 bolts per panel. I had to get a lot of help.
I have always stored all the campers I've owned in that building. I recommend a steel building like that if you have the room and the means to put it up.
I would use the same type of building again. The only thing I would do different is make it bigger. Make sure your RV garage plans are big enough.
I put my truck camper on a dolly that I built to move it over in the corner of the shop when I'm done with it for the summer. A truck camper is much bigger when you're trying to move it around the shop then when it is sitting on your truck." – Wayne Erhart, 2002 Dodge Ram 2500, 2017 Northstar 950SC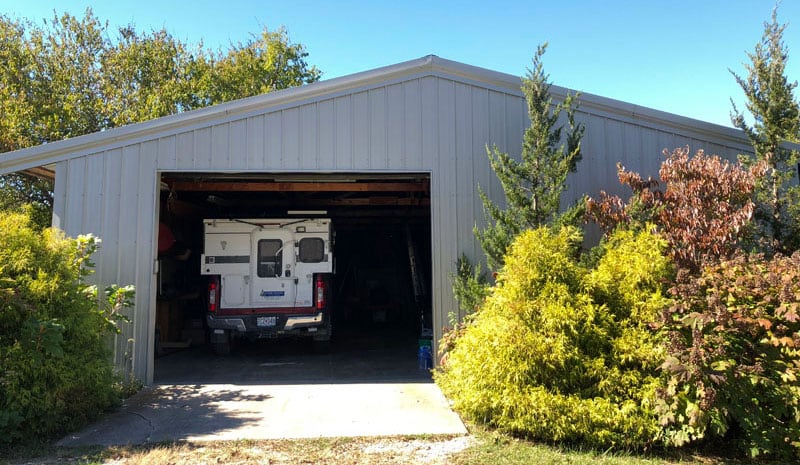 "We have a 32×48-foot out building that stores the camper and other outdoor equipment. We built it in 1990 for about $3,500. Since then, we have added a metal skin and a new roof for an additional $3,000.
We prepared the site ourselves with use of our tractor. We built the concrete forms, but we hired the concrete pour. With the help of friends, we framed the walls, lifted the trusses, nailed exterior plywood to the frame, and installed a metal roof. All of this was done when we were still in our 40s.
In 2012, we hired a crew to remove the old metal roof and to install a new one. The two of us, now in our 60s, covered the plywood with a new metal skin. We replaced the first 12-foot wide by 10-foot tall door with a better one after about 20 years. We did that ourselves.
We are able to drive the truck with the camper loaded into the building. We take the camper off the truck during the off season and store it on a rolling cart that can be easily moved. The building is unheated but otherwise the camper and other equipment are stored out of the weather.
Be sure to make the door tall enough to handle not only the loaded camper, but the solar panels on top. Our door has about 16-inches of clearance. That's an important consideration." – Laurel and Howard Wilson, Ford F350 2018, 2016 Four Wheel Grandby Shell

"I went online. Using design software I came up with my specs for my 12×30-foot camper cave with 11-foot walls. I wanted it to be sturdy with the ability to withstand 90-mile per hour wind. I also wanted the roof and sides covered.
Because the area where the cave was going to reside was on a slight hill, I made a level pad. It is about 12-inches tall at the shallow end. I did the frame up. Friends and I did the concrete work, which is about four yards.
This was the first time I had done anything like this and I made a couple of mistakes.
1. I framed up the pad to the dimensions of the roof line, not the frame/siding. So I had to seal the sides to prevent some water intrusion. While not bad, it was just aggravating. If I were to match the frame footprint the siding, it would have overlapped the concrete.
2. The siding and roof have options; vertical or horizontal. I did not think about what difference it would make except for cost. The problem with horizontal is the paneling accumulates debris and dirt along the siding shape. Horizontal roof water runoff is on the ends of the Cave. With vertical on the roof the water comes off the sides.
Ordering online can be problematic if you do not understand the terminology and dimension issues that I described. A couple of friends made the same roof line v/s frame foot print mistake even though I kept reiterating the issue. It is not a major issue but, with a full concrete pad, some water intrusion does occur." – Jim Tomblin, 1994 Ford F250, 2000 Bigfoot 2500 9.6
"Up here in Michigan, we get some nasty weather in the winter. In fact, we can get nasty weather anytime. So, I bought the our pop-up camper with storage in mind.
I keep the camper in our three car separate garage. I load the camper on a modified boat trailer and back it into a bay in the garage. Then I hook it up to shore power. The truck goes in the next bay over.
The garage is heated, but I still winterize the camper. The last bay is for my wife's car. Mine stays outside all winter. Happy wife, happy life.
I keep the camper inside when I'm not using it, no matter what season it is. It will last a lot longer being out of the weather and protected from the elements. In fact, it's four years old now and looks and smells (inside) just like new.
The only thing I'm a bit sorry about is that I didn't spec a 10-foot overhead door. That would make it easier to get the camper in and out of the garage. My 9-foot door is close to the top of the camper when it's on the boat trailer. I would have preferred more clearance.
If I didn't already have the garage for storage, I'd taker a hard look at a Clearspan Storage Building. I have two on my property. One is for farm equipment, and one is for hay storage. Both have been up for at least 15-years with no issues.
I consider Clearspan Storage Buildings to be a very cost effective storage solution. They come in camper and pickup storage sizes. Anyone with a bit of mechanical common sense can erect one.
A big plus is, in most states, a Clearspan building isn't considered a permanent structure (no footer needed) so they are not taxable as real estate. That's a big plus in my view." – Daryl Davis, 1997 Ford F350, 2014 Palomino SS-1500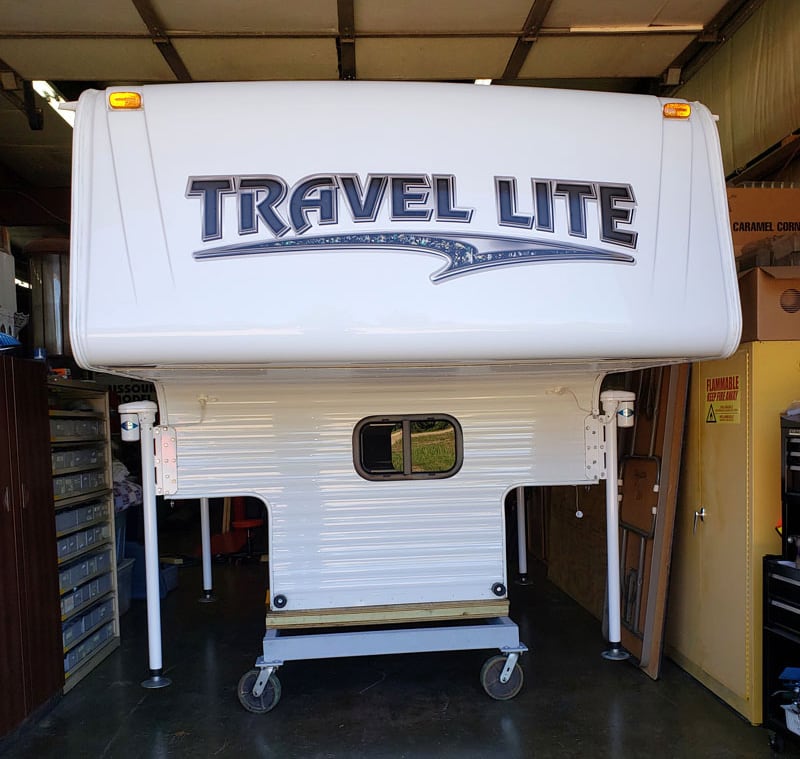 "I have a garage shop that I roll the truck camper into for storage. It is my 3,300 square foot garage/shop that I keep my old cars in. The building is heated and air conditioned.
The wheeled platform that I use to roll the truck camper into my shop was purchased directly from the manufacturer when I visited them. It was a broken castoff that I restored. The dealers use the same type of platform to move their truck camper stock around without having to raise them up onto a truck.
The platforms can be made easily and provide better support than leaving the camper on the four corner jacks. Also, by having the camper lower to the floor, I can step inside directly from the floor. The wheeled platform is easy to move around. This is the best way to store and handle a truck camper when it's not on a truck." – Jeff Buckley, 2011 Ford F250, 2017 Travel Lite
"I built a pole barn for my equipment and made sure that our 2014 Lance 1172 and Ford would fit. The garage's door is 12-feet high. There is no exposure to sun, snow or rain which helps when it's just sitting in the barn.
Our pole barn was built with one 12-foot door and one 11-foot 6-inch door. I wanted both doors 12-feet. They told me that it wouldn't work. I should have ripped out the header and proved them wrong, but now it's too late. I would never hire them again!
Measure the height twice! Get a pipe and measure down to the ground all the way around the camper. Also remember the electric door opener's pull arm that hangs down. Drive in slow the first time. Go up your ladder on the camper and look at everything.
You don't need a tall 13,500 BTU air conditioner. A low profile 9,000 BTU is plenty, even when it's 102-degrees out. Low profile air conditioners can help for a tight garage fit. Order one right way. They help with tree clearance, too." – Neil Steirer, 2017 Ford F-350, 2014 Lance 1172