Experienced RVers discuss the pros and cons of portable solar panels and installed solar panels for off-grid dry camping.  Which is the best option?  Check out the poll results, and the detailed answers from over 90 fellow campers.
As a follow-up to our article, "Portable vs Installed Solar Panels", we conducted a short poll and survey to find out what Truck Camper Magazine readers preferred, and why.  Here are the results of the poll: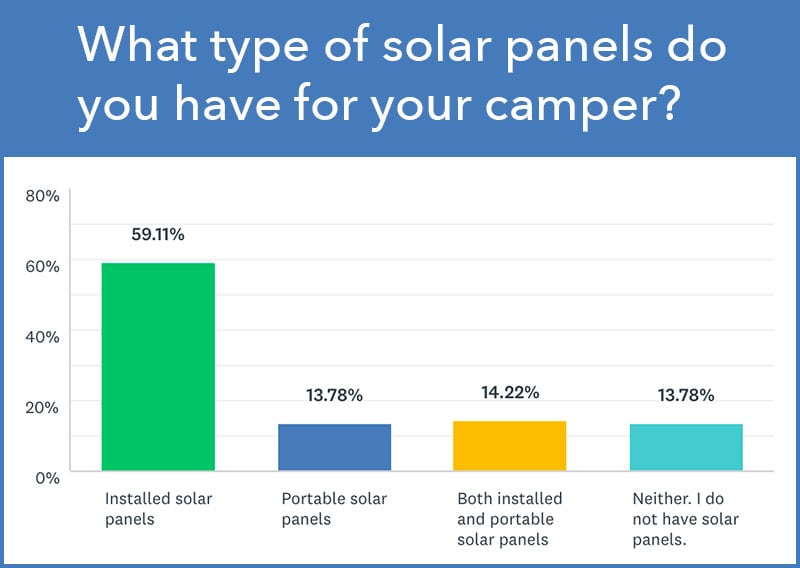 Installed solar panels are clearly the preferred choice.  It was interesting to see how many people have both installed and portable panels.  We were also surprised to see how many folks do not have solar – at least not yet.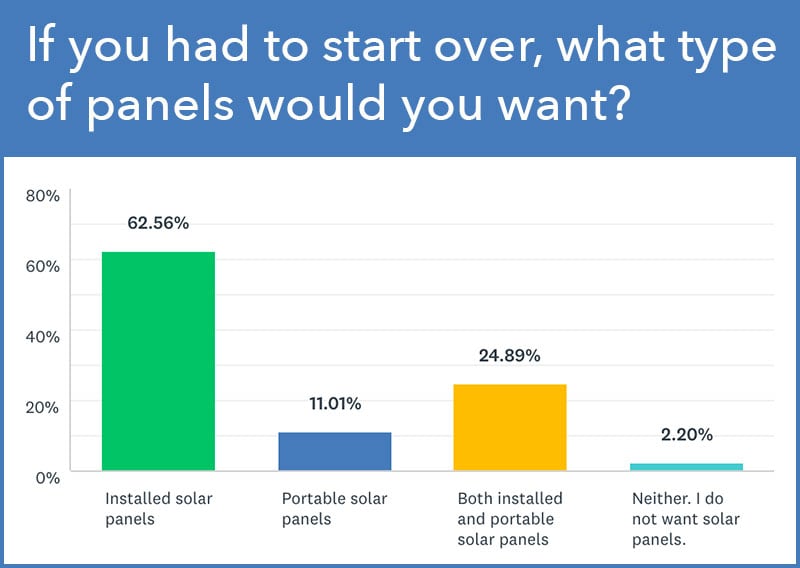 Note that the number of respondents who "do not want solar" drops to 2.2-percent.  This shows that the overwhelming majority of truck campers either have or want a solar panel system.
The preference for installed panels jumps as does interest in having both portable and fixed panels.  At 11-percent, portable solar panels remain an important part of the truck camper marketplace.
The survey question was, "What do you have – installed or portable solar panels – and why?"
"We started with a fixed panel on the roof. It works great, but sometimes we want to camp in the shade. To solve this we bought a portable panel. The portable panel also helps in the spring and fall with low sun angles. In my opinion a good solar system includes both portable and fixed." – Lou Buesseler, 2000 Ford F250, 2016 Northstar TC850SC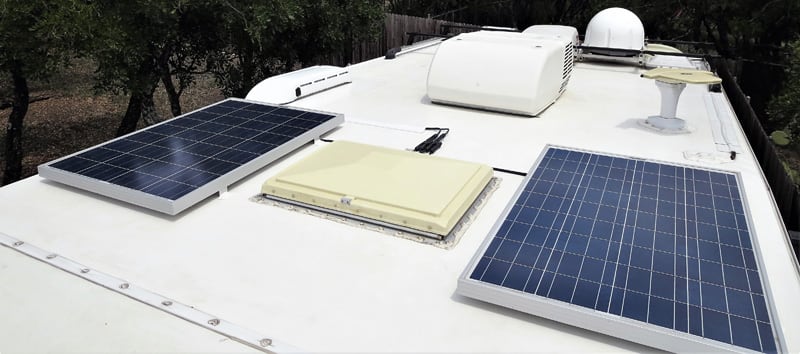 "I prefer installed solar panels for the reasons you listed. Basically, install them and forget them. I enjoy the benefits of having them as I have done for many years with trouble free service." – Eldon Rhodes, 2008 Chevy 3500, 2011 Lance 1050
"We have a portable solar panel for five reasons. First, it keeps our roof available for our two kayaks. Second, it allows us to park in the shade, but position our panels in the sun. Third, it allows us to leave them at home avoiding the extra weight when we know we won't need them. Fourth, it allows us to use them elsewhere to charge other things, or share them. Fifth, if we want to, it allows us to upgrade." – Donna and Bill Garrand, 2011 Ford F250, 2005 Lance 915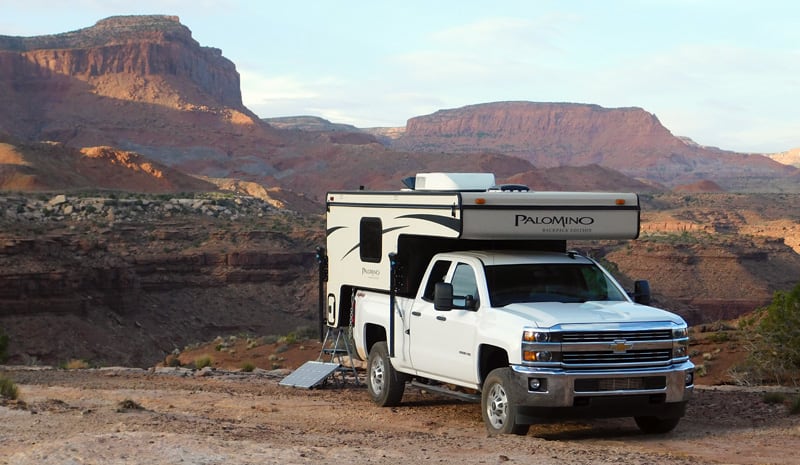 "We use a Zamp 80-watt foldable panel. We can move it to maximize output during the day, and the output is sufficient to keep the refrigerator running on propane while boondocking. For storage, it fits in the toilet enclosure (just barely), without impairing use of the facility. The location above is in Red Canyon, San Juan County, Utah." – John Wemesfelder, 2015 Chevrolet 2500HD, 2015 Palomino SS-1240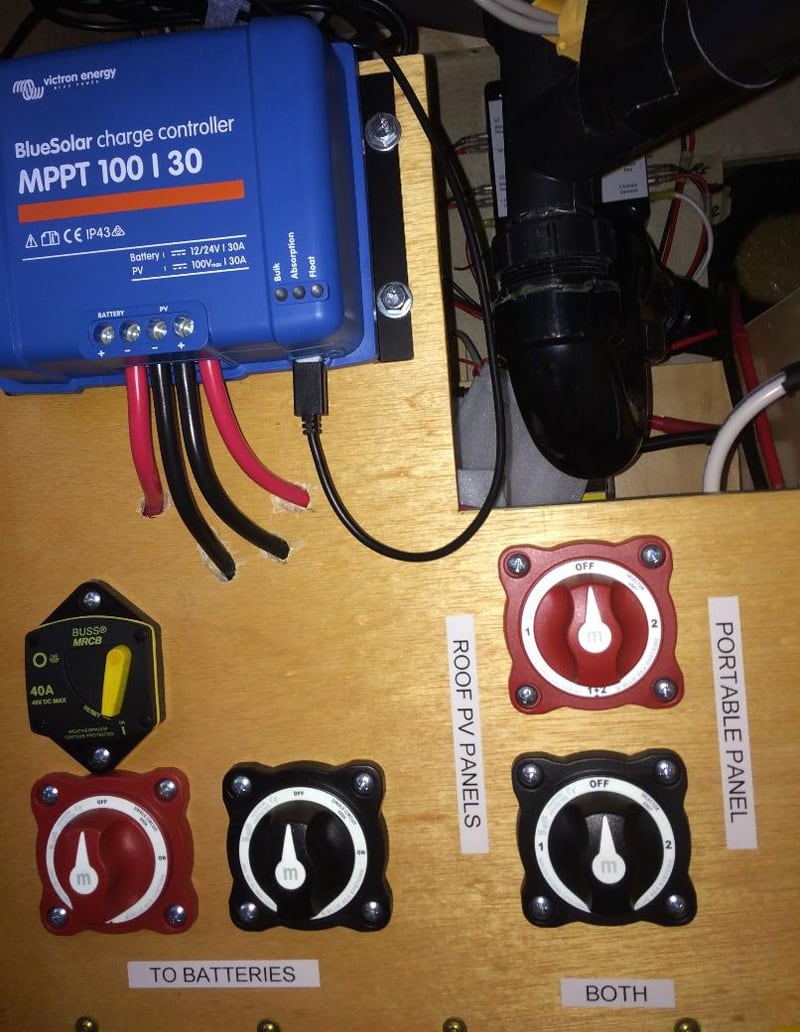 "I have two roof panels that are 100-watts each. They have tilt capability for winter low sun angles. I also have a 60-watt suitcase portable with no controller. Aiming and tilting the portable does just fine to augment the roof panels, even with 60-watts.
The roof panels and portable are compatible in regards to voltage. Both feed into a Victron BlueSolar MPPT 100/30 charge controller with a Bluetooth dongle. I can monitor and control my solar system via the Victron Connect app on my smart phone. I do not have a second controller on the portable, avoiding any conflict between competing controllers both charging the batteries.
I use mini battery switches and selectors to control what panel(s) are feeding the controller and to isolate the controller from the batteries when the camper is stored inside." – Jeff Sherman, 2016 Ford F350, 2016 Bigfoot 25C9.4SB
"I have both fixed and portable solor panels because our solar to electricity endeavors are an ongoing. We adapt and explore so we need various solar panels, charge controllers, and DC to DC converters.