Experienced RVers discuss the pros and cons of portable solar panels and installed solar panels for off-grid dry camping.  Which is the best option?  Check out the poll results, and the detailed answers from over 90 fellow campers.
As a follow-up to our article, "Portable vs Installed Solar Panels", we conducted a short poll and survey to find out what Truck Camper Magazine readers preferred, and why.  Here are the results of the poll: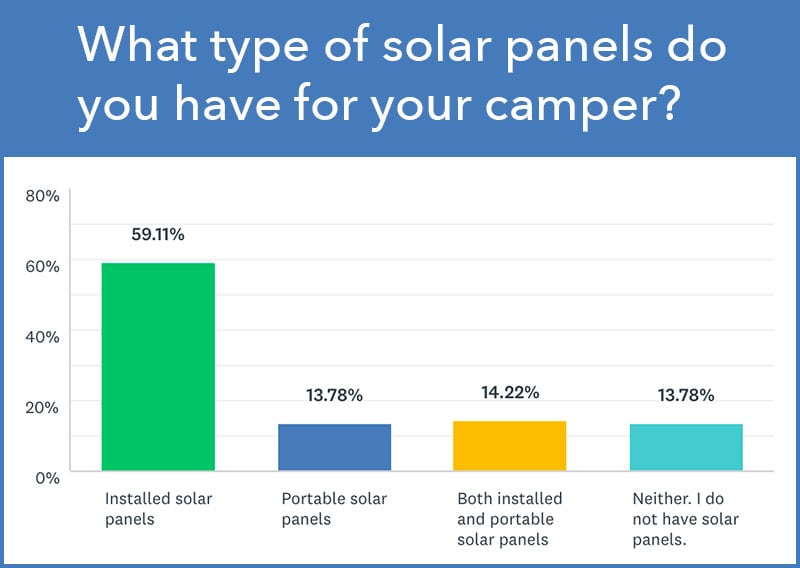 Installed solar panels are clearly the preferred choice.  It was interesting to see how many people have both installed and portable panels.  We were also surprised to see how many folks do not have solar – at least not yet.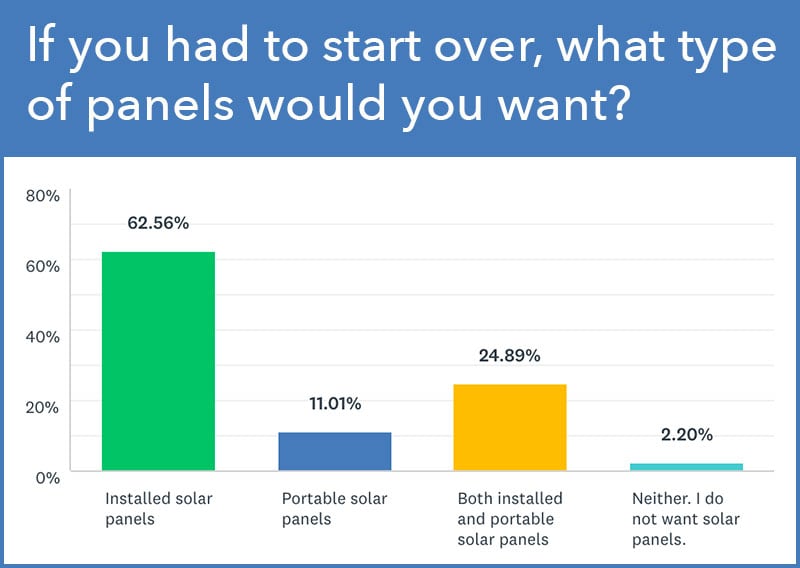 Note that the number of respondents who "do not want solar" drops to 2.2-percent.  This shows that the overwhelming majority of truck campers either have or want a solar panel system.
The preference for installed panels jumps as does interest in having both portable and fixed panels.  At 11-percent, portable solar panels remain an important part of the truck camper marketplace.
The survey question was, "What do you have – installed or portable solar panels – and why?"
"We started with a fixed panel on the roof. It works great, but sometimes we want to camp in the shade. To solve this we bought a portable panel. The portable panel also helps in the spring and fall with low sun angles. In my opinion a good solar system includes both portable and fixed." – Lou Buesseler, 2000 Ford F250, 2016 Northstar TC850SC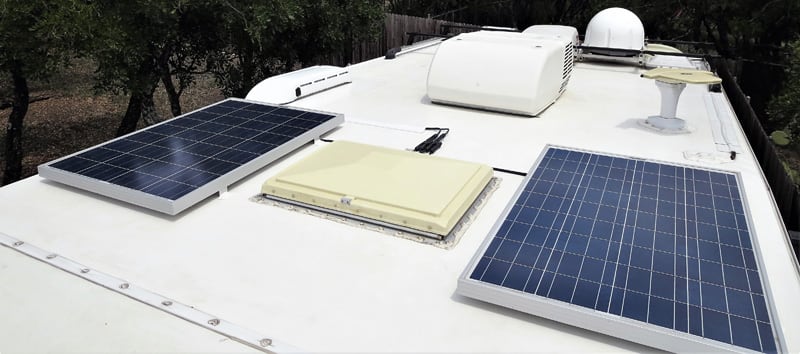 "I prefer installed solar panels for the reasons you listed. Basically, install them and forget them. I enjoy the benefits of having them as I have done for many years with trouble free service." – Eldon Rhodes, 2008 Chevy 3500, 2011 Lance 1050
"We have a portable solar panel for five reasons. First, it keeps our roof available for our two kayaks. Second, it allows us to park in the shade, but position our panels in the sun. Third, it allows us to leave them at home avoiding the extra weight when we know we won't need them. Fourth, it allows us to use them elsewhere to charge other things, or share them. Fifth, if we want to, it allows us to upgrade." – Donna and Bill Garrand, 2011 Ford F250, 2005 Lance 915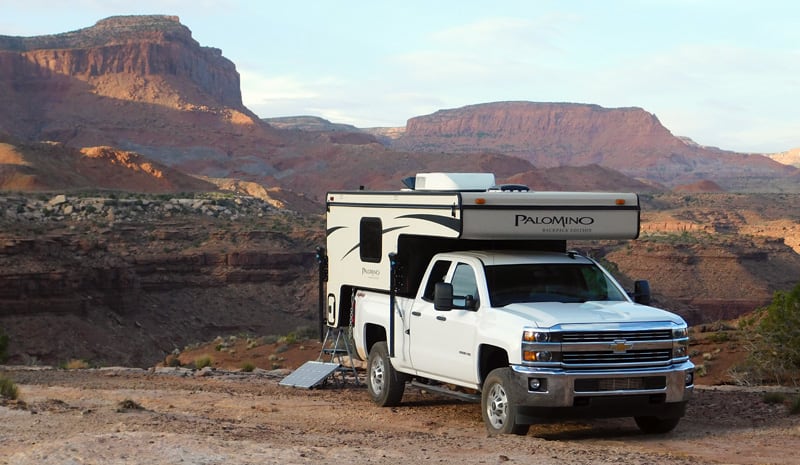 "We use a Zamp 80-watt foldable panel. We can move it to maximize output during the day, and the output is sufficient to keep the refrigerator running on propane while boondocking. For storage, it fits in the toilet enclosure (just barely), without impairing use of the facility. The location above is in Red Canyon, San Juan County, Utah." – John Wemesfelder, 2015 Chevrolet 2500HD, 2015 Palomino SS-1240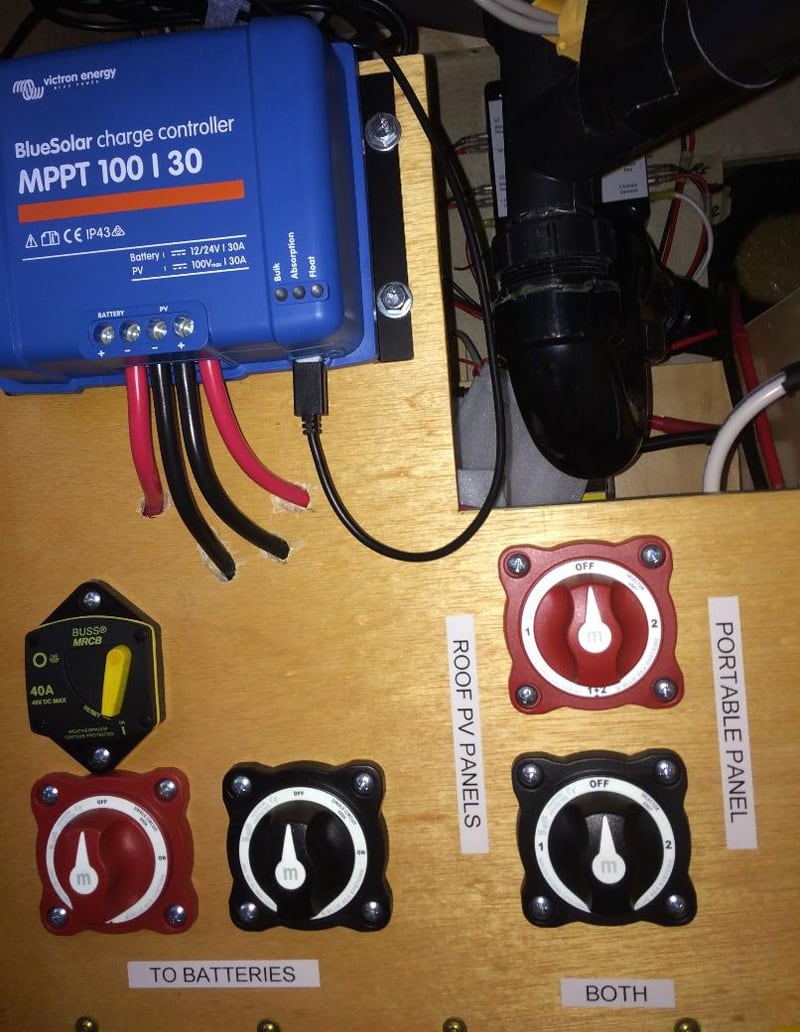 "I have two roof panels that are 100-watts each. They have tilt capability for winter low sun angles. I also have a 60-watt suitcase portable with no controller. Aiming and tilting the portable does just fine to augment the roof panels, even with 60-watts.
The roof panels and portable are compatible in regards to voltage. Both feed into a Victron BlueSolar MPPT 100/30 charge controller with a Bluetooth dongle. I can monitor and control my solar system via the Victron Connect app on my smart phone. I do not have a second controller on the portable, avoiding any conflict between competing controllers both charging the batteries.
I use mini battery switches and selectors to control what panel(s) are feeding the controller and to isolate the controller from the batteries when the camper is stored inside." – Jeff Sherman, 2016 Ford F350, 2016 Bigfoot 25C9.4SB
"I have both fixed and portable solor panels because our solar to electricity endeavors are an ongoing. We adapt and explore so we need various solar panels, charge controllers, and DC to DC converters.
We acquired two Iris Spaces military surplus foldable panels on eBAY, and use one panel alone, or two panels in parallel. Those feed a charge controller with an AGM battery or direct feed (no battery) though a DC to DC (8 to 40 VDC input, 13.8 VDC output regulated) converter. Those feed 12-volt DC fans, lithium polymer and USB chargers, LED lighting, etc.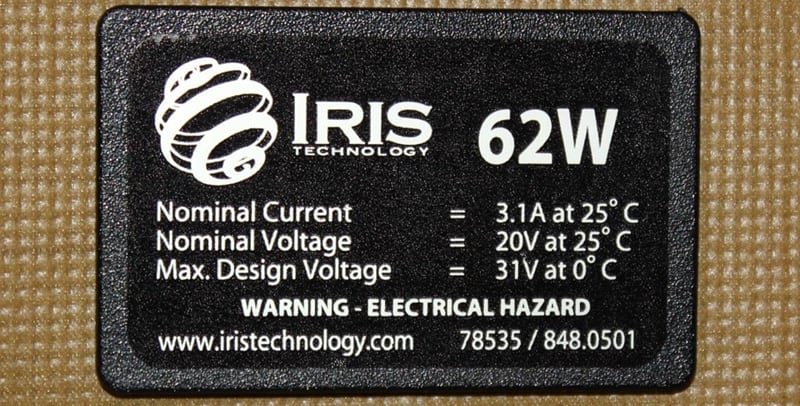 Two 95-watt, hard-framed solar panels are roof mounted on the camper feeding two AGM 6-volt batteries in series. They are about 12-amps load capable during bright daylight.  We have not tied the foldable panels in with the hard panels because the charge controllers would conflict." – Bill and Kira Jones, 2017 Ford F-350, 2018 Northern Lite 9-6Q SE
"Our portable panel serves duty in our off-grid cabin, on the boat, and the truck camper. We can stay a week at the beach with two group 27 batteries and never need to start the generator." – Harrie Ashley, 2018 Ford F-350, 2005 Lance 1030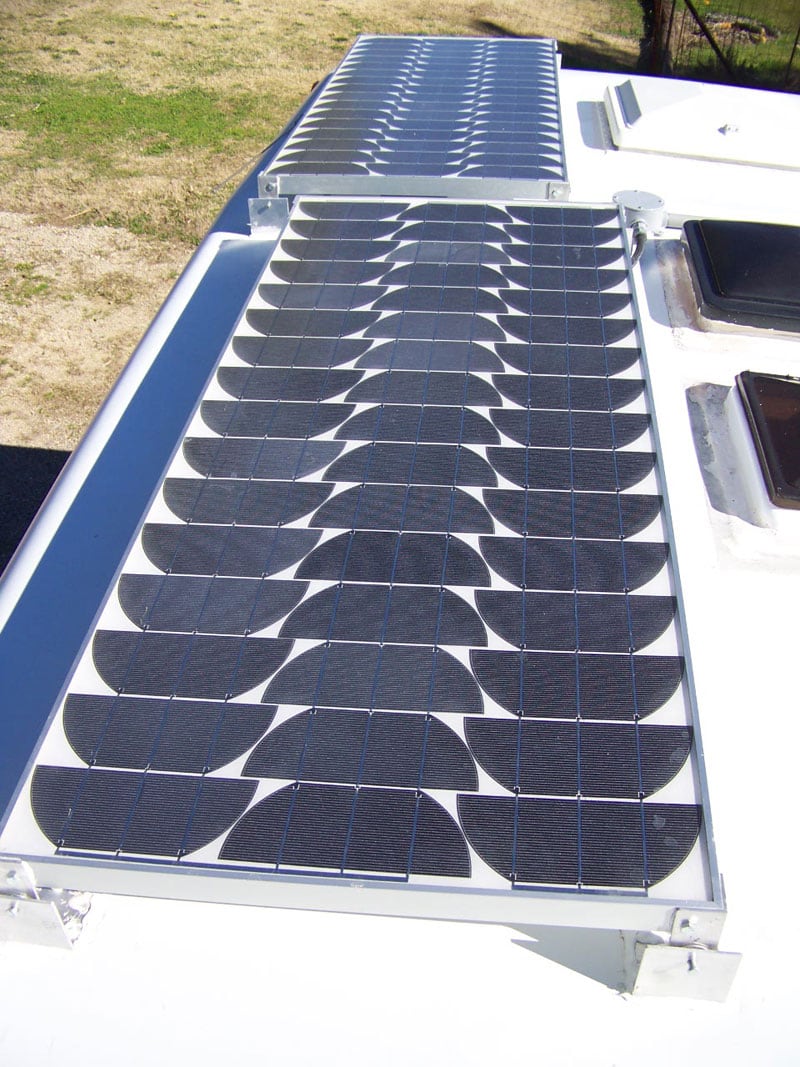 "Out of sight and out of mind, roof top panels are secure. Click for information about my install on RV.net.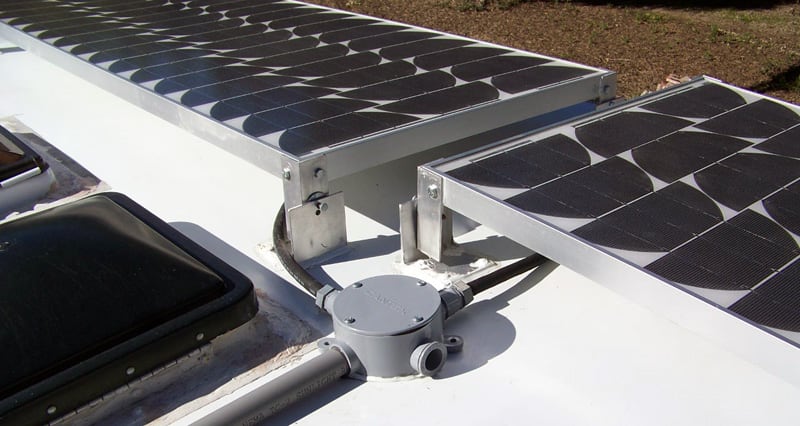 I fabricated custom mounting brackets and have 48 cell panels, 23vmp (maximum working voltage when hooked to a controller or battery), which are great for MPPT." – Jim Tomblin, 1994 Ford F250, 2000 Bigfoot 9.6
"I want both. I intend to add a portable panel to my installed panel this next year. If I park in the shade when it's hot, I could use the portable." – John Pence, 2006 Toyota Tundra, 2016 Four Wheel Hawk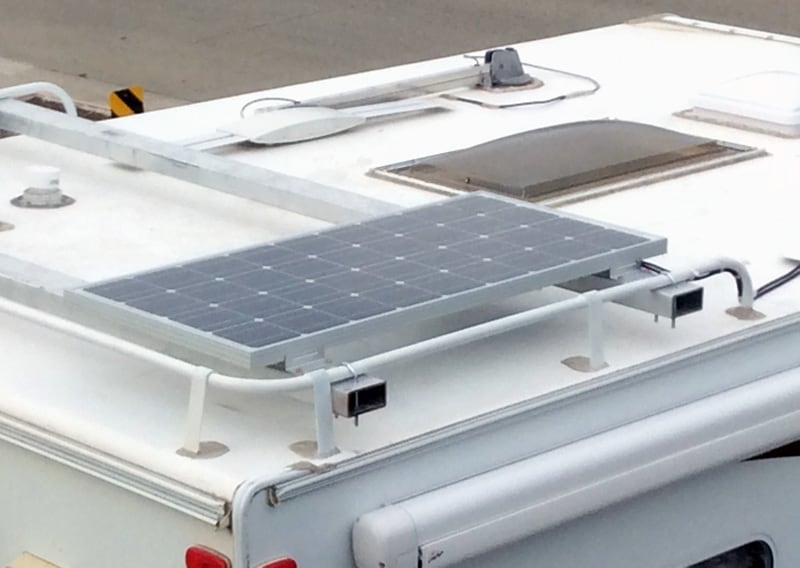 "I prefer the roof top solar panel that I installed five years ago. I have a 100-watt Renogy panel combined with two Group 27 AGM batteries. I also installed LED lights and so far so good. The advantage is that the panel is secured on the top and requires almost no maintenance. I'm pretty satisfied with the brand and its specifications." – Roch Nadon, 2007 Chevrolet Silverado 2500 HD, 2007 Okanagan 89WS
"This is really a question of preference. I prefer the permanent installation as I have no need to multi-purpose my solar panels from RV to boat to whatever. I only have the RV. My current set up is twin 95-watt panels installed at the Lance factory.
Yesterday my friend, Myron, and I just started two large projects that I have been putting off. First, was adding two more solar panels (140-watts each) on the roof racks and a second solar controller.
The second project is adding two more Group 31 batteries using Torklift's Hidden Power Battery Boxes that hang from the truck's frame rail." – Mike Tassinari aka Giga-Watts, Ford F-350, Lance 1172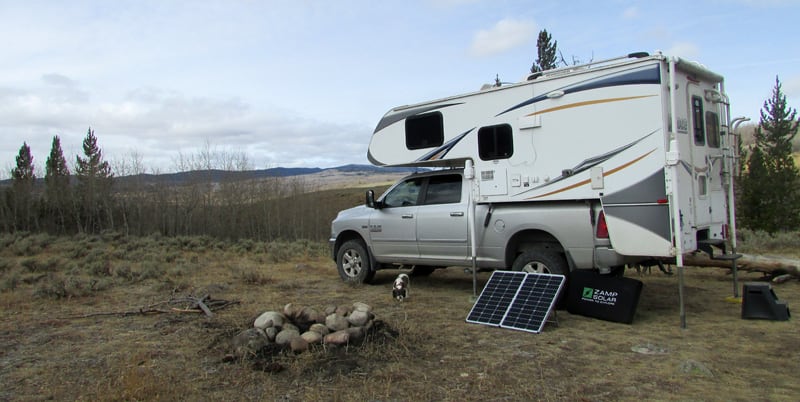 "This is the first year I've had solar and I opted for a Zamp 120-watt portable. Maybe I'm wrong in my thinking, but I already ripped off the television antenna on a branch. I enjoy getting into some fairly rugged boondock spots, so I was afraid of having expensive panels on the roof. Maybe they are more durable than I worry about. Having the panel folded up and behind the truck seats gives me more peace of mind.
Sometimes I drive part of a day and camp, and then go to a different spot the next night. The pickup takes care of the battery charging during the travel days.
If I stay a number of nights, it is always in a boondocking spot, so I break out the portable. Theft in those spots would be very unlikely. I just lock the portable in the truck at night, or if I leave camp." – Terry Gfeller, 2015 Ram 2500, 2013 Lance 865

"I have two 100-watt solar panels on the roof. I prefer fixed panels. They don't take up space.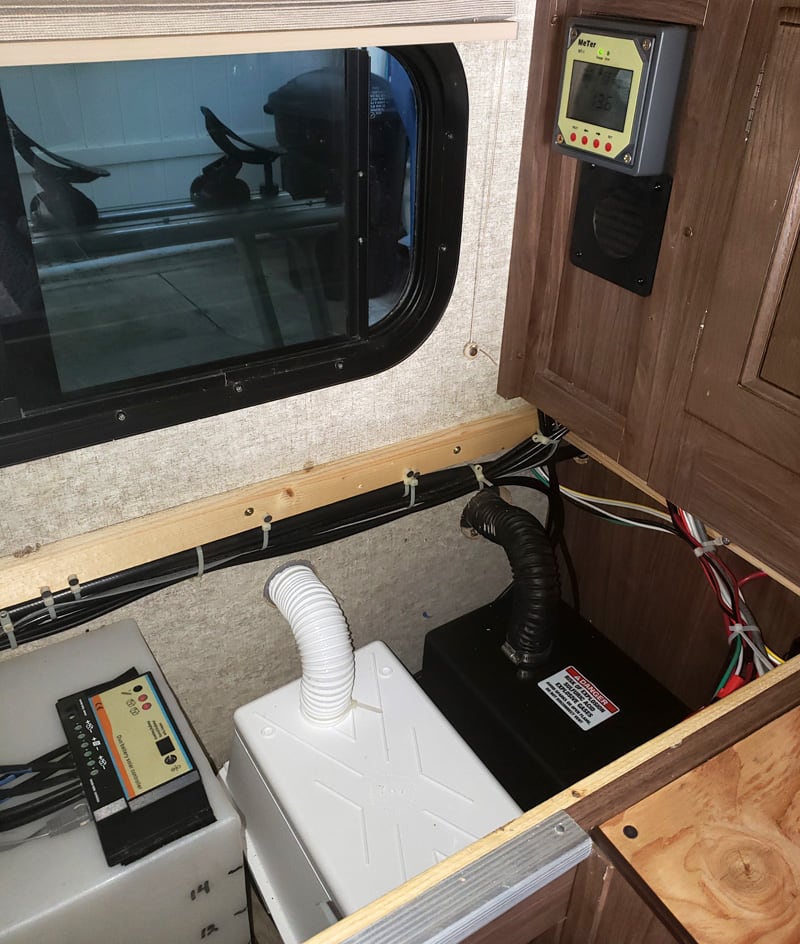 I just added a second battery to take better advantage of the sun." – Kent LeBoutillier, 2018 Ford F250, 2015 Palomino SS-550
"We have two 100-watt Renogy solar panels mounted to the top of our camper. With hard mounted panels I have some charging going on most of the day. This keeps the batteries from a complete discharge, which extends their lifespan. It also allows us to leave the truck parked or camper dismounted when we are dry camping. Portables take up too much valuable space and are easily stolen if left unattended." – Matt Wiegand, 2014 Ford F-150, 2017 Adventurer 80RB
"I prefer installed, but it would be nice if they could tilt or, even better, automatically track the sun. The only thing that worries me is large hail." – Charles Phy, 2011 Dodge 5500, 2010 Eagle Cap 1160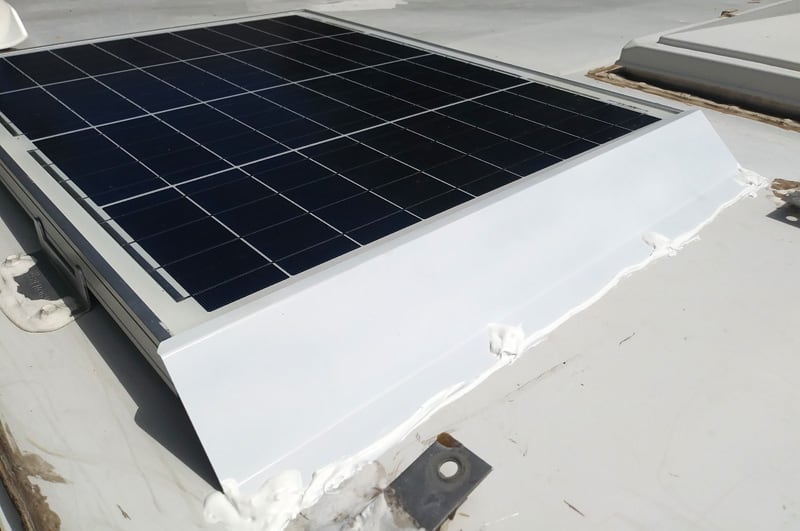 "For several of the reasons listed in this article, I have mixed emotions about portable versus fixed panels. We will be getting a portable panel for versatility. Either way, we love the extended amount of electricity they give us.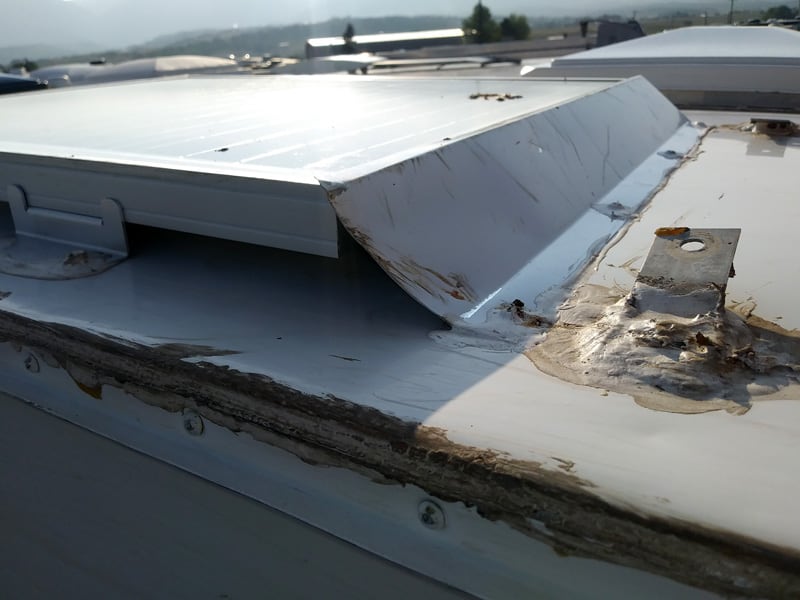 The two photos above are my mini-mod for our deep woods camping and abuse caused by low tree branches. As you can see from the scratches, the first trip out after I installed the mod may have saved our panel from being ripped off the top." – John Bailey, 2001 F-250, 1999 Lance
"I have installed panels, but they're angle adjustable." – Dietrich Kanzler, 2015 RAM 1500, 2000 Northstar TC800
"I prefer portable panels in order to keep the camper in the shade, while the panels can be in direct sunlight." – Michael Jensen, 2003 Chevrolet Silverado 2500, 2005 Four-Wheel Camper
"I installed a 160-watt panel a while back, along with a second house battery. It does a great job of keeping both batteries charged. We no longer stress over things like running the furnace. Since storage is already at a premium, I prefer the installed panel. It's one less thing to pack." – Tony Tabacchi, 1973 Ford F350, 1973 Ford American Road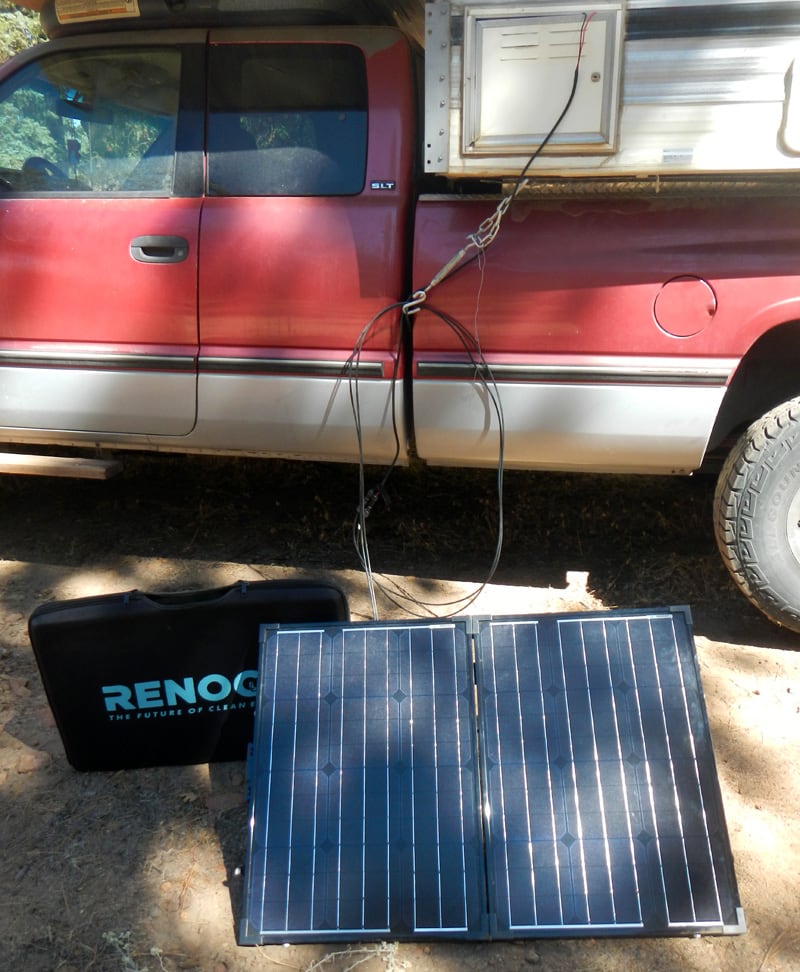 "Solar gives you greater efficiency. That is important when there's only one small battery expected to power a CD player and laptop computer all day, and a DVD player and television monitor for a couple of hours in the evening, as well as the other usual suspects in a camper. I get exercise climbing out every hour or so to shift the position of the panels to follow the sun. It's a poor man's solution.
Of course, as infirmity creeps up on me, setup and takedown, and constant climbing out and into the camper makes my approach increasingly untenable." – James Landers, 1997 Dodge RAM 2500, 1985 Lance 300
"I prefer installed panels. They are easy to deal with. Just clean them every now and then. I also have a smaller one that I carry and hook up if needed." – Jeff Hagberg, 2002 Ford F-250, 2006 Travel Lite 800SBX
"A hard wired system means less to store and less to keep up with." – Jerry Burnham, 2005 Dodge 3500, 2008 Arctic Fox 990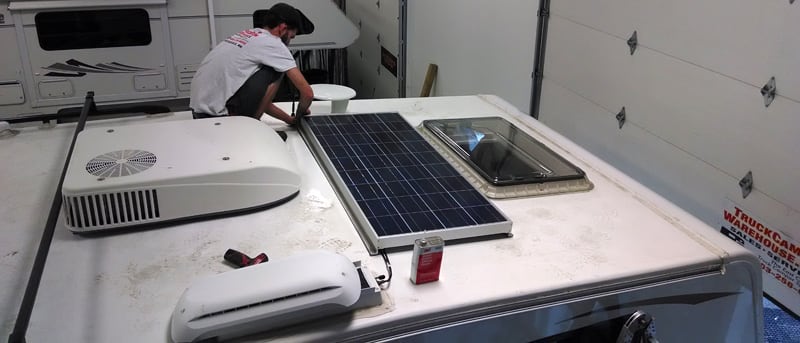 "I had our dealer mount our 140-watt panel and wire it in before we brought it home. There is nothing to drag in and out at the campground every time. I just keep the batteries topped with distilled water (or go AGM, which I'll be doing soon). I haven't really found a campsite yet where we couldn't park in an optimal position to get good sun." – Jim Duarte, 2015 Ford F-350, 2013 Eagle Cap 850
"Installed solar panels means there's nothing to trip over. If we take the boat, I have a 60-watt portable. Our Adventurer camper came pre-wired so all I had to do was purchase and install two 100-watt panels and a controller. I also installed two AGM batteries which work great. The only problem we have is making sure we we park in good sun." – Bill Londry, 2011 Chevrolet 2500HD, 2017 Adventurer 86FB
"My Arctic Fox 990 came with fixed panels. I don't tow a boat or have a need for portable chargers at the present time. It's one less thing to store, so it's convenient." – Dave Erickson, 2011 Ford F350, 2006 Arctic Fox 990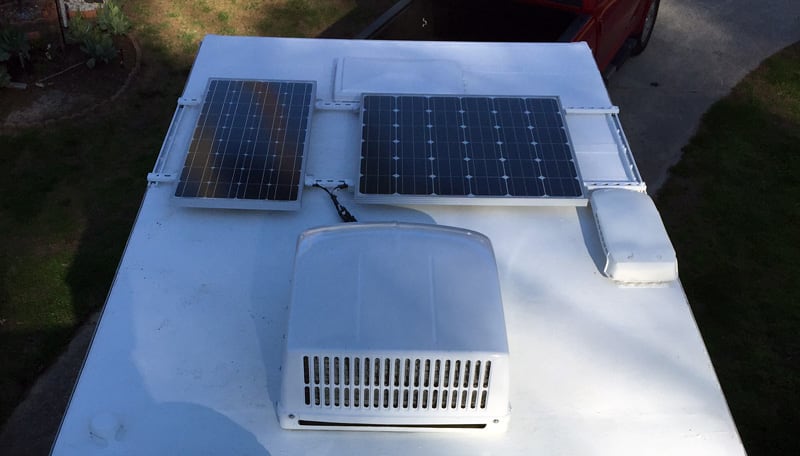 "I prefer to have my 250-watts of solar mounted on the roof. The panels are always there collecting sun. I don't have to worry about storing them and or having one more thing to setup when arriving at camp.
I do a lot of surf fishing and drive out on the beaches, so I need everything mounted and self-sufficient. There is also no gasoline generator for me. I have one of those small wind driven generators which works great at night (if the wind is blowing decent enough)." – Jeff Post, 2010 Toyota Tundra, 1999 Fleetwood Angler
"I prefer installed panels because they are no work. Out of sight, out of mind. They are always active. Mine can tilt to get the most sun. Because of the solar I am able to run fans inside during the summer for my dog." – Jim Haldeman, 2015 Chevy 3500, 1998 Lance 820
"My 2018 Arctic Fox 811 came standard with a 20-watt panel installed on top of the air conditioner unit. The wiring is routed through the air conditioner so there are no extra penetrations." – Martin Seeley, 2006 Silverado 2500 HD, 2018 Arctic Fox 811
"Our portable supplies our meager needs. Plus I prefer to park our truck under shade to make the inside of the camper more comfortable. That way we do not require air conditioning." – Emma Girt, 2007 Mitsubishi Raider, 1989 Lance
"I prefer installed panels. We do a lot of driving during the day and always have a charge going. I have never run out of power." – Gary Richardson, 2006 Chevrolet 3500, 2006 Lance 1181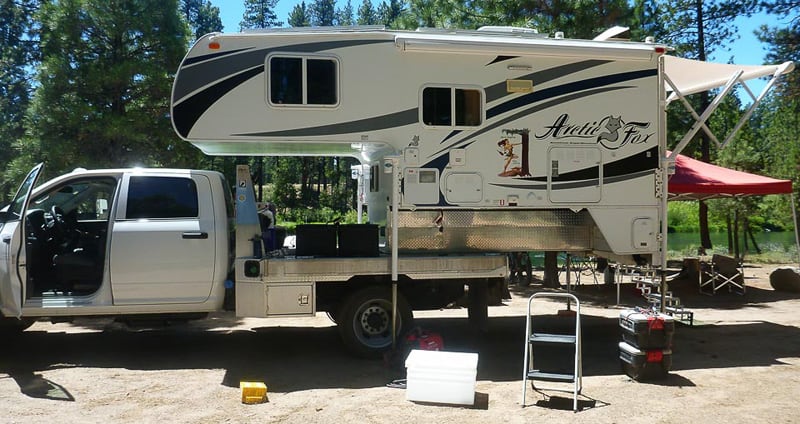 "Roof installed panels. I have three 160-watt Zamp panels, six 6-volt water batteries, and a Victron 50-amp controller.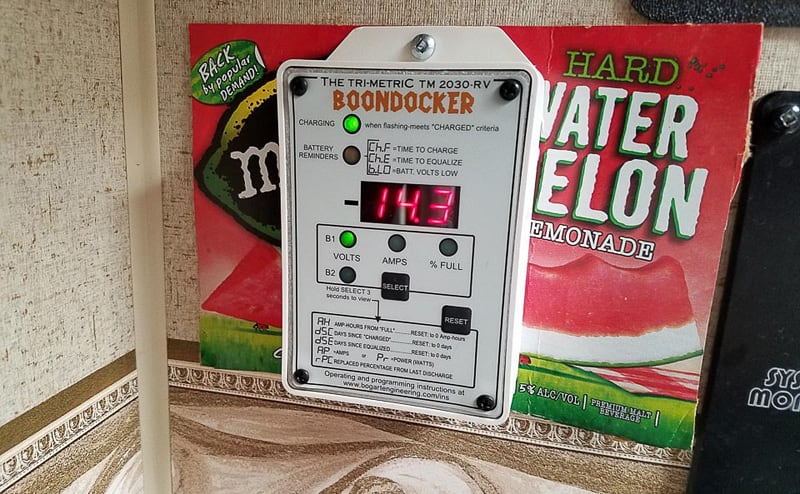 I still need one more panel and four more batteries for total of ten T-105s. Why? Apparently I'm a power user with just a television and laptop, but unless I'm in full sun, I have to run the generator, a Honda EU2000i, which needs replacement.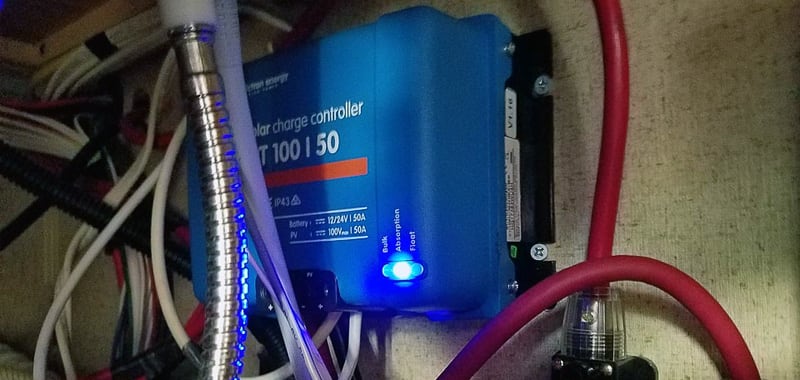 Camping in the forest is tough as well as rain and clouds. Portables would be hard to carry around and put up if I was in a tree area. I would also worry about them "walking away". My goal is to run the microwave without a generator. It's the "black arts", solar is…" – Frank Poole, 2016 RAM 5500 HD, 2016 Arctic Fox 990
"I prefer installed as they are always charging and always with us. They are out of the way, storage wise." – Richard Jones, 2005 Chevrolet 2500HD, 2013 Wolf Creek
"Currently I have only installed on my camper, but I want to significantly increase the amount of power generated and stored. I also frequently tow a large toy hauler for a pressroom/office, a shop, and storage of our hot air balloons, full body cycling bikes and trikes. We sometimes require even more power for charging instruments, heating tanks, or recharging eAssist units. A portable solar unit will (I imagine) come in handy." – Matt Fenichel, 2004 F-550, Bigfoot Camper
"I have installed panels. They are lighter and always on. The controller provides excellent ongoing and historical information on the 12-volt system in the camper. We have a 12-volt system display beside our other camper gauges (easy to monitor on a regular bases). There is no need to store a solar panel separately." – John Coombs, 2014 Ram 3500, 2017 Cirrus
"Mine are installed for security, ease of use, and there is no need to use up storage space. Plus they are always on, even when traveling." – Mark Saglimbene, 2017 Ford F250, 2018 Palomino HS-2901
"We currently utilize both. Our 160-watt roof top solar can't always fully recharge the batteries during the day, especially if it's partially shaded or the day is cloudy.
So we have a portable that we can angle towards the sun which easily tops off the batteries. This way our boondock time is limited by water and food, not power.
Prior to getting the portable, we would have to run the engine or drive every three days. I would prefer to have more efficient rooftop solar (or add a second panel) so we would not have to utilize both. So far it's not that big of a hassle." – Sandy Schmidt, 2006 Toyota Tundra, 2015 Four Wheel Camper Hawk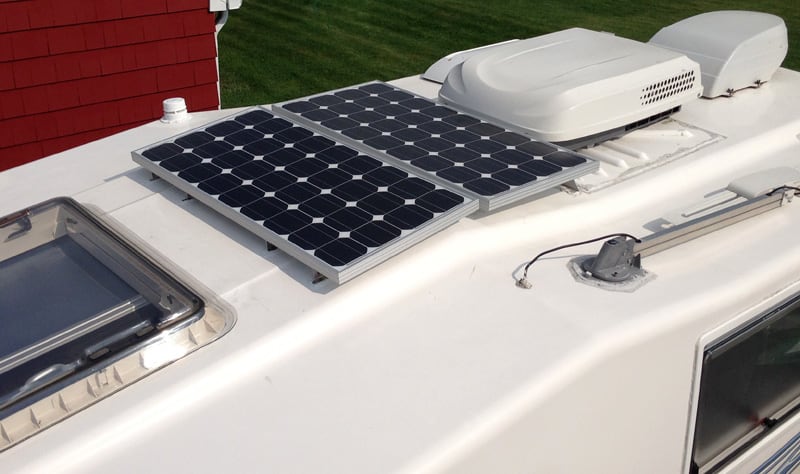 "We installed two 100-watt panels on roof of our camper because they are charging during the daylight hours whether we are moving or parked.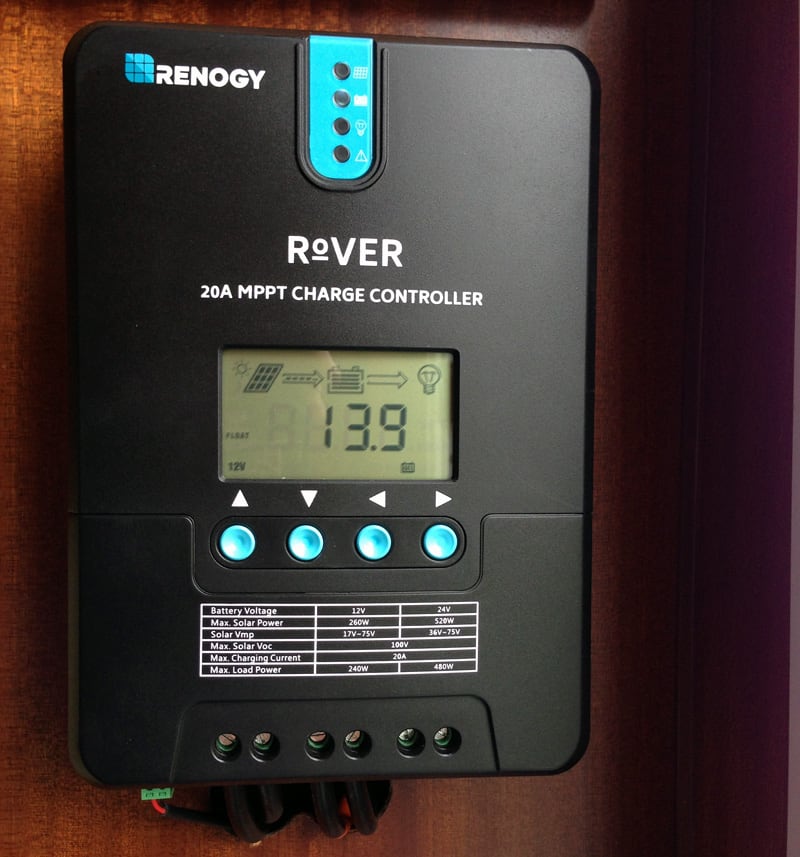 We don't have to find a place to store them or worry if they walk off." – Gary Goyette, 2016 GMC 3500HD, 2011 Northern Lite 8-11 SE
"We have one 100-watt panel installed on our camper now, but would like to have portable solar panel when we park in the shade in the hot summer. The camper has all LED lighting and we have an inverter to run everything on solar. We only start the generator when using air conditioning." – Kim and Lori Oliver, 2015 GMC 3500 HD, 2013 Adventurer 86SBS
"My panels are installed! Install them and basically forget them. I have had 75-watts for twenty years and I agree with you. This is the greatest single improvement/addition that I have ever done to a camper.
Now that a CPAP unit has come along, I added an additional 150-watt panel to help. Hopefully the 225-watts will suffice." – Bob Lick, 2003 Dodge 3500, 1993 Alpenlite 11'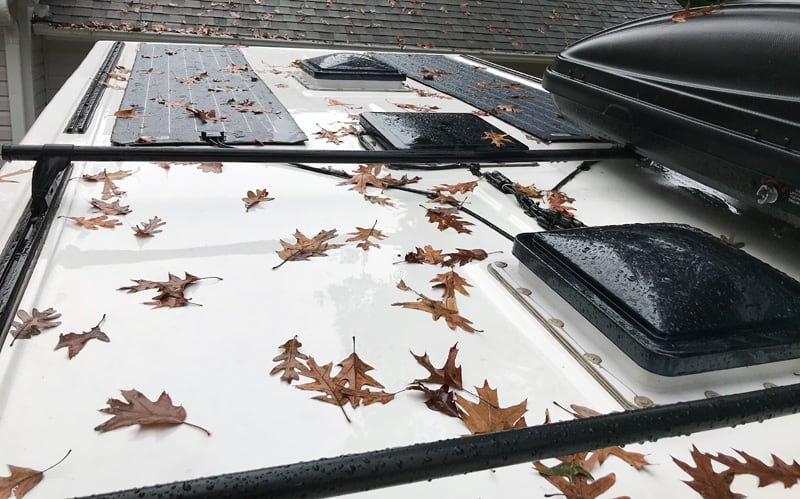 "Just as you mentioned in the article, setting up and then storing portable panels is a total "four point contact" pain! The only addition we're going to make is purchasing two lithium batteries to replace our AGMs.
Changing to LED lighting is great and saves on power drain. We took it one step further and use solar lights for inside lighting. We hang them in place with command hooks. We've found this doubles our our battery charge.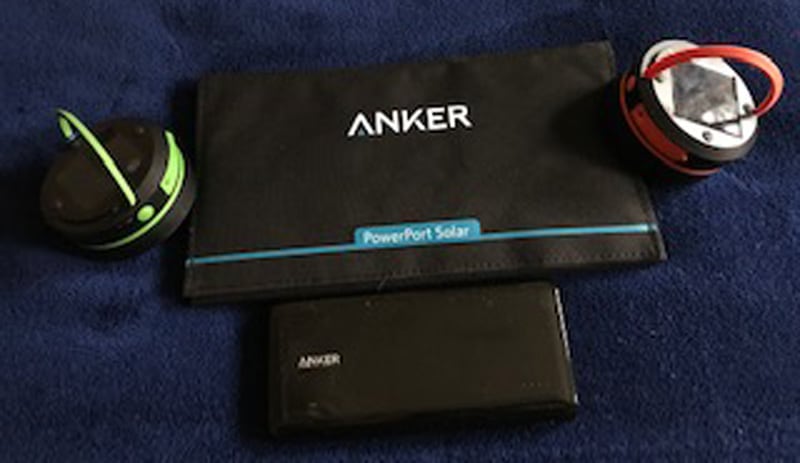 We charge the solar lights, cell phones and battery packs with a portable Anker Portable Power port Solar panel. We have two 26800mAH portable power banks that we use stored power." – Janet Schoenberg, 2015 GMC Sierra 2500, 2015 Hallmark K2
"My 2019 Arctic Fox 990 has a factory 20-watt solar panel mounted on the roof's air conditioner with a 10-amp charge controller in the camper to help maintain the batteries. I also have a portable 100-watt panel that uses the factory charge controller through a solar port under the left side of the camper.
I may install the portable panel on the roof some day but, for now, it works for me. The 990 has LED lighting and dual 12-volt DC batteries with a 2.5 KW generator making it great for boondocking." – Dean Curtis, 2002 Ford F-250, 2019 Arctic Fox 990
"Installed. I have three 100-watt GoPower solar panels. I don't have to worry about the theft. It's easy. Just point the camper towards the sun. I have two-max tank AGM batteries. I never have to worry about the batteries having enough charge. It works for me." – Greg Gaser, 2014 Ford F350, 2017 Lance 1172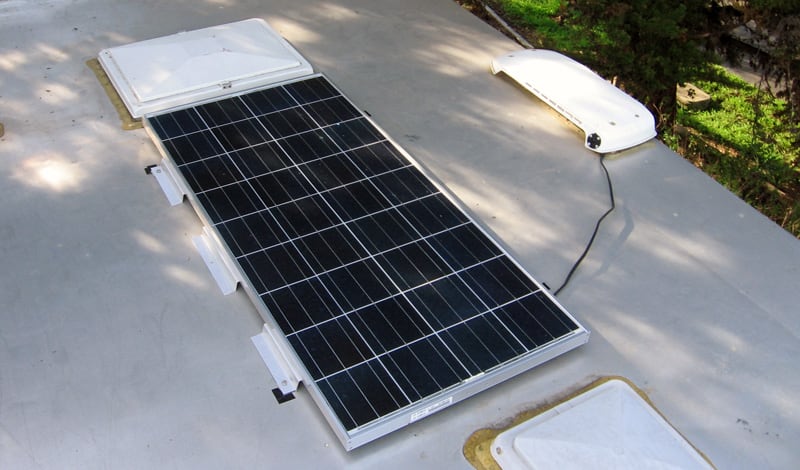 "I vote for installed panels. My 125-watt roof mounted panel provides some amount of charging as long as there is some sun on it. This is whether I'm on the road, at a campsite, or parked elsewhere. It's definitely the best addition I've made to my camper." – Ralph Goff (aka Ramblin' Ralph), 2006 GMC 2500HD, 2001 Lance 845
"Installed. You don't have to think about them. I am always maintaining my batteries." – Dave Snow, 1997 Silverado, 1998 Lance 990
"My panel is installed on the roof. I have a pigtail to use another panel portably. I can store the second panel, which is portable, on top of the fixed roof mounts. This way, no matter where I park, I can optimize charging." – Jay Kamys, 2004 Chevy 2500HD, 2015 Lance 855s
"I installed a 160-watt solar panel to our Arctic Fox 1150 this summer. It worked perfectly on a recent two month road trip to the Canadian Maritimes this fall. Since we don't remove our camper when traveling, or stay in one place for more then a day, the installed works far better." – Ken Pastorius, 2015 GMC 3500, 2012 Arctic Fox 1150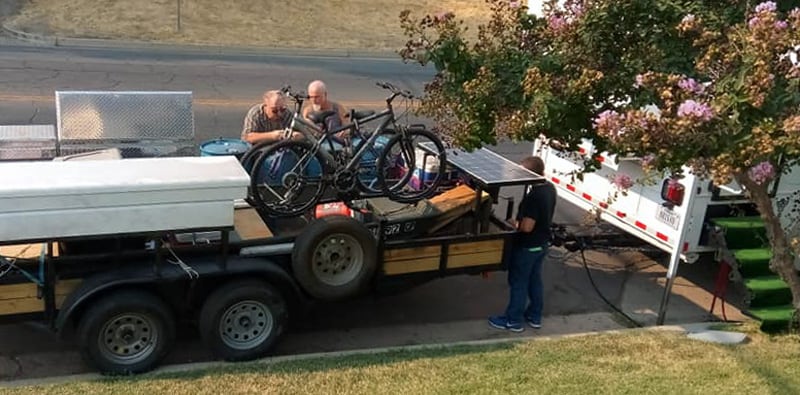 "Our Adventurer came with all the bells and whistles. We also haul around a 16-foot utility trailer (see above). It has an extra panel, batteries and other stuff like our toys and an extra generator that can power it. On the roof of the Adventurer there are two 100-watt panels." – James Tedford, 2012 Ram 3500, 2017 Adventurer 116DS
"Our three 100-watt installed roof panels are great for our winters in the desert. We also have a 100-watt solar suitcase panel that we use at home, in the forests of British Columbia, and on our cruising boat (which also has fixed panels). We don't bother carrying our Honda 2,000-watt generator anymore when camping or boating." – Joe Harris, 2000 Ford F350, 2006 Okanagan 106UDB
"I don't have solar panels. My RV dealer here in Minnesota was less than enthusiastic about even selling me any. I would install roof top panels if I could attach them to my Thule rack on the roof. I don't like the idea of not being able to maintain my roof and don't need more holes punched in the roof." – James Schumacher, 2007 Ford F350, 2008 Lance 1131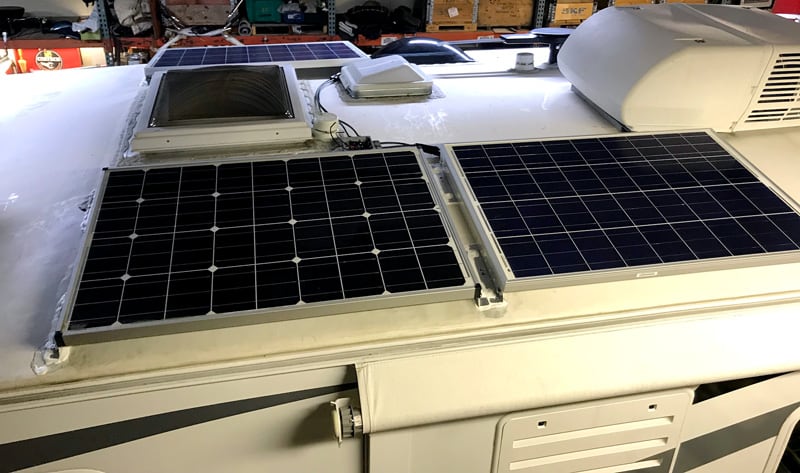 "Installed because they are always working!" – Vern Graham, 2007.5 GMC Sierra K3500, 2016 Arctic Fox 992
"We have a 95-watt panel installed on our camper. We also have a Honda generator, which we seldom use, but we carry it along with us just in case. Sometimes, however, we could use a little extra "oomph", power-wise. Another panel would probably be extremely helpful, especially since we could then dispense with the added weight of the generator by leaving it home. But, would we then need additional battery storage?" – John and Terri Tully, 2014 Ram 3500, 2015 Lance 855S
"Our electrical usage is limited. We have all LEDs lighting, one DSI circuit, a water pump, and the furnace for the winter. It all runs off a single T31 battery charged by the truck when moving.
We have a single 100-watt solar panel. The solar keeps up the battery, even for a week of dry camping without the engine/alternator running. However, we're in the southwest most of the time. If we venture into the northwest, I bring along a 1,000-watt generator just in case. To be honest, we've never had to use it." – Bruce Colby, 2004 Dodge 2500, 2004 Lance 835
"I prefer the installed panels because it is no muss, no fuss. They are just there doing their thing and I don't have to think much about them. If the batteries get too low for whatever reason, I just spark up the generator and charge up. You could have the entire roof of your RV covered with solar panels but if you're not getting enough sunshine to bring your batteries up to a reasonable state of charge, you have to do something or risk damaging your batteries." – Kevin Mooney, 2014 Ford F350, Okanagan
"Installed. No muss. No fuss." – Gordon Townsend, 2015 Silverado 2500, 2018 Cirrus 920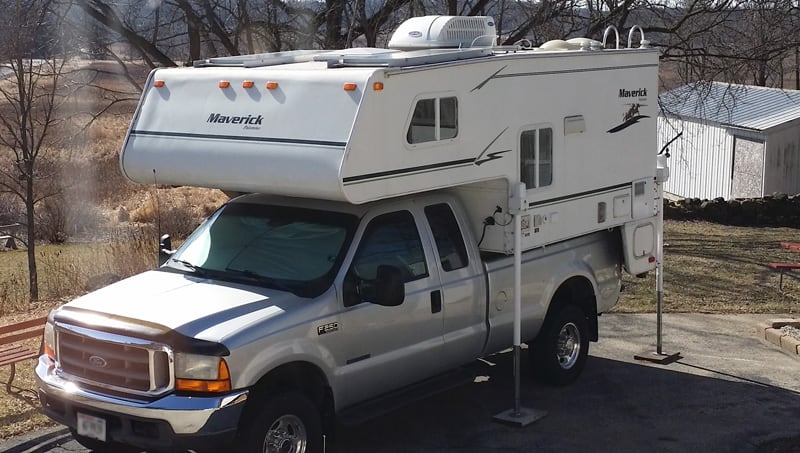 "I purchased a premium Renogy System. There are two 100-watt, monocrystalline panels and an MPPT charge controller on my roof. I designed it to be either affixed to my camper's roof or removed and plugged into the side of my truck camper (see photo below). I did this as we often have shady campsites here in Wisconsin.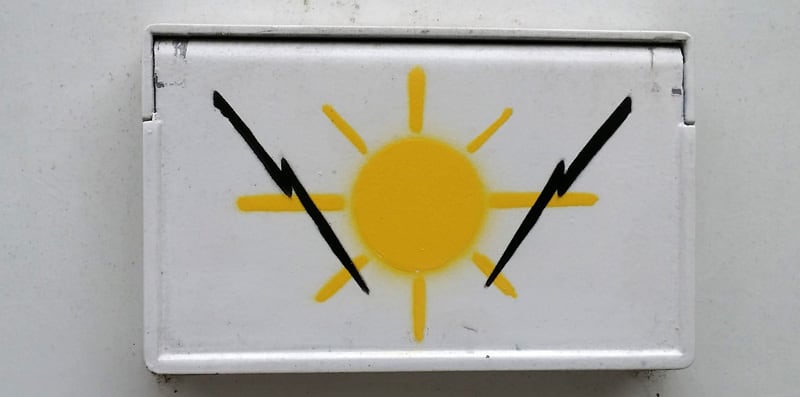 I felt it prudent to be able to remove the panels and reposition them on the ground (hopefully in the sun). Only four bolts per panel need to be removed to remove them. I made a modified connecter so I could use my 30-amp shoreline cord to connect the panels to the camper when the panels are on the ground. The system works great both on and off the camper." – Arn Chamberlain, 2000 Ford F-250, 2004 Palomino Maverick 8801
"Installed. They are always charging and are sturdy. If you are mindful of your vehicles dimensions, they last a very long time." – Thomas Bjerk, 2004 Ford F-350, 2000 Elkhorn 9T
"For the reasons cited in the article, we prefer installed. The hassle of setting up, worry about theft and then having to store while traveling is too inconvenient. In addition, we like that solar is at work as we travel on the road. That's sometimes for 8 to 10 hours at a time. I also like a clean/stark campsite. The less clutter the better." – Tim OSullivan, 2017 Silverado HD3500, 2008 SnowRiver 9'6″

"I prefer installed so that I don't have to mess with them every time we move camp." – Jim Jackson, 2017 Toyota Tundra, 2017 All Terrain Campers Panther
"I prefer a roof mounted solar panel. It keeps me charged up while I'm on the road. I no longer even plug the camper into the truck. There is no need to because the battery stays topped off until I stop, which is usually before dark.
I can see some advantages of portable pabels, but I would not have a handy place to store them anyway. I also never take my generator along anymore either." – Allen R. Brummel, 2013 Ram 2500, 2016 Northstar 650SC
"I prefer installed panels with portable for additional and/or shaded areas." – Joseph Bergeron, 2013 Ford F450, 2014 Chalet TS116
"I have a small Travelaire camper on my Tacoma with 400-watts of solar on the roof. I started with 200-watts which was great for about eight months of the year, but it just didn't cut it for the winter months.
I don't like climbing on the roof so I didn't put tilt brackets on the roof. That would have worked instead of adding two more panels. There is no fuss and it's well worth the cost of two more panels. I run a toaster oven and a hot plate with this set-up year round." – Mark Allen, 2010 Toyota Tacoma, 2018 Travelaire 7.6
"Our solar panels are installed, but can be tilted in winter for better efficiency. I would say installed is a lot better because we recharge our toys while driving and still have plenty of power when we stop to relax." – J & S Mathis, 1994 Dodge Ram 2500, 2005 Northern Lite 9Q
"I do a lot of lake hopping, rarely staying more than two days in any one spot. I prefer fixed panels. The less handling the better." – Brian Lakin, 2018 RAM 2500, 2017 Cirrus 820
"I would prefer portable panels. I like the idea of parking in the shade in hot climates and simply placing the panels in the sun. They may also give you access to the sun when required placement of the rig does not allow for it.
I don't like the vulnerability of roof mounting and the difficulty of cleaning them. The mounting brackets require more than a few holes which then translates to additional maintenance. Tilting the panels to match the sun angle might be a bit tedious.
The built-in controllers in portable panels do not require the somewhat extensive wiring and component mounting inside the cabin. Troubleshooting and maintenance (to include replacing components) is easier." – Neil Mullen, 2016 Ram 2500HD, 2018 Eureka
"I like the portable panels because we often camp in forested areas. I can place the panels in the sun while the camper is often under tree cover." – Doug Baker, 2006 Toyota Tundra, 2006 Six Pac D650
"Installed. There's no question about it for us. Our installed panel works all the time without any issues. It doesn't necessarily need to be directly in the sun to charge our batteries. The controller indicates charging even during cloudy conditions, rain storms, and even works under our winter storage cover.
I'm not willing to give up any additional storage room of an external panel, and we don't want to have to worry about it wandering off. For us, the installed panel is the only way to go." – Tom and Mary Bailey, 2015 Ford F250, 2013 Arctic Fox 811
"If we had to choose one it would be installed units. The advantages are obvious. If I could also install a portable unit as well that would help when we camp for several days in a shaded area." – Eddie Fort, 2016 Ford F-350, 2016 Hallmark Everest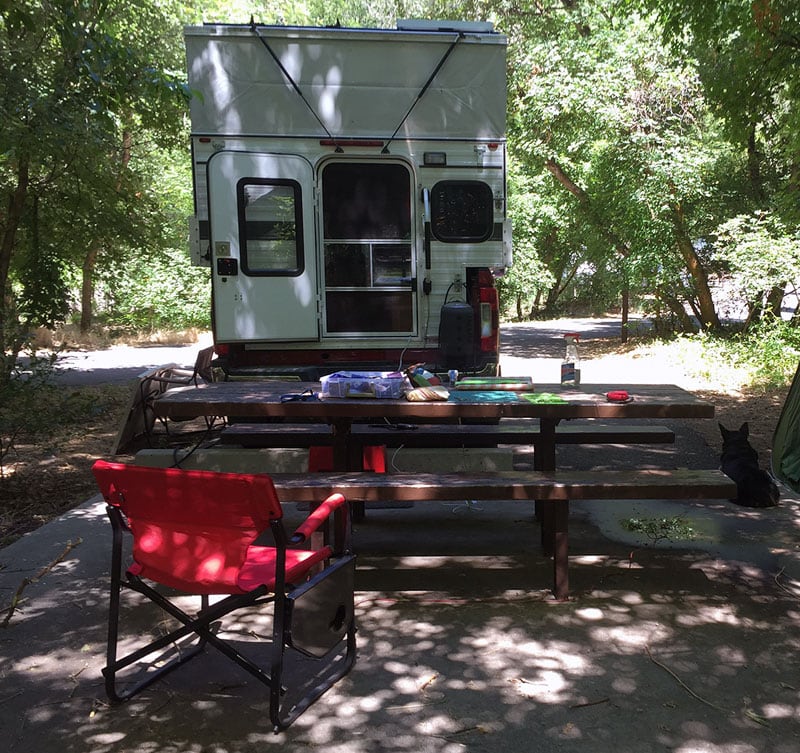 "The installed panels are easier to manage since they are fixed in place. But, there are times that it is handy to have a portable panel to add a little extra power when the camper is parked in a shady location and you don't want to move it to catch more sun.
We were camped at Cherry Creek Campground (no shore power) near Provo, Utah where the mountains and trees shaded the installed solar panels until nearly noon. We were able to shift the portable panel into enough sun to maintain power for the refrigerator until the installed panels were in the sun again.
The portable panel is to the left of the truck and in the shade in the above picture. We moved the portable panel about every fifteen minutes until the fixed panels were finally in sun." – Laurel and Howard Wilson, 2018 Ford F350, 2016 Four Wheel Grandby Shell
"I made a steel cover over the handle of my portable generator and a steel wire to my solar panel once the legs are down. Both are secure." – Real Charbonneau, 2008 Silverado 1500, 2017 Travel Lite 800X
"Both." – Garry Hewson, 1997 Landrover Defender130, Home built camper
"I have factory Installed dual 80-watt panels. They have kept the camper's dual 100-amp hour AGMs and the truck's diesel dual batteries charged by themselves for four years so far.
Our part of California gets about 70-percent solar coverage. Portables would create a space problem for us and the only out of the way place to put them ironically would be on top of the camper. Our property faces due south next to the garage and has driveways on the other three sides." – Joe Sesto, 2015 Silverado 3500, 2015 Bigfoot 2500 10.6e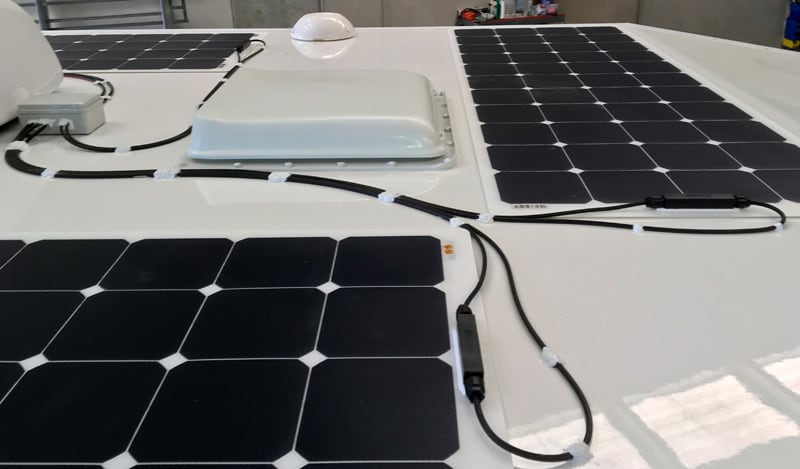 "We have tried both and find that the installed panels are much easier as it is one (or more) less item to stow away. Also, when the camper is in storage, the batteries remain charged and the solar is secure on the roof." – Steve Berry, 2017 Ford Ranger (Australia), 2017 Ozcape Optima (Australia)
"I have enough stuff on the roof already." – David Murphy, 2005 Dodge 2500, 2007 Adventurer 810W
"I like installed for the security issue as well as storage. None is needed." – Ed Kuivinen, 2009 Ford F250, 2016 Lance 850
"We have three 95-watt panels on the roof. If I had the storage room, a portable unit would be nice, but I don't know how I'd store it. The only time a portable unit would be used would be if we were camped in the trees and had a sunny spot to put the portable unit. I like having roof mounted panels since they are charging all day long." – Kevin Presson, 1997 Dodge Ram 2500, 2011 Outfitter Apex 9.5
"My Cirrus 820 came with one 180-watt solar panel and a charge controller that can handle two more. I just haven't needed to add any more. The Alde heating system and all LED lights mean that I can get through any night with just the two Group 31 batteries that came installed. I have never seen the voltage go below 12.0 volts. It's a great system." – Dirk Keeler, 2017 Ford F350, 2018 Cirrus 820
"We have a small installed Zamp panel to trickle charge the battery and are planning to add portable solar panels. Living in the Midwest exposes the panels to hail damage and extreme weather. A large panel is not a good investment if it's exposed to the elements." – Katrina Hess, 2012 Ford F-350, 2019 Arctic Fox 990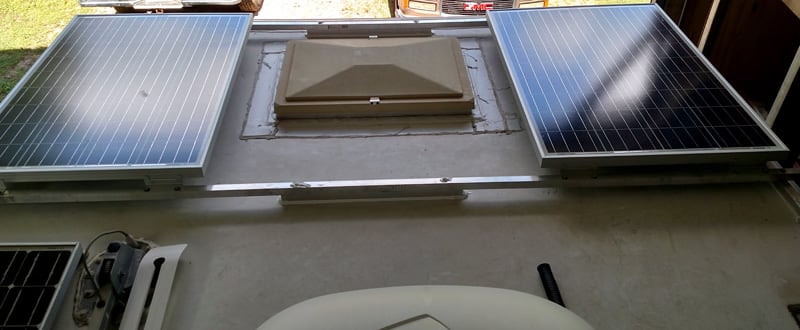 "I prefer installed because they are always charging. If you are tired and sleep late, you don't forget. It is also nice that when you are driving, you are charging. They are also relatively theft proof. If you steal the out of sight, out of mind bolted down panels off my roof, I probably have bigger issues.
I have two 100-watt panels that I put on as well as the OEM 58-watt panel from Lance. My roof is full now. I will go with portables in the future if I end up wanting a little more juice. I do like the idea of charging my bass boat batteries while boondocking." – Kevin Jenckes, 1996 Ford F250, 2006 Lance 820
"We have had both styles of panels. In the dark days between our current Northern Lite and our prior Arctic Fox (when we mistakenly owned a Class C) we had a portable panel with a built-in controller. I had a jack installed on the exterior of the camper with a fused line to the batteries.
That panel had a 30-foot cord and could be set up at different angles so it always got the best view of the sun, if I remembered to keep moving it. Moving it meant attaching the security cable some place else on the vehicle's frame. It was very easy to walk away with it.
I am lucky as we still had it to sell with the Class C. I am not sure where I would store a large panel in my truck camper. If you think that a point for having a camper is its mobility, then I would choose rooftop installed." – Jim Kaley, 2018 GMC Sierra 3500, 2018 Northern Lite 8-11 EX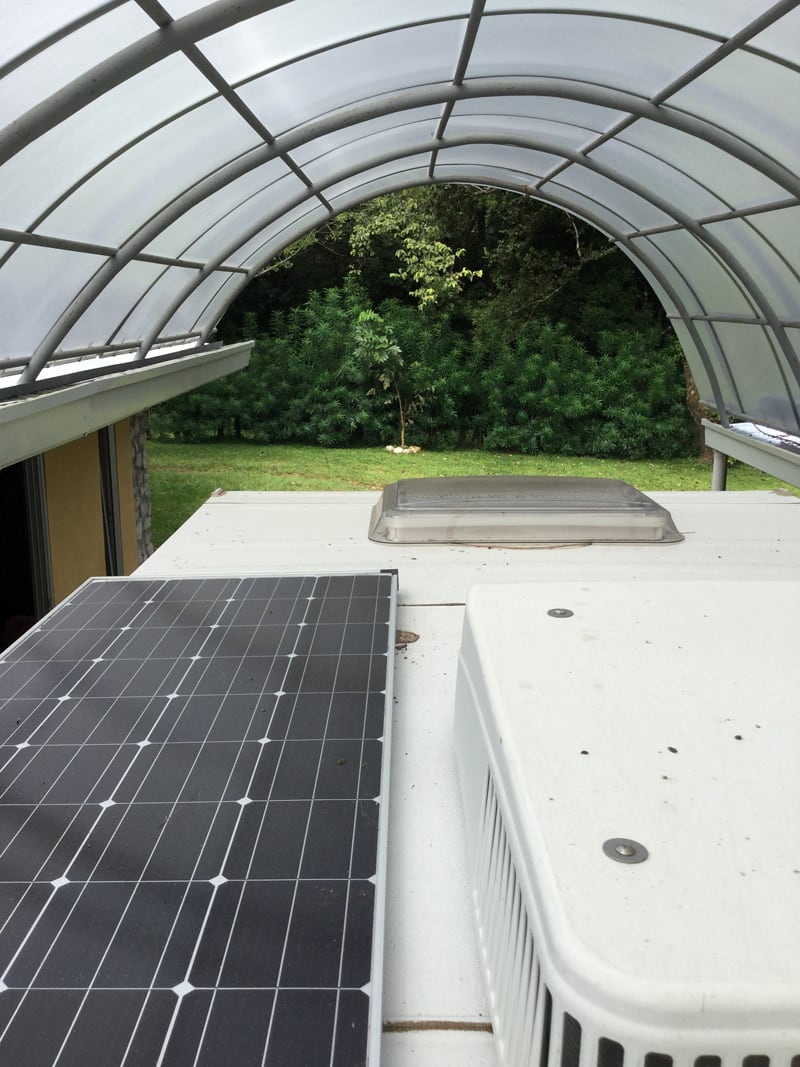 "My choice is installed, but there are times when I need to park in the shade or in a garage. So both installed and portable would be a nice option to have. If I had to choose, I would rather have installed solar panels. In my particular case we built a polycarbonate dome, so light can pass through, and the batteries are topped off." – Alex and Vianney from Costa Rica, 2015 Ford Ranger, 2017 Northstar 600ATV
"The Arctic Fox 990 had a small 20-watt solar panel from the factory. I immediately had that removed and installed two solar panels for 340-watts of solar. I also have two AGM batteries. Thus far I have only used 15-20-percent of the battery at night.
We have had three fans running, the television, LED lighting as well as a CPAP machine for eight hours. I had a professional install so that I would not worry about the true capability of the RV. I had a converter installed at the factory and had an inverter installed after picking up the RV. The converter is rarely ever needed." – Donald Fox, 2915 Ford F-450, 2018 Arctic Fox 990
"We dry camp so, when we park in church parking lots, hotels, information centers, or small county parks, the panels are on the roof.
Portable panels are too easy to walk up and take. When we camp up north we take our camper off and use it to carry our kayaks. We're gone all day so we would be hoping that no one walks off with solar panels. Remember out of sight, out of mind!" – Neil Steirer, 2017 Ford F-350, 2014 Lance 1172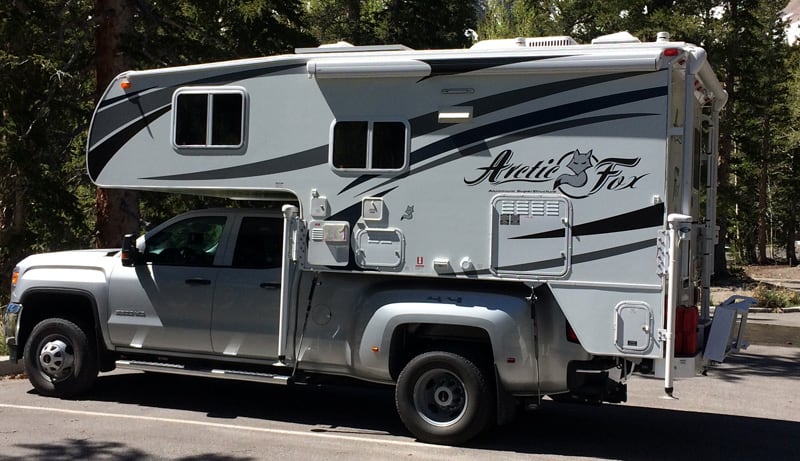 "We prefer installed solar panels. As stated, they are secure, stored on the camper's roof, and always charging when the sun is out." – George Visconti, 2015 GMC 3500HD, 2016 Arctic Fox 990
"I prefer installed panels. I don't have them, but I am planning to have them installed on my next camper in 2019. I would not want the hassle of packing and unpacking portable panels. Traveling alone and frequently overnighting in the parking areas for trail heads or town parks, I seldom set up camp. I use very little electricity when traveling; no microwave, air conditioner, etc. Even in my 18 year old camper, I have very seldom run out of power, even when boondocking for a week." – Michele McLeod, 2013 Ford F150, 2000 Travel Hawk 9.5
"I have the 200-watt Renogy portable folding panels. They store easily across the rear seat of the crew cab. The semi rigid zip case makes a nice flat surface.
I removed the Onan 2500 LP generator and have a slide out tray for the Honda 2000. I also have two Group 31 series batteries and a 2000-watt inverter using the Onan heavy 12-volt cables. The inverter ties into the previous 110 AC box for the Onan.
I very rarely need the generator or the inverter, except to use the microwave." – Bernard Woessner, 2015 Ford F-350, 2011 Lance 1181
"I like the idea of both." – Jack Peckham, 2002 GMC K2500HD, 2005 Lance 865
"I like the ease of use with the panels installed. I have no additional needs for power beyond my camper, so it's the best option for me." – R P Drake, 2017 Ford F-250, 2018 Four Wheel Camper Hawk
"I have one installed 45-watt solar panel that I put on when the camper was new back in 2002. That was a decent size panel back then. It still keeps the batteries charged, but I would like to upgrade to more watts. My Lance was pre-wired for the solar panel so I need to find out what the capacity is for the installed wire." – Erwin Greven, 2002 Chevrolet 2500HD, 2002 Lance 921
"I have two installed solar panels that are 140-watts and 100-watts. Once they are installed, installed panels are pretty much maintenance free, except for an occasional washing. Having said that I am contemplating adding a 100 to 140-watt portable panel to supplement the installed panels when we're in shade or have a low sun angle." – Henry Nelsen, 2007 Toyota Tundra, 2012 Northstar Liberty
"With an installed panel I don't need to set them up, store them, or concern myself with someone borrowing them." – Brian Plourde, 2007.5 Sierra 2500 HD, 2015 Adventurer 80RB
"Installed solar panels are great because of security. As soon as the sun comes up, they are charging the batteries. If you're in an urban area, they are charging and are not on the ground or parking area.
Mine are modular, so I switch them from the truck camper to the fifth wheel. Two 100-watt panels are sufficient to keep two lead-acid batteries going all day. I also have a Honda generator, but rarely use it day or night. As a matter of fact, we are dry camping for the months of October to January in Tucson, Arizona." – Lucien Langlois, 2012 Ford F-250, 2004 Lance 1025
"I don't have solar yet, but it's next on my list of major improvements. Right now I've only thought about roof mounted panels, but the idea of a portable system seems appealing. A dual setup may be the way to go (if that's possible)." – Max Jones, 2008 GMC Sierra 2500 HD, 2008 Lance 825
"Installed. It's out of the way and always on." – Bill Elwell, 2016 Ram 2500, 2016 FWC Hawk
"I have often thought about installing solar panels, but haven't yet. Since a truck camper is so portable I think that I would want panels mounted to the roof. It would be nice to be able to easily remove them for when I am dry camping under trees for more then a couple days. This way I could set them up away from the trees. Being on the roof is the only decent storage location for panels." – Ed Makowski, 1978 Honey Camper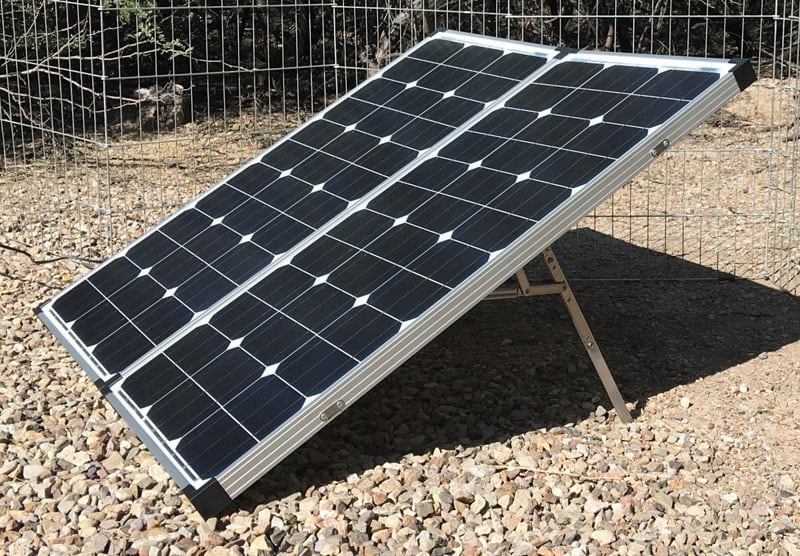 "Both portable and installed panels have their advantages and disadvantages as pointed out in the article. When you use both methods as we have, you get the all the advantages and get to chose the best solution for the campsite you are staying in right now. In my blog I have both a write up and three images showing the Zamp panels, controller, and alligator clips attached to external battery terminals on our Lance camper." – Larry Pearson, 2017 Ford F-450, 2017 Lance 850
"We use both installed and portable panels. Along with our truck camper we have two teardrop trailers. One teardrop has portable and the other installed. One common theme which includes the truck camper is storage of the portable when it's not in use.
On all units, storage is an issue. The installed panel is always out of the way and is always working. Even though it is not always directly facing the sun it still charges the single battery. Our Arctic Fox is new to our stable and came prewired with Zamp components. There is a small panel mounted to the air conditioner unit which doesn't do much except when in storage. There is also a plug affixed to the roof for installed panels. I plan to mount a panel to the roof in the future." – Bob Klope, 2009 GMC 2500HD, 2018 Arctic Fox 811
"I've always used a homemade portable setup of two 50-watt panels hinged together. I added some little adjustable legs to them made from sawed off aluminum crutches in order to always get an appropriate angle to the sun.
Here in the southwest we try to park in the shade and simply use a 25 foot extension cord to reach out to the panels that are placed in a sunny spot. We're usually boondocking alone and have never even thought about having the panels stolen. A portable setup can be easily moved throughout the day to track the sun. The camper's battery is, of course, charged by the truck as we drive along so I don't need them on the roof. We take this setup along on our boat trailer for the boat camping trips we go on." – James and June Morris, 1999 Ford F-250, 1999 Lance 1120
"A portable panel so that we could also use them to charge our boats batteries. The Lance 650 has connectors you could use for a portable panel in the front of the camper. I believe all the Lances have that feature and would save putting wires in the wheel well like in your picture." – John Zysk, 2010 Tundra, 2016 Lance 650
"Installed. No hassle. They are always attached and there are no worries about storing when traveling." – Rick Holgers, 2016 Ford F-350, 2018 Eagle Cap 1165