In November of 2014, we teamed up with fellow truck camper and electrical system wizard, Tom Emerick, and his sons to install one 150-watt ZAMP solar panel on our project truck camper.  You can see the full write-up about our solar panel installation process here; Installing A Solar Panel System and Installing A Solar Controller.
More than any other addition or modification we have made to our project camper, the single 150-watt Zamp solar panel has made the most significant impact, followed closely by replacing all of our incandescent lights with LEDs.
After the Mid-Atlantic Truck Camper Rally the following April, we went to Assateague National Seashore with Tom, his wife Pat, and a pack of fellow truck camping friends.  Located off the coast of Maryland and Virginia, Assateague is a barrier island primarily known for three main things; (a) excellent beach combing, (b) excellent fishing, and (c) the wild Chincoteague horses that often meander, walk, and flat-out gallop through the camp sites.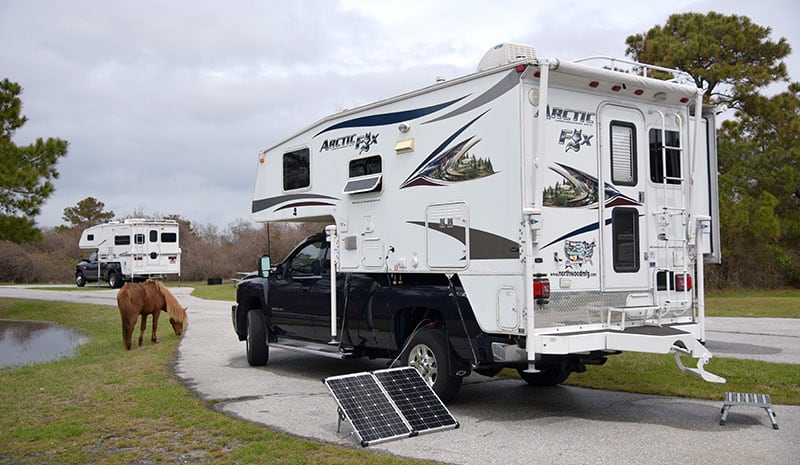 The campsites we stayed in were dry camping only.  With two Group 31 AGM batteries, 150-watts of solar, and all LED lighting, we were all set for power in our project camper (behind the horse).
Tom didn't have solar installed on the roof his Arctic Fox 990.  Instead he had a Zamp 140-watt portable solar panel kit.  The portable solar kit was designed to generate 140-watts at 6.7-amps.  On the backside of the dual folding panels was an integrated 5-stage, 10-amp waterproof solar charge controller.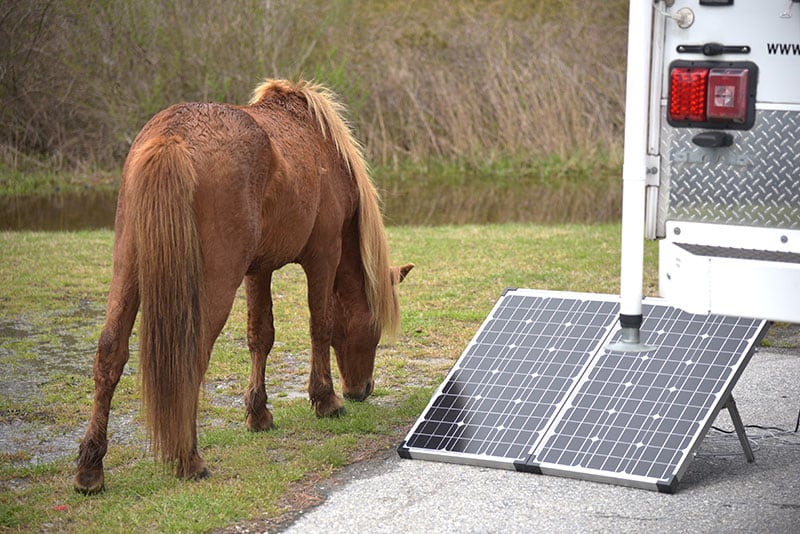 Advantages To Portable Solar Panels
The advantage of the portable panel for Tom was versatility.  Not only could he put the panels in the sunshine and face them towards the sun for maximum possible efficiency, but he could also use the portable panels to charge his boat's batteries.
Since a very high percentage of truck camper owners tow a boat, this could be an important feature.  Portable solar panels also don't require being screwed into a RV roof creating additional potential leak points.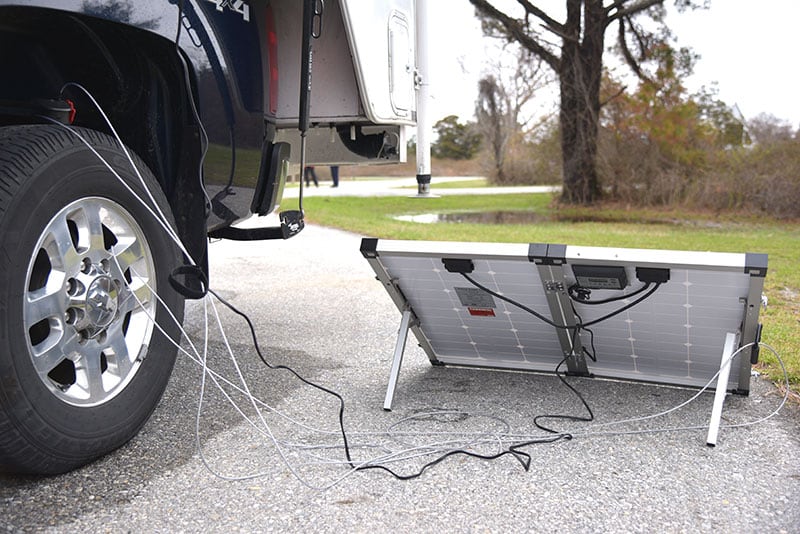 Disadvantages To Portable Solar Panels
Of course portable panels have their disadvantages.  First, you lose the constant charging of fixed solar panels.  We love that our installed solar panels are charging on our camper whenever the sun is shining.
Second, you have to set them up when you arrive, and store them when you travel.  Roof solar is always set up, and always "stored" out of the way.  The only setup required for installed panels is parking in the sun.
Finally, portable solar panels could be an inviting target for thieves.  Much like portable generators, portable solar panels are expensive, look expensive, and are designed to he highly portable.  We know many folks who use bike chains and other security systems to protect their portable generators.  Portable solar panels require similar precautions to prevent walking.
As with anything to do with truck campers, there are always pros and cons.
This QOTW is now closed.  Check out what readers have to say by reading, "Off-Grid Camping with Portable and Roof Top Solar".