It's no fun to overheat when you're out camping!  Readers who camp in the summer heat share strategies on how they keep their camper cool in hot weather.  A hose mister on the awning.  Yes, please!
Ways To Keep Cool While Camping
Camp in the mountains and get higher in elevation.
Park in the shade.  Go to forested areas.
Turbo Cool Swamp Coolers work great in dry climates.
Hang a hose mister from the awning to cool off.
Fantastic Vent Fan or an Endless Breeze Fans keep your camper cooler.
Maxx Air Vent Covers allow for open roof top vents all the time.
Use the air condition using your generator.
Go to a campground, plug-in, and use the air conditioner.
"We have roof air but mostly stay in the mountains as much as possible and camp at Division of Forestry camps.  They don't have electric so we open our large windows and run the Fantastic Fan as required." – Don Walker, 2009 Dodge 3500, 2008 Northstar Igloo
"Though our camper is factory-equipped with ducted air conditioning, we've rarely camped in a place with shore power.  We have a Fantastic Vent fan over the kitchen/dinette area and use both intake and exhaust settings.
For quick cooling of the dinette area, we use the intake setting on the fan as this cools the area under the fan most quickly.  For camper-wide cooling, once interior temperatures are down, we use the fan in exhaust mode to bring fresh air throughout the camper.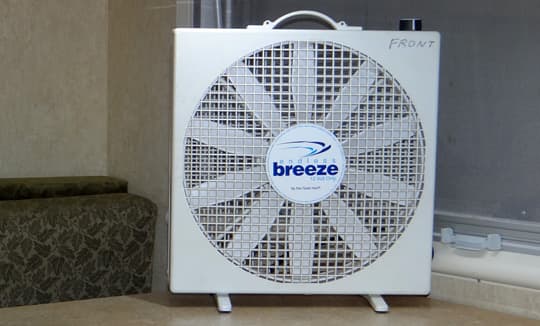 The single biggest bonus item we have purchased is the Endless Breeze portable fan, which is a Fantastic Vent 12V fan in a free-standing portable model.  For sleeping in the heat, this can be positioned near a window to direct cool air quietly and efficiently directly into the cabover (or anywhere else desired).  It is very energy-efficient and quiet for the volume of air it moves.  It is definitely one of our must-haves when camping in warm weather!" – John and Marylou Wells, 2011 Chevy 3500, 2012 Chalet Ascent S100F
Check Out –> Cool Camping Spots for Hot Weather
"First, our Lance is a four-season camper.  Insulation works both ways.  We park in the afternoon shade, choose a site with a breeze, and leave a vent open at night.  There might also be a lake nearby.  The air conditioner controls humidity and excess temperatures." – Phil Tron, 2009 Chevy 3500, 2012 Lance 1050
"We have two Fantastic Fans, a roof mount reverse cycle air conditioner, and under floor ducted heating.  Depending on the weather we use what is needed.  We also have three deep cycle batteries and two solar panels totaling 230 watts." – Douglas Packer, 2012 Dodge Ram 3500, 2013 Eagle Cap 1160
"I live in Washington State, so I stay cool all year." – George Cox, 2014 Ford F350, 2009 Arctic Fox
"To keep cool, I just open the windows.  More often than not the furnace will be on at nights when camping at 10,000 feet." – Fred, 2005 Dodge Ram 3500, 2008 Northstar Arrow
"We use our built-in Create-A-Breeze fan or, if it's really bad, we use our air conditioning." – Tim C, 2013 Ford F150, 2013 Palomino Bronco 1251SB
"We are lucky as we live and play in the mountains of Idaho.  Very seldom does it stay hot enough for air conditioning.  However, we did have an 85 degree evening while camped at an Outlaw Concert at the Old State Pen in Boise last summer.
As a result, we're going to make custom screens for the two blocked off, lower side cabin vent areas and possibly add a Fantastic Fan.  Our camper of the future will probably have air conditioning and a generator.  We are starting to like more creature comforts!" – JT More and Sue Jurf, 2004 Ford F250, 2005 S&S Ponderosa 8.5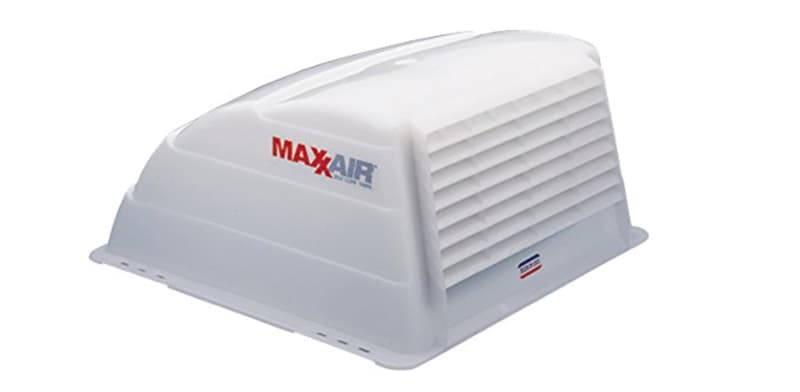 "Obviously, the rooftop air conditioner unit and Fantastic Fan are our first and second, or sometimes second and first, choices for keeping the camper cool.
One simple mod that we did to help keep the camper cool was to install the MaxxAir vent covers.  It's a simple and relatively inexpensive installation and it allows you to drive your truck camper with the vents open.  If you live and camp in warm climates like we do, then this can make a considerable difference in the temperature inside the camper.  It also makes it a lot easier to cool the camper down once you reach your destination.  We went with the smoke colored vent covers to allow more light in.
With the MaxxAir vent covers installed, we even leave the vents open when we store the camper." – Rex Carroll, 2004 Ford F350, 2006 Alpenlite Cheyenne
"No air conditioner, just a Fantastic Fan, open windows, shade trees, and higher elevations.  It works for us." – T and D Hoch, 2013 Ford F350, Northstar Arrow