Ron Chandler takes his 2021 Jeep Gladiator and custom Phoenix truck camper on some of America's most challenging off-road trails and camps in secluded beauty.  Here's how his incredibly capable rig came together, and where it allows him to go.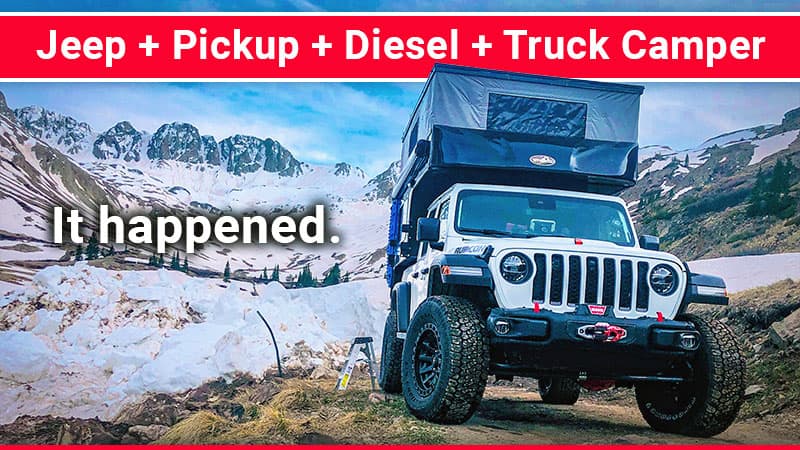 A new diesel Jeep pickup was the stuff of dreams for three decades.  Diesel torque.  Jeep suspension.  Jeep mojo.  When Jeep finally announced they would launch a diesel Gladiator pickup in July of 2020, diesel-loving, truck adoring Jeep fans simply lost their minds.  At long last, they would have the combination they'd been waiting for.  A new diesel Jeep pickup truck!
Ron Chandler read that paragraph and thought, "Yup, that was me."  Soon after it was announced, Ron purchased a 2021 Jeep Gladiator with the 3.0-liter turbocharged diesel V-6.  This is the same diesel found in the Wrangler and Ram 1500 and provides the Jeep 260-horsepower and 442 lb-ft of off-road thirsty torque.
Ron added 35-inch E-Rated tires, a Hellwig sway bar and made plans for an Australian flatbed conversion for a possible camper.  All went perfectly to Ron's plan until the Truck Camping Gods (or quite possibly the universe) itself intervened.
Okay, maybe that's one step too far, but try explaining how Ron just happened to come across the perfect truck camper for his rig, at the right time, and there was a Gladiator on hand for measurements.  We've been touting the existence of road magic for years (it's real), but rig magic?
Whatever you call it, we're fairly certain larger forces were involved.  With what might be the luckiest Phoenix Camper find in history, Ron was set up and ready to tackle his favorite  North America Jeep trails and camp where others couldn't imagine.  Naturally, his remarkable story, much like his camper discovery, is best told by the man himself.
Side Note: To those who are thinking, "It's too small"!
For anyone who thinks this rig is too small or lacks too many features to be considered a truck camper for their purposes, we'll bet you a full fresh tank that we can change your mind in just two words; tow it.
Instead of just towing a Jeep behind your truck camper rig, you could be towing a Jeep Gladiator and Phoenix Camper that's capable of going places your (comparatively) big, comfortable, and road preferring truck camper probably would destroy itself trying to reach.  Then you can camp there.  Yeah, that's a cool idea.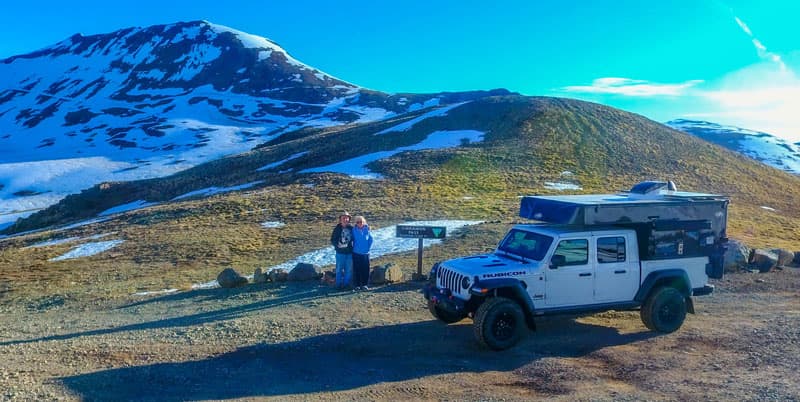 Above: The Chandlers with their Phoenix Camper and Jeep Gladiator at Cinnamon Pass
How did you get into off-roading and camping?
As a young boy growing up in St. Louis, our father would always take us out west camping.  He eventually purchased a 1970 Ford pickup truck with a slide-in camper.  I usually rode up in the cabover's berth and looked out the front window watching the scenery go by.  I realize this dates me.
Dad always loved trucks and campers because we could pull boats or motorcycles.  We spent every vacation out west from Colorado to Montana.  We even camped on the Baja coast and surfed.  I have always hunted, fished, and camped.  It must be in my blood.
My wife and I have always loved overlanding.  We had a 1987 Volkswagen Vanagon Syncro and have been all over North America from the most eastern tip of Newfoundland to the far north of Alaska and Canada.  It was time to upgrade to a newer platform for our adventures.
I waited for a few years for Jeep to come out with another truck.  I wanted an overland rig that was more than capable to take us wherever we dare point it.  With the weight constraints of a small pickup, we needed something that had a lower center of gravity and was lightweight.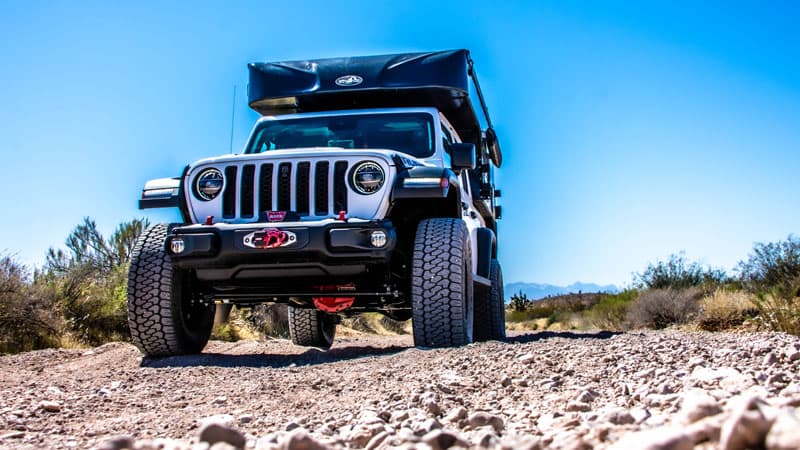 When you bought your Jeep Gladiator, were you intending to get a truck camper?
Originally I was going to put a flatbed on the Jeep and a flatbed truck camper on top of it.  When I ordered my Jeep, I didn't have the bed lined because I was going to put a flatbed tray on it.  There was a three to four-month wait before the flatbed tray was going to arrive from Australia.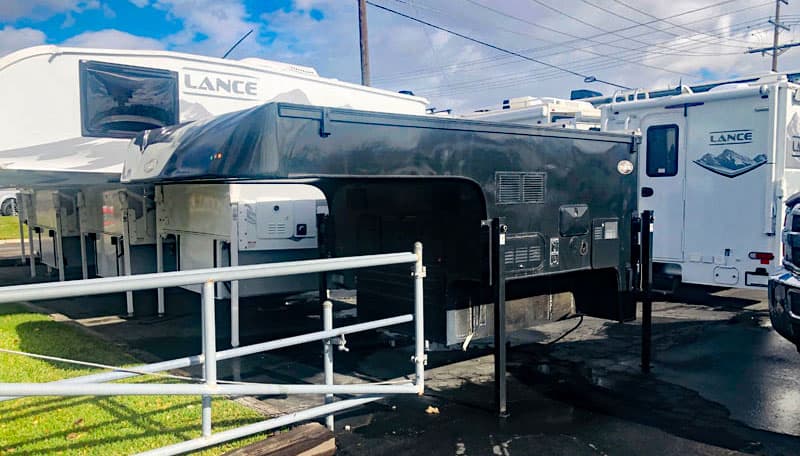 In the meantime, I was driving through Salt Lake City, Utah, and saw a Phoenix Camper sitting on the lot at an RV dealership.  From the road, I could tell it was small.  When I went in to take a look at it, a guy who had just bought a Gladiator pulled in.  I was able to take the measurements off his truck.  Then, I measured the camper and figured it would fit.  I purchased the Phoenix Camper that day.
That was incredibly lucky. What is the bed size on the Jeep Gladiator?
My Gladiator has a 5-foot bed.  And believe me, I know it was lucky.  When I put the camper on, it fit on my 2021 Jeep Gladiator like a glove.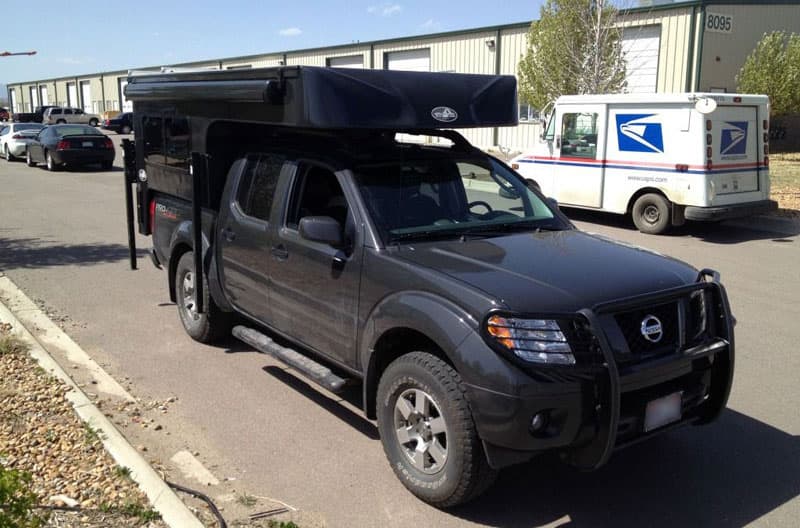 Phoenix Campers custom builds every camper specifically for a customer's truck.  Do you know what type of truck your camper was originally built before?
It was originally built for a Nissan Frontier (shown above).  The Nissan Frontier's bed size just happens to be the same as the Gladiator's bed size.
However, the weight of the camper was a bit high for the Gladiator's payload.  When I got the camper, I stripped things out and remodeled the interior to make it more modern and lightweight.  Another way to reduce weight from a rig is to reduce the weight of the truck.  With this focus, I removed the rear seats in the Jeep.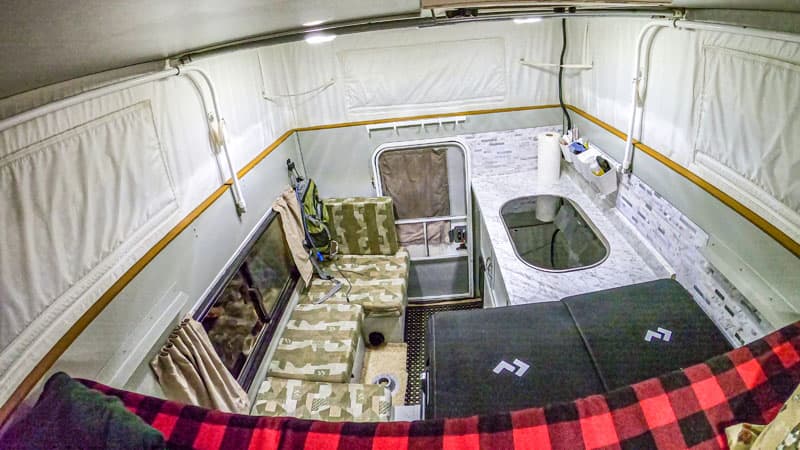 How did the camper remodel reduce the weight of the unit?
First, I removed everything that wasn't needed.  Then I changed the metal propane tank with a fiberglass propane tank.  Next, I removed the original heater and installed a lighter diesel heater.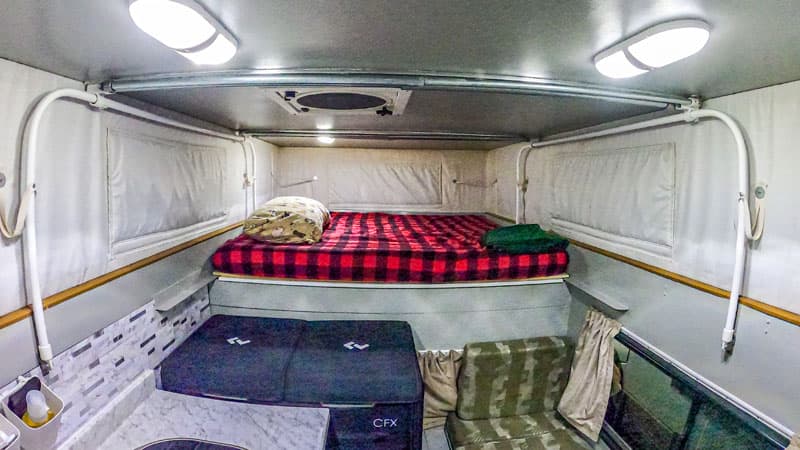 My wife wants to keep the hot water system, but I'm thinking of a combination diesel heater and on-demand hot water system so that I don't need the tank capacity.  When traveling, I rarely haul any water until I reach my destination.  I have a filtration system so I can get water from almost anywhere.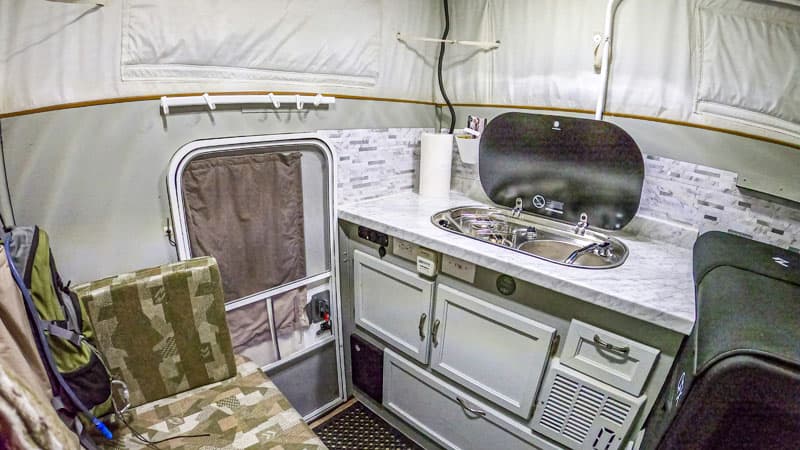 Finally, we pack light and really focus on reducing the weight of our camper.  From everything I did, and our lightweight packing, we have reduced the weight of the truck and camper by about 420-pounds.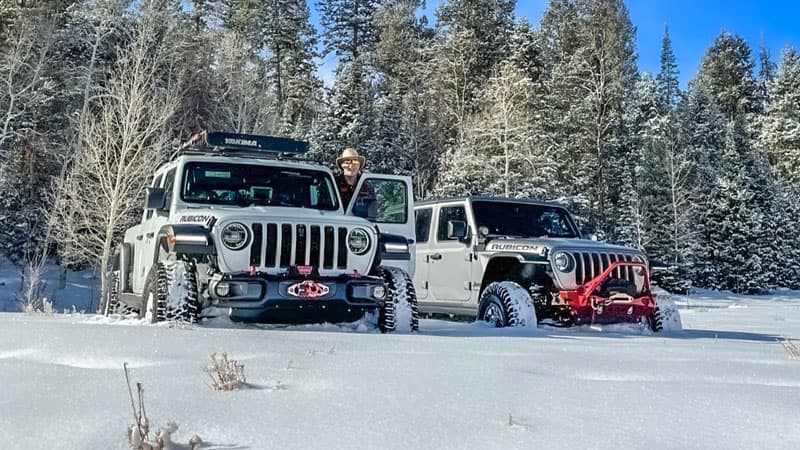 Above: Ron and his Jeep Gladiator on the left
That is impressive.  I bet we could all remove a good amount of weight from our rigs if we got that serious about it.  Did you have to make any modifications to make the Jeep Gladiator and Phoenix Camper properly fit together?
I have a Gladiator EcoDiesel; a 3.0-liter, turbocharged diesel V-6.  I upgraded to E-rated tires and AirLift airbags.  Even with the improved tires and airbags, only a stripped-down pop-up, like my custom Phoenix Camper, would work on a diesel Jeep Gladiator.  You really need something lightweight.
The Jeep Gladiator has a rail system in the bed.  For the center of gravity, I had to remove the front rail to get my camper further forward.  I also installed some plastic blocks on the inside of the wheel wells to center the camper while loading.
It's like my camper was built for my Jeep.  Everyone has said, "It was meant to be".  I don't think I could have built a camper for it to be so perfect.  I even like that it has manual push-up bars on both sides instead of the motors.  The motors would have added extra weight.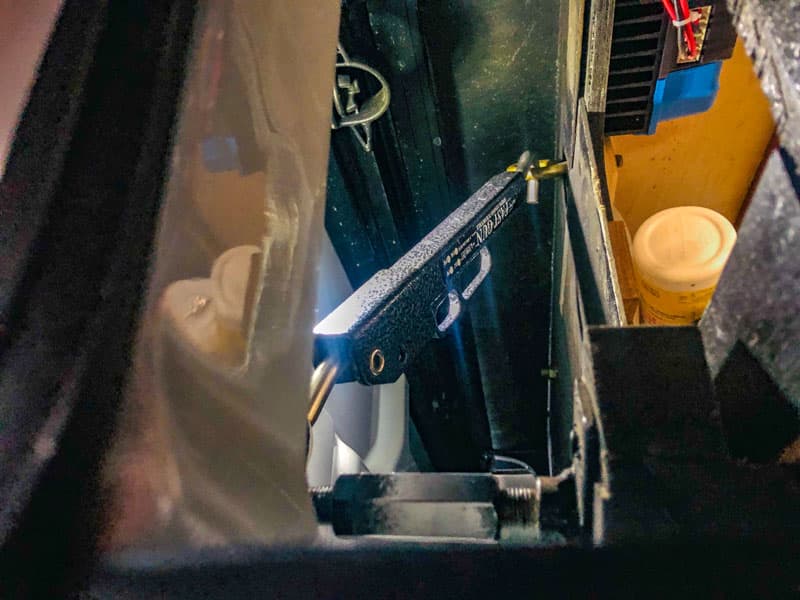 Many pop-up campers have turnbuckles inside the bed.  What are you using for turnbuckles?
I am using Torklift Fastguns as internal turnbuckles.  The Torklift Fastguns came with the camper when I bought it.
I had to modify the Fastguns because they weren't short enough for the Gladiator's attachment points.  Once shortened, the Torklift system fits and works well.
The Fastguns are used for three of the attachment points; passenger's side front and back, and driver's side back.  With the refrigerator on the front driver's side, I use a nylon strap ratchet in that location.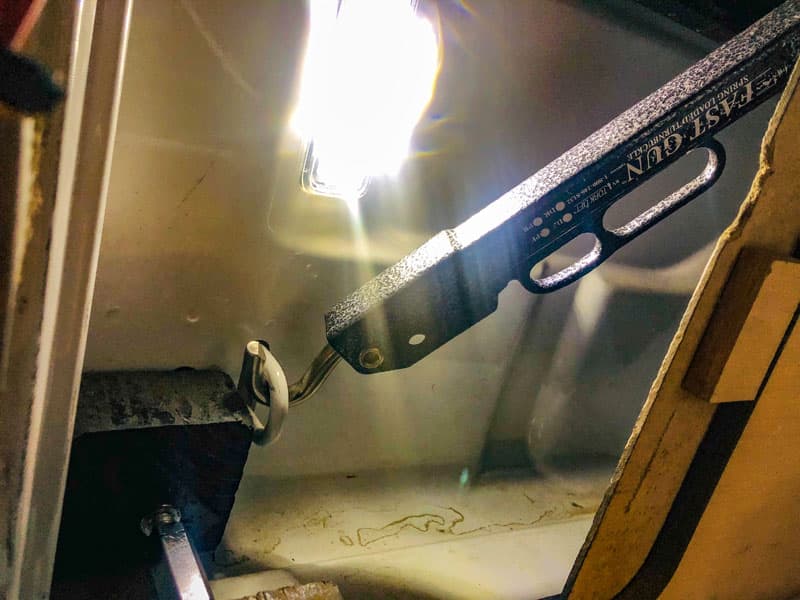 I did add bigger reinforcements to the side of the camper after it rocked quite a bit on Kokopelli Trail.  For safety, I want to make sure the brackets don't bend or come out of the camper.  I need to take my camper anywhere I dare and know it won't fall off.
On my last trip to Cinnamon Pass, Colorado, there were some ledges and switchbacks.  I checked the turnbuckles multiple times.  I never had to readjust.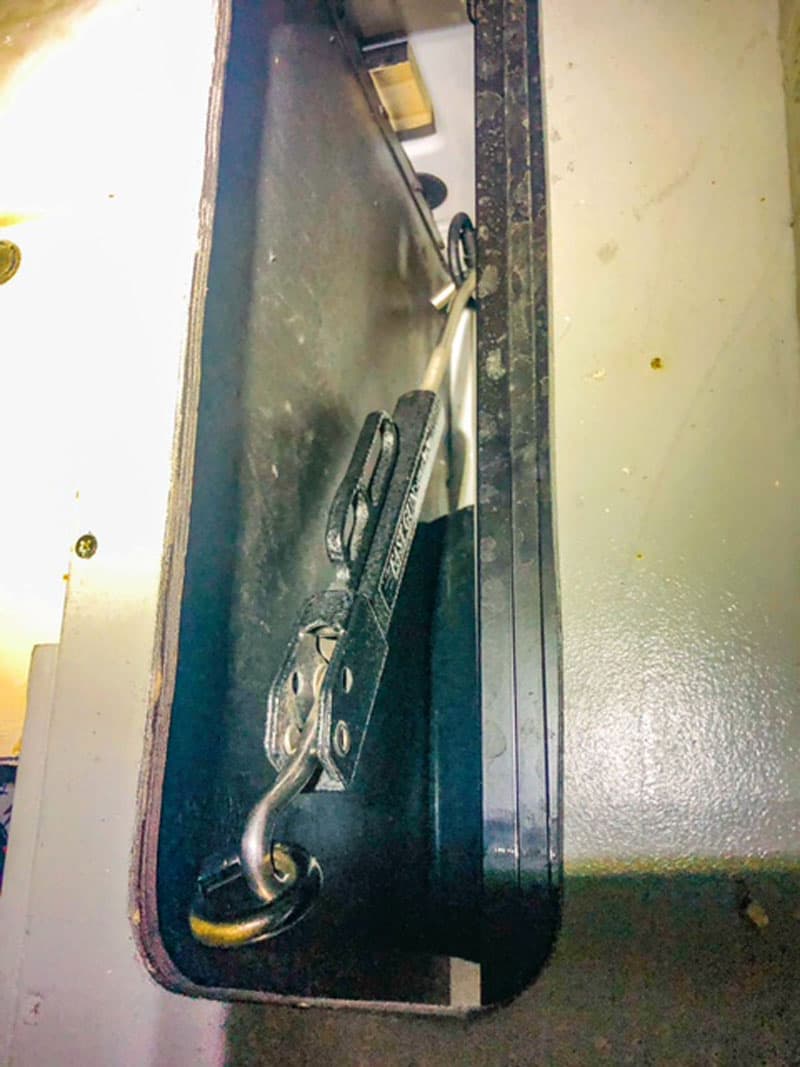 One thing I like about Torklift's turnbuckles is that they have springs that give a little so that I don't pull the mounts off my truck's bed or the sides of my camper.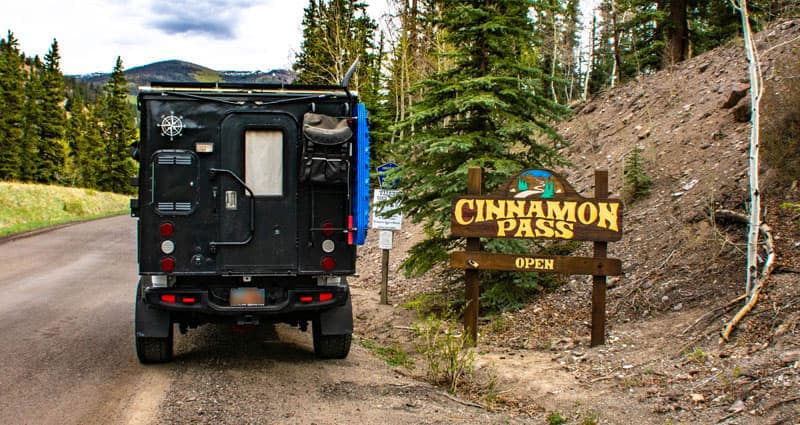 You talked about overlanding all over North America.  Have you ever been stuck?
Yes, several times.  That's why I carry recovery equipment like winches, Maxtrax recovery boards and a full-size shovel.  There have been many times my wife has asked, "Why are we here?"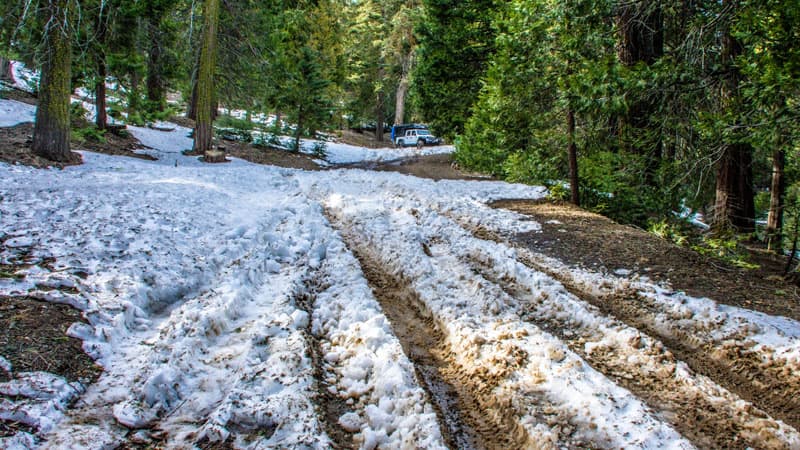 Recovery gear is the answer to being ready for difficult situations.  Going in, I always think about how I'm going to get myself out.  In a snow area, where there isn't a tree or anything to winch out with, I get my shovel out and use Maxtrax.  I also carry a Pull Pal Winch Anchor, which is like a big sailboat plow anchor that you put into the ground or sand to give you something to pull against.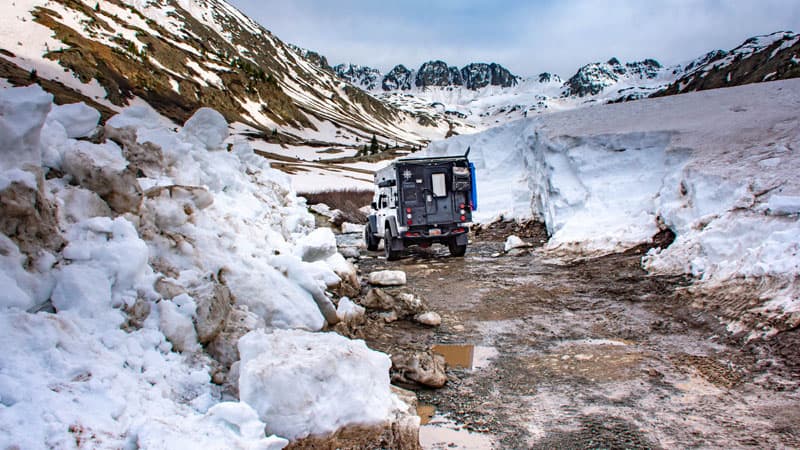 Above: Cinnamon Pass, a 9.2-mile loop trail located near Lake City, Colorado
We have been stuck in snow drifts trying to plow through.  There was a time on a logging road on Vancouver Island where a sign said that the road was closed, but the gate was still open.  We got 30 to 40-kilometers in and the GPS showed a straight line to the spot I picked.  Descending down the road it was fine, but getting out was hard.  It was one of our best camping spots.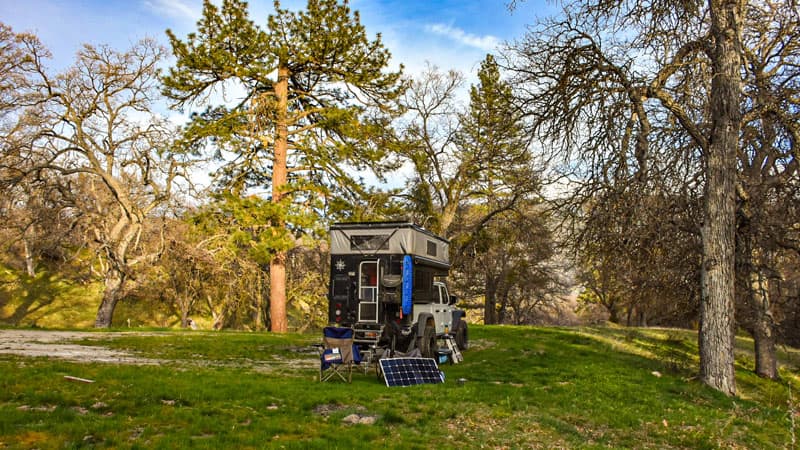 I really like dispersed wild camping with no one around.  Staying really remote was the whole idea with this build.  Because of the way I've outfitted my rig, I am more capable to get out of situations.
With my truck camper, I have the ability to easily take the camper off and have a very capable Jeep platform to go exploring for the day.  I have a place to store the camper's jacks on the floor of the Gladiator just behind the front seats.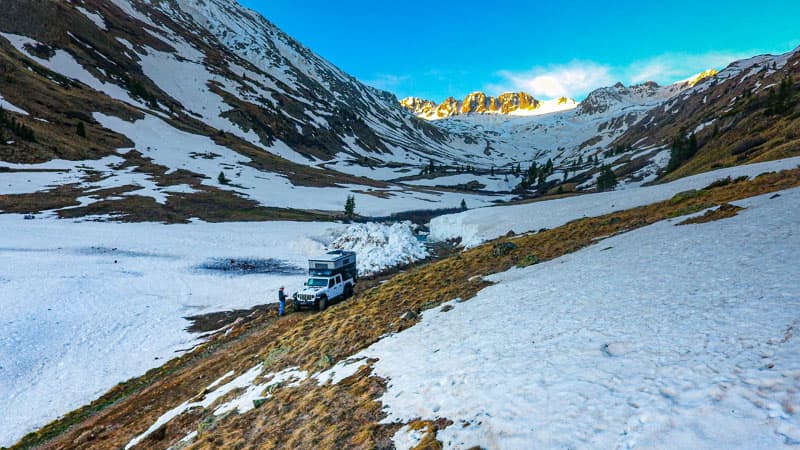 Above: Cinnamon Pass
Do you carry any other essential gear to get in and out of the places you go?
I sometimes bring a Rotopax with extra fuel.  A majority of the time I have a single set of tire chains if I think we're going to encounter mud or snow.  I carry all four tire chains in the winter.  I carry two 30-foot snatch straps.  That way I have plenty of length to hook to somebody or something if I have to.
I have been fortunate.  Except for losing piston in Alaska, I have never needed help from anyone.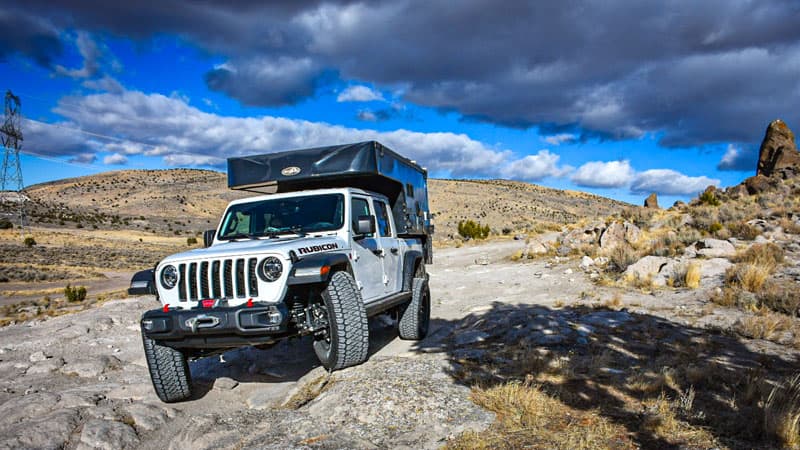 What modifications or changes have you made to your truck?
Modifications to my Jeep truck were minimal.  I added 35-inch E-Rated tires to handle the load, installed Air Lift bags to level the load, and a Hellwig rear adjustable sway bar.
Even with the low-profile Phoenix camper, the EcoDiesel will average over 21 miles per gallon.  It gives us around a 500-mile range without even using the Rotopax.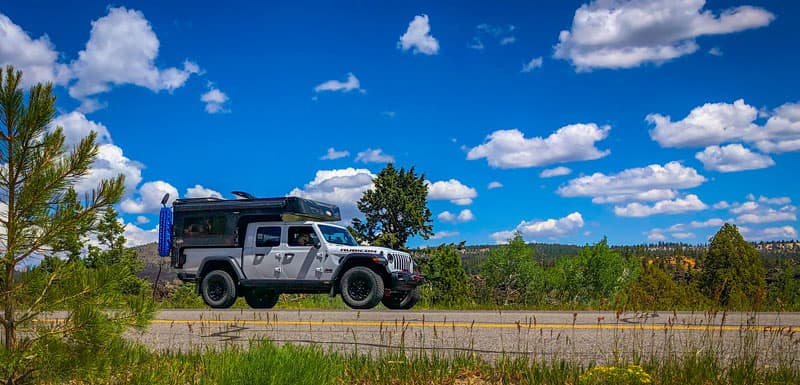 What modifications did you make to your camper?
We upgraded the sink and stove combination in the Phoenix Camper.  I also installed two 100Ah Battle Born LiFePO4 lithium batteries with a Victron battery monitor, DC/DC charger, 2000-watt inverter, and a Victron MPPT solar controller.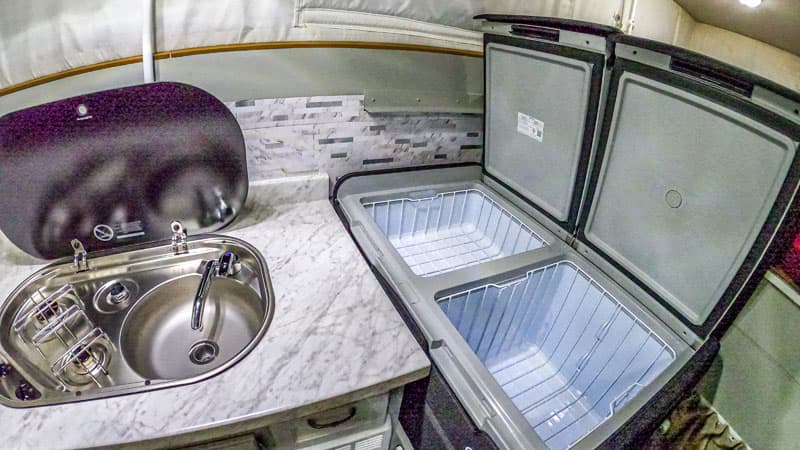 With 300-watts of solar on the roof, we can really extend our off-grid camping.  Most nights we only use 15-percent of our storage capacity.  The Dometic CFX3 75 dual-zone 12-volt refrigerator/freezer replaced the front-loading unit that was in the Phoenix.  Having the ability to make ice and enjoy ice cream in Death Valley was a treat.
With the installation of our diesel heater, our camper can keep us warm and comfortable well below the freezing mark.  One of our coldest nights was near Breckenridge, Colorado at minus -8° Fahrenheit.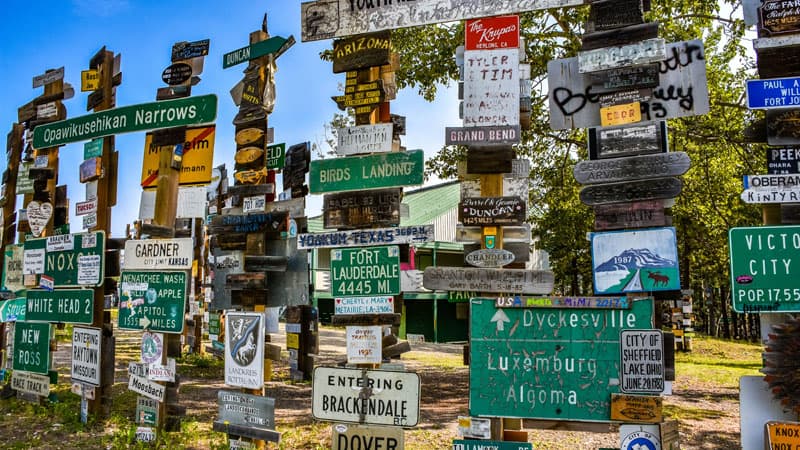 Where have you been with your truck camper that you would recommend to other truck campers?
Driving the Alaska Highway was always a dream road trip.  Putting our sign in the Sign Post Forest (pictured above) at Watson Lake in the Yukon still brings a smile to my face.  Sleeping at the foot of glaciers, watching grizzly bears, moose, orcas, and whales while camping is an experience we all should have.
Eating fresh salmon, halibut, and shellfish, and never having it dark outside when you go to sleep was also very special.  We plan on returning to Alaska very soon.  To experience the northern lights we need to plan on a very late fall trip that I am sure will turn into winter.  Alaska is a must.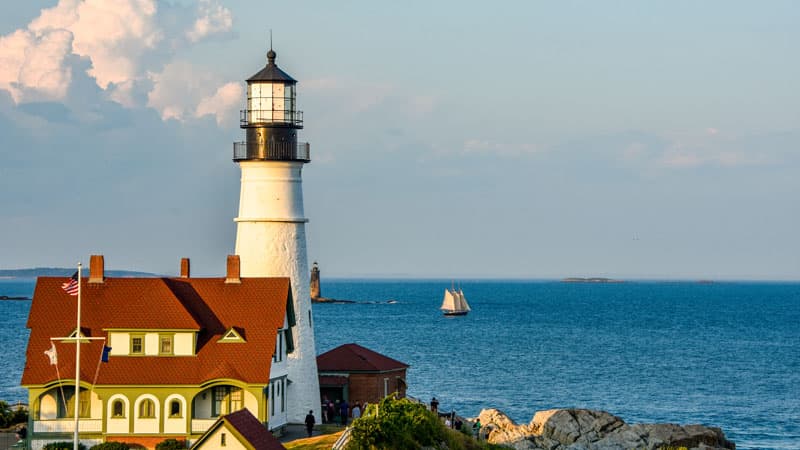 Above: Portland Head Light, Cape Elizabeth, Maine
Also, put Newfoundland on your bucket list.  Driving from Utah to St John's was a road trip that we will never forget.  Passing through the Great Lakes, Maine, Nova Scotia, Prince Edward Island, and then a ferry to Newfoundland was one of the most spectacular trips we have taken.  Finding places to boondock was not too difficult once we got above upstate New York.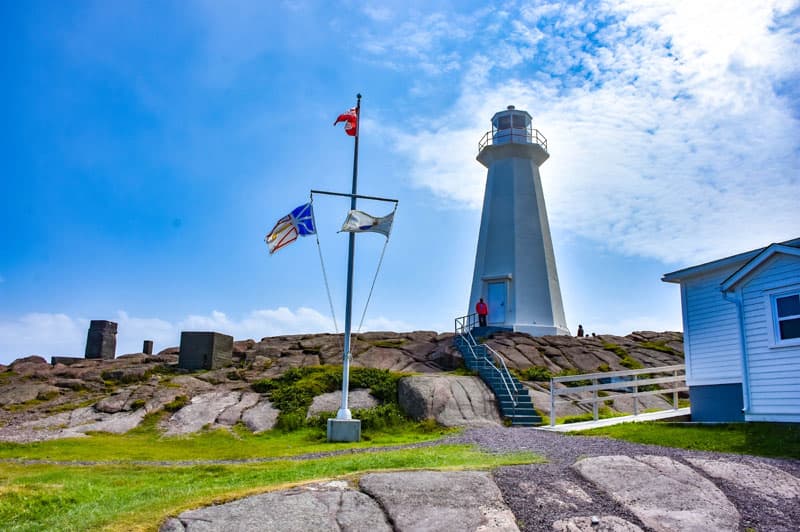 Above: Cape Spear Light, Newfoundland
Newfoundland is a trip we want to take.  What are some of the highlights from that trip?
When you get to Newfoundland, many people want to go to Cape Spear Lighthouse, which is nice.  But, when you are on the island, go along the northwest coast against the mainland.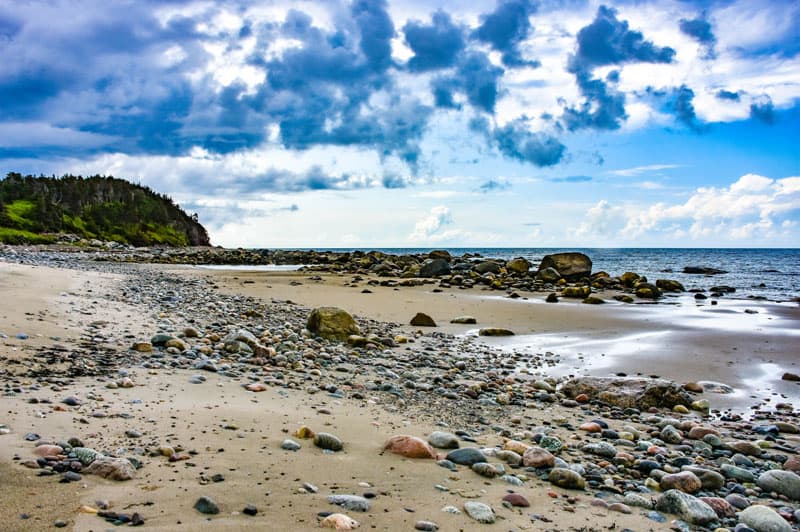 Above: Gros Morne National Park, Newfoundland
That's where the Viking settlements are located.  Gros Morne National Park is gorgeous.  You take a ferry to the mainland and come down a dirt road.  Go to the northwest coast.  It's beautiful.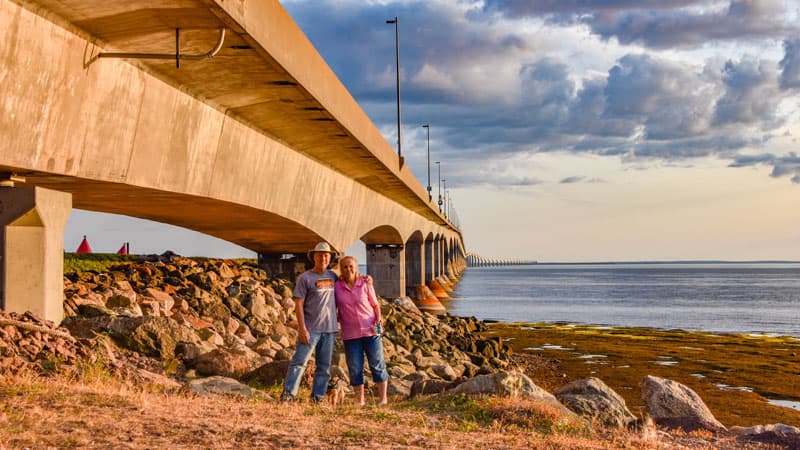 If you are going to Nova Scotia, take the time to also go to Prince Edward Island.  My wife is an Anne of Green Gables fan.  We crossed the Confederation Bridge to PEI.  If you don't drive over that bridge, you have missed out on life.  It is an engineering marvel.  The photo above is of us under the bridge on the PEI side.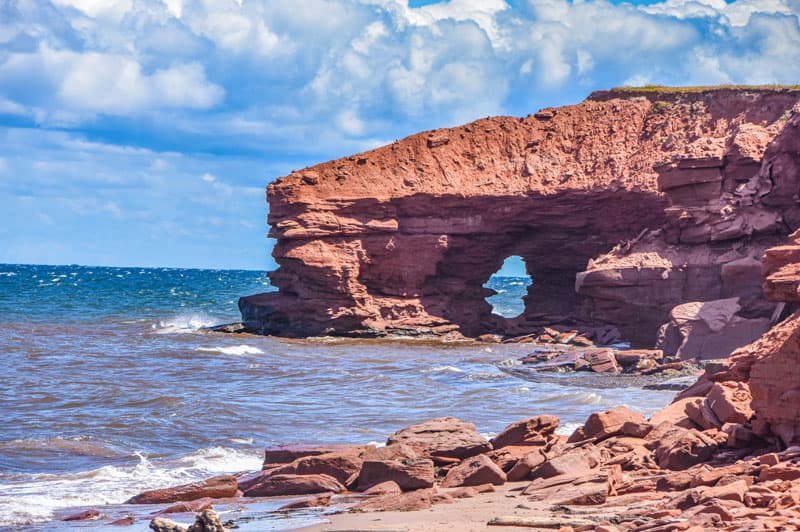 The island with all its red dirt is gorgeous.  You want to make that trip.  We boondocked there on the other side of the bridge, on the island.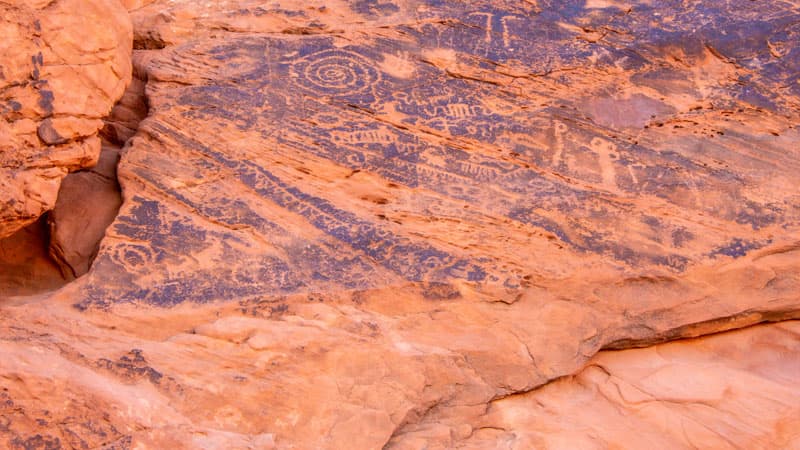 Above: Petroglyphs near Crow Canyon, Arizona
That sounds like a plan.  What else do you enjoy doing while truck camping?
I am an avid photographer and videographer.  I spend all hours of the night enjoying astrophotography.  We love to hike slot canyons, mountain bike, look for Native American rock art, and just have a relaxing dinner on the shore of a glacier-fed lake.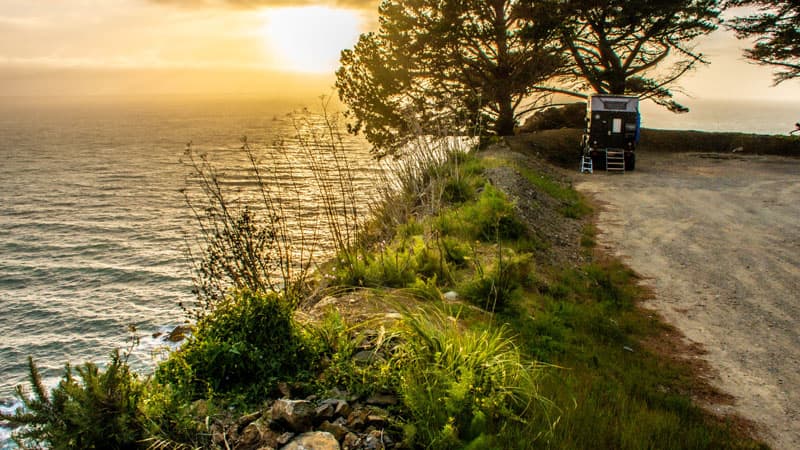 Above: A pullout along Highway 1 near the road closure at Big Sur.  With the highway closed, we were fortunate to pop the top and camp along the beautiful Big Sur coast.  Truly spectacular.
Camping on a lone stretch of beach with the waves lulling you to sleep takes all the stress of life away.  And sleeping next to the pounding waves of Big Sur makes you appreciate the silence of boondocking in a quiet National Forest.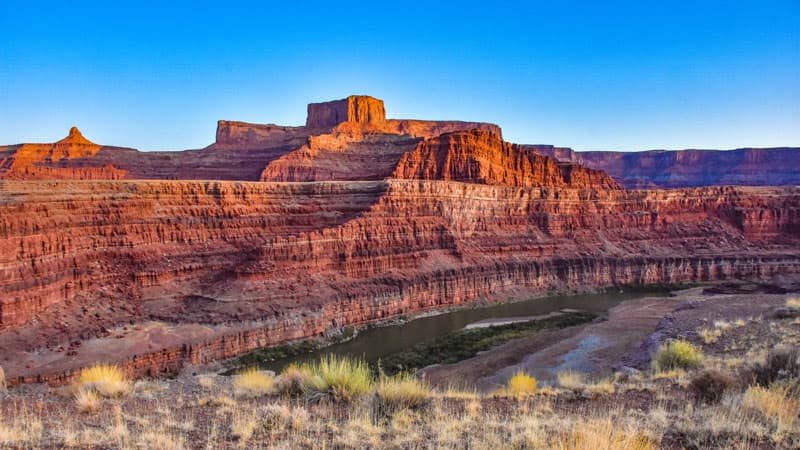 Above: Chicken Corners Offroad Trail, Moab, Utah
You live in Utah which is in an ideal location for truck camping.  Where do you suggest people go in Utah?
The national parks have a boundary around them.  A lot of the backroad boundaries are accessible by even two wheel drive vehicles.  Nearly every park has a backroad.  Sometimes the campsites from backroads are even more incredible.  Before you go, make sure the weather is good.  Backroads follow washes, so also make sure you have recovery gear.  Cell phones don't always work out there.  As long as the weather is good, any truck camper should be fine.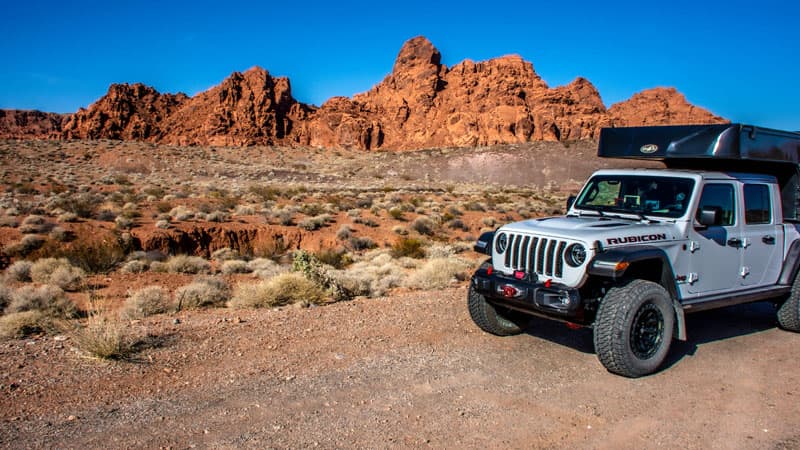 I usually plan everything from looking at Google Earth because I can get a satellite image to see how rugged the terrain is.  I literally follow the route on my computer and mark where it might be iffy.  I have a Plan B of places to camp before any iffy spots.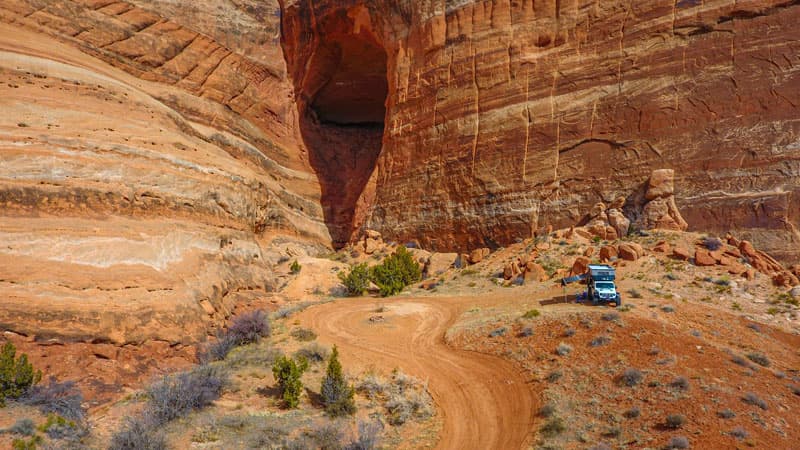 Above: Dispersed camping along the Kokopelli Trail
Living in Utah there are so many places to disperse camp on BLM land.  I can drive a couple of hours south from our home and end up where I normally never see another person.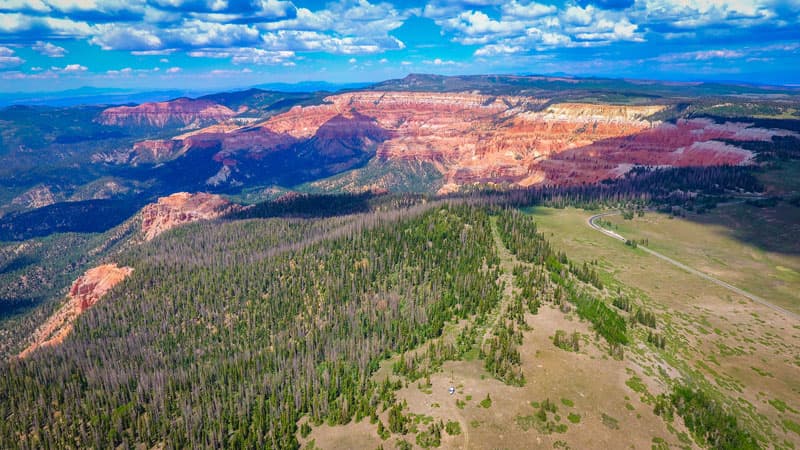 Above: At 10,624-feet with Cedar Breaks National Monument in the distance
I have a favorite spot where I can take a short stroll to Delicate Arch, camp on red slick-rock, and seldom hear anything but coyotes.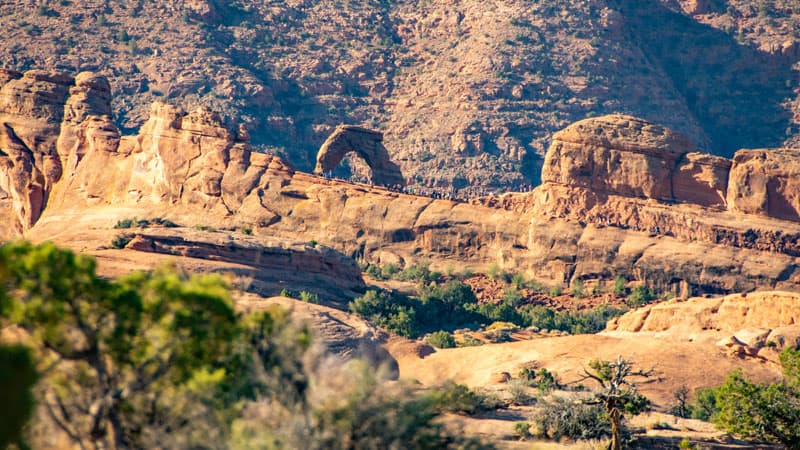 That Delicate Arch location sounds awesome!  You sent in a picture of Delicate Arch with a line of people.  Was that picture taken from that spot?
Yes.  That picture was taken with my telephoto lens.  I have shared that secret spot with a few people and now I'm finding people in a spot I used to go to and never see anyone.  It's a rugged four-wheel drive trail, so it's only truck campers and four-wheel drive vehicles that can get in there.  From that spot on the border of Arches National Park, Delicate Arch is exactly 6,200 -feet away.
For safety reasons we always carry our Garmin InReach Mini.  It is a satellite communicator that keeps us in touch with our family.  They can track us anytime and we can always send and receive text messages to stay in touch.  It also has an SOS feature to send the calvary if we have an emergency situation.  It's a very necessary piece of equipment.
The longest we have traveled and camped off-grid was just over four weeks.  You really get to know your companion well when dispersed camping in a small camper.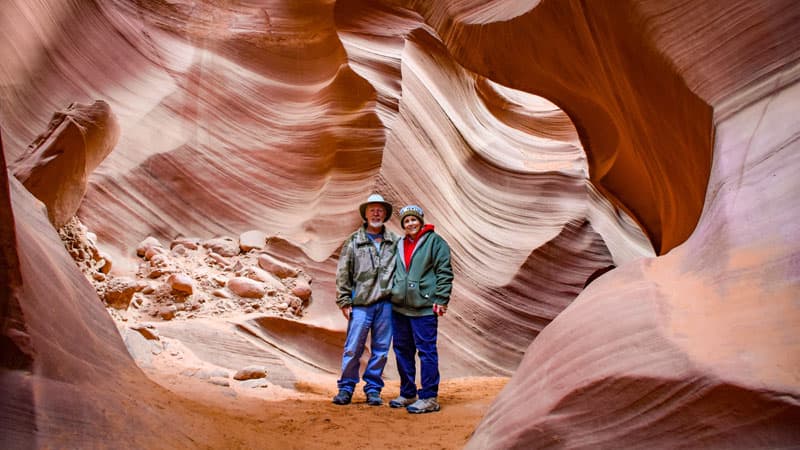 Above: Upper Antelope Slot Canyon, Arizona
You've been to quite a few slot canyons.  If someone was only able to go for a week to Utah, which ones do you recommend?
There are so many.  Some are very secluded and hard to get to.  Others like Buckskin Gulch, you park in a parking lot and walk down the wash.  Others I've driven to and camped in the wash.
If you go to southern Utah you can find a majority of them. Google "slot canyons in Utah", and you will find a lot on the borders of Arizona and New Mexico.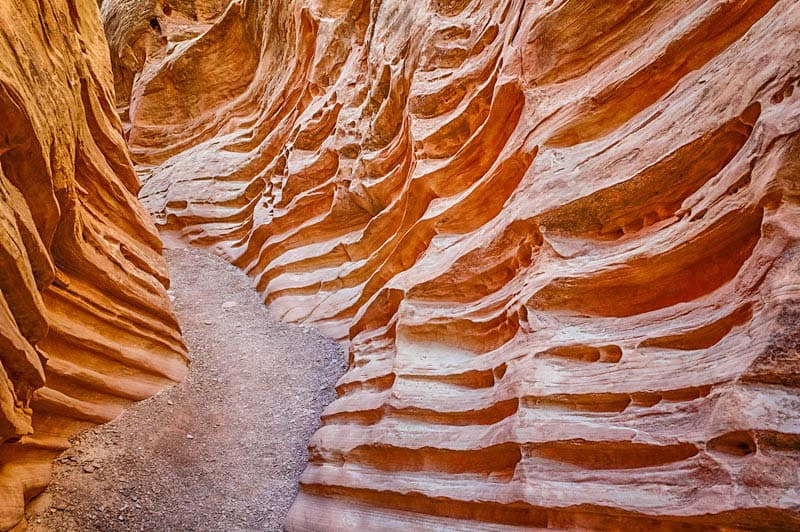 There's one named Little Wild Horse Canyon (pictured above).  It's popular, and right next to Goblin Valley State Park.  It's gorgeous!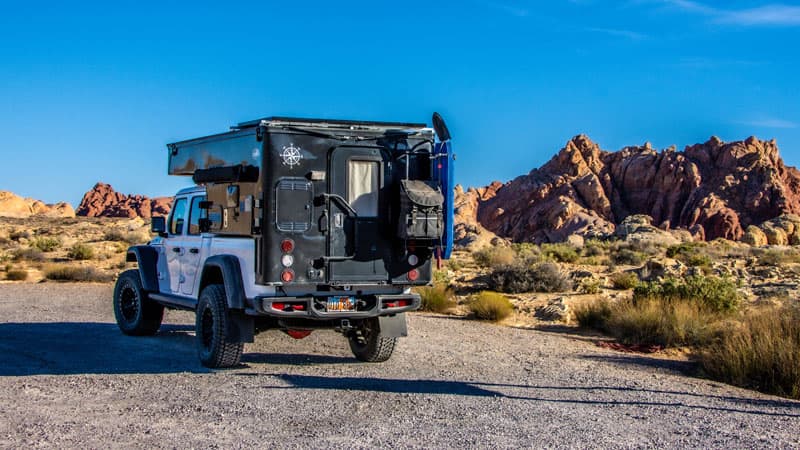 Is there anything else that you'd like to add?
I am a MacGyver-type person.  I do all my own wrenching and try to fix anything broken.  Seldom do we take a road trip that something doesn't need to be fixed or repaired.
Something has to be said about stopping to grill a great lunch, under the shade of an awning, with the comfort of home, at over 13,000-feet in elevation.  Over the years, our overland rigs have taken us everywhere and we look forward to South America and Europe in the future.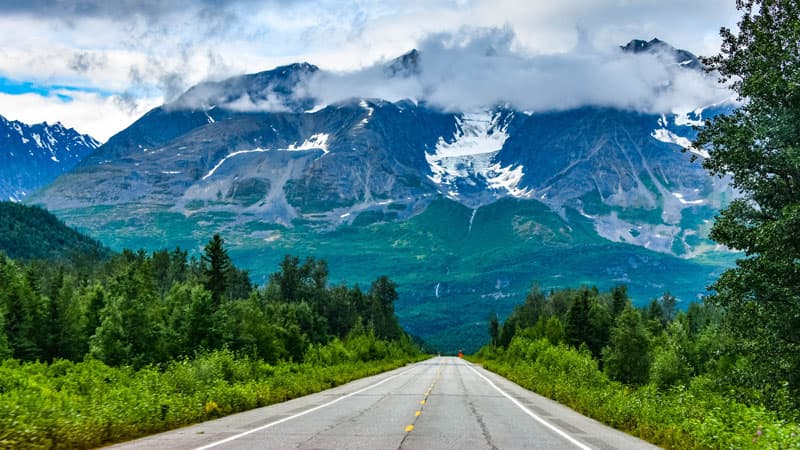 If I were to talk to the younger people, I'd say to not wait until you are older to explore.  I have told my kids to do it now.  You'll figure out the money, but you can't enjoy it as much as when you are older.  There are times we want to take a hike, but in our 60s we don't hike to those places anymore, and we wish we could.  You'll figure it out.  Just do it now.
Ron Chandler's Rig
Truck: 2021 Jeep Gladiator Rubicon, 3.0 EcoDiesel, 4×4, short bed
Camper: 2012 Phoenix Pop-Up
Tie-Downs and Turnbuckles: Torklift Fastgun turnbuckles
Suspension: Remote Control Airlift bags, Fox Shocks, Hellwig sway bar, Mopar Lift