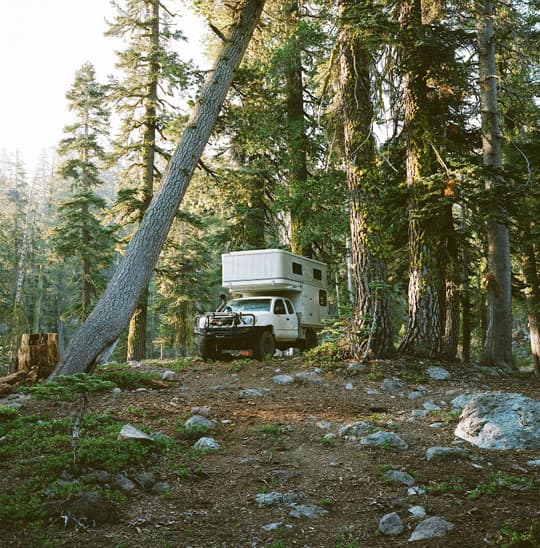 Above: Camping near Lake Tahoe, California
TCM: Do you have any idea what you might do this year?
Foster: In the Spring and Summer, I'll travel through the Northwest and then down into California.  My plans are to surf and snowboard as long as I can.
I want to explore more of the mountain states like Montana.  Montana is calling me.  I'll probably go there in September.
One thing about Summer is that everything is so crowded.  I try to visit the national parks in the Fall or early Spring.  Then, starting in October and November, I shift my focus to surfing.  November and December I'll go to Baja.
I like wandering.  When I make plans I wind up breaking them.  I think it's about manifesting the life you want to live and taking the risk.
Truck: 2013 Toyota Tacoma flatbed, access cab, gas, 4×4
Camper: 2013 Four Wheel Camper Fleet flatbed
Tie-downs/Turnbuckles: Bolted down – you can take the rig apart, just
take bolts off
Suspension: ARB 2″ heavy lift, Beaver springs in the back, Firestone airbags
Gear: Auxiliary jerry can holders, ARB bumper, Warn winch, Baja design LEDs, Dunlap NTR Kevlar tires, Custom boxes for under flatbed by Adventure Trailers, 160 watt solar panel, bigger batteries