Introducing the Four Wheel Camper Fleet Flatbed self-contained with a face-to-face dinette and side entry on a Toyota Tacoma.

Most of the electrons spilled on Truck Camper Magazine's digital pages are devoted to truck campers on full-size trucks.  We're talking mostly half-tons, three-quarter tons, and one-ton trucks from Toyota, Ford, Chevy/GMC, and Dodge.  That's where almost every American truck camper manufacturer, gear company, and dealer is focused.  Want a truck camper?  Common truck camper industry wisdom states, "Start with a full-size truck, pick a bed size, and then go as heavy duty as possible."
Take a step outside of the truck camper industry and that common wisdom changes dramatically.  At the Overland Expo 2013, the common wisdom said, "If you want a truck camper, get the lightest, leanest, and meanest truck camper you can find."
The overland community is extremely focused on the quality and durability of materials, appliances, and off-road proven design.  They see big domestic trucks as too heavy, too big, and too inefficient.  Yes, they get excited about the Ford Raptor and Dodge Power Wagon, but they often prefer the mid-size Toyota Tacoma for its world-wide serviceability, not to mention its smaller size, and superior fuel economy.
If we were to hold a summit between these two communities – the domestic truck camper community and the overland community – the discussion would probably boil down to something similar to those old Miller Lite commercials, "Tastes great!", versus, "Less filling!"
The domestic truck camper community loves their full-size trucks and the large, often slide-out model truck campers they have.  For the domestic truck camper community, these large and luxurious truck campers, "Taste great!"
The overland community requires their trucks and campers be able to handle strenuous and sometimes unpredictable off-road terrain in places where cell phone service, not to mention truck and camper service, is often not available.  For the overland community, they need no-nonsense, lean and mean truck and camper rigs, aka, "Less filling!"
So what would happen if a truck camper manufacturer attempted to build a product that satisfied both camps?  A Toyota Tacoma for the overlanders, but with a flatbed to give more space for the domestic truck camper group.  Lean and mean enough for real overlanding, and big and luxurious enough for the domestic truck camper folks?  Is that possible?
Meet the Four Wheel Camper Fleet flatbed.  Tastes great!  Less filling!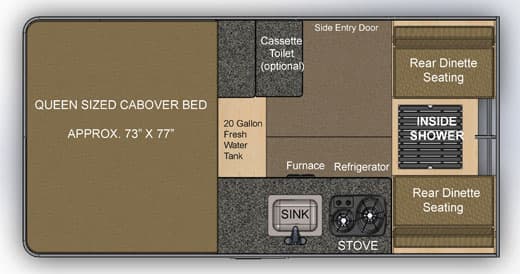 2013 Four Wheel Camper Fleet Flatbed Specifications:
The 2013 Four Wheel Camper Fleet flatbed model is a pop-up truck camper made for a short bed mid-size flatbed truck.  The interior floor length of the 2013 Four Wheel Camper Fleet Flatbed model is 84″ and the interior height is 6'4″.  Four Wheel Campers is reporting the dry weight of the Four Wheel Camper Fleet Flatbed model at 1,165 pounds with standard features.  The Fleet Self Contained has a twenty gallon fresh tank, optional 4.5 gallon cassette toilet, and no grey tank.  The camper can accommodate one or two batteries, and has two ten-pound propane tanks.  The MSRP for the Four Wheel Camper Fleet Flatbed model is $19,995 base with no options.
TCM: How did the Four Wheel Camper flatbed camper come to be?
Tom: We've been building flatbed campers for a number of years, but mainly for the Australian and UK export market.  During that time, we have seen more and more flatbeds become available in the United States.  Through our own customer feedback, it became clear that there is a demand for a flatbed Four Wheel Camper.
We have a Four Wheel Camper dealer in Jackson Hole, Wyoming who has embarked on the concept of offering flatbed truck conversions.  He asked us what we could we do for a domestic flatbed Four Wheel Camper.  That was the final trigger for us to design and build a flatbed Four Wheel Camper for America.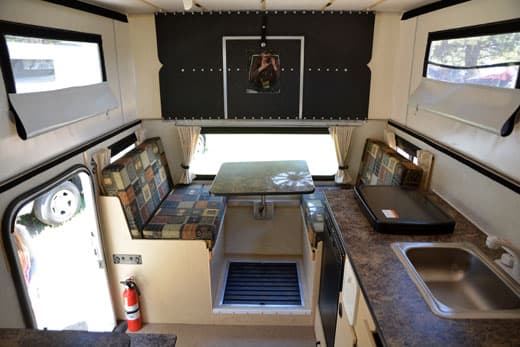 Above: The interior of the self-contained Fleet flatbed with the face-to-face booth dinette, large window, shower, and side entry
The design opportunities afforded by a flatbed design are plentiful.  We moved the weight forward to maximize center of gravity.  The water heater, fresh water tank, and two batteries are all on the front wall.  There's a face-to-face booth dinette at the rear of the camper with a large window that runs the full width of the camper.  Since it's a flatbed design, there's a side door for entry and exit.  We also streamlined the design for wind resistance, better mileage, and drivability.  It's a really unique and innovative floor plan that turned a lot of heads at the Overland Expo last month.
TCM: It sure did.  What do you believe are the principal advantages to a flatbed truck camper design?