Above: Relaxing in Alabama Hills, California
Living in my truck camper, I just go somewhere new if I get bored.  That's what I do instead of buying stuff.  I don't think I could stay in one place.  That's not what humans are meant to do.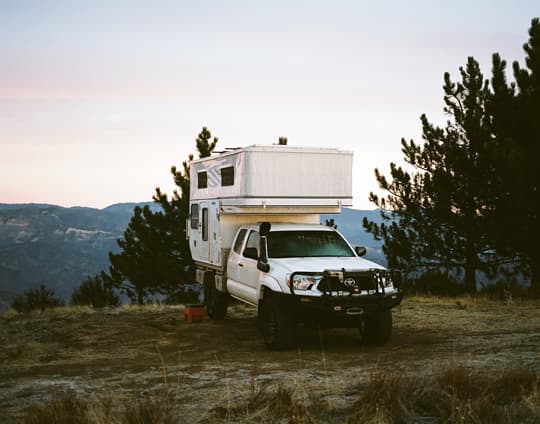 Above: Staying warm on a chilly winter night in central California
TCM: How do you handle things like postal mail, taxes, bills, and medical insurance?
Foster: I have my postal mail sent to my Dad's house in Washington State.  Washington is where I grew up, so I'm there often.  I just swung through Washington to get my driver's license renewed.  I'm in the northwest a quarter of the time.
If I want something sent to me on the road, I have it mailed to a friend's house where I can pick it up.  I have a bunch of friends who do the South Dakota thing, and have a mailbox there because mail forwarding is easy.
I get internet through my cell phone and spend a lot of time in coffee shops using their free wireless internet.
For health insurance, I'm self-insured because I'm self-employed.  I have health insurance through a company that has hospitals all over the United States.
With taxes, I have an accountant and I keep track of everything.  Banking in this day in age is easy.  I get paid through direct deposit, so there are no worries about checks.
TCM: Do you have everything you own in your camper?
Foster: I have a couple boxes in my Dad's garage, and a hand full of stuff at my friend's house in southern California, but everything else is with me in my rig.
It was pretty easy to purge, easier than I thought it would be.  I sold my stuff on Craigslist and eBay.  Purging was great!  Shopping is not an option when I'm in my camper.  I don't have the space.  I have everything I need with me.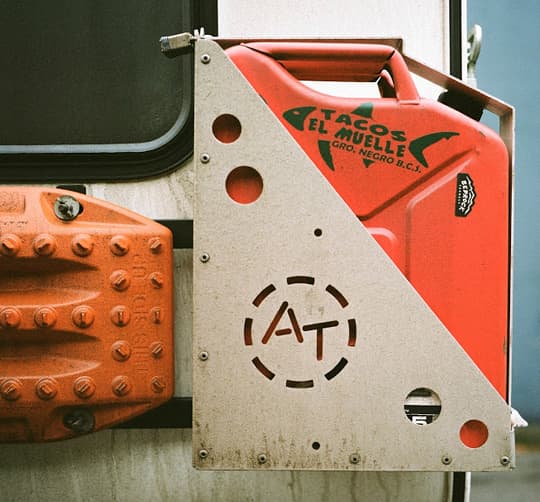 Above: Spare gas can holder and a sticker from Foster's favorite tacos in the world
TCM: Have you made any modifications to your camper to make it work better for your full-time lifestyle?
Foster: Mainly I just added some storage stuff.  The boxes on the flatbed are huge and free up space inside the camper.  The flatbed boxes are great for my surf gear.
I strap by surfboards to the Yakima bars on the roof.  I lived in a van that just had a folding bed.  This camper is super fancy in comparison.  It has good use of space.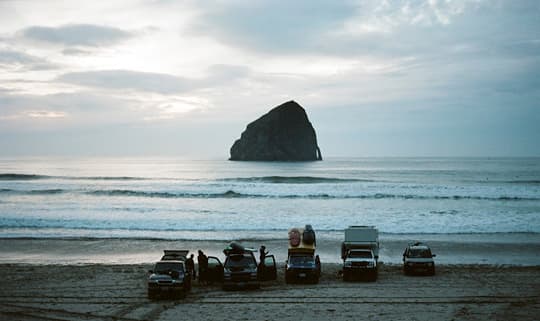 Above: Parked on the beach for a day of surfing on the Oregon coast