In 2011, Foster Huntington was working 70 hours a week in Manhattan, longing to be outside, surfing, and free.  Then he took the risk of a lifetime.

There's a hysterical scene in one of my favorite '80s films "Real Genius" where an over stressed college student, who has spent untold hours researching in the school library, gets out of his chair, freaks out, and runs frantically from the building.  His friends quietly glance at each other, and someone takes his seat.
Link: http://www.youtube.com/watch?v=wNFMPhKIZXg
Everyone knows the feeling of wanting to stop everything, freak out, and run away.  I'm not saying that's a healthy reaction, nor am I condoning quitting one's job in such fashion, but surely you understand the repressed desire to eject yourself from an overstressed situation, and set yourself free.
When I learned about Foster Huntington's story, I pictured him working away the daylight hours in a windowless Manhattan cubicle, dreaming of the road, yearning for the West, desperately eager to dip his surfboard into salt water, and escape.  He probably had a few close calls where he too almost freaked out, and hit the exit doors.
But then something wonderful happened, followed by more wonderful things.  Today, Foster's escape story is legendary, as is his lifestyle.  Now it's Foster who has thousands poised to snap and run from corporate cubicles everywhere.  Making the leap even more tempting, Foster recently released his second book, "Home Is Where You Park It".
Gone Tomorrow video filmed by Foster's friend, Ian Durkin.
TCM: How did you decide to live full-time in pop-up truck camper?
Foster: In August of 2011, I was living in New York and working as concept designer at Ralph Lauren.  It was a cool job, but I was working seventy hours a week and never going outside.
I grew up in Portland, Oregon and went to a small college in Maine. Up to that point, the outdoors were a big part of my life.  Working in Manhattan, inside a building, for seventy hours a week was a major shock to my system.  Eventually I decided to quit my job and hit the road as a photographer and pursuing my own projects.
When I first got on the road, I lived in a 1987 VW Syncro.  The Syncro was built in the same factory as Unimog and featured full-time four-wheel drive, a locking differential, refrigerator, sink, and stove.  I made build out cabinets for it.  Unfortunately, it was also twenty-seven years old, unreliable, and a drag to maintain.
During my travels in the Syncro, I spent time in Baja, Mexico and other remote areas in the West.  I kept seeing more and more truck campers in these areas.  As the Syncro had issue after issue, I started researching a reliable truck and camper rig.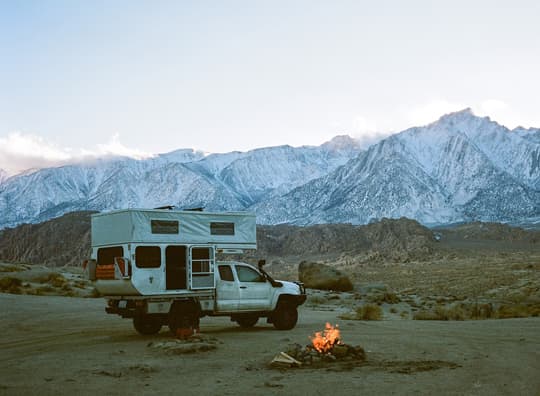 Above: Dry camping in Alabama Hills, eastern California
TCM: Why did you decide on a flatbed truck?
Foster: I bought a Toyota Tacoma flatbed truck because I wanted something relatively small with as much usable space as possible.  I went with a flatbed at the advice of Mario Donovan, Chief Designer for Adventure Trailers.  I had read about flatbed tray campers in Australia and they made sense.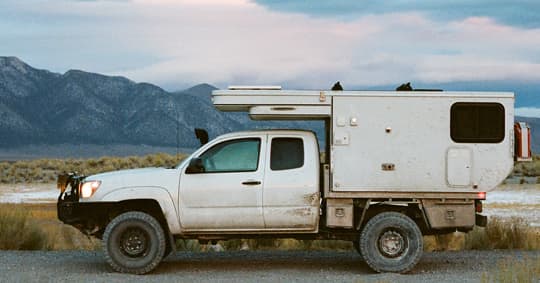 Above: Foster's 2013 Four Wheel Camper Fleet flatbed and 2013 Toyota Tacoma
TCM: What led you to Four Wheel Campers?