TCM: Your pictures are so inspirational.  They make me want to jump in a truck camper and travel out west.  Where do you suggest people go traveling with a truck camper?
Ted: It is hard to pick favorites.  For scenery I'd say Yosemite National Park.  For wildlife, it has to be Yellowstone.  The Eastern Sierras along Highway 395 are one of our favorite places to explore.  That is probably where we see the most other truck campers.
LEFT: BLM land off of the Great Basin Highway (HWY 93) about 25 miles north of Wells, Nevada, specifically, 41° 24' 57" N, 114° 41' 17" W MIDDLE: Tonopah Airport, Tonopah, Nevada RIGHT: Rhyolite Ghost Town three miles west of Beatty, Nevada
Donna: Remote northeastern California around Lassen National Park is another favorite spot.  Another area in the west with plenty of places to explore is central Nevada.  It's definitely hard to pick just a few.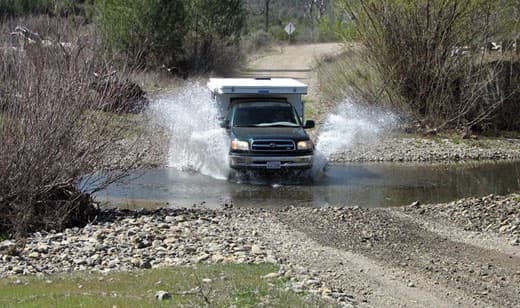 Above: Here's Donna crossing the North Fork Bartlett Creek in Mendocino National Forest, California, 39° 10' 54.9" N, 122° 43' 07.5" W
TCM: Donna, I saw the picture labeled, "Donna crossing Barlett Springs".  That looks like a lot of fun.  Do you often cross water like that (and other difficult driving paths)?
Donna: I must admit I did have fun going through that creek and other creek crossings.  It isn't something I do very often.  However, I would like to become more comfortable in more difficult situations.
TCM: What is Wander the West and what is your role on that forum?
Ted: Wander the West is a website for people that like to explore the western United States.  It is mostly people with pop-up campers, but anybody with similar interests is welcome no matter how they travel.  Wander the West isn't truly limited to the west, though that is where most of the members are located.
Recently the founder of Wander the West, Aaron Walton, sold the website and the new owners asked some members, me included, to be forum moderators.  I like the website and am interested in keeping it around and similar to what it has become under Aaron's nurturing, so I accepted.
Left: A Wander The West Rally, this one to the Warner Mountains in northeast California. There are no landmarks near here.  It is in Modoc National Forest at 41° 59' 09.75" N, 120° 09' 31" WMiddle: Dunderberg Road in the eastern Sierra Nevada range about 10 miles south of Bridgeport, California Right: Wander the West rally camp about a half mile north of Ballarat, California
TCM: Your pictures include several Four Wheel Campers camping together.  Is Wander the West only for Four Wheel Camper owners?  And how does one connect with the group and attend your gatherings?
Ted: Some of those gathering have been formal rallies planned on Wander the West.  But we have made a number of friends through the forum and some of the photos are just trips where we are camping with friends that happen to have similar campers.  Anyone is welcome to join us.  I can think of one rally that had at least three different pop-up camper brands, and a roof top tent.
People can hook up with our group just by following the forum on Wander the West.  There is a group planning a trip to Baja right now.  Sometimes people post where they will be and when and invite others to join them.  It is a great way to make some friends, check out other rigs, and have a good time.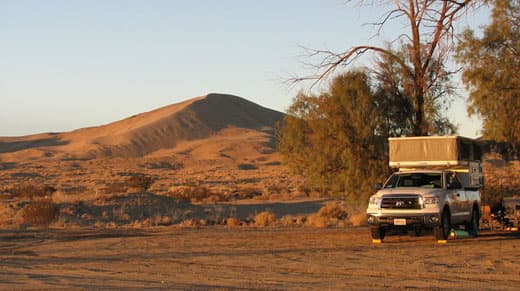 Above: Kelso Dunes in Mojave National Preserve, California
TCM: What's next for Ted and Donna?
Donna: Besides our usual weekend runaways, we are heading to Overland Expo and Alaska for our twenty-fifth anniversary.
TCM: Wow!  That's an awesome 2012 itinerary.  Have you been to the Overland Expo before?