From Yosemite to Yellowstone to the Eastern Sierras and central Nevada, Ted and Donna Treleven explore the West in their Four Wheel Camper.

As you're reading this story, someone is boondocking in the middle of nowhere with their truck camper.  Far beyond the reaches of cell phone towers, they are enjoying the simple life surrounded by the splendors of nature.  Perhaps they're gazing out the dinette window studying the weaving currents in the river a dozen feet away.  The steam from their fresh coffee fills the air.  It's quiet and peaceful.
The feeling of camping off the beaten path, far away from humans, and up-close with nature, is incredible.  This is deep, life-affirming, soul-fulfilling stuff.  You can't buy that feeling.  You can't fake it.  It's only available in real-time, out in the wilderness.  Where the pavement ends is where this experience begins.  Where it takes you is something you have to discover for yourself.
Ted and Donna Treleven know exactly what we're talking about, and they're not alone.  Through their participation with the Wander the West forum, the Trelevens have connected with a diverse community of overland adventure seekers.  While there is some irony in a group of folks who like to camp far from other people, Wander the West is also a rare opportunity to share information among peers.
Speaking of peers, Ted and Donna share their truck camping story and lifestyle with us, and call our sights beyond the reaches of civilization, and to the possibilities of camping off-road and off-the-grid.
LEFT: Badwater Basin, the lowest point in North America, Death Valley National Park, California MIDDLE: Inspiration Point above Jenny Lake, Grand Teton National Park, Wyoming RIGHT: Yosemite valley in Yosemite National Park, California, Our Golden retriever's name was Shelby
TCM: When did your camping lifestyle begin?
Ted: My family camped frequently all my life so I grew up camping and never stopped. My first car was a VW camper.
Donna: I also grew up camping in California and throughout the west.  Our family vehicle was a camper van.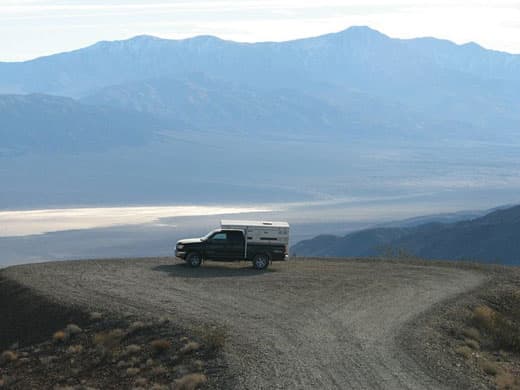 Above: Father Crowley Point overlooking Panamint Springs, California, is located on Highway 190 about forty miles east of Lone Pine, California
TCM: What eventually led you to a truck camper?
Donna: Like many truck campers, we evolved through several camping styles to where we are now.  Early in our relationship, we backpacked.  Then we had a couple of trucks with shells on them.  During those times we got pinned down by weather twice, once in Banff, Canada, and once in Baja, Mexico.  That is when we decided to move up to a truck camper.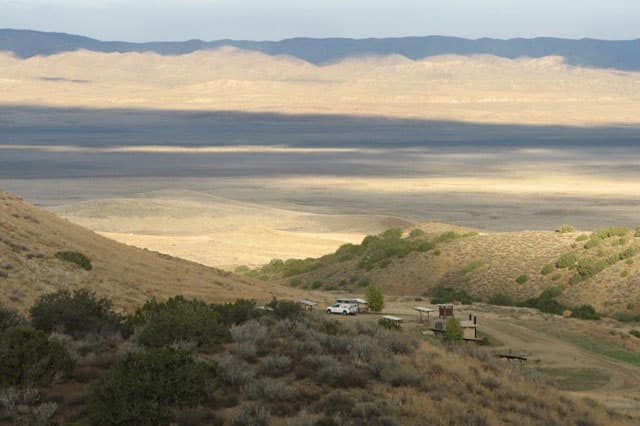 Above: A remote camping area, Selby Campground, Carrizo Plains National Monument in Southern California
TCM: Why did you get a pop-up camper versus a hard-sided camper?
Ted: We liked camping in remote areas and wanted to be able to keep doing that, so our research of campers led us to Four Wheel Campers.  We liked the lightweight and low profile.  Though we are not hard-core off-road travelers, we do get on some rough roads.  Four Wheel Camper's ability to flex with the bouncing and jarring was a big advantage as well.
Donna: We are lucky that the Four Wheel Camper factory was nearby and we were able to check them out personally.  We bought our Four Wheel Camper Hawk in 2003.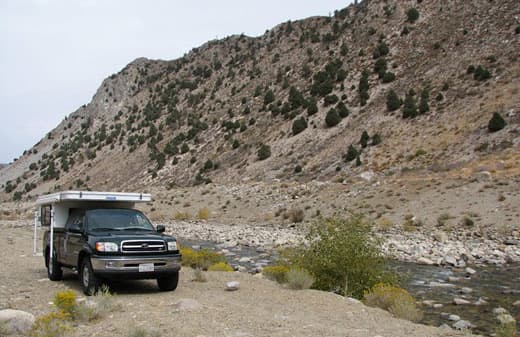 Above: Walker River about two miles south of Walker, California
Above: Ideally the Trelevens are camping near water, like Burnside Lake about twenty miles south of Lake Tahoe, California in Humboldt-Toiyabe National Forest.
TCM: Give us a taste of your truck camping lifestyle.
Donna: Our ideal campsite is a boondocking spot with a view or being near water with nobody else around.  But the reality is those places are few and far apart.  So we are probably in campgrounds about seventy-five percent of the time and boondocking the rest.  But even the campgrounds we stay in are mostly Forest Service or BLM campgrounds with no services that are down some long dirt roads.
Ted: We go camping about two weekends a month and try to get in a couple of longer trips every year.  We live near Sacramento and can be to the coast or the mountains within a couple of hours.  The camper stays on the truck and is fairly well-stocked at all times.  We can leave after work and can often be in camp before sunset.
Left: Tuttle Creek BLM Campground, about 4.5 miles SE of Lone Pine, California in Owen's Valley.  The Sierra Nevada range is in the background
Middle: This is in the Alabama Hills a few miles east of Lone Pine, California, but I have no idea as to the exact location. There are miles of roads crisscrossing all over the area and this shot was taken while we were out exploring
Right: While this is in the Alabama Hills, you can camp anywhere out there. I do recall this was a large site near a leaning rock and was visible from Movie Flat Road, the main road in Alabama Hills. They call it that because of all the movies filmed here.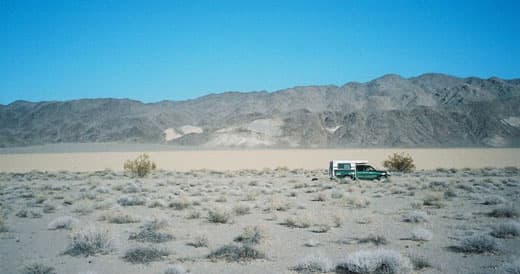 Above: Racetrack Playa, Death Valley National Park, California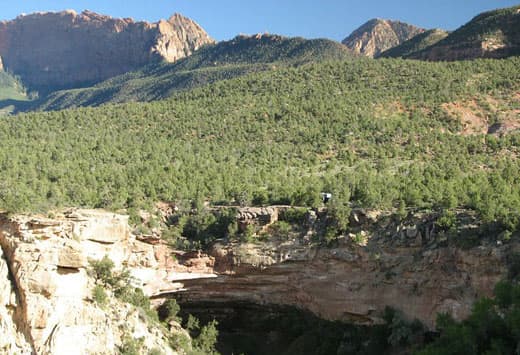 Above: BLM land about five miles south of Rockville, Utah, specifically 37° 07' 59.5" N, 113° 04' 13.5" W
TCM: How do you find these amazing truck camping destinations?
Donna: Our first source was California Camping by Tom Stienstra.  He has many campgrounds in California listed in his book.  We looked for the ones he listed as the least used.
Ted: We also explored a lot of Forest Service roads and just stumbled across good spots.  More recently we have watched camping websites and personal blogs of people who camp like us to see where others are going.  We've even found new spots through pictures entered in the annual Truck Camper Magazine calendar contest.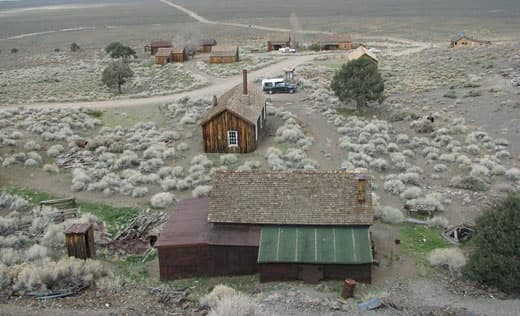 Above: Berlin-Ichthyosaur State Park, about 18 miles east of Gabbs, Nevada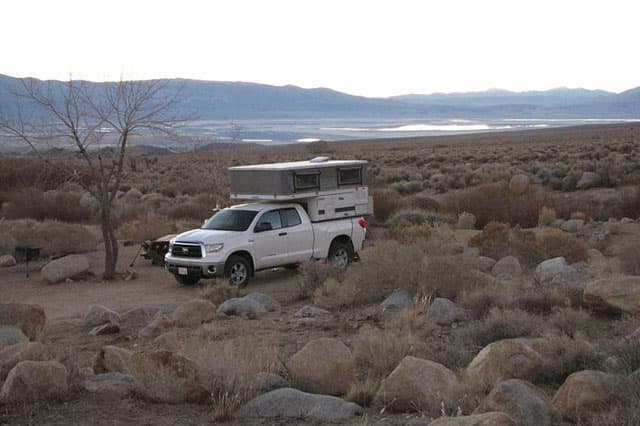 Above: Tuttle Creek BLM Campground, about 4.5 miles SE of Lone Pine, California in Owen's Valley
TCM: Your pictures are phenomenal.  Is taking photographs one of your hobbies on the road?
Ted: Thank you.  We take a lot of shots and get lucky now and then.  Donna got a new camera last year and is taking a lot more photos now.  She has a better eye for photography so I have backed off a bit.
LEFT: Mid Hills Campground. Mojave National Preserve, California, Middle: Big Meadow Campground, Inyo National Forest, California, RIGHT: Upper Pines Campground, Yosemite National Park, California
TCM: Your pictures are so inspirational.  They make me want to jump in a truck camper and travel out west.  Where do you suggest people go traveling with a truck camper?
Ted: It is hard to pick favorites.  For scenery, I'd say Yosemite National Park.  For wildlife, it has to be Yellowstone.  The Eastern Sierras along Highway 395 are one of our favorite places to explore.  That is probably where we see the most other truck campers.
Left: BLM land off of the Great Basin Highway (HWY 93) about 25 miles north of Wells, Nevada, specifically, 41° 24' 57" N, 114° 41' 17" W
Middle: Tonopah Airport, Tonopah, Nevada
Right: Rhyolite Ghost Town three miles west of Beatty, Nevada
Donna: Remote northeastern California around Lassen National Park is another favorite spot.  Another area in the west with plenty of places to explore is central Nevada.  It's definitely hard to pick just a few.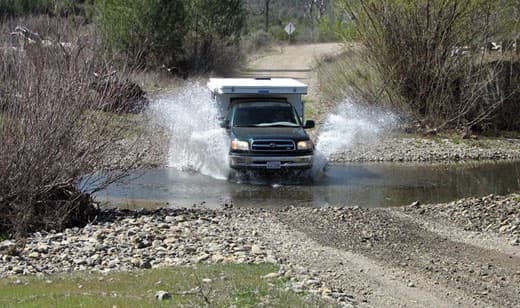 Above: Here's Donna crossing the North Fork Bartlett Creek in Mendocino National Forest, California, 39° 10' 54.9" N, 122° 43' 07.5" W
TCM: Donna, I saw the picture labeled, "Donna crossing Barlett Springs".  That looks like a lot of fun.  Do you often cross water like that (and other difficult driving paths)?
Donna: I must admit I did have fun going through that creek and other creek crossings.  It isn't something I do very often.  However, I would like to become more comfortable in more difficult situations.
TCM: What is Wander the West and what is your role on that forum?
Ted: Wander the West is a website for people that like to explore the western United States.  It is mostly people with pop-up campers, but anybody with similar interests is welcome no matter how they travel.  Wander the West isn't truly limited to the west, though that is where most of the members are located.
Recently the founder of Wander the West, Aaron Walton, sold the website and the new owners asked some members, me included, to be forum moderators.  I like the website and am interested in keeping it around and similar to what it has become under Aaron's nurturing, so I accepted.
Left: A Wander The West Rally, this one to the Warner Mountains in northeast California. There are no landmarks near here.  It is in Modoc National Forest at 41° 59' 09.75" N, 120° 09' 31" W
Middle: Dunderberg Road in the eastern Sierra Nevada range about 10 miles south of Bridgeport, California
Right: Wander the West rally camp about a half-mile north of Ballarat, California
TCM: Your pictures include several Four Wheel Campers camping together.  Is Wander the West only for Four Wheel Camper owners?  And how does one connect with the group and attend your gatherings?
Ted: Some of those gatherings have been formal rallies planned on Wander the West.  But we have made a number of friends through the forum and some of the photos show trips where we are camping with friends that happen to have similar campers.  Anyone is welcome to join us.  I can think of one rally that had at least three different pop-up camper brands, and a rooftop tent.
People can hook up with our group just by following the forum on Wander the West.  There is a group planning a trip to Baja right now.  Sometimes people post where they will be and when and invite others to join them.  It is a great way to make some friends, check out other rigs, and have a good time.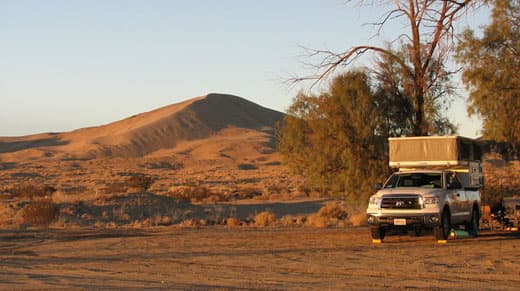 Above: Kelso Dunes in Mojave National Preserve, California
TCM: What's next for Ted and Donna?
Donna: Besides our usual weekend runaways, we are heading to Overland Expo and Alaska for our twenty-fifth anniversary.
TCM: Wow!  That's an awesome 2012 itinerary.  Have you been to the Overland Expo before?
Ted: This will be our first time.  We are more the weekend warrior types than true overlanders.  But it is an opportunity to learn take some classes, check out gear, and meet more people.  And it will be fun to check out all the cool vehicles there.
TCM: You said that you're going to fly in and rent a camper in Alaska.  Why fly in and not drive up?
Donna: We would love it if we could do the trip in our Four Wheel Camper.  A number of people have and they shared a lot of great information with us.  Unfortunately, we are still tied to our careers and can't take that much time off.
Ted: By flying in and renting, we can spend much more time exploring Alaska.  We haven't seen any pop-up campers as rentals, so we will be renting a small RV.  We're actually a little embarrassed about that.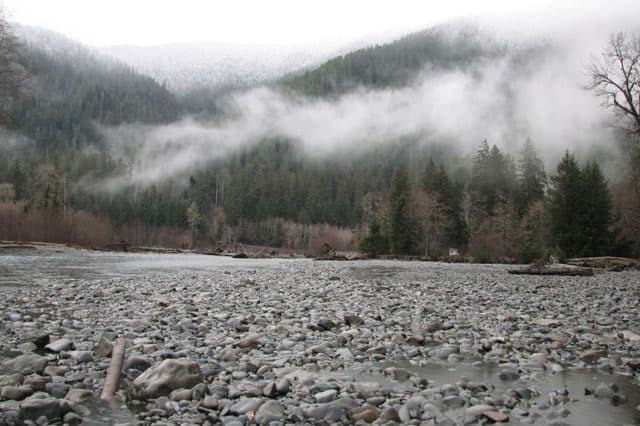 Above: Hoh River in Olympic National Park, Washington
TCM: Don't worry, nobody actually reads this magazine.  Your secret is safe with us.  Is there anything else about your truck camping lifestyle that you'd like to share?
Donna: Truck camping has allowed us to take some of the comforts of home with us whenever we travel as well as allow us to pack up and go at a moment's notice.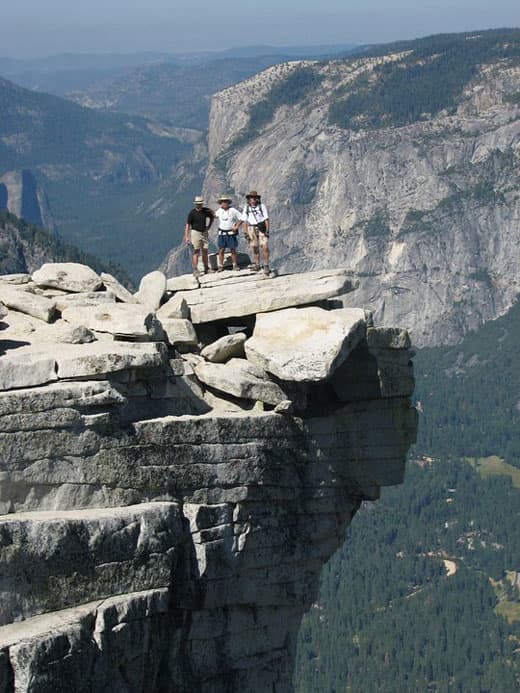 Above: On top of Half Dome in Yosemite National Park.  Donna was not on this trip.  Ted is in the middle with Tim Rawlinson (dark shirt) and Jeff Forester (large hat).
To visit the Four Wheel website, go to fourwheelcampers.com. Click here for a free Four Wheel brochure.