From Yosemite to Yellowstone to the Eastern Sierras and central Nevada, Ted and Donna Treleven explore the West in their Four Wheel Camper.

As you're reading this story, someone is boondocking in the middle of nowhere with their truck camper.  Far beyond the reaches of cell phone towers, they are enjoying the simple life surrounded by the splendors of nature.  Perhaps they're gazing out the dinette window studying the weaving currents in the river a dozen feet away.  The steam from their fresh coffee fills the air.  It's quiet and peaceful.
The feeling of camping off the beaten path, far away from humans, and up-close with nature, is incredible.  This is deep, life affirming, soul fulfilling stuff.  You can't buy that feeling.  You can't fake it.  It's only available in real time, out in the wilderness.  Where the pavement ends is where this experience begins.  Where it takes you is something you have to discover for yourself.
Ted and Donna Treleven know exactly what we're talking about, and they're not alone.  Through their participation with the Wander the West forum, the Trelevens have connected with a diverse community of overland adventure seekers.  While there is some irony in a group of folks who like to camp far from other people, Wander the West is also a rare opportunity to share information among peers.
Speaking of peers, Ted and Donna share their truck camping story and lifestyle with us, and call our sights beyond the reaches of civilization, and to the possibilities of camping off-road and off-the-grid.
LEFT: Badwater Basin, lowest point in North America, Death Valley National Park, California MIDDLE: Inspiration point above Jenny Lake, Grand Teton National Park, Wyoming RIGHT: Yosemite valley in Yosemite National Park, California, Our Golden retriever's name was Shelby
TCM: When did your camping lifestyle begin?
Ted: My family camped frequently all my life so I grew up camping and never stopped. My first car was a VW camper.
Donna: I also grew up camping in California and throughout the west.  Our family vehicle was a camper van.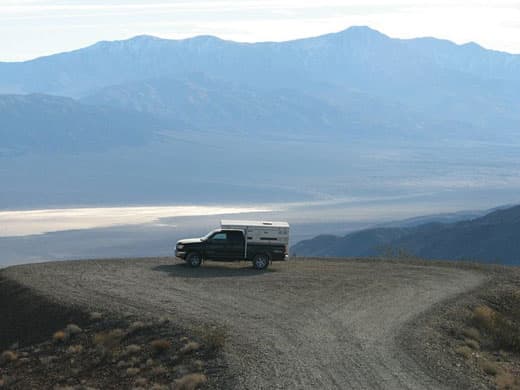 Above: Father Crowley Point overlooking Panamint Springs, California, it is located on Highway 190 about forty miles east of Lone Pine, California
TCM: What eventually led you to a truck camper?
Donna: Like many truck campers, we evolved through several camping styles to where we are now.  Early in our relationship, we backpacked.  Then we had a couple of trucks with shells on them.  During those times we got pinned down by weather twice, once in Banff, Canada, and once in Baja, Mexico.  That is when we decided to move up to a truck camper.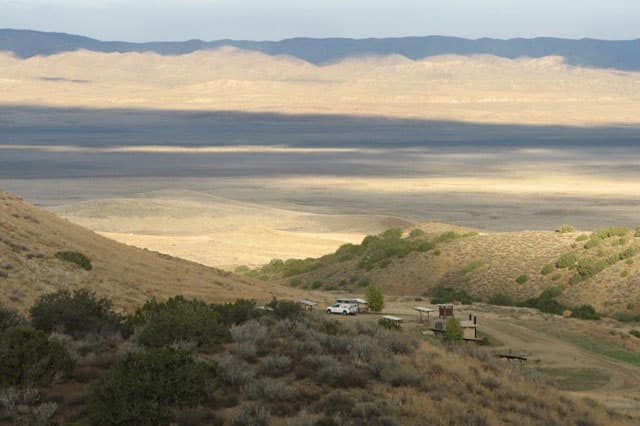 Above: A remote camping area, Selby Campground, Carrizo Plains National Monument in Southern California
TCM: Why did you get a pop-up camper versus a hard sided camper?
Ted: We liked camping in remote areas and wanted to be able to keep doing that, so our research of campers led us to Four Wheel Campers.  We liked the light weight and low profile.  Though we are not hard core off-road travelers, we do get on some rough roads.  Four Wheel Camper's ability to flex with the bouncing and jarring was a big advantage as well.
Donna: We are lucky that the Four Wheel Camper factory was nearby and we were able to check them out personally.  We bought our Four Wheel Camper Hawk in 2003.