What do you think about your Hallmark's electric top?
It's bullet proof.  Mike Hastman, Hallmark's Foreman, told me that he's never had one fail.  Just be careful that you have everything right before you raise or lower the roof.  The roof is so powerful that it will power through anything you forgot to set right.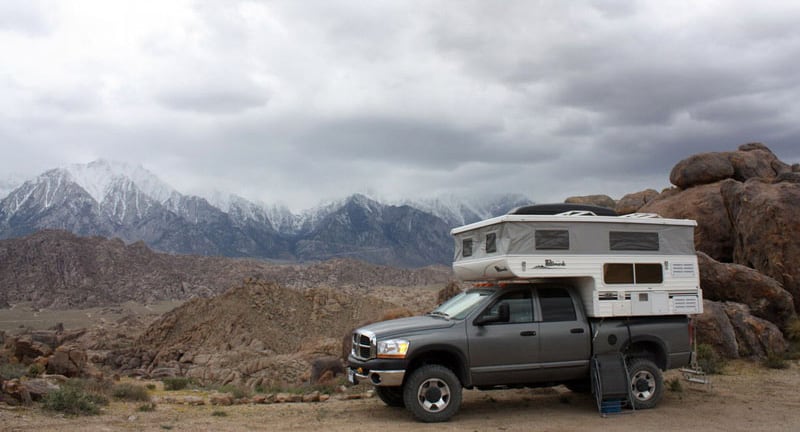 One night I lowered the electric roof when the top stove cover was still up.  The electric roof doesn't stop.  I didn't permanently damage the stove top, but I was upset at myself for leaving it up.
A few months ago I lowered the top with the queen size bed storage lid up.  As I was walking away, I heard a, "Pow"!  I thought there would be serious damage but all I had done is snap a bolt in the linkage for the roof.  You really have to make sure everything with the camper is where it's supposed to be before you lower or raise the top.
"A little while later I saw my Levis and socks falling all over the freeway behind us."
That's quite the lift mechanism.  Have you made any modifications to your Hallmark to extend its boondocking capabilities?

I put waterproof electric connectors on my jacks so that I can R&R them easy.  It saves 132 pounds.  Plus, I don't have to worry about snagging one on a rock.  When I went to Death Valley, I knew I wasn't going to have the camper off so I removed the jacks before the trip.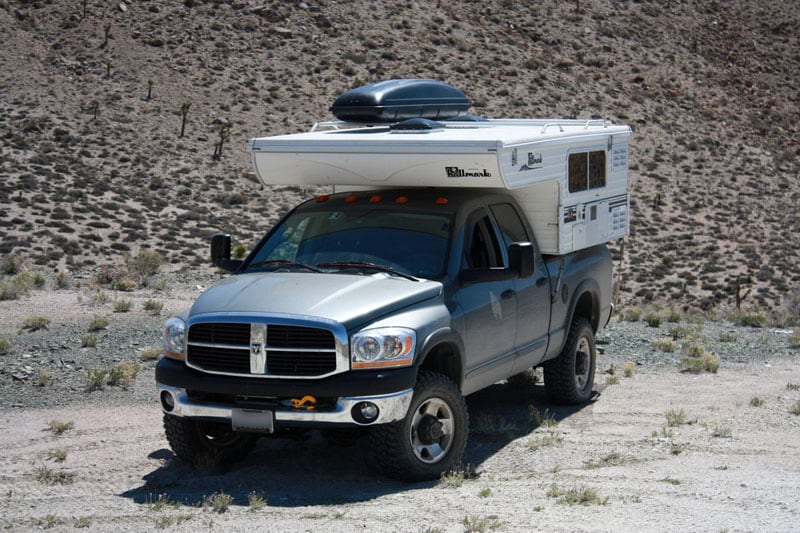 I also put a cargo pod on the roof that I use for dirty clothes and garbage.  There's a funny story there.  When we were coming back from Death Valley, I noticed a bag of garbage hitting the freeway behind us.  Being in denial, I thought, "Wow, that looked like our garbage" and kept going.  A little while later I saw my Levis and socks falling all over the freeway behind us.  It's not a heavily traveled road so I hit the breaks and got my dirty clothes off the freeway.
That's one way to air your dirty laundry.  So what happened to the pod?
There was a big crack in the pod and a couple of the latches had failed.  A year before, the cargo pod had been dented by some overhanging branches.  I punched out the dent but evidently the latches were damaged more than I thought.  It was a total loss.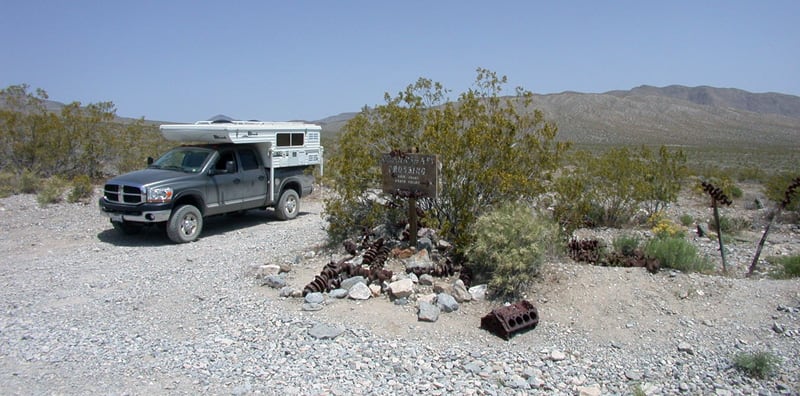 Tell us about your Dodge Power Wagon.
The Power Wagon is my toy.  I ordered it directly from the factory.  They started building the Power Wagons again in 2005.  I read about it and decided that I had to have one.  I ordered my Power Wagon just the way I wanted.
It's a three-quarter ton truck, but they don't put 2500 on the side.  It has softer springs and an electric disconnecting front sway bar for great suspension articulation.  It also has locking front and rear axles and a 15,000 pound Warn winch hidden behind the front bumper.  And it has all kinds of skid plates.  The Power Wagon owners think it's the best four-wheel drive pick-up to come out of Detroit.
What kind of fuel mileage do you get with the Power Wagon?
I get about ten miles to the gallon with the camper no matter if I'm going seventy miles per hour down the freeway or off-roading.  You can only get a 5.7 Hemi with the Power Wagon.  No diesel is available.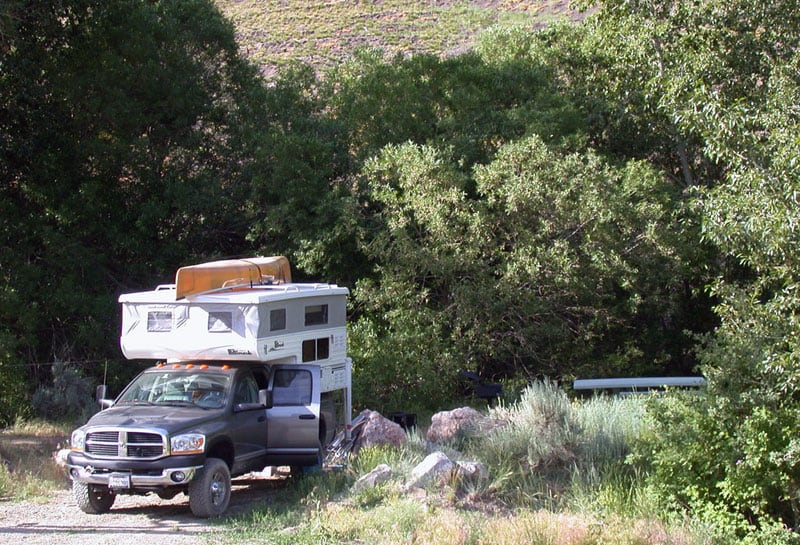 Why a gas engine in the Power Wagon and not a Cummins diesel?