Frank Ross loves to take his 2006 Dodge Power Wagon and 2005 Hallmark Milner LX off-road, off-grid, and on the dirt, sand, and rocks.  Jeep trails anyone?  Yes, please!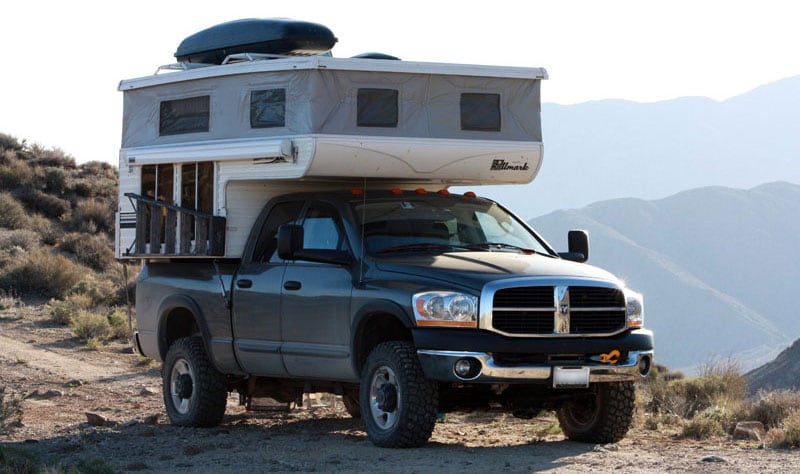 Above: Frank's Hallmark Milner And Dodge Power Wagon
Think the off-road truck camper trail ends where the Jeep trails begin?  Think again.  Frank Ross tells us that there's almost nowhere his Dodge Power Wagon and Hallmark Milner LX can't go.  If there's enough room for his full-sized truck, he can get through.
The Jeeps can go a bit further, but Frank Ross and his truck camper can go places where other RVs wouldn't even dream.  And don't think for a second that Frank is afraid to scratch his Power Wagon to get there.  He's already been there, and scratched that.
"I'm the type of guy who avoids RV parks and crowds and likes to get out into the boonies."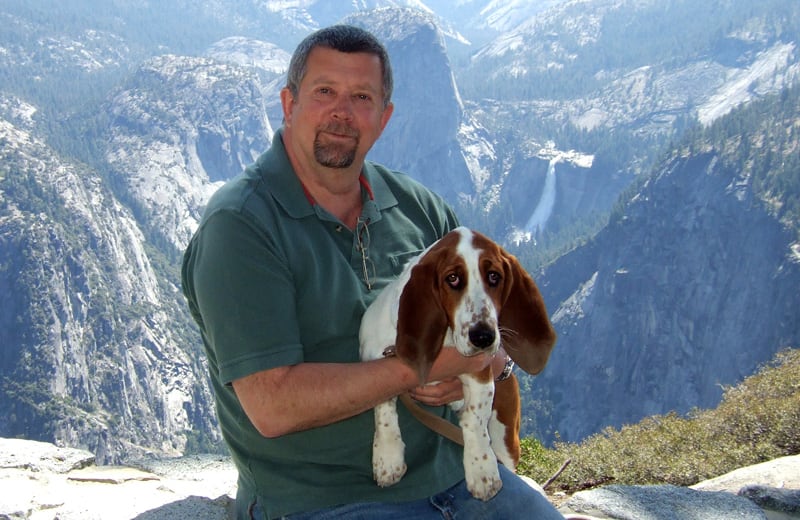 Above: Frank and Scout in Yosemite National Park, California
How did you discover truck camping?
I got my first truck camper around 1992, an old twenty-year old eight-foot Six-Pac.  With the Six-Pac I had a one-ton Chevy with an eight-foot bed.  We had that camper for maybe five or six years.  Then we sold it and we didn't have a camper until 2006.  That was a long spell in between campers.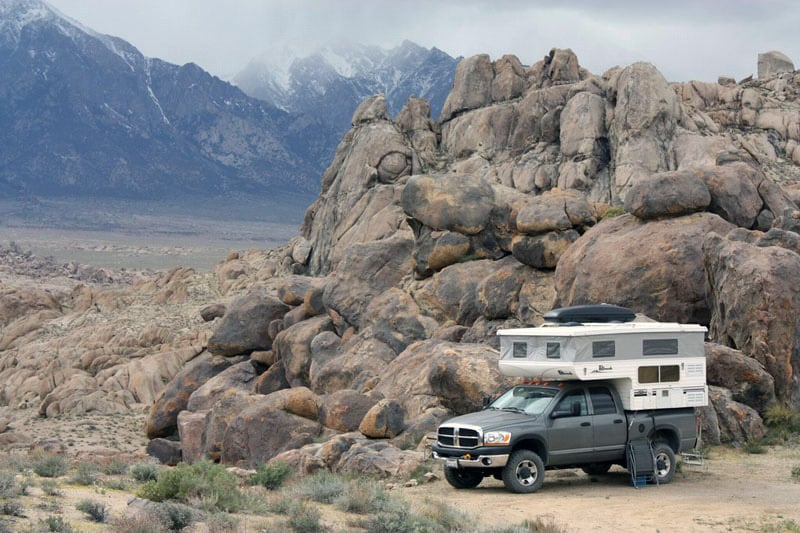 Above: Alabama Hills, California BLM boondocking
What brought you back to truck camping?
Now, the kids are grown and gone, so my wife, our dog, and I thought it would be fun to get a small camper.  Our Hallmark is the perfect camper for two people and a little dog.  We can get off the beaten path where it's not crowded.  I'm the type of guy who avoids RV parks and crowds and likes to get out into the boonies.
When I bought the Hallmark, a friend at work said,  "You're not going to use it.  You'll sell it to me in a year."  Well, we're going on three years and we've used the heck out of it.  Later in life I can see getting something a little bigger, but for now I'm having too much fun going off-road and scratching the paint up on my truck.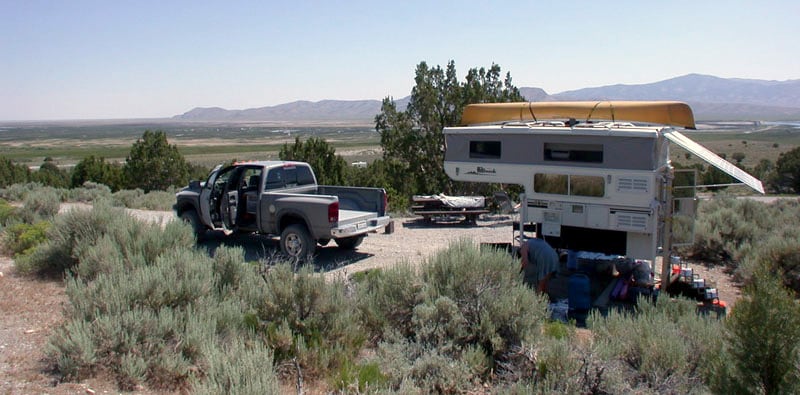 How did you come to choose a Hallmark pop-up?
I settled on Hallmark because I really liked the electric top and it came fully loaded.  I called Randy Was, who is a very nice guy, and told him I was looking for a good deal on a 2005 Hallmark Milner LX.  I have everything; electric top jacks, an outside shower, a dual-battery tray, a three-way fridge, and twenty-two gallons of water.  The camper has everything I wanted.
I have weighed the truck and camper with me in it, not a lot of gear, full-water, propane, and a few miscellaneous odd ends.  The weight of the truck and camper was about 9,160 pounds.  When it's fully loaded for a trip I'm getting close to 10,000 pounds.  When you add in twelve gallons of extra water at 8.34 pounds a gallon, leveling ramps, tools, porta-potty, chairs, table, generator, and on and on.  It adds up fast.  I'm very weight conscious.