Frank Ross loves to take his Ram Power Wagon and Hallmark Milner LX off-road, off-grid, and on the dirt, sand, and rocks.  Jeep trails anyone?  Yes, please!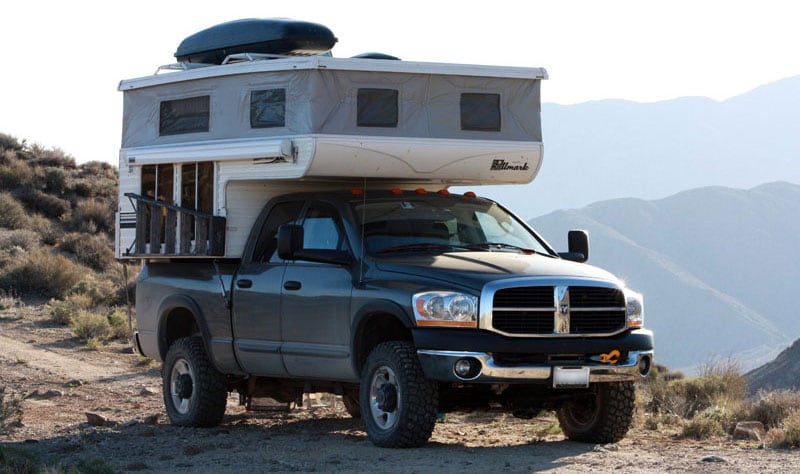 Above: Frank's Hallmark Milner And Ram Power Wagon
Think the off-road truck camper trail ends where the Jeep trails begin?  Think again.  Frank Ross tells us that there's almost nowhere his Ram Power Wagon and Hallmark Milner LX can't go.  If there's enough room for his full-sized truck, he can get through.
The Jeeps can go a bit further, but Frank Ross and his truck camper can go places where other RVs wouldn't even dream.  And don't think for a second that Frank is afraid to scratch his Power Wagon to get there.  He's already been there, and scratched that.
"I'm the type of guy who avoids RV parks and crowds and likes to get out into the boonies."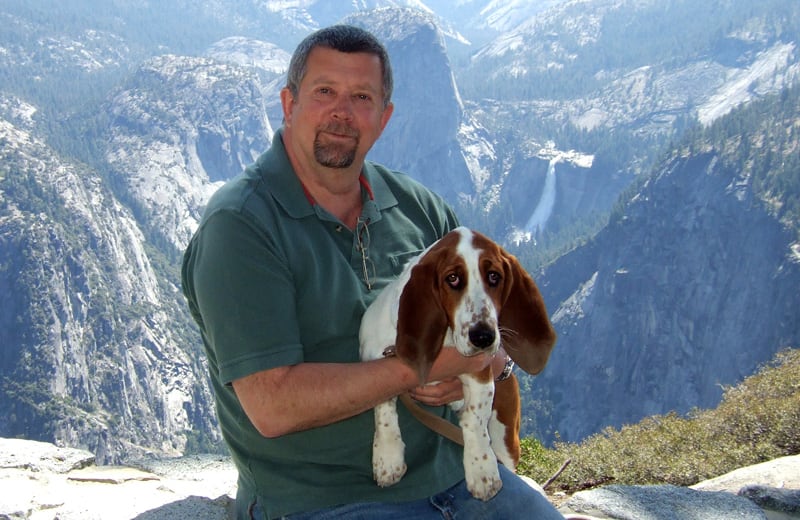 Above: Frank and Scout in Yosemite National Park, California
How did you discover truck camping?
I got my first truck camper around 1992, an old twenty-year old eight-foot Six-Pac.  With the Six-Pac I had a one-ton Chevy with an eight-foot bed.  We had that camper for maybe five or six years.  Then we sold it and we didn't have a camper until 2006.  That was a long spell in between campers.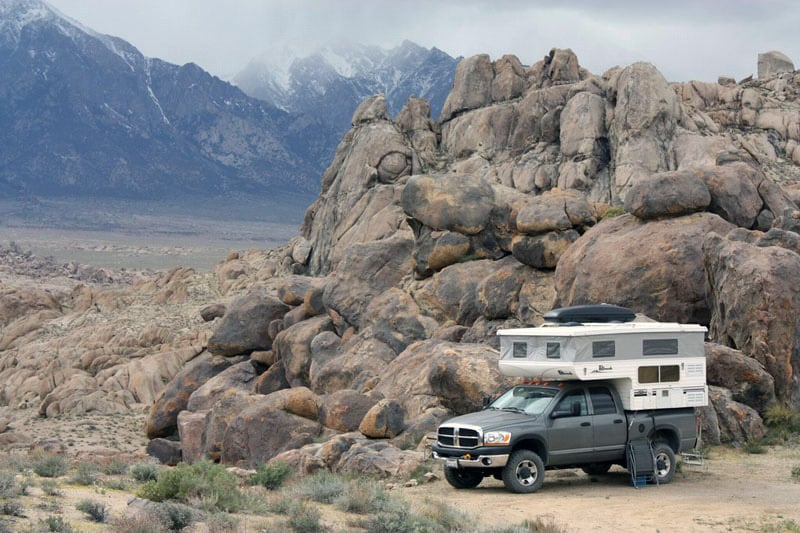 Above: Alabama Hills, California BLM boondocking
What brought you back to truck camping?
Now, the kids are grown and gone, so my wife, our dog, and I thought it would be fun to get a small camper.  Our Hallmark is the perfect camper for two people and a little dog.  We can get off the beaten path where it's not crowded.  I'm the type of guy who avoids RV parks and crowds and likes to get out into the boonies.
When I bought the Hallmark, a friend at work said,  "You're not going to use it.  You'll sell it to me in a year."  Well, we're going on three years and we've used the heck out of it.  Later in life I can see getting something a little bigger, but for now I'm having too much fun going off-road and scratching the paint up on my truck.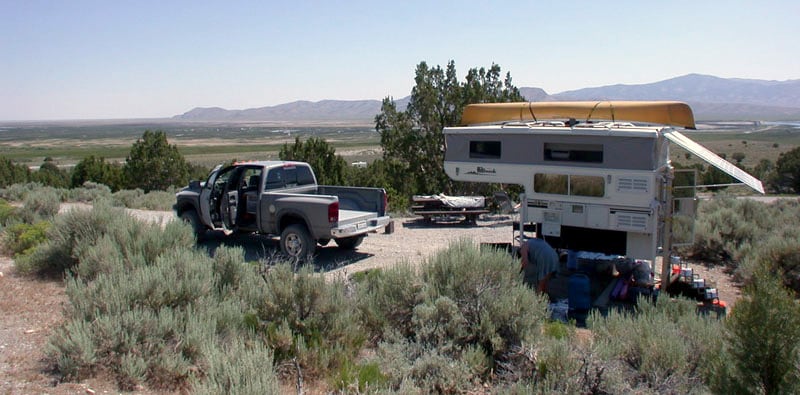 How did you come to choose a Hallmark pop-up?
I settled on Hallmark because I really liked the electric top and it came fully loaded.  I called Hallmark and told them I was looking for a Hallmark Milner LX.  I have everything; electric top jacks, an outside shower, a dual-battery tray, a three-way fridge, and twenty-two gallons of water.  The camper has everything I wanted.
I have weighed the truck and camper with me in it, not a lot of gear, full-water, propane, and a few miscellaneous odd ends.  The weight of the truck and camper was about 9,160-pounds.  When it's fully loaded for a trip I'm getting close to 10,000-pounds.  When you add in twelve gallons of extra water at 8.34-pounds a gallon, leveling ramps, tools, porta-potty, chairs, table, generator, and on and on.  It adds up fast.  I'm very weight conscious.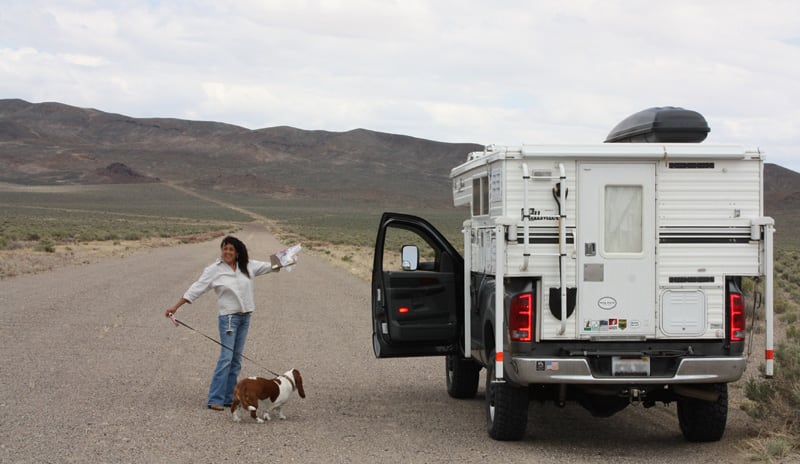 What do you think about Hallmark's electric top?
It's bullet proof.  Mike Hastman at Hallmark told me that he's never had one fail.  Just be careful that you have everything right before you raise or lower the roof.  The roof is so powerful that it will power through anything you forgot to set right.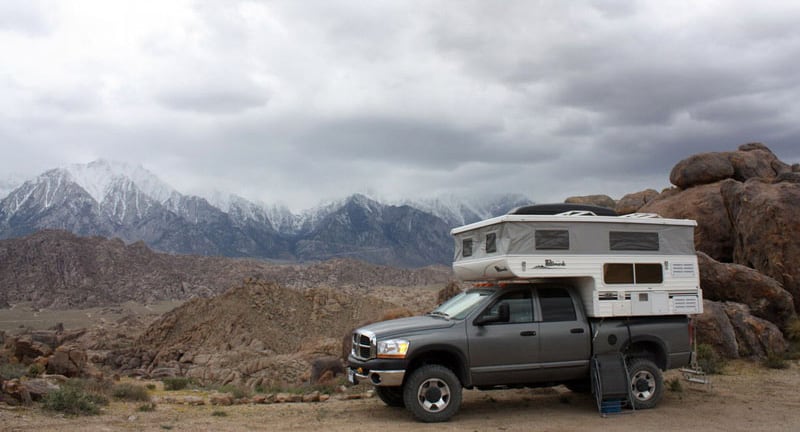 One night I lowered the electric roof when the top stove cover was still up.  The electric roof doesn't stop.  I didn't permanently damage the stove top, but I was upset at myself for leaving it up.
A few months ago I lowered the top with the queen size bed storage lid up.  As I was walking away, I heard a, "Pow"!  I thought there would be serious damage but all I had done is snap a bolt in the linkage for the roof.  You really have to make sure everything with the camper is where it's supposed to be before you lower or raise the top.
"A little while later I saw my Levis and socks falling all over the freeway behind us."
That's quite the lift mechanism.  Have you made any modifications to your Hallmark to extend its boondocking capabilities?

I put waterproof electric connectors on my jacks so that I can R&R them easy.  It saves 132-pounds.  Plus, I don't have to worry about snagging one on a rock.  When I went to Death Valley, I knew I wasn't going to have the camper off so I removed the jacks before the trip.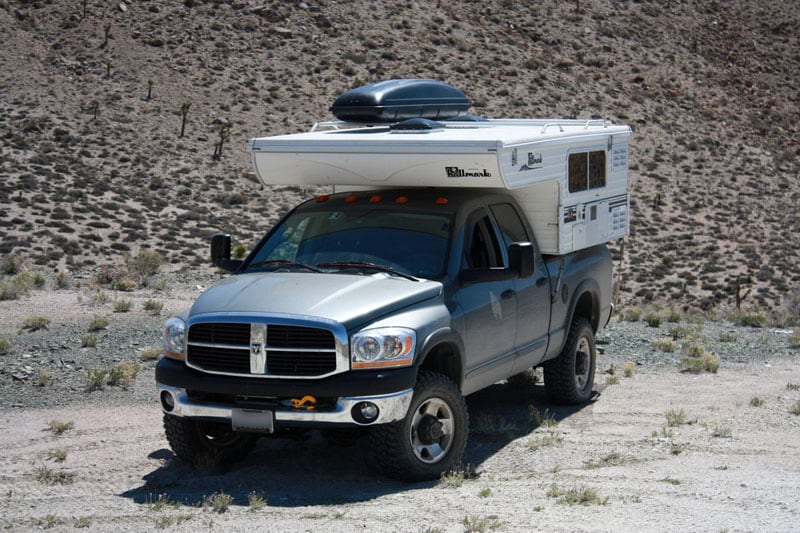 I also put a cargo pod on the roof that I use for dirty clothes and garbage.  There's a funny story there.  When we were coming back from Death Valley, I noticed a bag of garbage hitting the freeway behind us.  Being in denial, I thought, "Wow, that looked like our garbage" and kept going.  A little while later I saw my Levis and socks falling all over the freeway behind us.  It's not a heavily traveled road so I hit the breaks and got my dirty clothes off the freeway.
That's one way to air your dirty laundry.  So what happened to the pod?
There was a big crack in the pod and a couple of the latches had failed.  A year before, the cargo pod had been dented by some overhanging branches.  I punched out the dent but evidently the latches were damaged more than I thought.  It was a total loss.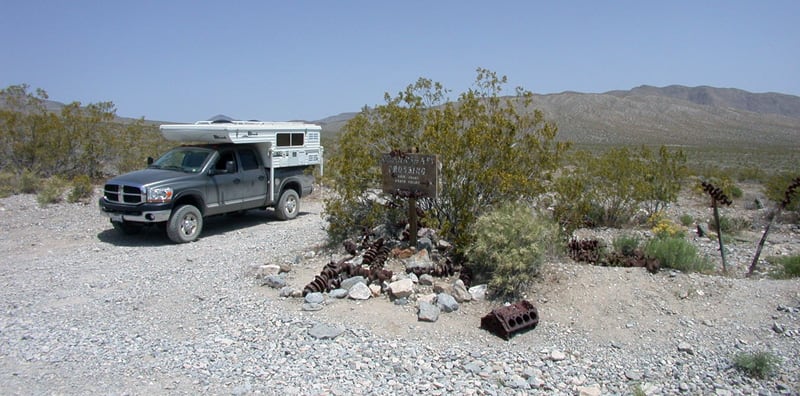 Tell us about your Ram Power Wagon.
The Power Wagon is my toy.  I ordered it directly from the factory.  Ram started building the Power Wagons again in 2005.  I read about it and decided that I had to have one.  I ordered my Power Wagon just the way I wanted.
It's a three-quarter ton truck, but they don't put 2500 on the side.  It has softer springs and an electric disconnecting front sway bar for great suspension articulation.  It also has locking front and rear axles and a 15,000 pound Warn winch hidden behind the front bumper.  And it has all kinds of skid plates.  The Power Wagon owners think it's the best four-wheel drive pick-up to come out of Detroit.
What kind of fuel mileage do you get with the Power Wagon?
I get about 10 miles to the gallon with the camper no matter if I'm going 70 miles per hour down the freeway or off-roading.  You can only get a 5.7 Hemi with the Power Wagon.  No diesel is available.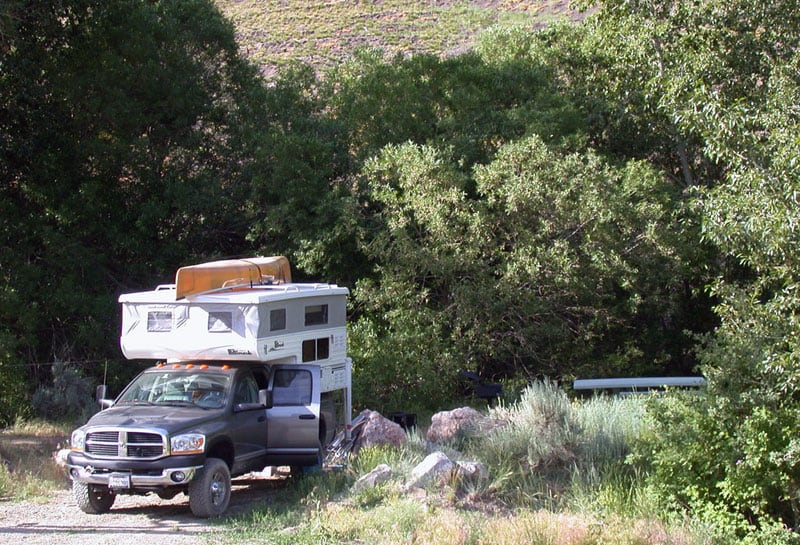 Why a gas engine in the Power Wagon and not a Cummins diesel?
It's been speculated that the diesel engines are maybe too heavy or maybe cost is a factor.  I don't know.  I know a lot of people would like to see a diesel Power Wagon.  When I'm in four-low and first gear, I can just idle up almost anything with the Hemi.
There's almost no obstacle that the V8 Hemi Power Wagon can't handle.  It's really a beast of a truck and offers a lot of bang for the buck.  Now mine is all scratched up from off-roading.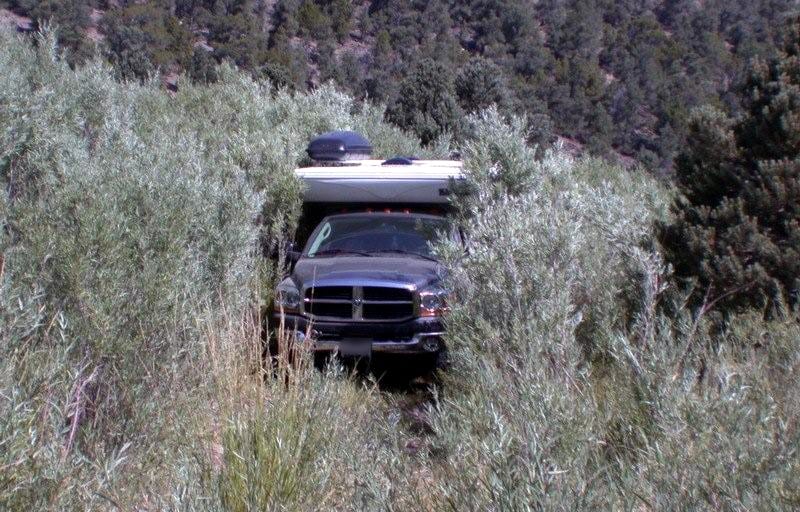 That's what it's for.  Have you made any modifications to your Power Wagon to improve its off-roading performance?
When I first bought the Hallmark, the truck's rear end sagged a little below level.  I talked to Mike Hastman and he recommended air bags.  Hallmark installed them in about 15-minutes, pumped them up, and I was in business.
I was worried about some compromise of my truck's off-road capabilities with the air bags, but after three years I've had no problems.  Now I have an onboard compressor to raise and lower the rig.  That's really nice.  I recommend a compressor.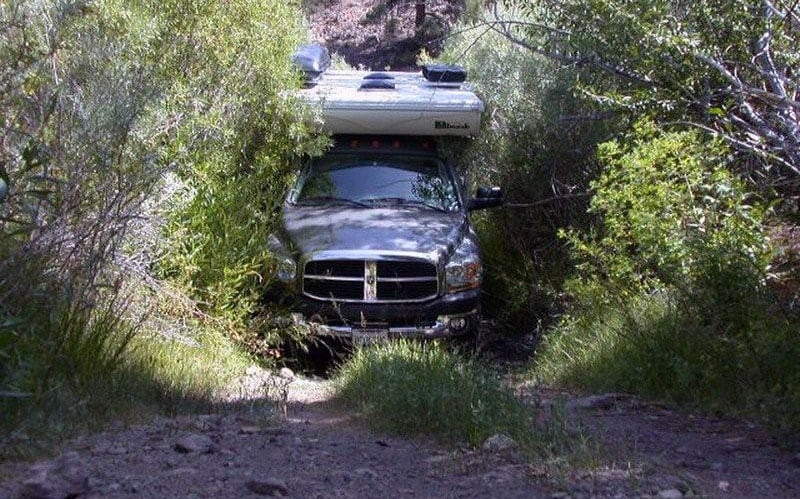 Can you tackle full-blown Jeep trails with the Power Wagon and Hallmark?
I haven't come up against anything my rig can't handle, but it is much bigger than a Jeep.  I've been in some hairy spots, but I just lock my axles and air up the rear air bags and on I go with no problems.  The truck is amazing and very capable for a full-size pick-up.
The only real limitation to where I can go is the size of the rig.  There's even a guy on the Power Wagon forum who sold his Jeep Rubicon to get a Power Wagon.  You can't have too big of an ego on the trail though.  I will turn around when the trail looks like we not might make it through.
"We love Nevada.  It's just wide-open spaces.  There's so much BLM land."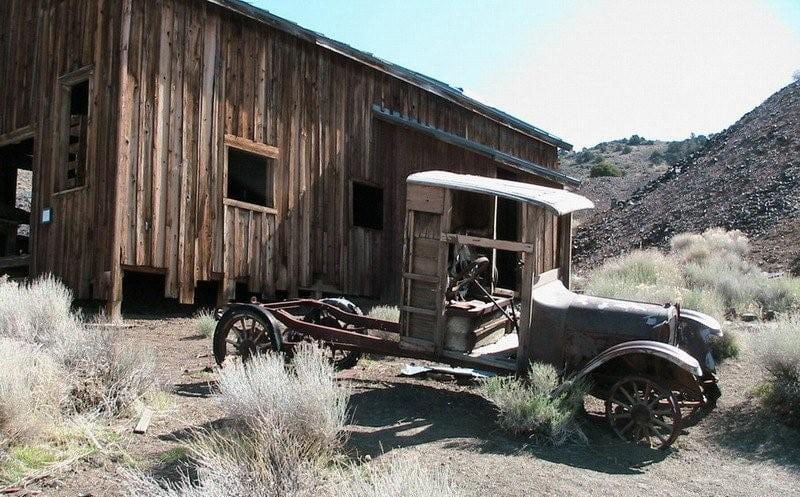 Where do you like to go off-roading?
We love Nevada.  It's just wide-open spaces.  There's so much BLM land.  My wife and I shoot guns, enjoy the total privacy, and go rock hounding.  The old mining camps and equipment in the desert are so fun look at.
After few days, we'll stay in a hotel.  Then we'll go somewhere to look for turquoise or obsidian.  Then we'll go to an old mining town with crumbing buildings.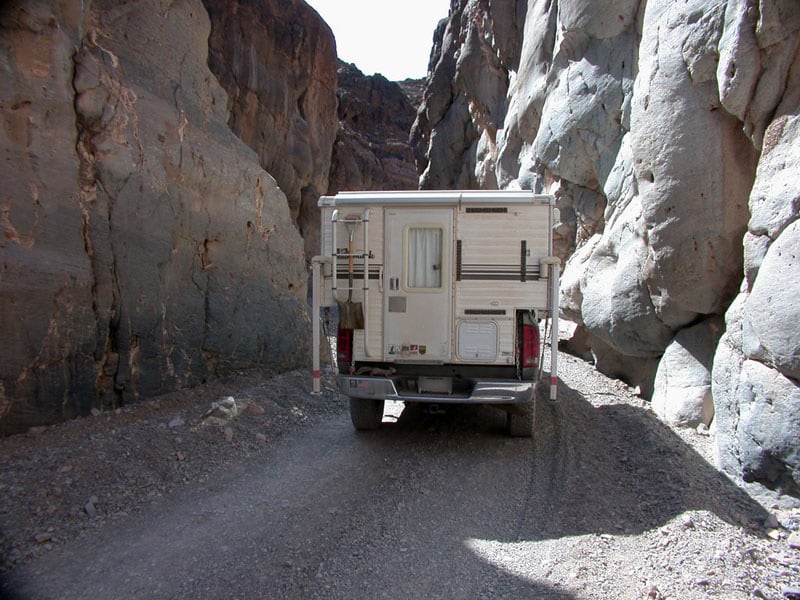 Above: Titus Canyon Narrows, Death Valley National Park, California
We also enjoy Death Valley National Park.  Death Valley is really cool because there are so many trails to go four-wheel driving.
We went to one place where someone had told us about a Jeep trail with a grey cliff full of obsidian.  You can pick up obsidian there all day.  There were whole and broken pieces.  We really enjoy rock hounding.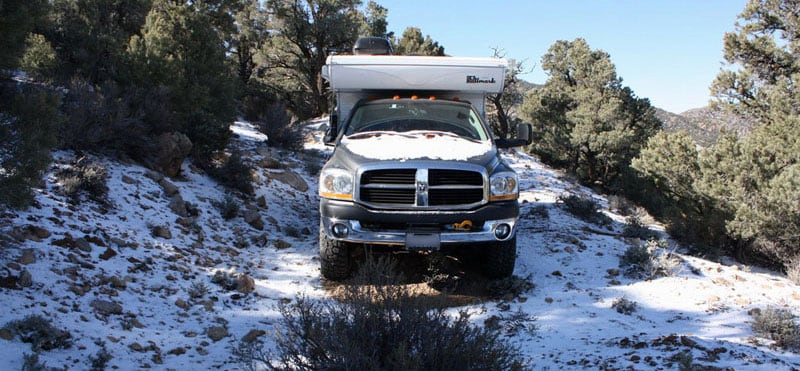 Tell us about your SPOT Satellite Powered Tracker.
My wife asked me, "What if something happened when we're somewhere cell phones don't work?  What if we get bit by a snake?"  Snakes freak my wife out.
Some guys on the Wander the West forum have Ham radios that are very high powered.  But, what do you do if you get bit by snake or flip your truck 40-miles from pavement?  If I contacted a guy with a Ham radio, they won't know where I am.  I've heard bad stories like that.
SPOT seemed like the answer for me.  The 911 button sends a signal to a satellite to a control center that knows exactly where you are.  They know your exact coordinates and will send emergency services.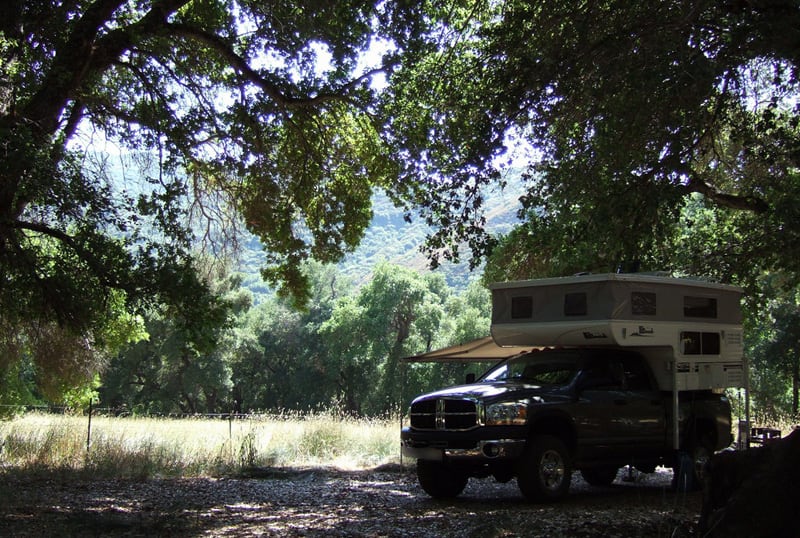 Above: Fort Hunter Ligget, California
If my wife lets me escape, I can also send an "I'm okay" message.  When you press the button, it sends the message as an email.  In Death Valley, every evening I would stop and send an "I'm okay" message.  In the morning I sent another "I'm okay" message.
You can also track a person online and see where they're going.  SPOT is a little bigger than a pack cigarettes and it needs two AA batteries, which is a really cool thing.  You pay about a hundred dollars a year for the service.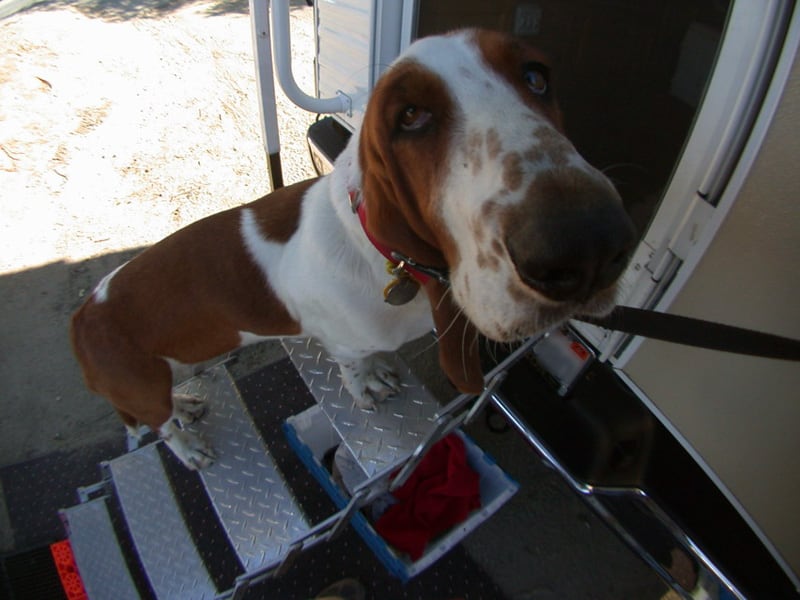 So who loves the truck camper more, you or your Basset Hound, Scout?
Scout just loves being with us and is good traveler.  I took the back seat out and put in a platform for her.  She rides back there and rests her chin by our heads.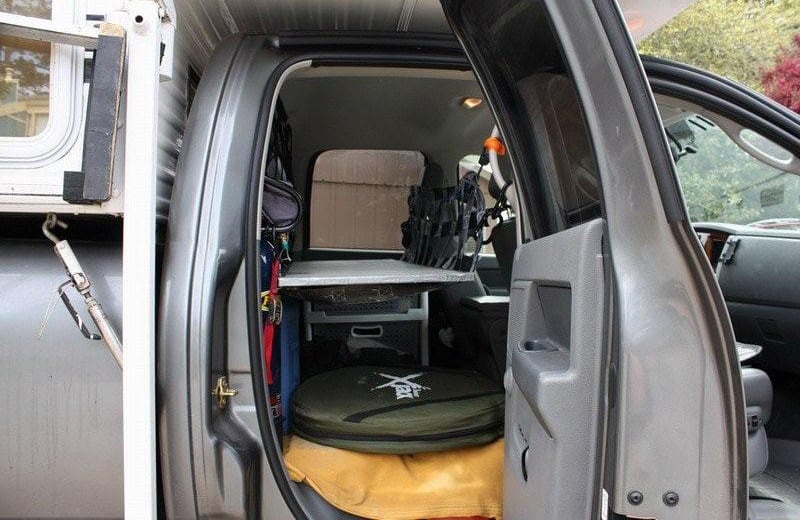 Webbing keeps her from flying through the windshield if we had to emergency stop.  She sleeps when we drive, and drive, and drive.  She's just a sweet dog and wants so much attention.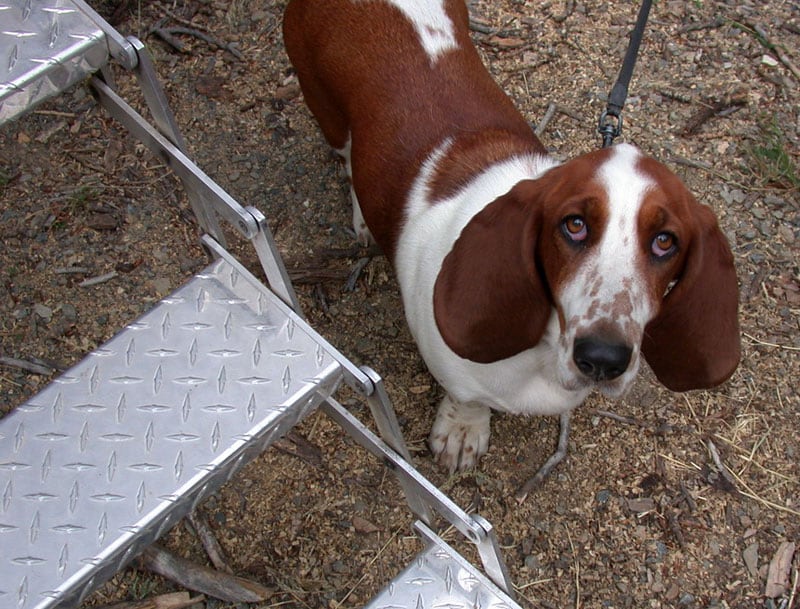 Is there anything I didn't ask you that you want included in your interview?
I have a GPS connected to my laptop and I swear it's the best thing.  I have the DeLorme USA topographic map program and it lists Jeep trails and keeps me from getting lost.  I also use Microsoft Maps and Trips.
I also have an RAD-1 Digital /Audio Inclinometer that measures my pitch up and down and tilt side-to-side.  That helps when we set up camp and I want to see how level we are.  When the RAD-1 reads all four zeros, the truck is level.  If it's off a bit, I can use the airbags to get level.  It's about $100 online.