Above: The dinette slide-out featuring a side and rear window
TCM: Why did you decide to go back to the window and remove the bunk in the 975?
Gary: Most of our customers use the dinette bunks for storage, not a place for children to sleep.  In the 975, we added a significant amount of exterior and interior storage to off-set the removed bunk.  For the trade-off, the 975 gains the rear slide window and a feeling of openness customers will recognize immediately.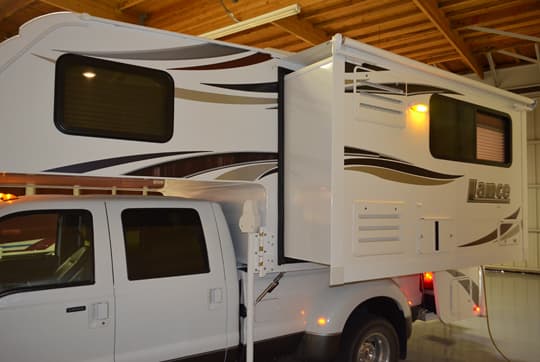 Above: The Happijac Secure-Trac fixed frame slide mechanism is used in the full-wall slide of the 975
TCM: What slide mechanism does the 2015 Lance 975 use?
Randy: We are using Happijac Secure-Trac fixed frame slide mechanisms for the Lance 975.  We use the Happijac Secure-Trac slide mechanisms for larger slide rooms.  We have a comfort level with Happijac slide mechanisms, especially for larger slide-out applications.
TCM: The Lance 1172 uses a Lippert Schwintek slide for its rear sofa and the full-wall dinette slide.  Is that going to change?
Gary: Yes, about three months ago we made that change.  The full-wall slide-out on the 1172 now uses the Happijac Secure-Trac slide-out.  The rear slide will continue to be a Lippert Schwintek slide.  All Lance 1172 campers will have this change.
TCM: Were there any new materials, components, appliances, or processes used in the development of the Lance 975?
Randy: We incorporated recessed soffit LED lighting in the 975 cabover to provide a soft accent lighting to the front wall.  We had already been using the recessed soffit LED lighting in our trailers, and are now introducing them into our truck camper line.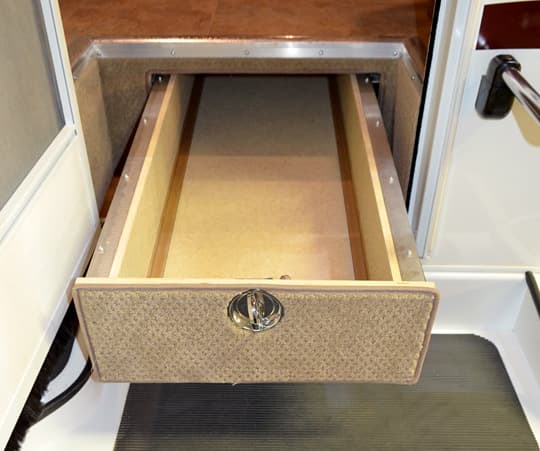 Above: The basement storage pull-out tray
TCM: What is the height of the basement in the 975?
Gary: The 975 has an eleven inch basement; wheel well height.  This is the same height as the 995, 1181, 1191, and 1172.  The wheel well basement height gives you extra floor space without the increased weight of a truck rail height basement.
TCM: Tell us about the size of the holding tanks, and why you made the tanks that size.
Randy: The 975 has a 45 gallon fresh tank.  It was a tank we originally developed for the 995.
Gary: When we're designing a new model, we prefer to use an existing tank.  We also believe 45 gallons – 51 gallons with the water heater – is right for a camper this size.  Anything more would be nice, but it's more weight.  Most customers don't want the extra weight.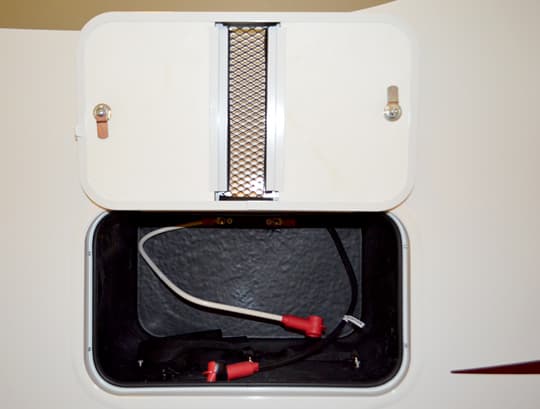 Above: The battery compartment can accommodate two Group 27 batteries