Greg: The black and grey tanks stayed same at 41 gallons each in Eagle Cap 1160 and 1165.
TCM: For 2015, Eagle Cap has added a long list of standard features to every Eagle Cap camper including slide toppers, countertop extension, Fantastic Vent fan, exterior barbecue/low-pressure disconnect, amplified HDTV antenna, Phat brand ladder, microwave oven, stereo AM/FM/CD/DVD/Bluetooth with two exterior speakers, diamond plate risers, and Heki bedroom skylights.  Why did you make these 2014 options standard for 2015?
Greg: All of these options were included with standard builds.  In other words, these options were on almost every Eagle Cap that left the factory.  That's simply what the customers and dealers ordered.  The dealers requested that we just build them that way all the time.  Eagle Caps are almost always option heavy because most Eagle Cap buyers want all the bells and whistles.
For example, diamond plate risers were not ordered maybe five times last year.  They are used to accommodate the fiberglass riser for the box and bed.  That was attached as an option.  The quarter-inch diamond plate is now standard allowing us to bond the diamond plate riser to the substrate.  Now that it is bonded, it is much stronger.
Even with all the new options, the 2015 Eagle Cap 1165 is actually 416 pounds lighter than the identically equipped 2014 Eagle Cap 1165.
TCM: That's incredible.
Greg: We also moved the center of gravity one inch forward on the 2015 Eagle Cap 1165.  Center of gravity is another focus on the next generation Eagle Cap.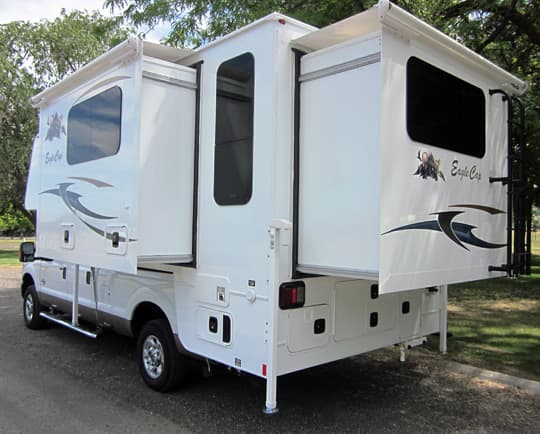 Above: A 2015 Eagle Cap 1165 triple-slide
TCM: Is it possible to order a camper without this long standard list; say if a customer wanted a more basic camper and didn't care for a microwave, or stereo system?
Greg: If you want a lighter weight and lower cost camper, look at Adventurer.  Eagle Cap is the top of the line.  Eagle Cap does not have a half ton camper.  It is focused totally on the latest and greatest, the newest technology, and high insulation values.  The Eagle Cap buyer understands that.
TCM: Is there anything else about 2015 Eagle Cap line that you want to share?
Greg: We have really dialed in the "Build Your Own" functionality of our website.  Last year the furthest discrepancy was 84 pounds, and that was due to a change in rear bumpers.  The rest of the builds were within twenty-five to forty-five pounds, lighter or heavier.  The average was a 28 pound discrepancy.  We're getting closer.
We want to keep Eagle Cap on the leading edge.  We're always having discussions on how we can continue to make Eagle Cap better, and built like none other.  We will continue to be thinking outside of the box, in innovative directions, and moving forward.
For more information on 2015 Eagle Cap campers, visit their website at www.amlrv.com/eagle-cap-truck-campers.