Above: The interior of the Adventurer 89RB
TCM: Too many manufacturers fail to even weigh each truck camper before it leaves the factory, much less measure and mark center of gravity.  It's outstanding that Adventurer is making this a standard practice.  Tell us about the design and development of the 89RB.
Greg: As I said earlier, the 89RB was a complete clean slate design.  Dave Frampton, Product Development Manager, and Dave Catron, Engineer, start a new model design by asking for a wish list including what our dealers want, customers want, and what we want in a new truck camper model.  That wish list includes what the camper should weigh, what options customers want, preferred tank sizes, the ideal floor length, and a target price point.
Dave and Dave then crunch the numbers, add their own ideas, and come up with a combined list for the camper.  Once we agree about what makes sense, Darrel our new addition in engineering will make a three-dimensional CAD drawing.  We finish the design, do the math, and then go into production.
Above (click to enlarge photos): The 89RB coming down the production line at Adventurer.
TCM: When did the 89RB begin production?
Greg: The first 89RB came off the line on December 21st.  Our first run of 89RB models is forty-five units.
TCM: Let's talk about materials.  Is the 89RB aluminum or wood framed?
Greg: We use the same proprietary True Composite Construction (TCC) process on all of our truck campers.  The bonding process of the TCC construction, not the framing material, is what gives our truck campers their strength and durability.  This is why we offer a three year warranty on all of our truck campers, whether they are wood or aluminum framed.
All of Adventurer's non-slide truck campers are wood framed.  The 89RB frame is actually 95% wood, and 5% aluminum.  Some of the floor and basement framing is aluminum.  Wood framing is lighter than aluminum framing, and it helps to keep the cost of the camper down.
Typically, we only use aluminum framing in our slide-out models because slide-out designs need the additional strength and rigidity of aluminum.  We always use 2×2 and 2×4 box aluminum in our slide-out models.
TCM: There is a perception in the marketplace that aluminum is superior to wood.  Would you care to address that perception?
Greg: If we had problems building with wood, we would not have a three year warranty.  Our True Composite Construction reactive hot glue lamination process truly bonds the frame (wood or aluminum), closed cell block foam insulation, composite Azdel substrate, exterior fiberglass, interior luan, and the interior finish panel.  The materials become a bonded wall unit and gain structural strength.
The closed cell block foam insulation we use is like a coffee cup.  Water does not penetrate through it.  With a standard foam unit, you can have water damage, but because of our process, it doesn't allow water to penetrate.
Consumers often think aluminum framing is lighter than wood, but that is simply not true.  Most aluminum framed campers insert wood in the aluminum framing to provide a strong anchor point.  Aluminum units are typically heavier because of that.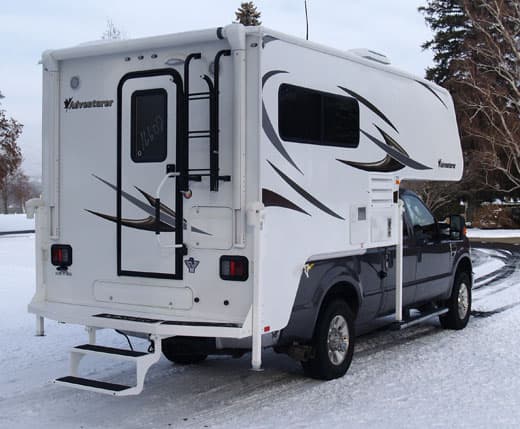 Above: The Comfort Step on the 89RB
TCM: Does the 89RB have a Comfort Step standard?
Greg: The 89RB comes standard without a step, but includes a Comfort Step for our standard build option.  That means most of the 89RB campers at dealerships will have the Comfort Step.  If you custom order the 89RB at an Adventurer dealership, you have the option of scissor steps, the Comfort Step, or the Super Step.
TCM: Why would someone option for scissor steps?